You ever have one of those moments that you know hotel staff will talk about with their coworkers afterwards and you just know they'll shake their head with a rueful smile while telling the story? Yeah. We had one of those at the Staycity Aparthotels.
Basically what happened was that we couldn't work the lockers for the left luggage service. A staff member helped us out, getting the suitcases into the lockers and getting them closed but then we couldnt find one of the keys.
Ange was adamant that she didn't have it and we had only given the staff member one, so it was a mystery all around what had happened. The staff member was the epitome of professionalism though, emptying his pockets and then deciding we'd just move the suitcase into a different locker instead.
I felt like I'd just watched someone playing that game with one ball and three cups that they play for money and you always lose. Anyway, we headed out with two keys and looked around the city.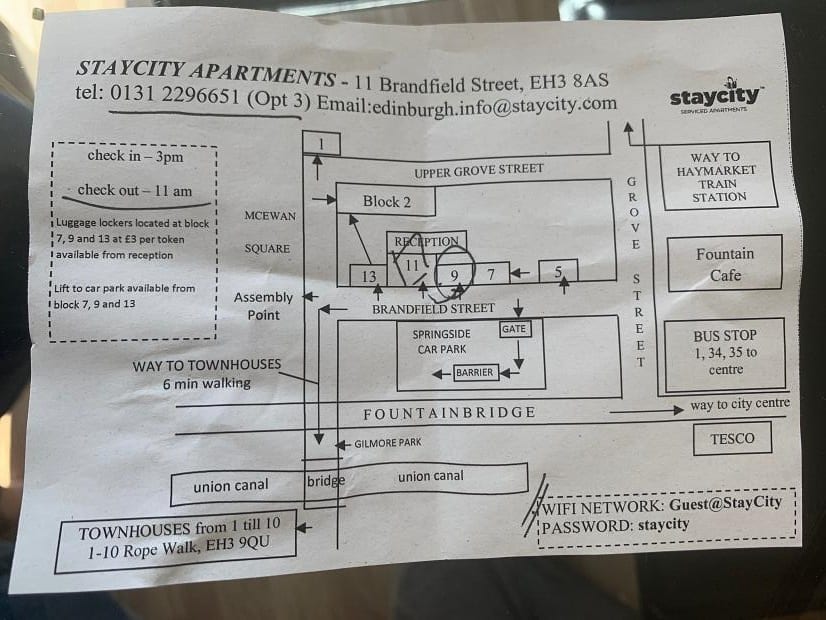 Later we came back and checked in. The Staycity wasn't just one building, but about six buildings all adjacent to one another beside the reception. We checked in, got the key and headed up to the room, figuring we'd then go down and collect the luggage.
Our room was on the top floor which meant it had views across the street to the building on the other side, and was therefore a little more removed from what minimal street noise there was from the quiet residential neighbourhood.
When we opened the door it became apparent that they'd upgraded us. We'd booked a studio apartment and I expected to open the door and be able to see kitchen, bed and TV all at once. What greeted us instead was a wooden floored hallway with four other doors opening from it. We opened each in turn, eyes widening at the space available.
The first was the bathroom, pretty standard with a standup shower and well-lit makeup mirror. The soap came in squeezy dispensers attached to the walls festooned in their branding.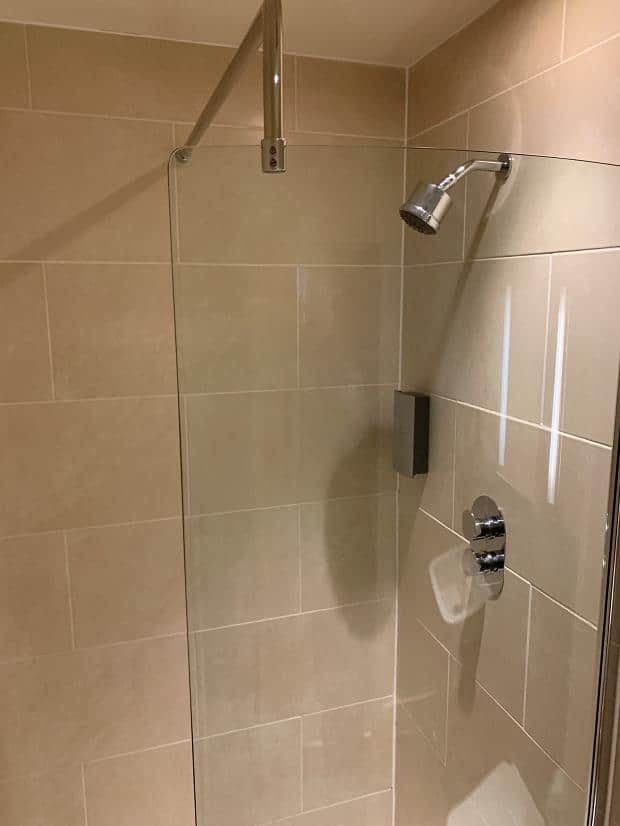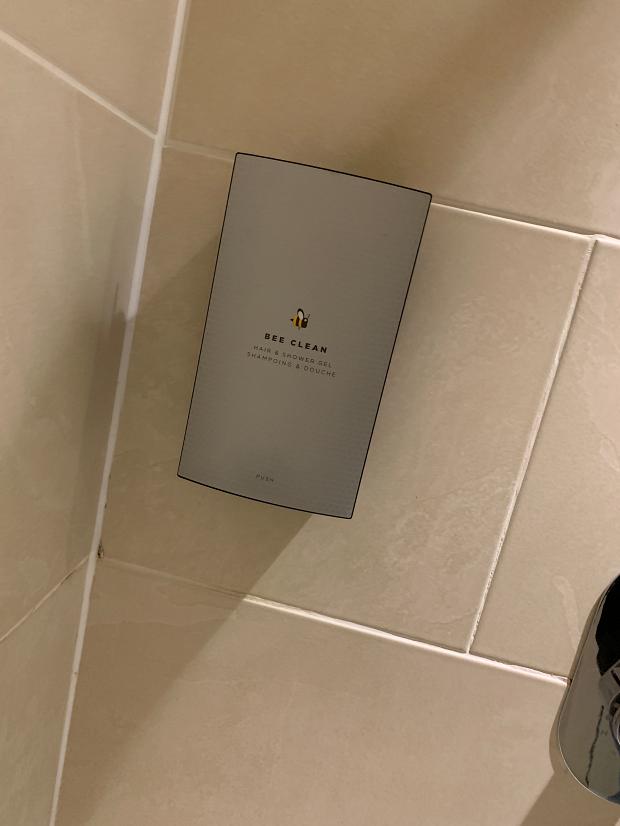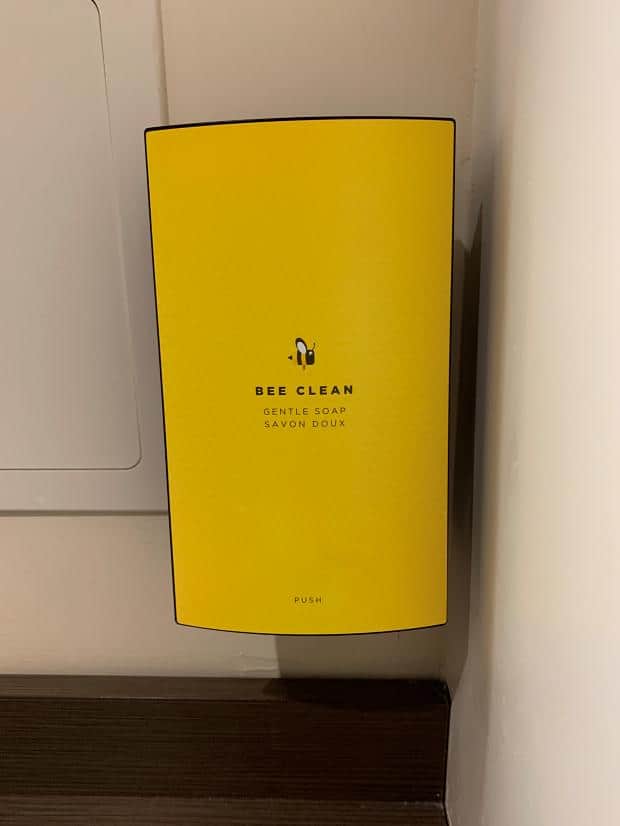 Then came the master bedroom – a good sized bed the base of which were two singles attached to each other, but the mattress and bedding were definitely queen sized.
The wardrobes gave good storage options and on one of the bed side tables was a Handy – an iPhone like device which allowed you to make phone calls and surf the internet for the length of your stay.
We had our own devices so didn't use it at all and it made me wonder who would make use of it as most travellers would also have their own. Even though I paid for my own data, the convenience of my own device (plus the superior camera) meant that the Handy sat on its charger for our whole stay.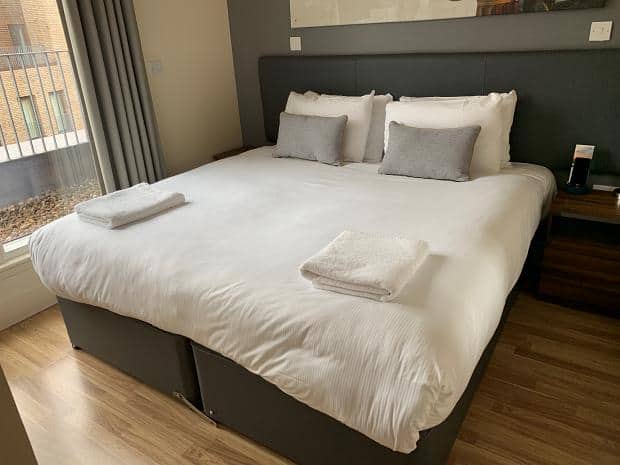 There was a second bedroom too! Just a single one, but when you're expecting a studio, getting a two bedroom apartment was a welcome surprise. Again, plenty of wardrobing too.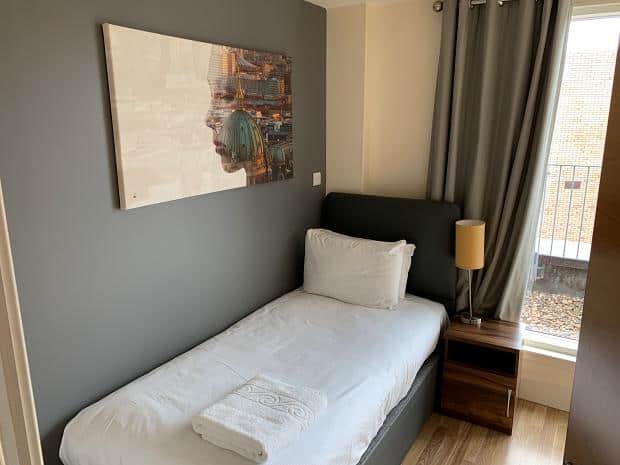 The last room was the kitchen and lounge – ample room to spread out, a full on dining room table so that both Ange and I could get some work done, plus all the mod cons in the kitchen – a full oven with hob, microwave and small fridge but most importantly a dishwasher. It even had a washing machine!
A couch faced the TV over the table and as we explored we noticed that the window actually opened up allowing full access to the stony garden outside. If we needed to make a moonlit escape over the rooftops, we'd come to the right place. Though I suspect it was more likely used by smokers!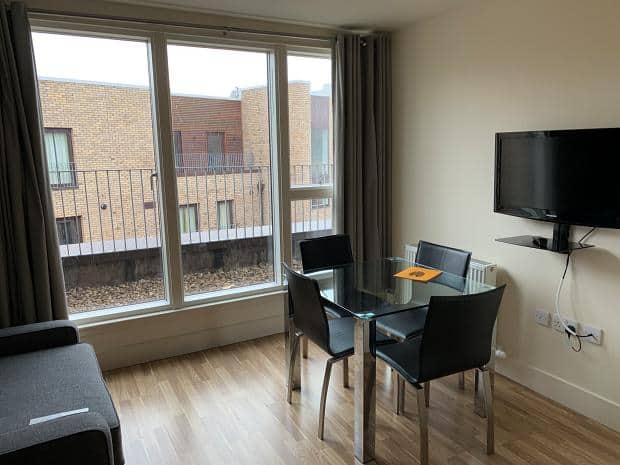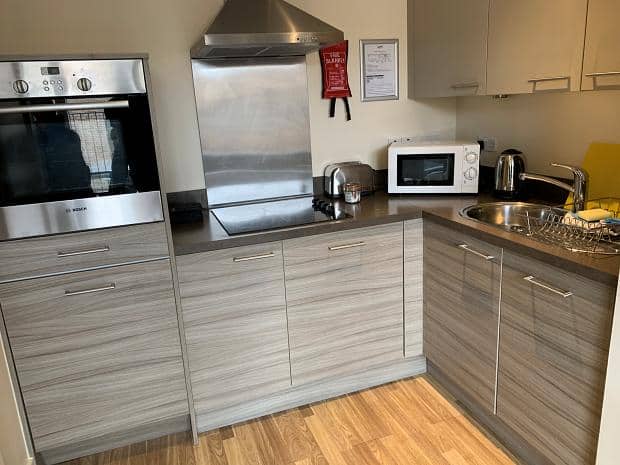 The only weird thing about the room were the doors. There were no slow shutting mechanisms, so they all just slammed loudly after you let them go. It was a bit disturbing when you were reading or working and were miles away when all of a sudden you'd be brought back to earth when one or other of the doors let you know someone had left the room.
Anyway, we resolved to go down and collect our luggage and so were going through the keys when Ange found not one or two but three keys. Lol – we'd been so adamant that we didn't have the other locker key, and now to find the proof that we did in fact have it was mortifying!
So we went downstairs and explained what had happened, owning our error. Not really, we scuttled down, collected our luggage and quietly returned the errant key to its corresponding locker and slunk back to our room, avoiding eye contact with anyone else.
The location is good – not immediately adjacent to Edinburgh's Haymarket Station, but not the longest stroll from there either – 5 to 10 minutes at most. It's very handy to a Tesco Metro so it's ideal for self catering – save a few pounds on eating out, and without the need to do the dishes afterwards also!
Would I Return?
Sure! The people were friendly and professional even in the face of unreasonable guests (ahem!). The location is close enough for the hotel to be a "get off the train and straight to the room" sort of thing, and while every stay won't have a free upgrade to two bedrooms, even a studio would be a relaxing stay.