Location
The Hotel Heritage in Brugge is a member of Relais & Chateaux – which is an association of over 550 independent hotels, all at the upper end of the market. It's a very short walk to the central square and so is incredibly well positioned as a base for exploring all that Brugge has to offer.
Our luggage sounds like a drunken avant garde jazz percussionist on the cobbled streets as we make our way across the main square and down two side streets to the hotel. We're far enough away from the market to be untouched by the crowds while still be close enough to not even notice the walk – perfect placement! We're, as usual, too early for the room to be ready and I'm very tempted to ask how much it would be to add an additional breakfast to the bill in order to sate my hunger now. Instead we head out for a bite – there are plenty of cafe's and restaurants nearby.
Room
On our return we complete check-in and head up to our room, no. 39. There's a narrow staircase but we take the lift which would probably fit four people comfortably. Our luggage has already been deposited in the room and we look around taking it all in.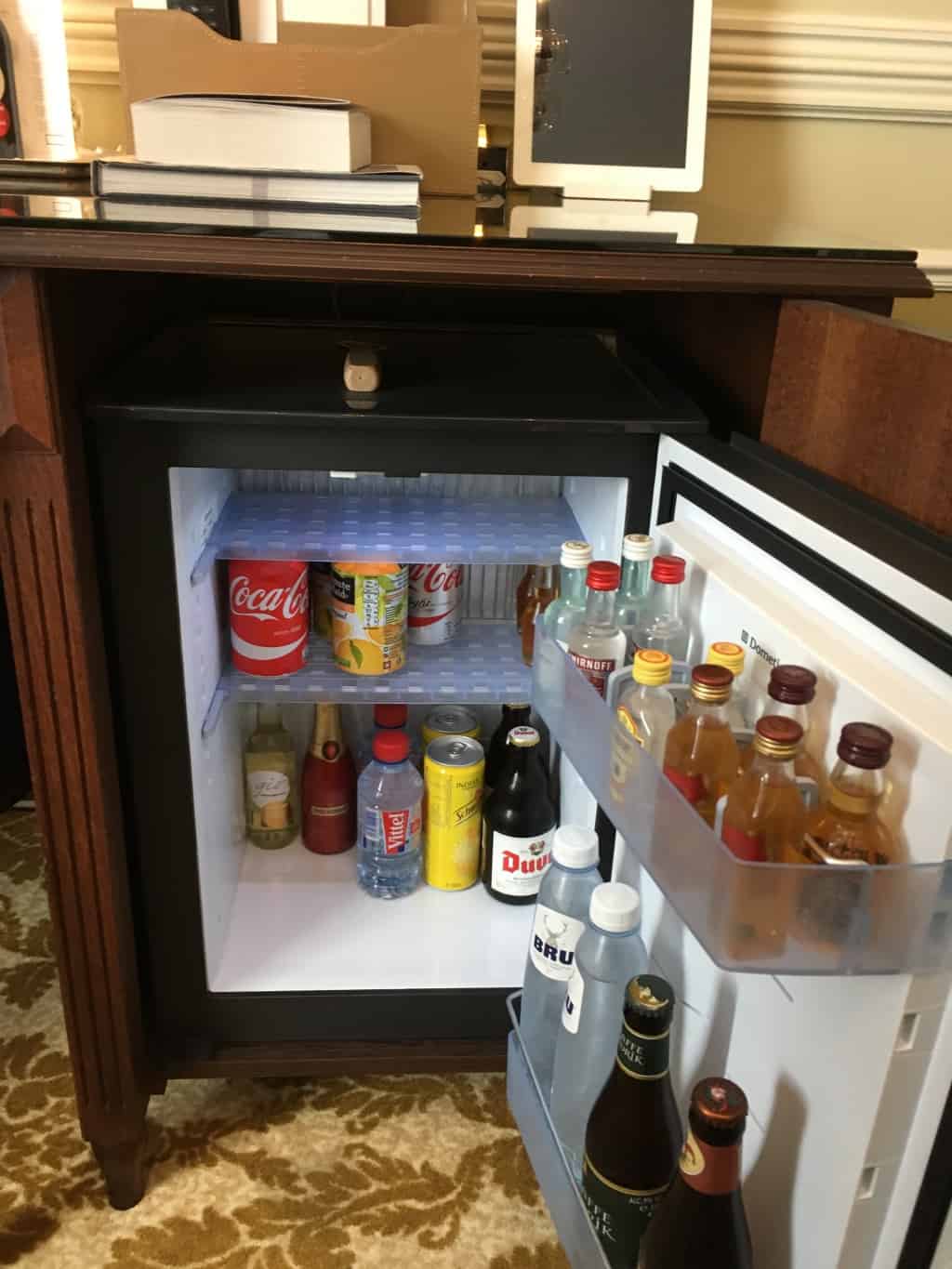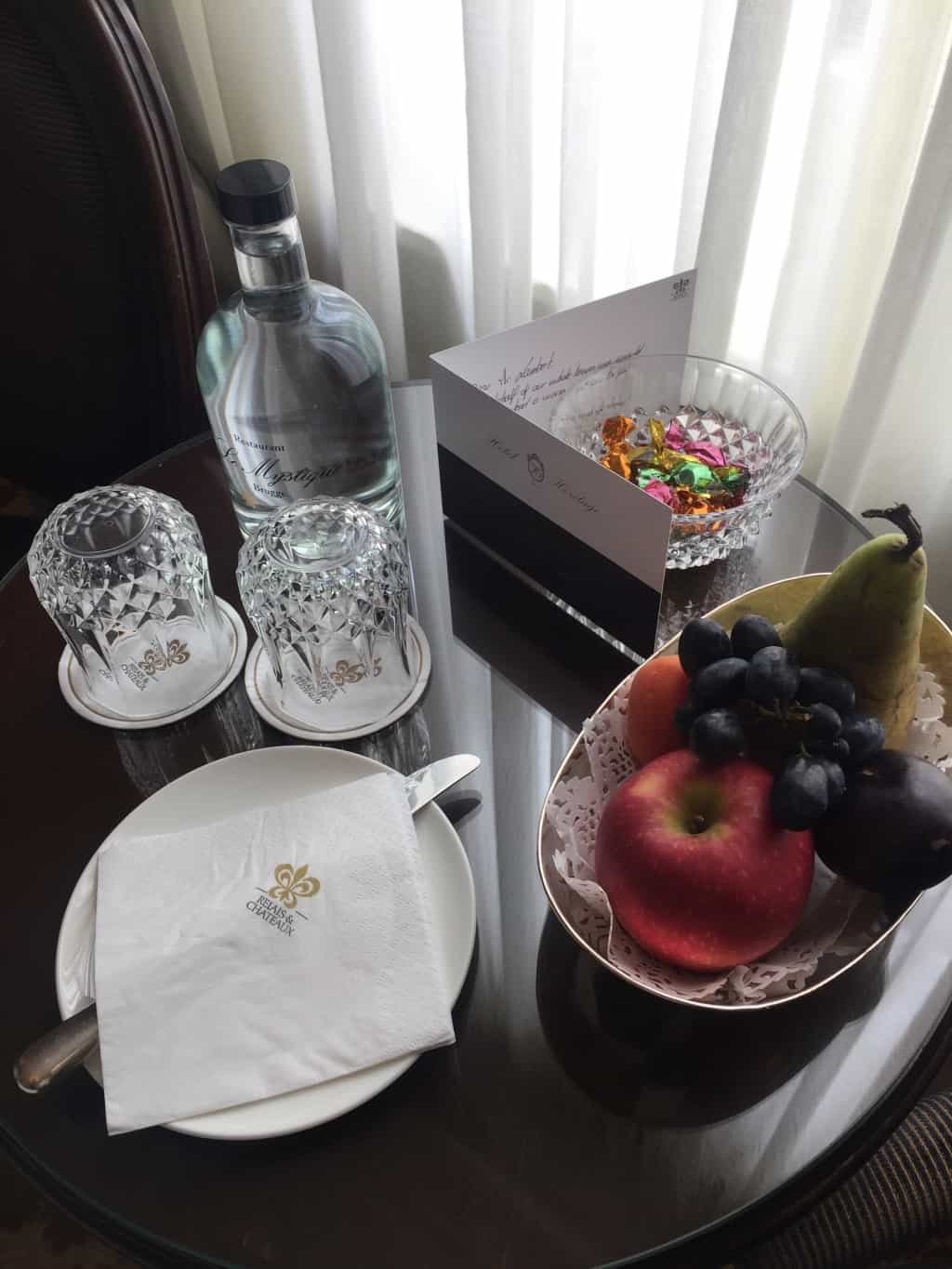 The decor and fittings are amazing – they wouldn't be out of place in the palaces we'd visited. Everything is tastefully laid out and the furnishings perfectly complement each other. There's a desk for working at, a table and chairs to enjoy a coffee at and a coffee and tea maker as well!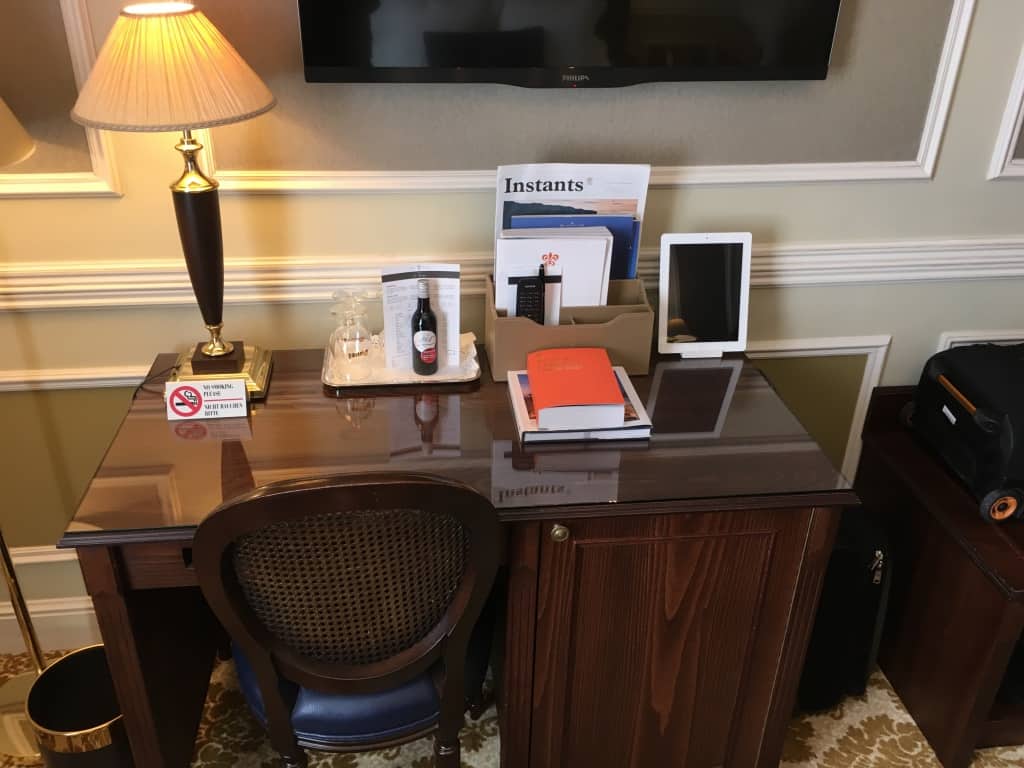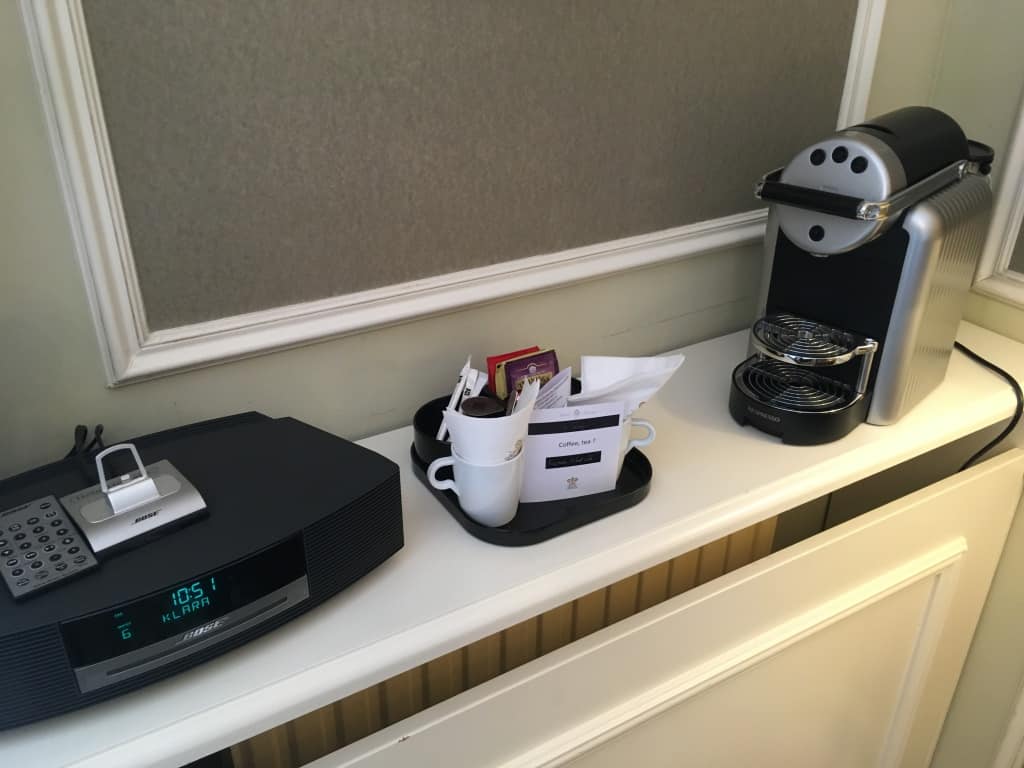 I can't decide if the most stylish element is the chandelier or the retro looking phone.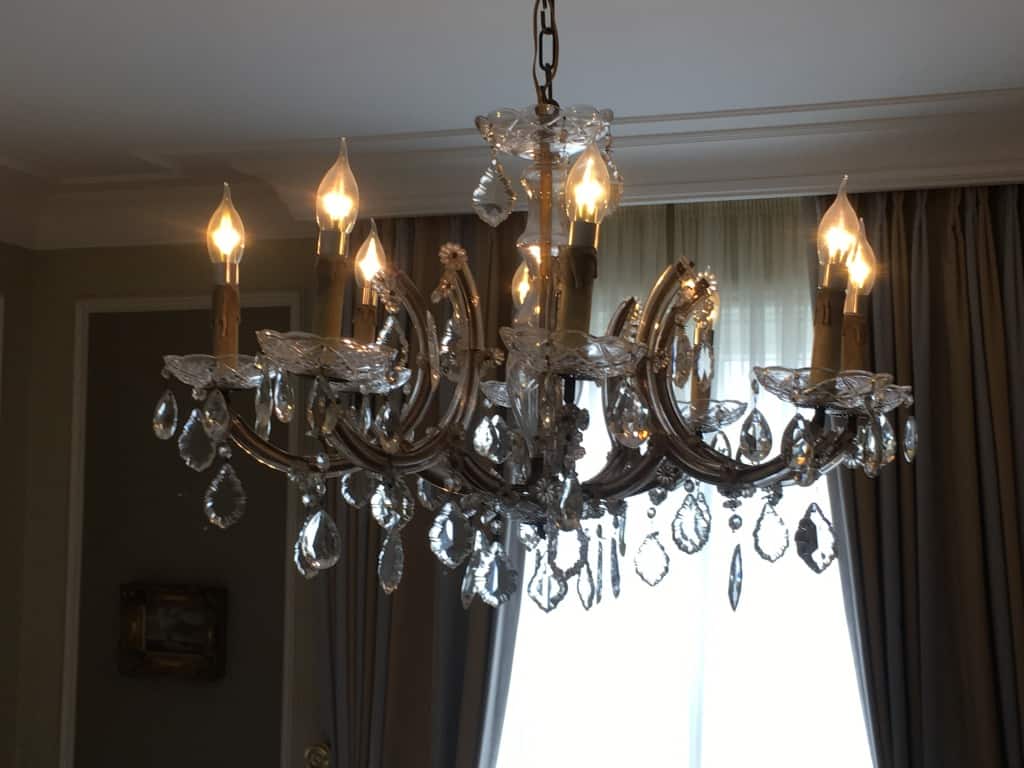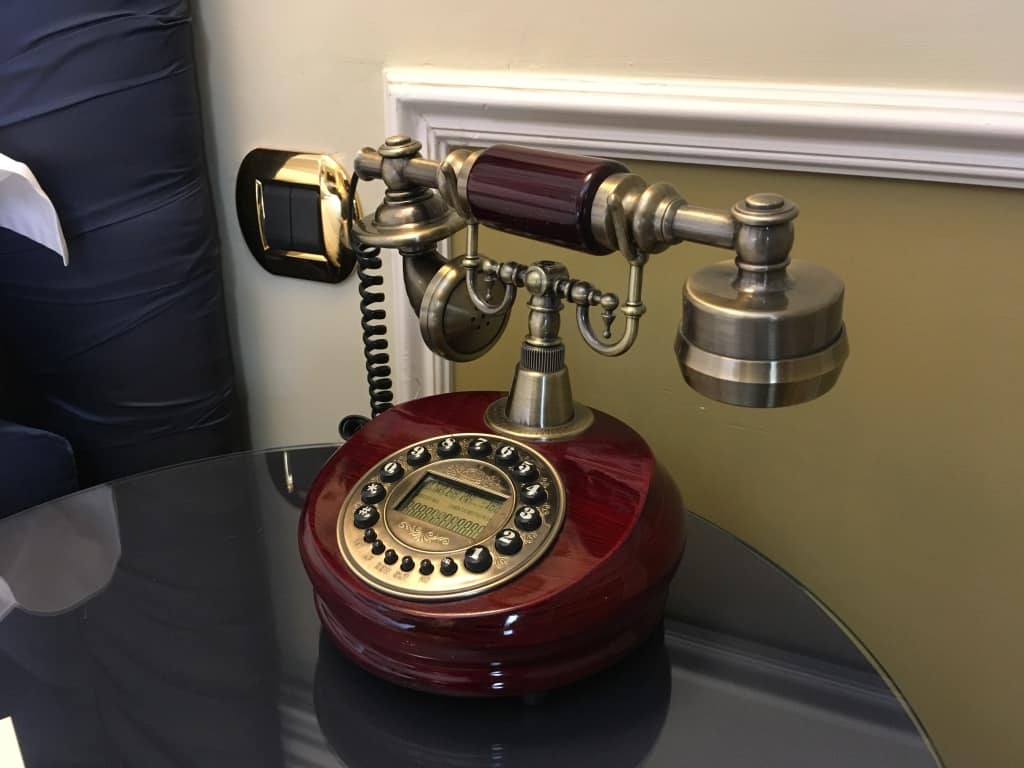 The bathroom is dominated by marble tiles and a gold framed mirror, the toiletries are Durance and a full sized bath has your choice of rain forest head or hand held shower head over the top of it. So tastefully decorated! A pair of robes hang against the wall and some slippers are stashed under the sink.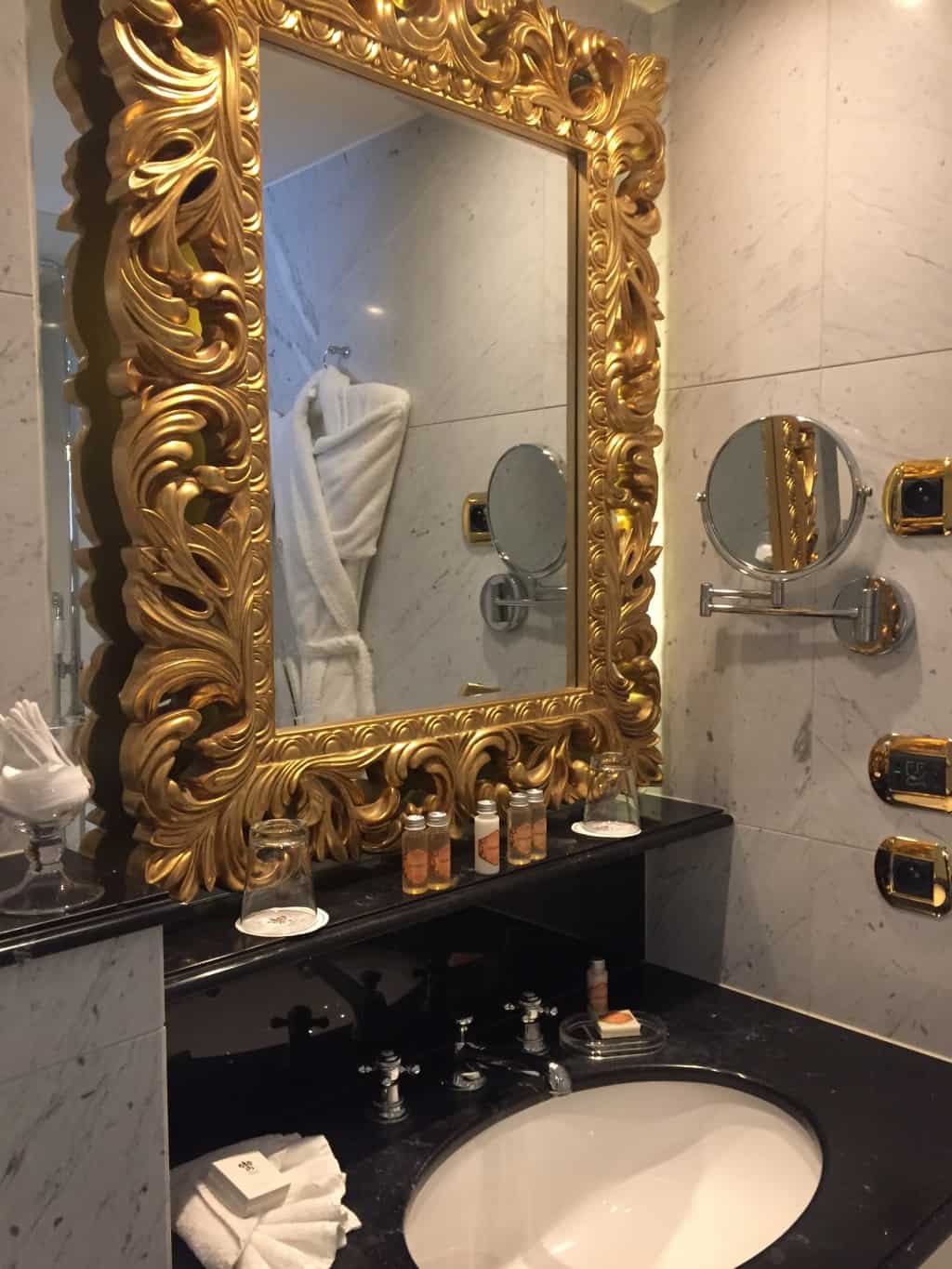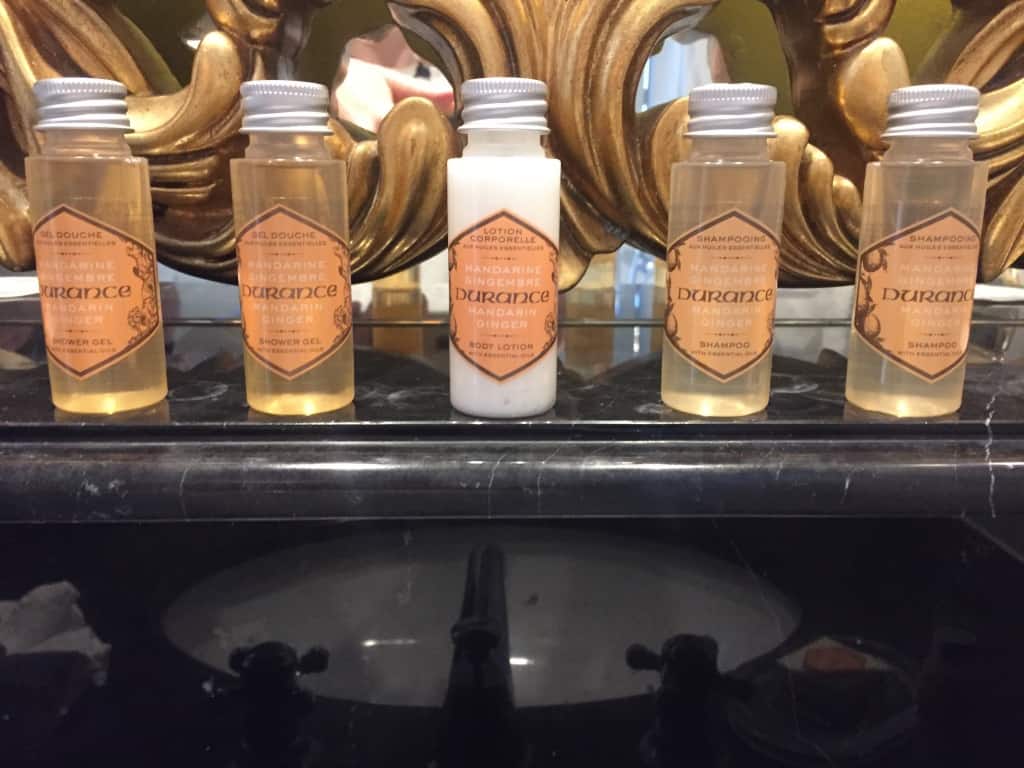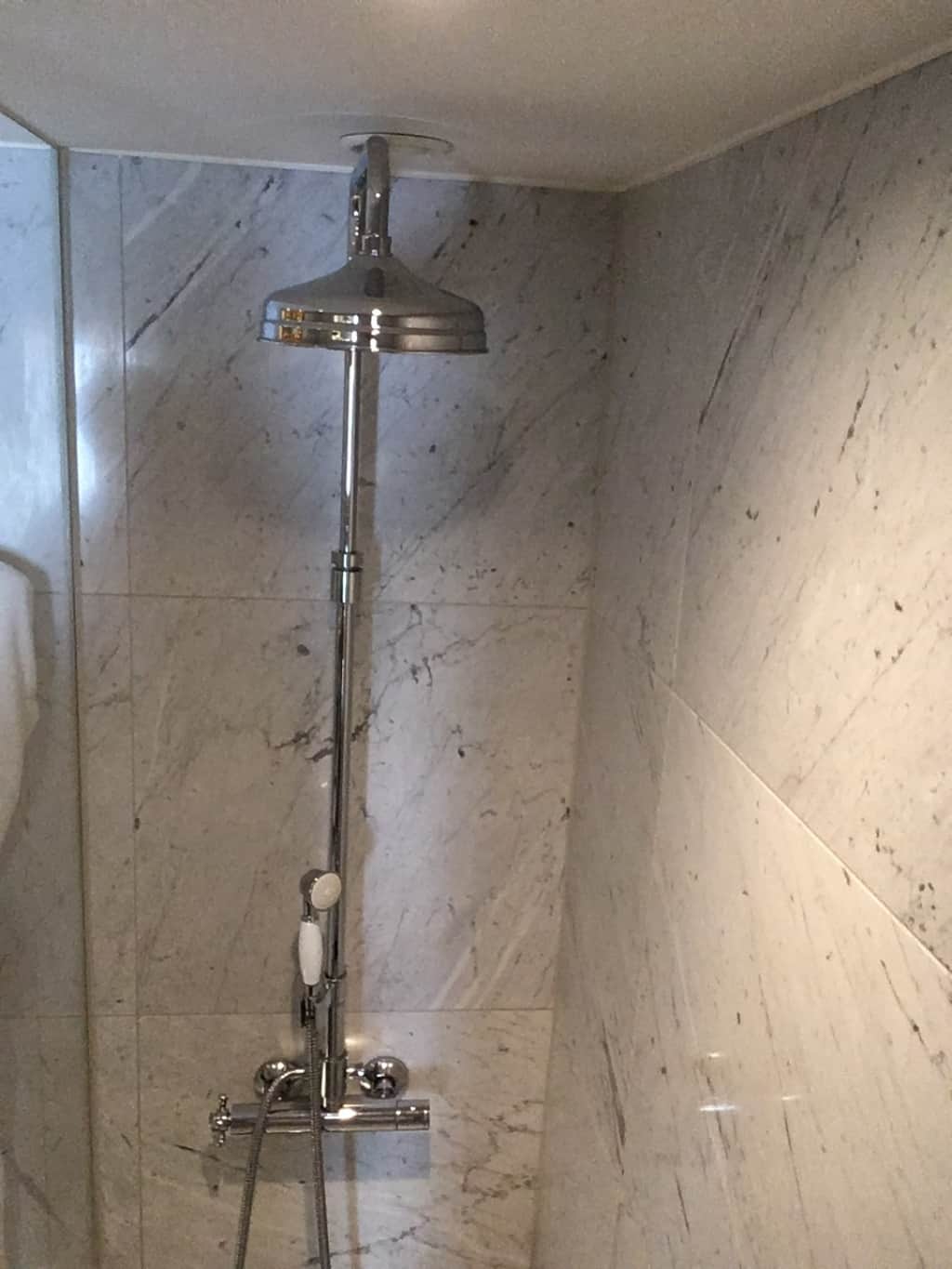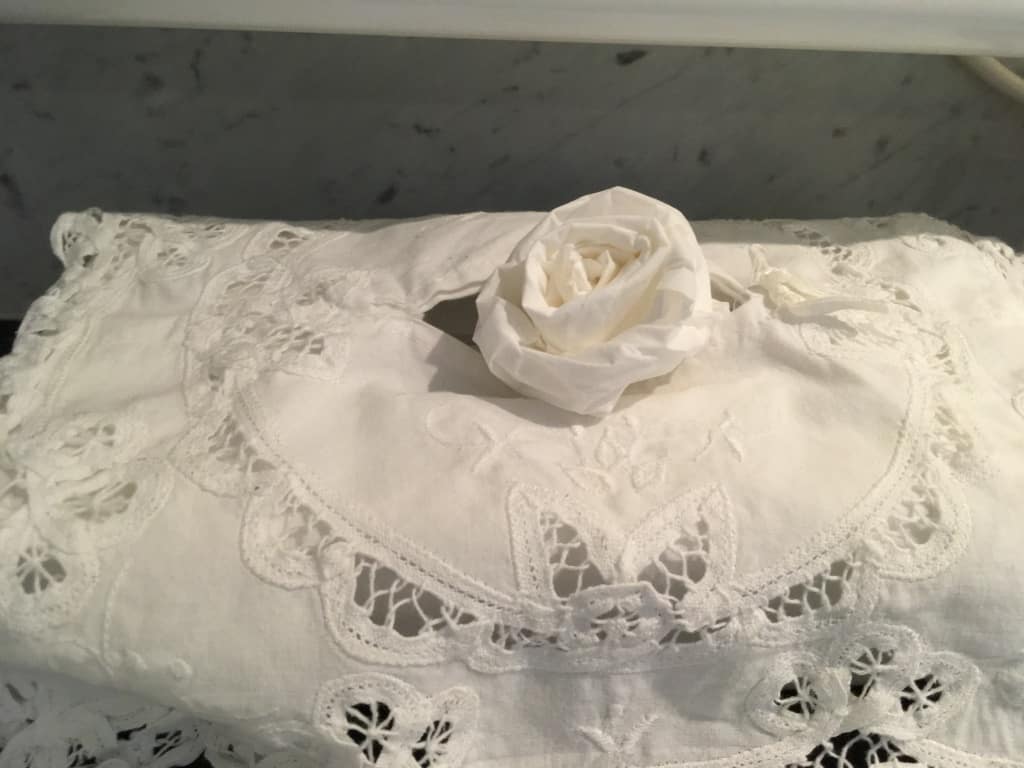 The bed is quite amazing – so much so that they include a little card so that you can get a discount if you buy one from the designers.
The only thing that stopped it from being perfect was the blue light glowing from the air con controls – we couldn't figure out how to turn it off and ended up sticking some cardboard over it so that we could sleep.
Facilities
We're perusing the documentation for the hotel on the free iPad that comes with the room and come across a mention of a sauna. I must have missed that on the website, so I head down to reception to ask about it. The staff seem confused. Yes, there is a sauna they say, but it will take 30-40 minutes for it to be ready. Looking back I think that the sauna only gets used in the winter months and our request struck them as quite strange. I smile at them and say that will be fine – we'll be down in 45 minutes.
At the designated time we come down in our robes and collect the swipe key for the sauna. We head downstairs in to the basement and find the gym which is surprisingly well equipped. There are even suggested workout times and charts of exercises. But we are here for the sauna!
We head further along and use the swipe card to access the room. It's really well set up for such a small area – you wouldn't want more than maybe four people in there at a time, but there is a sauna, a steam room, a shower complete with plunge bucket and a lovely relaxation area with loungers and water station. A pair of loungers at the entrance have foot buckets for warming up too.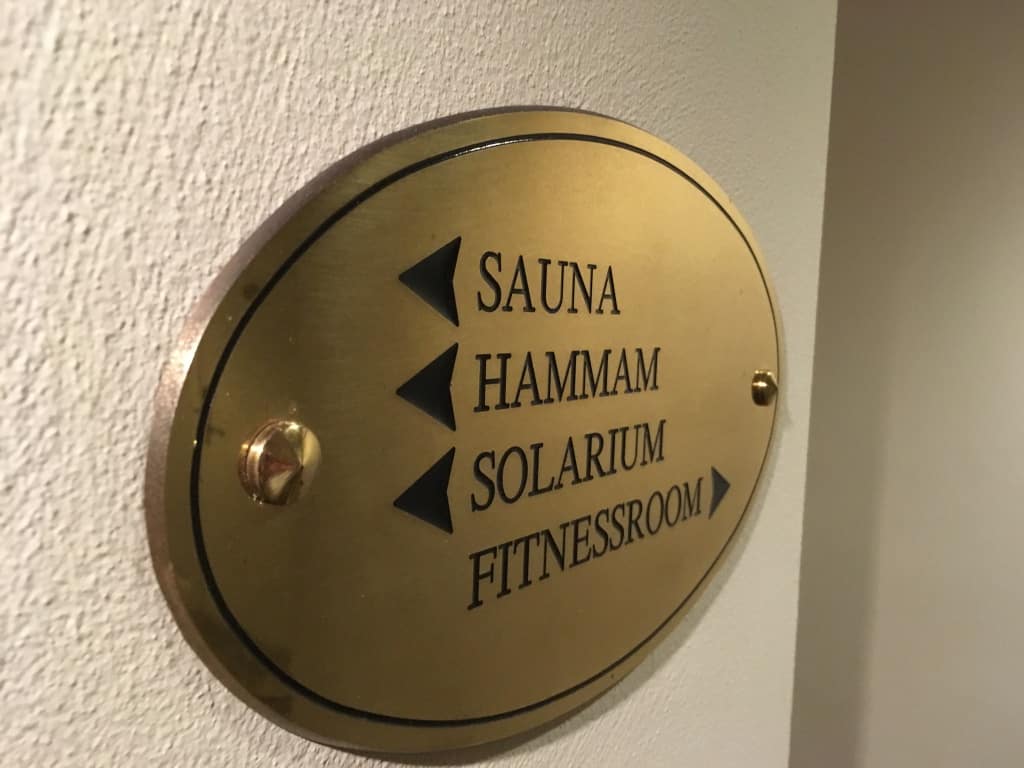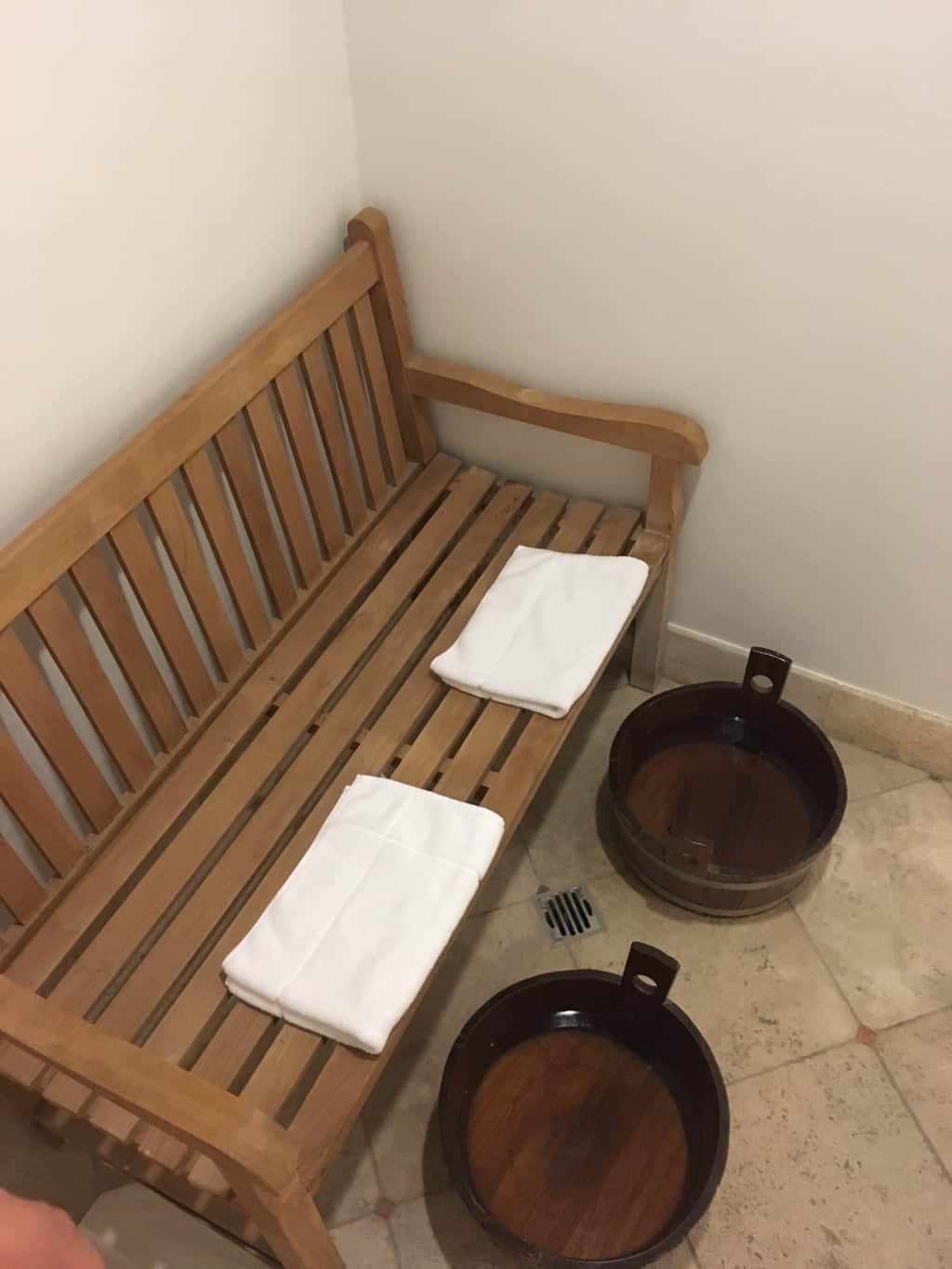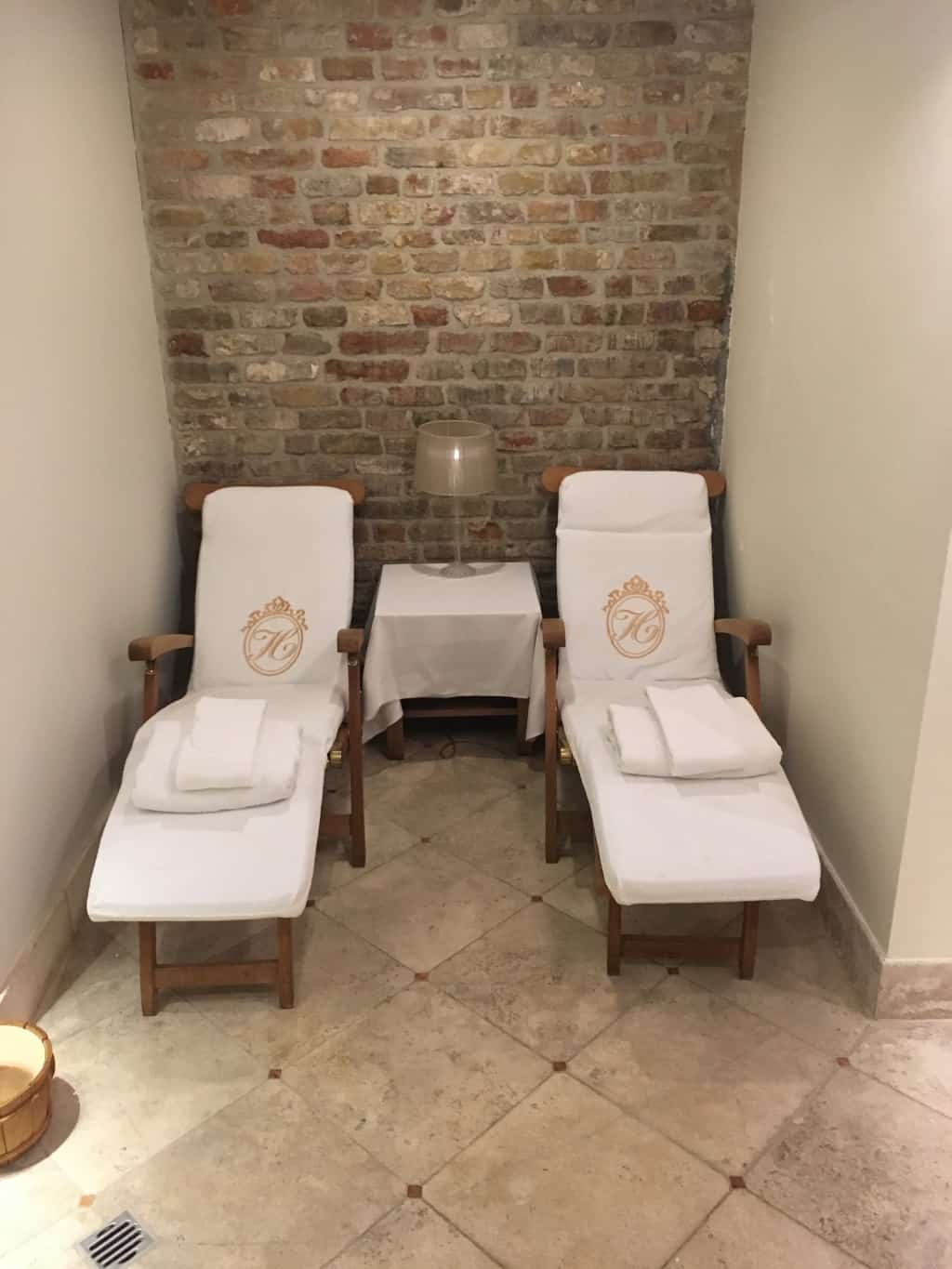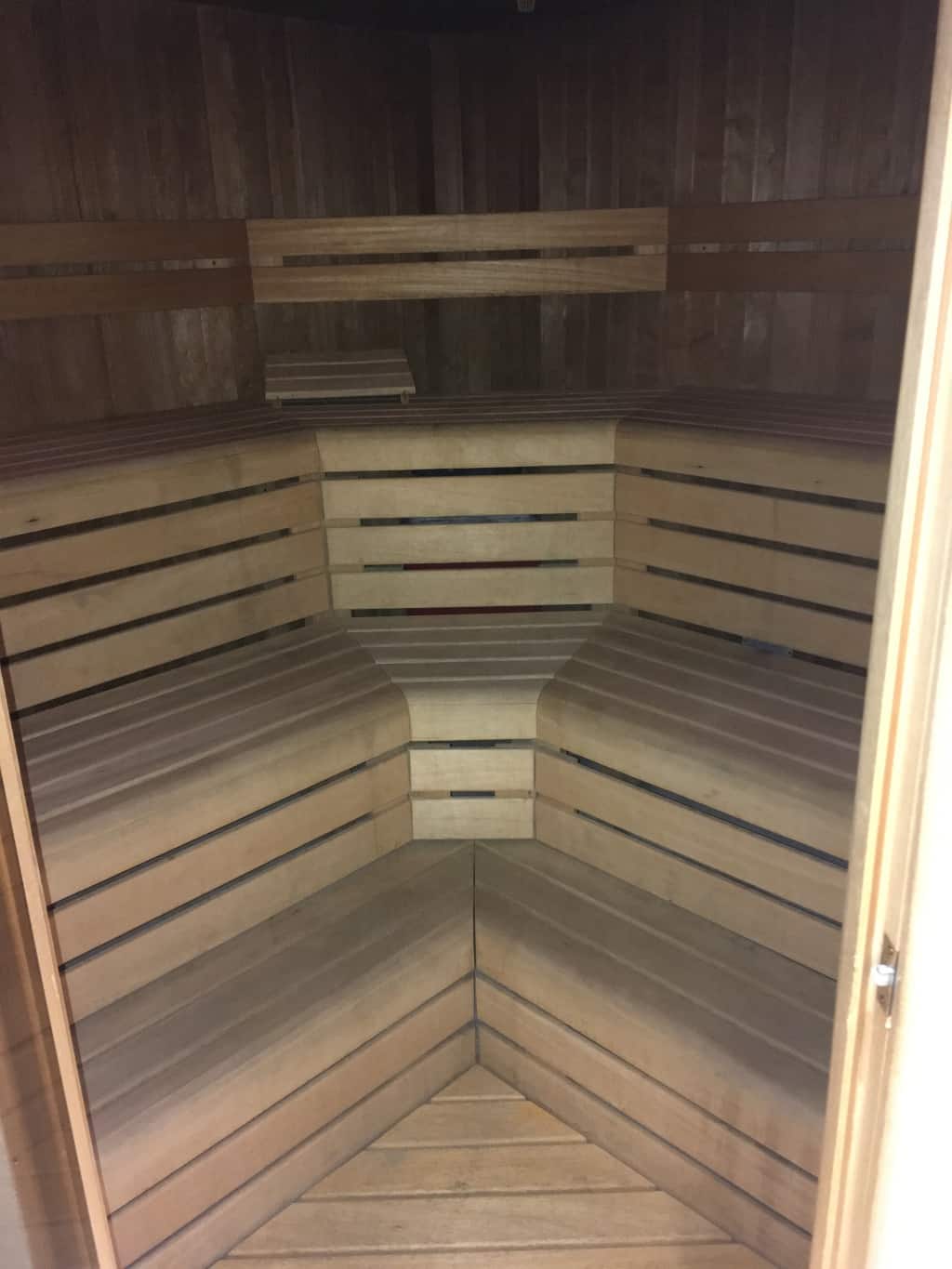 We spend about an hour trying out the facilities and then head up to the top floor where we'd seen there was a sun deck. The deck again is small, but does provide a nice vantage point for looking over the roofs of Brugge. I'd imagine it would be magical in the winter, looking out over the snow covered roofs! There are some loungers there too and a coffee table with some newspapers – a nice place to sit and take the sun.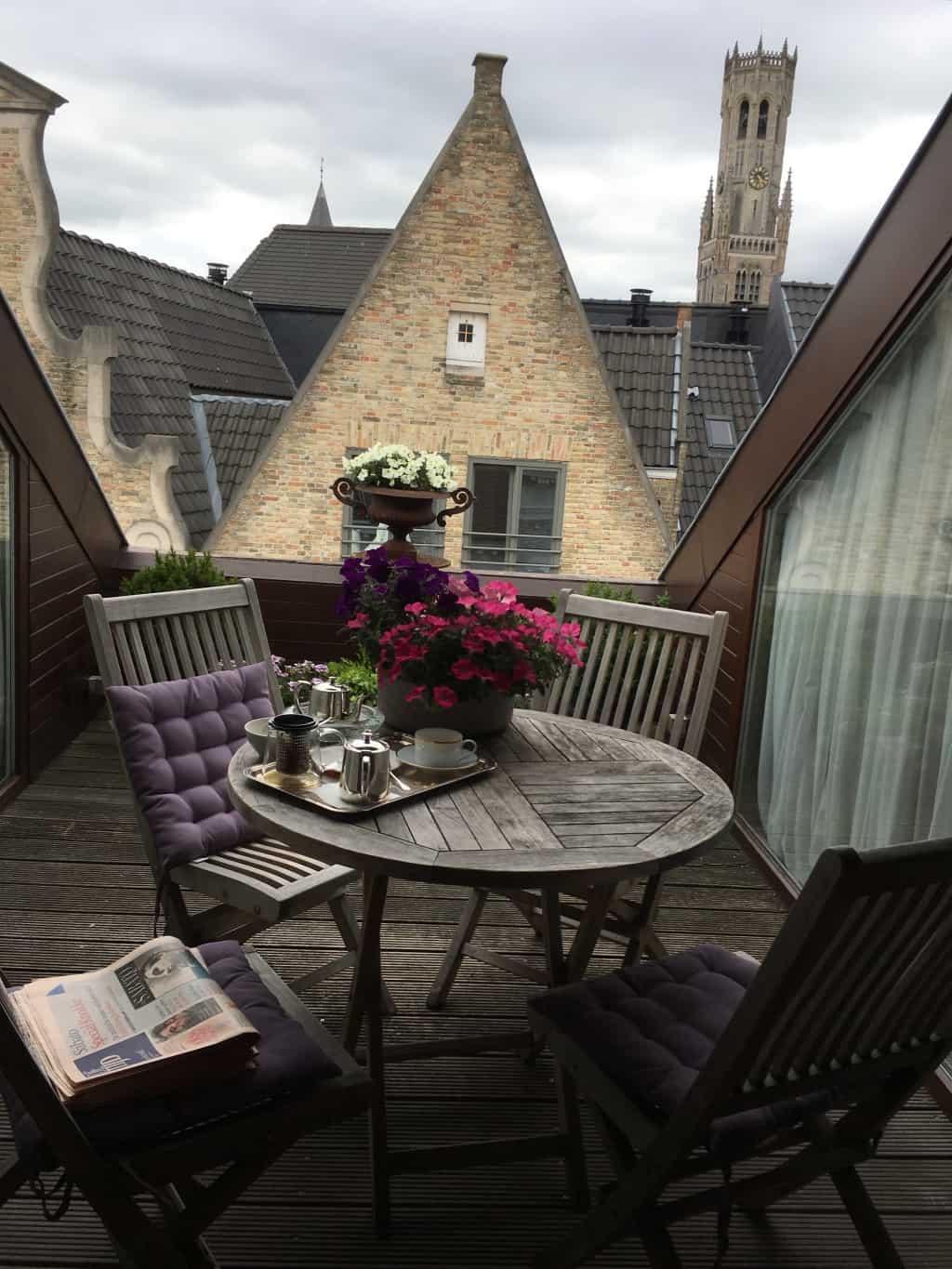 The kitchen is closed the night that we are there, so we head out to taste the delights of Brugge – something to keep an eye on if you plan to eat at the hotel.
In the morning on our way to breakfast we notice that someone has slipped a card under the door – indicating the expected weather for the day – old school charm!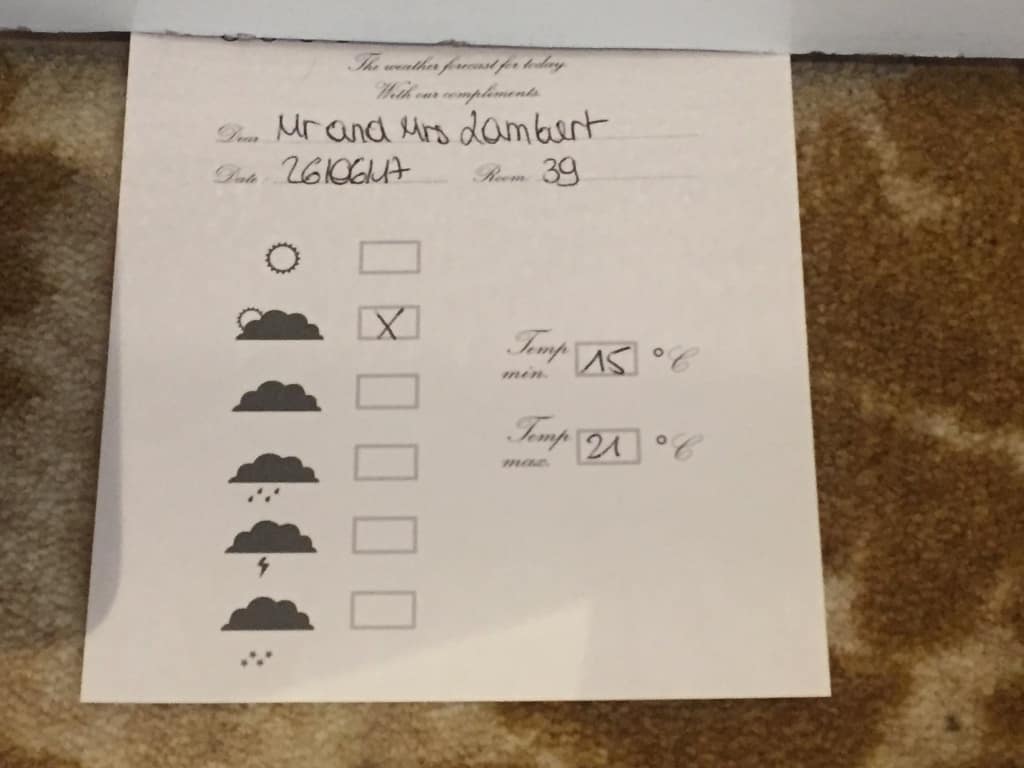 Breakfast
In the morning we head down for breakfast. We're not quite the only ones there but close to it. the breakfast room is again, straight out of a palace with mirrors and chandeliers and tasteful furnishings everywhere. It's the differences that we start noticing after a while with breakfasts – boutique hotels don't tend to have buffet breakfasts because there aren't enough customers to justify having that much food out. So they tend to have chef's who make what ever you like. The Heritage has both, and what a buffet it is!!
Your standards are there in force – bacon (with the additions of sausages, tomato and mushrooms), croissants, buns and bread with a million jams. Juices, cold meats and cereals as well as fruit salad and a million toppings for the cereals.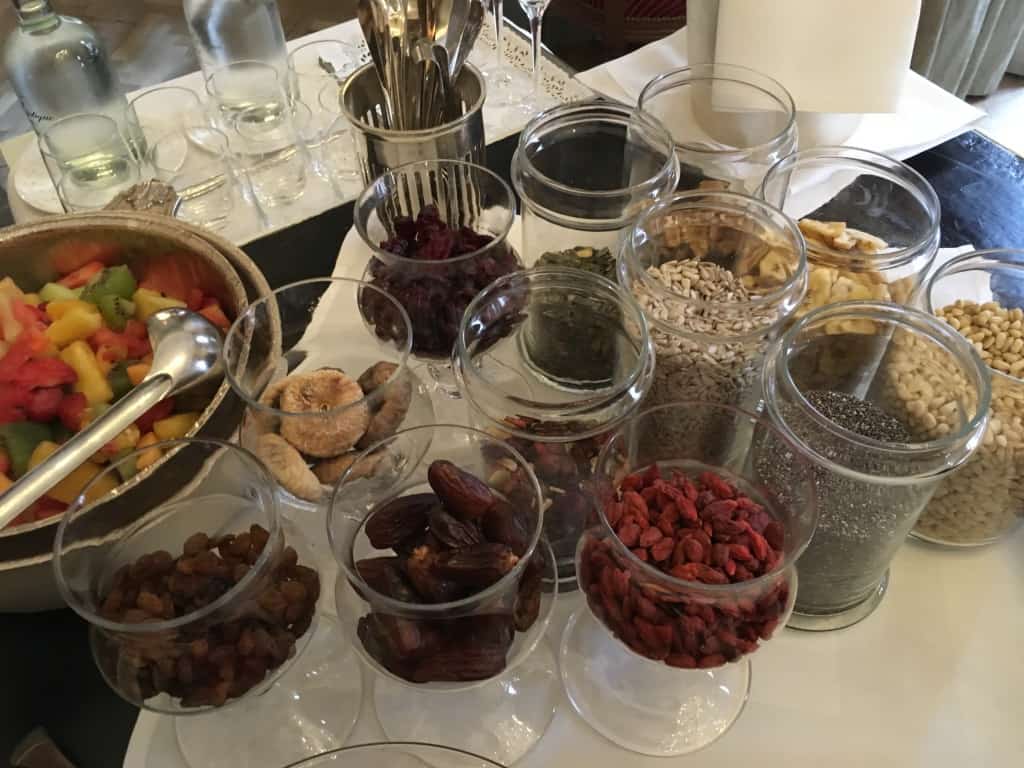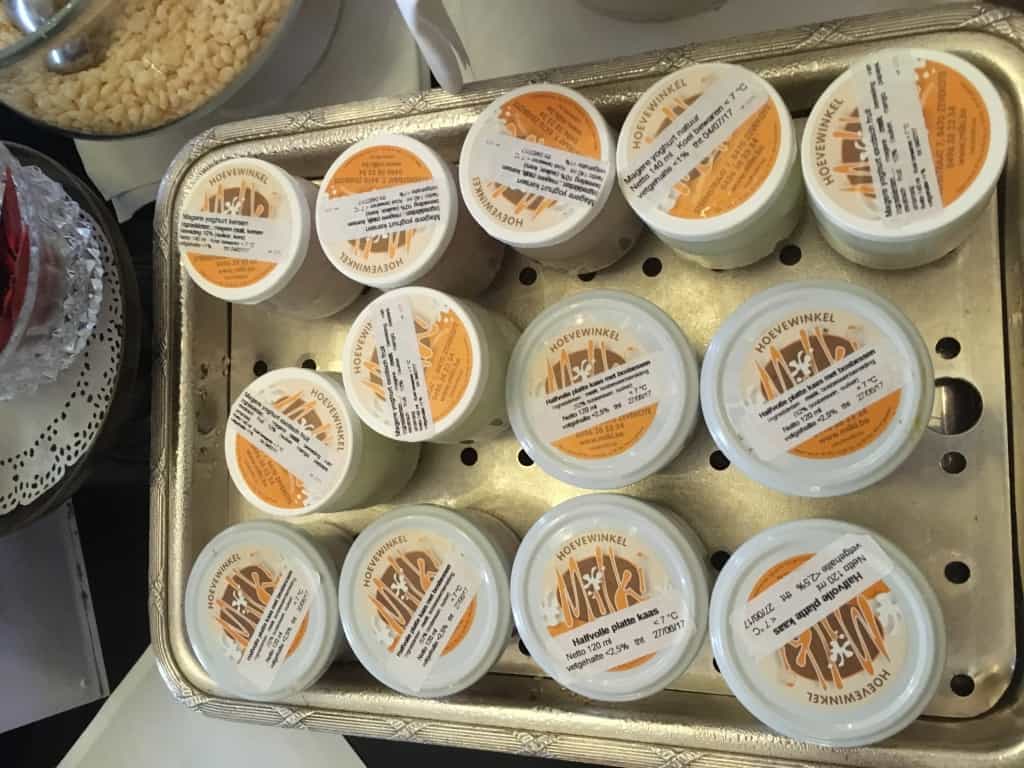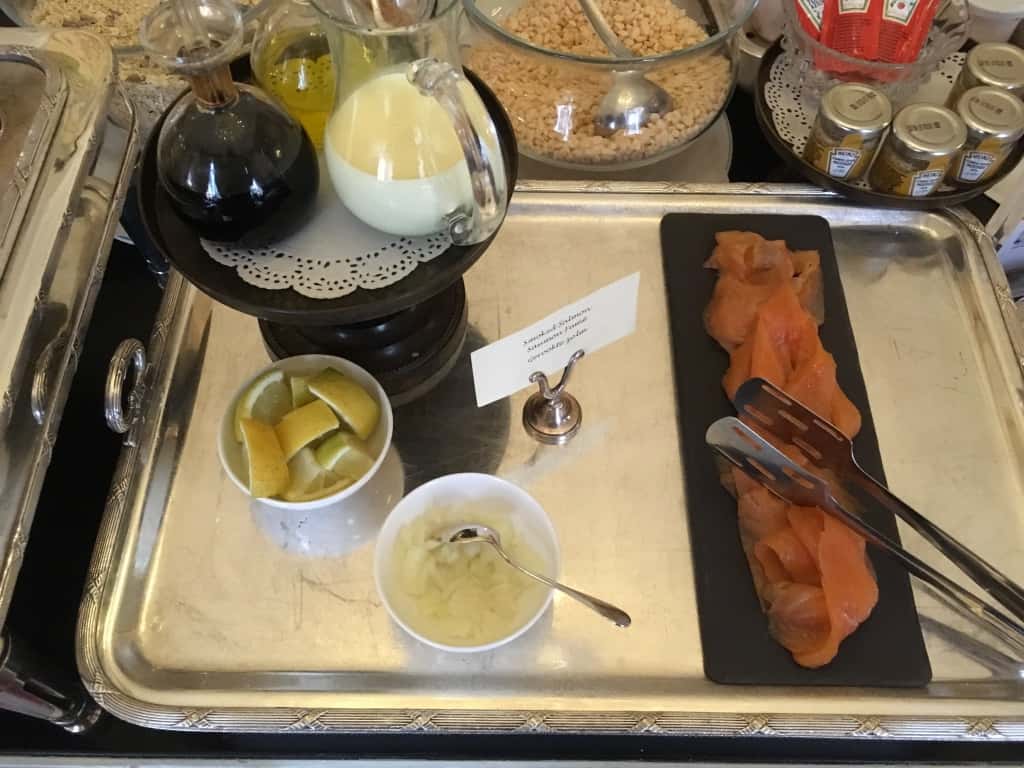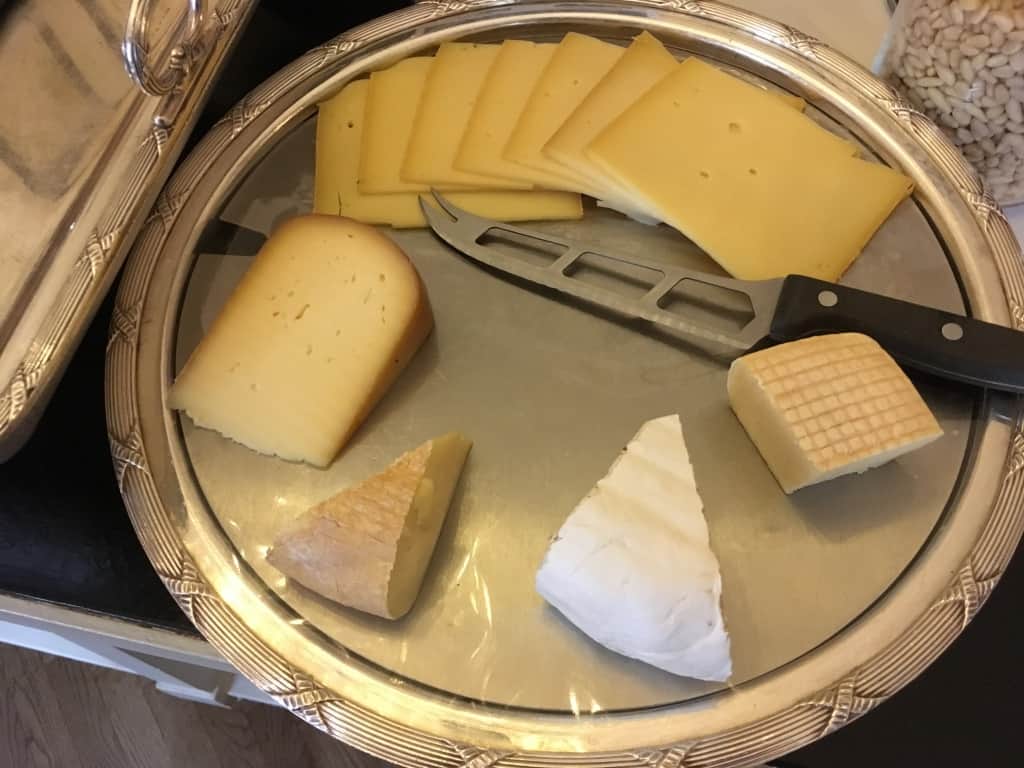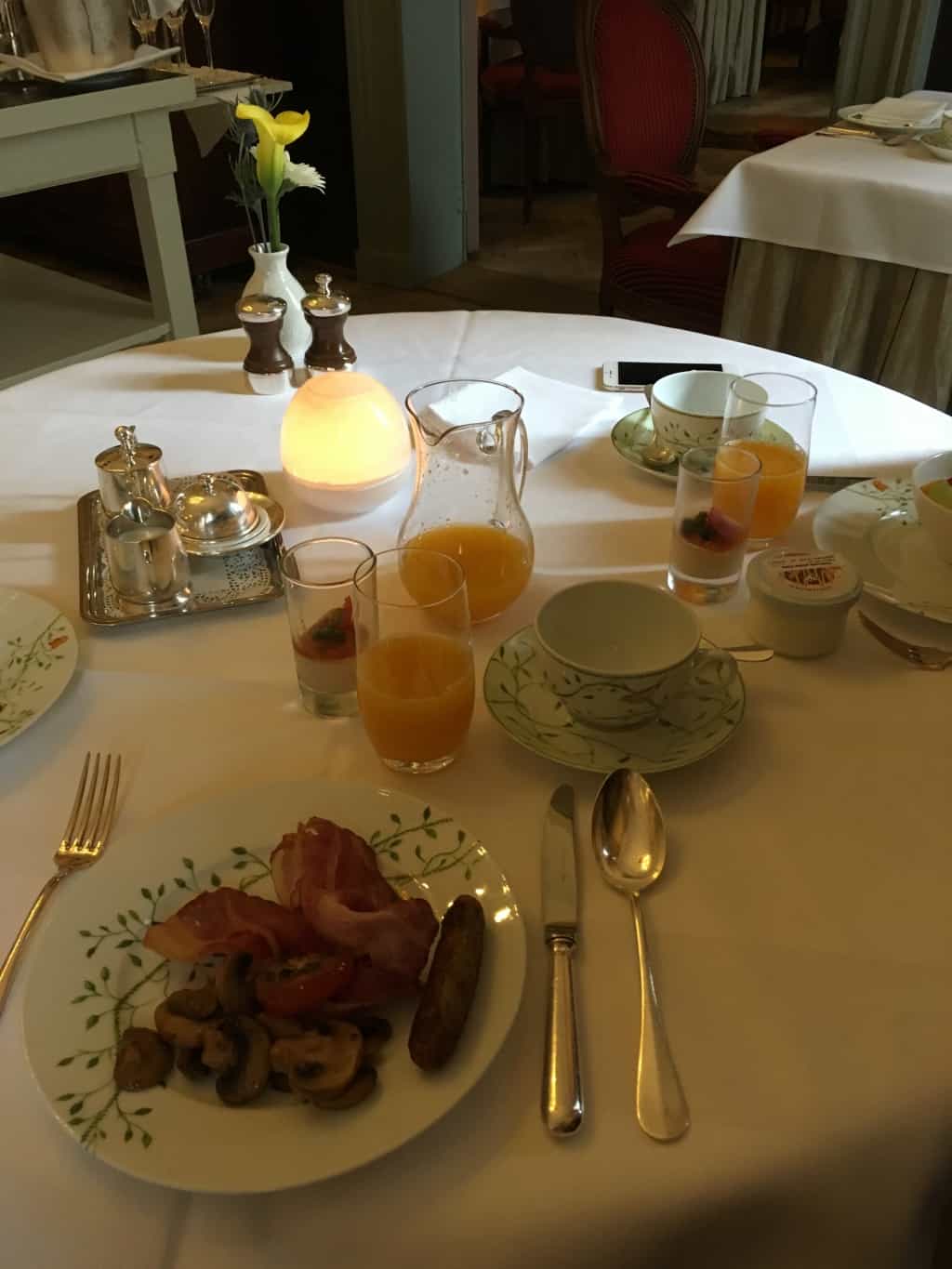 It's the bonus items which stand out. A selection of cheeses. Bread pudding. But the pièce de résistance is a glass case housing three large blocks of chocolate. Small dishes in front hold more edible sized chips of each, but it was so weird to see so much chocolate sitting there for breakfast!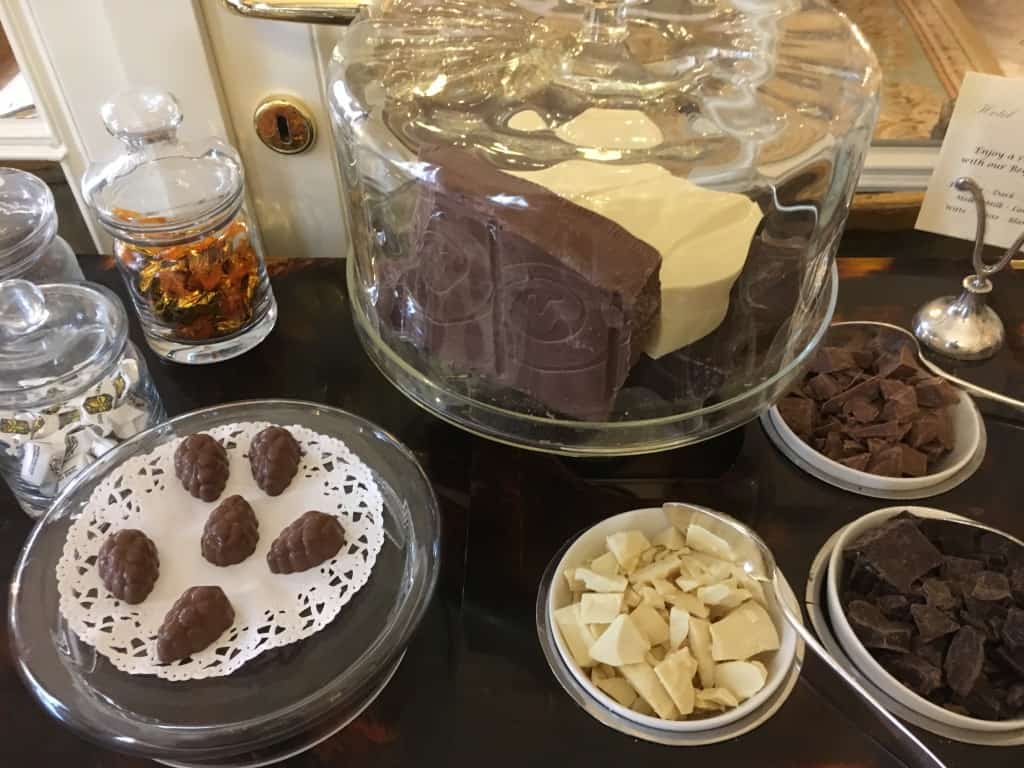 After we sat down the lovely staff member asked if we'd like anything else – some eggs perhaps or some toast. I say sure – maybe a poached egg – Ange gets some toast. I had noticed that there hadn't been any eggs on the buffet table, I guess they're all made to order!
Pros and Cons
Pros

Room, especially the bed
Location – very central
Breakfast – an amazing spread
Facilities – sauna, gym, sun deck
Staff were friendly – if confused why we would want a sauna in the middle of summer
Style – interior design is immaculate!

Cons

Couldn't figure out how to turn the light off on the air conditioning controls.
Would I Go Back?
I wouldn't need asking twice. It's everything you want a hotel to be – and more.
The Hotel Heritage supported our Summer 2017: UNESCO tour by providing a complimentary stay. All opinions remain our own.