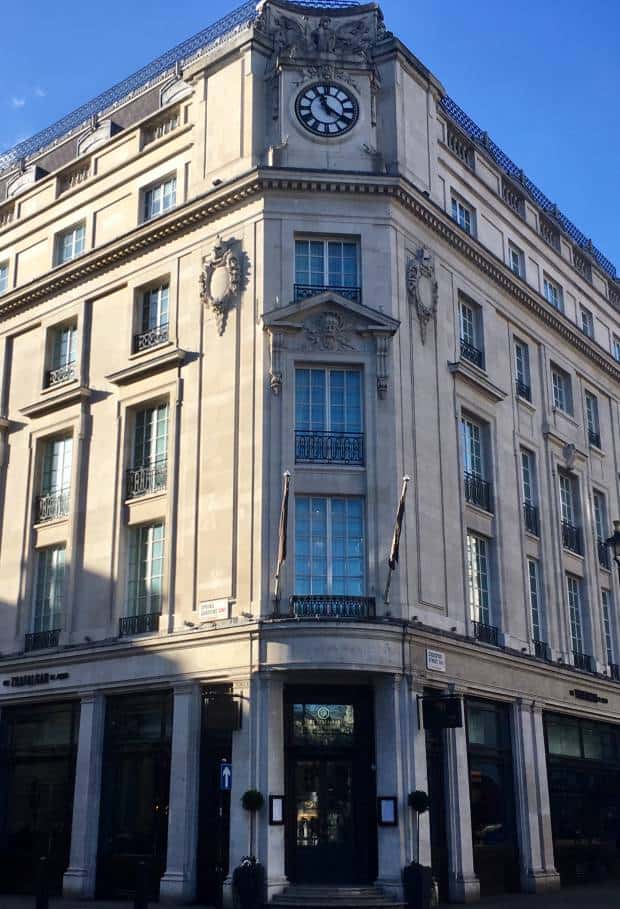 Tucked away at the corner of Trafalgar Square, opposite the Canadian High Commission, you'll find The Trafalgar St James Hotel, part of Hilton's Curio Collection.
The 5 star London hotel occupies the same 19th century office building that once housed Cunard – it was in the boardroom that news filtered in about the sinking of the unsinkable Titanic.
That very same boardroom is now the hotel's Landseer Suite and though the original oak panelling has been retained, it's now painted a contemporary grey.
Elegant sophistication is the watchword – a vase of hot pink, crimson and orange roses adds a bold splash of colour to the calming muted palette.
My room, a junior suite, is almost as impressive. The style's the same; though spacious, it's not quite as large. But it's the attention to detail that's important, and such touches are plentiful.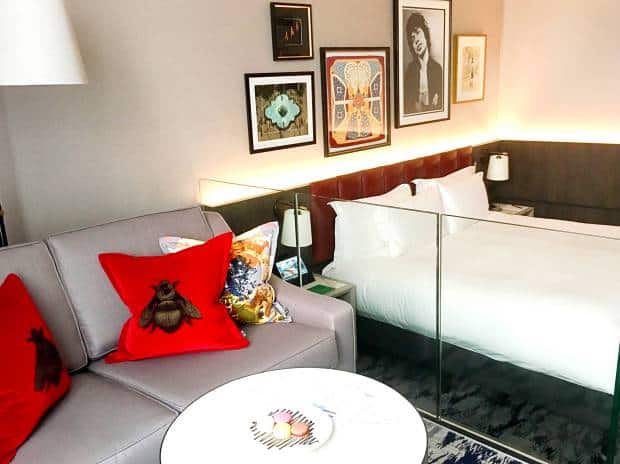 There's a welcome card from the hotel manager on the table beside four mini macarons, fresher than those I bought at the bakery down the road.
A Nespresso coffee machine sits on the side, plus a tea tray hides out of sight keeping clutter to a minimum.
If I'm being really picky, I'd have liked to have been left a jug of fresh milk to save the effort of dialling down for it, though when I do, the service is as friendly as it is efficient.
In fact, every member of staff that I interact with during my stay goes the extra mile to make sure the vibe is personal rather than corporate.
The suite has a mezzanine seating area, from which there's an enviable view across to Nelson's Column.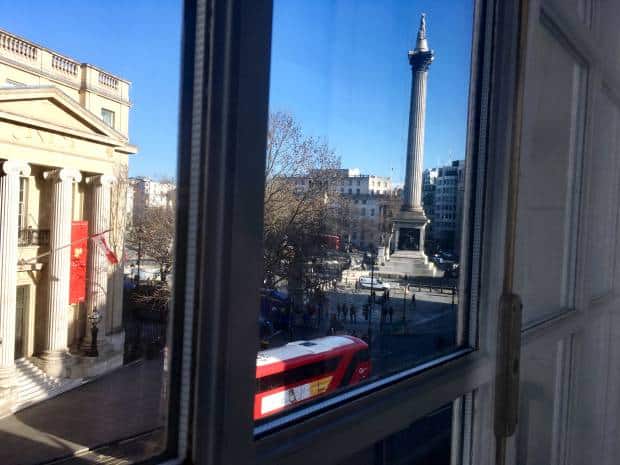 A book of London's curiosities competes for my attention with a glossy travel magazine, though the city outside the window is reward enough.
Triple glazing ensures I'm not bothered by the hum of the London traffic despite the busy road a couple of floors below.
A print of Mick Jagger hangs on the wall above the bed, a Dave Hogan original like the many other black and white photos that grace the various corners of the 5 star London hotel.
The bathroom's well equipped, with the fluffy bathrobe you'd expect and plenty of big, equally fluffy, towels. (I hate it when the bath towels are tiny.)
Molton Brown toiletries on the shelf above the bath and in the generously proportioned shower complete the luxurious feel.
I'm here as a guest of DayBreak Hotels for what's called a daycay. If you don't have the budget for a vacation and you don't have the time for a staycation, then a daycation might just be the next best thing.
Hotels fill what would otherwise be empty rooms in the daytime or late evening; you get to have a 5 star London hotel room at your disposal before you go home for the night.
It would have come in handy a few months back, I thought, when I needed to attend a black tie function down by the river – far nicer to change outfits and have pre-dinner drinks in such a pleasant location than to navigate train, Tube or worse, traffic, in a long dress.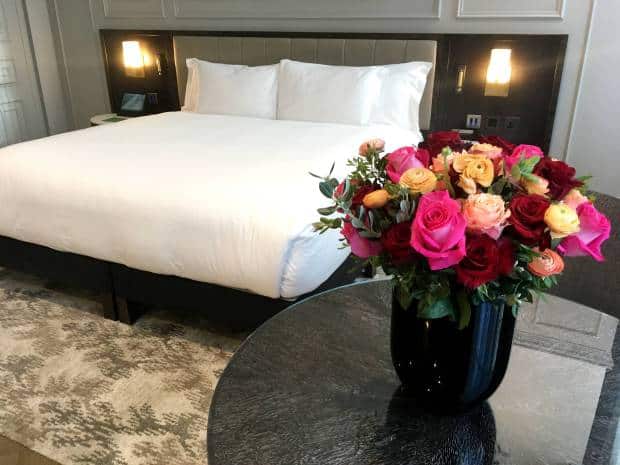 I'd imagine it would also be pretty good as a base if you were up in town with a toddler or an elderly relative. There'd be somewhere for them to have a nap or even a sit down when tired.
Come to think of it, the room would make a pretty decent man crèche too if I wanted to shop unencumbered by a bored husband – he'd be much happier sprawled in front of the TV and there'd be somewhere to leave the bags over dinner.
A daycay at an airport hotel could also come into its own – a bit pricier than a lounge pass, but much more of a treat.
The downside, though, is that I barely have time to try out the oh-so-comfortable bed before I am due downstairs for afternoon tea.
I do close my eyes for a half hour power nap, setting the alarm just in case. I don't want to miss the feast that awaits me.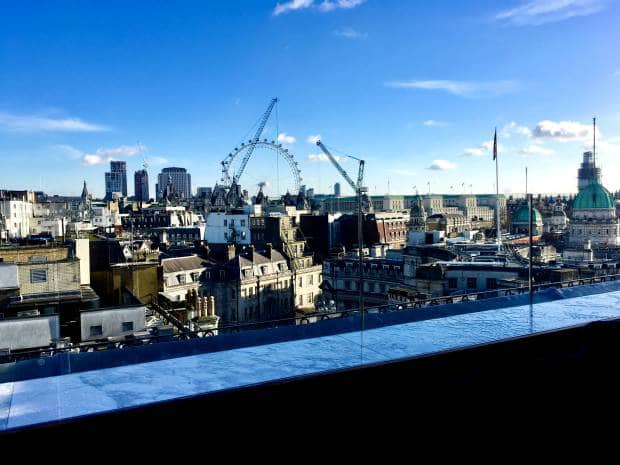 Since my January 2019 stay, the TSJ's restaurant has closed for a refurbishment, though to my untrained eye it looks perfectly fine as it is. I'm shown to a booth, this time under Daniel Craig's watchful eye (sadly another Dave Hogan art print rather than the real deal).
The food is presented with great style, as you'd expect from a 5 star London hotel which innovates and endeavours to be just that little bit different.
The tea menu, I note, showcases teas from the Tregothnan Estate in Cornwall – who knew we grew tea in the UK?
When I can't choose which to have, my friendly server suggests two, and they're both a treat. The afternoon tea, too, needs explaining.
Normally, I'd be pretty impatient with such faffing about, but actually I benefit from hearing the back story of the pairings. Each item has been inspired by a Molton Brown scent, it seems, and they thoughtfully throw in a sample too.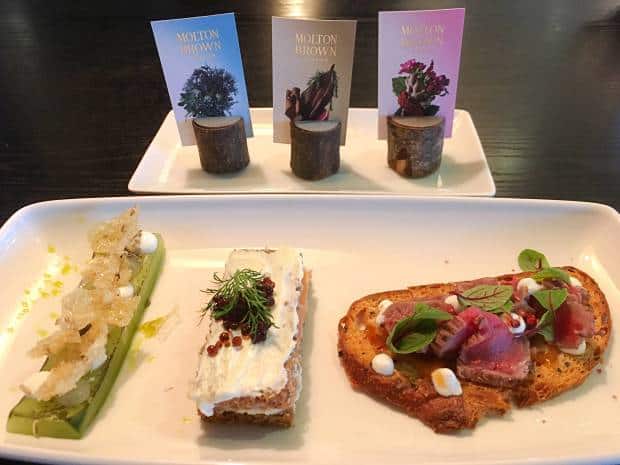 Coastal Cypress & Sea Fennel marries a slice of compressed cucumber topped with pieces of fennel crisp, while Carpaccio of Denham Vale beef with pink peppercorn gel on sourdough toast exemplifies Fiery Red Pepper.
The sweet treats are no less delicious. Scones, a staple of any afternoon tea, are warm and perfectly baked. It's a shame that the jam isn't Wilkins & Sons (the best in the country and manufactured five minutes from my home) and I'd have liked a little butter alongside the clotted cream.
By the time the patisserie arrives, I am a little full and awash with tea. A rose and rhubarb pastille bursts with flavour and a Prosecco sabayon with watermelon and berries is quite literally mouth-watering.
By the time I get up from the table my body's gone into full on digestion mode. It's a delight to head back upstairs for another nap instead of waddling out into the cold of a London January afternoon.
Reluctantly at four o'clock, I check out, sweetening the pill with a visit to the National Portrait Gallery across the square. If Dave Hogan can do it, I figure, why can't I?
Julia Hammond stayed at The Trafalgar St James for a daycay courtesy of DayBreakHotels.com. Prices vary, with the best rates generally on offer to last minute bookers.