You can't get much more central in Edinburgh than the Residence Inn by Marriott. The hotel is nestled in the Quartermile area separated from The Meadows by a single line of apartments, alternating between glass windowed new builds and character buildings.
It's a fifteen minute walk into the Old Town and is surrounded by the University of Edinburgh. I was lucky enough to stay for a week on my arrival in Edinburgh, and here are my observations.
It's cold in Edinburgh. If you're lucky you get a southerly from the Continent which boosts the temperature by a couple of degrees, but even then Spring promised unsettled weather with every flavour of rain on offer.
I scampered from taxi to the entrance of the hotel, wheeling two suitcases and wearing a backpack and grateful it was about ten metres I was travelling and not further. Through the revolving door, I joined the line of people seeking to check-in.
The receptionist's name tag read Erica and as each person completed the brief check in they each asked for her name and I could see why. She was good – professional and efficient, I imagine she has a steady stream of positive customer feedback.
I got the answers to the questions I was seeking (wifi code on the key-card, breakfast from 6:30 to 10:30, gym last on the right after the lift) and she added a couple of points which were appreciated (free guest laundry down the hall) and because I was staying so long she upgraded me to a suite with a lounge.
There was only one lift which meant at crunch times, like in the morning for breakfast, there was a bit of a wait, but I was lucky enough to be on the second floor so could head up or down the stairs instead. Earning those bacon and eggs!
Entering the room, the wood veneer floor reflected the light from the floor to ceiling windows overlooking the building next door. The lounge featured a couch facing a large screen TV and a large wall mounted radiator. a c-shaped wooden table cupped an ottoman allowing you to put your feet up while watching the TV with a cup of tea.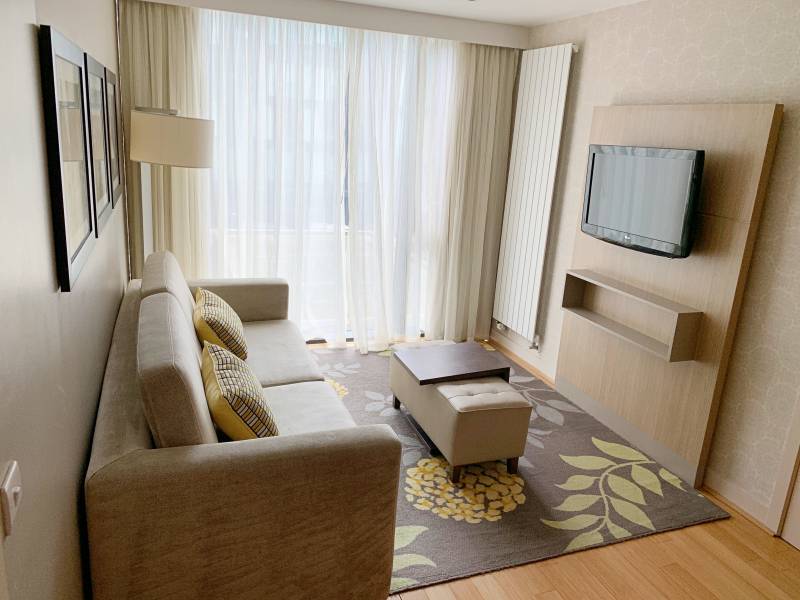 The open plan kitchen was separated from the lounge by a large work desk complete with lamp and comfortable business chair.
The kitchen was surprisingly well appointed, with a small fridge, a combination oven/microwave and even a dishwasher! A full cupboard of plates, cups and glasses sat above the sink and there were sufficient utensils to ensure that you could self cater for a s long as needed.
Outside there was a Sainsbury's two buildings over if you wanted to buy things to cook, plus two coffee shops, a Malaysian restaurant and a pub in case you didn't.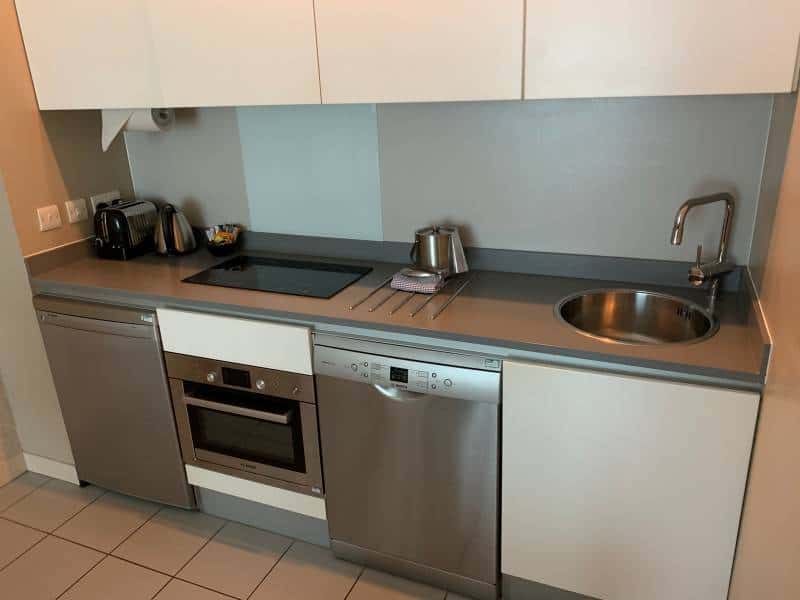 The open plan kitchen was matched by an open plan bathroom. The sink and towels were out in the hallway, the whole mirror in fact a giant cupboard.
The amenities were Nirvae Botanicals and were replenished as need throughout my stay. Through the sliding door was the toilet and shower, the latter of which had great pressure and three settings on the shower head.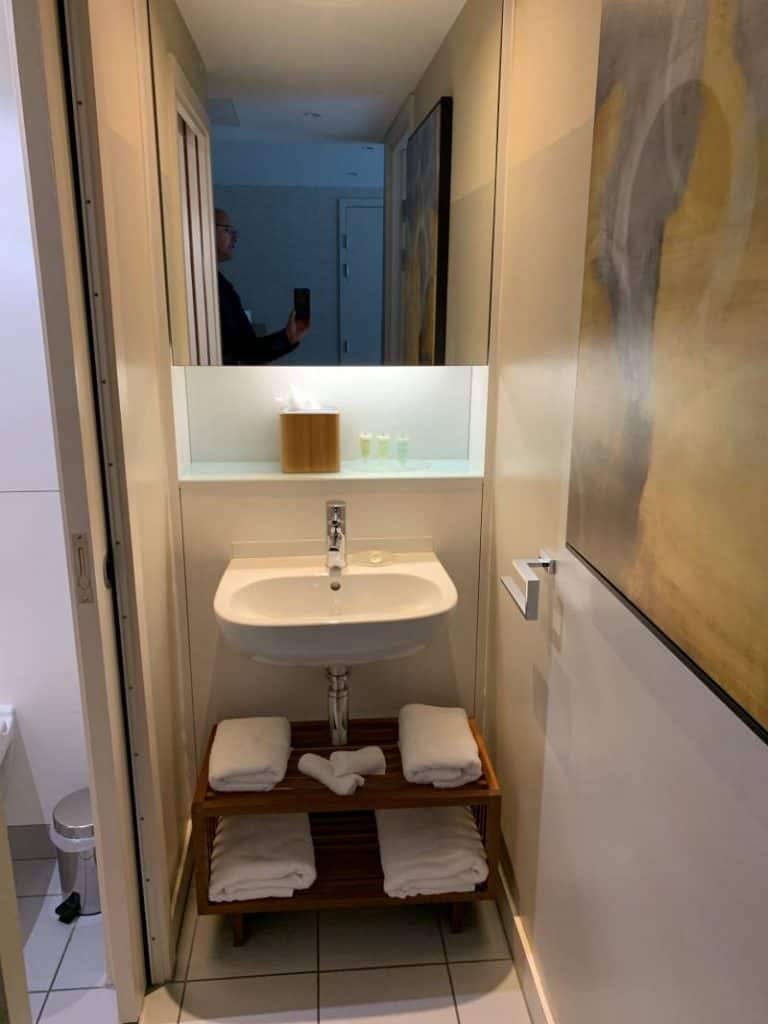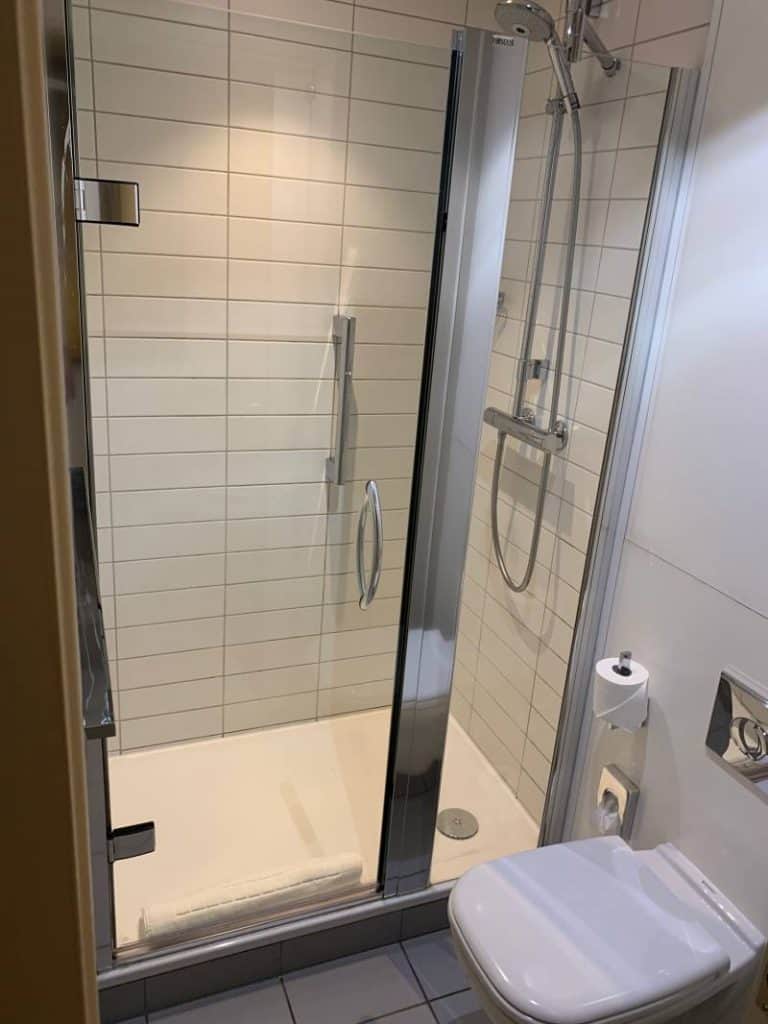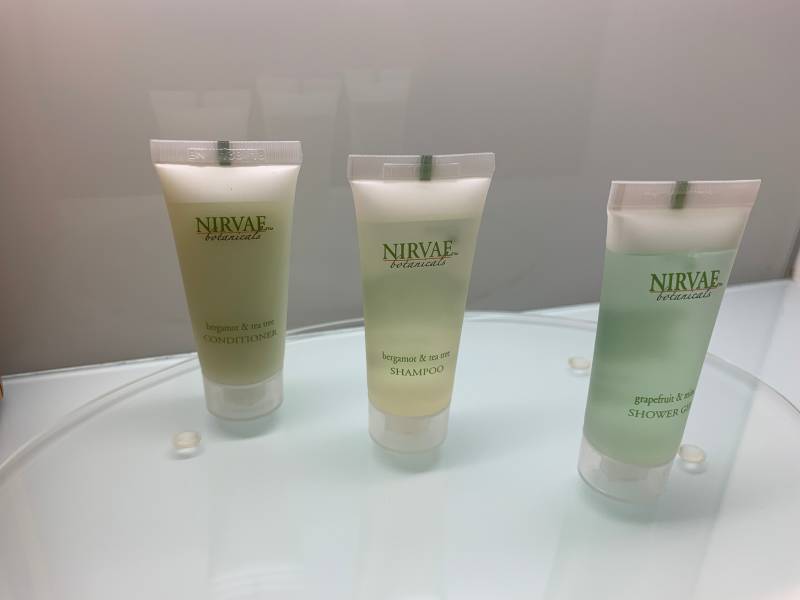 Which only left the bedroom. A decent sized bed facing a TV over a small desk. Behind the door was another of the large radiators, and most of the window was frosted for privacy.
Speaking of the window, the view outwards was over the neighbouring buildings, apartments mostly, and while it was warm and comfortable, the room had a little bit of a "Rear Window" vibe to it with all the surrounding apartments having the same floor to ceiling windows and an aversion to blinds. Meaning if the television didn't appeal you could watch the comings and goings of the neighbours.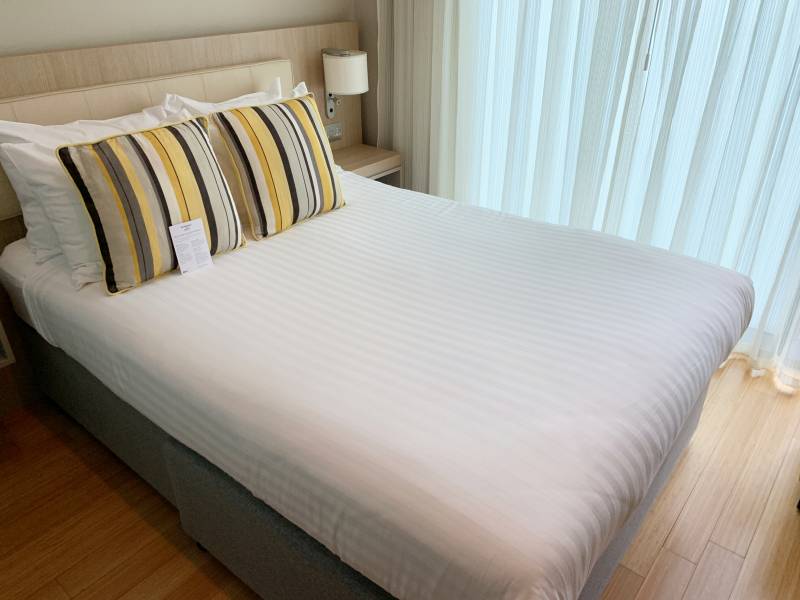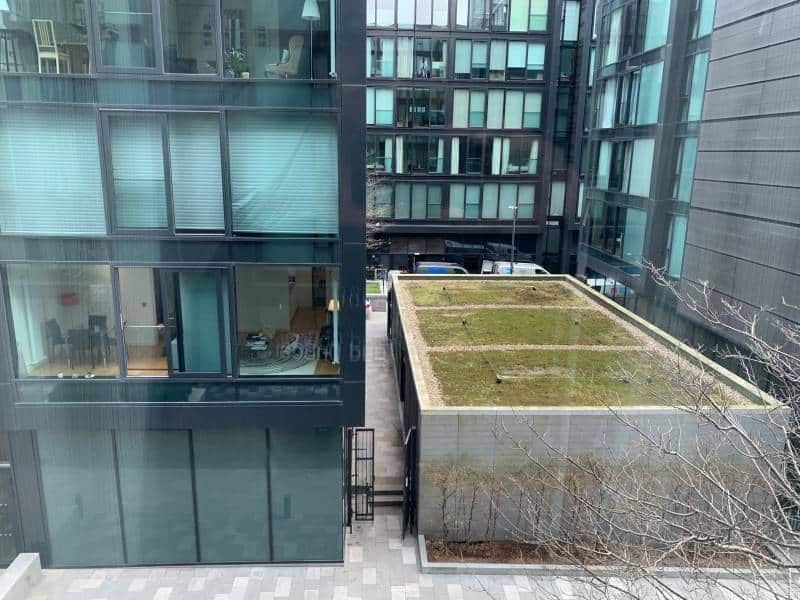 The breakfast was unexpected – a really good spread and if you wanted mushrooms or hash browns they would make them to order. Worth going straight up to a member of staff as soon as you arrived to request them and then filling your plate with the scrambled eggs, bacon and sausage (baked beans also available), meaning as you were almost finished the main, you'd get the fresh piping additional items, perfectly timed.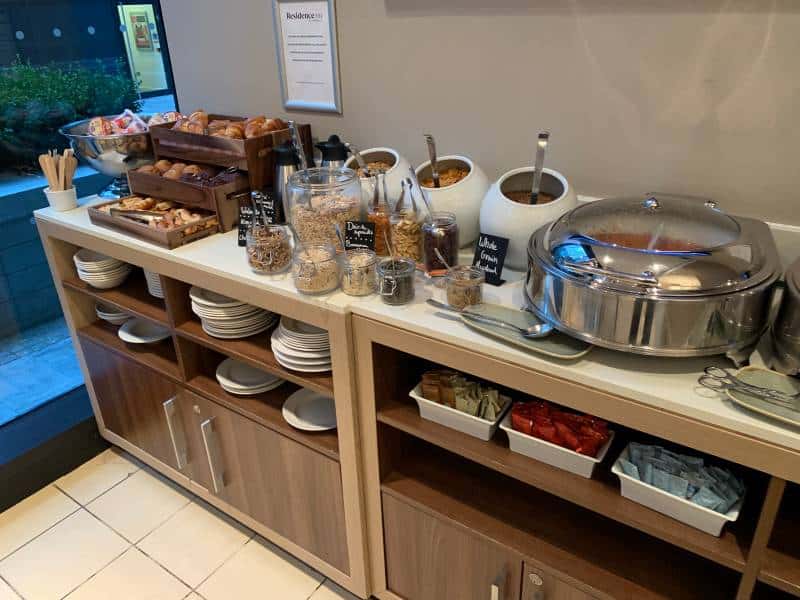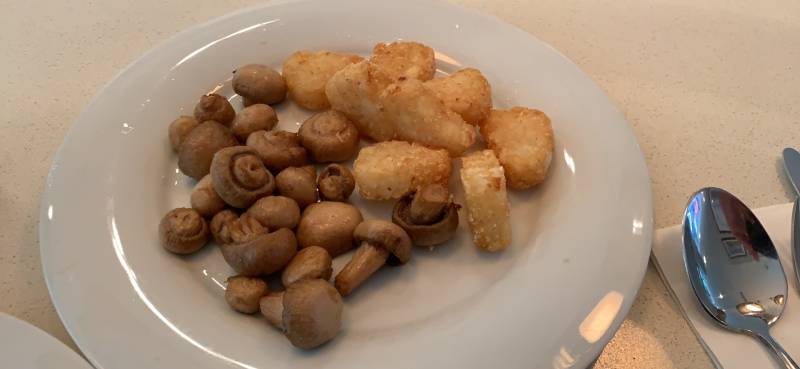 For those looking for a slightly more healthy option, they also had fruit and cereal, as well as more continental cold meats, cheese, veg and boiled eggs. A selection of pastries also attempted to turn my eye on the way to and from the coffee and fruit juice table. All in all a very good effort.
In order to work off the breakfast, they also had a gym. Sparsely provisioned with equipment it did have a pair of treadmills, an elliptical walker and some weights. Enough to try and rectify the breakfast calories anyway!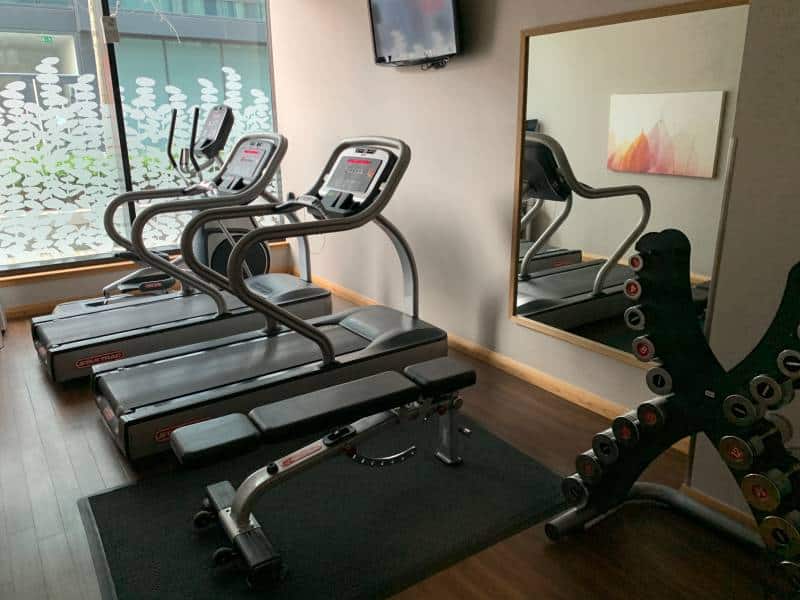 But the best part for me as a long stay guest was the free laundry. Now when I see "Guest Laundry", it usually entails a coin operated combination washer/dryer which you then also have to buy laundry powder for.
Not here – four machines, two washers and two dryers sat in a small room down a corridor, with a tub of laundry powder between them. So totally free, all clothes washed and dried in a little less than two hours – bargain!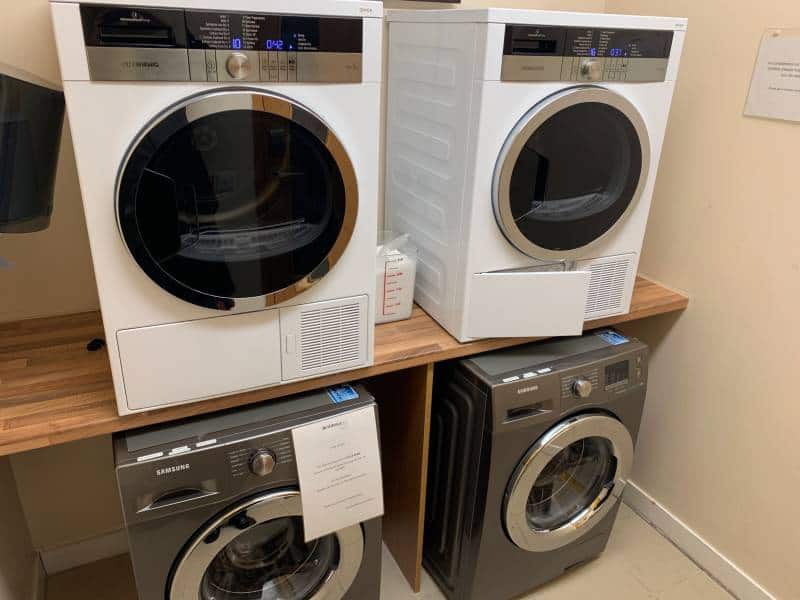 Would I go back?
Sure! the location is perfect, the breakfast disproportionally good and the service top notch. Although the Residence Inn doesn't have a restaurant or pool, it was just what I needed – and well served for Airport connections with the 300 Skylink bus leaving every 20 minutes from 2 minutes walk away.