New York's skyscrapers and bustling metropolis is only interrupted occasionally by parks and trees, so when we arrive at the Cambria Hotel New York – Chelsea, it is a surprise to have walked through a street lined with all manner of bright flowers and foliage.
This is the city's Flower District and every day leaving to explore the city was a reminder that New York is not all grey asphalt and towering skyscrapers. The Cambria is centrally located too – walking distance to Penn Station, Madison Square Garden and The Empire State Building, while well served by various subway stations.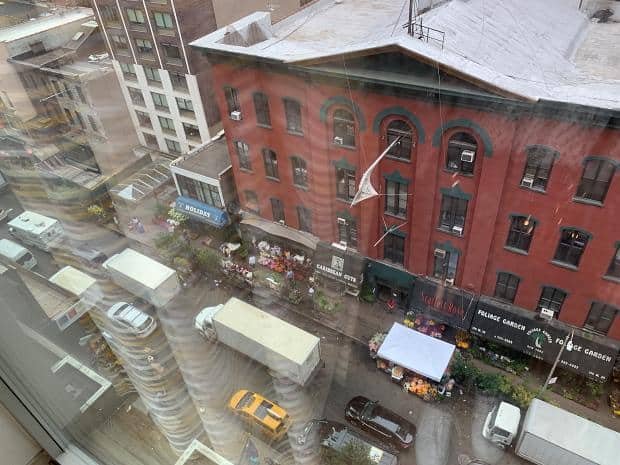 Checking in was a breeze and after filling in the form and leaving a credit card on file, we headed up in the lifts to our room. By the time we'd arrived I'd received a text message from the front desk asking me to let them know if I needed any help connecting to the WiFi, with directions, dinner recommendations or anything else.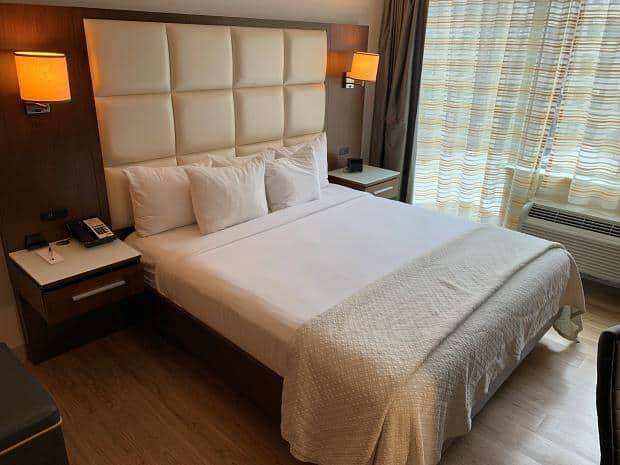 The large bed dominated the room, but there was enough space for a lounge area beside it. The windows overlooked the street outside and across the roofs of the buildings nearby, proof that even this close to the towering office blocks a half block away, there was still a hint of times yesteryear when the buildings weren't quite so high. The decor continued the flower theme which I thought was fitting.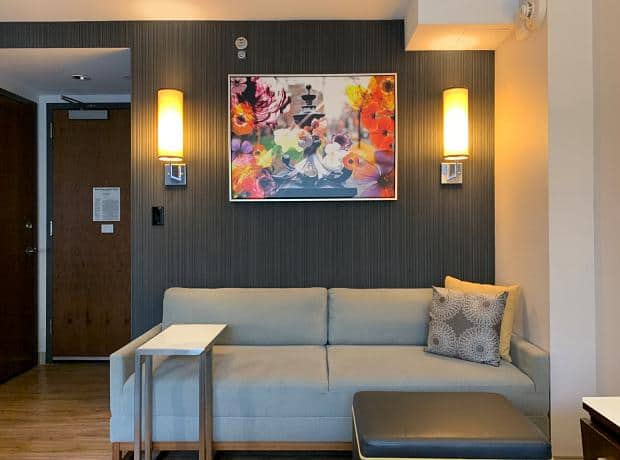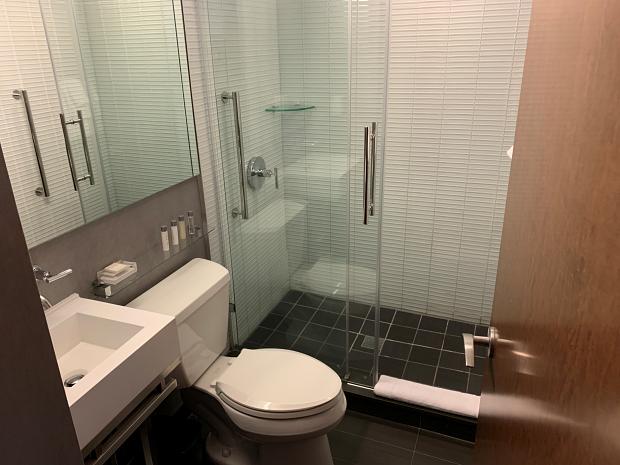 The bathroom was roomy and the toiletries were Pure by Gloss.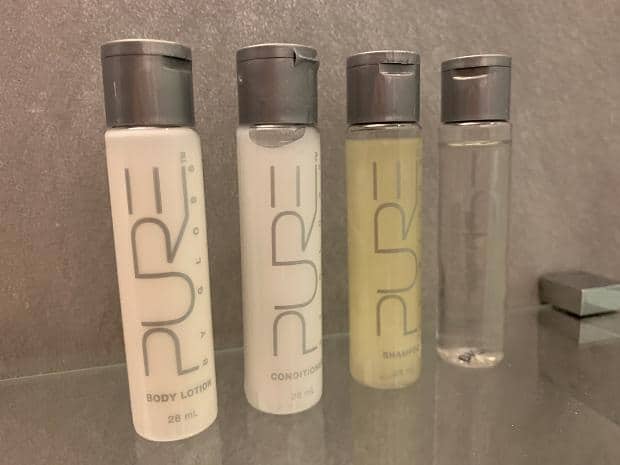 We headed upstairs to the rooftop bar which was a small outdoor area offering great views of the water towers on the roofs of the surrounding buildings.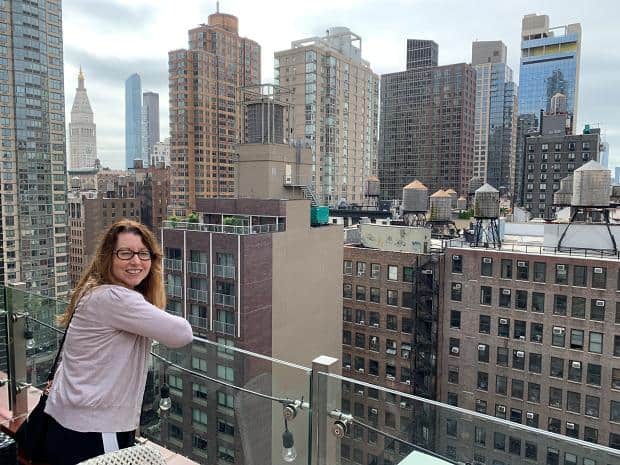 We stayed three nights and while breakfast wasn't included in the room rate, we elected to try the restaurant. The small hotel bar doubled as the breakfast room and the mains were truly American in size, all coming with toast and a sizable fruit salad. Ange mentioned that the fruit salad "afterthought" would normally have sufficed!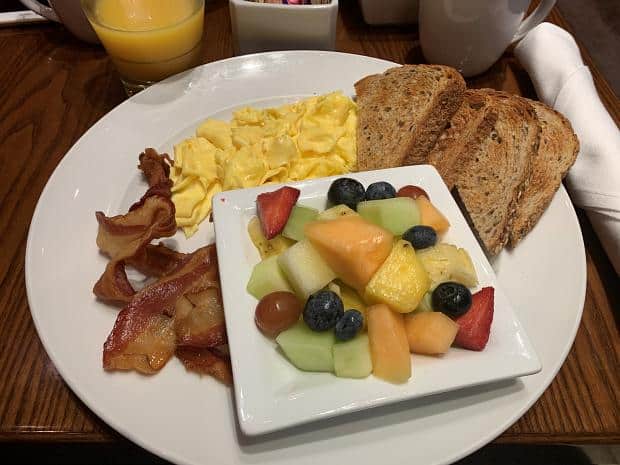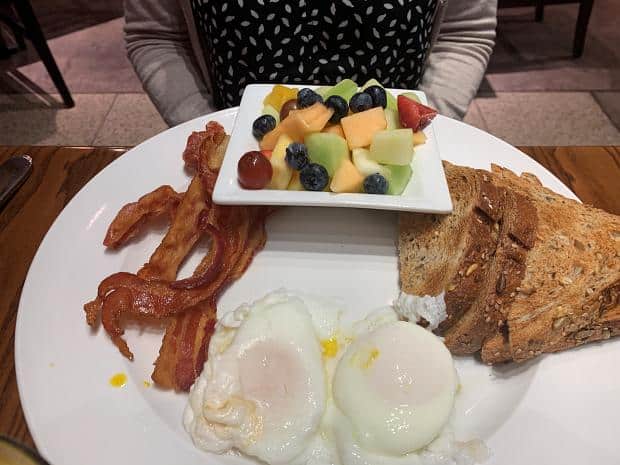 We also decided to try out the room service offering one evening. Amusingly all the plates and drinks came mummified with plastic wrap – sealing in the freshness I guess. I had the burger while Ange had the meatballs and we washed them down with a cocktail (Ange) and a couple of light beers (me). Great all around.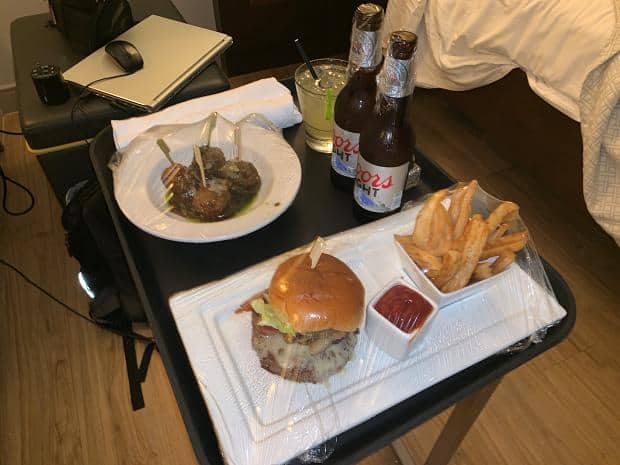 The following day I got another text from the front desk "Just checking in…Is there anything I can do to to improve your stay? – Brian". I replied with "Hi Brian, not unless you can magic up another lift! I guess it gets a bit busy in the morning, just have to be patient I guess…" The tall building was only serviced by two lifts, and while there were only five rooms on each floor, it did make for a little bit of a wait at peak times.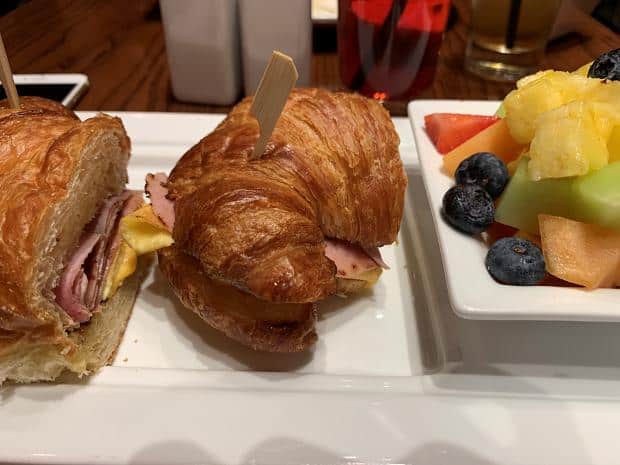 Would I Go Back?
Yes, definitely – the location and the space made the stay very enjoyable. We didn't have to go too far to get to where we needed to go and being nestled in the bosom of the Flower District made the journey there or back much more enjoyable. The staff were attentive too…