I recently had a 15 hour transit in Kuala Lumpur while I waited for a connecting flight to Frankfurt via Vietnam. It was a fiddly time period because the flight from Auckland arrived at 5am and the flight to Frankfurt left at 8pm. So basically I had a whole day to kill, and because I was exiting customs I also had baggage, plus I needed a place to sleep for a chunk of hours.
The transit hotels right inside the airport were a no-go as I would be landside upon exiting customs. Initially I looked at a capsule hotel made of containers, but they seemed to be open ended with just a mattress so that put me off. Even if it was a designated women's area, I knew I wouldn't get a wink of sleep if it wasn't a secure environment.
The hotel that fitted my purposes perfectly was the Tune Hotel which offered day rooms for six hour slots, at RM129 (NZD$40/GBP£20). It also had a 24 hour front desk and a luggage room for RM5 (NZD$1.50/GBP£1 ). I figured I'd drop my bag off there and head into town and go up the Petronas Towers, the tallest twin towers in the world.
As I'm a bit OCD when it comes to being prepared on how to get to hotels I diligently watched the online video on the Tune Hotel website which shows exactly how to get there.
Of course at 5am, jet lagged, and generally not on top of things, this planning completely goes out the window and I end up wandering around the bottom level of the airport trying to get a visual of the hotel out the glass windows.
Eventually I spot it, and head outside into the dark fug of warm morning air that must constitute at least 80% humidity. It's just a 5 minute walk but already I'm getting uncomfortably hot, luckily the hotel lobby is somewhat air conditioned. I drop off my bag and think about doing some work but seriously all I do is sit in a chair and change my sneakers for jandals.
The sun is starting to come up so I grab my backpack and head for the exit and the overbridge that leads back into the airport (I'd missed that bit in the video I guess). The KLIA Express will take me into KL Sentral, and from there I'll grab a taxi to Petronas Towers.
Petronas Towers
This all goes according to plan and before long I'm queuing up for the 9am slot to go up the towers. We take the lift up 170 metres above street level to the 41st floor. Here a guide gives a brief run down on the sky bridge connecting the two towers. He speaks so fast though it comes out a running stream of words. We take photos.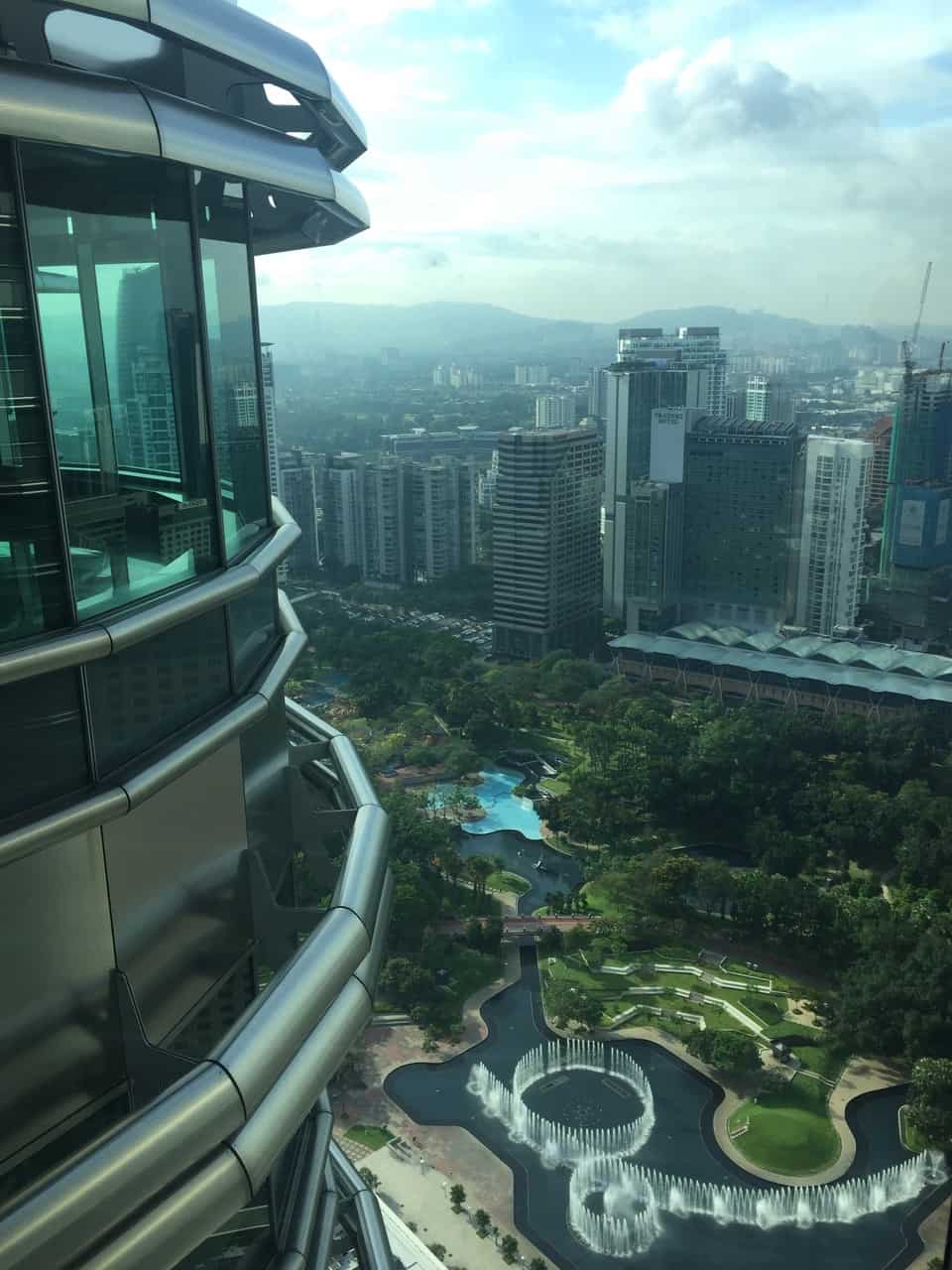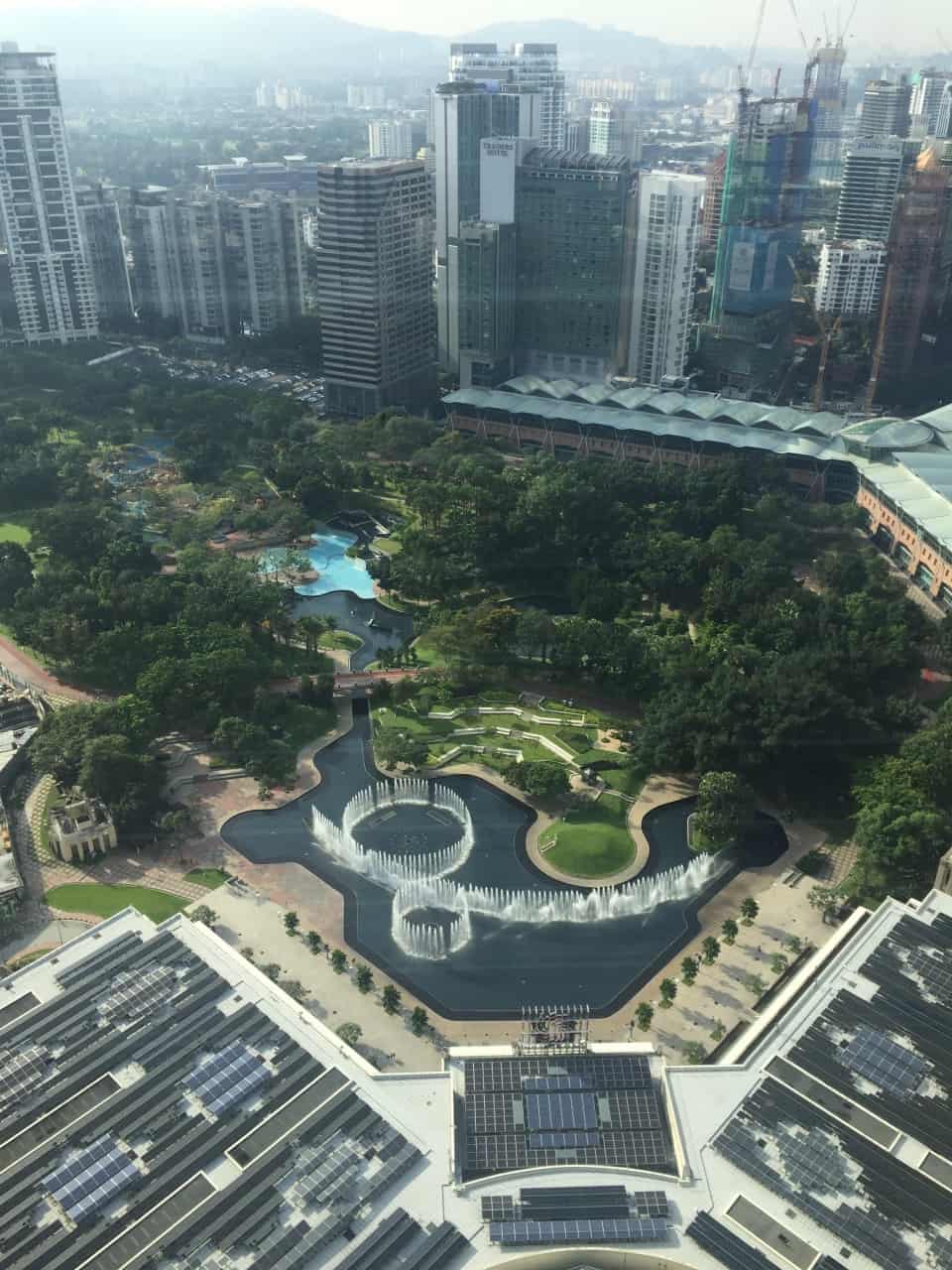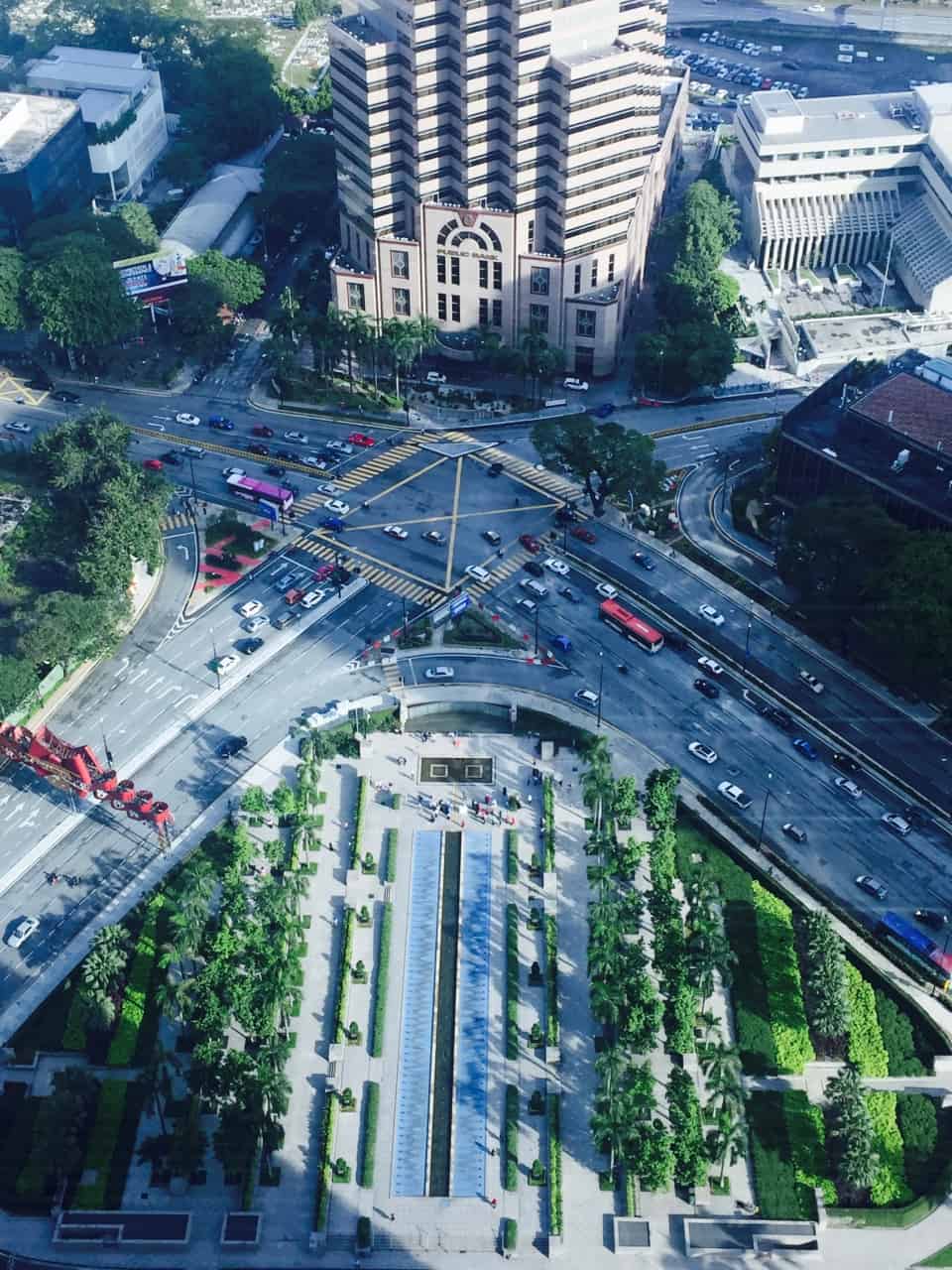 Then it's up to the 83rd floor, then a transfer to another lift to the 86th floor which is 370 metres above street level. Here there is an observation room with some interactive videos and a model of the city. But the main star of the show is the view.
When I finish at the towers I need to get a taxi back to the station but when I make enquiries of the group of taxis near the entrance it's apparently RM40. I may be jet lagged but I'm not stupid, the one I came in on was RM26, and it was a blue premium meter one. Anyway I try and flag one down a bit further away but don't have much luck. I wander back to entrance and manage to grab one for a RM25 fixed fee. Apparently you're not allowed to haggle.
This is a pity as I've realised I had RM23 spare for the taxi and agreeing to RM25 has made me RM2 short for the KLIA Express. I'm sitting there pondering how I'm going to get around this when the taxi driver pipes up out of the blue with the helpful information that there's a bus from KL Sentral to KLIA2 and it only costs RM12. Problem solved!
The bus takes an hour to get back to the airport but it's air conditioned and I'm just grateful to be getting there with extra cash in my pocket (which funnily enough I need later anyway).
Room
Back at Tune Hotel it's 11.30am and time to check in. The staff are friendly and helpful and the process goes smoothly. As transit hotels go the room (251) is pretty nice, clean and contemporary. You get free towels, free toiletries and a free meal at the restaurant downstairs so there's a lot to like.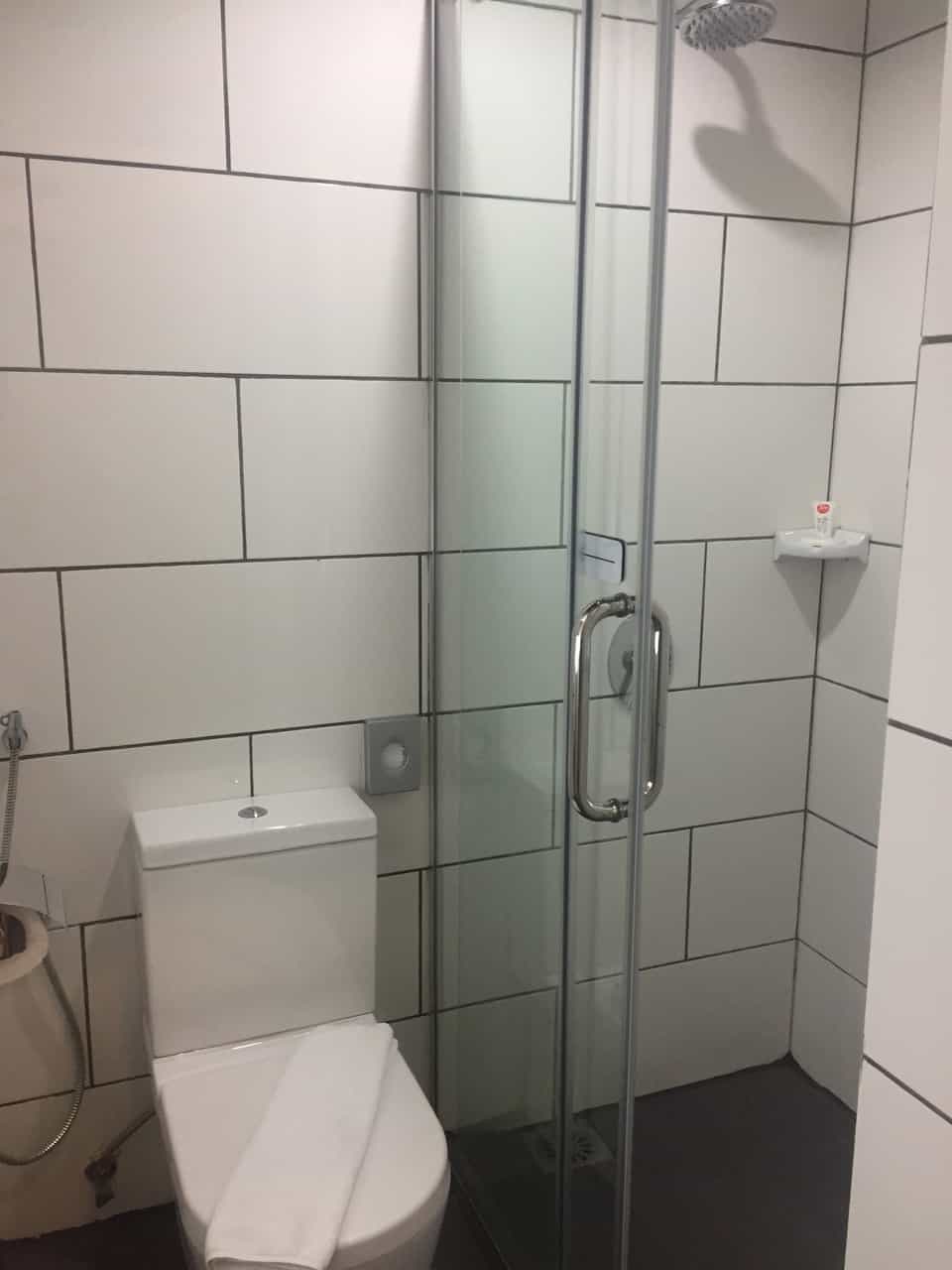 Food
It's been a while since I ate anything so before I take a nap I head down to The Glasshouse for my free meal and drink.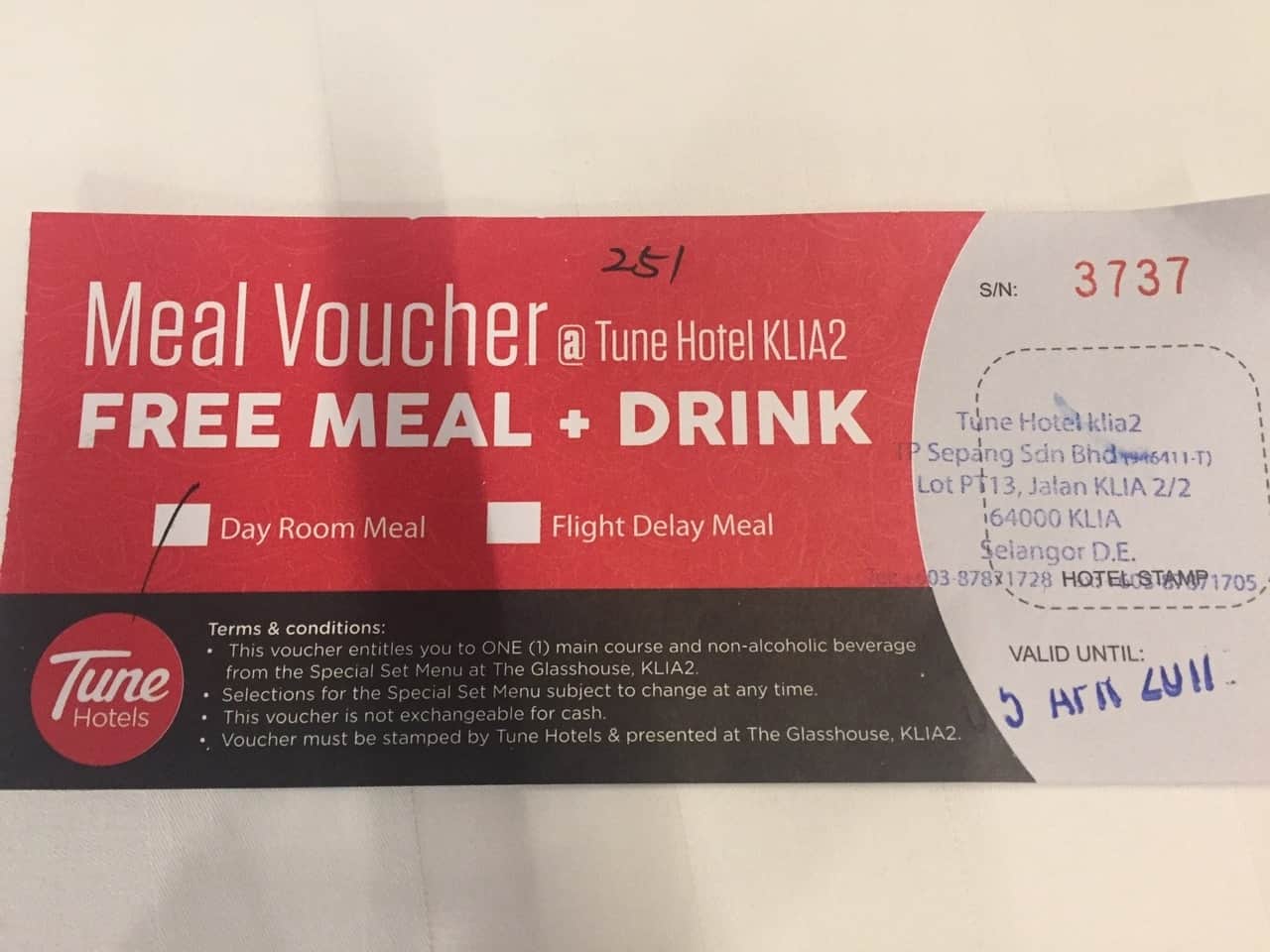 When I get there you have a choice out of five options.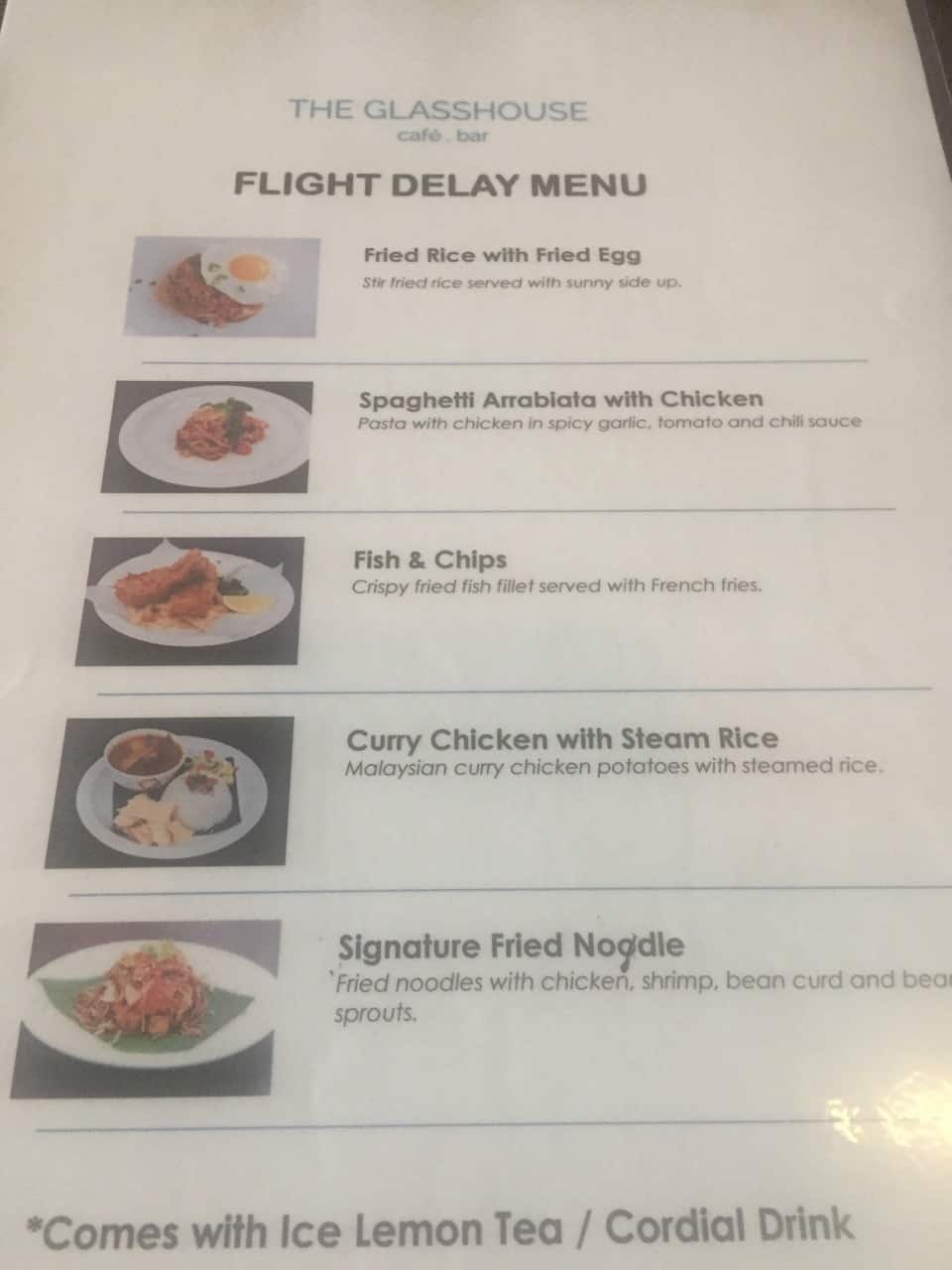 I go for the fried rice with fried egg which is tasty.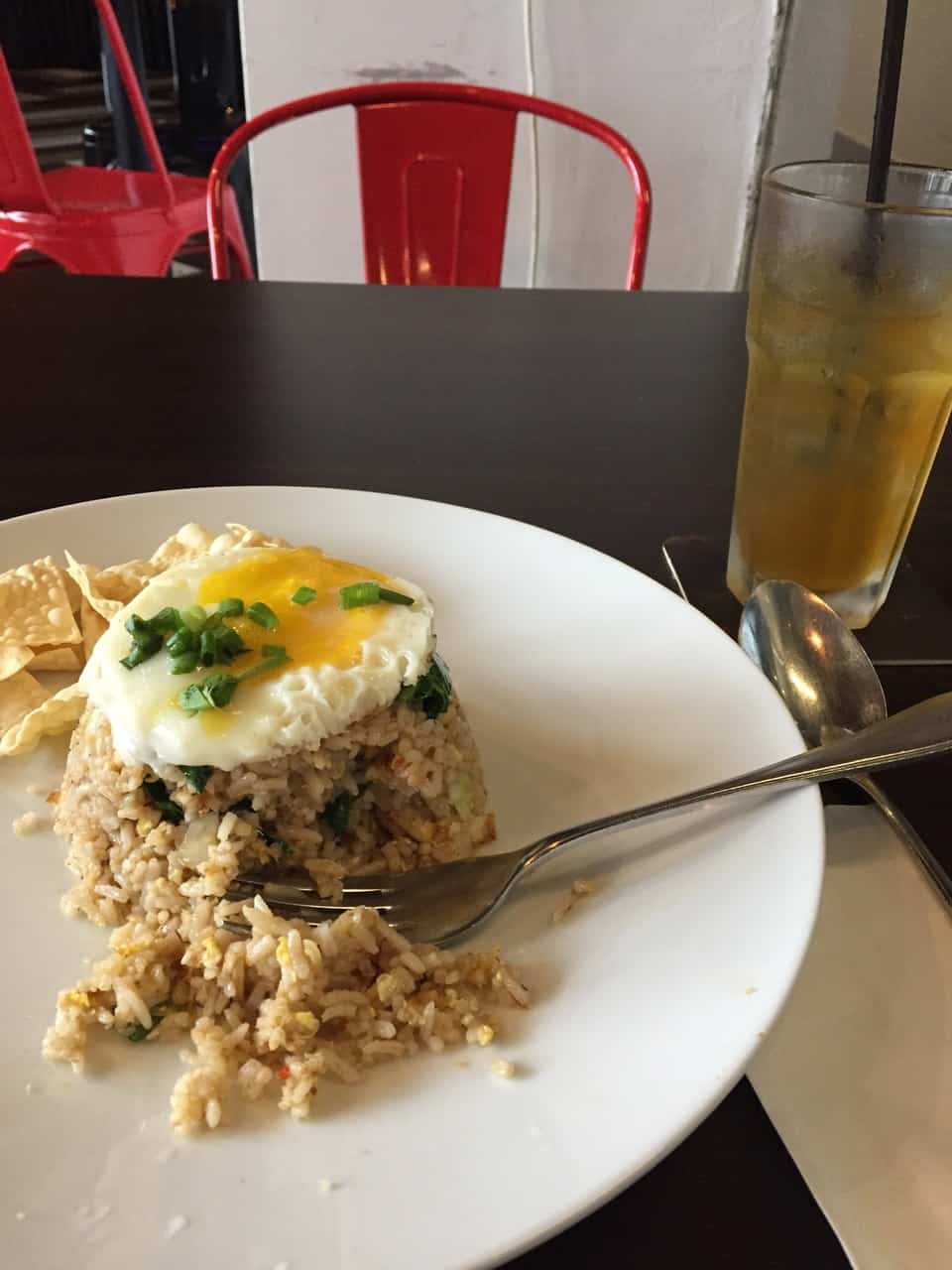 Afterwards I head back to the room, take a shower, check my messages on the fast WiFi and then settle down for a nap. I sleep for around four hours then groggily get dressed and head down to check out. It would be good if they let you extend hour by hour for a price but I guess there's only so many rooms and it also serves as a proper overnight hotel as well.
Pros & Cons
Pros

Location: It's right next to KLIA2 arrivals via an overbridge
Rate: the day room rates are very reasonable making this a favourite for all types of travellers
Flexible check-in time from 8am to 6pm
Comfy, spacious room with everything you need
Free WiFi
Free toiletries
Free meal + drink at The Glasshouse restaurant

Cons

No option to extend a dayroom stay past 6 hours
Would I go back?
Overall I had a good experience at Tune Hotel and would definitely stay there again if I found myself landside with a good chunk of time in transit in KL.