I discovered three days before I was due to fly out on my AirAsia flight from Auckland to Kuala Lumpur that there was a reason it was so cheap (NZD$265 one way) – you don't get any extras unless you pay for them.
Luckily I found out beforehand from this review that there was no food, no pillow, no blanket and no entertainment. I didn't care so much about the pillow, blanket or entertainment but no food for 12 hours could mean an extremely grumpy passenger, so I hastily pre-booked a couple of meals.
I'd also taken the liberty to go for the 'two empty seats' option available through Optiontown, for the Gold Coast to Kuala Lumpur leg. I paid NZD$58 to get the two seats next to me blocked out so I could lie down flat, always a good thing on a long haul flight.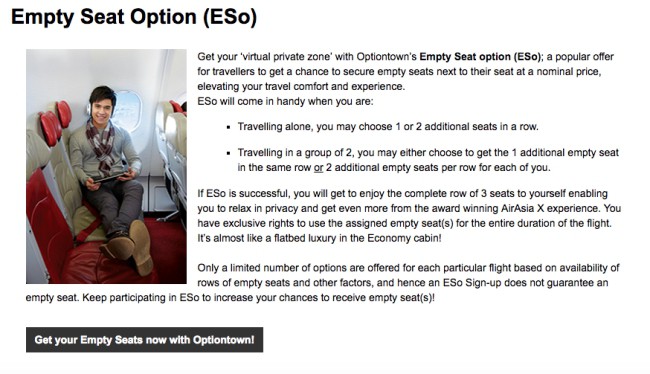 AirAsia says they'll let you know up to three hours before you fly or you get a refund. But by the time I boarded I hadn't received any confirmation so I assumed it was a no-go. In terms of efficiency AirAsia was very organised. We started boarding five minutes before scheduled time and pushed back just five minutes after the scheduled departure time of 7.30pm.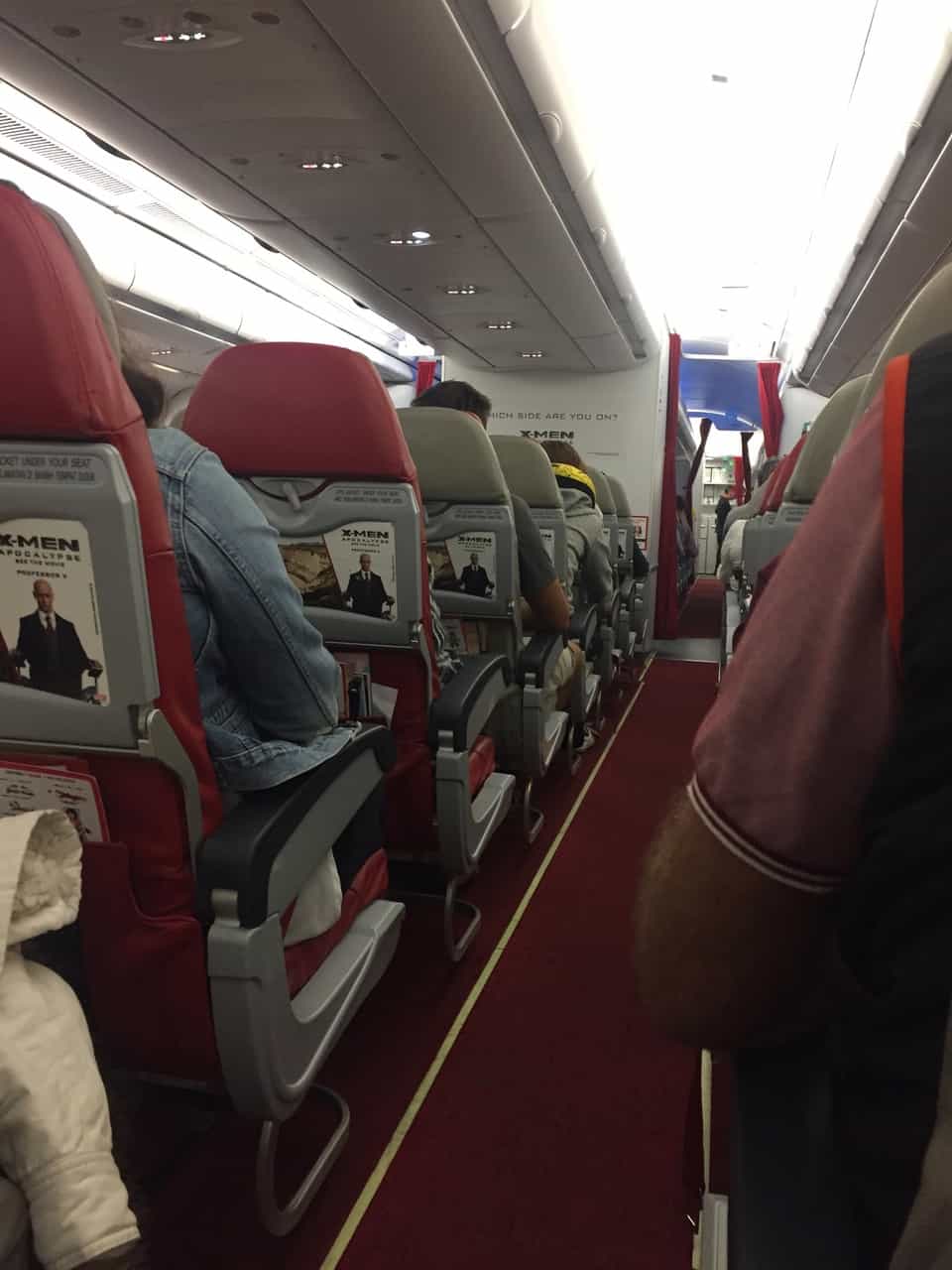 It was slightly strange to be flying no-frills long haul I have to admit (the next section of my trip was from Kuala Lumpur to Frankfurt). I was used to airlines providing a pillow and a blanket at least, and trying to keep track of where we were without the flight tracker on the TV screen was a little disconcerting. In fact, there was no TV screen at all.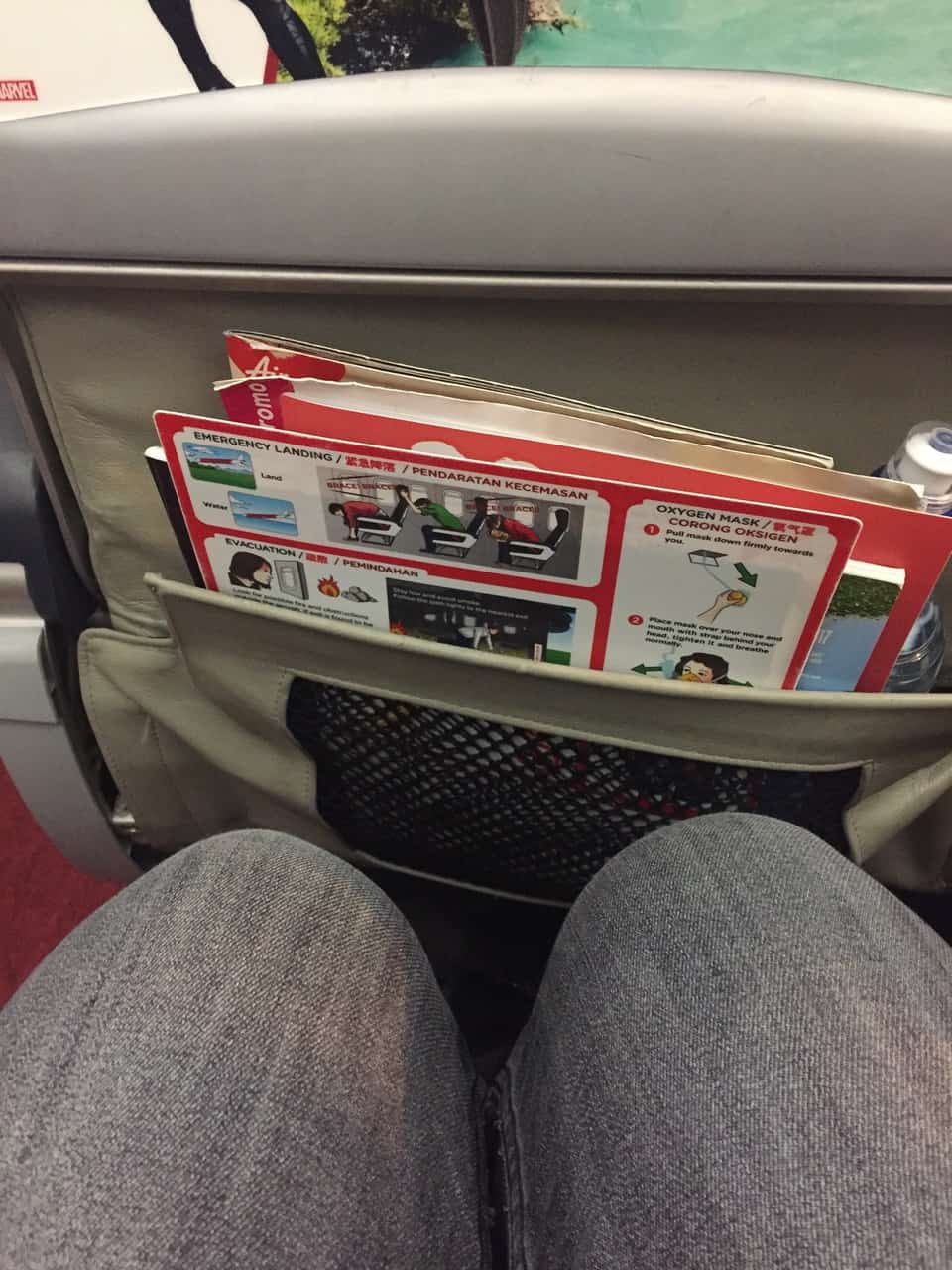 But I still had ample leg space being 5ft 2, and I heard the young guy next to me who was considerably taller comment to his friends in the row behind that he was happy with the leg room.
I'd ordered a briyani rice with vege curry, which turned out to be more rice than curry but it was adequate. I'd eaten a pie at Auckland Airport and grabbed an apple and a bottle of water before boarding in case I needed extra sustenance. The meal service was pretty efficient, you just needed to show your boarding pass and the stewardess ticked you off on her list.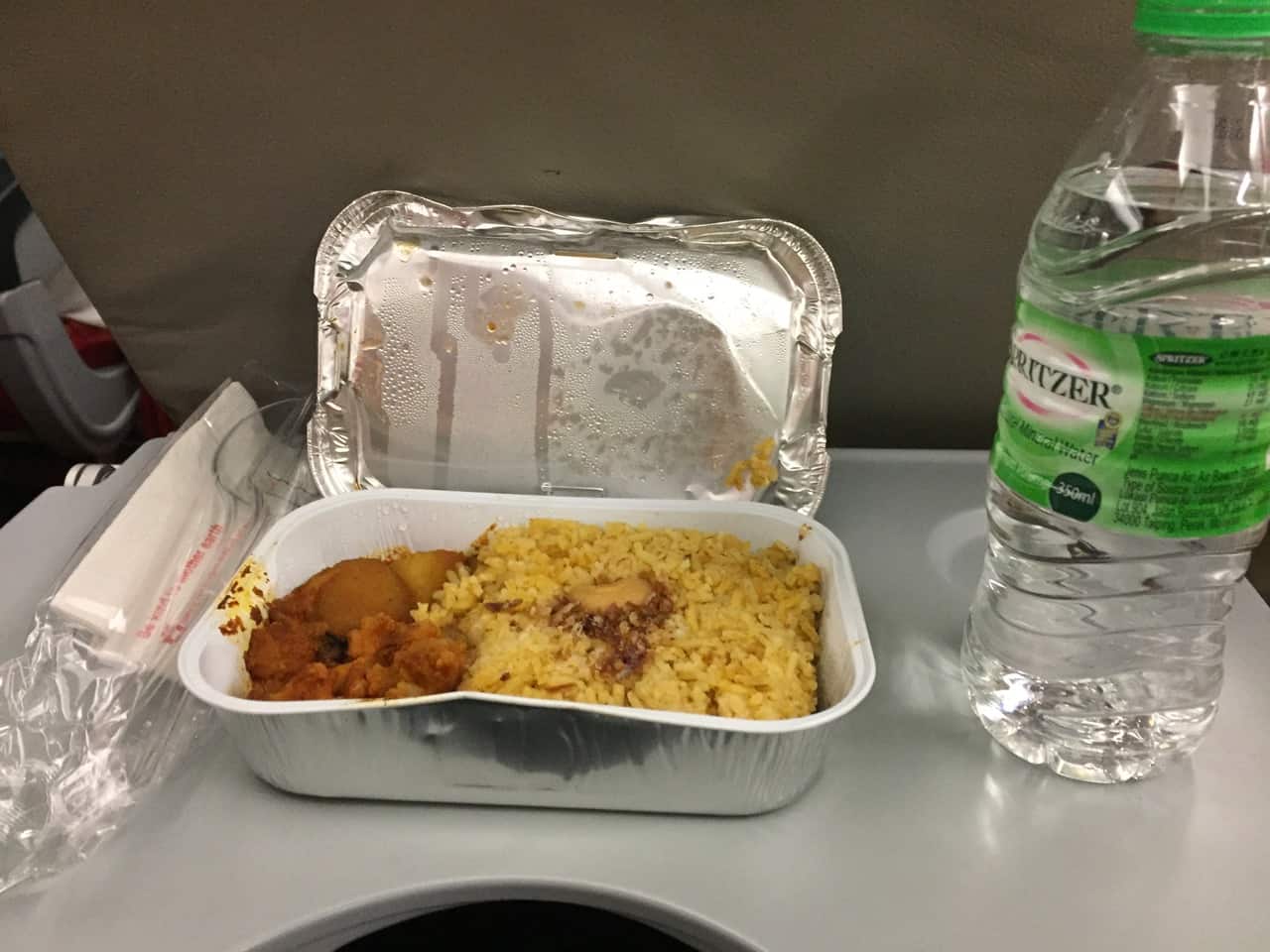 But yes, very basic, the carton, cutlery and a bottle of water. This extended to the bathrooms which had liquid soap, water and tissues but no hand cream, mouth wash or perfume.
We flew Auckland to the Gold Coast in 3.5 hours where we were to have a 75 minute transit period while the plane re-fueled. This entailed lining up for the security check where we had to give over our bottles of water.
This was annoying to me as we were coming from Auckland Airport, where there had already been a security check. People were also being pulled out of the queue for full x-ray body scans. One lady looked miserable and commented "I don't want to be here I just want to be in KL". Unfortunately a few seconds later she was pulled out of the queue for a body x-ray and pat down.
I managed to avoid this humiliation and quickly slugged back half a litre of water so I didn't have to give over my bottle. Too late I realised that they were actually emptying water bottles and giving them back, a trip to the water fountain (and toilets) was imminent. But by the time I reached it there was a queue a mile long for the fountain with people filling their bottles. It was easier to ditch the bottle and buy another one. I also bought a slice of banana loaf for the next 12 hour leg.
Soon it was time to board the plane again, but as I was going through I was called back. "There's been a seat change," said the flight steward marking in 12A instead. I felt quietly confident that this was my two reserved seats, and not a moment too soon.
Instead of going to my original seat I was ushered into a special section with a seat by the window and next to it the appointed two free seats. It wasn't first class but it sure felt like it. Especially when they pulled the red curtain to close off the section.
Not having the flight tracker I had to calculate estimated time distance on my Smartphone from the time zone just left, i.e. we left Gold Coast at 10.30pm and were due at KL at 6.am. It wasn't a biggie but it is nice to know how much time you have left to go. I guess you could always ask a stewardess if it really bothers you.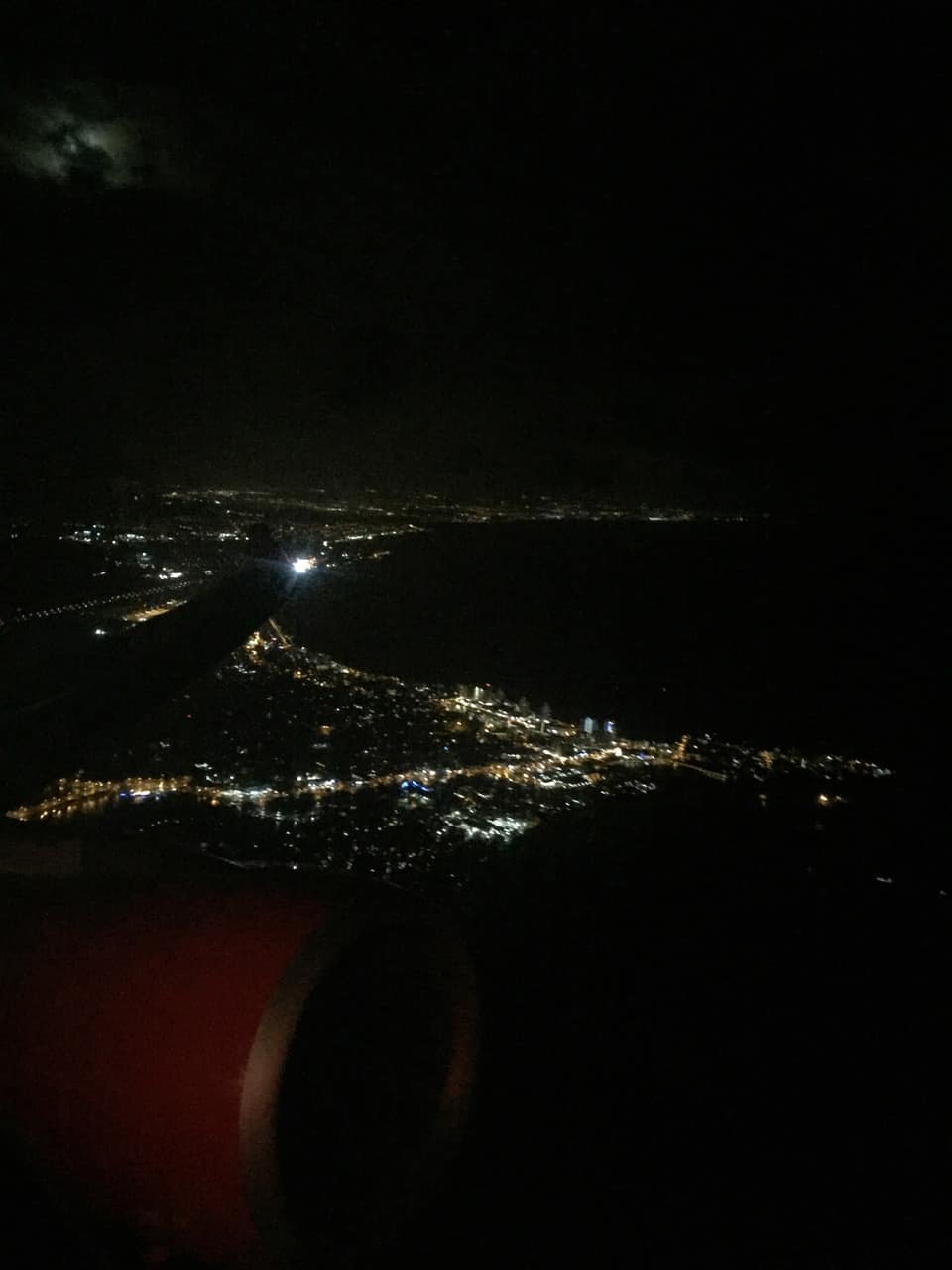 As suspected, I had to keep visiting the bathroom because of all the water I'd drunk. But there was no soap. I told the stewardess and when I went again shortly afterwards it hadn't been refilled. Again not a biggie but on a plane with no frills, it's pushing the limits if there isn't even soap to wash your hands.
Upon return my attention was distracted however by the arrival of my second pre-booked meal, a veggie delight with rice, which again was adequate.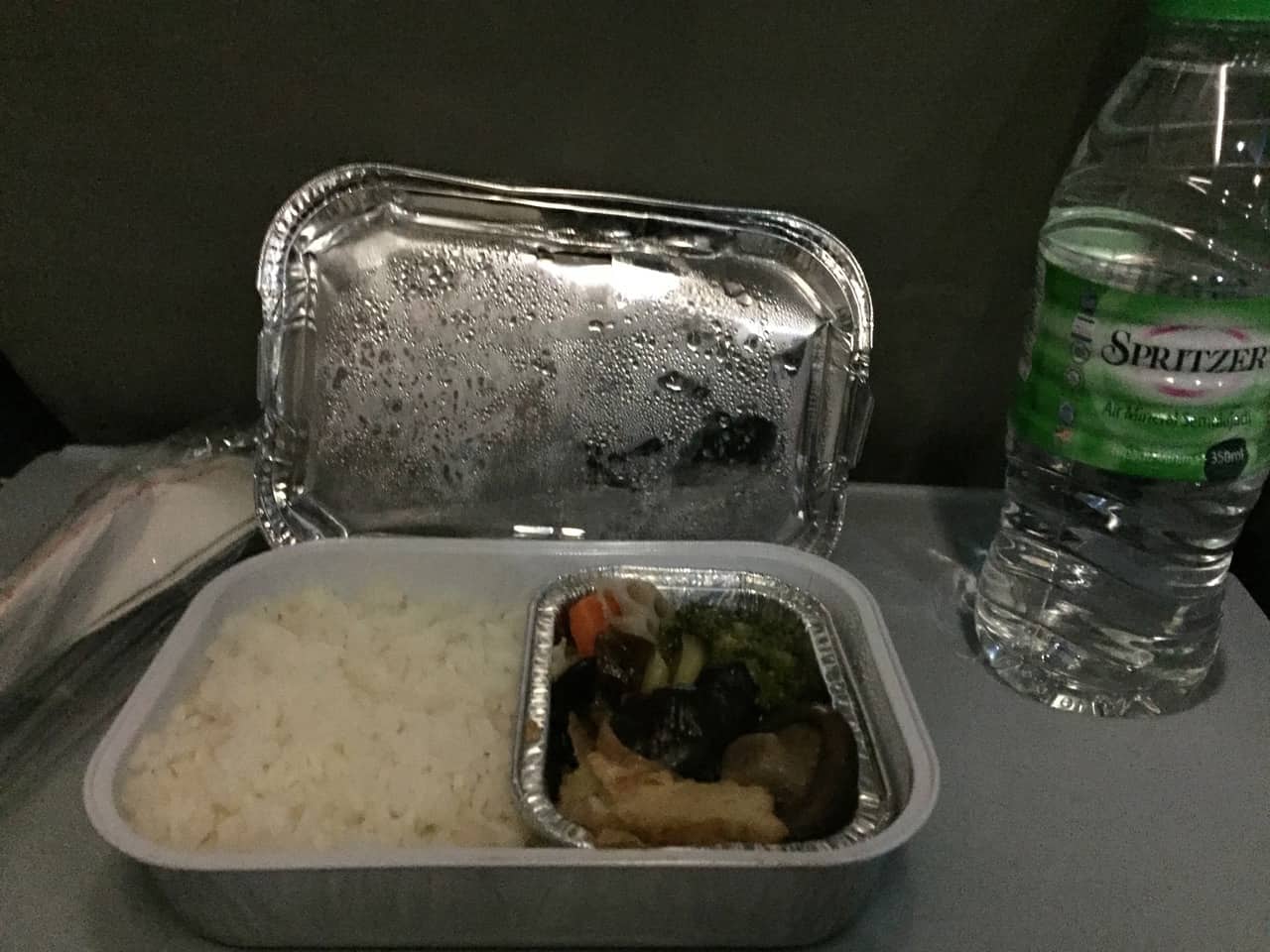 I didn't splash out for a blanket or pillow, though I noticed that some people had. I had a cardigan and a puffer jacket which I placed over my legs and I used my backpack as a pillow. Even though it was still reasonably cold (and not entirely comfortable) it was good to be able to stretch out and lie down, even if I wasn't really sleeping, just resting my eyes. We arrived in Kuala Lumpur on time with no hassles.
I probably would fly AirAsia again simply because of the cheap price, but I'd definitely make a point of pre-booking the two empty seats option and pre-booking the meals again. I think next time round I'd also even pre-book a blanket, just for the extra comfort factor (you can also rent one on board if you decide you want one).
Update: AirAsia suspended daily services to and from Auckland, New Zealand in February 2019