When Ange had come over to Europe I'd managed to negotiate a three day work week for three months. This meant every Thursday I would fly to whichever city she was in on the Continent, spend four days with her travelling around and then head back to London to work Tuesday/Wednesday/Thursday.
A very enjoyable summer, and made even more enjoyable by planning the flights carefully so that I could collect points by flying BA and using my British Airways American Express to pay for it all.
By hitting the spending requirements, I nabbed a Companion Fare which meant that we could then pay for any flight in any cabin on BA tin (i.e. not a code share flight) and Ange could come along in the same cabin for free as long as we paid the taxes.
While we couldn't get all the way from London to Auckland, we could at least get to Bangkok flying BA business class with the points we had accumulated.
BA Business Class Lounge – Heathrow
The flight started three hours earlier with the BA lounge. We'd stayed at a Heathrow airport hotel the night before so had plenty of time to make our leisurely way to Terminal 5 and then into the lounge in the southern end of the terminal.
Up the escalators we went, the last time I had been there had been as a guest of Ben my companion when I had been to China, and while the place hadn't changed much, this time around it was a lot busier.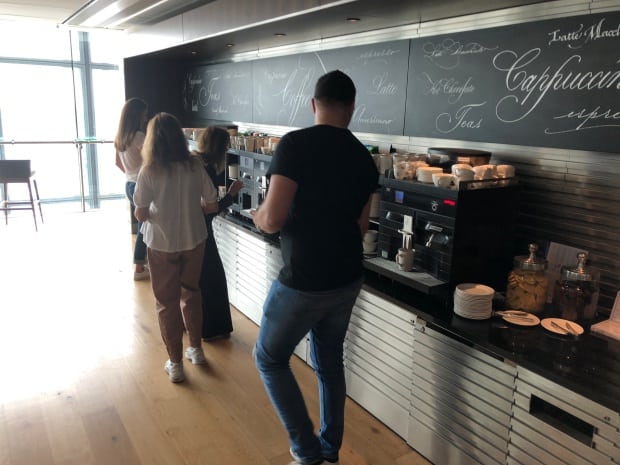 The food and drink situation was good – an adequate selection of dishes in small bowls which were kept topped up by efficient staff meant that you were never waiting too long.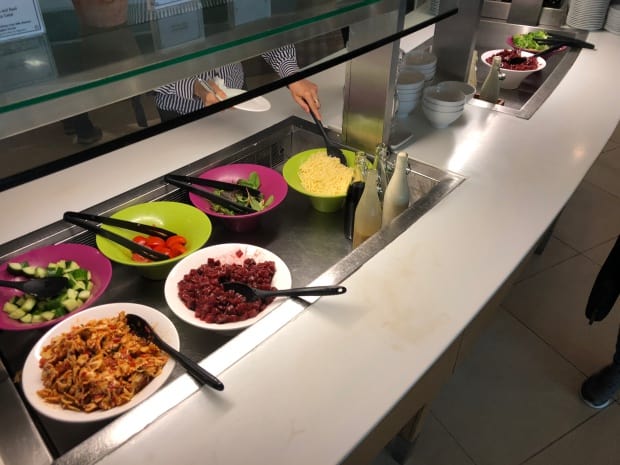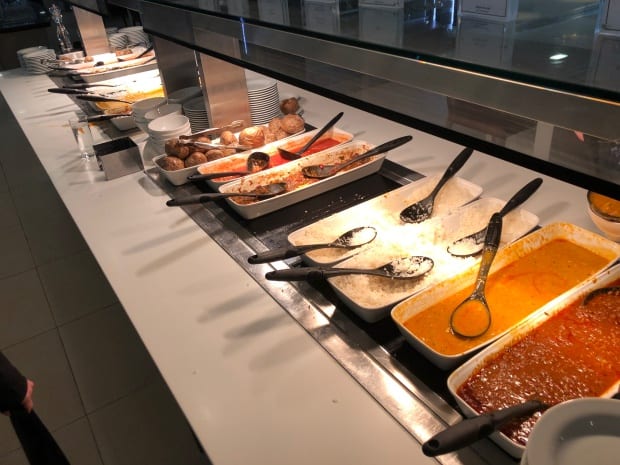 If you were only after a snack and the rice-based curry dishes didn't appeal, there were salads and pasta, plus cafe style muffins and crisps nearby.
An impressive selection of top shelf spirits accompanied a variety of wines and non alcoholic beverages, coffee, teas etc. so there was definitely something there for everyone.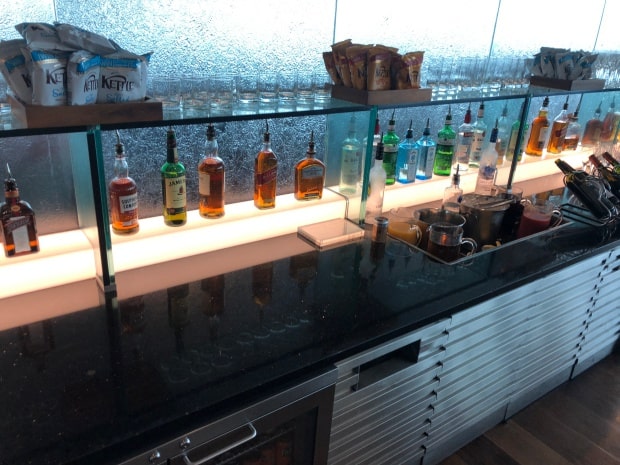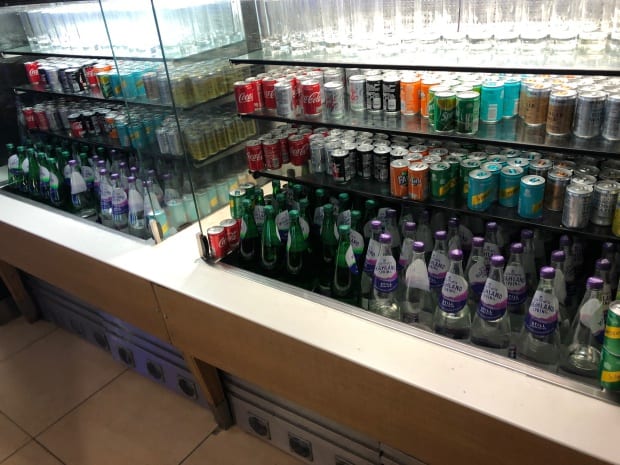 The lounge was big enough to enjoy a range of seating options, from an eating area just inside the doors, to a more comfortable armchair area overlooking the tarmac.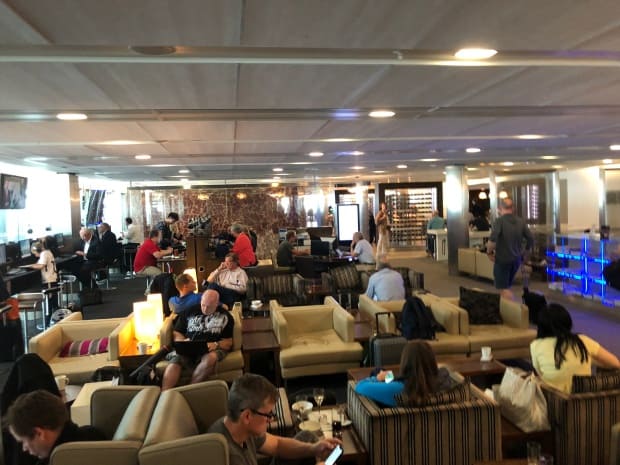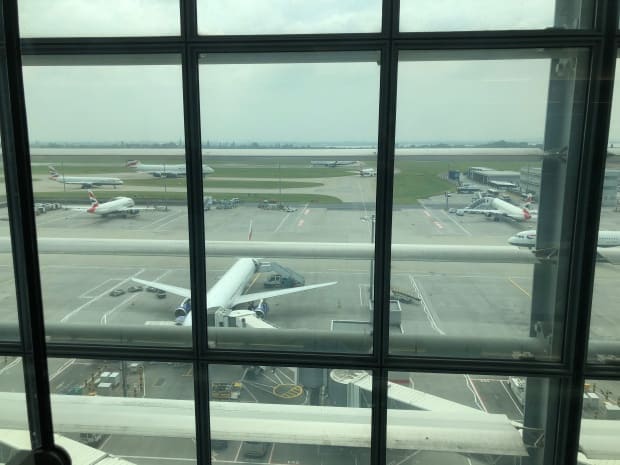 There was a media room which had its TV turned off allowing the couches to be used as makeshift bedding. We eventually found seats together, though the place was so packed we couldn't help but overhear the pre-business trip briefing of a trio of businessmen heading over to Europe. Enough time to do a bit of work ourselves before it was time to head to the gate for boarding.
I haven't earned enough points to be able to use the Priority queue for boarding – the only time I can skip to the front is when I have a business class ticket, and it's always nice not to have to wait in the queue and just board straight away.
Judging from the look on Ange's face she was enjoying the experience as well!
BA Business Class Cabin
Our Boeing 777-200 had its BA business class seats in pairs, one facing forwards and its neighbour facing backwards.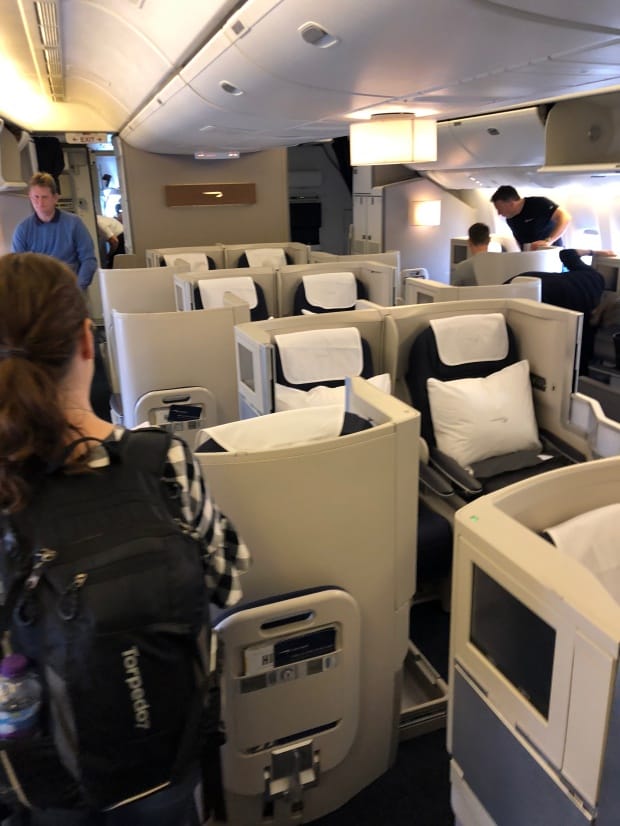 A sliding screen separated them but it was disconcerting when it was lowered for meal times and when arranging bedding. Eye contact with the neighbour a continual awkwardness!
Speaking of bedding, a thin mattress, blanket and pillow competed for space in and around the seat, so that even after you had settled in there was paraphernalia everywhere, and nowhere to put it all.
There was a slide out drawer but it didn't hold much. The fold down foot stool near the entrance to your little cubicle held the magazines and safety cards.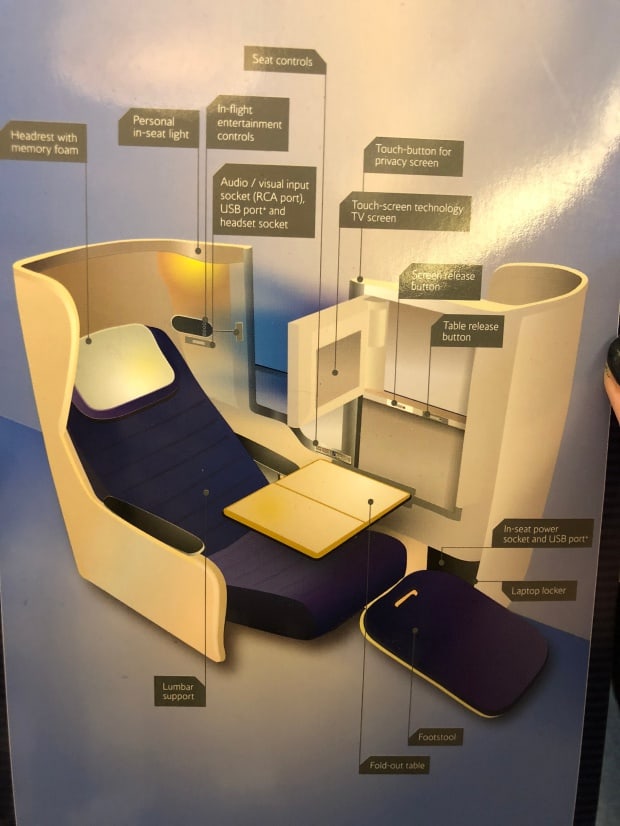 The seat controls were on a strip below the privacy partition, with numerous presets and special controls for neck and lumbar support.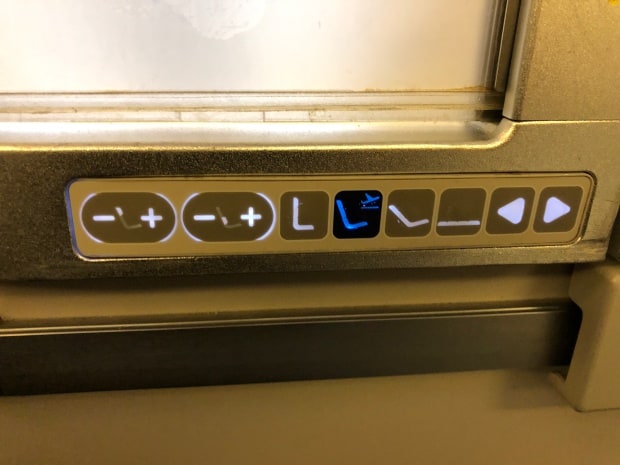 The instruction booklet went into quite some detail on how the seat/bed operated and while it was a little narrow for my ample frame, it was quite comfortable while sipping on the complimentary wine and juice.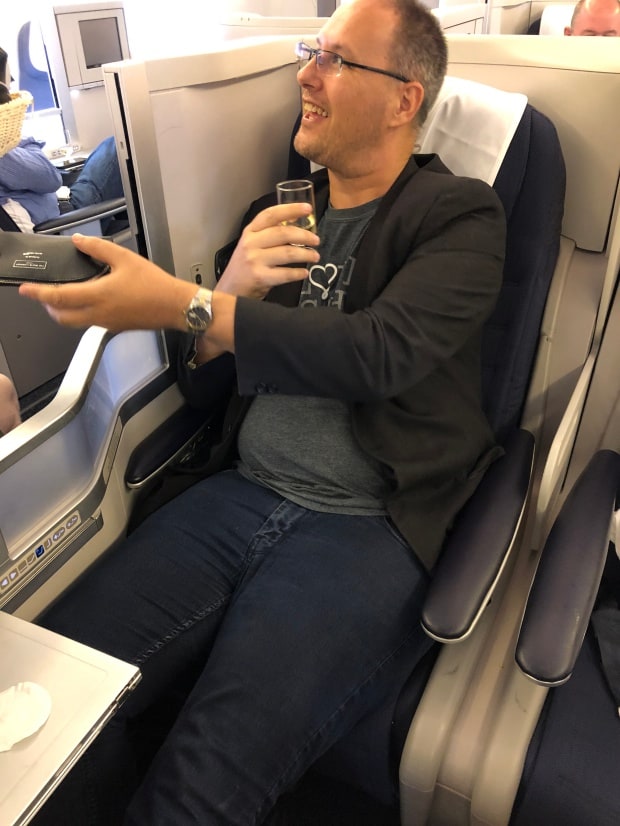 The amenity kit was by The White Company (as was the bedding), and contained what you would expect:
socks
eye mask
earplugs
a pen
toothbrush and toothpaste
a three pack of cosmetics (SPA brand).
All in a fetching little sponge bag/wallet thing.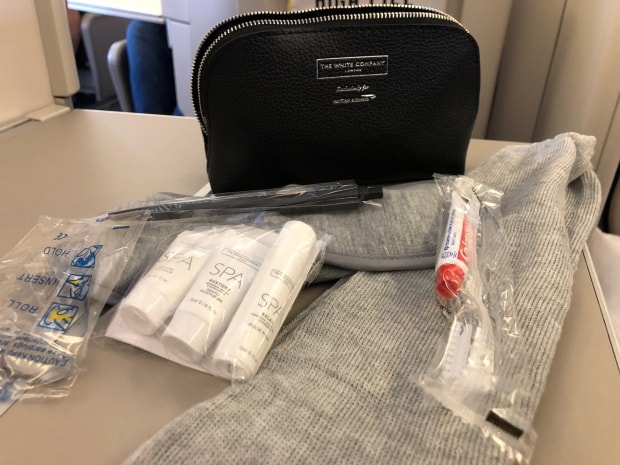 The foot stool folded down to allow it to be used as a foot rest (more on that later), though it took me a while to get it to stay up.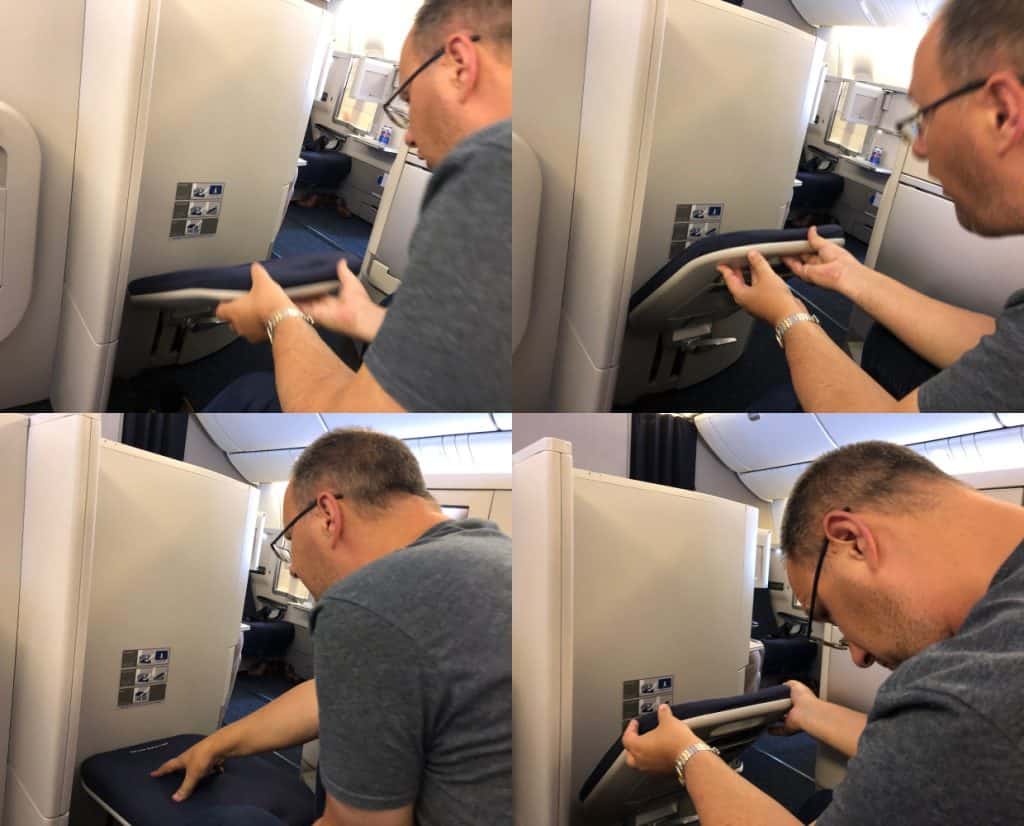 There was a trick to it but it seemed to me that it might have been broken.
Ange laughed at my attempts to make it work – and I felt like one of the apes discovering how to use tools from the movie 2001: A Space Odyssey.
Hmph! Finally able to get it to click into place, I elected to try and lay the bed flat. This I was able to do, but as I am a little taller than most, I immediately discovered that the bed wasn't really built for someone of my size.
Even with my legs bent, my feet were flush with the wall above the footrest while my body was jammed pretty solidly into the bed.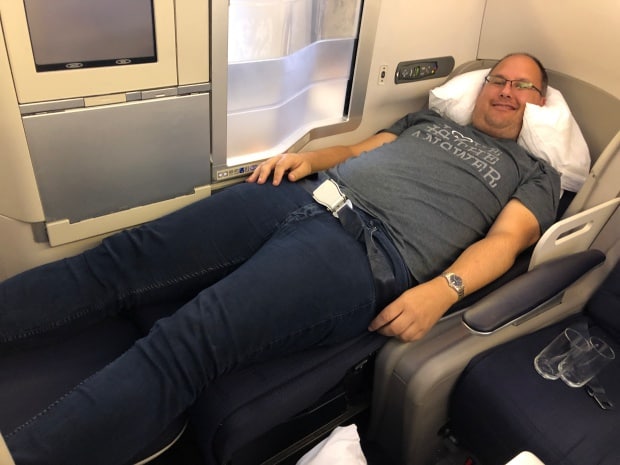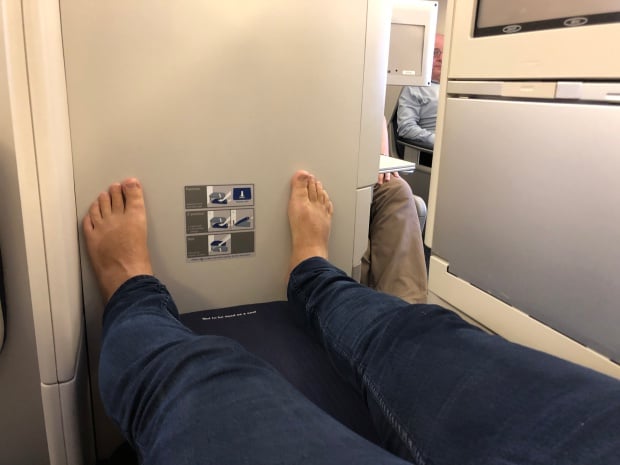 And if I straightened my legs, my head dangled off the edge of the seat, unsupported. I elected to try and shorten my neck so that my head could rest on the pillow, but I could see how this flight might start to get quite uncomfortable.
Still, no use prejudging it – there were meals to eat, after all!
BA Business Class Food
I had the crayfish followed by the beef and Ange had the beetroot salad followed by the deep fried chicken.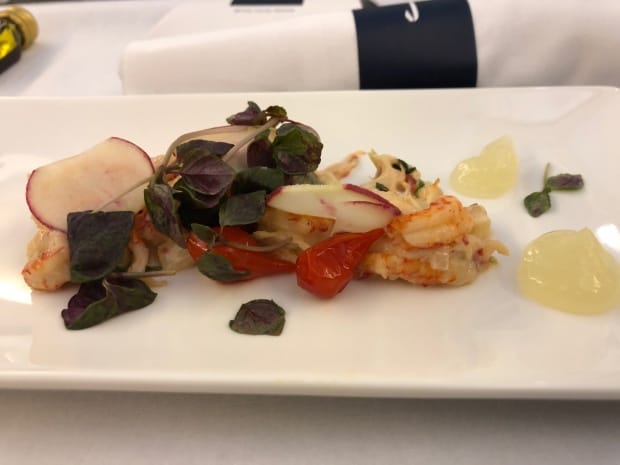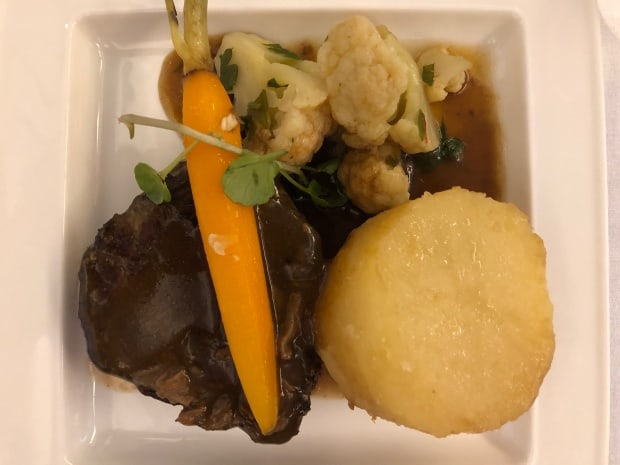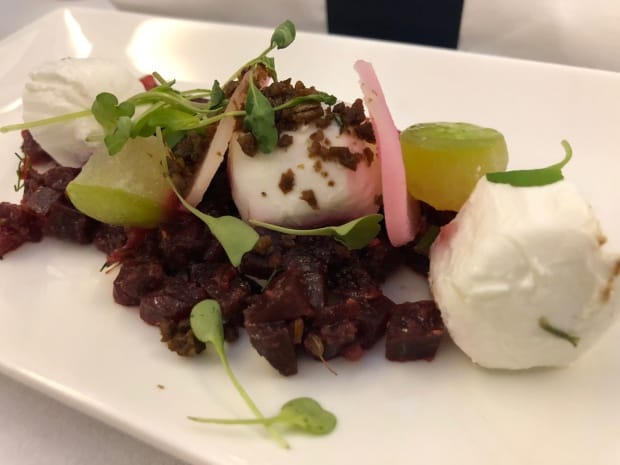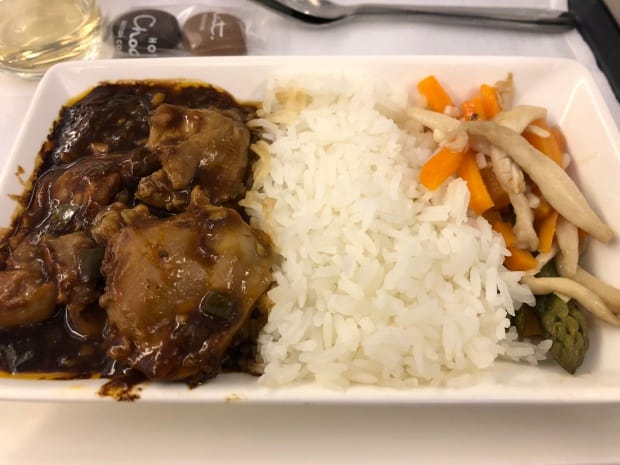 No complaints there!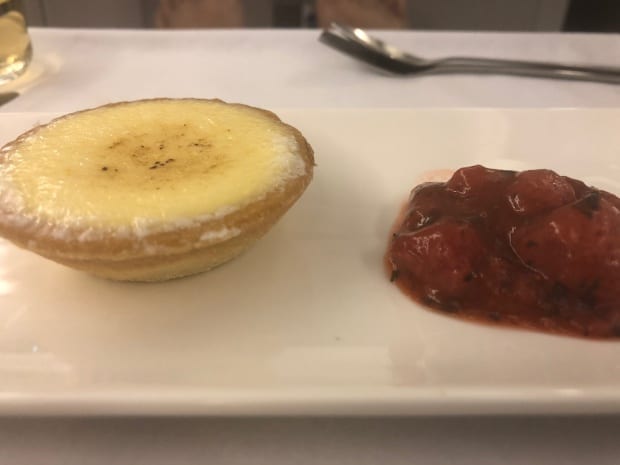 To finish, the custard tart with a raspberry and basil confit. Très délicieux!
After dinner we elected to try and get some sleep. That's when I discovered my suspicions were proved correct.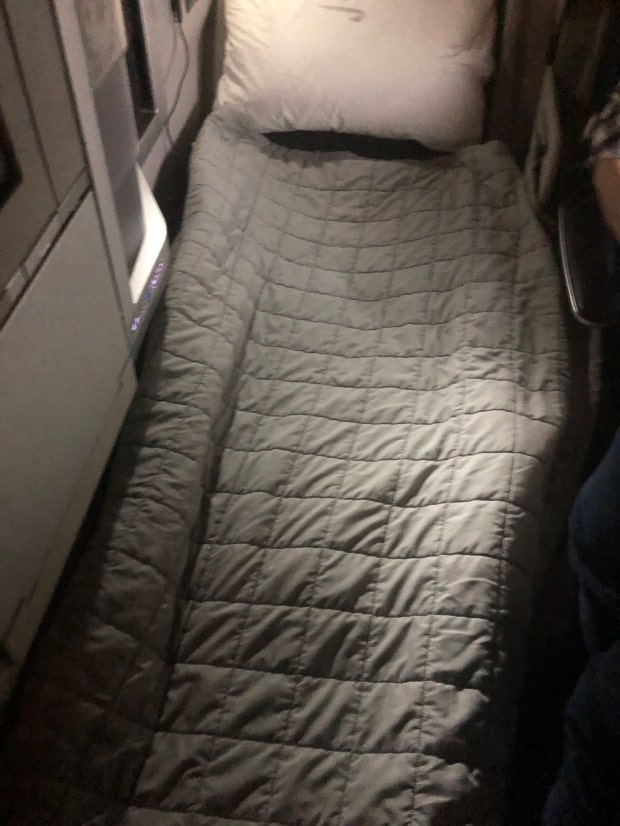 I was longer than the bed was, and the angle of the upper part of the bed meant that my either my neck and head popped out the top and were unsupported, or else my legs were folded in on themselves with no space to move.
In the end after hours of tossing and turning, I ended up folding the footstool up and having my feet on the ground with my knees bending at an awkward angle. Not much fun and not much sleep to be had.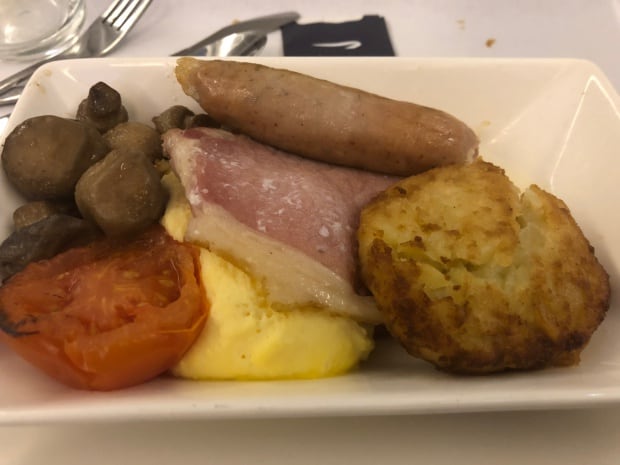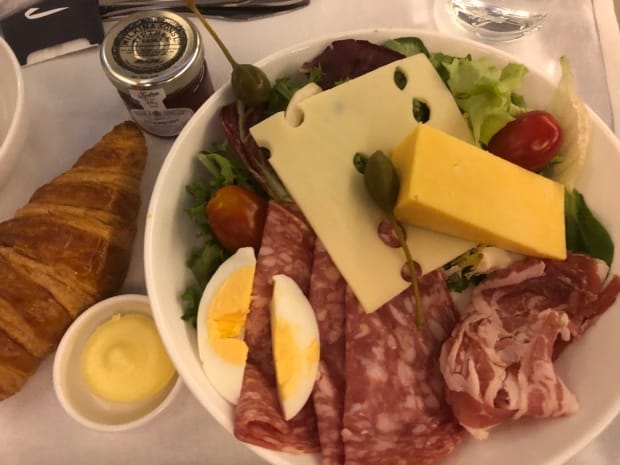 In the morning I tried to cheer myself up with a full English breakfast, while Ange had the Continental.
But I had been looking forward to being able to get some sleep on the plane so my inability to achieve that really made the rest of the day catching the connecting flight a grumpy grumbly affair.
It turns out that Ange hadn't really got much sleep either though she tried to perk herself up with a cup of tea!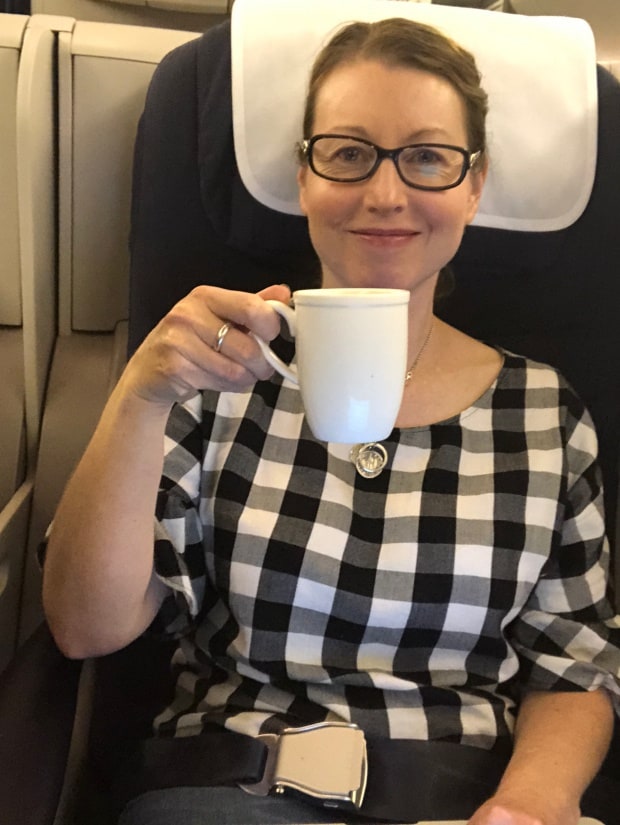 We did get preferential treatment in Bangkok though – a special queue to get through to International Transfers that we almost missed because of the signage. Credit to Ange's superior eyesight for that one!
So the verdict?
In a word – disappointing.
I had high hopes for the UK's national carrier. The BA business class seat just wasn't designed for tall people, so my expectation of sleep was well and truly unfulfilled. We were also blessed with a crew member with a real chip on her shoulder – obviously the exception rather than the rule because the other staff in the cabin were fine.
I'd be keen to give one of the other cabin layouts a go, one with a more up-to-date seat perhaps. Maybe next time!