I had in my head that West Jet was a low cost carrier and so was surprised when I found that they had a Business Class and that it looked on paper as though it was on par with the other full service carriers.
It turns out that they were transitioning to being a full service operator and had started offering the lie flat seats in their new Dreamliners at the beginning of the year. After gaining access to the Aspire Lounge for my preflight relaxation, I boarded the flight from Calgary to London's Gatwick Airport.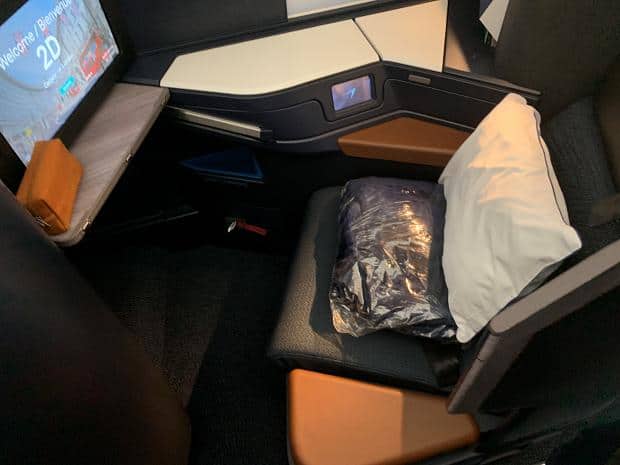 Seeing how the plane was so new, the interior was also a pristine example of a late design. It took me a few minutes to figure out how to open each of the cubbies, but I soon located the headphones (triangular brown padded top near my left hip), which came with a bottle of water.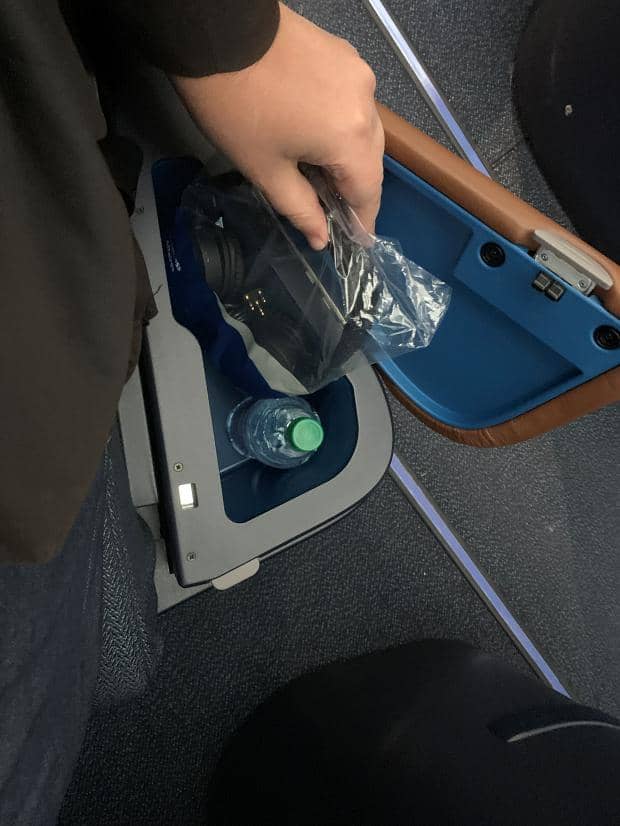 The remote for the entertainment system was tucked away on the benchtop to the right, and was surprisingly roomy. It was also where the headphone socket was.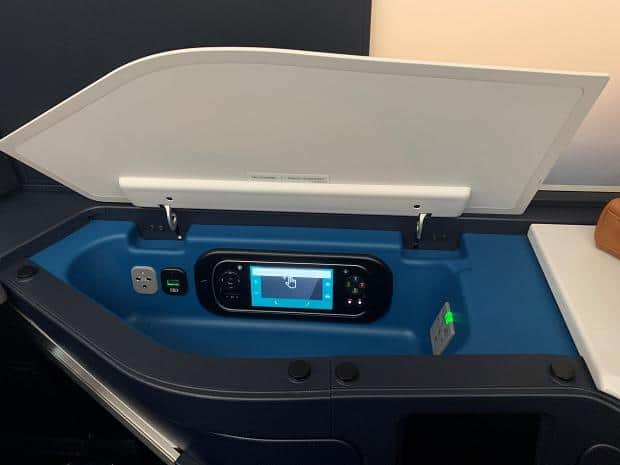 The roominess became apparent: it was so you could charge your phone and tuck it away inside the cubby while it was charging – closing the lid so no lights interfered with your sleep.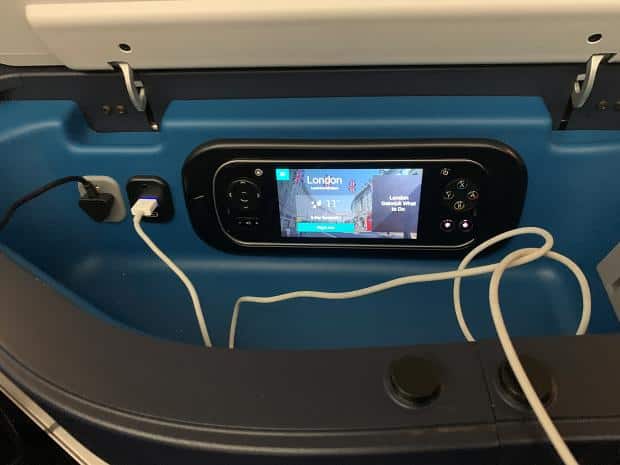 Tucked under the lip of the desktop was a little LCD touchscreen allowing you to alter the layout of the seat, from upright to lie flat and everything in between.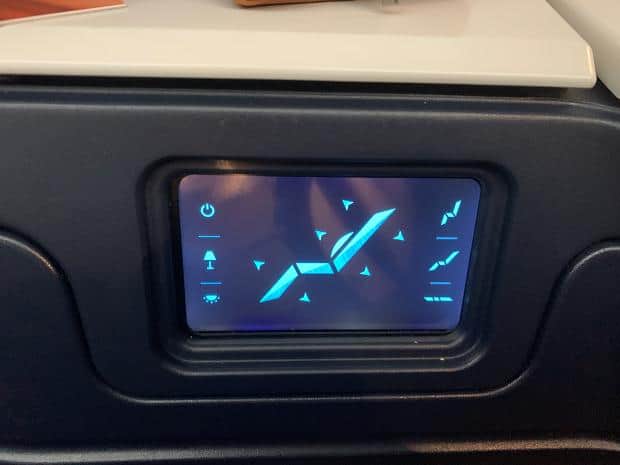 I do enjoy the personal touches, and having your name on screen welcoming you may not mean much but it just added that little extra.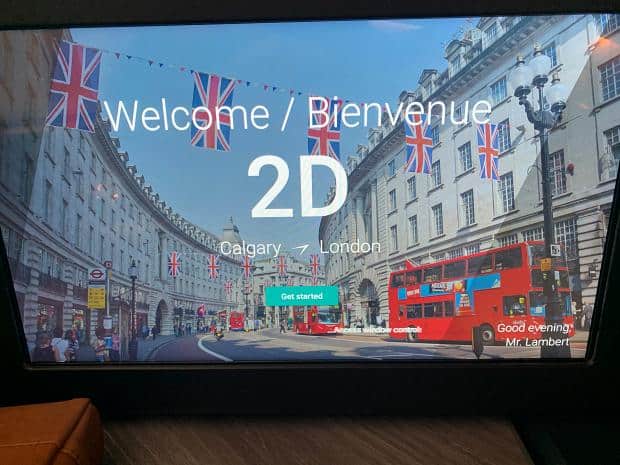 The last cubby I popped open had a mirror and more storage space: I assume for things like glasses etc.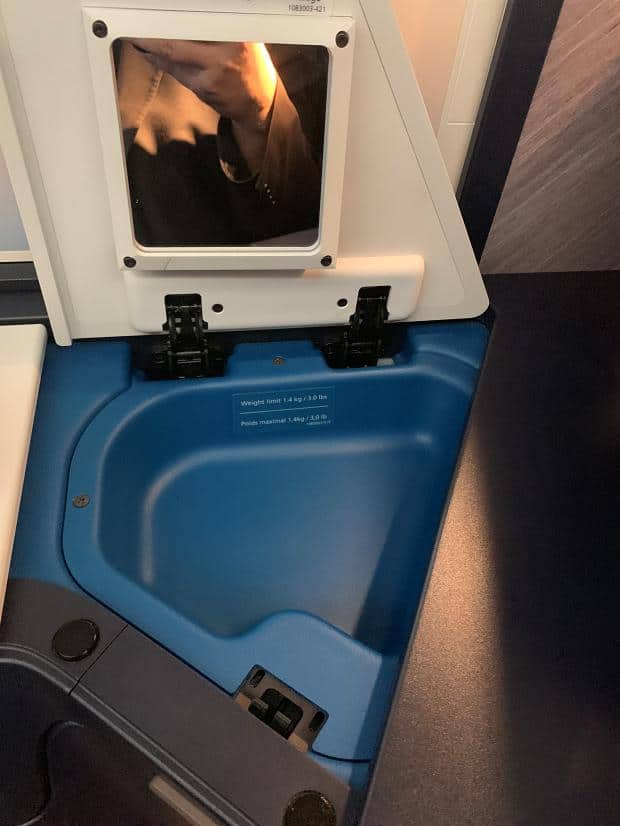 The amenity kit had all the usual offerings: socks, eyemask, earplugs etc. It looked very smart!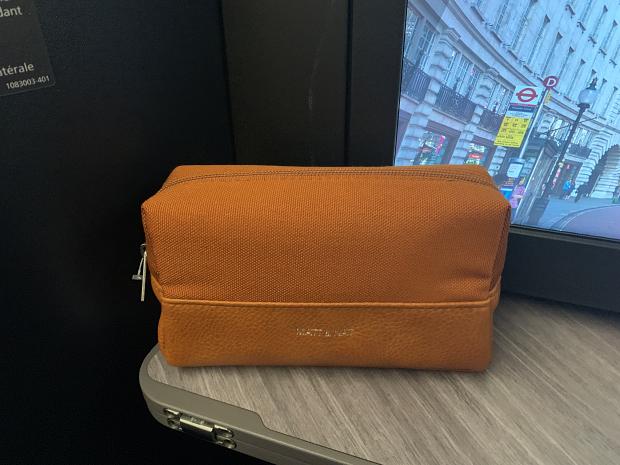 On arrival I elected the WestJet signature drink: Gold Peak ice green tea, cranberry juice and a fresh lemon wedge. Very refreshing!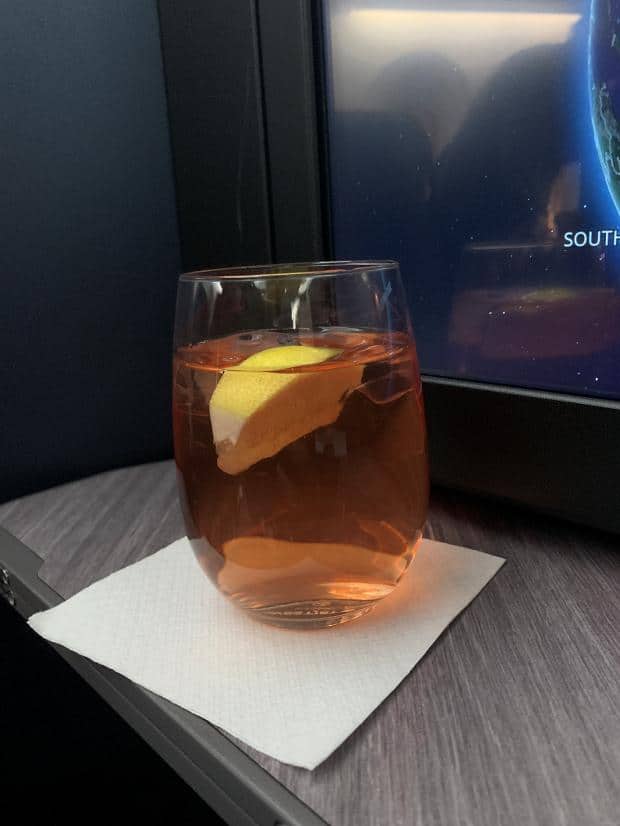 They had the on-demand dining concept going on, and the customer service rep came around noting down my order. They also made a note of whether you wanted to be woken up for the breakfast service and I made sure to get in quick with what I wanted for then too!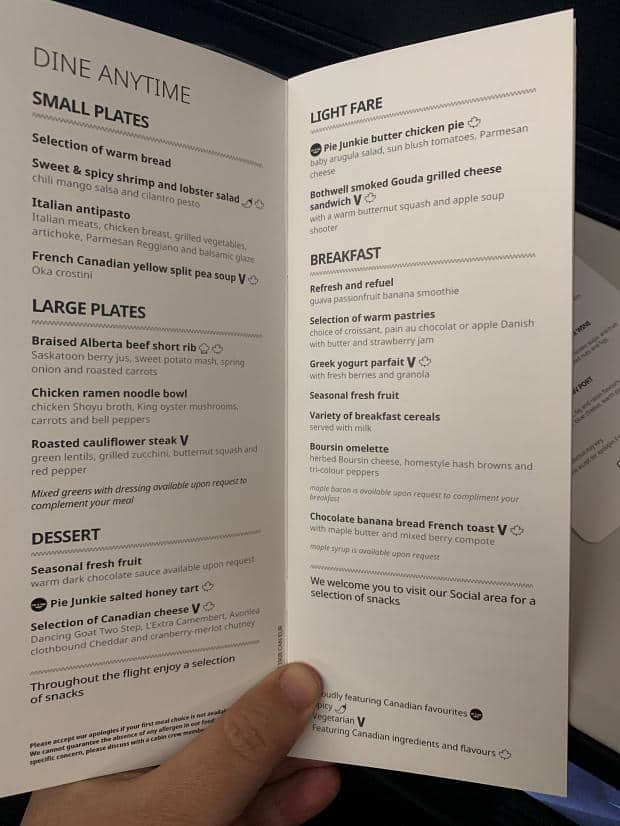 Dinner started with truffle oil popcorn and a glass of classic Canadian Dry (ginger ale).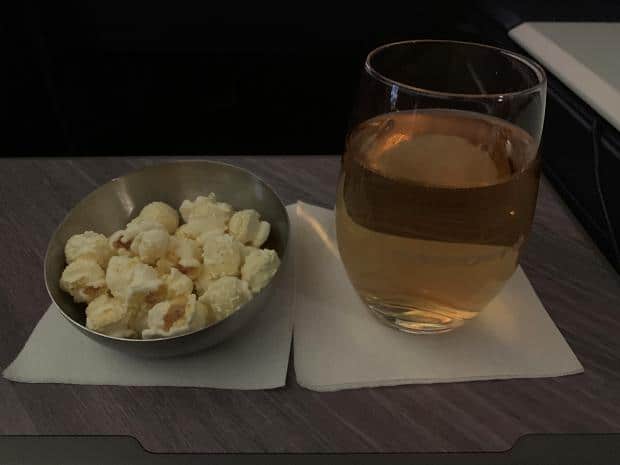 It took me a while to figure out how to get the table out from under the entertainment system. There was a latch you needed to squeeze and pull and out it slid. The lovely rep laid out the full experience of table cloth, my very own bread basket and condiments.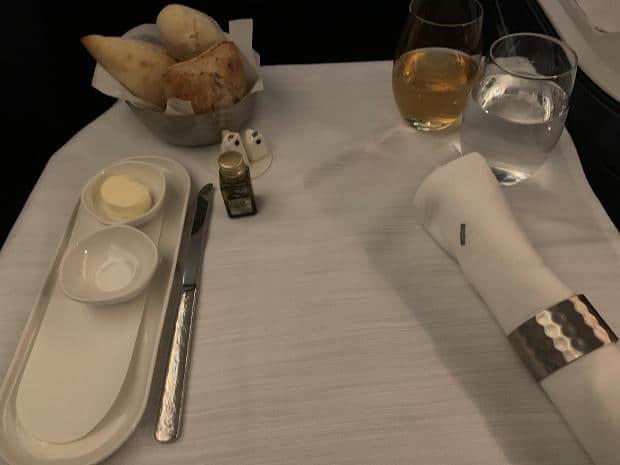 I started with the shrimp and lobster salad and it was incredibly tasty. I could very well had a whole main of just that – healthy too!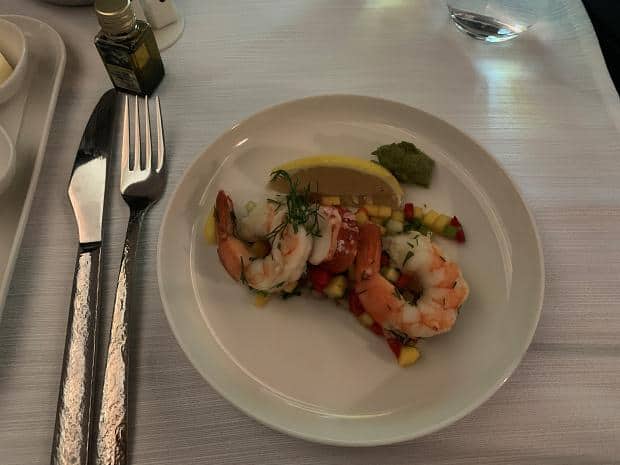 I followed that up with the Alberta Short rib, accompanied with roast carrots, spring onions and served on a bed of mash. Delicious.
After dinner I watched a few movies on the entertainment system. When things work perfectly it's hard to comment on them – a really good selection of things to watch, with maybe the only shortcoming being there were only a few episodes of the TV programs. No way to binge more than a couple of episodes of any series that you really liked. Minor quibble.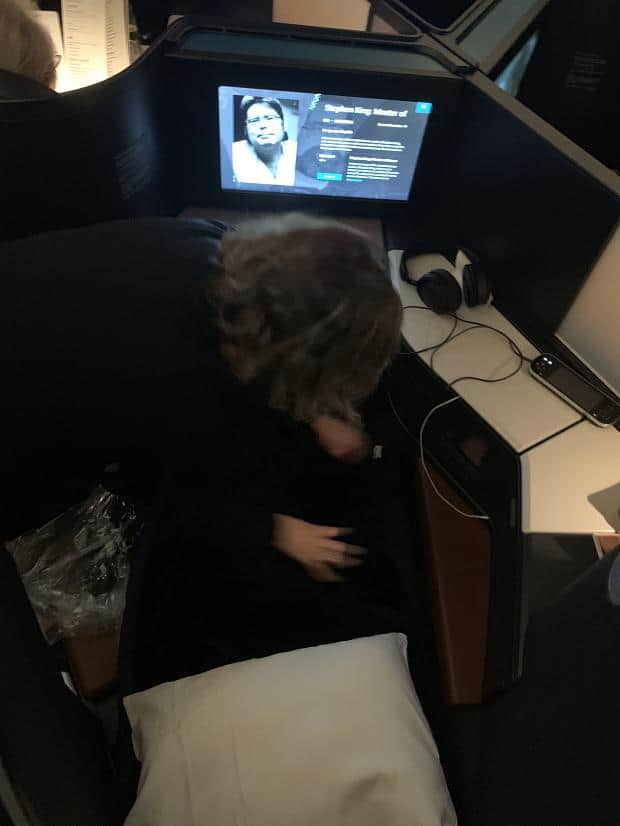 When it was getting close to bed time the rep (and I'm kicking myself for not taking a note of her name) came around and asked if I'd like their complimentary turn down service. I readily agreed and in no time at all she'd turned the seat into a bed including the seat topper, blanket and pillows, turned down the blanket invitingly and popped a chocolate on the pillow.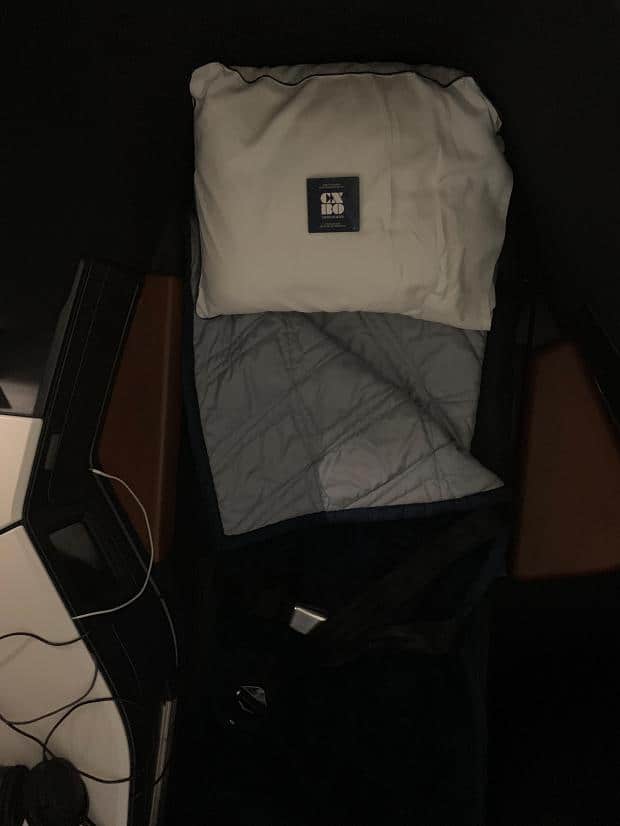 The bed was a good size and the picture below doesn't quite do it justice (I'm not putting my feet in the void under the entertainment system fully). Once I got fully reclined the seat just accommodated my full 6'4″ 193cm frame. The three point seatbelt had to be worn, but didn't get in the way. Good design!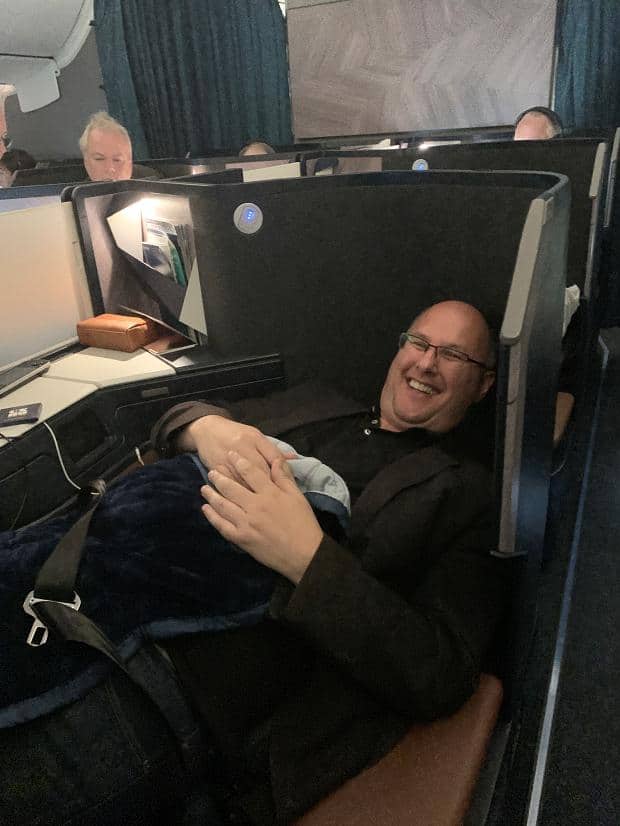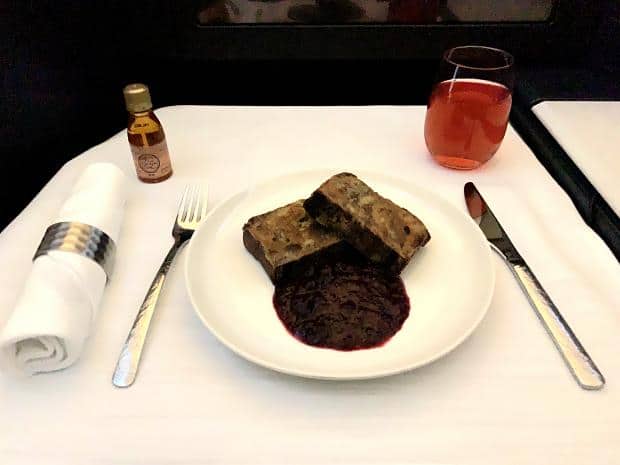 I managed to get some sleep over the Atlantic and was eventually woken gently by my Rep. She waited patiently while I took off my eye mask, noise cancelling headphones and took out my earplugs before asking me if I was ready for the breakfast service.
For comic value I should have said No and then replaced earplugs, headphones and eye mask, but truth be told I was a little peckish so agreed that I was and raised my seat into the eating position.
I'd ordered the chocolate banana french toast (because omg, why wouldn't you?!) and it came with a berry compote. The photos do not do it justice! If that level of sweetness wasn't doing it for you, it also came with a little bottle of maple syrup. Yum!
So what did I think?
I've only really talked about the hard product – the details of the seat and entertainment system. I should really talk about the soft product – the customer service.
My expectation was admittedly low, expecting that as a low cost carrier they would match the surliness of an EasyJet or RyanAir (think Spirit in the US), but they surpassed that even being on par with Qatar. I'm not sure if it was because they were Canadian, but in every interaction with them, the crew came across as friendly and very proficient.
I really wouldn't hesitate in flying Business Class with WestJet again. Loved the service, loved the food, the seat was comfortable and we arrived on time. What's not to love?