One of the most popular nights in Britain is Guy Fawkes on the 5th November. Traditionally this was a time to light bonfires to celebrate the fact that King James I survived the Gunpowder Plot in 1605. The 'Plot' was a failed assassination attempt by a bunch of Protestants to blow up parliament, one of the instigators was a man called Guy Fawkes who was in charge of the explosives.
Today, the history of Guy Fawkes and his team is somewhat murky in people's minds, so fun and fireworks is more the focus for November the 5th.
Since London is the home of Guy Fawkes, we decided to check out what displays were happening around the city on the 4th and 5th of November. This Evening Standard article had good information on where the displays were, times, cost and what to expect.
There were a number of free firework events in London listed in the article, and this was one of the main reasons we chose Blackheath, but it was also relatively close to the Barbican where we live.
In saying that, it still took up to an hour, and involved two trains, to get there – a Northern Line from Moorgate to London Bridge, then a National Rail train from London Bridge to Blackheath. When we got to London Bridge at around 6.10pm, it seemed everyone else had the same idea of seeing the fireworks. Unfortunately the train we planned to catch, the 6.17pm wasn't stopping at Blackheath.
We overheard a group saying they'd catch it anyway and grab a taxi from Lewisham. We tossed up the idea but decided to wait for the 6.34pm which was going to Blackheath. When we arrived, the crowds were amassing in the small village and the streets were cordoned off to traffic. We followed the snaking line of people up onto the darkened heath to find a place for dinner.
Chris had been there before so knew there were multiple eateries to grab a bite. But due to the popularity of the event, which had been going since midday, these were packed to the brim. We considered going halves on a £5 sausage in a bun, but it didn't really appeal. We found a cafe up the road that wasn't too packed and munched on sausage rolls instead, and washed them down with orange juice.
In hindsight, having dinner somewhere quieter before we went to Blackheath would've been a good idea!
After our hasty snack dinner we made our way on the Heath. Blackheath is a large open grassy area that back in the day was used as a burial ground for the victims of the plague or 'black death'. In modern times it's more utilised by joggers and dog walkers, and for a fireworks display ground it's quite optimal and large enough that it can also fit a funfair off to the side.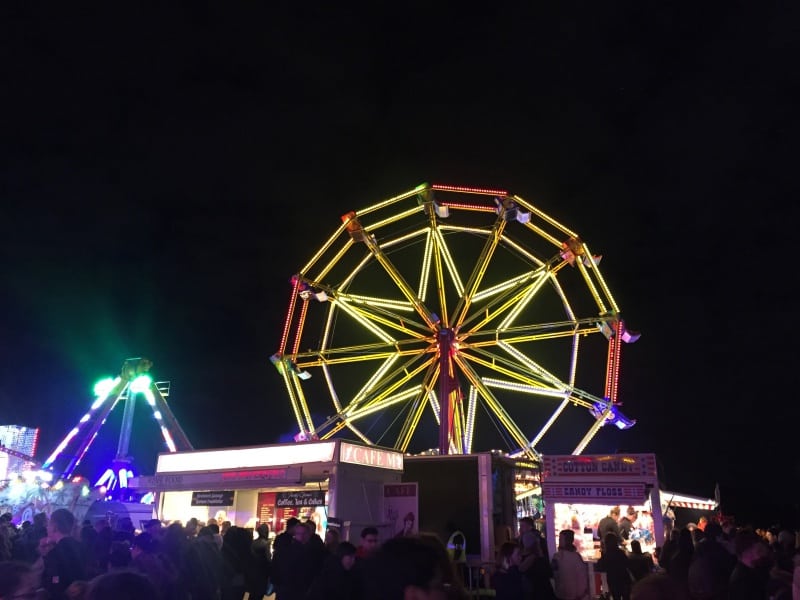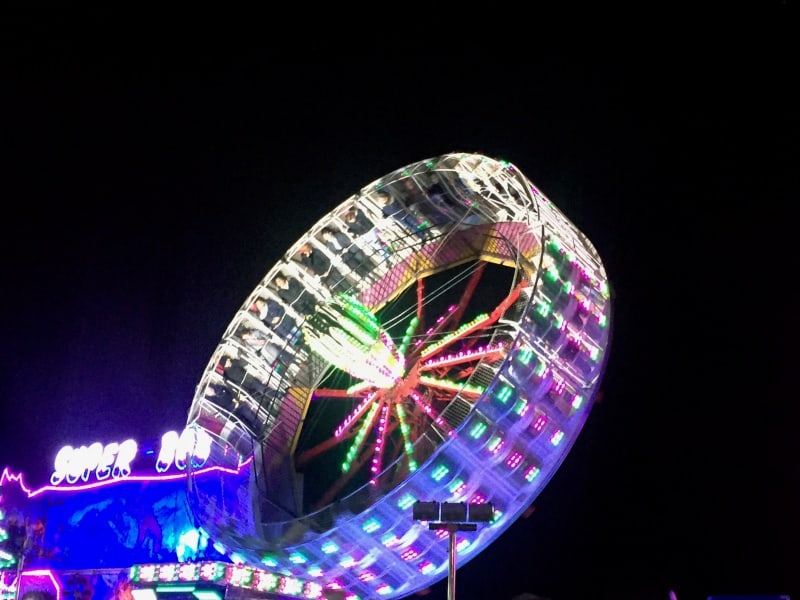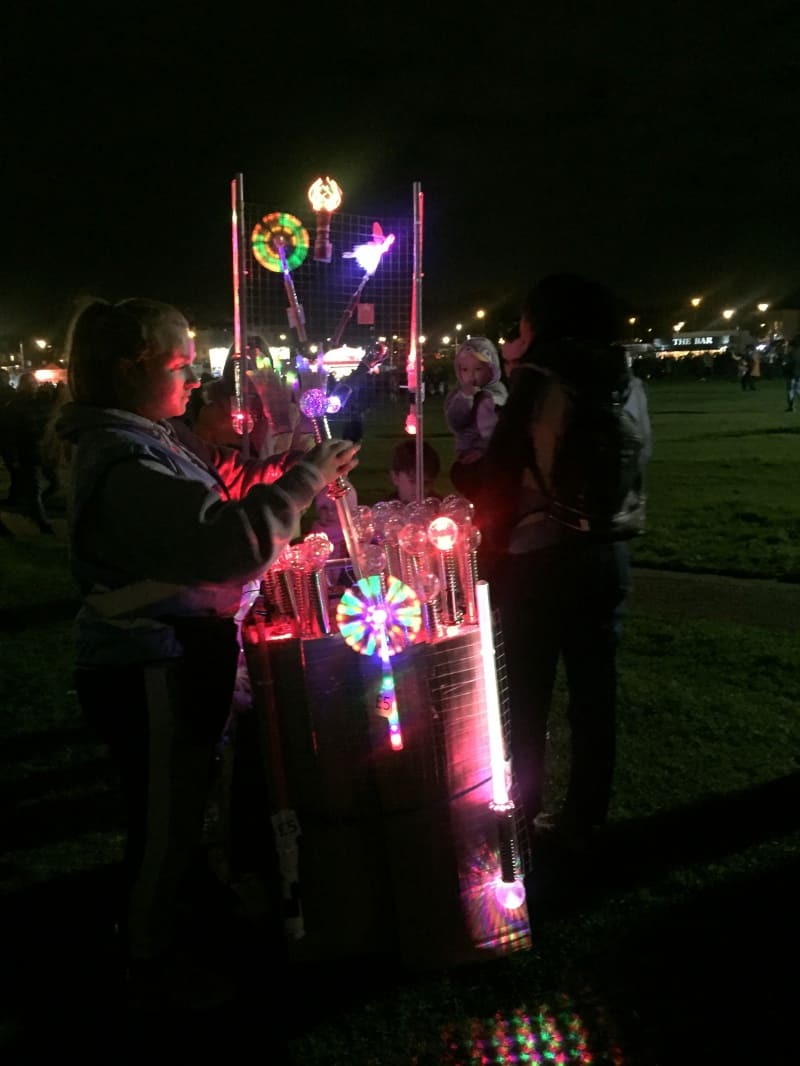 We headed towards the screams to take some photos, trying not to trip over pushchairs or tip over display stands selling glow sticks and light sabers. It was pretty dark, though a full moon was trying to peek through the clouds.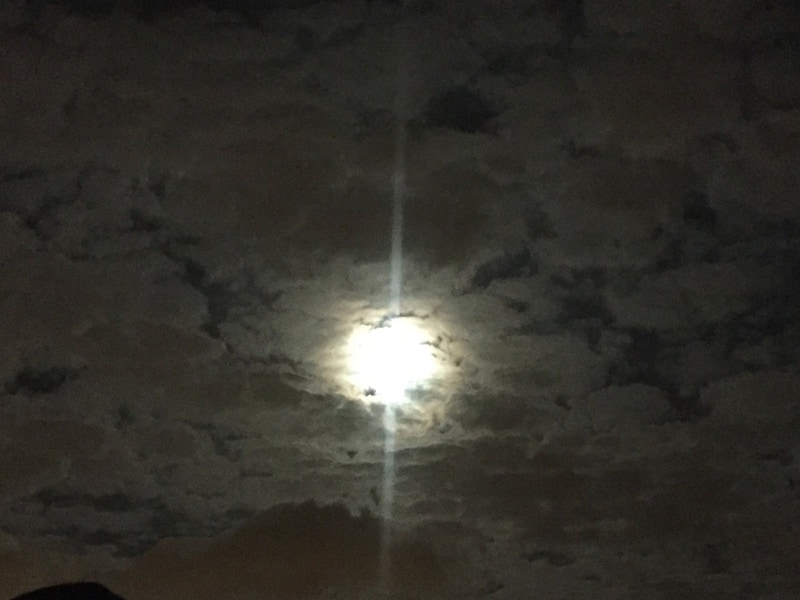 After taking our fill of the fairground or as Chris put it 'the pits of hell' it was coming up for 7.30pm so we wandered over to the firework display area to get into position. It hadn't said in the article exactly how long the fireworks were going to last but we figured in the vicinity of 10-15 minutes.
Chris wasn't sure about standing as close as we were to the fence, but when the fireworks eventually started after a countdown, we found it was quite a good idea to be that close as they exploded directly over our heads. The pyrotechnic display was pretty impressive with lots of variety and colours to keep everyone oohing and ahhing.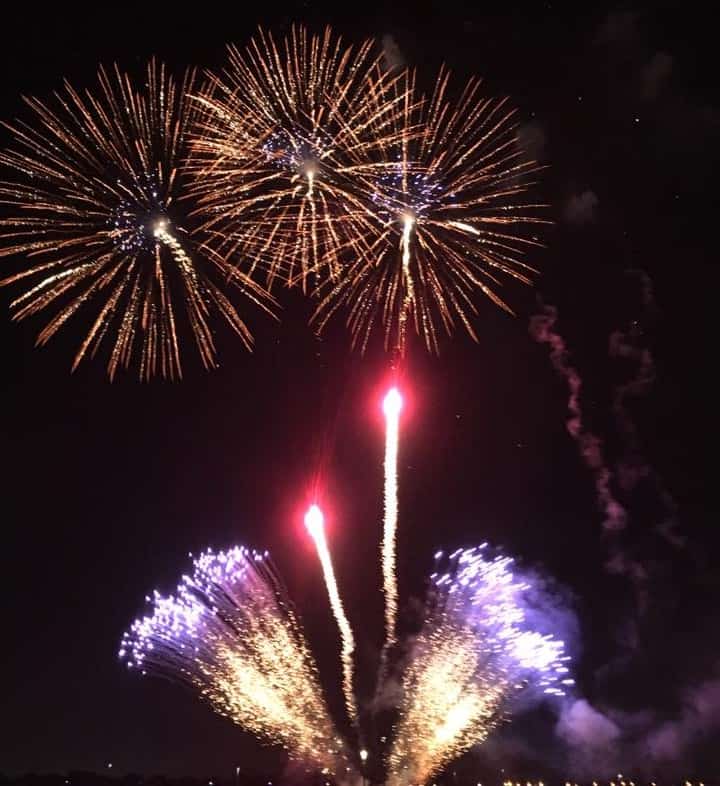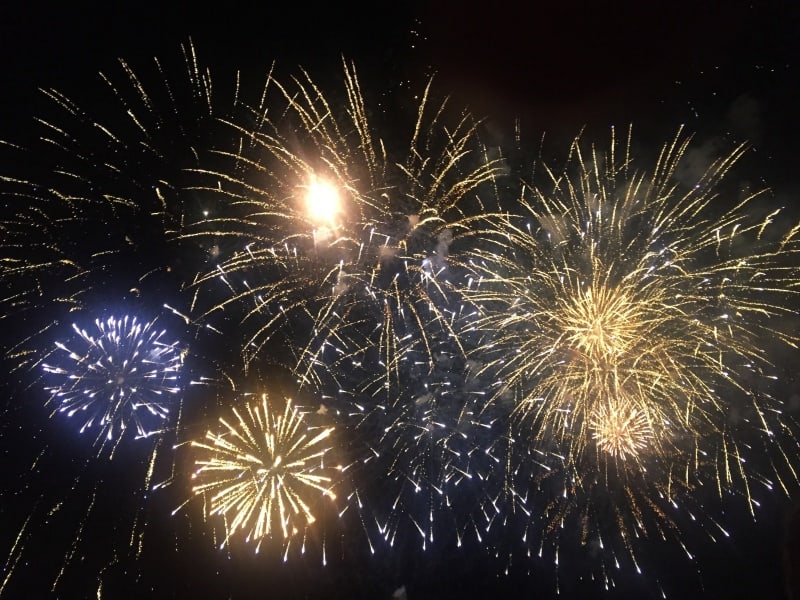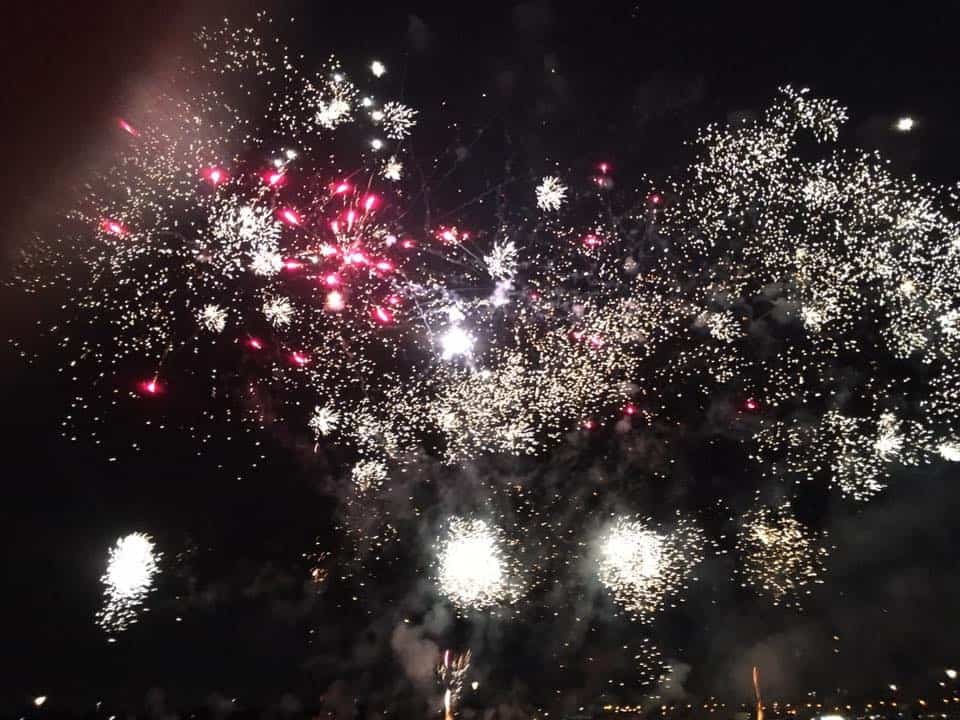 I noticed the stream of traffic on the other side of the heath, including a London bus, had stopped to view the fireworks, I kind of envied them their warm interiors, it was a very cold night!
At exactly 8.15pm the display was over, and since our fingers and toes were frozen iceblocks, it was time to figure out how to get back home via the trains without getting hemmed in by the crowds.
Just then a person with a loudspeaker timely informed us that the station at Blackheath would be overcrowded so we should go to Lewisham instead. I figured this was just a five minute walk, but it was more like 25 minutes. However, the trains were less packed here so we managed to get home without any delays.
If you're in London for Guy Fawkes, then Blackheath is a solid choice for a free fireworks display. If you have kids who love fairground rides, then this will definitely keep them occupied. If you want to avoid the fairground but have a sit down dinner before the fireworks, then book in advance to secure a table at a restaurant. If you turn up on the night, you'll be eating a sausage in a bun, or sausage rolls like we did!