The original name for the island was actual St Christopher's Island, but a common shortening of Christopher was Kitt, so in the 17th Century it evolved into St Kitts Island, or just St Kitts.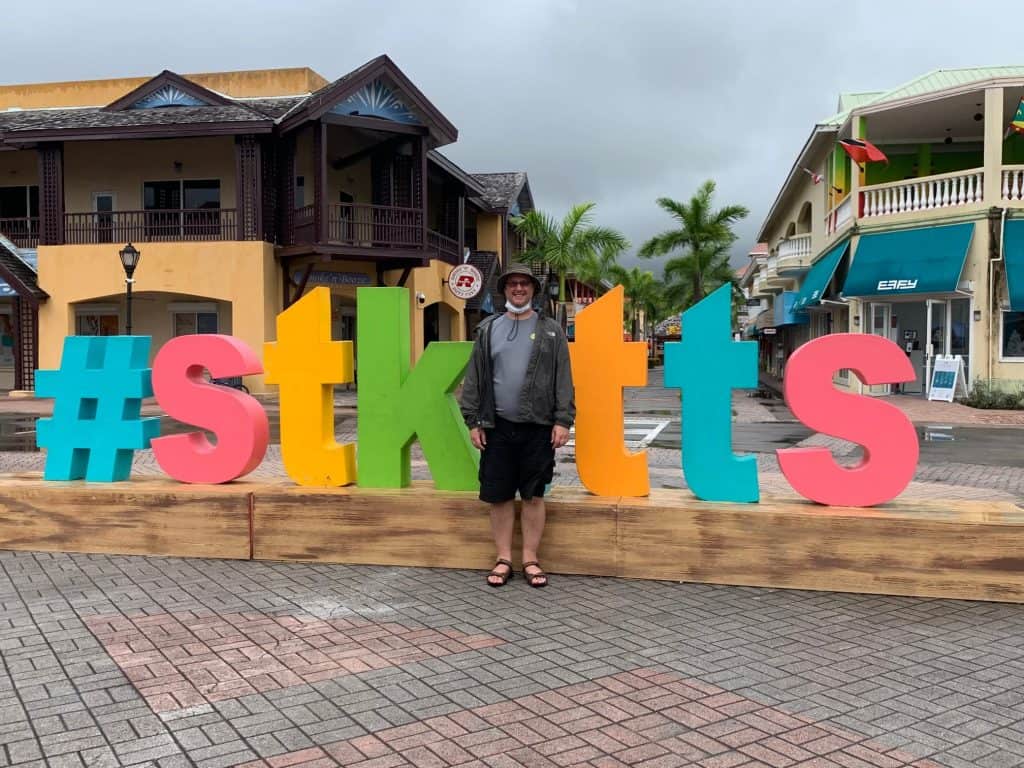 Like a lot of the other Caribbean islands, sugar was grown in plantations and on St Kitts, a train line was built in 1912 to take the cane to a central processing plant.
The sugar industry took a huge hit when the price dropped when the world turned to beets and the railway was in decline by the late 1920s. It was resurrected in 2003 as a tourist attraction.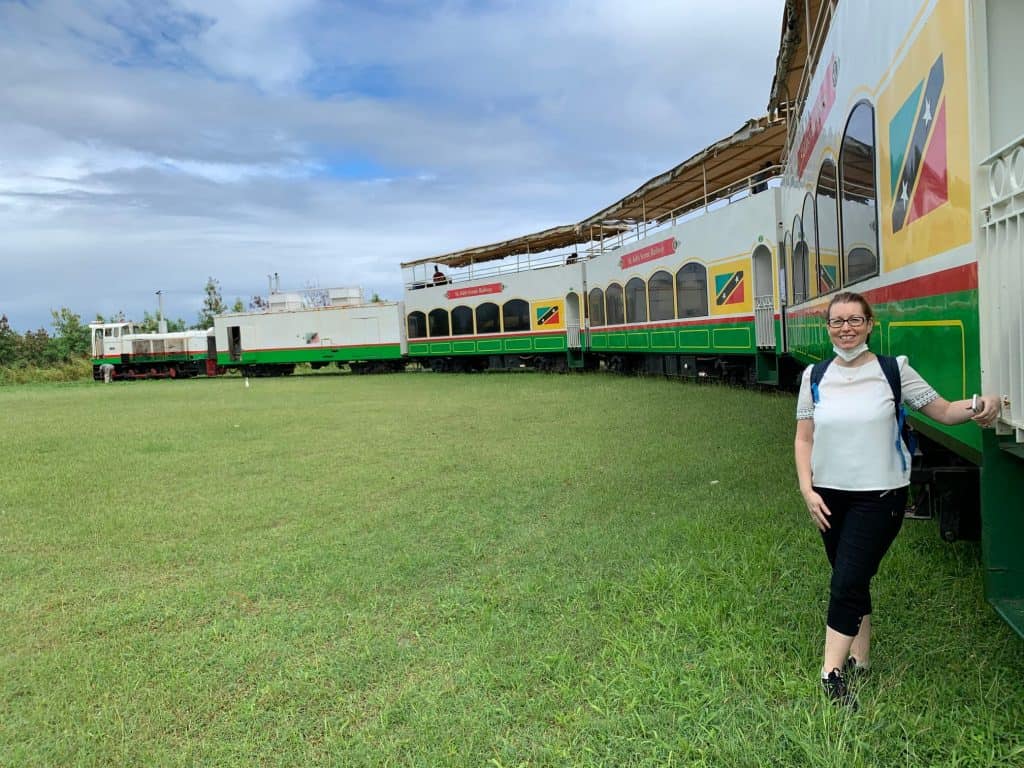 The remnants of windmills used to split the sugar cane are dotted around the island. The train winds its way half way around the island pottering along at 10mph. Fast enough to navigate the slight inclines, but slow enough to allow goats and cows to get out of the way.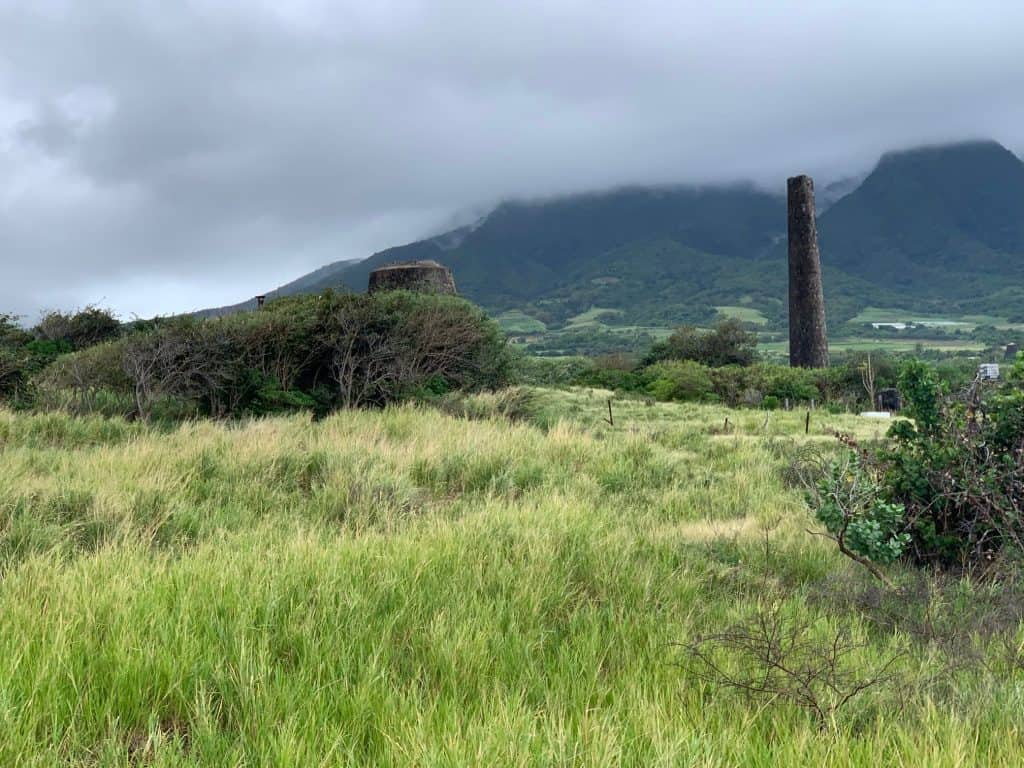 The tour guide was Patricia (but you can call me Sweet-P) and she kept up a running commentary of everything visible from the train, including the island's junkyard. A rare tour indeed where the guide lists all the garbage she can see: "refrigerators, containers, machinery" all in that languid Caribbean drawl.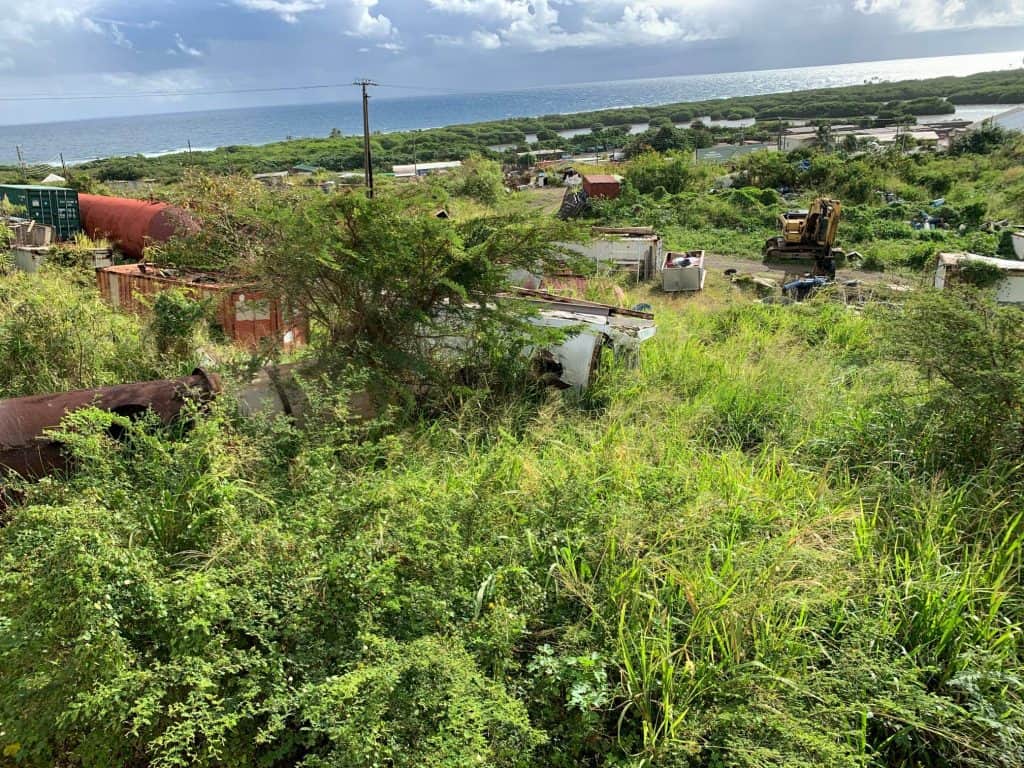 Monkeys! Ange actually saw them first, bounding away in front of the train along the rails. She actually thought that they were rabbits at first. Then they cut left and headed out over the fields. The farmers on St Vincent have to deal with snakes and monkeys, making for some interesting hazards!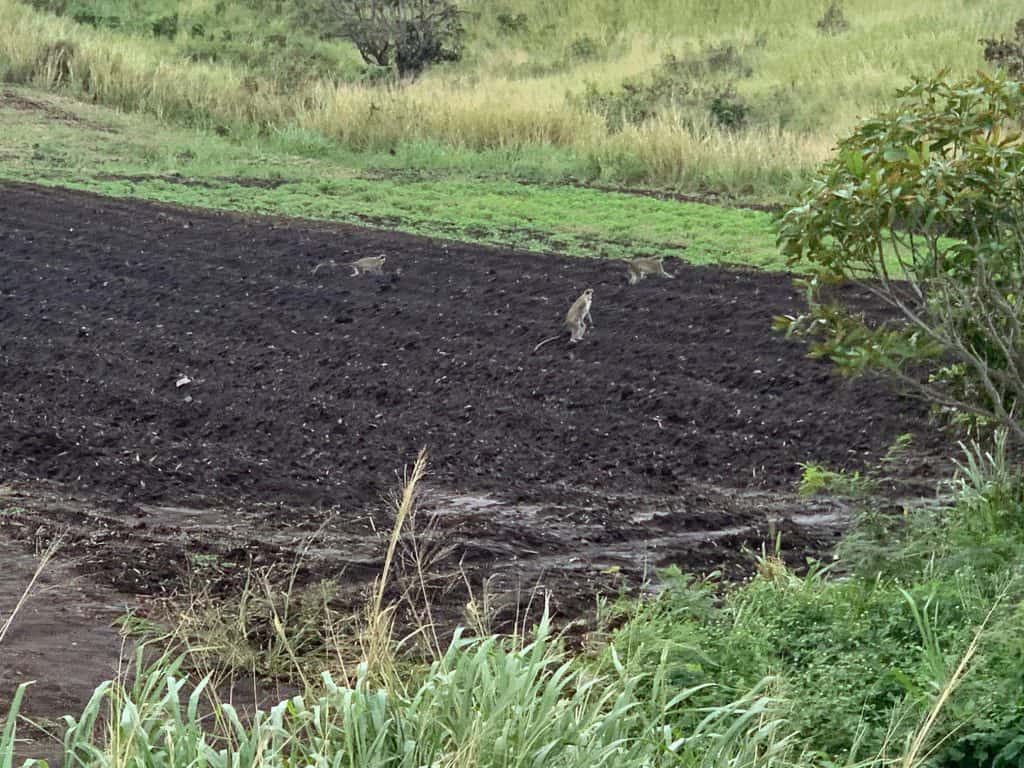 Dancers in traditional costumes joined each carriage to demonstrate some of the islands dances. We'd seen them making their way through the other carriages, and the second time through a couple of the kids got up and attempted to learn the dance.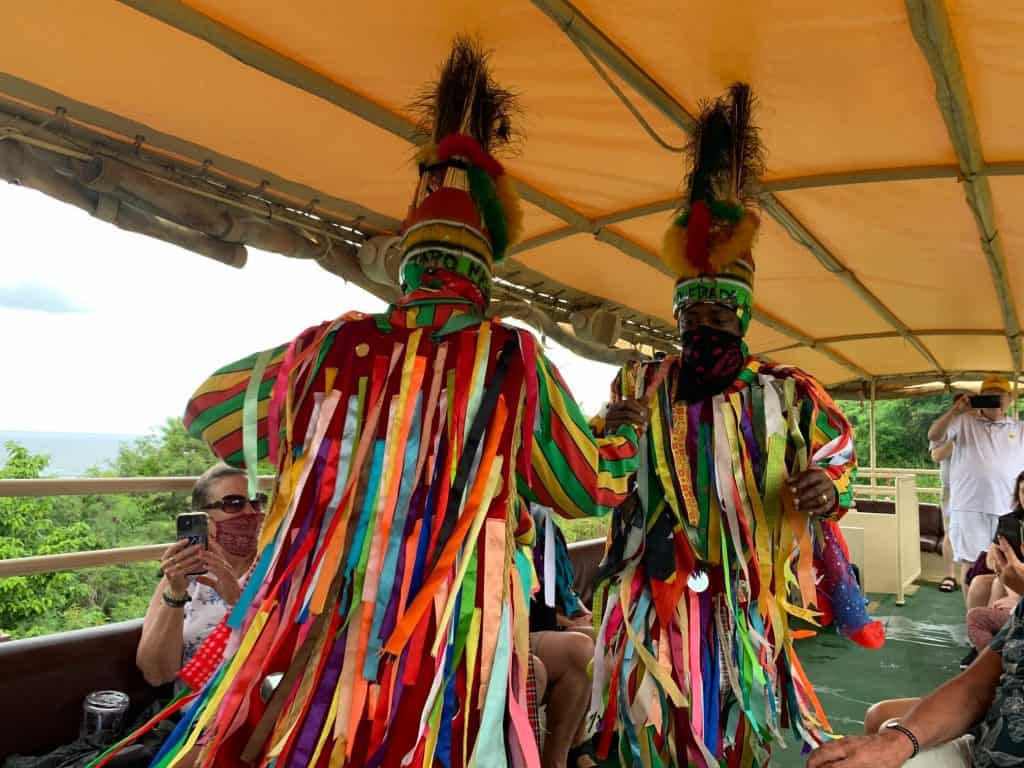 There are four bridges on the route, and this was the most scenic.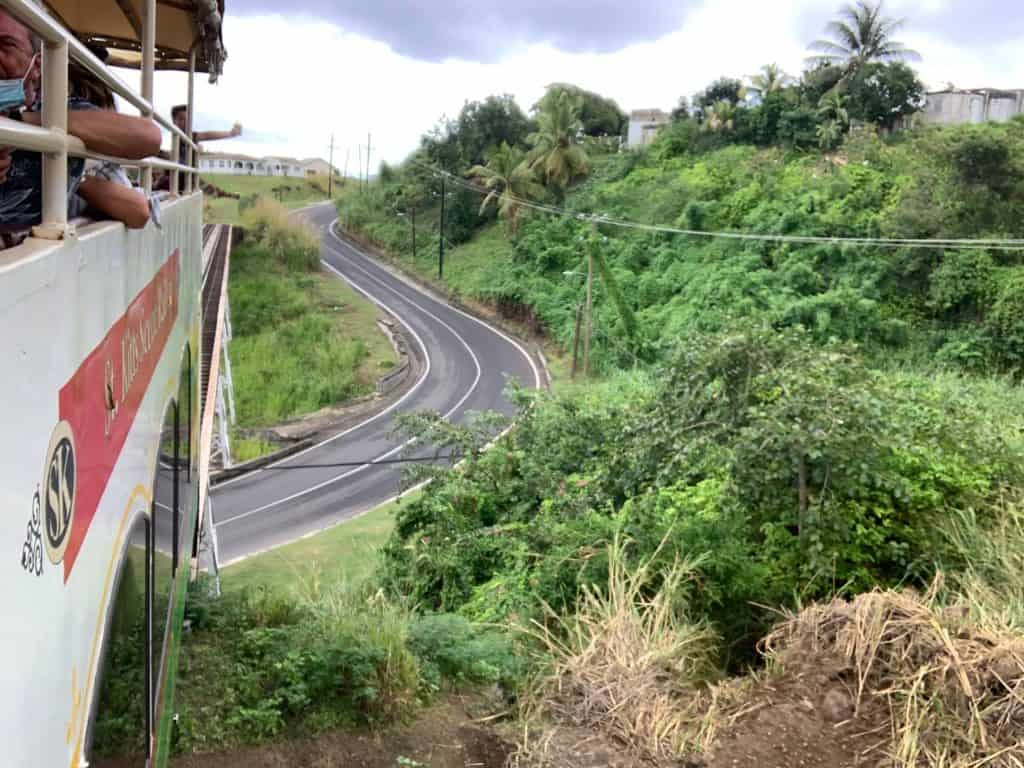 While we crossed over the road four times, we crossed it more often than that. The cars waited patiently and after the second or third crossing I noticed that the barriers were manual and were being operated by the same guy in the cream SUV.
He would drive along ahead, block the road until we'd passed and then jump back into his car to go to the next stop. Waiting there until we caught back up and repeat the whole thing all over again. It took two hours to get to the EcoPark and then two hours back so four hours of nurse-maiding the train through the roads.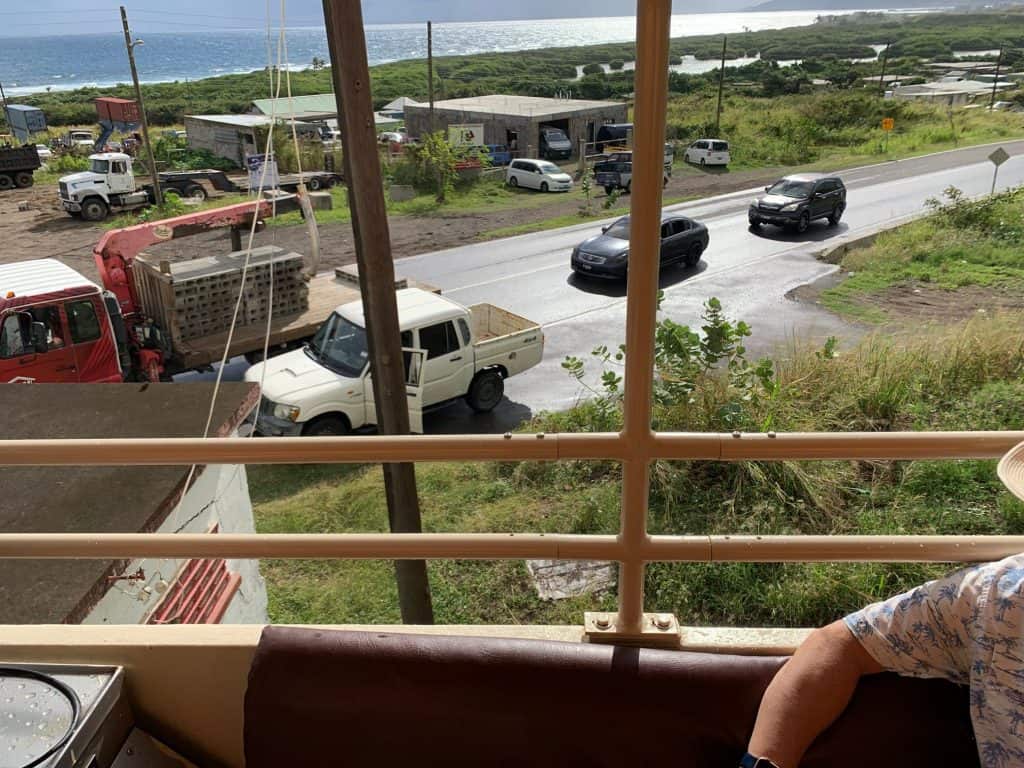 The route finished at the St Kitts EcoPark, where we decamped to complete the circuit of the island by mini bus and the other group took our places on the train for the return trip. After returning to the ship and leaving Basseterre, we headed to Philipsburg on the Dutch side of Sint Maarten.