We're on the lip of Mt Etna's crater at 3,000m (~10,000ft) above sea level. It doesn't come as a surprise that my hands start to clam up; I've never been good with heights.
I've tried to conquer it by doing adventure activities like cliff jumping in Thailand and a bungy jump in New Zealand, and now I'm only moderately uncomfortable on ski lifts and gondolas. But being exposed above a sheer drop on the lip of a live volcanic crater is not my idea of fun.
But no visit to Sicily is complete without a visit to Mt Etna which dominates the landscape. The town we're staying in, Catania, exists because of the volcano – originally to extract and refine its sulphur, later to serve it a steady stream of tourists. Catania has in fact been destroyed by the volcano's eruptions twice. Naturally we assign one day to being said tourists and sign up for a tour.
Our Etna Excursions tour will consist of a bilingual driver who will pick us up in a van and take us up Mt Etna (Rifugio Sapienza), stopping for photos at Aci Castello. We'll then head for Taormina, a clifftop town of great beauty, stopping twice on the way to visit a lava cave and then to buy locally made produce. After Taormina, we'll be dropped off at our hotel – a 9-hour day for €90 per person.
Addressing the more budget conscious, I looked into how much it would be to do it cheaper: a hire car for the day would set you back €13 (cheaper for longer) which gives you the opportunity to carry on and see Taormina. I'd recommend getting a smaller car – while you want some grunt getting up and down the mountain, if you're heading into Taormina, the streets are narrow and winding.
There is also a single bus (run by AST) from Catania to Rifugio Sapienza for €7 return (€4 one way) which leaves at 8:15am and returns 4:30pm, but that would mean missing out on Taormina. You also wouldn't want to miss that bus – not too many other options!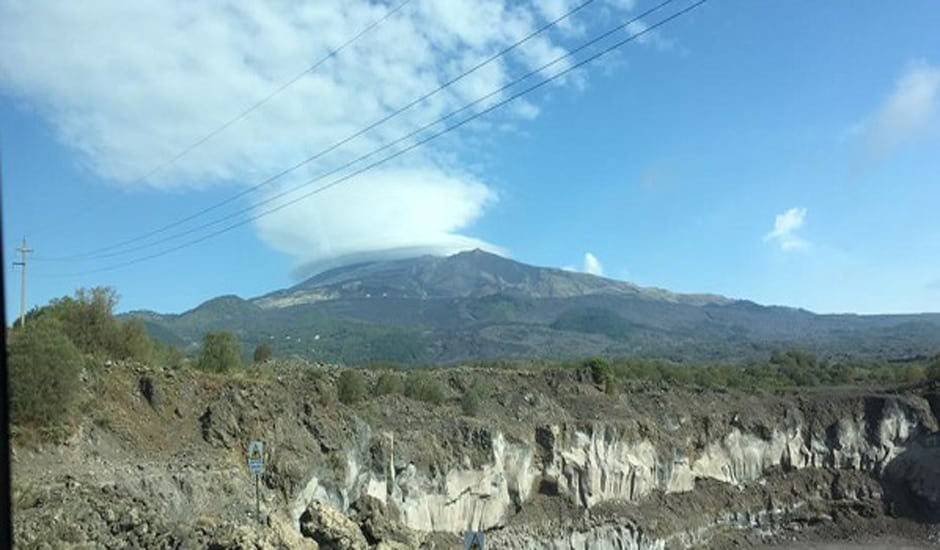 Speaking of cost – a Polish couple were also on our tour, and they hadn't read the pamphlets as well as we had, so were unprepared for the additional costs levied:
The tour van will take you to Rifgui Sapienza which is the township at ~1900m (6,200ft).

There is a cable car which will take you up 600m to 2,500m (8,200ft) for the princely sum of €30 return.

Then there are bus/truck hybrids which will take you up a further 400m to Torre del Filosofo (2,920m or 9,580ft) for €33 return.

Or you can walk it. Wikitravel

reckons

2 hours to the cable car terminus and another hour to Torre del Filosofo.

Alternately you can explore some of the other craters near Rifugio Sapienza. So our €90 tour soon ballooned past €150pp!
The first of my realisations while climbing Mt Etna was while I didn't want to spend an extra €60, I also didn't want to come all this way and not get to the top.
Regardless of what you choose to do, the views are spectacular. We only had a couple of hours, so we splurged and did the "least walking" option. The bus/truck ticket included a guided tour by a volcanologist but the wind was howling up the top of the mountain so we couldn't hear much.
It was sunny, but being on the top of a volcano meant that we were exposed to the full force of the wind. We had brought jackets for just such conditions but there were some larrikins (turned out they were English) who were dressed for the beach with t-shirts, shorts and flip flops.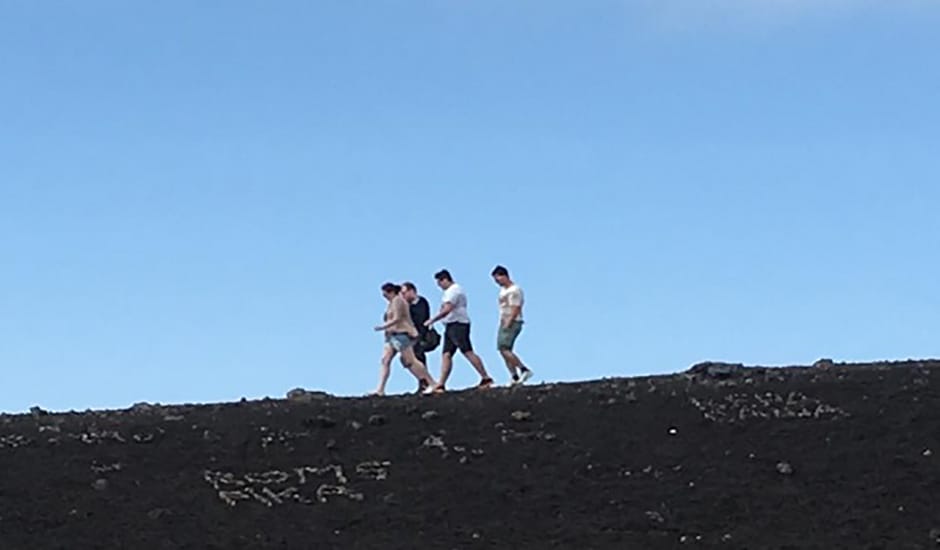 We abandoned the volcanologist to go for a walk around the lip of the crater. I don't have to describe it or trot out my atrocious photos as you can follow along because GoogleStreetView has been up there. What none of this shows though is the sheer drop on the left into the crater (a hole in the middle leads directly to the magma chamber), and the sheer drop to the right down the outside of the crater.
As I may have mentioned, I am not the best with heights so the wind plus the ramifications of getting it wrong certainly compounded the terror. It was then that I learned the second of the three things – if small children who I outweigh by five or six times aren't been blown away by the wind, then maybe, just maybe, I'd be OK.
After doing the loop of the lip of the crater we made our way back onto the bus/truck hybrid and headed back down the mountain. I reflected as we went back down just how much the desolate landscape reminded me of parts of a Salvador Dali painting.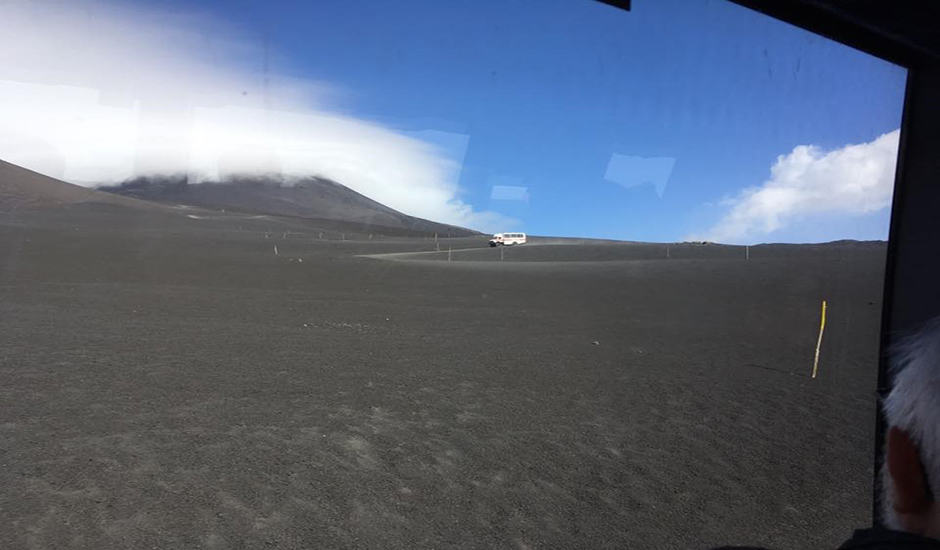 We caught up with the rest of the members of our tour in a cafe below the gondola terminus, then we headed off down the mountain. As we left I wondered why I didn't feel ripped off: after all we almost doubled the cost of the tour by going up the gondola and bus/truck.
I decided that the combination of the views and the feeling of accomplishment from overcoming my terror probably did the trick. Resisting mother nature's attempt to blow us off the volcano felt good.
We then stopped off to go for a visit to a lava cave. With great ceremony, we were each given a helmet and a torch, some of us making it look better than others…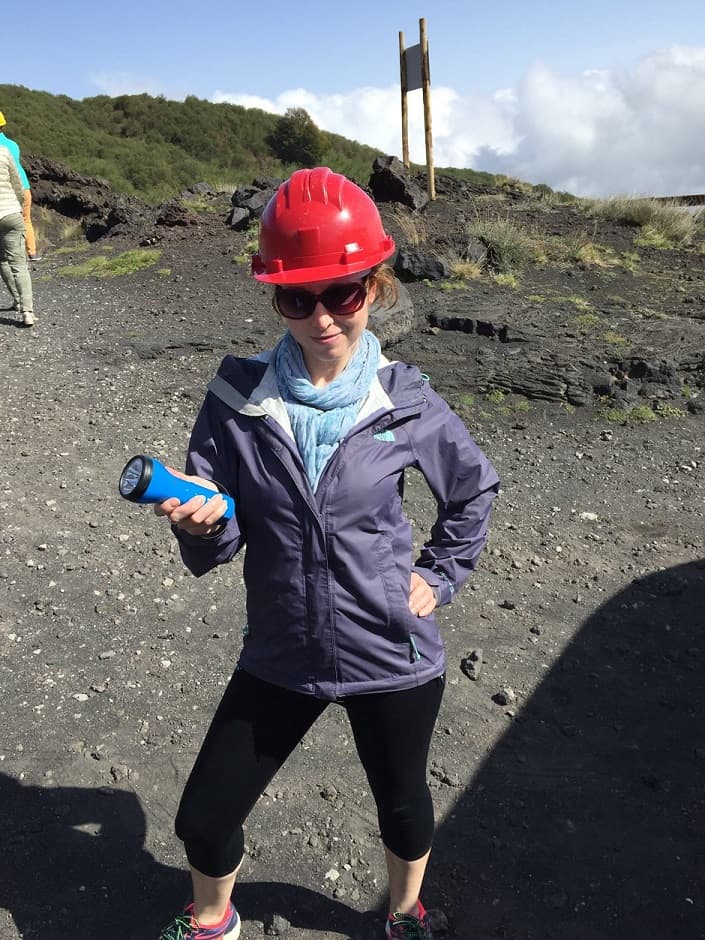 What followed was perhaps the most underwhelming experience of my life. We went into a very small cave for ten minutes while the tour guide gave a brief description of it in English and then Italian. You could almost touch the entrance. It was maybe 3-4 metres from the entrance to the deepest part.
The torch and the helmet were largely cosmetic, and almost not worth the time spent donning the helmet and checking that the batteries worked on all the torches. I don't know if I had been spoiled by visiting the lava fields back home on Rangitoto Island twenty-five years ago but after deciding that I wasn't being ripped off by the tour, I was now having second thoughts.
After you've done a tour or two, you realise that local commerce benefits a lot from the bus loads of tourists shipped to them in bulk, where they can be wowed into buying the local wares.
No tour operator, taxi driver or other procurer of tourists has ever admitted to me the size of their kickback, but it is amusing keeping an eye out for supposed innocuous comments of your trusted guide when they have a financial interest in the amount you spend.
In this case, the trip to the local produce store at Zafferea Etna was on the brochures and didn't seem to have the same seedy undercurrent of self-serving financial interest that other tour stops I have been to.
The free tasting was a nice change also. There were a wide variety of olives, olive oils, flavoured honeys and a trio of spirits: lemoncello, pistachio liquor (think pistachio flavoured Baileys) and "Etna fire liquor", a 70% ABV concoction which certainly packed a punch. Flavour-wise, it left a little to be desired.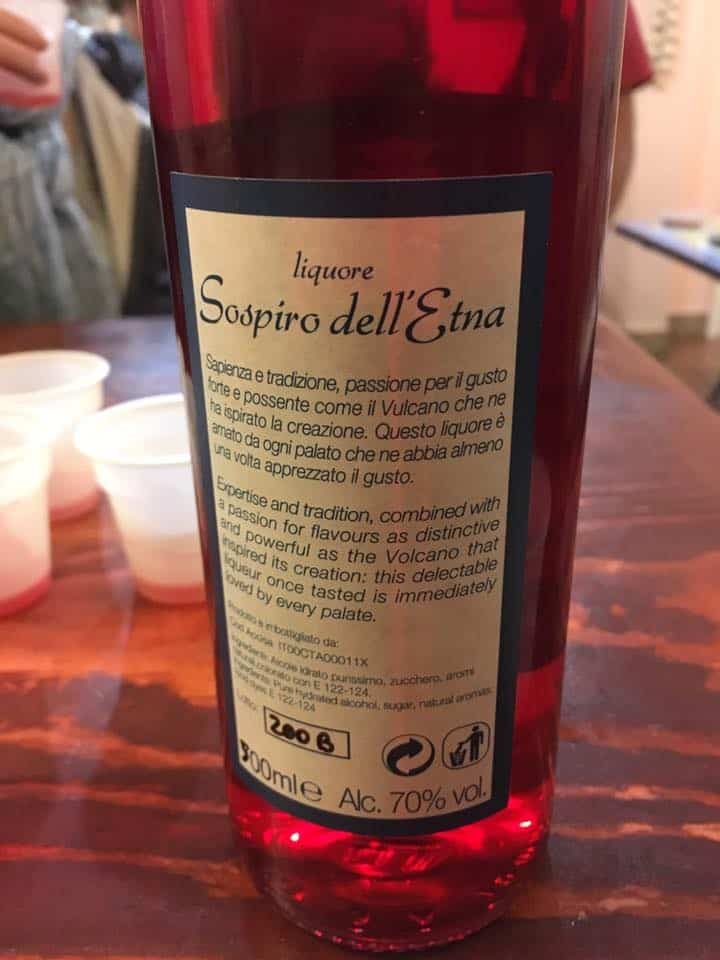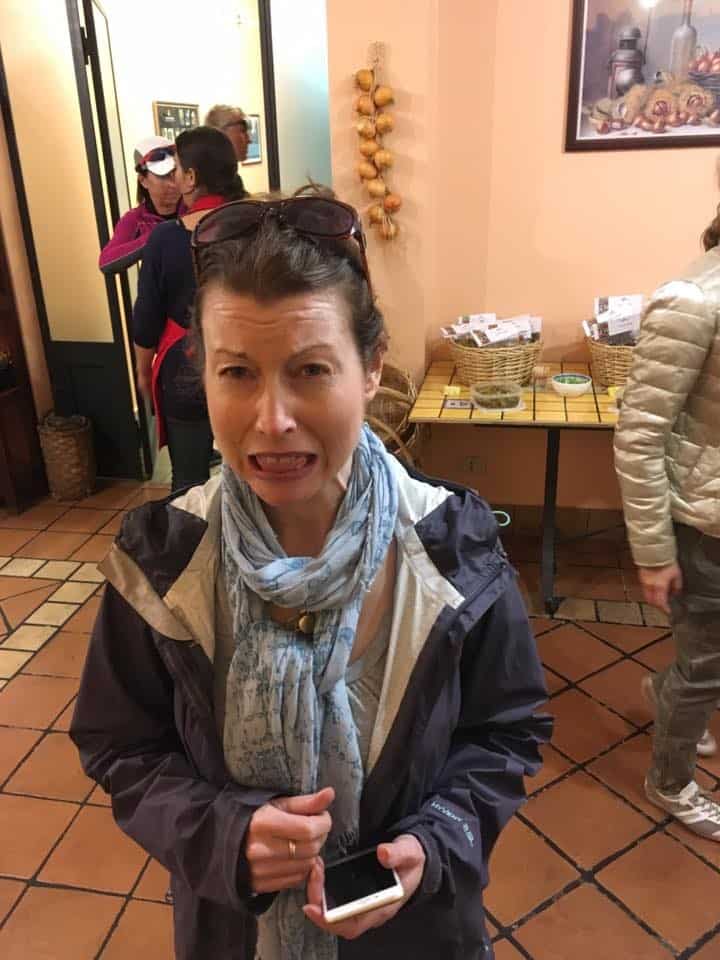 Once more onto the road, this time for the last stop at Taormina. I didn't know much about Taormina but what I had heard was that it was a beautiful town perched on a cliff. What surprised me was how the Italians have managed to slap roads on the cliff as well. The roads in and out of town seem to be clipped on to it.
We were dropped off at one end of town and were told to meet 2 hours later at the other end. There was nowhere to legally stop, so I hoped we would make it on time as to avoid the labyrinthine one way circuit.
We headed into town and did a quick walk from one end to the other to get our bearings and decide what to do in our allotted time.
The town is on three levels. At sea level is the train station, the beaches and Isola Bella. The town proper is 200m above that, presumably accessible via stairs, but very definitely served by cable car. We were at that level so had to decide whether we wanted to head down and see the revered "beautiful island" or whether we wanted to remain at the town level and explore.
In addition, even higher above the town were separate mountain top monastery and castle. I couldn't see how you would get up there, and they looked far away so we decided to leave them and concentrate our efforts on the town-level attractions.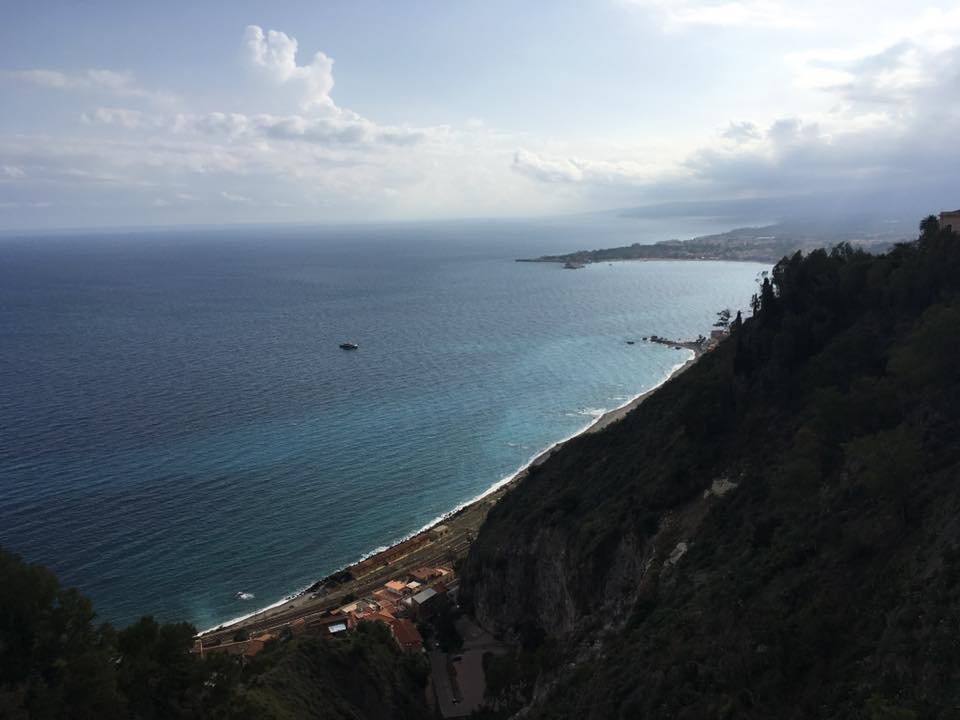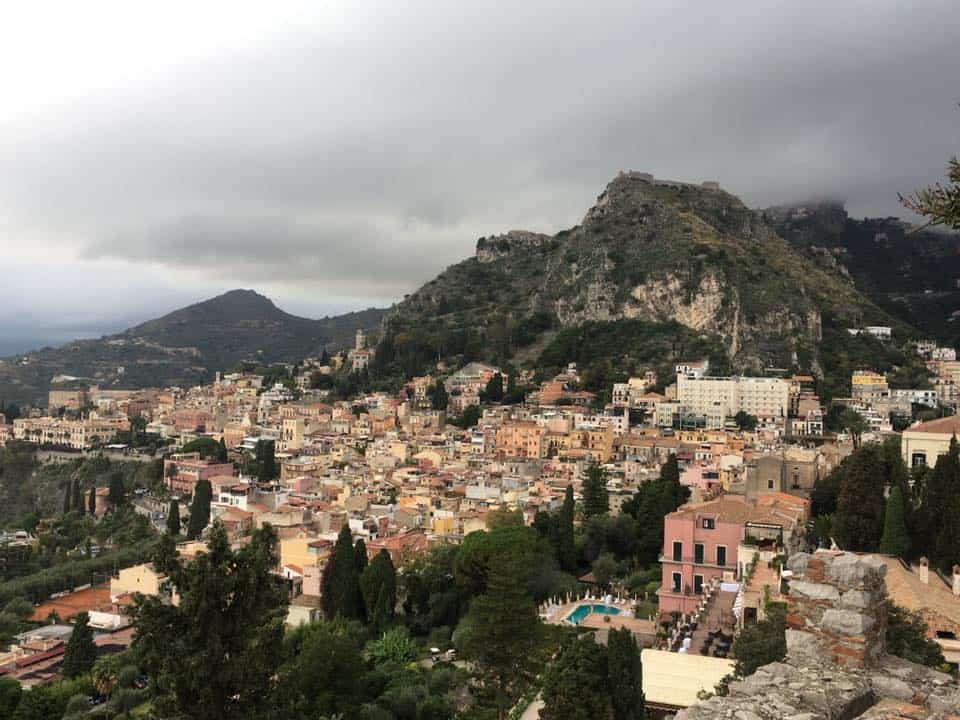 Taormina is a tourist town. Don't get me wrong: it's very beautiful and the views from so high are spectacular, but the high-end retail shops and relentless tourist shops put me in mind of the worst crass commercialism. We ended up deciding to have a wander around, then a look at the ancient Greek Theatre and finally getting something to eat.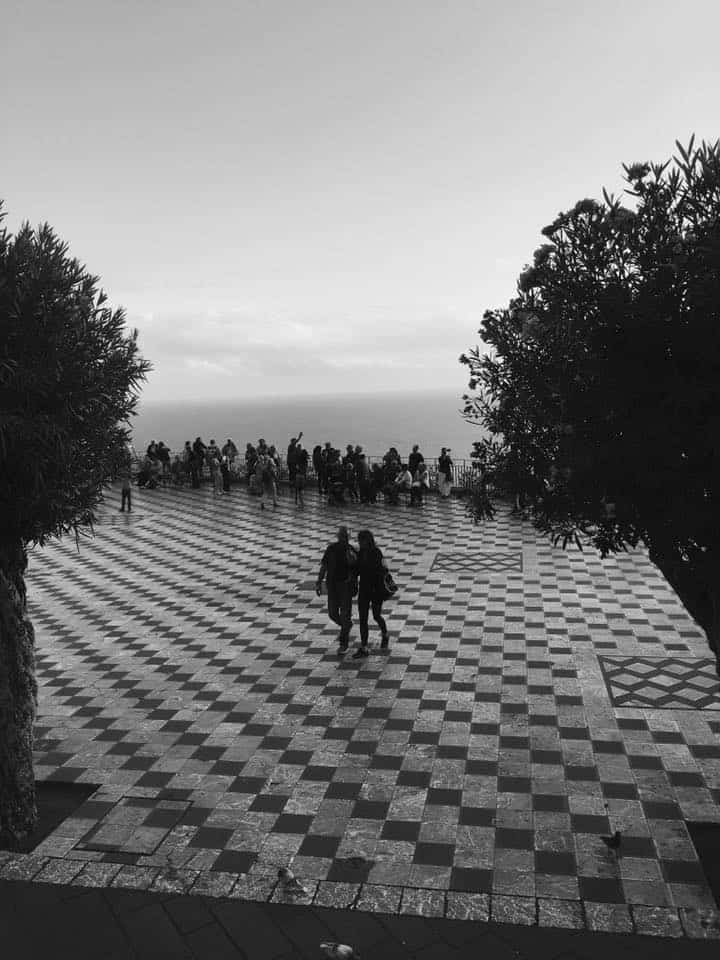 The Greek theatre is a bit on the pricey side (€10) but provides great vantage points for views out over the ocean.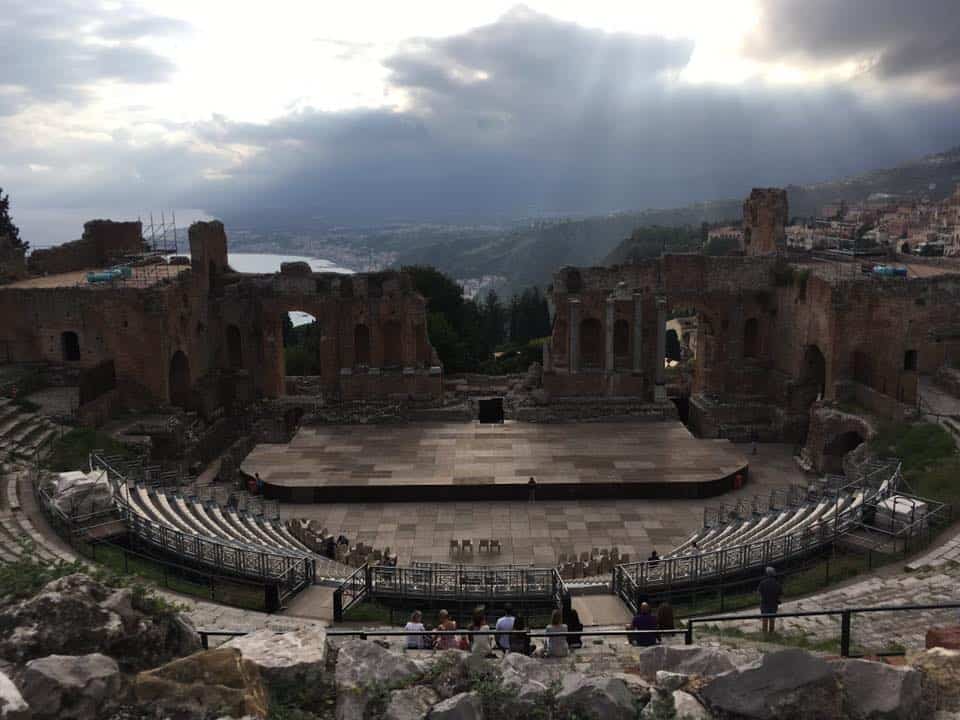 The place is so upmarket they take speciality food to new levels – we narrowed it down to the novelty options of either gourmet toasted cheese sandwiches or else hot dogs, fries and a choice of one hundred different sauces….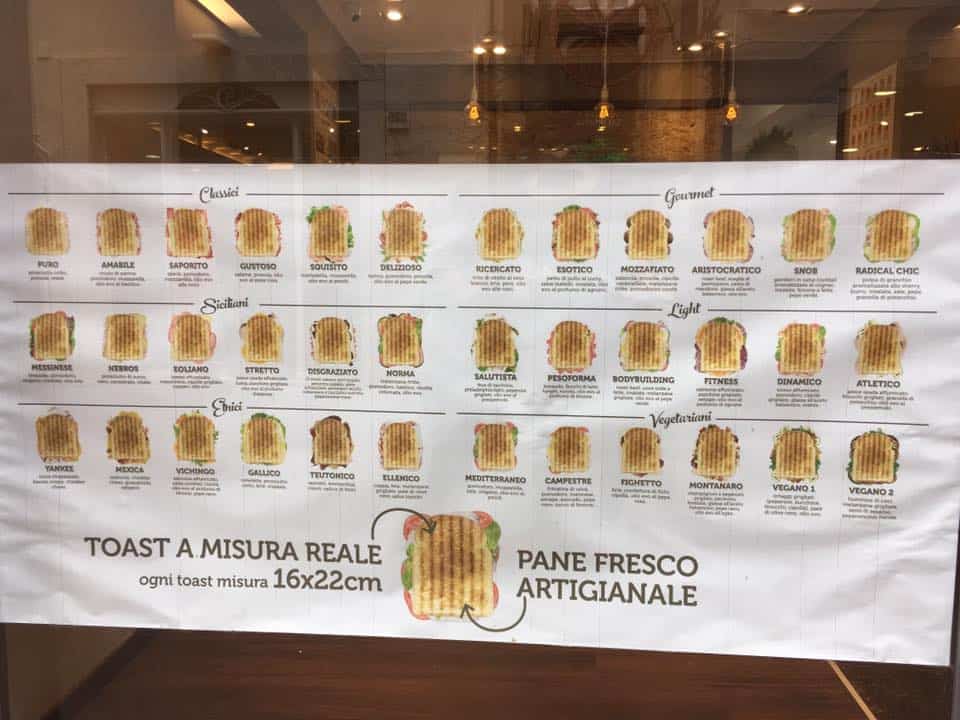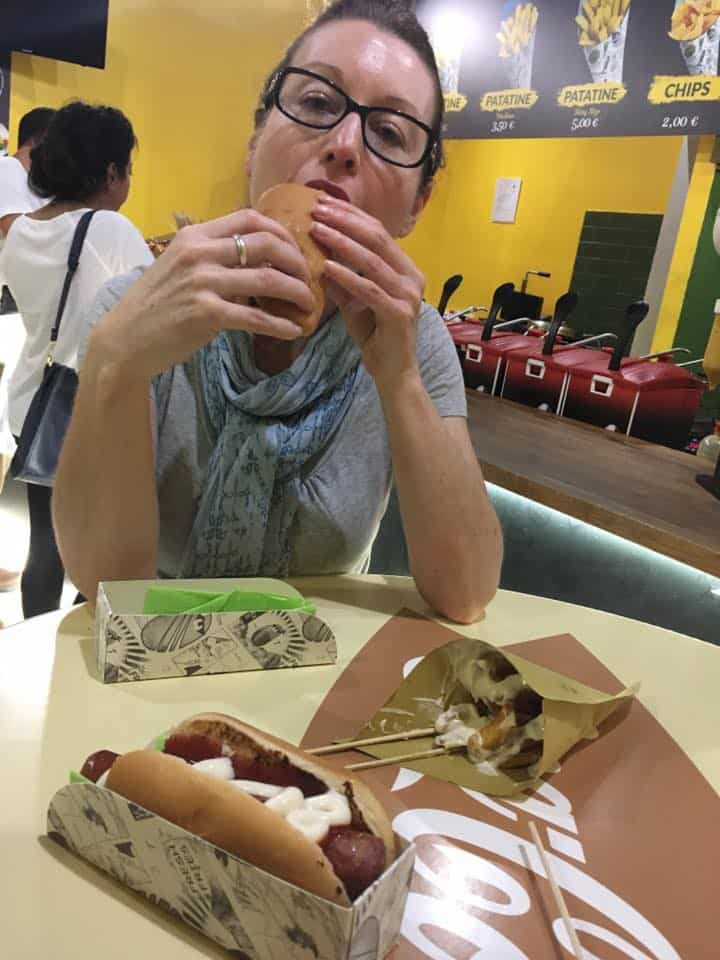 The hot dog / fries combo wins out – selecting a sauce takes an eon!
Anyway, we end up all meeting up with the van and head back to Catania. A very long and tiring day.
In the end, I think the tour probably was worth the money, but if I was to go to Catania again, I would be tempted to spend more time in Taormina – I'd heard quite a bit about Isola Bella that it was a pity not to have enough time to have a look.
The castles above the town also have great views apparently. If we had hired a car and were willing to brave the Italian driving it might have been an option – giving the Zafferea local produce and lava cave a miss would have given us enough extra time to at least get down to Isola Bella and back up using the cable car.
The other option would be if we had split the trip across two days we could have bussed to Mt Etna and climbed up saving a fair bit of money and then taken the train or bus to Taormina and spent the whole day there at a leisurely pace.