We'd chosen Venice as Chris' flying in point for two weekends in a row so we could access Trieste and Rovinj. Both places were not the easiest to get to and Venice was a good transport hub, servicing both his BA flights from the UK. Of course Venice is a wonderful place to visit as well, so that made the decision to stay there even easier. We figured we'd have time at either end of each trip (i.e Fri morning and Sunday afternoon) for sightseeing in Venice, spending Saturday night in either Trieste or Rovinj.
When looking for a suitable hotel my main search criteria was that it had to be near the Santa Lucia train station, and it had to be within budget. Venice is a very unique city which also makes it incredibly pricey, so finding something that met these two criteria wasn't the easiest of tasks.
The district of Canerreggio was the obvious choice so I centred my search around there, finally locking in San Geremia Hotel for four separate nights, a 5 minute walk from Santa Lucia station.
Arrival
On the afternoon I arrived into Venice it was raining, and the hustle and bustle of people, tourists with baggage and hawkers was chaotic near the station, which also serves as a jumping off point for the water taxis. Luckily the hotel was just a short walk and I could forego spending 7 euro on a water taxi. I set off and was soon at Piazza San Geremia.
Check in was on the ground floor of a rust coloured building and simple enough, but it turned out we were staying in the adjoining yellow building, not the red one that had been on the photos. To get access into this building there was no separate key, the receptionist had to unlock it on her computer.
Our room was on the 3rd floor and up as many flights of stairs, with no lift. But I'd known this previously from reading reviews so I was prepared. Still it was a bit of a hike lugging up a 15 kg bag, and a 10kg backpack.
The room(s)
A keycard accessed the room and also provided electricity, but the room also had a key as well. After a bit of fumbling around I managed to get in and was greeted with a double bed with a wooden headboard and orange brocaded bedspread, 2 small bedside tables, a padded chair, a table and a wardrobe, a separate ensuite held a bathroom with a shower and toilet. The decor was understated with white walls, marble floors, the only personality being the painted flowers decorating the pale yellow wooden furniture.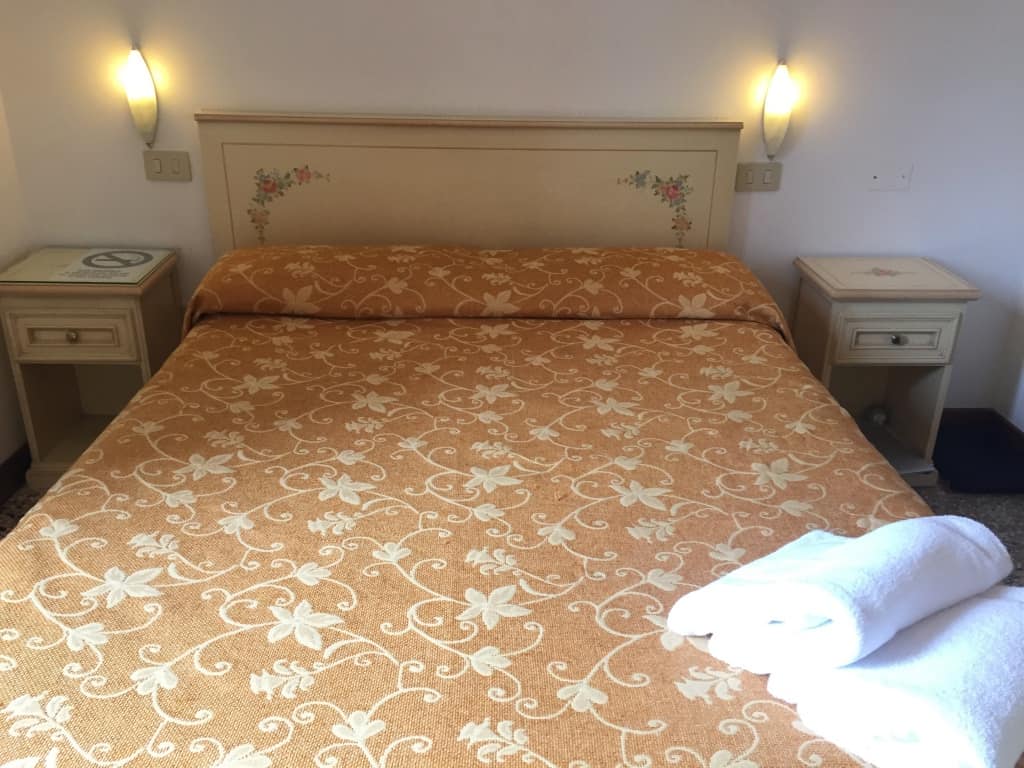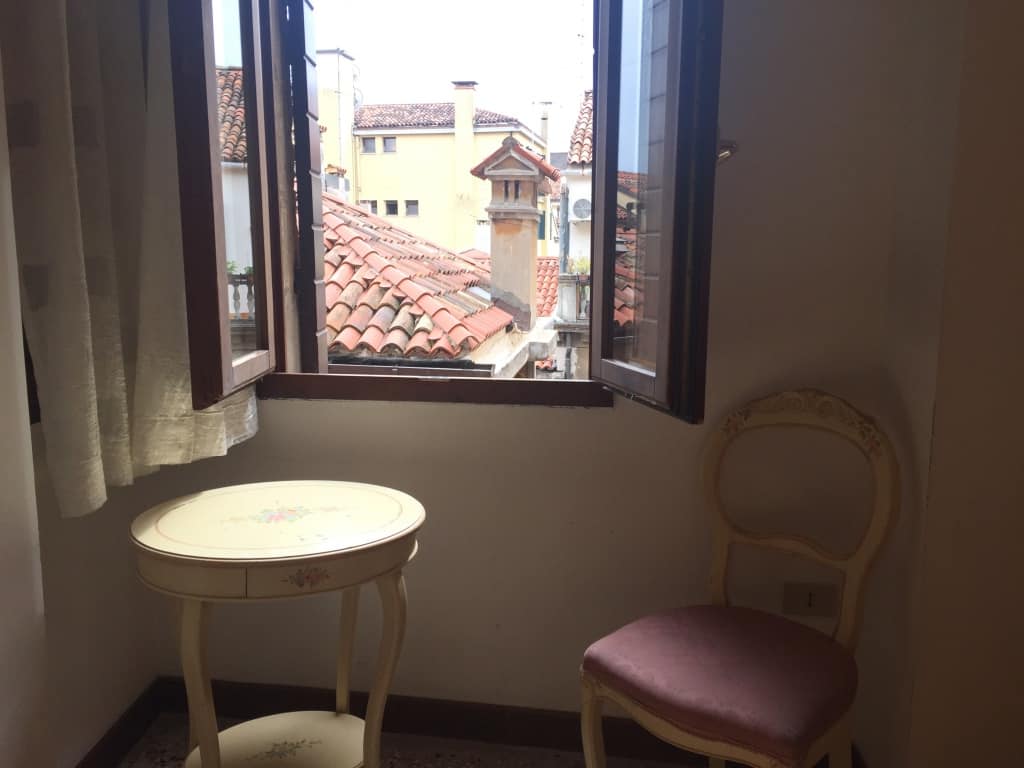 The view from the room looked out onto a back alley which wasn't unpleasant with balconies and terracotta rooftops.
The room also had air con but it didn't work. All in all it was adequate for a 2 star hotel, the shower worked fine, there were no bells and whistles, but it was purely for the practical purposes of location that I'd booked it anyway.
On arriving back from Trieste on the Sunday of the first weekend we checked in again to Hotel San Geremia and were given the same room, so not much to report there.
The next weekend when we were heading to Rovinj I checked in on the Thursday and was given a room in the same building but on the floor above. This had similarly decorated furniture, but a cupboard type headboard encasing the top of the bed and was slightly bigger, it had more windows and the bathroom shower was enclosed with a screen rather than a curtain.
It was, to my way of thinking a nicer room, and Chris agreed (although he got bitten by mosquitoes), but again the air con didn't work, and we had to drag our luggage up an extra flight of stairs.
When we arrived back in Venice from Rovinj on the Sunday we were given another room on the 4th floor but this time facing the piazza. This was a pleasant room too but without the decorated furniture, however, the views out onto the piazza were nice and though there was a bit of noise, the windows were surprisingly soundproof.
Food
I'd been given a discount card to use for meals at the Bar Angela downstairs next to the hotel (50% off for breakfast, 20% off for all other meals). I ventured down on the first check-in and used this for a sandwich and a drink.
When Chris arrived we tried it for the breakfast but were told 8 euro was the discounted price. While not exorbitant in Venice terms, we decided to eat at the self-service cafe at the train station instead which had a large range of pastries, sandwiches, yoghurts and drinks.
For all other times in Venice we either ate at the station for breakfast, since we were heading out of Venice anyway, or grabbed pastries at the nearby Despar. For dinner we ate at local restaurants near the attractions we were visiting, there was an interesting pancake place we tried and we even tried the MacDonalds near Ca'Doro just to see what it was like.
Pros and Cons
Pros

Location: 5 mins walk from Santa Lucia train station, 5 mins walk to Guglie water taxi stop (the 4.1 takes you to Fondamente Nove from which you can access Murano and

Burano)

Pleasant no frills rooms with complimentary toiletries

Feels safe and secure

Staff friendly and efficient

Discount voucher for meals is useful if you don't want to walk too far from your lodgings.

Free luggage storage which we found useful as we were coming and going a lot out of check-in hours (2pm), with security cameras.

Cons

No lift – if you have lots of luggage this could be an issue

Air con not working – in summer I'm guessing the rooms might get very warm without it

Only takes cash, no credit cards.
Would I Go Back
Sure, now I know the set-up and how it all works I'd be happy to stay here again. The real beauty of this hotel is the reasonable price, the location and the good proximity to transport (train and water taxis).