I elected to walk to Zulian Aparthotel from my previous accommodation, a mere 10 minute walk to 44 Dluga Street. It was snowing mildly, so by the time I turned up I was dripping all over the lovely tiled entrance. I apologised to the staff member who let me in but he said it "wasn't a problem".
Checking in was straightforward, I got a keycard and a city map and I headed upstairs to the first floor, there was also a card for a welcome drink at the local Restaurant Galicyjska in the Old Town.
I was given the opportunity for help with my luggage as there wasn't a lift but I declined as the first floor was manageable and my bag wasn't huge. Initially my keycard didn't open the door so after a couple of tries I was about to go down to reception again when the receptionist came running up the stairs apologetically to fix the card.
Room
I found the double room very cosy and elegant, the heaters were on which I appreciated due to the frigid weather outside.
The decor was tasteful with a focus on muted shades of dark grey and mustard yellow, tripod lamps and contemporary chairs added a designer feel. There were quality wooden fixtures and fittings in the the main area, including a sideboard desk which held a drinks tray with free bottled water, a kettle, tea and coffee etc.
The bathroom was your standard white tile, the shower had a rainforest shower head and there was a small basket of Artery Hotels' toiletries; shampoo/gel and soap.
Zulian Aparthotel belongs to the Artery Hotels group which runs a number of aparthotels in Krakow, including the Yarden Aparthotel a couple of doors down at no.35. Though modern in fit-out, the 20th century tenement which houses Zulian has kept its character features, such as the original floors which date back to 1906 and which give the aparthotel its name – Giovanni Zuliani was the owner of the tile factory where the tiles were made.
The 28 stylised rooms also have geometric prints and soft furnishings that tie in with the mosaic theme of the tiles and, leading up the stairway, tiles are hung as artwork.
Lunch
I fought the urge to curl up on the comfy double bed amidst the neatly folded towels and headed out to the Old Town for lunch which is just a 10 minute walk away depending on where you want to go. There are plenty of bakeries in the street the hotel is on but if you want more of a selection of cafes and restaurants then the Old Town is your best bet. Zulian also provides a print-out sheet of restaurant recommendations in the Old Town.
It was freezing outside so I went into one of the first places I found, Domowe Przysmaki in Sławkowska Street which served homemade Polish food. It was one of the prettiest cafes I've been to with planter boxes on the walls, and fresh flowers on the table, the waitress had on a cheerful purple apron. I decided to try a Polish speciality, beetroot soup with a croquette. It was surprisingly delicious!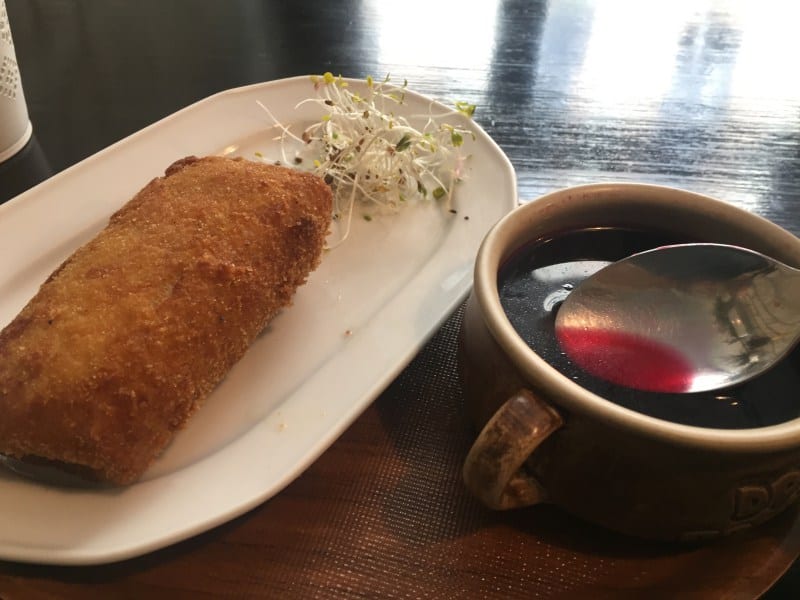 Afterwards I strolled through one of the main streets of the Old Town, Floriananska, which has a number of tour operators through which you can organise tours to Auschwitz-Birkenau and the Wieliczka Salt Mine, though Zulian can do this for you at reception (they can also prepare lunch boxes for 25 PLN, as well as organise tickets for music evenings and in-room massages).
Back at the hotel the snow turned into big fat fluffy flakes that drifted lazily past the window. But the room was well heated and the windows had double glazing so I wasn't too worried about being cold. The TV had 66 channels including a French news station in English, and another couple of English stations but the welcome drink card had me curious so I headed to Restaurcja Galicyjska to see what it was like.
Dinner
Restaurcja Galicyjska is also a traditional Polish restaurant but with the feel of an underground wine cellar and the good thing was, they could slot me into a table straight away. There were plenty of customers which was also a good sign and shortly after being seated I got my complimentary mulled wine with with orange and cloves, just the thing for a cold night.
The menu had a good range of options and I settled for: Empress Sophia chicken broth with Lithuanian dumplings, mushroom and cabbage pierogi (Russian dumplings) and hot apple pie with two sauces, whipped cream and ice cream.
When settling the bill I receive a complimentary snifter of apple wine as a digestive. The waiter automatically added on a 10% tip (you have the option of not paying this) but it was all so pleasant I didn't mind paying it.
Breakfast
After a good night's sleep at Zulian I headed down to the breakfast room which was through a gateway and round the back. You can get to it usually through the hotel but they are renovating so the entrance can't be used at present. The sister aparthotel Yarden also uses this room to serve breakfast. There was a good selection of breakfast foods, so there is no chance of going hungry and the wait staff were attentive.
I was at the hotel during inclement weather but the garden out the back is touted as a nice place to rest and relax if you're there during the warmer months. There is a child's playground and you can borrow volleyball, badminton set, Twister and chess + blankets.
Pros & Cons
Pros

Location: 10 minutes walk from the Old Town
Elegantly furnished rooms in a character building with original features
Free Wi-Fi
Good heating
Polite staff
Safe and secure
Good breakfast buffet
Welcome drink at a traditional restaurant .

Cons

Smaller choice of restaurants close by but some cafes and bakeries.
Would I Go Back?
My stay was very comfortable at the Zulian Aparthotel and I found it upmarket and stylish. If you're after boutique hotel with character and charm in proximity to the Old Town of Krakow, then I highly recommend it.
Zulian Aparthotel kindly supported our Summer 2017: UNESCO tour by providing a complimentary stay. All opinions remain our own.