Arrival
The County Hotel is a 2 star hotel part of the UK Holiday Group Limited and a former coaching inn. The location is awesome, it's right across the road from the train station so it's incredibly convenient. It looks a bit different from the photos on booking.com, it was painted yellow with white trim on there but is now white with blue trim.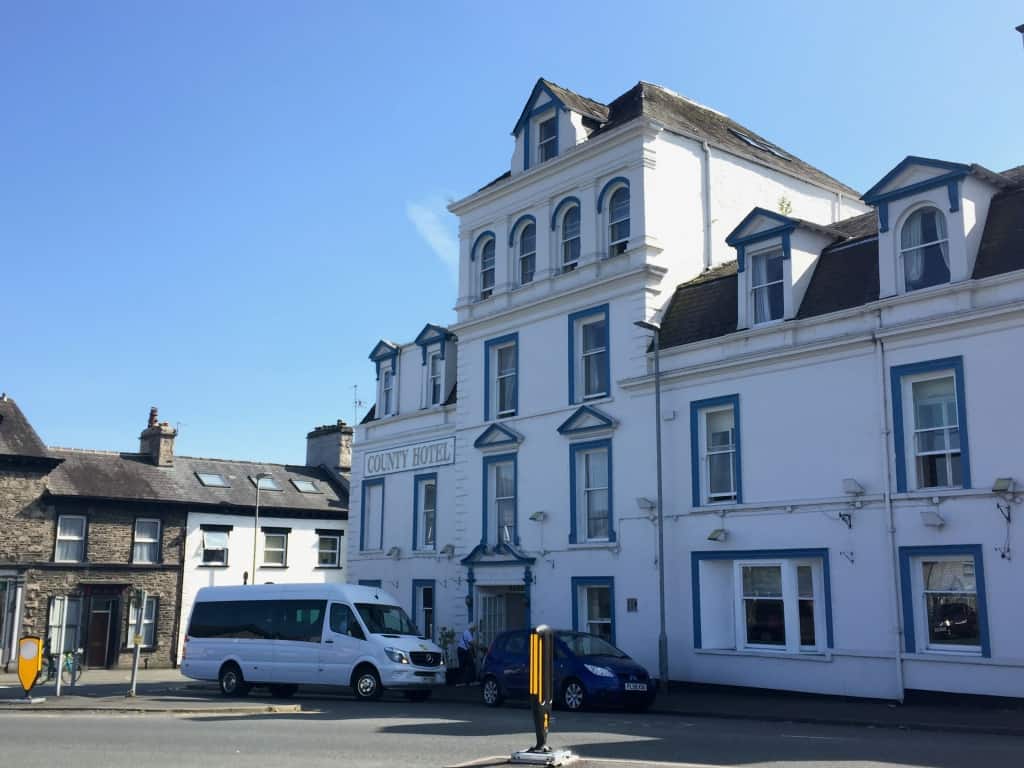 The receptionist is on the phone when I arrive but he breaks his conversation to rattle off information to me. I'm early for check-in which is 3pm but the room appears to be ready.
Room
I'm on 3rd floor in Room 302, which I reach by taking a lift that's only meant to hold two people, and right at the top of the hotel. The room is bigger than I expected, I booked a single for three nights but there's a double bed, score! I'm reluctant to enquire in case they realise they've made a mistake.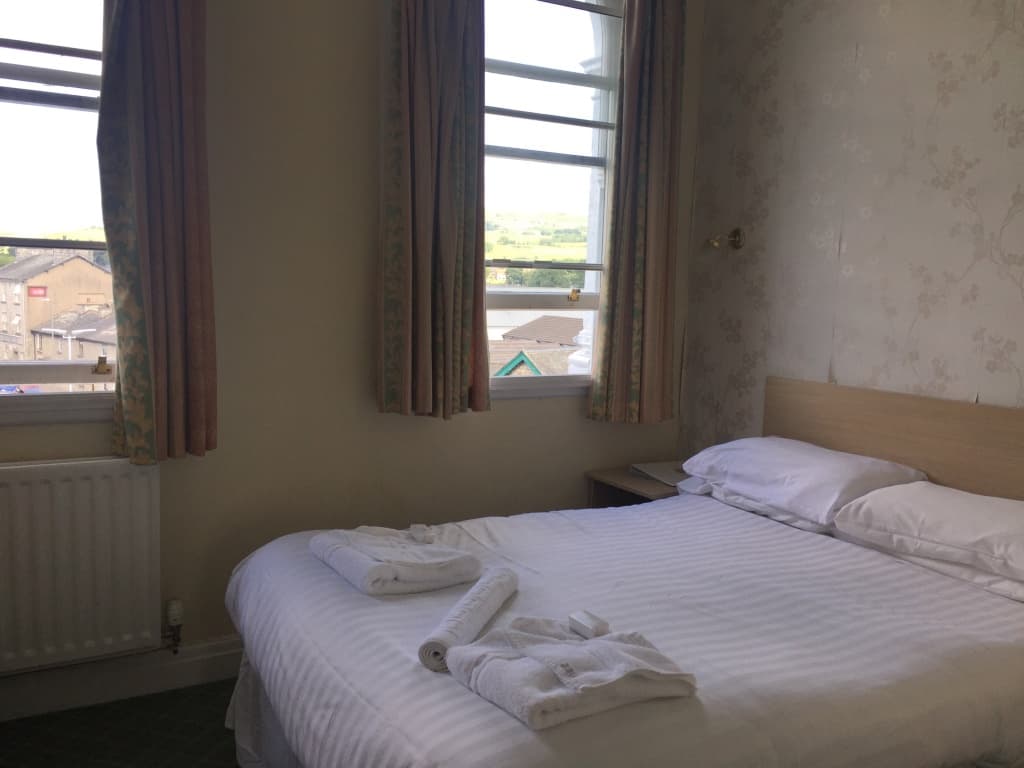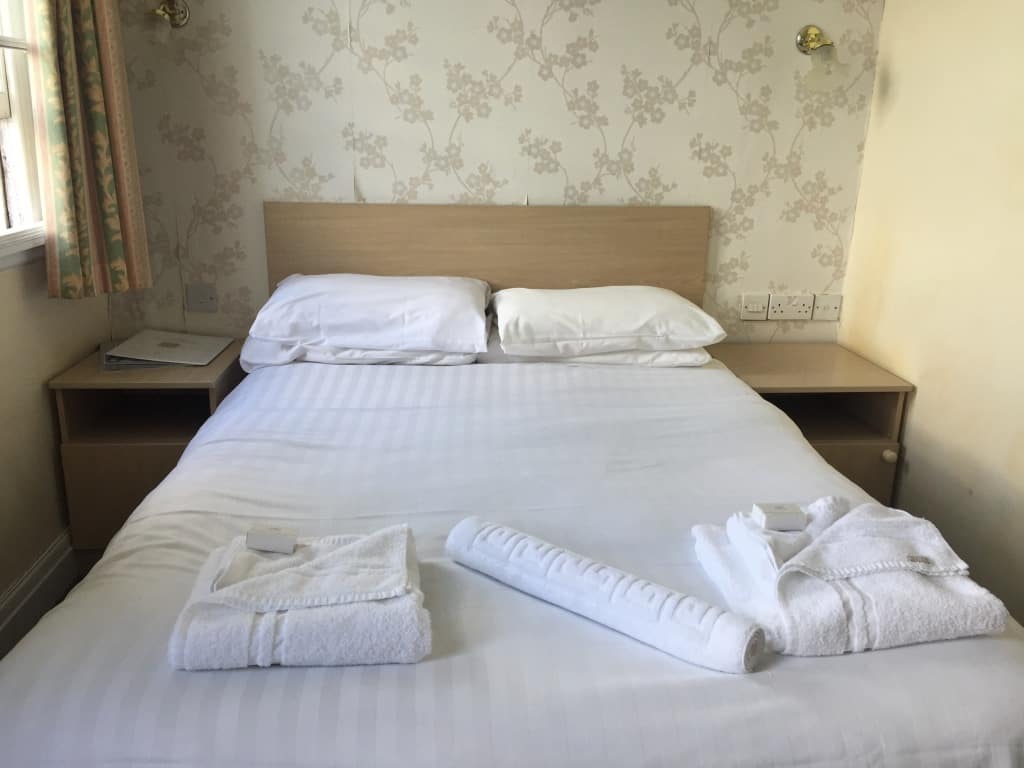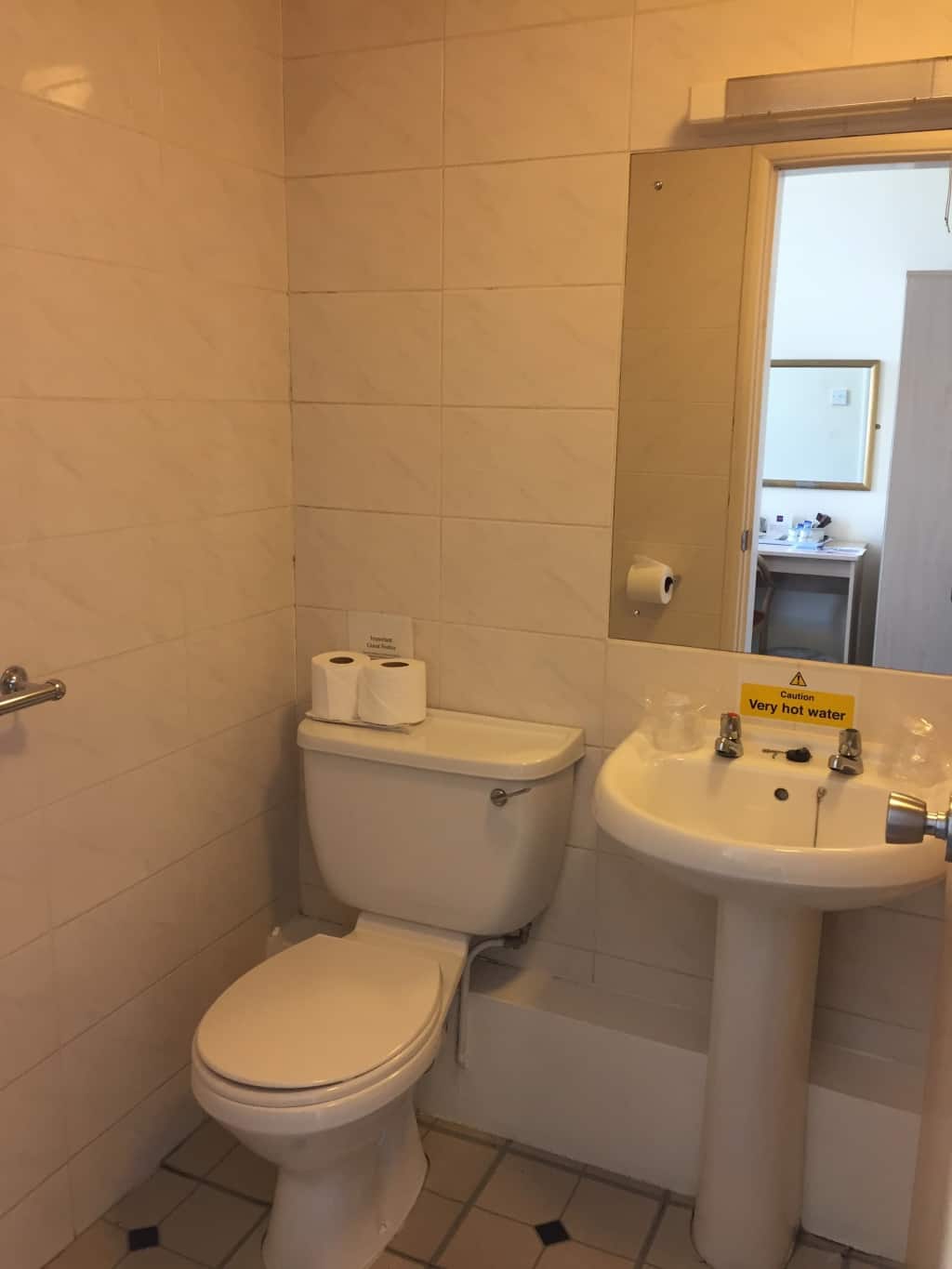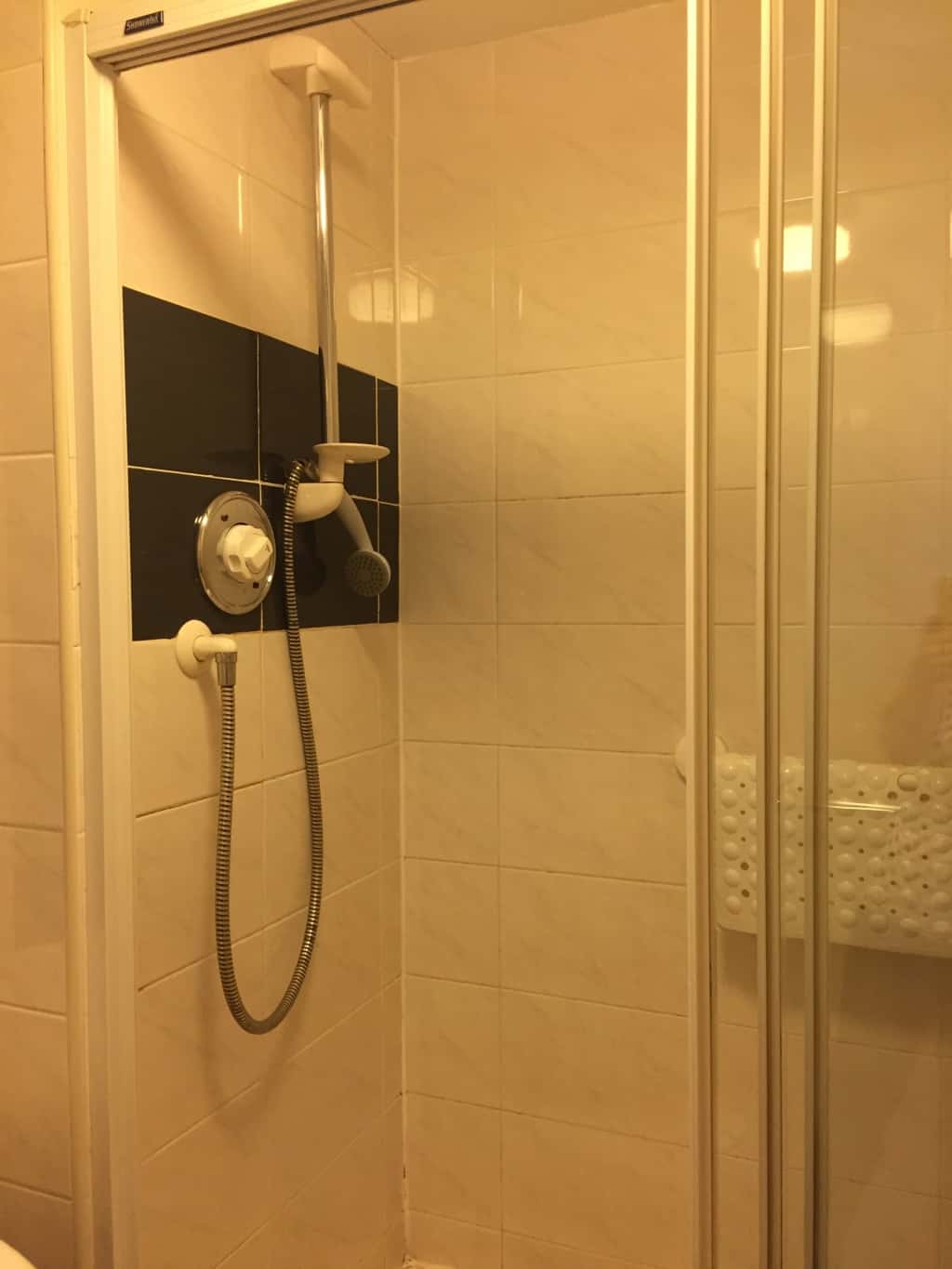 Double sash windows overlook the street below and the view takes in the lush green surrounding lakeland hills. Kendal sits in the Kent Valley surrounded by Lakeland hills, and is part of the UK's newest UNESCO World Heritage Site. I've arrived on a sunny day at the end of July and the temperature is peaking at around 25C so it's showing Kendal at its best.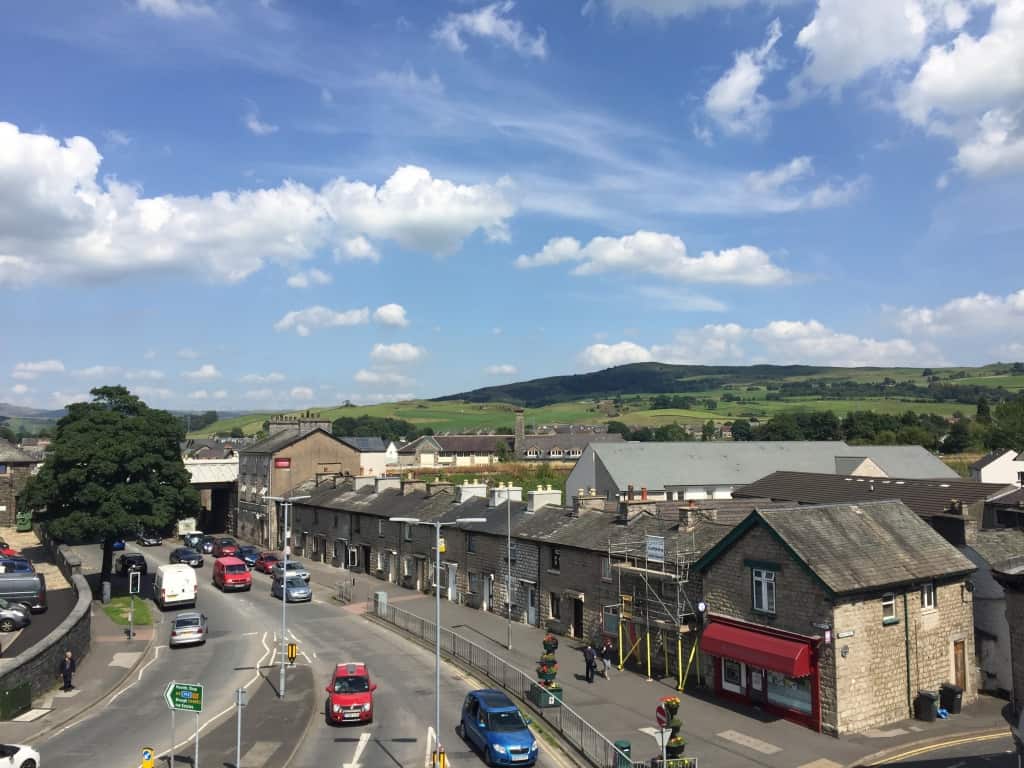 The room has touches of tiredness, peeling wallpaper and torn lino but it kind of adds to the character, so I'm not too bothered. Overall the room is light and bright.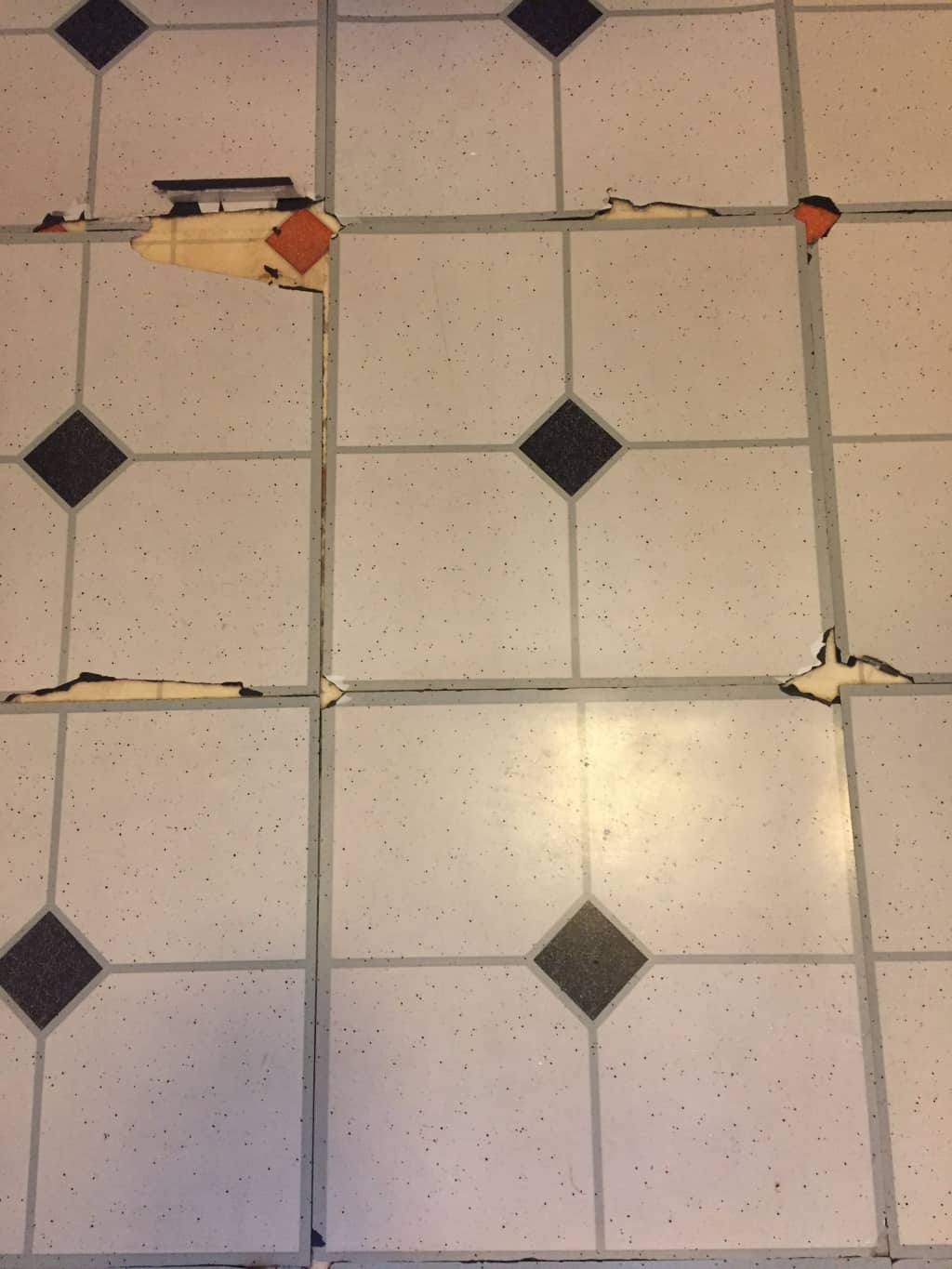 If you're expecting something posher there's the Riverside Hotel up the street, it's a 3 star but you'll pay a lot more. I have a bit of a chuckle to myself when I spy 14 UHT milks set out with the tea & coffee facilities. It's enough for 3 cups of tea a day (the British average) if you stay 4.5 days as a single or 2.3 days as a couple. Unfortunately I hate tea so it's wasted on me.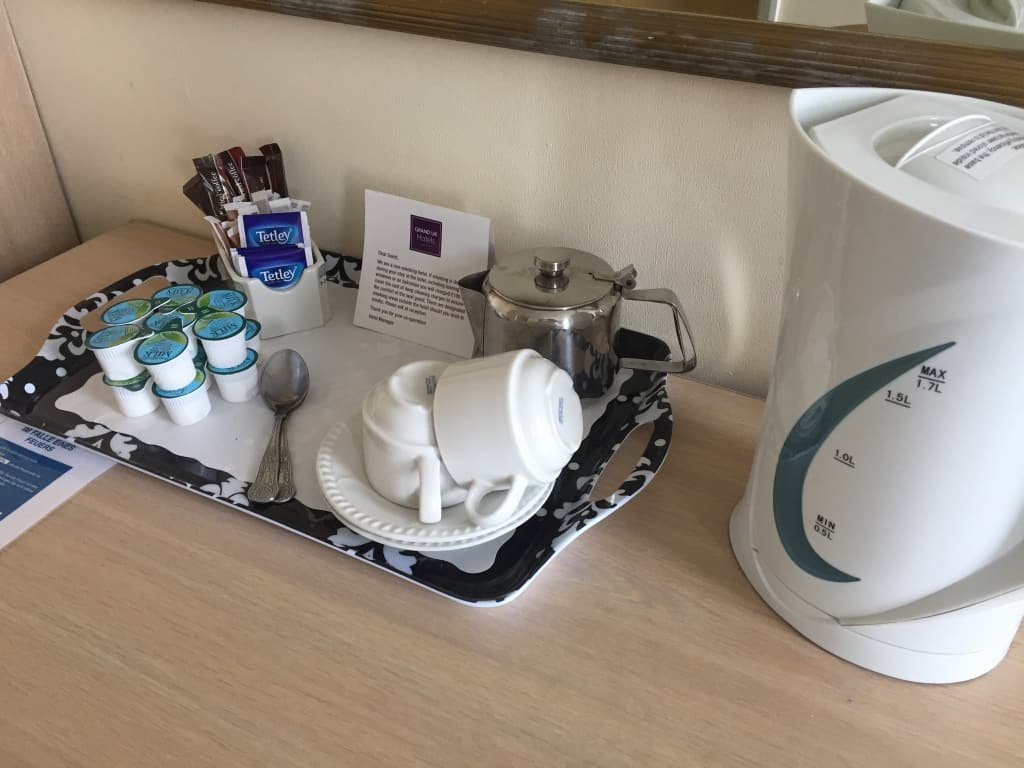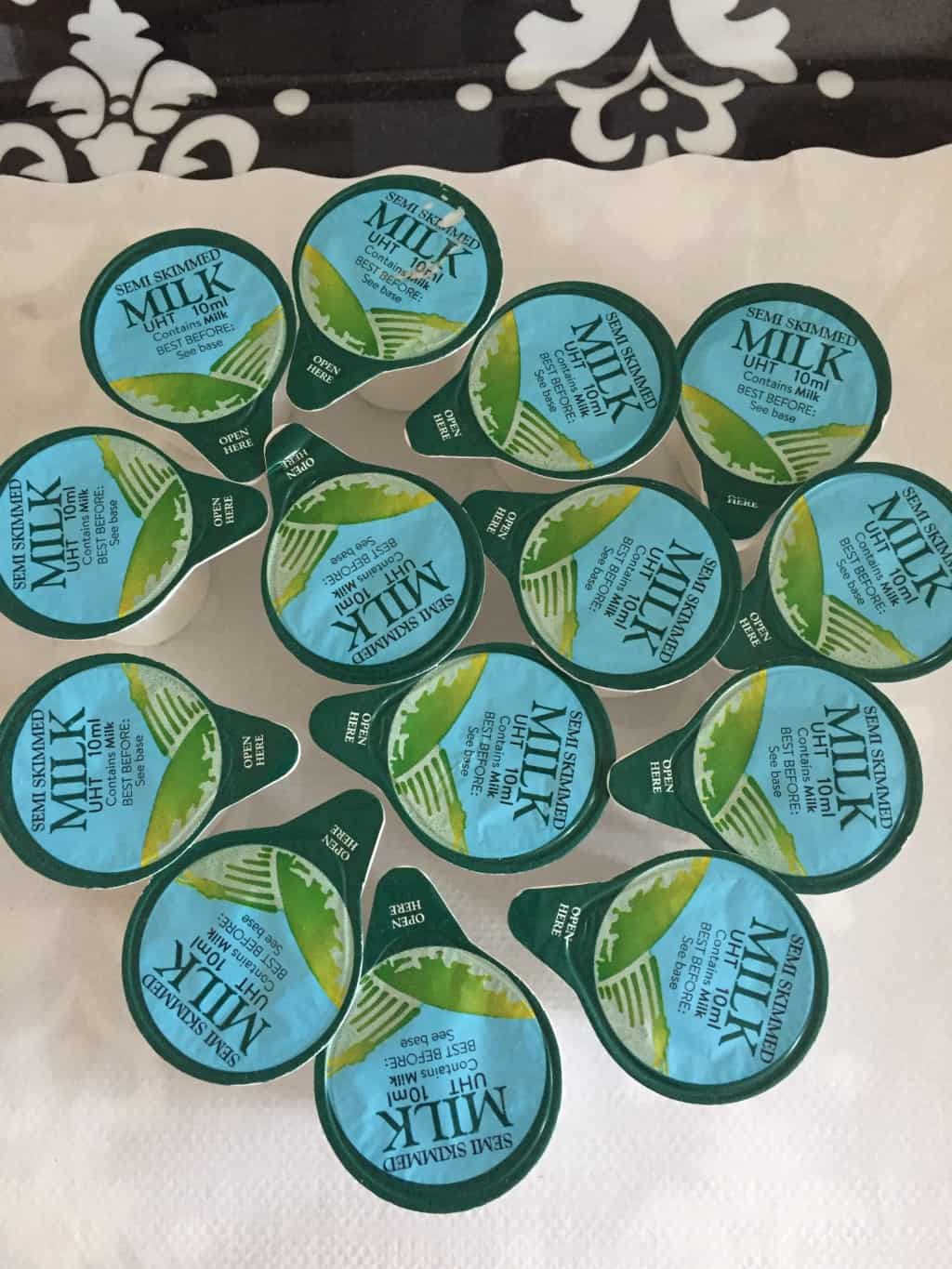 Town
I unpack a little and head down the narrow staircase to have a scout around town. I check out the downstairs in case there's anything interesting. There's a noticeboard with a Glenton Holiday's group excursion itinerary for 'Brian's Group', a laminated A4 sheet about packed lunches being available if ordered before 10pm the night before, and a stand advertising tonight's entertainment from 8.30pm in the bar.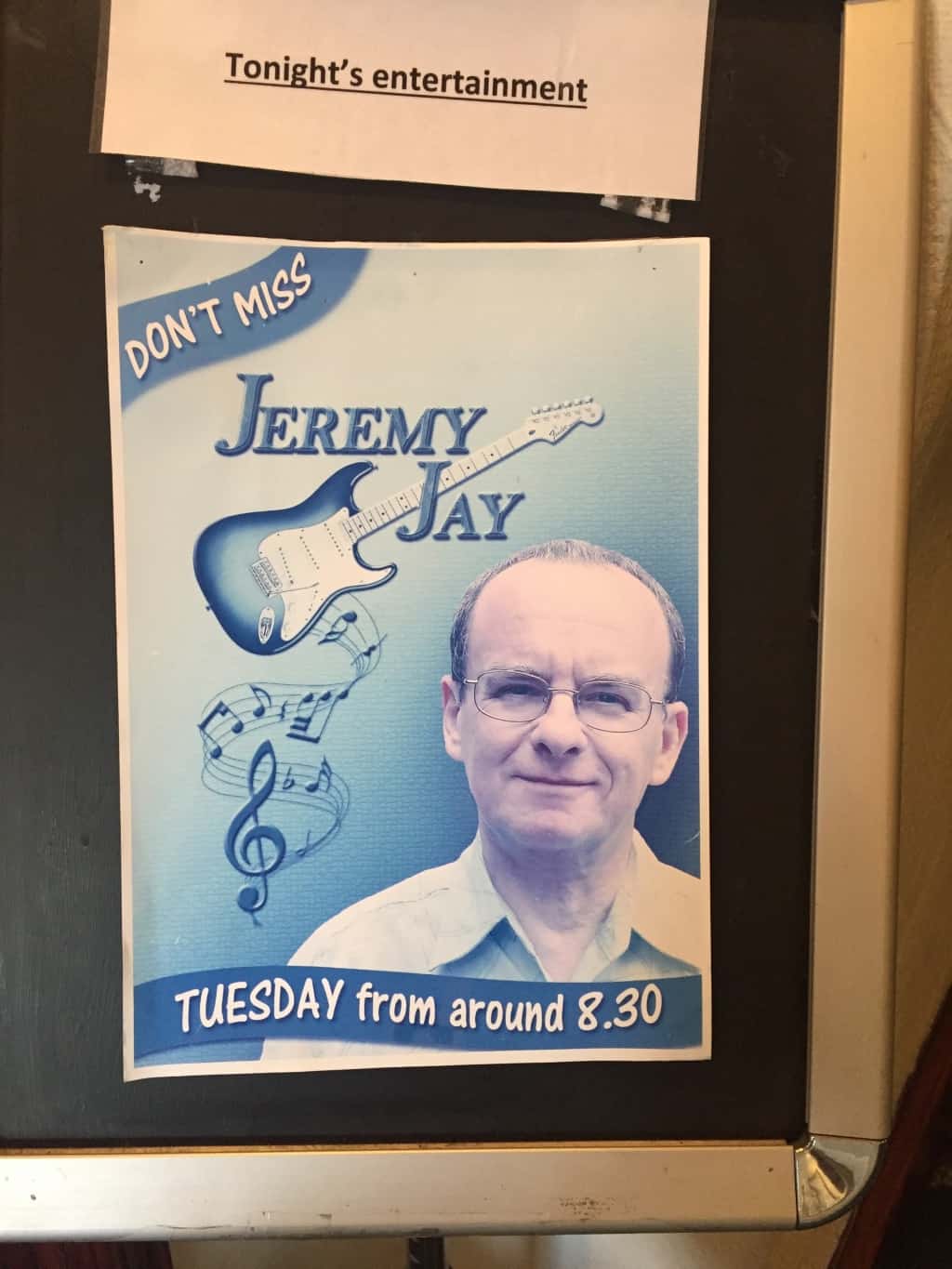 I head towards the centre of Kendal, around a five minute walk from the hotel. Two bridges intersect the River Kent making for a scenic outlook onto a tranquil flowing water on one side and a rushing weir on the other. If this was rural New Zealand there would be local children splashing in the shallows but it's England so there's only ducks paddling around.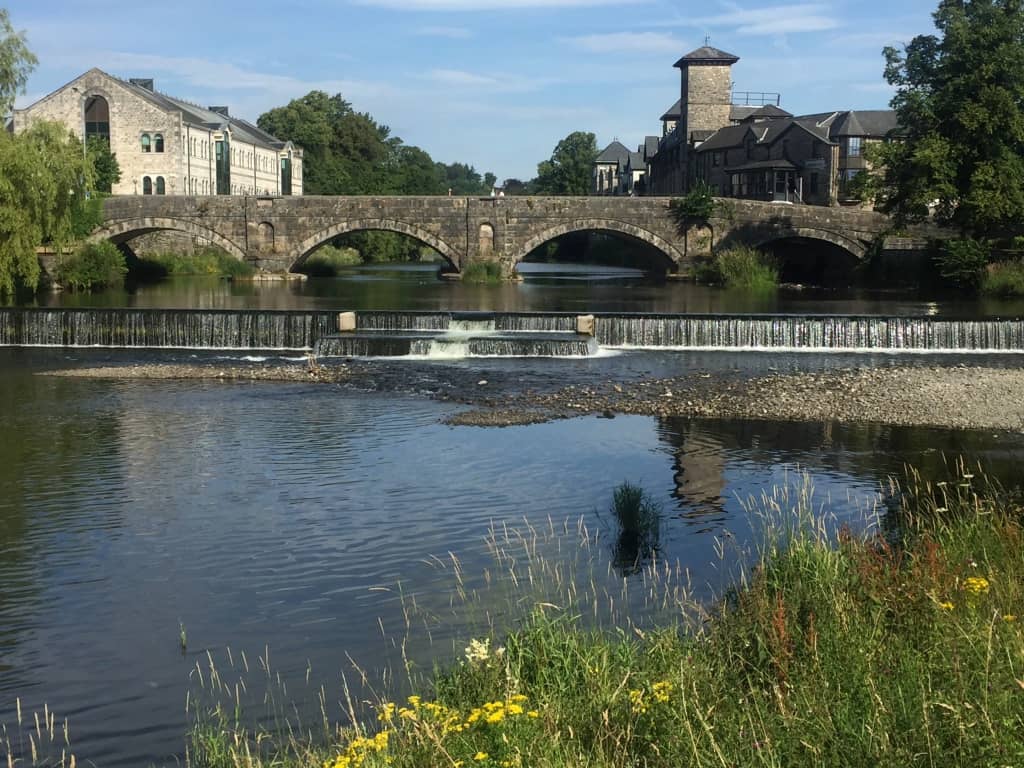 The town is compact and easily walkable. There are specialty shops selling chocolate and knitted goods, a butchers and eye wateringly ancient pubs like the 'Ye Olde Fleece Inn' established in 1654. There seems to be lots of historic connections. The shopping arcade Westmorland used to be a market place, chartered by Richard I in 1189 and a large free market existed until 1978.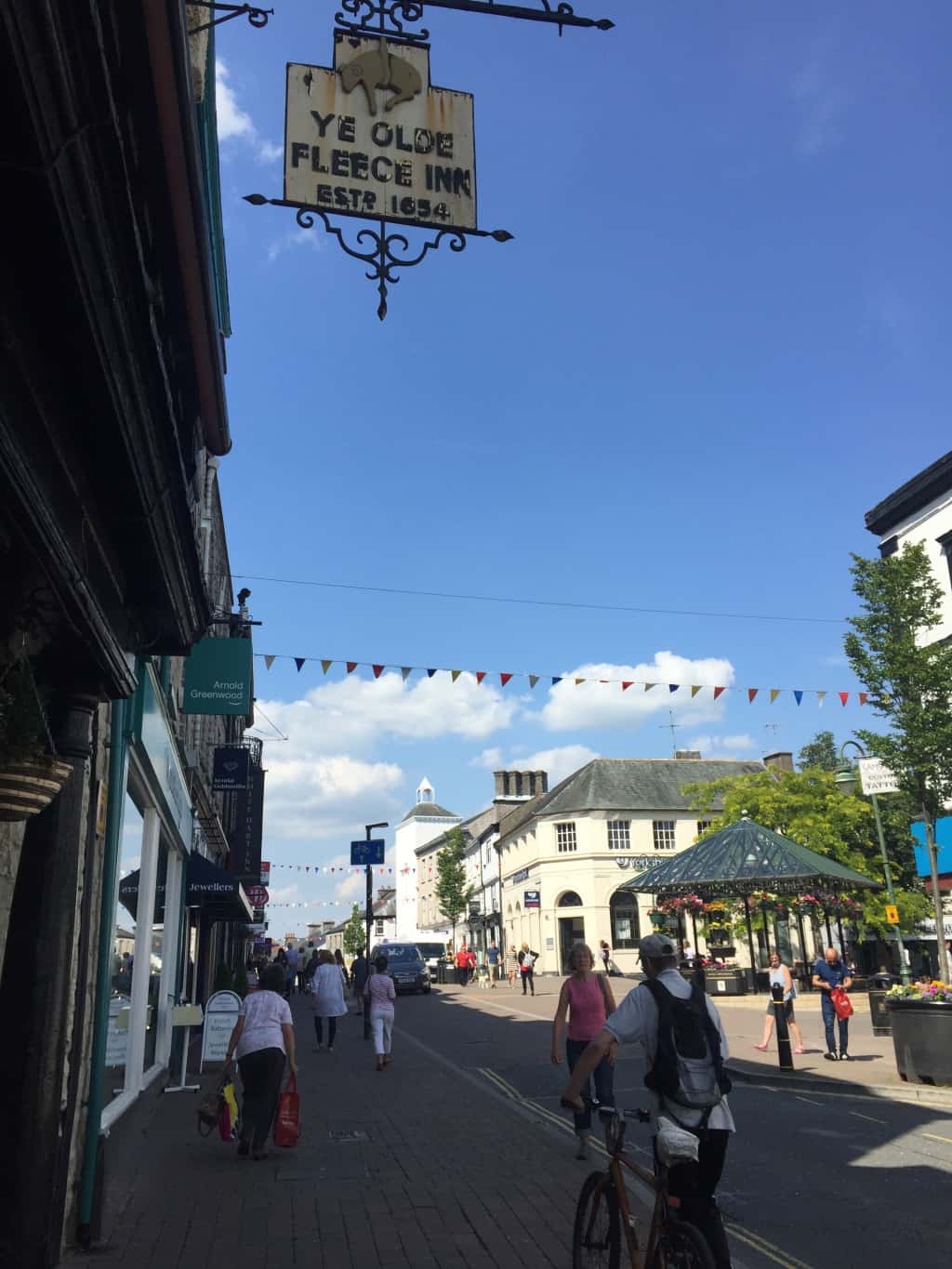 The Market Hall inside the shopping arcade was built to commemorate Queen Victoria's jubilee in 1887. It's still going strong but now selling all manner of 21st century items that you probably don't need.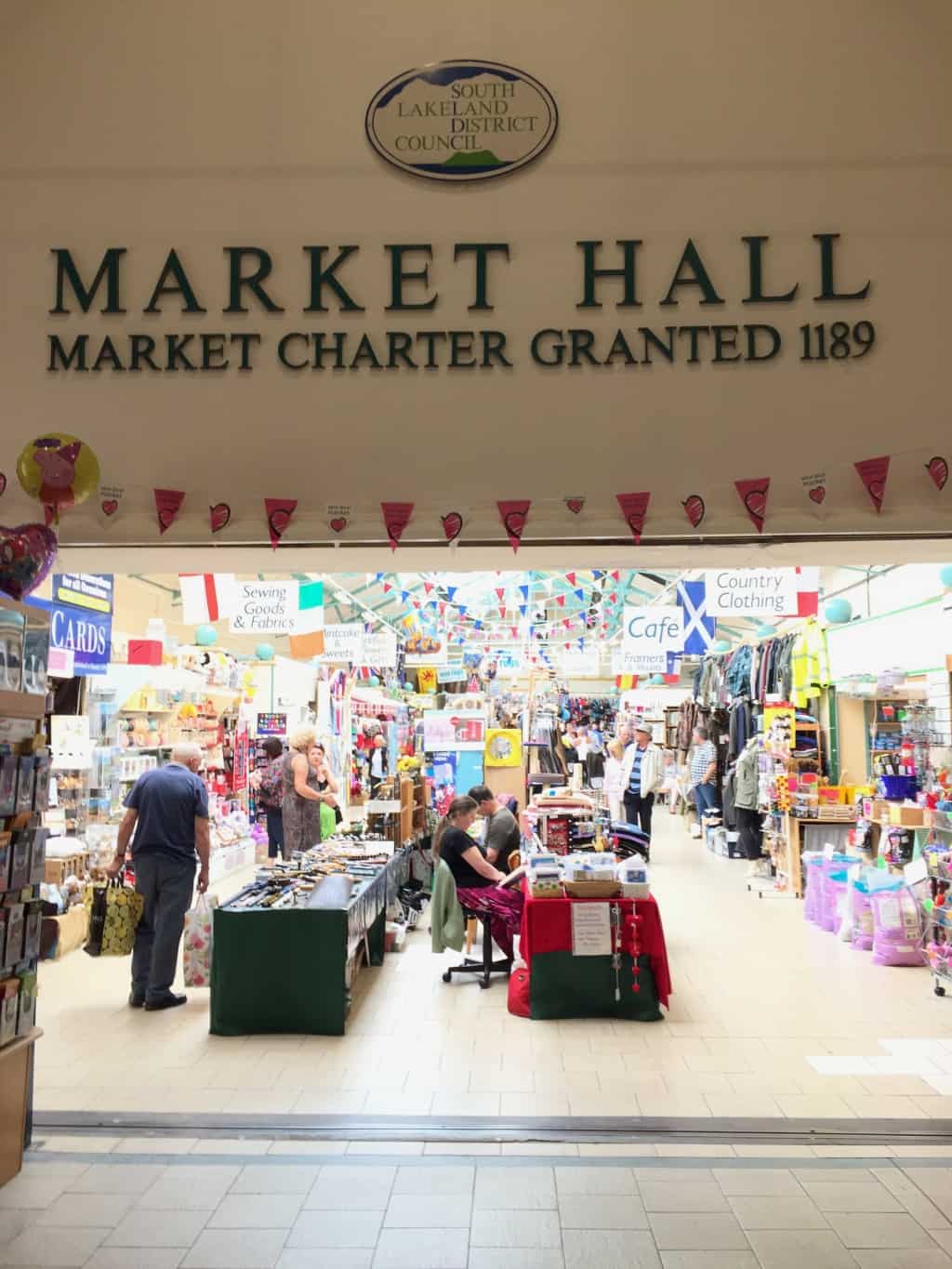 An interesting looking time capsule with a clear glass cover is locked in near the entrance to be opened in 2038. I'm curious to know what's in there, guess I'll have to be around on the 26 October 2038.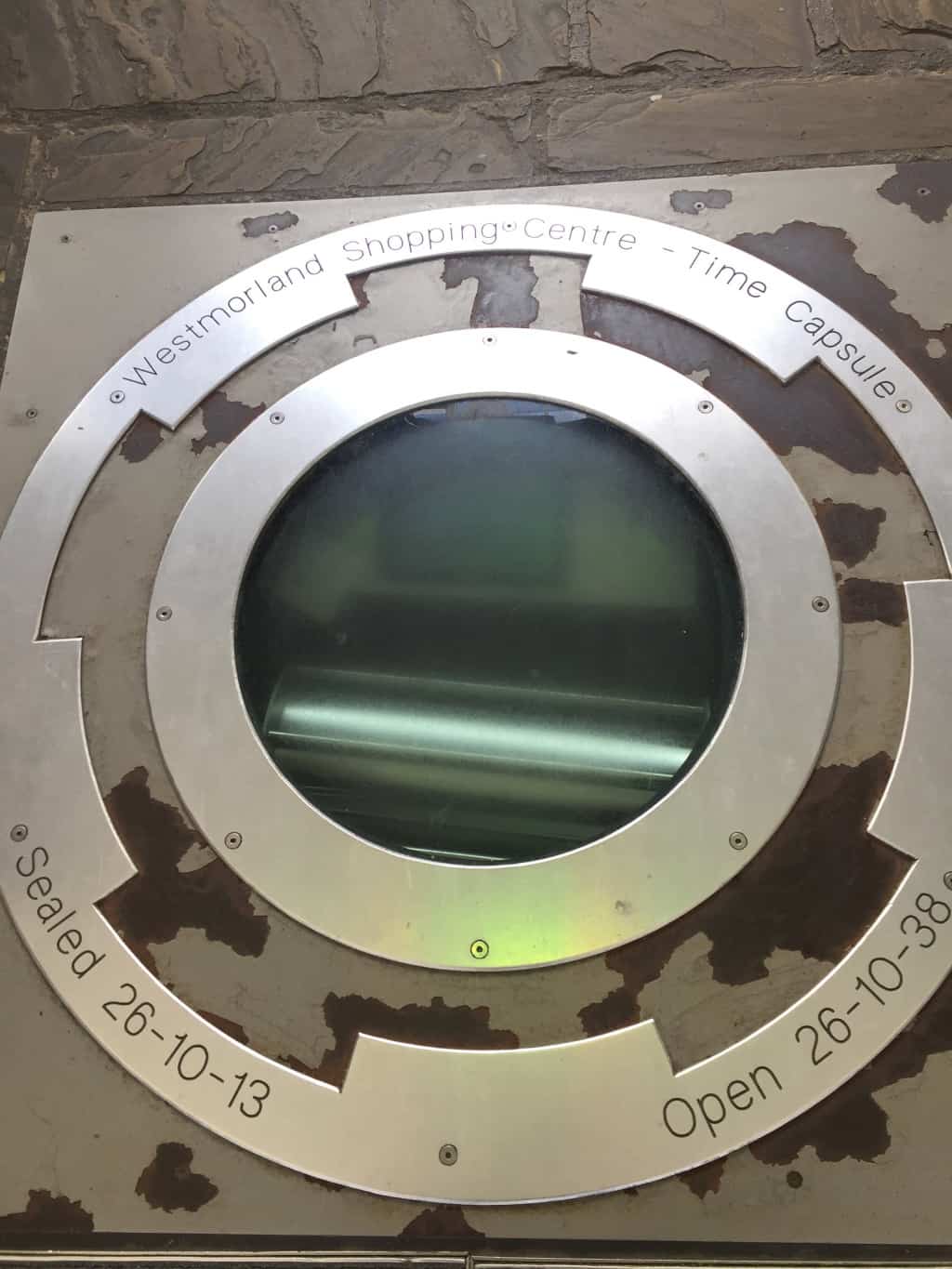 I check out the Kendal library patronised by Andrew Carnegie who had his fingers in many pies.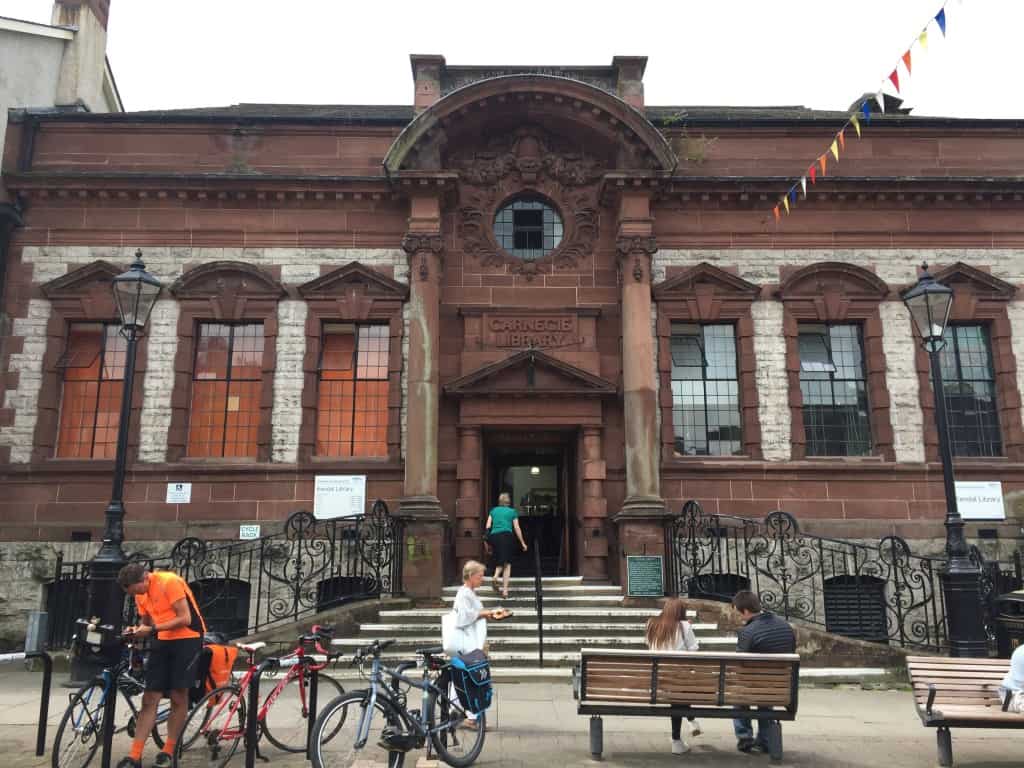 The super wealthy American Scot with money to burn kickstarted philanthropy. His net worth was an estimated US$309 billion when he died in 1919 but he gave away almost 90% of his fortune to improve US and UK society. His special interest was providing local libraries as he himself was given the opportunity to learn from having the use of a library at his disposal when he was a young boy.
Carnegie provided funds for 2,509 libraries to be built during his lifetime, one of which is the Kendal Libary, which seems well stocked and has two floors with rooms set aside for computer use. The hotel doesn't have Wifi in the rooms (though it does have it in the bar and reception area), which is why I'm looking at the library as a possible workspace.
I grab some dinner from the local M&S and head back to the hotel to relax. I go down to the bar at around 9pm to see the live entertainment- Jeremy Jay on his electric guitar – who is playing a medley of covers. I catch snippets of Johnny Cash, Elvis Presley and Queen. Local retirees seem to be enjoying it but I'm not the target market so I head back to my room. The good thing about it is that my room is completely set away from that side of the hotel so I can't hear any guitar strumming.
Breakfast
Breakfast is served from 8 – 9.30pm and the room is full of retirees from a coach tour, the one Brian was leaving notes for on the noticeboard. The staff are running backwards and forwards with plates of eggs and bacon.
I'm not sure what to do, and can't see the buffet, so hang around the kitchen – a woman from the coach tour tries to help by asking if I'm looking for someone. I say I'm not sure what to do, do I sit down or tell staff I'm here? She says "Were you here last night? Where was your table?" More confusion ensues when I say I was here last night (as I stayed at the hotel) but I didn't have a table.
Then a waitress appears and asks if I'm part of the coach group which makes a lot more sense, and says take a seat. I wait knowing it could be a while before I get any food. Another waitress looking harried says she'll bring toast then doesn't come back.
I peruse the breakfast menu which has a good choice of cooked options and place my order of poached eggs and toast with yet another waitress, she says to help myself with cereal, juice etc. from the buffet which is hidden around the corner.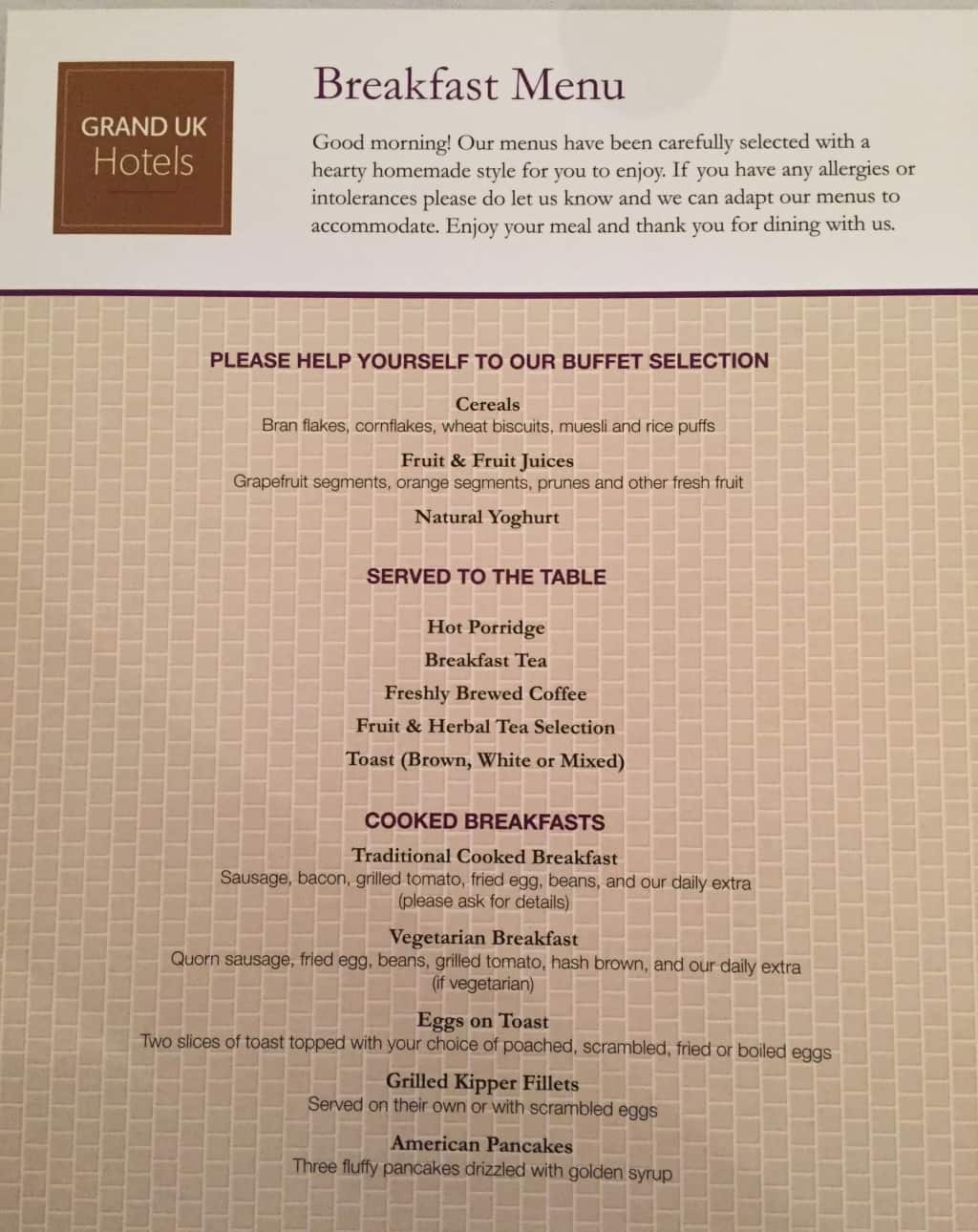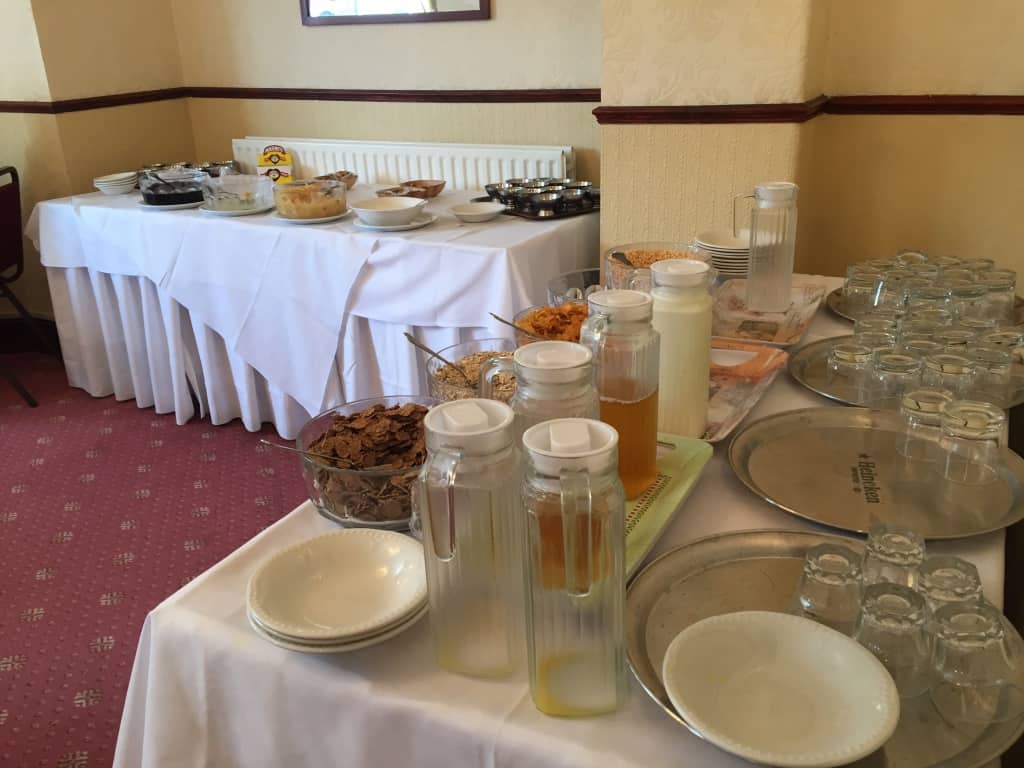 The eggs arrive, they look good, they're runny when I cut into them, it's looking like 5 stars until I taste them, they're cold. Disappointing. I blame the coach group. The second waitress arrives back with a metal rack of toast so I fill up on that.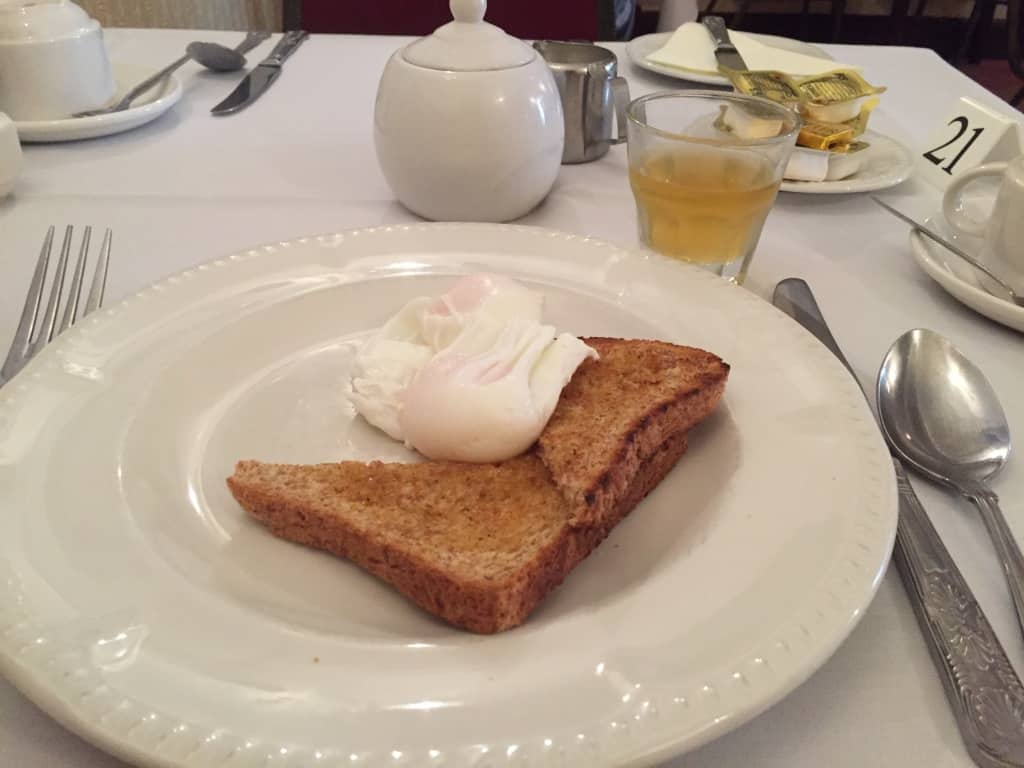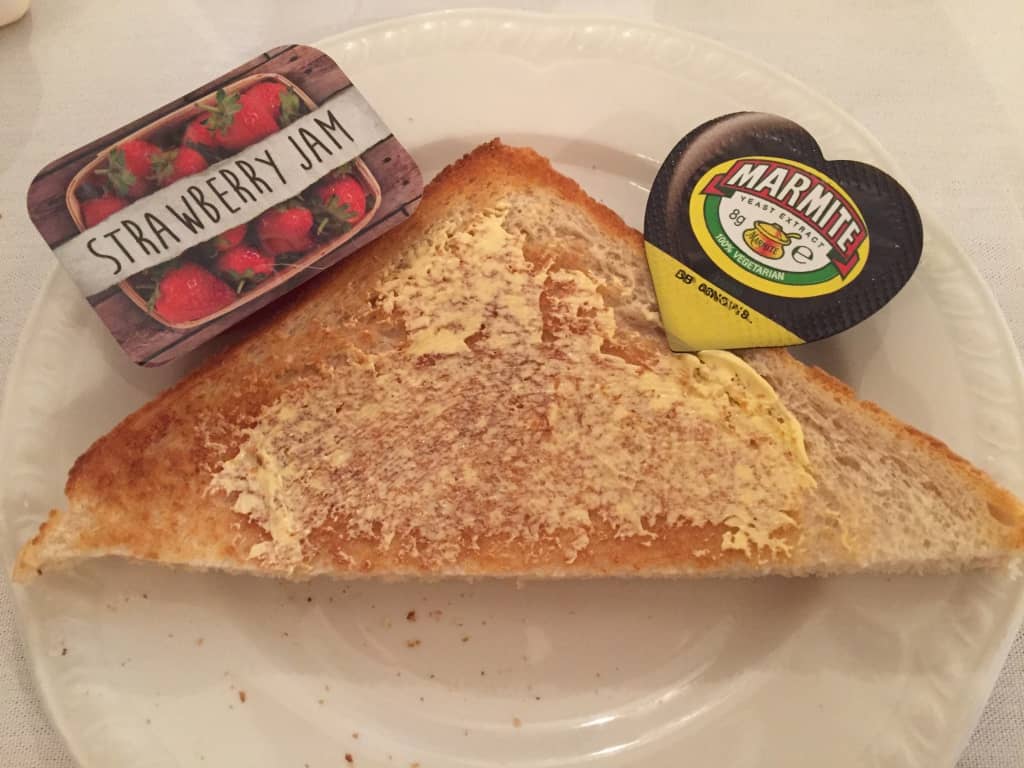 Kendal Castle
Kendal Castle is a 15 minute walk from the hotel and set on a grassy knoll overlooking town so I go for a wander the next morning. It was built in 12th century as a caput baroniae (noble man's castle), and was acquired by the Parr family in the 15th century. It is loosely associated with Queen Catherine Parr (Henry VIII's 6th wife) but she didn't live there as the Parrs deserted the castle and it fell into disrepair well before she was born. It has been a ruin since the Tudor period in the 16th century.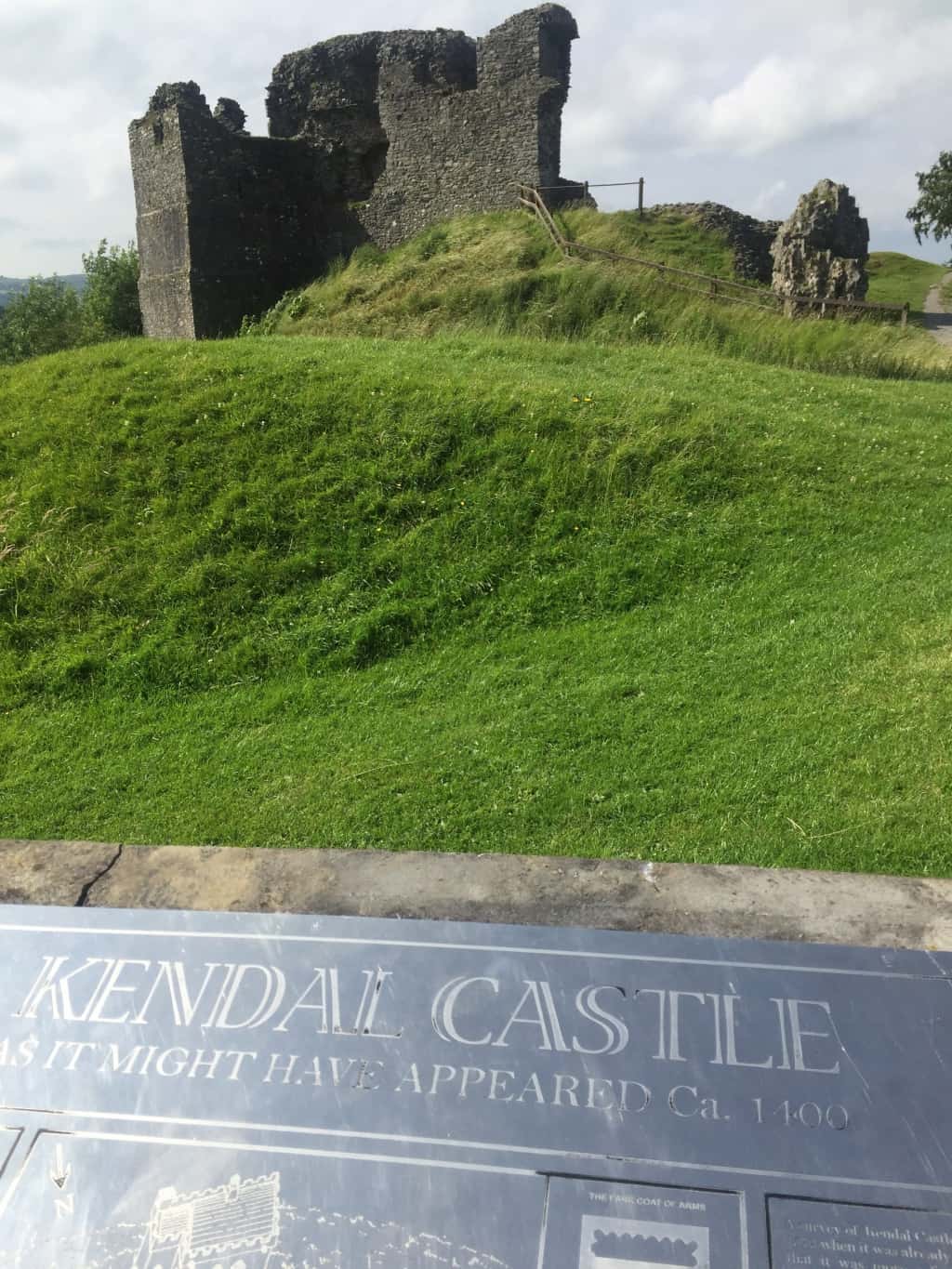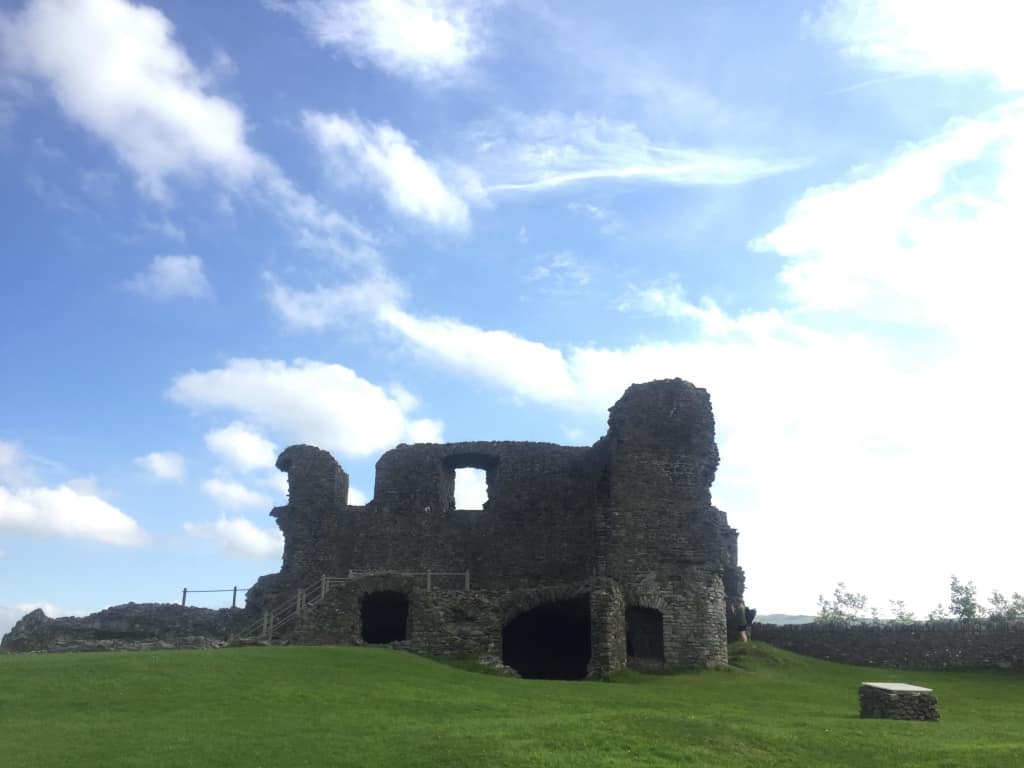 It still retains a moat, and outer walls which were erected by gangs of labourers in different periods. The stones at the top are neater and smaller. You can freely walk around the castle, the main ruin is the walls of the manor hall and and tower, and access the surviving tower via metal steps that have been erected. This was thought to have provided extra accommodation as it has a fireplace and a garderobe (toilet).
Comprehensive coloured placards have been set up to give insight into what you're looking at plus they show digital reconstructions of the buildings.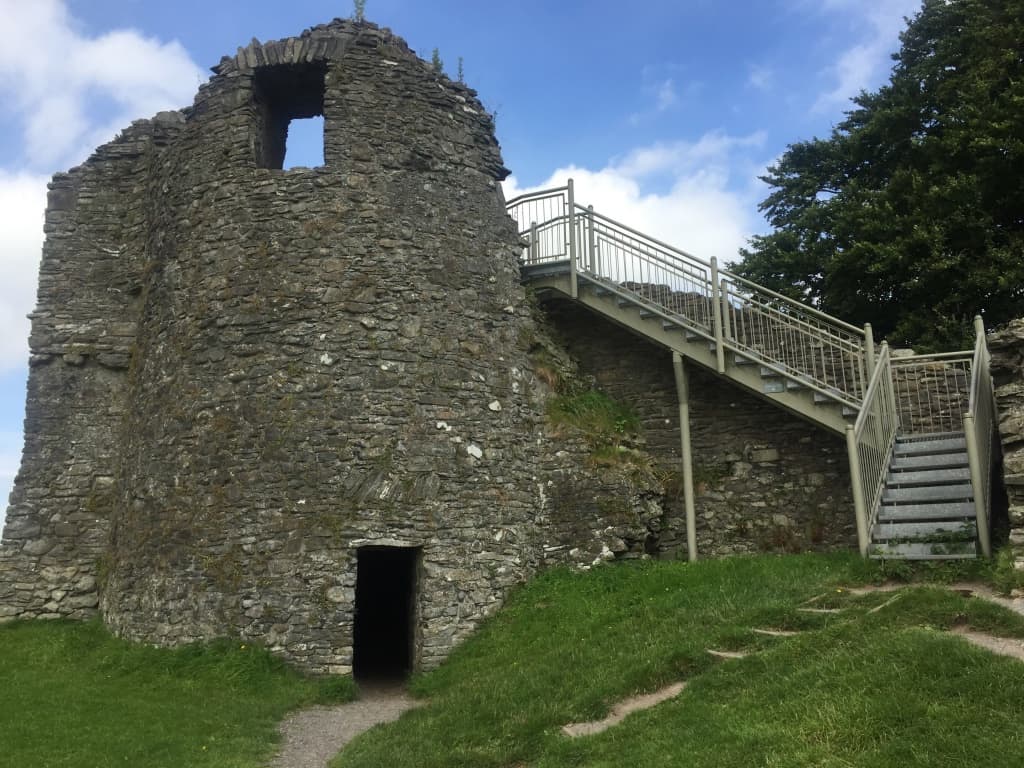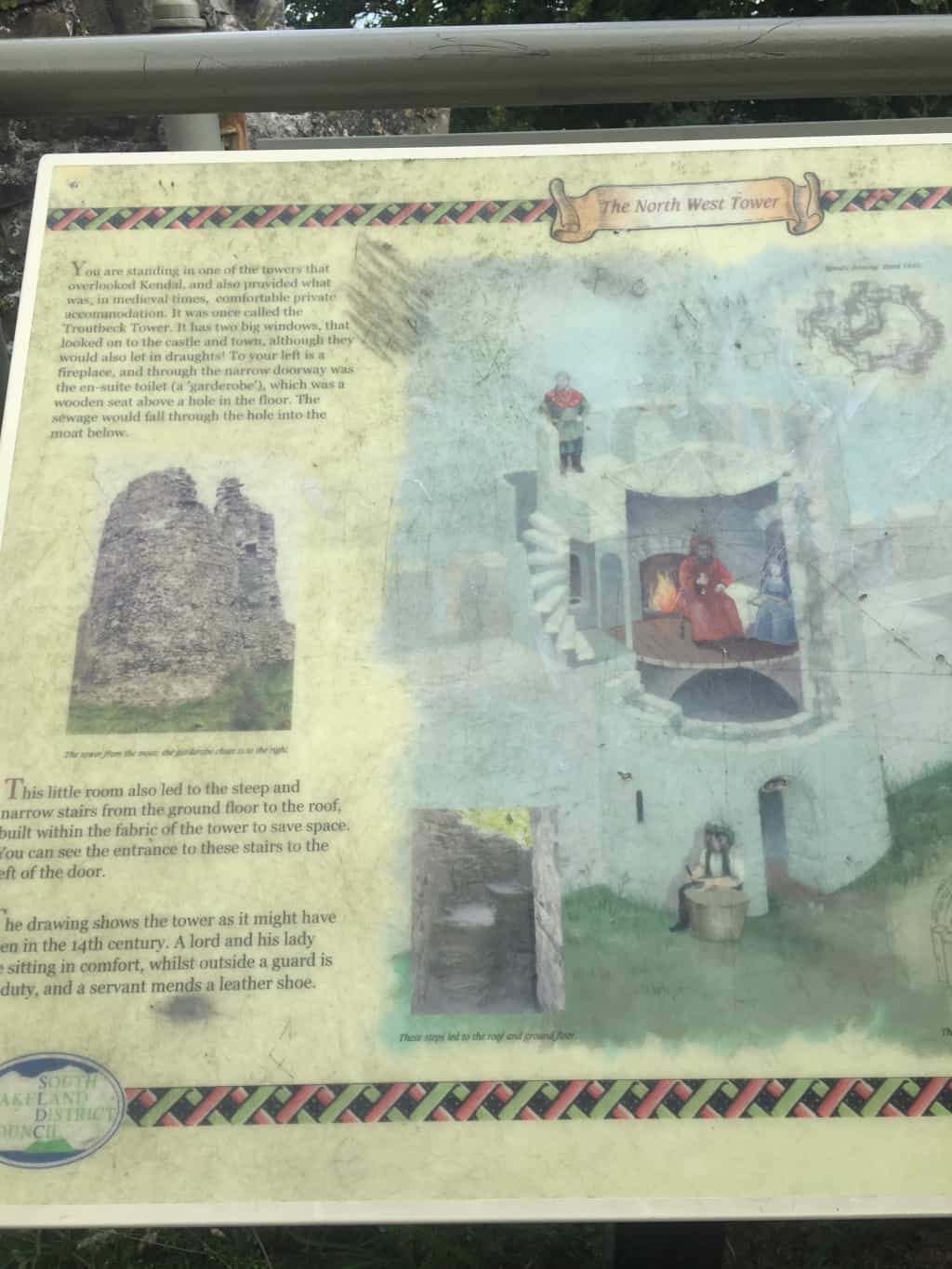 An interesting feature of the castle hill walk which leads up to the castle are the sculptured stone seats made by artist Alain Ayers. These represent glacial boulders as the area was formed by the Kent Valley glacier 15,000 years ago.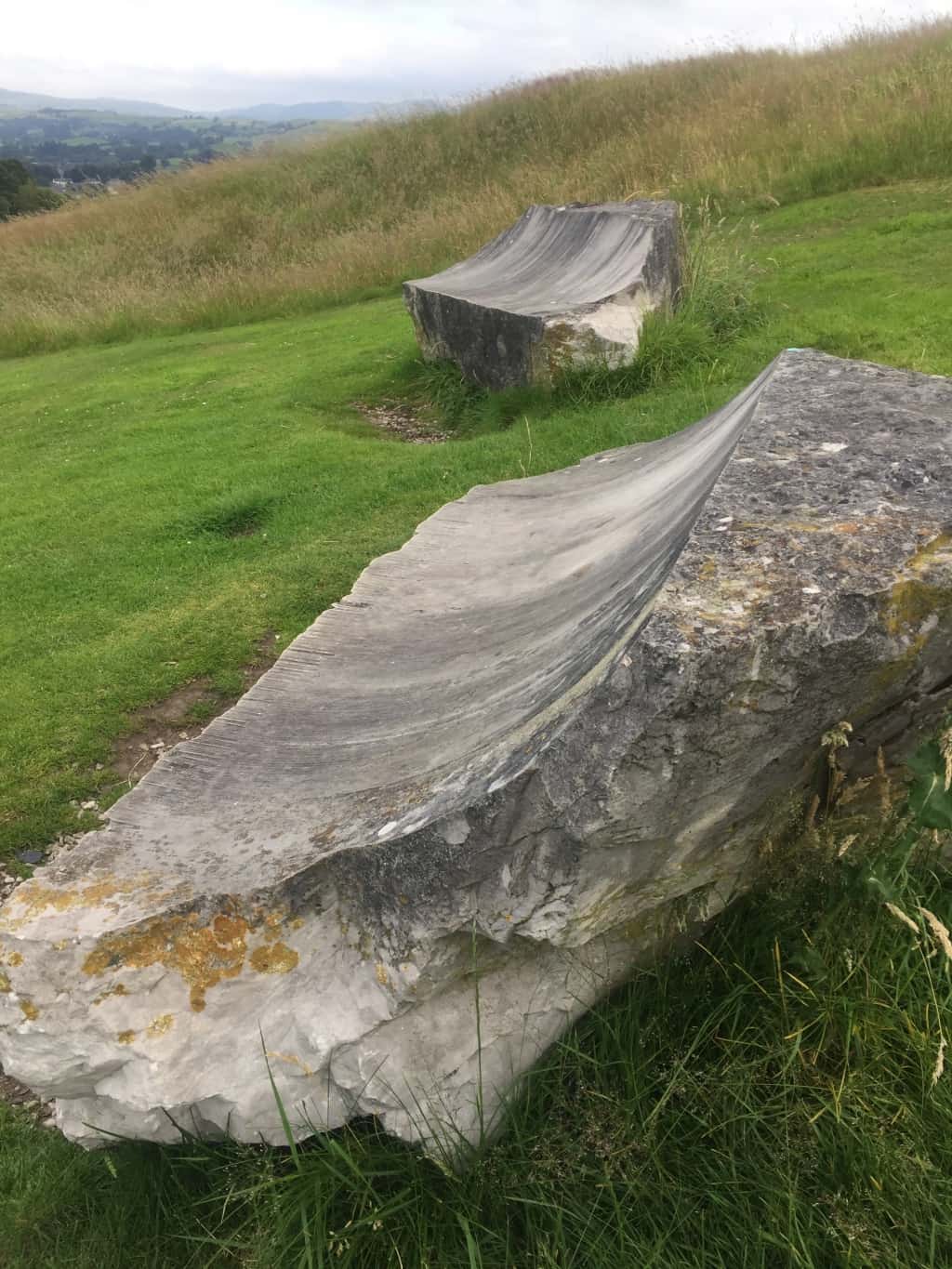 Kendal Museum
The Kendal Museum is just around the corner from the hotel so I make the effort to go on my last afternoon since it only costs £2 for entry which is pretty cheap as museums go.
There are three floors – the top floor is geology interspersed with local artwork, different wildlife habitats and the John Hamer collection (an amateur potholer who amassed thousands of rock samples).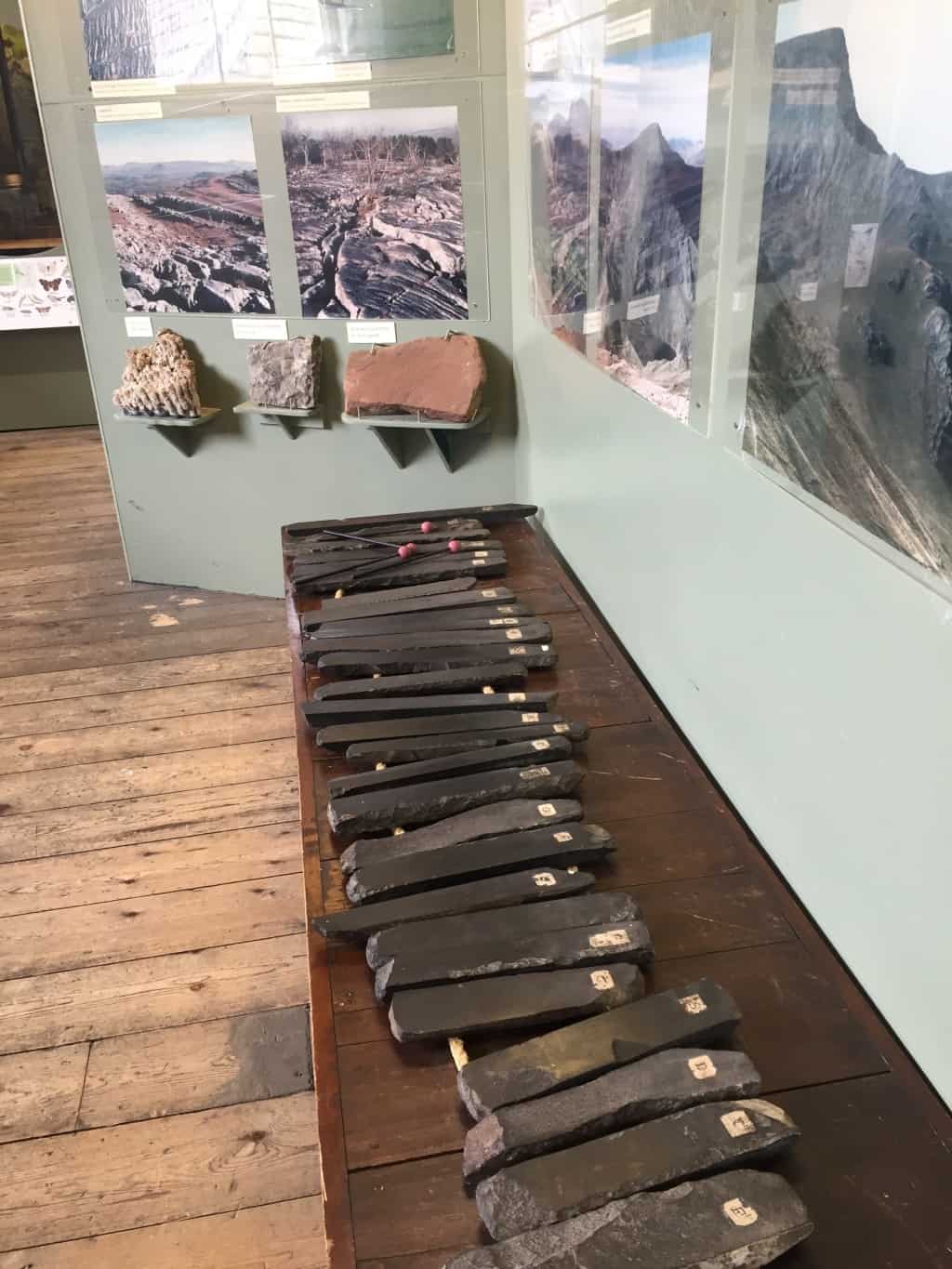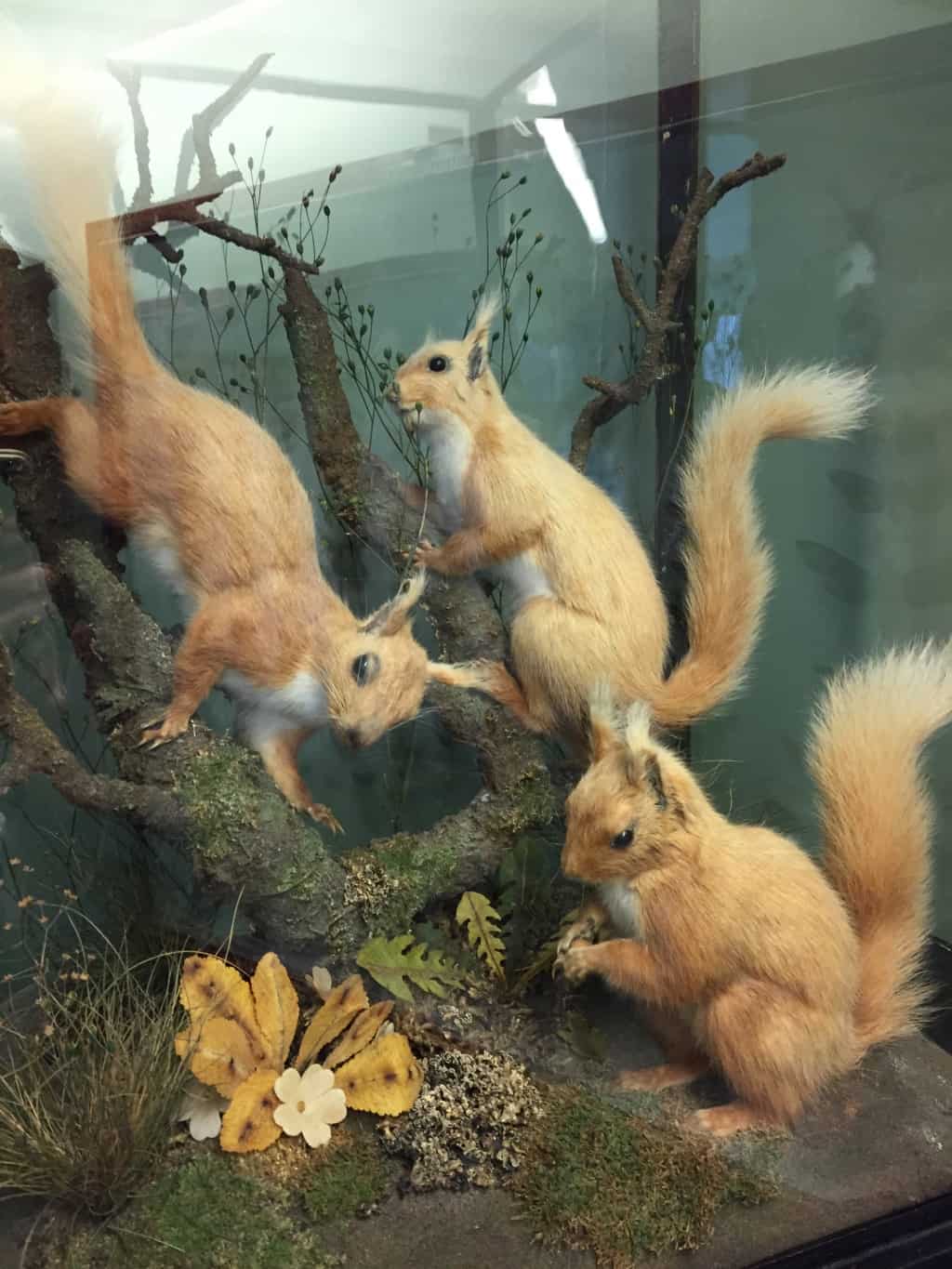 The ground floor has Victorian antiquities with some Egyptian artefacts including a mummified hand and a collection of snuff boxes (Kendal has been a producer of snuff since the 18th century).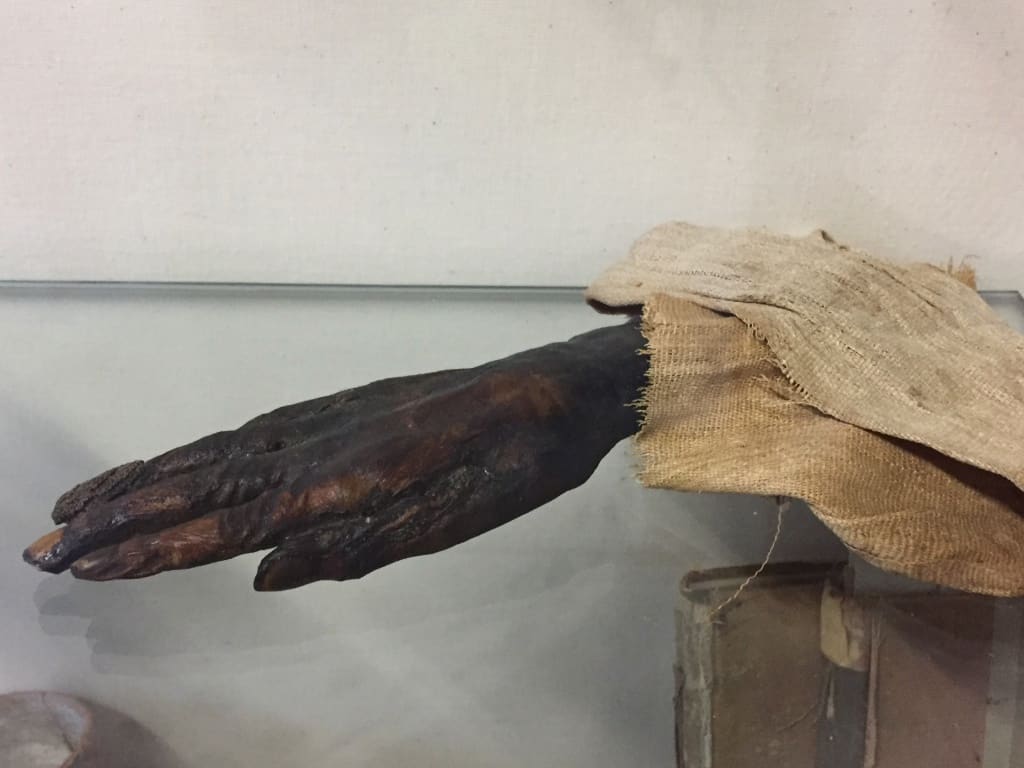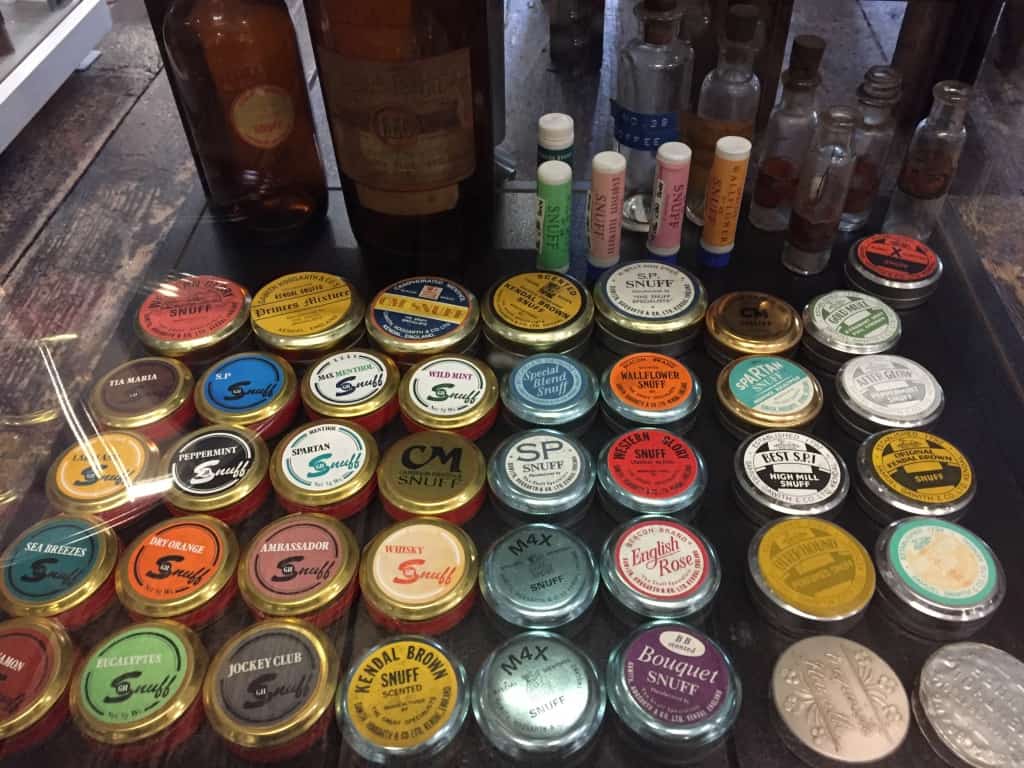 The basement is full of stuffed animals shot by big game hunters, it seems the Victorians didn't care about animal preservation back then, it's slightly disturbing but still fascinating.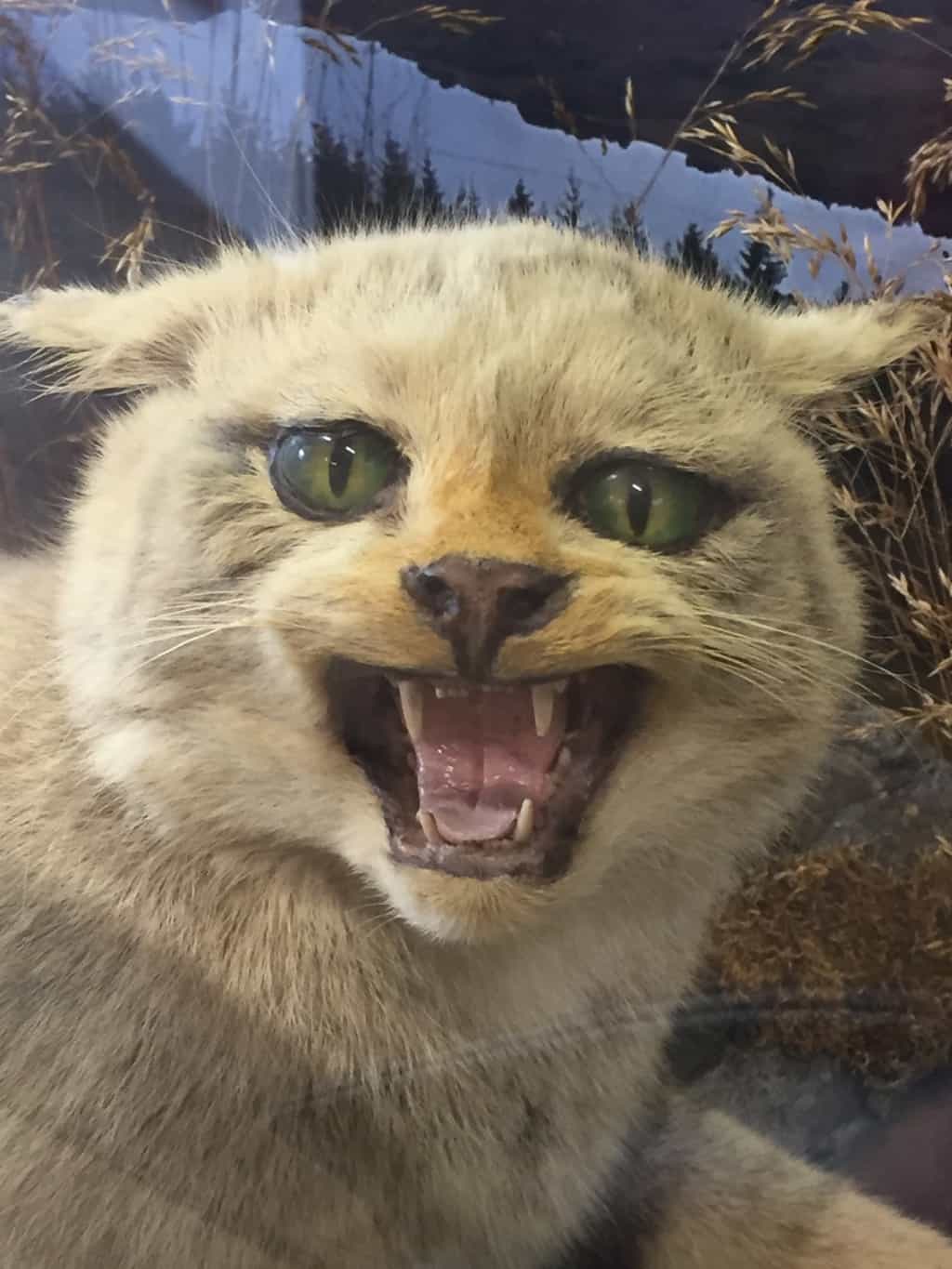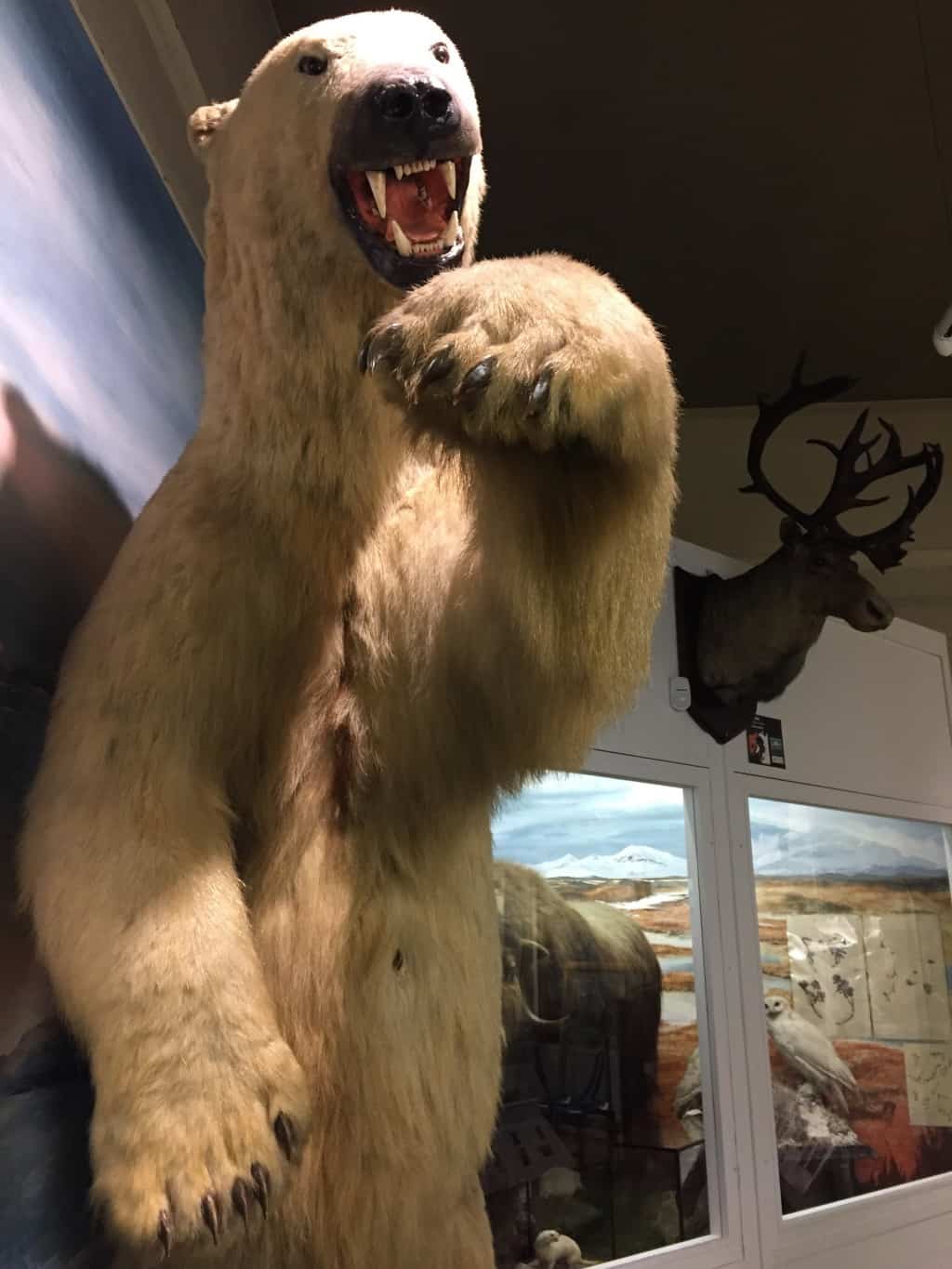 The next morning I check out and make the short jaunt across the road to the train station to catch a train to Windermere. There's no ticket booths or machines, but a sign saying 'please buy your ticket on board from the conductor'. There's only one train going back and forth between Windermere, and I don't have to wait long before one pulls in. The fine weather has broken, so it's in a light drizzle that I hop onboard and farewell Kendal.
Pros and Cons
Pros

Hotel location: so convenient for the train station, and a quick trot into town

Free breakfast with cooked options, though the eggs for me were a bit hit and miss

Nightly entertainment in the bar, not my cup of tea but it's a fun option if you're older.

Cons

Discovered the kettle was on but had boiled dry but this may have been a guest's fault

A coach stop for large parties of retirees which can mean scraps for breakfast if you turn up late.
Would I Go Back?
There was nothing glaringly bad about the hotel that wouldn't make me stay there again. Kendal is a pretty town with lots of amenities and makes a good base if you want to explore the Lake District. Windermere, where I'm headed next, is a 15 minute train ride away, and Oxenholme, a larger train hub, is a 5 minute train ride from Kendal.