Finding the Hotel MDM is pretty easy, it's approximately a 5 minute walk from the Metro station Politechnika. You can also reach it by tram number 4 from Stare Miasto. I'd been staying right in the Old Town at the Dream Hostel so the communist era architecture was a slight shock to the system, but it was interesting to see a different part of Warsaw.
We'd booked to stay at Hotel MDM for four nights and the room was ready well ahead of time negating the need to drop off luggage and fill in time etc. I grabbed a couple of WiFi tickets which had a unique guest code to use for the stay and headed up to the fifth floor, appreciating the marble tiled lift lobby as I exited.
Room
The room was a double standard but situated in the corner of the building so we weren't next to any other rooms on one side. Being on the top floor meant there were no rooms above us either. We were, however, next to the lift shaft from an adjoining building but the slight clanking didn't bother us. The double-glazed windows had a sweeping view over the side street buildings which I was happy about.
Chris bemoaned that we didn't have a front-facing view of Plac Konstytucji but as I reminded him the hotel was undergoing facade renovations and the front was covered with sheeting anyway. Besides we'd see a good view of that from the breakfast room.
The room was actually a lot nicer than I expected from the pictures on booking.com and pretty spacious for the price. We paid 860 pln (NZ$320) for four nights and were given the option at check-in of paying 45 pln for both people for the buffet breakfast for each of the four days, which we took them up on. The alternative was to pay as we went which would have been 45 pln each, so it was a good deal.
I'm not usually a fan of orange but the orange/grey decor with the large black & white print above the bed was quite tasteful. Judging from the hotel overview info on the TV they've had a refurbishment at some stage to update all the rooms and it was a good move.
The bed was a queen, and not just two singles pushed together, though it did have the European two single duvets set-up. The bathroom had a good amount of toiletries, and there was an adequately supplied mini-bar with water, chocolate, nuts etc. (but no mini bottles of vodka). It's unseasonably cold during our stay but the radiators are up to the task and I have to turn them down a few times as it gets too hot.
Our room was made up for us each day by putting out the door sign. We took to putting the 'do not disturb one' on before we went to bed as a maid had arrived to clean the room on the first morning and we were sleeping in – #awkward.
We also took the precaution of putting our laptops in my bag and locking it before we went out. I'd read on a piece of hotel literature that the hotel wasn't liable for anything that was stolen and since there was no key card lock system on the lift floors we decided to do this as an extra precaution. The reception also has safety deposit boxes you can use.
Food
We were pleasantly surprised by the breakfast buffet spread which catered for all kinds of nationalities and tastes. You could have cold meats, cheese and salad; cereal and fruit; cakes and pastries or bacon, eggs and beans if you desired. It's always tempting to try everything but we managed to get our money's worth and still remain decorous. The breakfast room had a splendid view of Plac Konstytucji with its three monumental Soviet Realism lamps taking pride of place. Seating near the picture windows was, not surprisingly, in demand.
Another great thing about the Hotel MDM is that there is a Czech-style restaurant directly to the left as you exit the doors – U Szwejka.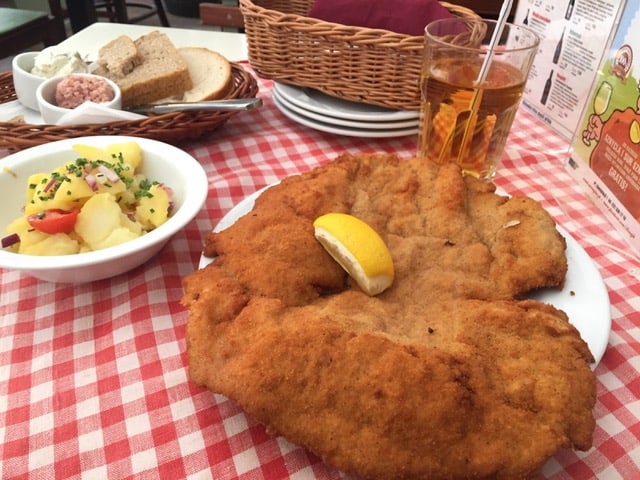 I ate here for lunch when I first arrived managing to get through most of an enormous schnitzel, and again when Chris arrived for dinner (he had the BBQ ribs and I had the pork ragu). We found the restaurant staff cheerful, the atmosphere lively and the food hearty. It has a heated courtyard section out the front with booth seating. Oh and you get a complimentary glass of cherry wine.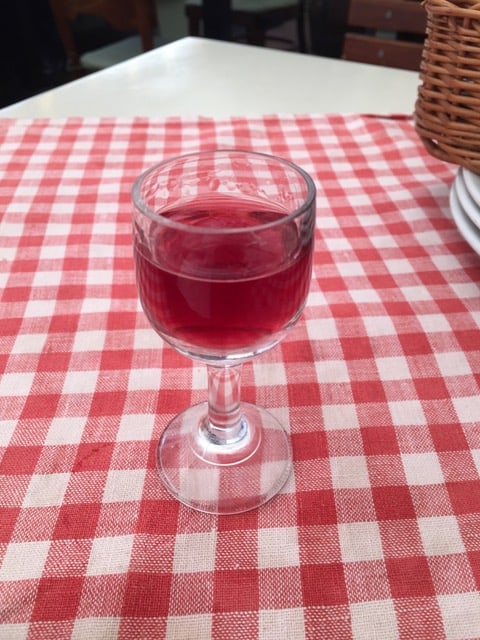 Pros and Cons
Pros

Location: It's one metro stop from Centrum and close to the Central Railway station.
Contemporary refurbished rooms in a character building
Rate: the room rate is very reasonable
Free Wi-Fi
Good heating
Polite staff
Excellent breakfast buffet
Fun Czech restaurant next door.

Cons

Upstairs Bar & Bistro not open in weekends
Slight possibility of security issues
Lift a bit slow.
Would I Go Back?
I personally wouldn't hesitate to stay here again, there was nothing really to pick at unless you count the hotel's Upstairs Bar & Bistro not being open in the weekends. As we were there over Easter having this as an extra eating option would have been good but it's a small niggle.