Arrival
After taking the train to Cheltenham Spa, I have to take a bus a short distance down the road to the White Lodge. I do a double take when the double-decker bus pulls up.
In huge letters on the side of the bus are a list of its four top destinations, one of which is GCHQ, Britain's intelligence centre. I didn't think an enormous donut shaped building housing 5½ thousand employees would be kept a secret, but I was certainly taken aback to discover it was publicised so widely.
After getting off at my stop, I passed a Travelodge and a KFC before taking my life in my hands and crossing the busy off-ramp of the roundabout to reach the White Lodge. Funny – none of the photos online had included the proximity to the traffic. To be fair, the hotel was protected from the noise by strategically placed trees.
The lodge is apparently 120 years old and has six rooms upstairs, and a dining room downstairs overlooking the back lawn.
Room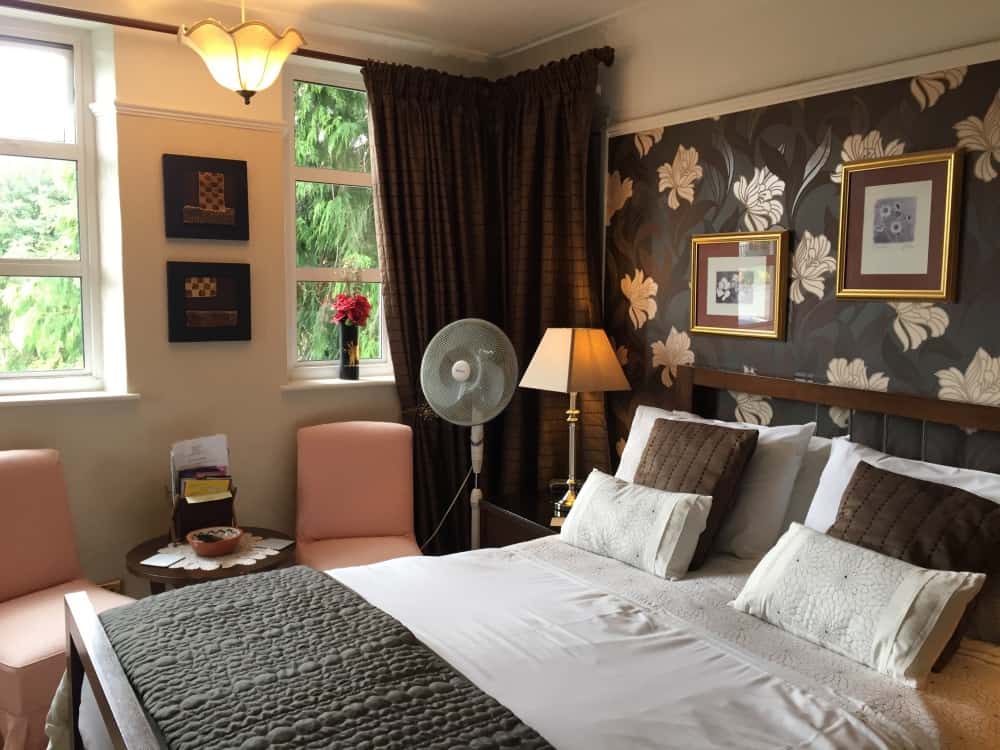 Our room has chocolate brown decor and double glazing on the windows. We look out towards the KFC and Travelodge, and the room is well stocked with furniture, tea and coffee facilities, dishes, cutlery, a minibar with milk and free chocolate, a fan and a wardrobe.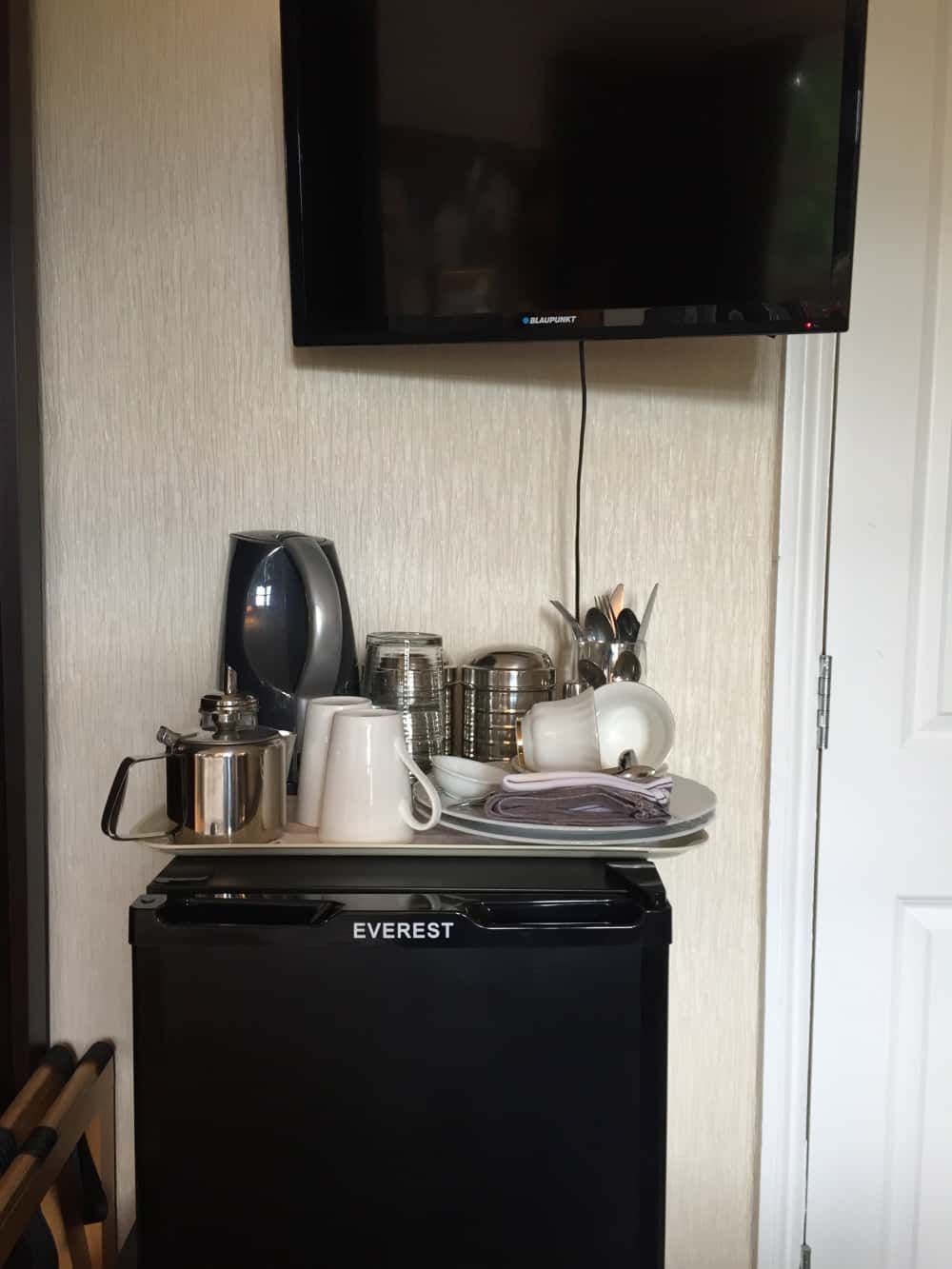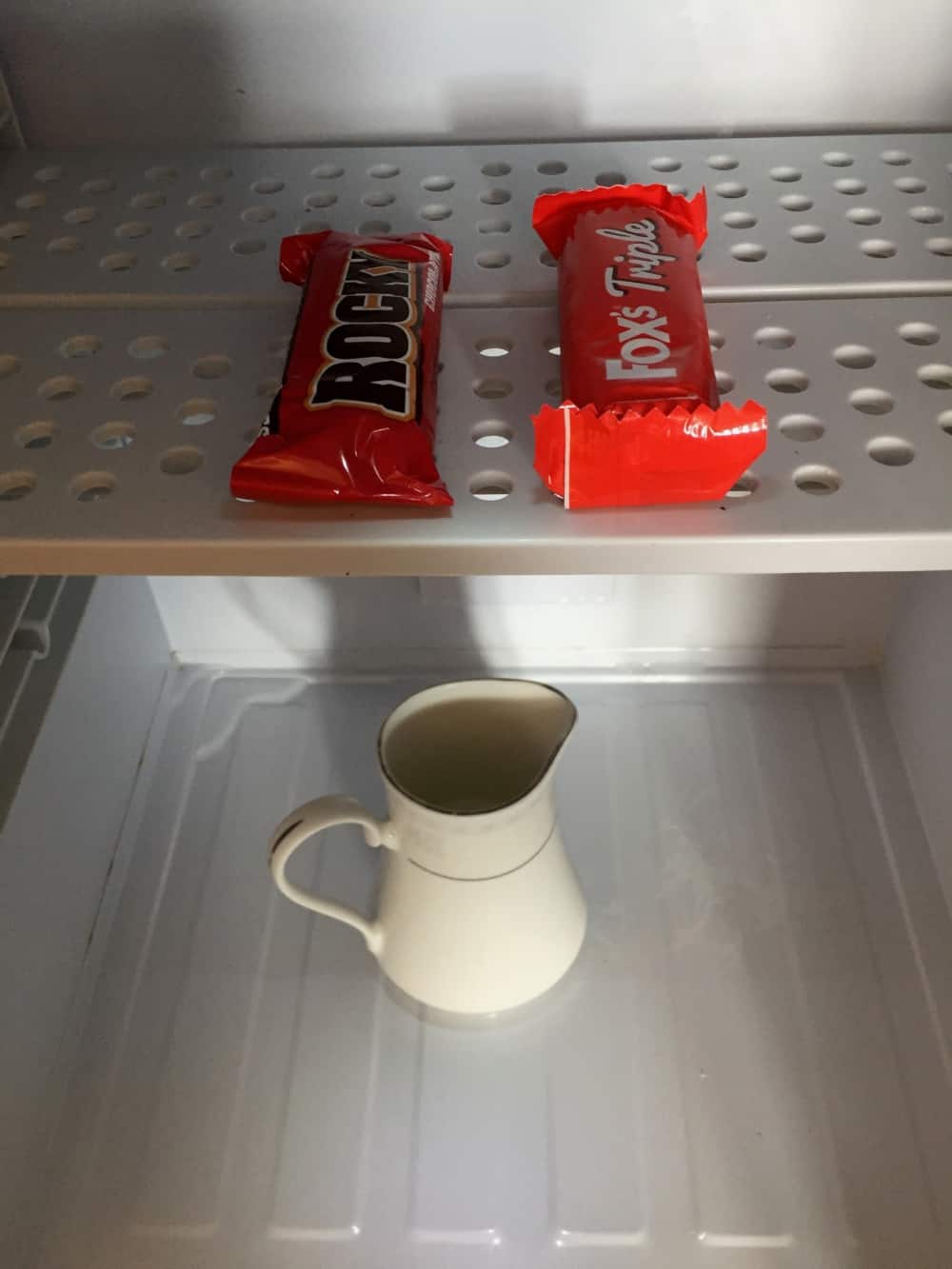 There's quite a bit of bric-a-brac, obviously intended to make the room homely, which borders on making it look cluttered.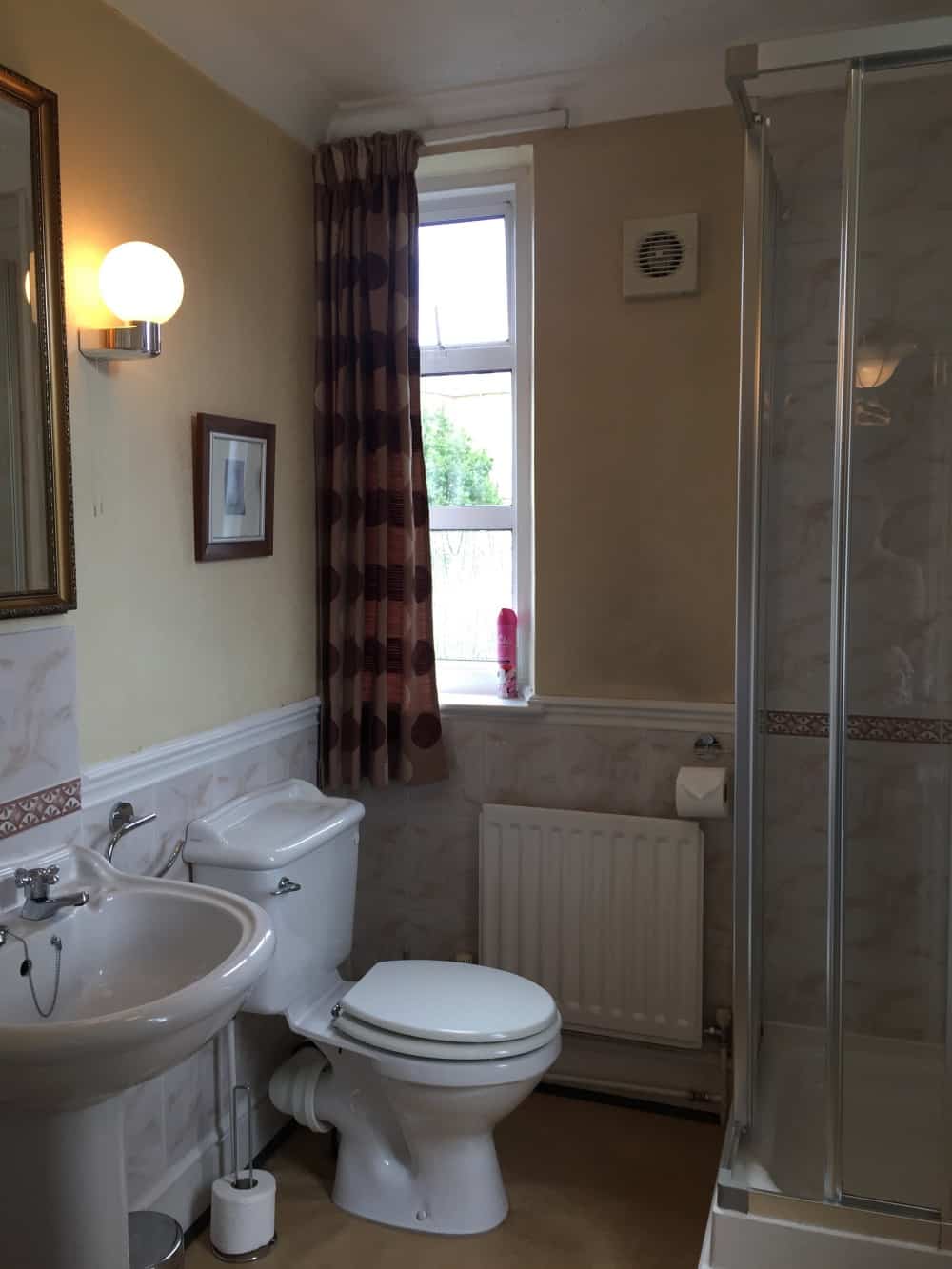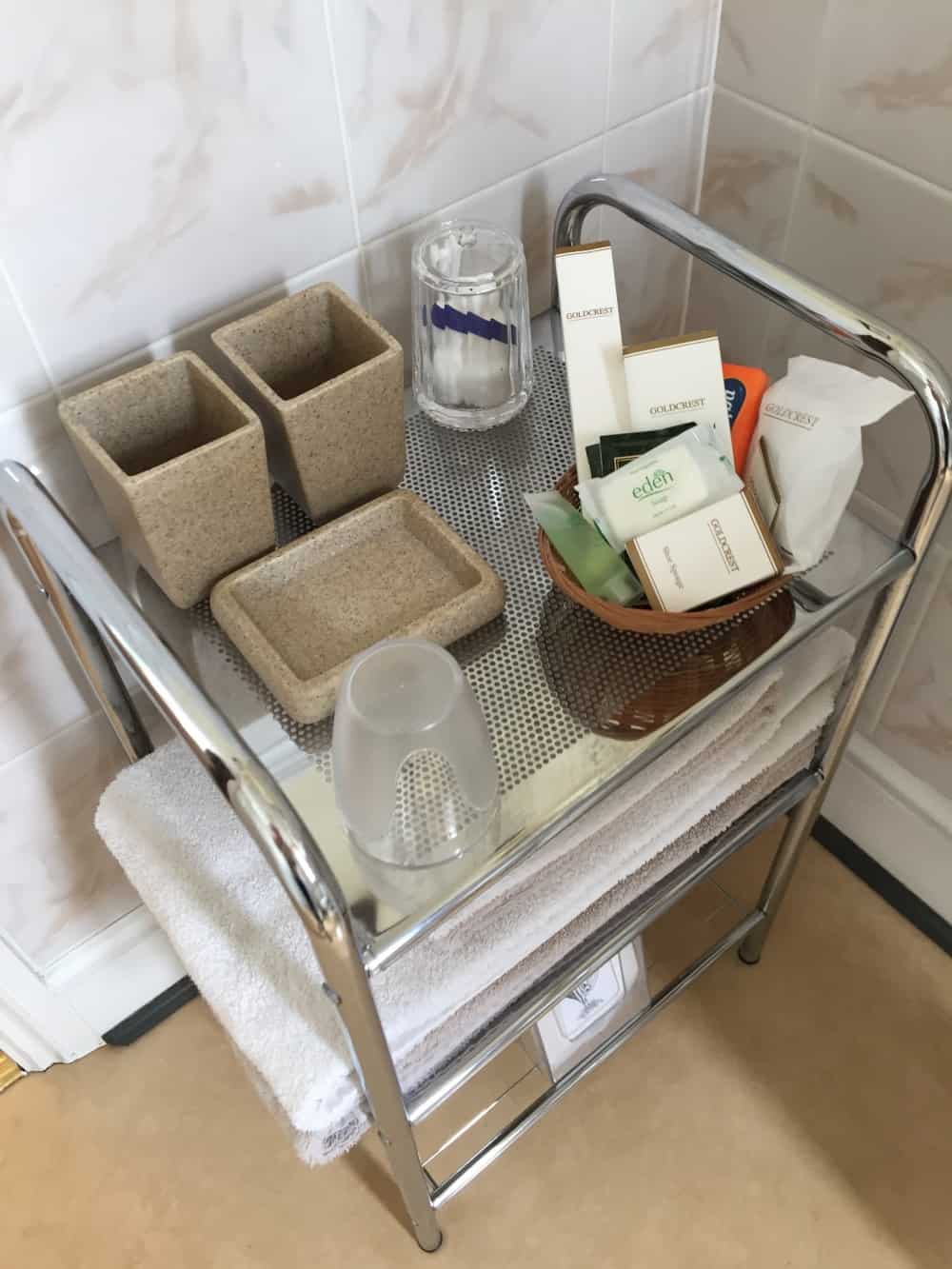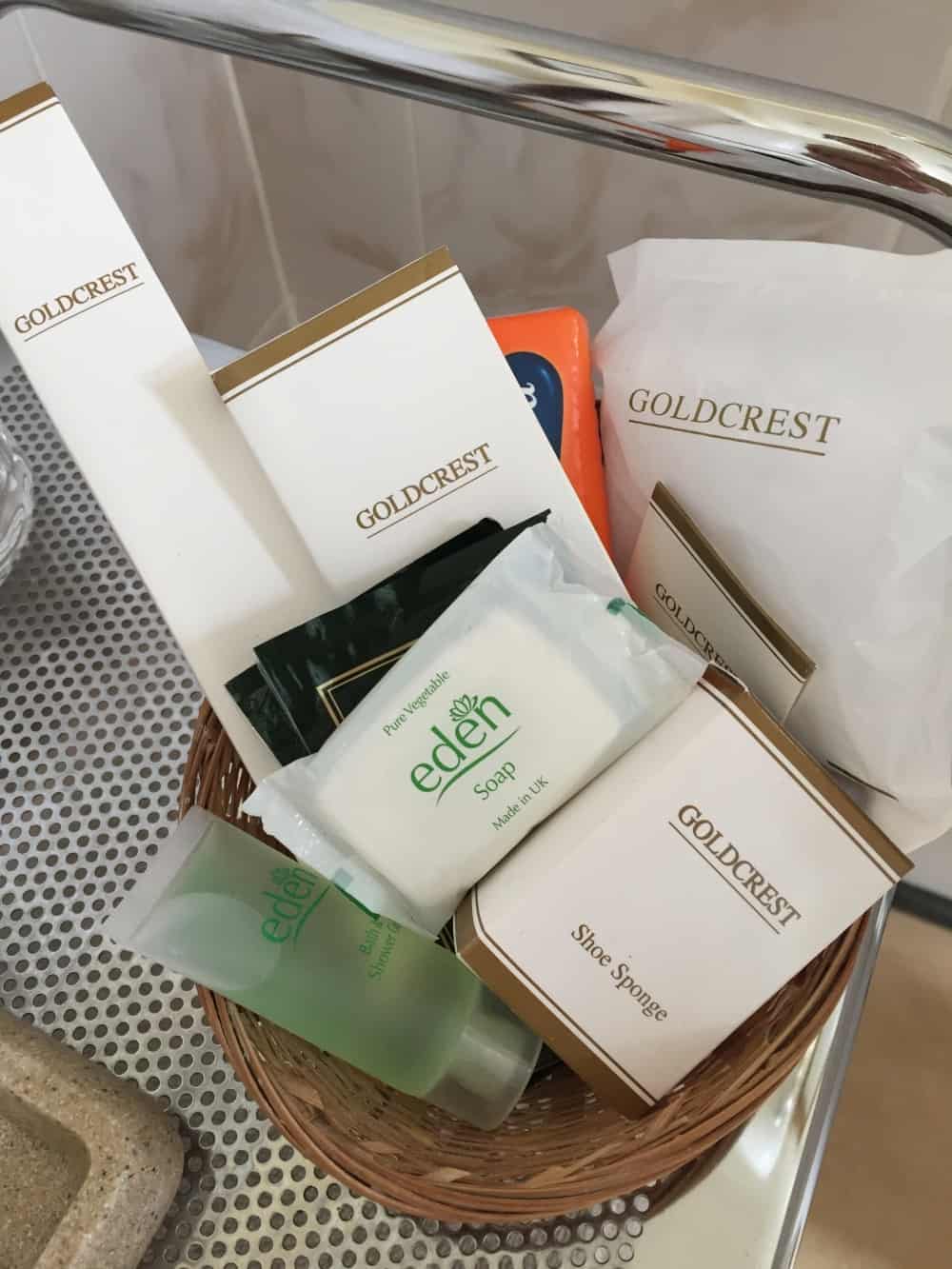 Location
With the immediate neighbourhood consisting of the restaurant at the Travelodge and a KFC, we elect to take the slightly more healthy option and dine at The Harvester, which Google assures us is in fact the Redgrove.
As it's the restaurant of the Travelodge, it's quite full of families and older couples and we're glad that it's quite large, so we're not crowded. It reminds me of a Wetherspoons (a chain of English pubs renowned for cheap and cheerful booze and food: well frequented by students and the retired), and so I'm not surprised when the service is slow and the ribs I order are a little on the dry side. Ange's salmon, baked potato and steamed veggies is bland too.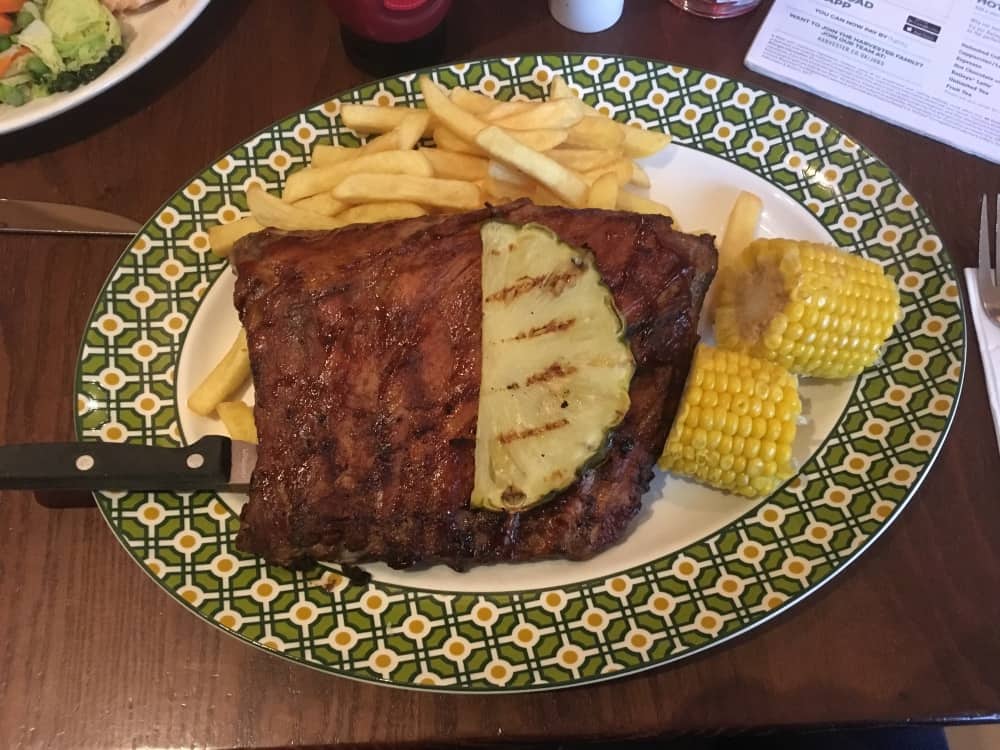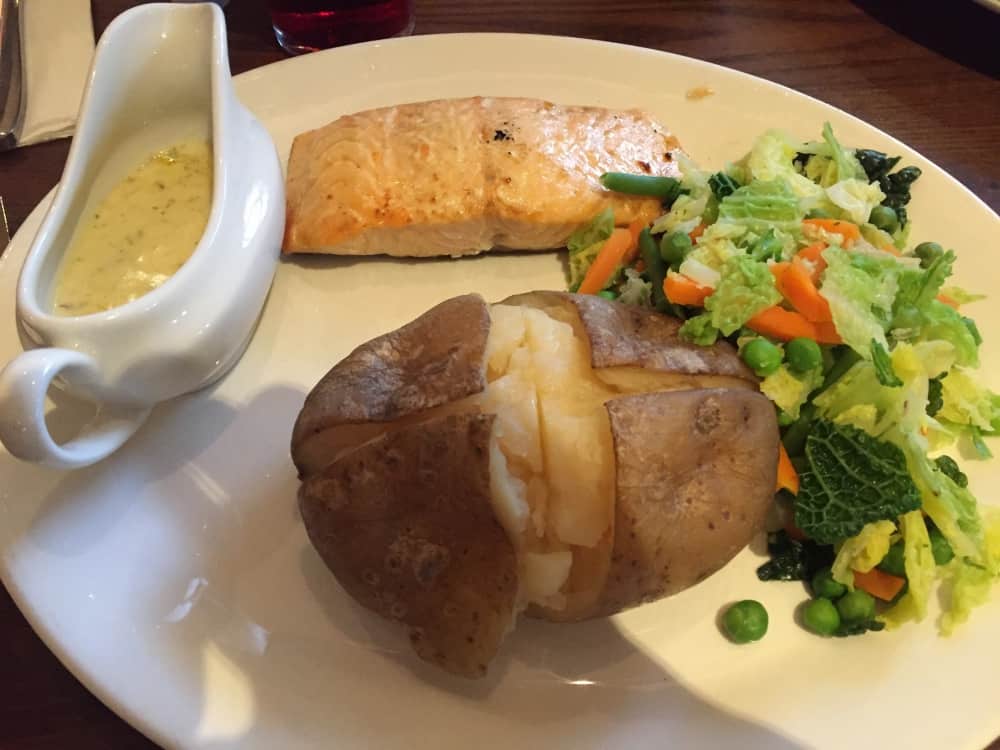 Dessert is good but we have to restrain ourselves from getting one of the three outlandish shakes on offer. They're "served" in a jar, but the height of them means about 75% of the contents aren't actually in the jar.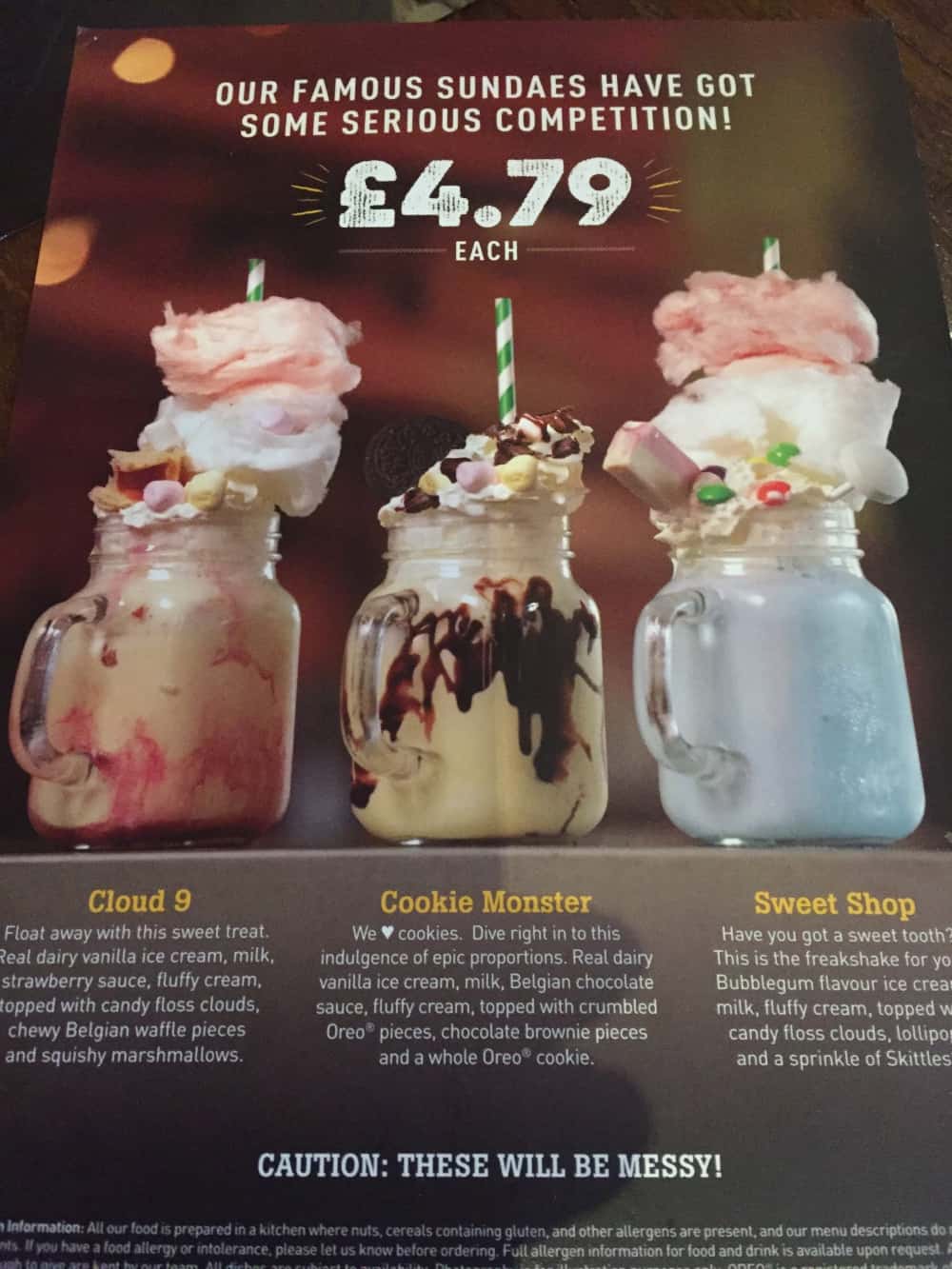 One has candy-floss piled high, another cookies and they all look to have at least 2000 calories. It's only with strong wills that we elect to share the cheesecake instead.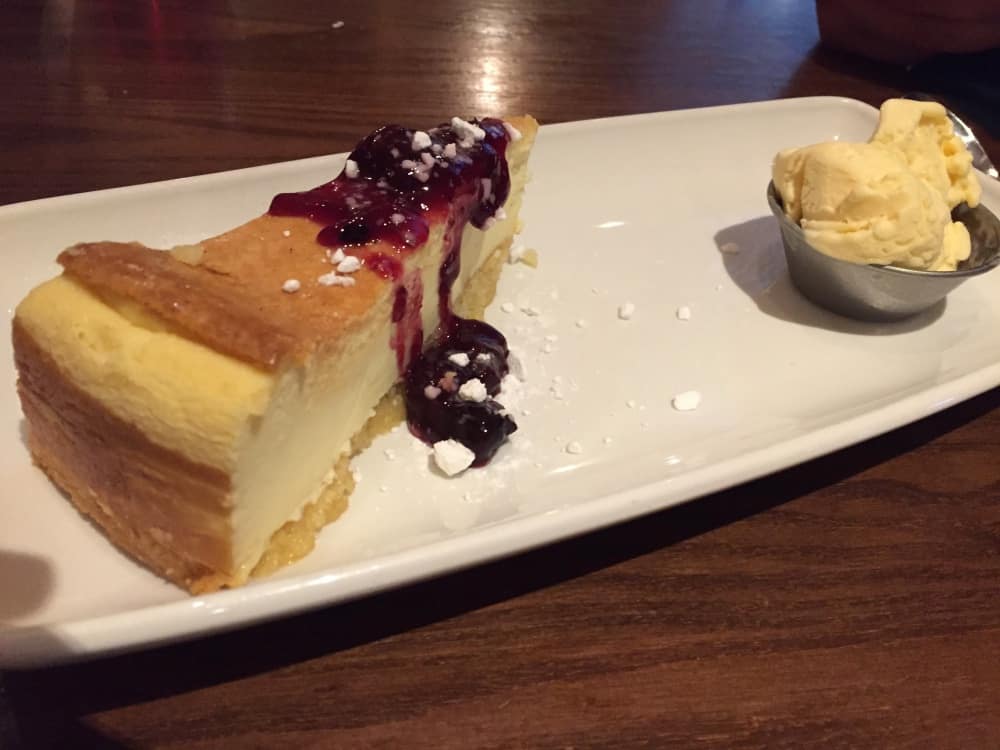 Breakfast
The next morning we get up and head down to breakfast. The menu entails making an interesting choice – you can have cereal or fruit, plus something cooked. Ange wanted both cereal and some fruit to put on it, but according to the menu this wasn't allowed.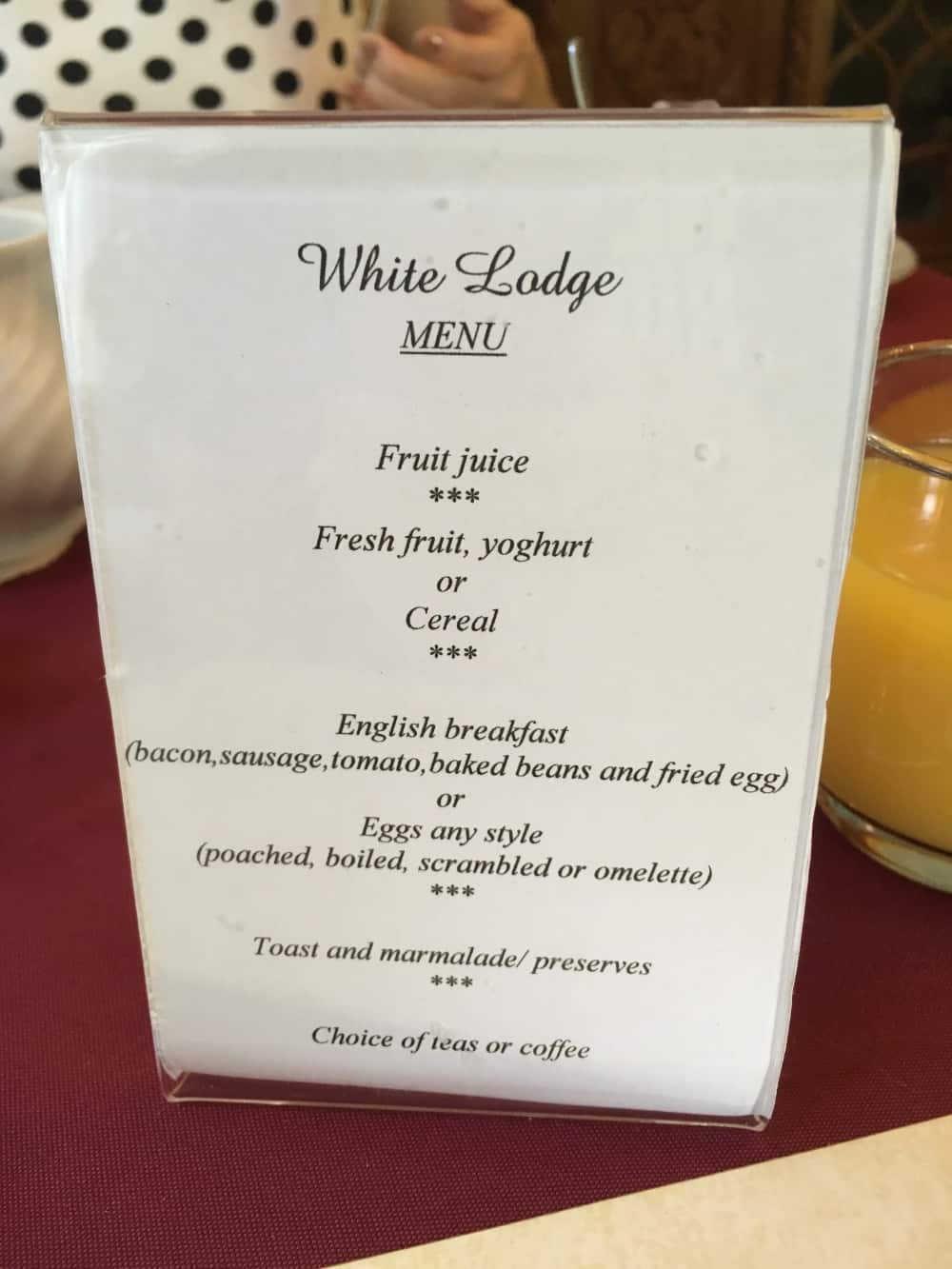 I elected to order the fruit for her and when it came the host rather archly presented it to her saying "I suppose this is for you?", as if we were somehow trying to get one over on her. But we were both impressed by the presentation and the number of different fruits.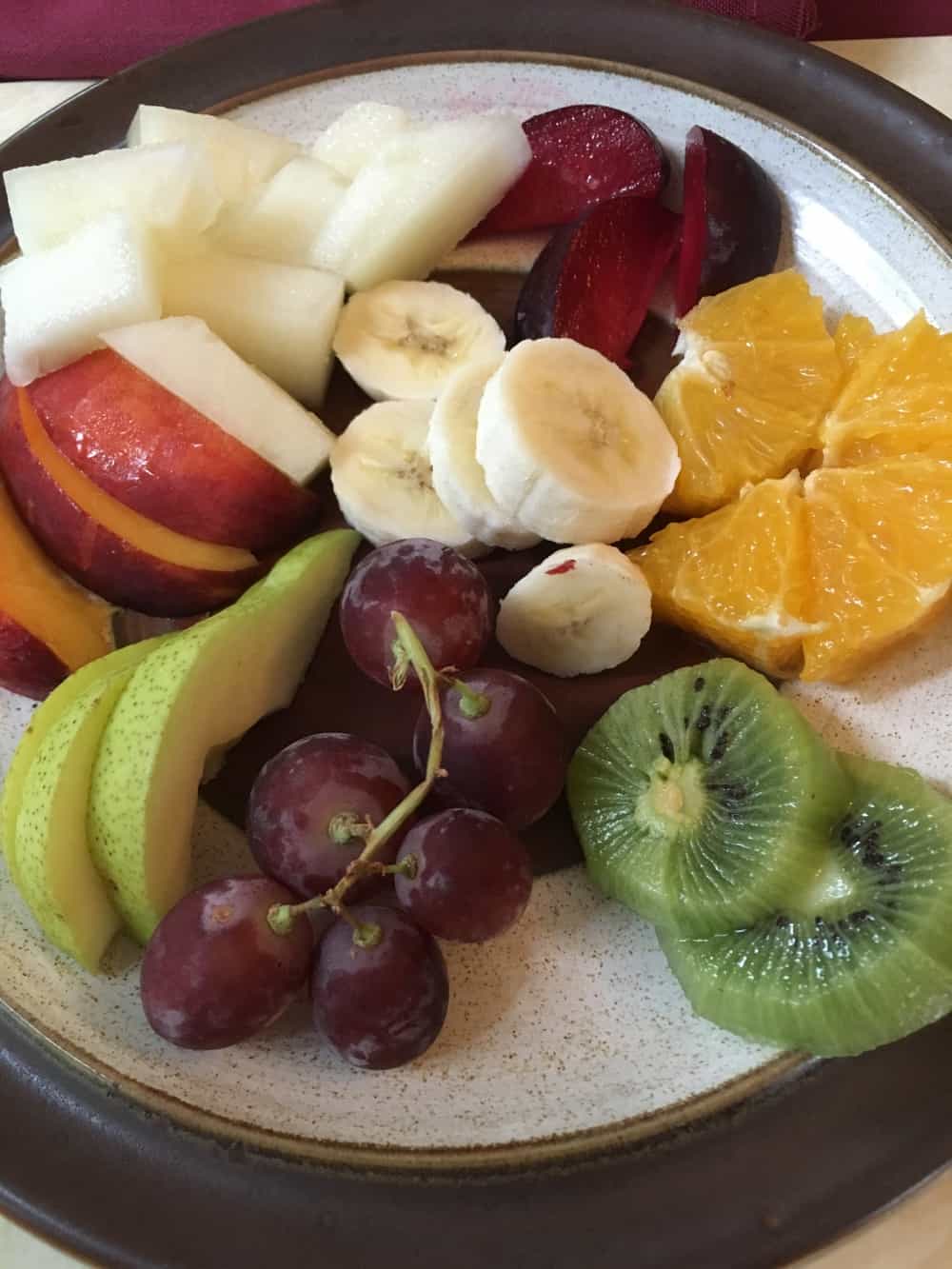 Having said that, Ange's poached egg is fine (though it arrives sans toast; you have to cook that separately yourself) and my full English great (though my request not to have baked beans was ignored).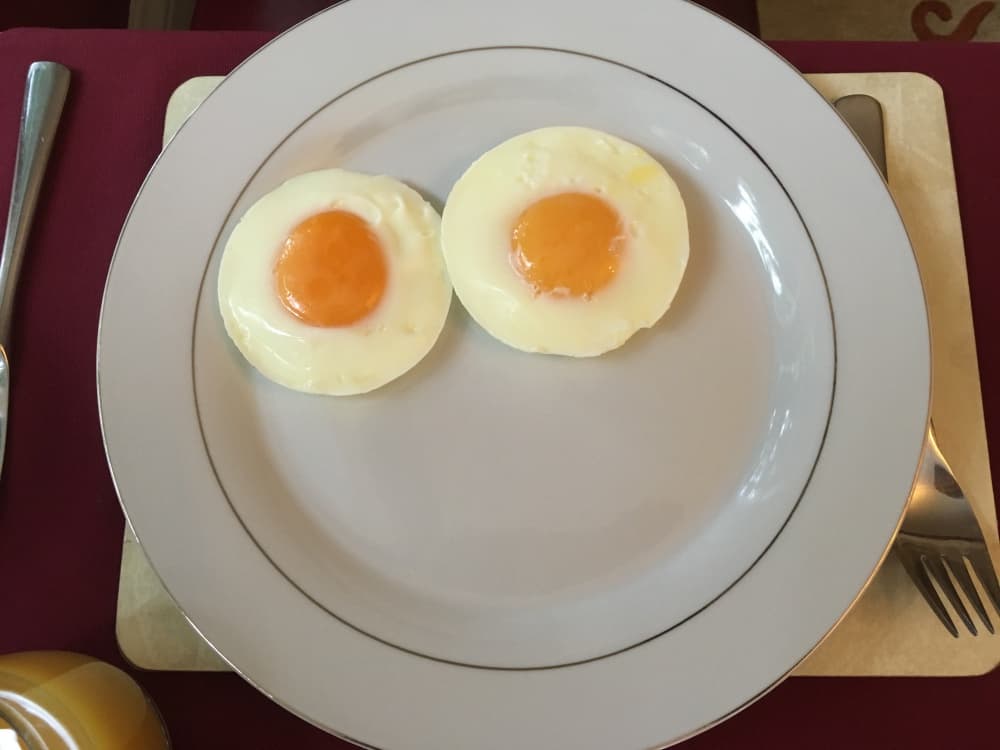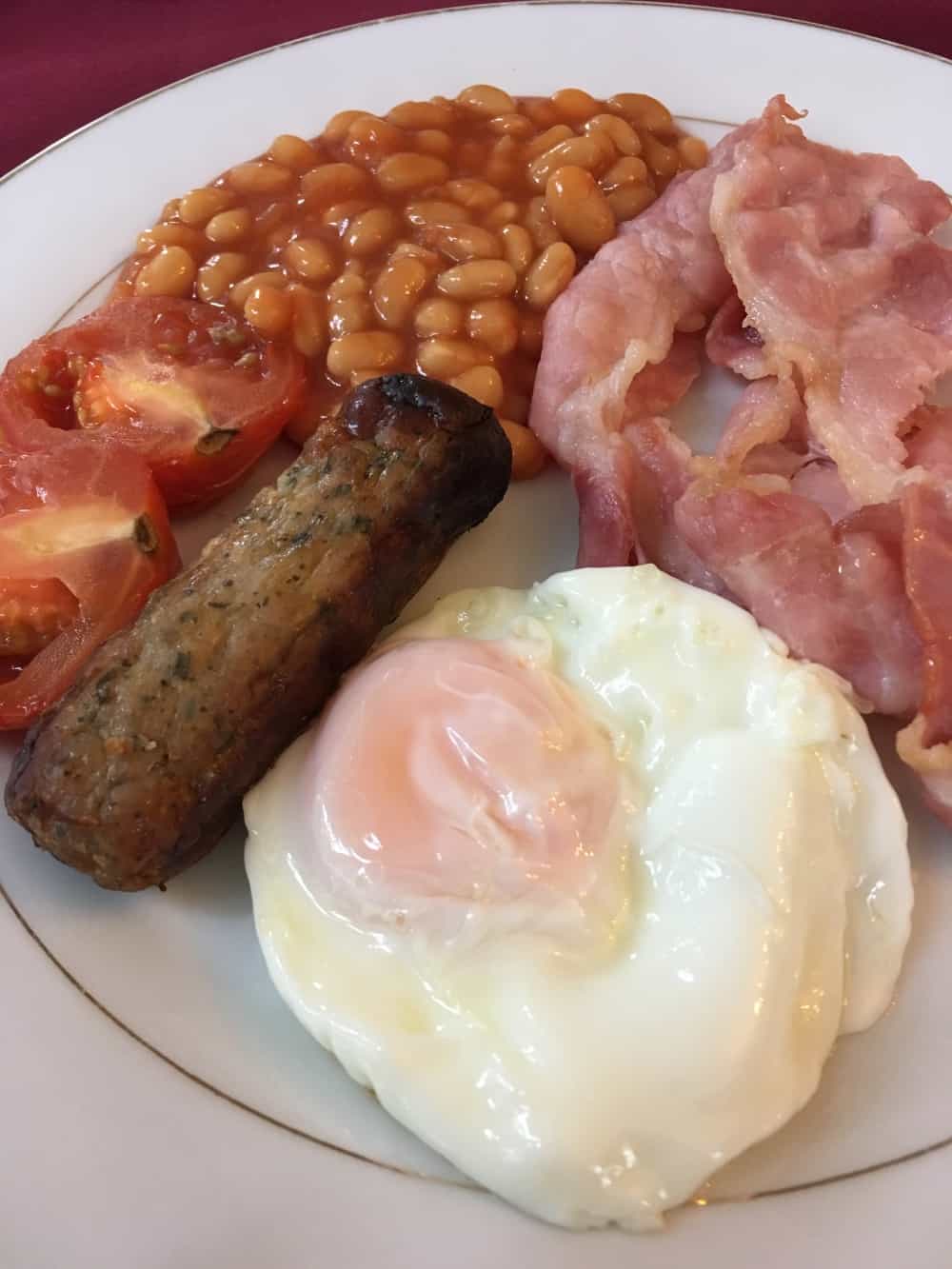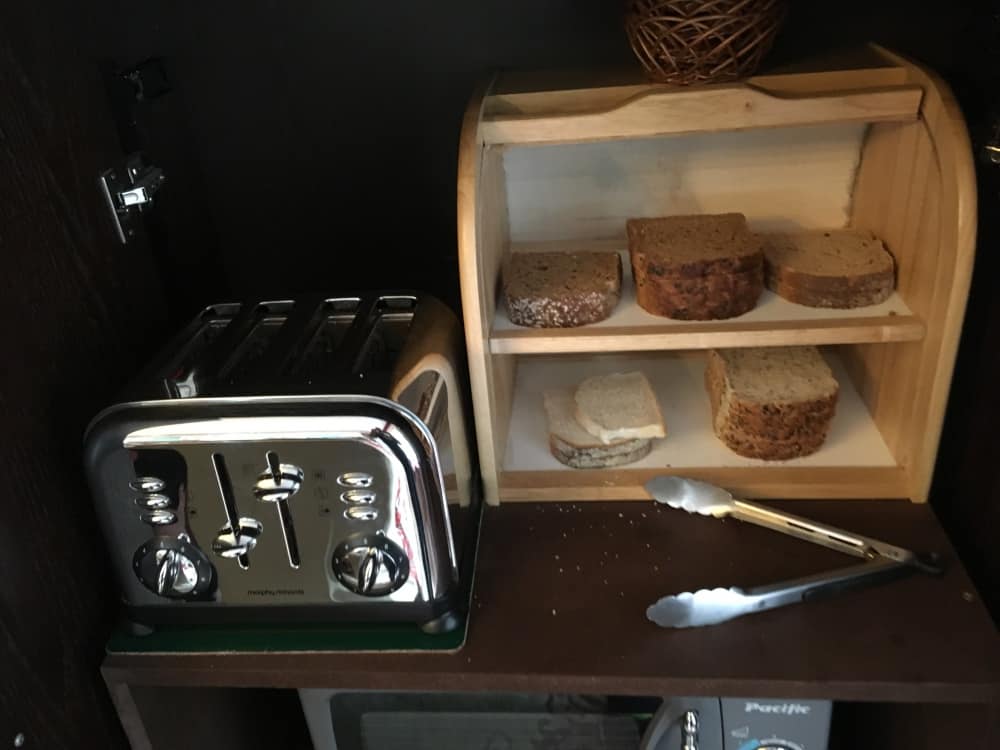 The trees out the back are amply populated with bird feeders so we spend our breakfast watching pigeons enjoying their breakfast also, while a squirrel makes his way across the lawn on some unknowable errand.
Pros and Cons
Pros

Room was a good size, bed was comfortable
Free chocolate and biscuits were appreciated

Cons

Being snarky about customers ordering within your rules seems counter productive and unneccessary
Nearby choices of food is restricted to KFC and Travelodge's restaurant.
Would I Go Back?
This is one of those hotels where it only makes sense to visit if it serves your desintation plans. Our decision to stay there was primarily because we wanted to visit Bourton-on-Water and see a bit of Cheltenham, and more central hotels were a little too expensive. If I was to return to Cheltenham (say, if I was to visit GCHQ), then I would probably elect to try somewhere else.