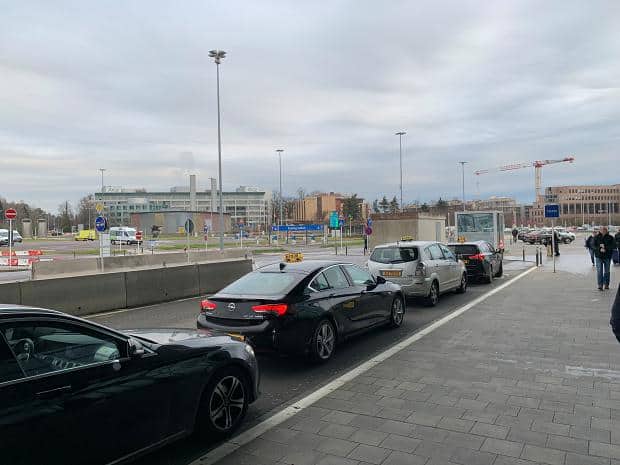 It's always cool when you're staying at a hotel that you can see from the airport. Instead of getting a taxi or hustling to get the next bus or train, you wander across a few streets and you're checking in, instead of peering at bus timetables wondering why the Airport Express has stopped running at 9pm on a Sunday.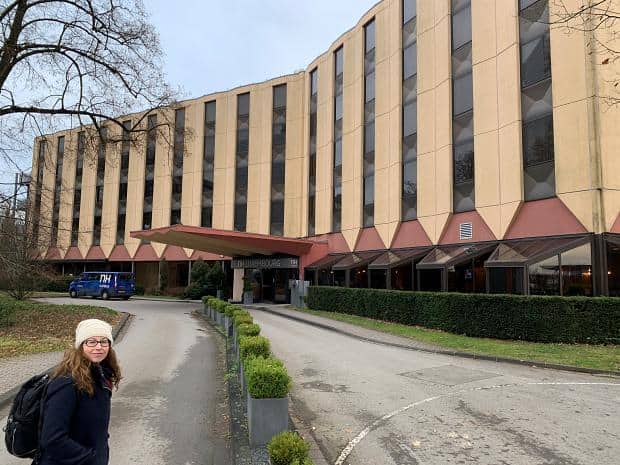 We wandered over to the Hotel NH Luxembourg, knowing full well that at 10:30am it was going to be unlikely that they had a room available and this turned out to be the case. We decamped to the onsite restaurant to get some work done while we waited, nursing a hot chocolate until lunchtime to justify taking up a table.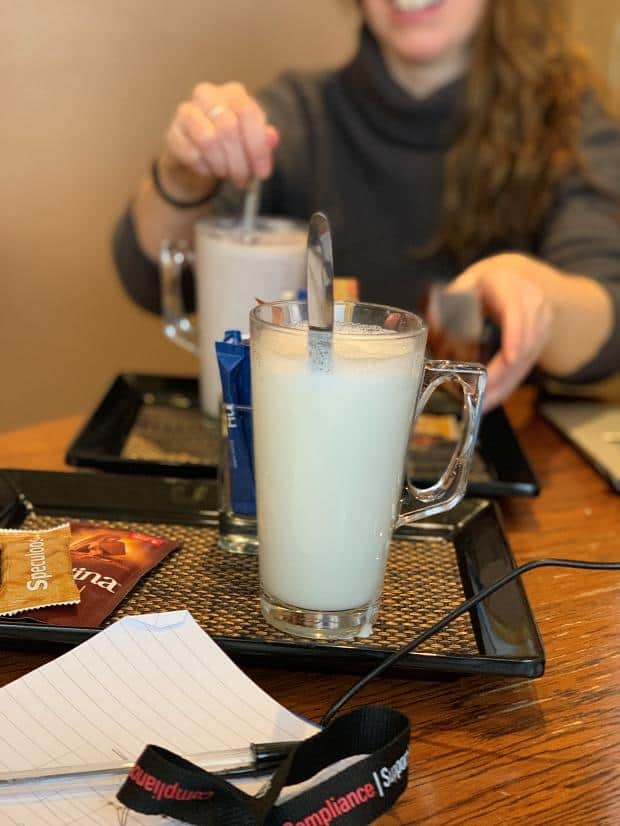 Lunch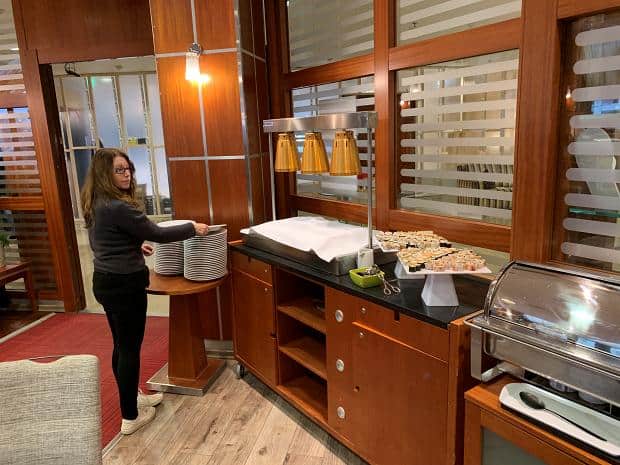 The only issue with an airport hotel is that there usually isn't a lot of choice of places to eat. So when lunchtime came around we tried to grab a menu, only to be told that there was an all you can eat buffet, but no à la carte options. Oh, well!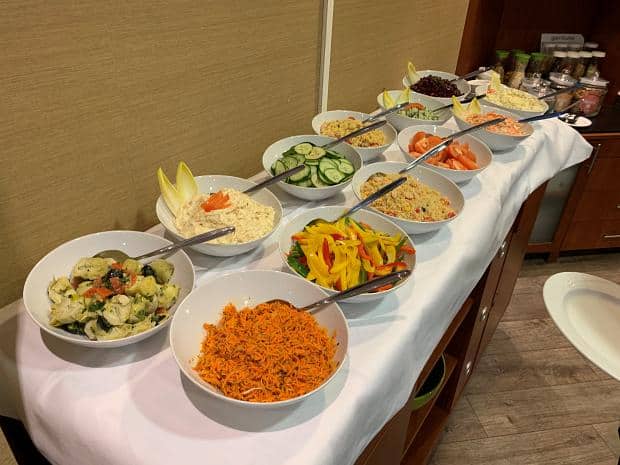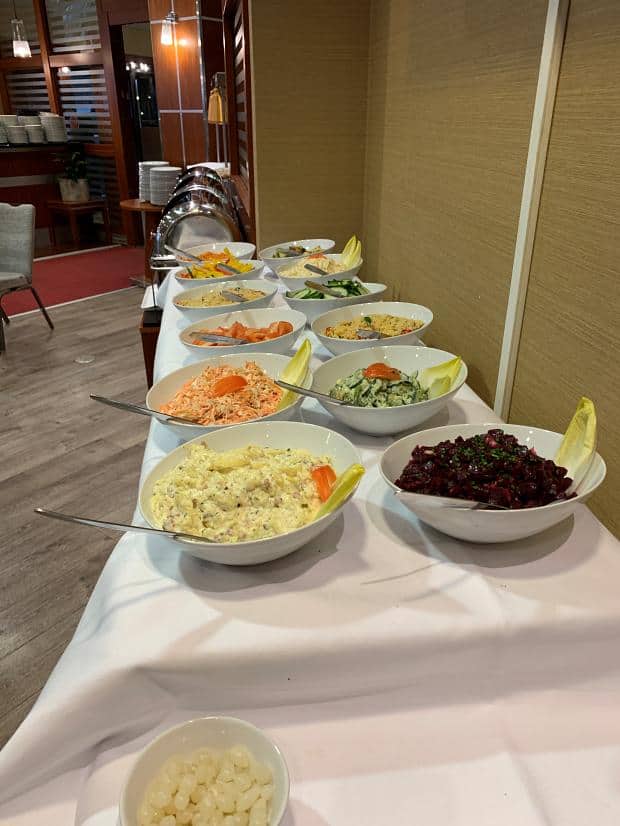 The vegetable/salad selection was extensive, fresh and delicious. There was a paucity of meat options though: a chili con carne dish in one of the warmers and some cold meats above the dessert section.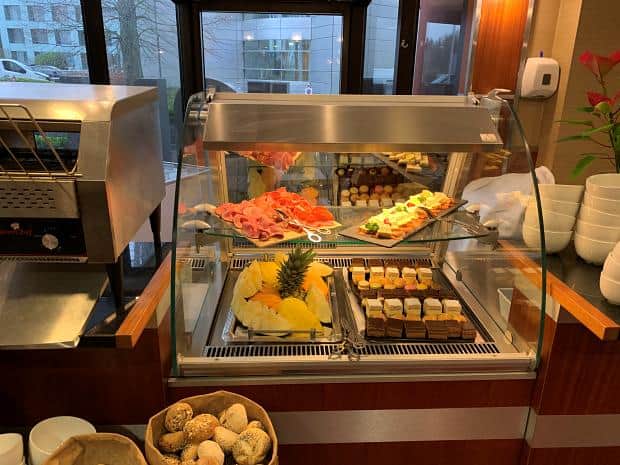 And the dessert section was a thing of beauty. They say that Luxembourgish cuisine has the quality of French cuisine coupled with the quantity of German cuisine and we certainly got our money's worth with the little desserts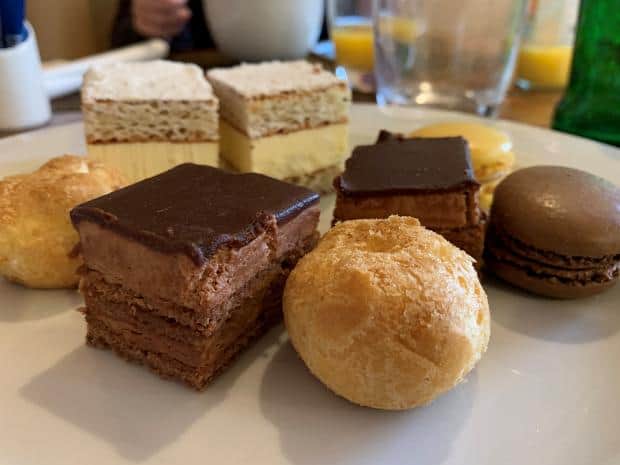 Eventually one of the desk staff came around the corner and let us know that our room was ready, and so we checked in and headed up.
The Room
They had warned us at check in that the hotel was being renovated and so there would be a little bit of noise. They hastened to add that the noise would only be after 10am and would finish by 7pm.
Ange wondered why they hadn't mentioned that on the booking websites and we agreed that it would have meant their bookings would have taken a hit – still, it would have been nice to be fully informed…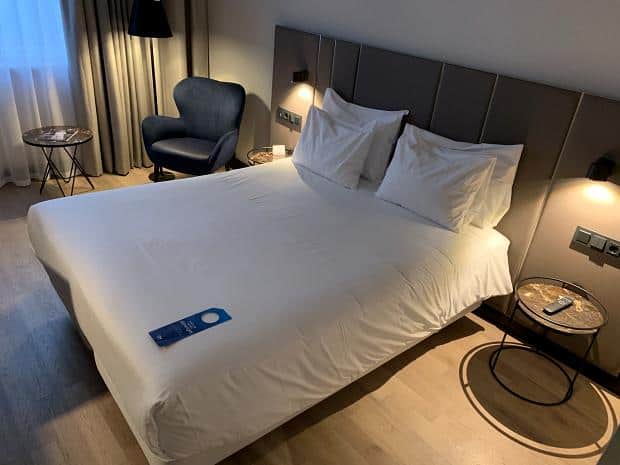 The room was big and clean, obviously newly refurbished with brand new fittings and furniture. The refurbishment had missed one or two details though, one of those being no rubbish bin in room.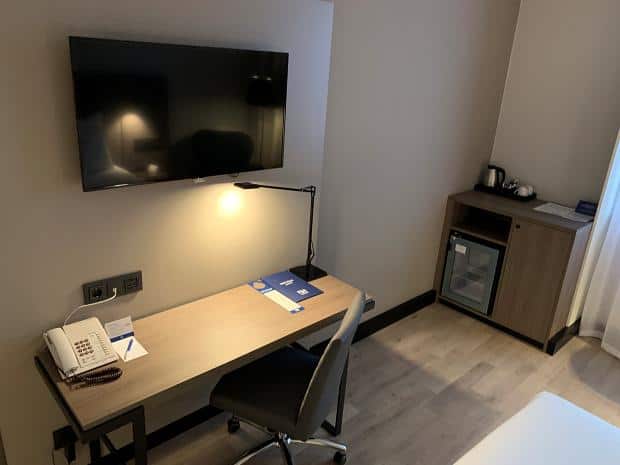 The bathroom featured NH's own brand toiletries and a humorously named hair dryer, but the most noteworthy feature in the bathroom was the poor finishing of the workmanship. The door to the bathroom left a three inch gap at the bottom, didn't unlock from the inside (which actually didn't matter because it didn't close properly) and the door knob actually came off in my hand entirely.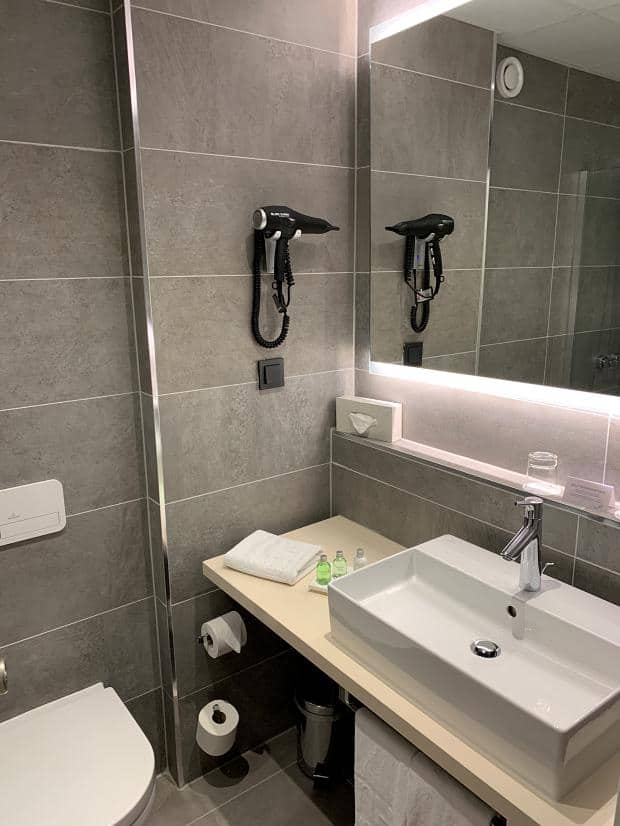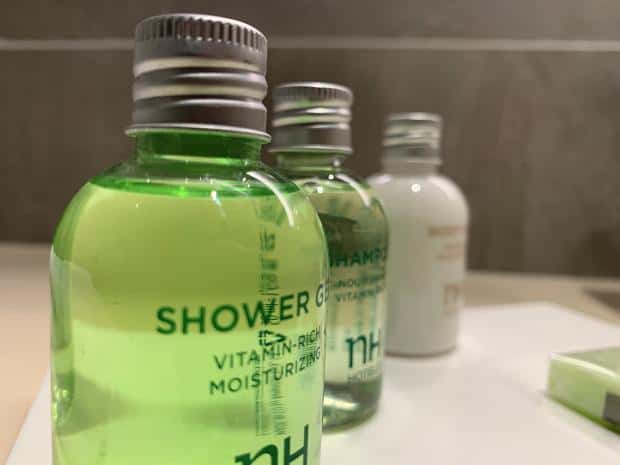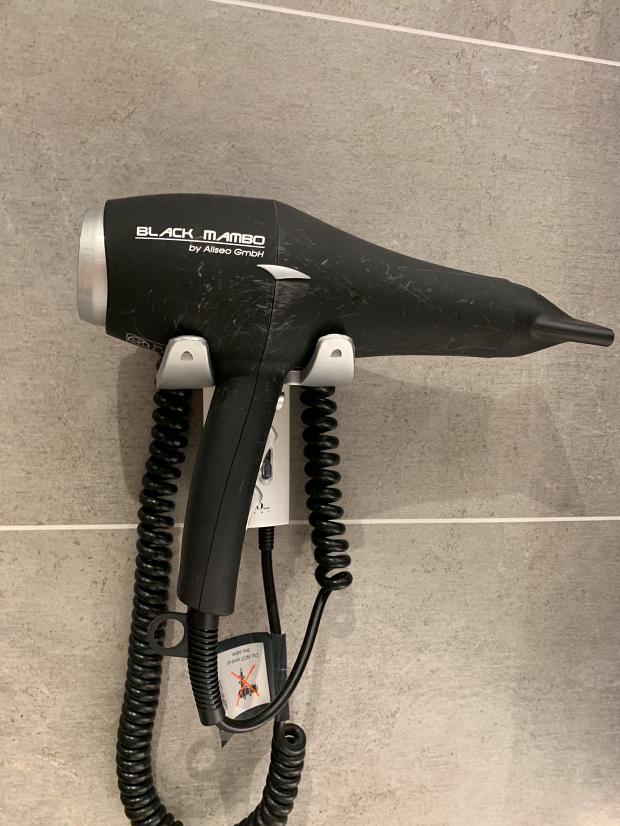 Dinner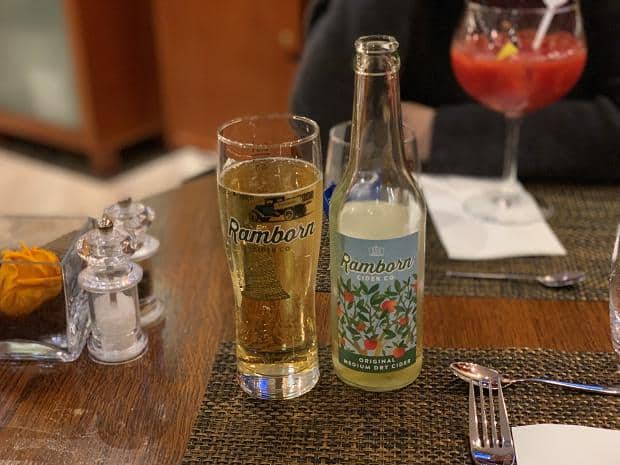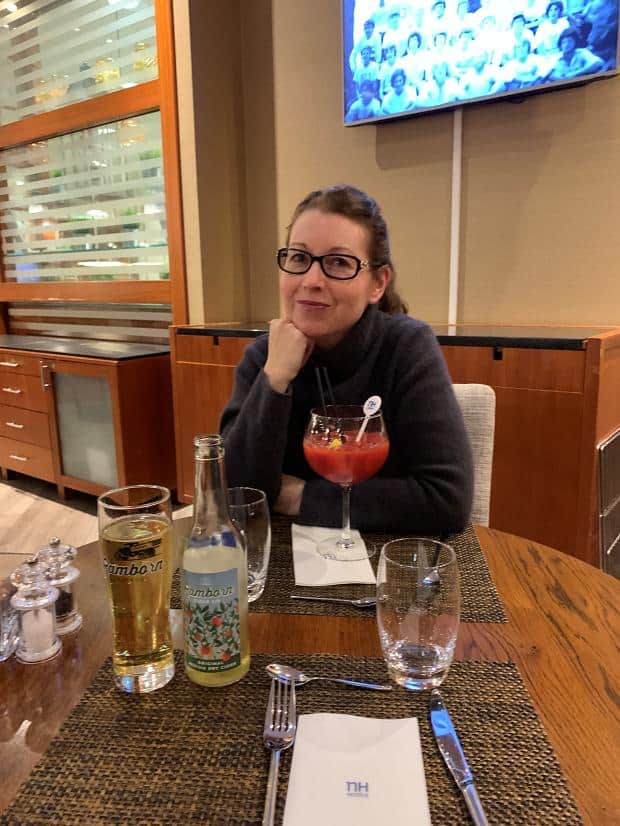 Back to the restaurant we went for dinner, a half dozen other diners matched by about the same number at the bar. I started with the local cider which was very drinkable, while Ange had an almost comically sized tomato juice.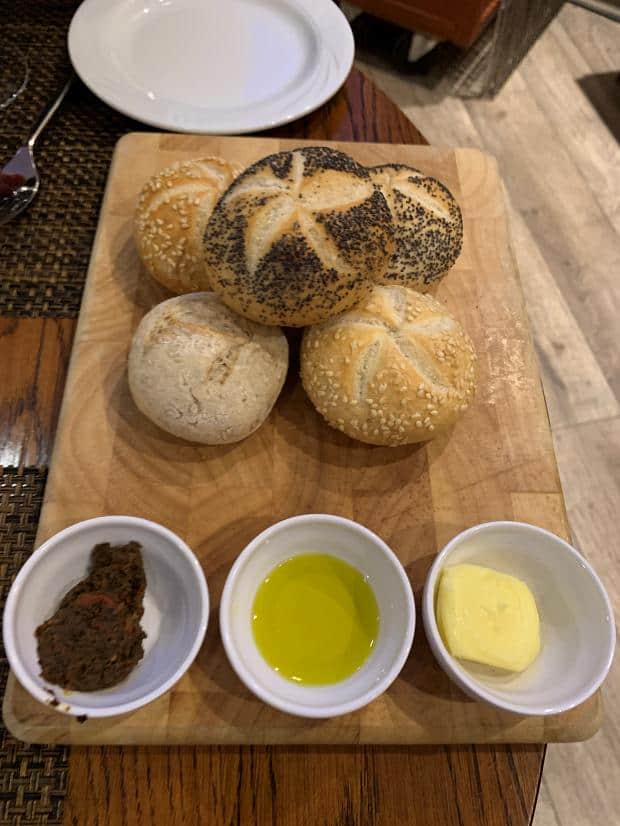 The waitress brought over a selection of buns and butter/oil/tapenade and I naughtily suggested to Ange that these were left over from lunch.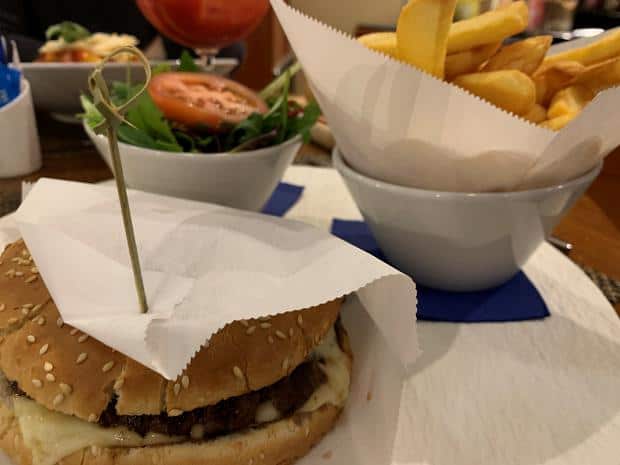 Ange went with the pasta while I ordered the burger, seeing that it came with both a side salad as well as fries. Therefore healthy!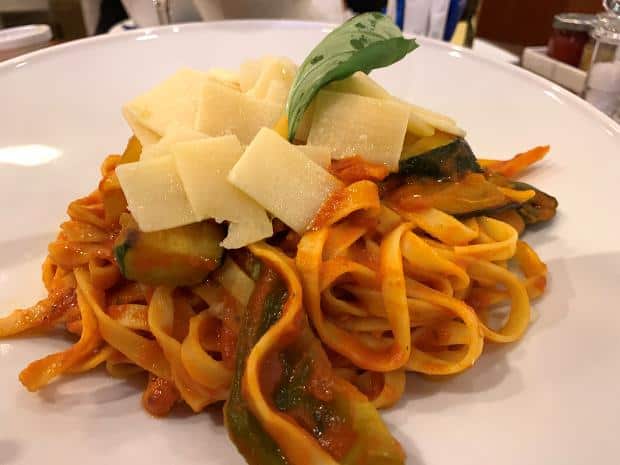 We shared the dessert: a slice of cheesecake covered in chocolate flakes. Despite being delicious, I almost had trouble finishing – I should not have had the bread to start!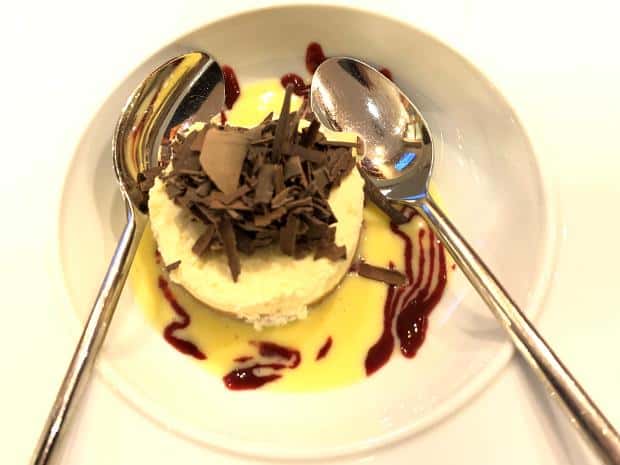 Breakfast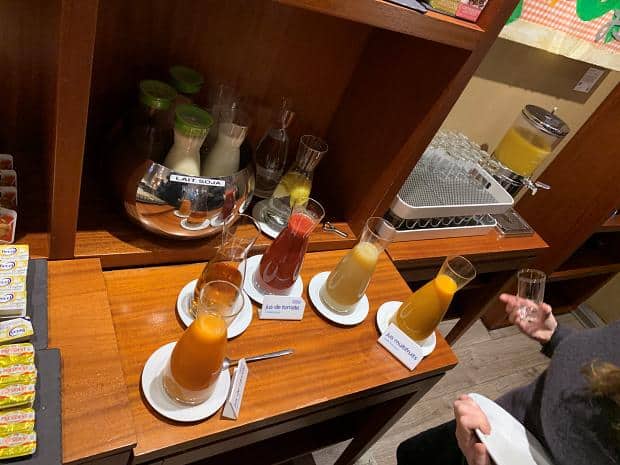 Breakfast, like lunch the day before, was an expansive experience, with a broad offering. Unlike lunch though, meat featured prominently! There were cold meats as part of the continental, as well as bacon and little sausages keeping warm under the heat lamps.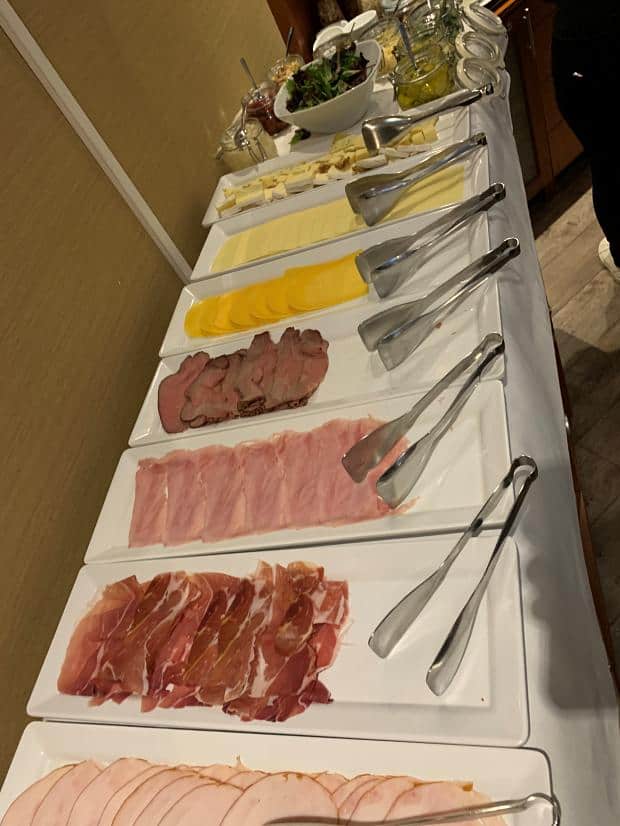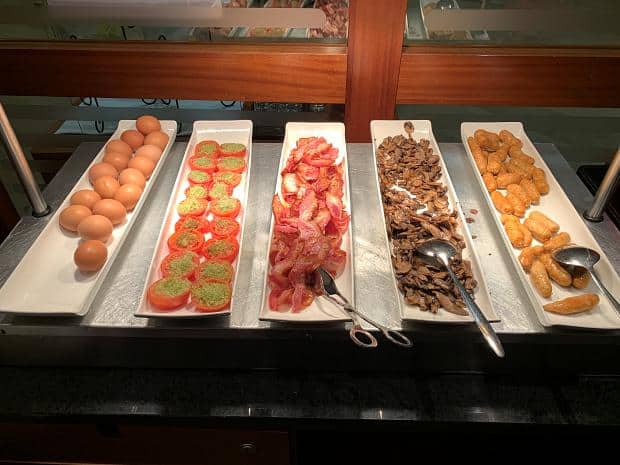 Plenty to choose from, with salads, cheeses and cereals jostling for space with pastries and fruit, but I had my sights set on the waffle maker and comb honey. Yum!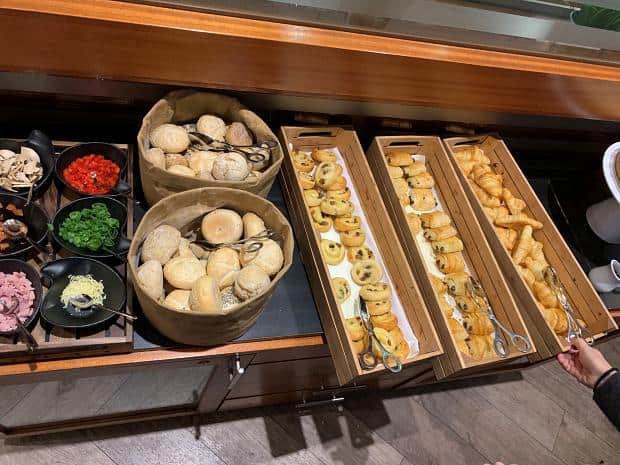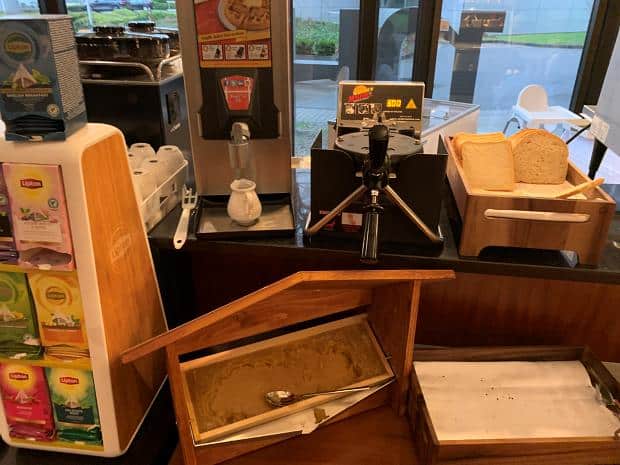 After waddling off well stuffed, we checked out and settled the bill. We thought we'd avail ourselves of the free shuttle to the airport, which was embarrassingly quick and comfortable, dropping us off at the hotel dropoff section of the carpark in front of the terminal.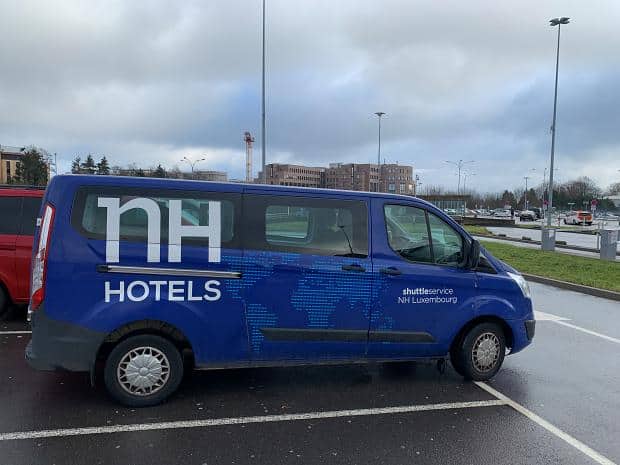 Would I Return?
I'm hoping that the renovation gets completed soon and someone goes around and checks the finishing: if that happens (and they fix the bathroom door), then absolutely – an airport hotel with good food and comfortable beds.