Location
We wanted to stay somewhere which was a little quieter and less hectic than the centre of town – with excellent public transport in Berlin you can be anywhere in the city in a very short period of time, so staying slightly further out where locals lived was a good choice.
Hotel Otto is located near the Berlin Institute of Technology, but more importantly is a ten minute stroll to the shopping centres and night life near the Zoo, and ten minutes walk from the Story of Berlin – a very cool museum with a nuclear bunker tour. Paradoxically, despite being so close to these attractions, the street that Hotel Otto is on is very quiet and leafy.
Room
We check in and head up to investigate the room. We face out over the carpark, away from the street which means we have zero street noise. There's a nice noticeboard just inside the door itemising the upcoming events which is a welcome touch and the toiletries are all FairTrade and ethically produced which is always appreciated. We also get a free bottle of water. My favourite design element are the angle-poise lamps which add a funky feel to the room.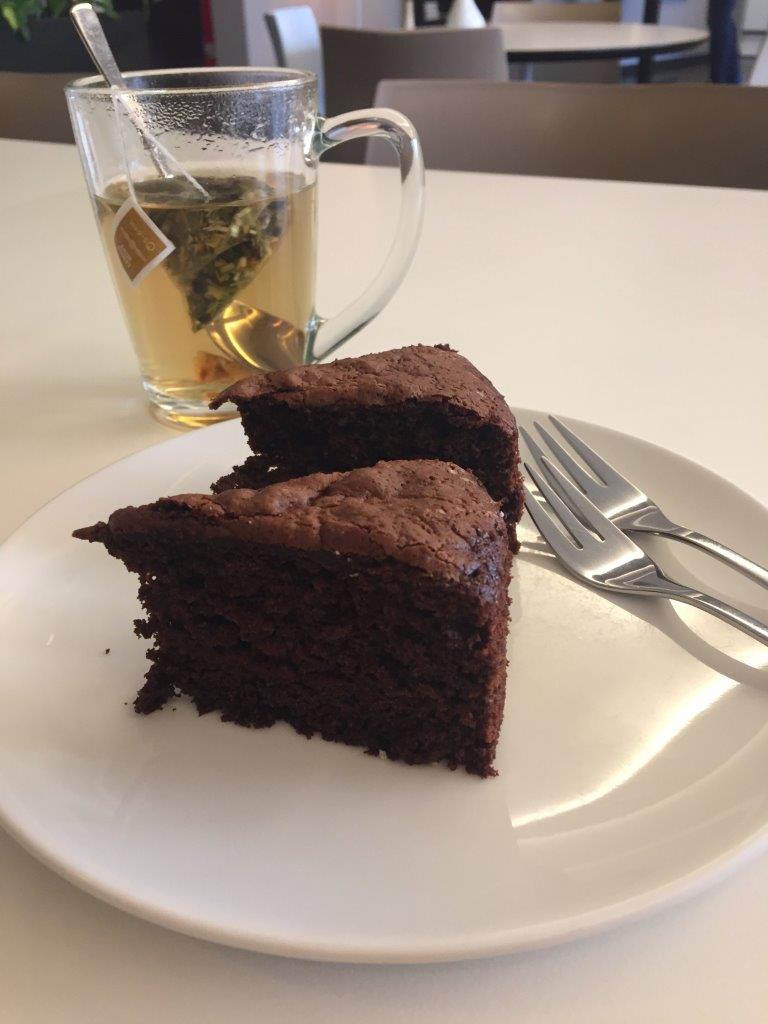 The bed is two singles pushed together and we just have time marvel at the walk in wardrobe before heading out and taking in some of the museums in Berlin.
When we need a break we rush back in time to head up to the free afternoon tea on the restaurant floor. We've missed the rush and still have a choice between a slice of chocolate or lemon cake to accompany our selection from a bewildering array of teas.
We both select the chocolate brownie cake which is, as you'd expect, delicious. We're tempted to try the lemon cake as well, but have to make tracks to ensure we get to the Story of Berlin in time to get on the last Bunker Tour.
Surrounds
On the way back from the museum we keep an eye out for a restaurant selling German cuisine which is surprisingly difficult. The museum was in a particularly touristy area so there are plenty to choose from there, but we want to eat closer to the hotel.
There are ample Italian and Indian restaurants and some Spanish tapas and even a French bistro style eateries nearby, but nothing totally German. We settle instead to eat at Pasta & Basta, a small Italian restaurant directly opposite the hotel. I have the fresh home made gnocchi, Ange gets the cannelloni and enjoy the convivial atmosphere. It feels equal parts cosy and homely, and the food is good too! We end up splitting a pannacotta for dessert.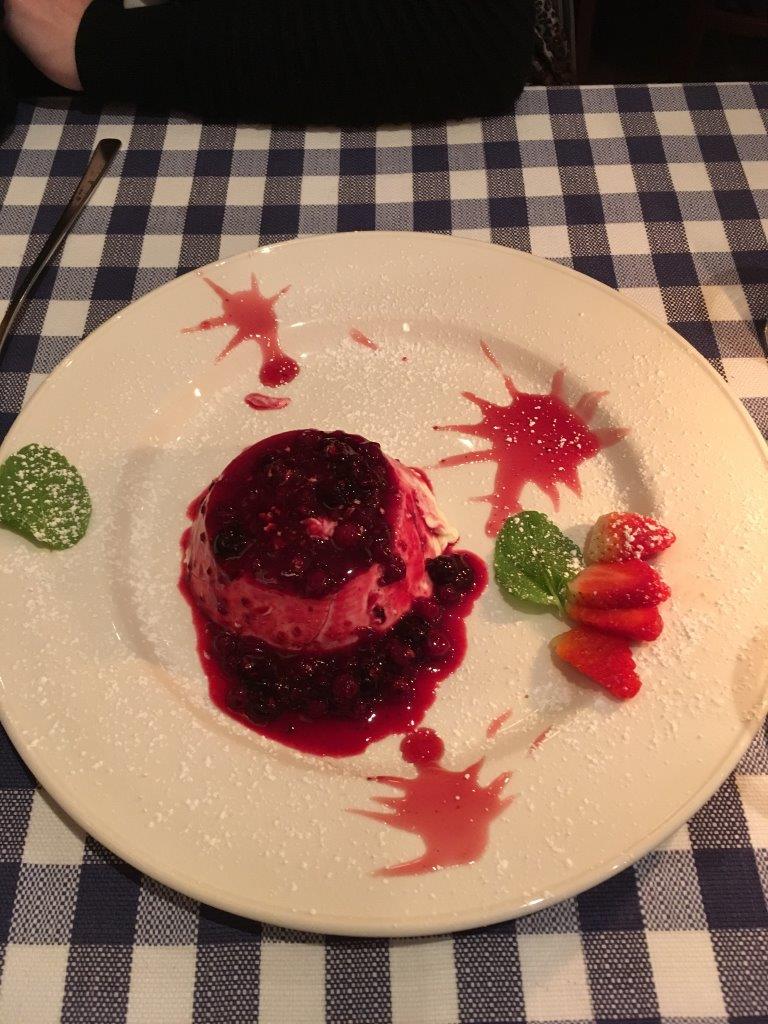 Breakfast
We'd been told that the hotel prided itself on its breakfast, and it certainly delivered! My favourite part are the crepes: there's a pre-folded crepe with yoghurt and strawberries or a plain one with a choice of syrups. There's also an extensive selection of breads, along with the gourmet jams which you can also buy to take home.
There's enough healthy choices also – fruit salads, watermelon and salmon. In addition I head back for some of the hot servings of scrambled eggs and sausage which are more my scene, and I finish with the pièce de résistance, a slice of cheesecake. Yup, cheesecake for breakfast! A nice touch is a little sign saying that if you have any nutritional requirements, to let them know – presumably they would have some gluten free offerings out the back
Pros and Cons
Pros

Location: It's just so close to everything, and yet retains a quiet neighbourhood feel – a brilliant combination which is rare
Breakfast: A great spread with a great dining room – the balcony is delightful
Free afternoon tea: a lovely touch!
Rate: the room rates are very reasonable making this a favourites for families

Cons

The lift: it quirkily stops between floors meaning you have to climb up or down a half flight of stairs regardless of where you get off.
Would I go back?
Definitely – It really is such a great location and the breakfast and afternoon tea are such thoughtful touches.
Hotel Otto supported our Summer 2017: UNESCO tour by providing a complimentary stay. All opinions remain our own.