There are 136 roses painted on the wall in front of me. They surround a list of years from 1961 to 1989: the years that the wall divided this city. But the roses aren't distributed evenly. There are thick clusters around the earliest dates, yet some of the later years are devoid of floral embellishment.
It's a bold statement, artwork by an artist named Susanne Kunjappu-Jellinek designed to make us remember the tragedy that once blighted this place. For each rose represents a life extinguished, the life of someone for whom remaining in East Berlin just wasn't an option, the life of someone who paid the ultimate sacrifice for the futility of political division.
Today, Berlin's East Side Gallery exudes no menace. In the bright August sunshine, almost twenty-five years after the wall fell, a souvenir shop advertises that for a euro, you can have your passport stamped to commemorate the event that set Germany on the road to recovery.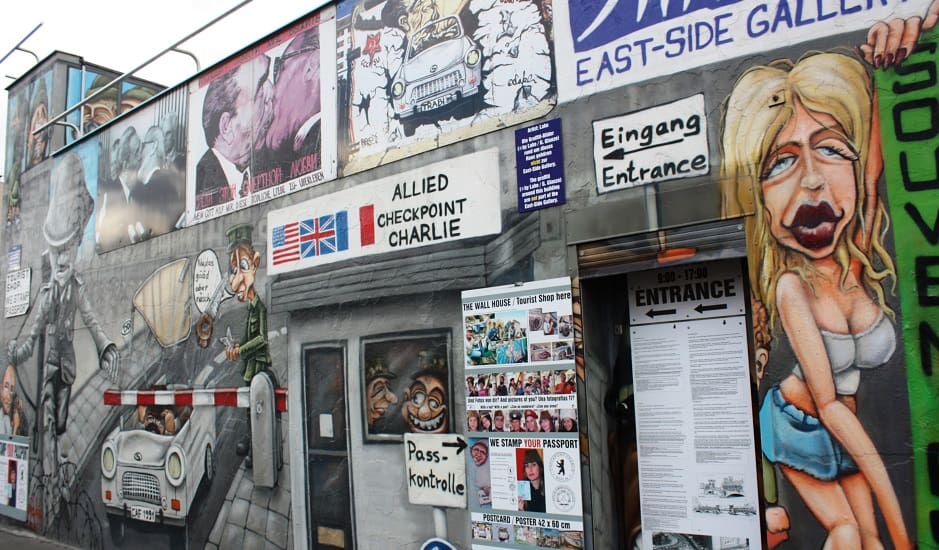 Inside, those tempted by the gaudy offerings are watched intently lest they sneak a photograph instead of a purchase. The surveillance is too much for me, and I head back outside. Perhaps that's the point.
It's a fascinating city, a world away from the chocolate box villages of Bavaria and the vineyards of the Rhine and Mosel. Berlin is edgy, gritty, tarnished by graffiti. But it has attitude in spades and after several visits, I've never felt unsafe as a solo female traveller.
This time, my base is the Adina, an apartment hotel in the Mitte district. Despite its proximity to the city's main station and passing trams, its side street location ensures it is as quiet as it is comfortable. After arriving early in the morning on the sleeper train from Munich, I'm refreshed and raring to go, but I'll welcome the efficient double glazing later.
Where to start? There are so many sights on my wish list it's hard to know where to begin, so I plunge in with the Fernsehturm, ascending the city's TV tower to get my bearings. Checkpoint Charlie, the Brandenburg Gate and the Reichstag follow before I decide I've seen more than enough sights for one day. The nearby Tiergarten provides a more than adequate patch of grass to savour an ice cream; Berlin's huge green lungs were once used for hunting before becoming its best-known city park.
Later, I'm feeling peckish again and the restaurant I've picked for dinner is Cafe Einstein. I've chosen it solely on the basis that Einstein is my dog's name, but it turns out the place has a bit of a story. Located on Kurfürstenstraße, its antique wooden panelling and attentive wait staff hark back to bygone days.
Housed in an 1878 villa that allegedly once belonged to Josef Goebbels, this Viennese-style cafe is known for its strudel. That's a fact that didn't escape film director Quentin Tarantino, who chose Cafe Einstein to double as the Parisian Chez Maurice in Inglourious Basterds – you might remember the scene where cinema owner Shosanna eats the stuff with Goebbels himself?
The Viennese connection is obvious in the dishes presented on its evening menu, and I feast on delicious schnitzel, saving room of course for a generous helping of strudel. It's a good job there's a U-Bahn stop just up the road for it would be a long walk back across the Tiergarten if I was relying solely on my feet to carry me.
Potsdam
Much as I'm enjoying the German capital, I'm keen to take the short train ride to one of the region's prettiest little towns: Potsdam. Its Schloss Cecilienhof was the setting for Churchill, Truman and Stalin's historic conference at the end of the Second World War in which they decided the fate of a defeated Germany.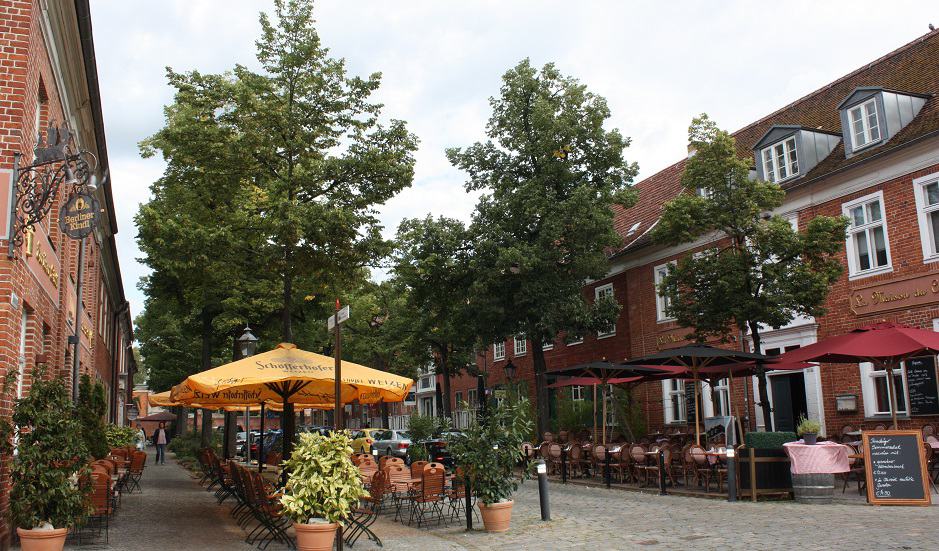 What I find, however, is a veritable United Nations. The closest district to the station is the Hollandisches Viertel. The work of Dutch architect Johann Boumann in the 18th century, I could easily be in Amsterdam as I potter around the many streets lined with Flemish-style antique shops.
A short walk and I'm in Russia, or to be precise, the Kolonie Alexandrowka. Log-clad cottages wouldn't be out of place in Siberia, save for the lack of tumbledown quality. Festooned with pink and purple begonias, there's no doubt we're in Germany, but I learn that the alien building style was a deliberate attempt to attract migrants.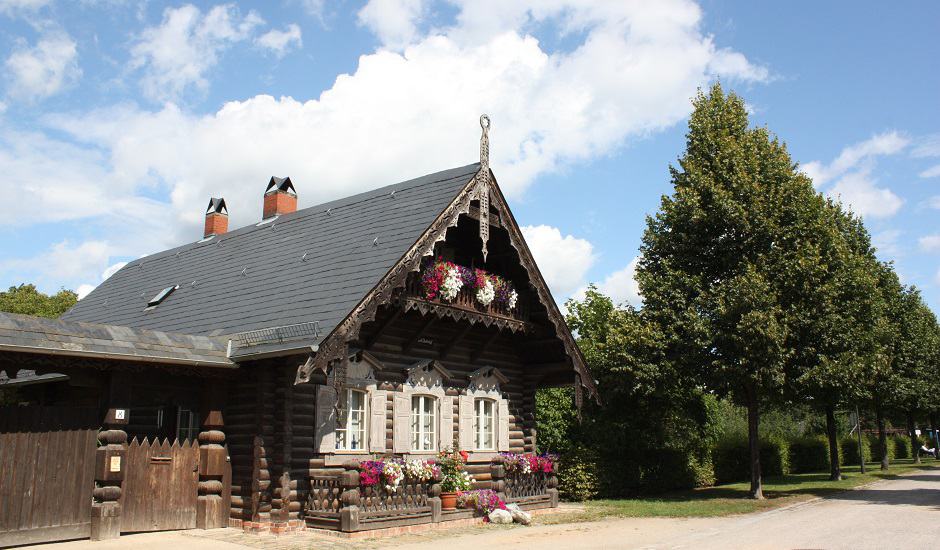 As with the Dutch quarter, the craftsmanship and skill of these foreign artisans was highly prized and actively sought by the Prussian kings of the time. Up the hill, a path takes me to the woods and I find myself looking at a fairy tale domed church in pastel pink enclosed by trees. It's a shame it's locked, with no caretaker around to let me in.
Potsdam's main draw though is Sanssouci, the largest UNESCO World Heritage site in Germany. The grounds are delightful, hiding an 18th century Chinese tea house whose gilt statues flicker in the dappled sunshine.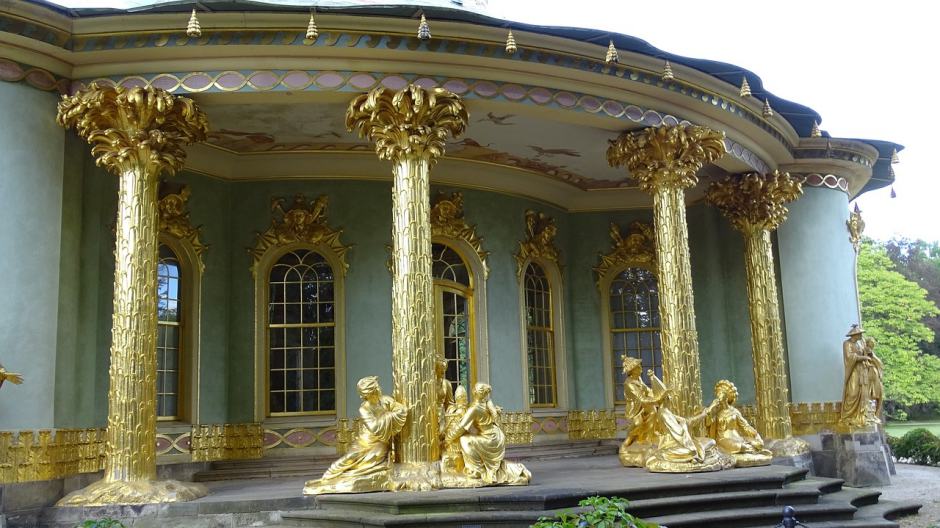 I explore for so long I almost miss the Neues Palais. Built by Frederick the Great, he probably envisaged more of a wow factor than I got – with a dome covered in scaffolding and an events crew packing up a mountain of metal fencing, it's not looking its best.
I duck back into the grounds in search of his summer palace, a stately home set next to a windmill. Some say it's like a German Versailles and although that's a bit of a stretch, it's easy to see why it's a fitting location for Frederick's final resting place. It's a good thing that Berlin's nightlife is calling, or, like Frederick, I might never leave.