Following a 15 hour transit in Kuala Lumpur, six of which I spent at Tune Hotel, I was well and truly ready for the next leg of my flight to Frankfurt flying Vietnam Airlines, and organised (well so I thought).
I confidently strode to the departures area of KLIA2 and checked the departures board for my 8pm flight. No sign of it, it was only showing AirAsia flights. Very odd. I checked again. Nope. I felt a slight panic arise. I looked at my printed itinerary, oh right, I needed to be at the main KLIA terminal, not KLIA2. No worries, I'd catch the KLIA Express.
After purchasing a ticket I went down to the platform. The next train was in 20 minutes. Ok, that was pushing it a bit, it was approaching 6pm, by the time the train arrived and I got to the terminal it would be heading towards 7. I still had to check in my baggage so I thought a taxi would be the next best option.
I went back upstairs and tried to find a taxi, eventually I found them but they wouldn't accept cash, so I had to line up to get a voucher. All this added extra minutes that I didn't really have. The stress was also compounded by the taxi driver who I left with who was not very reassuring with his "KLIA is a very big airport, I hope you don't miss your flight".
But he obligingly put the pedal to the metal and we sped along. He jokingly passed comment on a taxi who had crashed on the side of the road "He was very fast, but not safe, don't worry I'm fast but also safe". I hoped this was true for the fact that neither of us were wearing seat belts.
At KLIA I checked in, there were no other passengers in sight and headed off to the Departures gates. I felt calmer. But I was pulled up short at customs which had a sizeable queue of people and only two officials looking at passports. The panic set in again, it looked like we were going to be here for hours. But a couple behind me were chilled out and said they reckoned 15 minutes. They were right.
So after all that I was at the Departure gate with time to spare, and the flight was half an hour late boarding anyway. No need to stress at all really. But I was glad I'd caught a taxi anyway instead of waiting for the train.
We flew 1.5 hours to Ho Chi Minh City where we transited for two hours, then changed onto a Boeing 787-9 Dreamliner for the 12 hour flight to Frankfurt. After flying the first leg with AirAsia the Dreamliner was bliss.
Although I was in economy I had comfortable seating, soft blankets, pillows, movies, and the added luxury of the Empty Seat option which consisted of two empty seats next to me which I'd reserved via Optiontown for USD$33.
They let you know up to three hours before you fly if you've been successful with the Empty Seat option, if not, they give you a refund.
I also got a chance to try out the Dreamliner's dimming window which replaces traditional shutters. You push the bottom half of the button to make it darker and the top half to make it lighter. However, as we flew during nighttime and arrived early morning I didn't really get to see it in action like this video demonstrates.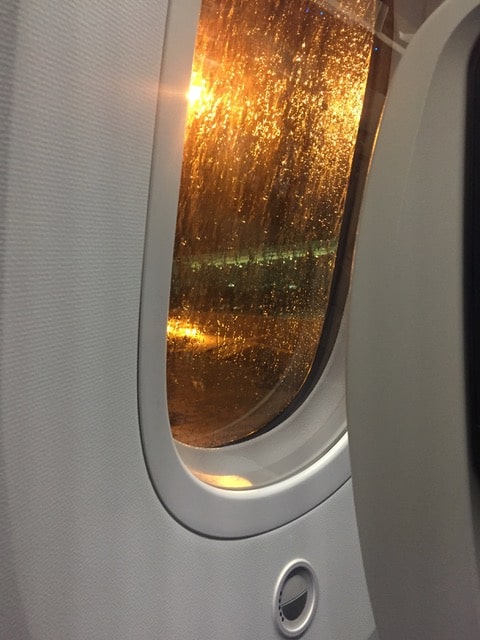 Even though I personally was happy about the empty seats next to me, it seemed others were a bit nonplussed as to why they were empty when the rest of the plane was full.
A group of Germans on the other side of the aisle were quite packed in, to the point where a lady extracted herself from a middle seat of three and plopped herself down in one of my empty ones. "No one is sitting here?" she asked. "Um actually yes, I've reserved them".
She looked a bit put out and went back to her own seat. I felt a bit bad about it but after flying 12 hours from Auckland and a 15 hour transit in KL with only four hours sleep I was looking forward to lying down. Plus I had paid for them.
Anyway, immediately after take off I put the arm rests up, got my blanket (of which I had three), piled up my three pillows and stretched out for the next few hours. Food arrived shortly after take off, and again just before landing. No complaints there, it was pretty good as airline food goes.
I did get a bit hungry four hours from landing so I went up the back and asked for a snack which they were happy to provide in the form of 2 minute noodles.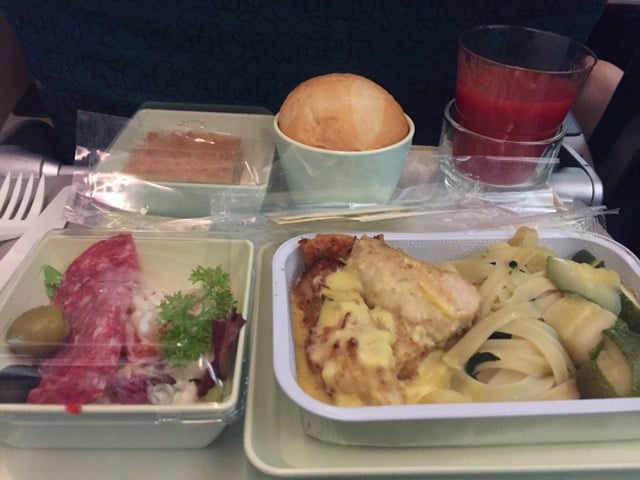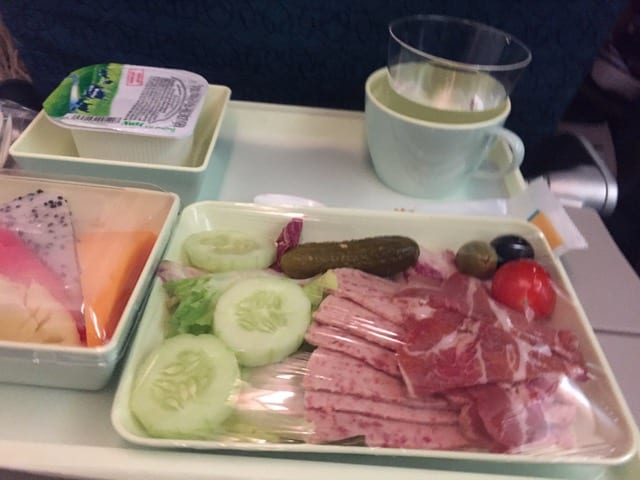 We arrived at Frankfurt safely with no dramas and I felt surprisingly rested. I'd be happy to fly with Vietnam Airlines again on a Dreamliner 787-9, especially if I had the Empty Seat option. It just gives you a lot more comfort and space which you need on a long haul flight but be warned if you go for the upgrade, you may get some envious looks.