I wanted to get Ange something special for Christmas and as she had never travelled business class, it seemed fitting to get the Dubai to Auckland leg of our trip home in Business Class. We'd been trying to minimise jetlag, hence the stopover in Dubai, and getting some sleep on each overnight leg in lie flat beds struck me as a good option.
There are a number of options to get to Auckland from Dubai on a lie flat bed (search results from Skyscanner for travel 4 months in advance, just for comparative purposes):
Emirates flies direct in under 16 hours but at NZ$6k per seat it's a bit pricey
Singapore Airlines stops off in Singapore will get you there in 18 ½ hours for NZ$3.3k
Thai Airways stops off in Bangkok and does the trip in less than 30 hours for NZ$3k
China Southern was very reasonably priced at NZ$2.9k with one stop over in their hub in Guangzhou taking 31 hours
Etihad will get you to take a bus to Abu Dhabi then a stopover in Hong Kong – all up 33 hours and a shade over NZ$5k
Air China stops off in Peking, taking 33½ hours for NZ$5.5k
Korean Air takes longer – 37 hours with a stopover in Incheon but a reasonable NZ$4.3k
Cathay was the cheapest though, less than 28 hours with a stopover in Hong Kong for NZ$2.5k.
In our case (because of Christmas) the search engines were bringing up prices for Cathay of NZ$3.5k pp. I reached out to my travel agent and was surprised that he was able to get it cheaper, coming in at NZ$6.3k all up.
So for our NZ$6.3k (£3.2k/US$4.6k) we'd get
access to a business class lounge in Dubai
lie flat beds for 7½hours on CX0738 in one of Cathay's A330-300 Airbuses
three and a half hours in one of Cathay's four lounges in Hong Kong
another lie flat bed for 11¼ hours on CX0199 in the A350-900.
I figured we'd have to get some sleep with all that lying down!!
So that was the plan… but the universe hasn't met a plan it can't derail.
Business Class Check-in Dubai
We rocked up to the Business class check-in at Dubai well and truly early. I figured to maximise our time in the Lounge (free food! free drinks!) we'd try checking in early. Understandably the lady at check-in said that we were too early, so we headed upstairs to watch the planes taking off and to do some work.
We settled for a small snack to tide us over, and then at the appointed hour we headed back down and queued.
We were second in line behind a slim middle aged man, and when they opened both Business class check-in desks we could overhear his conversation. He was apparently irate that he wasn't able to get a boarding pass for his onward journey – the staff member had first said that it was because the onward flight was full and then changed her story, and that it was because it was too early.
Angrily realising that he was making a scene, he muttered "they're two different things – which is it?" before heading off up the stairs towards the lounges. The lady serving us said that we'd have to get our onward (HKG-AKL) boarding pass from the transfer desk in Hong Kong.
I was a little uneasy – this was the first time this had ever happened so I wasn't sure if it was an operational issue or something I needed to worry about. More importantly I didn't want to worry Ange if it wasn't needed. So we ensured that we wouldn't have to collect our luggage in Hong Kong and recheck it and then headed up to the lounge.
Lufthansa Business Class Lounge Dubai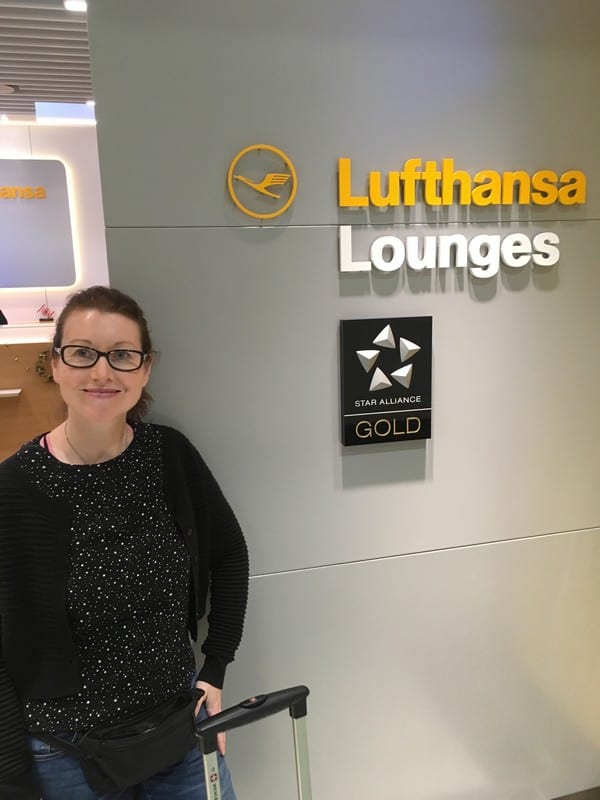 We had a few dirhams left from Dubai, so we stopped off in one of the many souvenir shops just after the security checkpoint and tried to find something worthy of what notes we had remaining. I eventually settled on a couple of toy camels which would use up most of my money, and then we made our way up the escalators and down a seemingly never ending corridor towards the Lufthansa Lounge.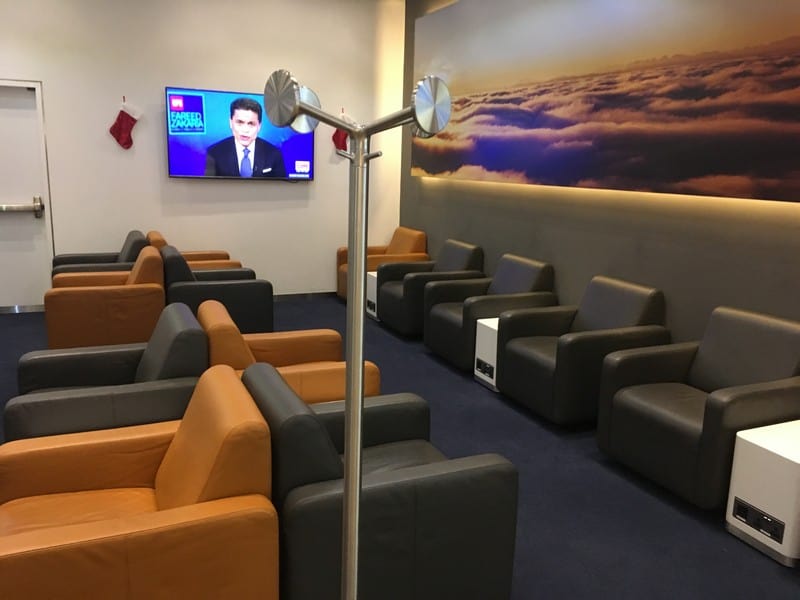 Cathay don't have enough business class passengers travelling from Dubai to justify having their own lounge, so they have an arrangement with a couple of other airlines to share theirs. Our flight was assigned the Lufthansa one and I was looking forward to showing Ange how Business class passengers were treated (my memories of the United Lounge at Heathrow top of my mind).
I must admit to being a little let down – the spaciousness and facilities from the United Lounge weren't replicated here. Don't get me wrong – the comfy chairs with USB and power points at each were better than sitting in a crowded and noisy terminal, but it proved to me that there were lounges and then there were lounges.
We'd made a point of getting there early and it proved a good idea. While there was a very good variety of food available, there really wasn't a whole lot of it. As the lounge began to fill up we appreciated the opportunity that we'd had on arriving first to sample whatever we liked, as towards the end there wasn't much of anything!
The food itself was simple but good and the staff were constantly in motion from the kitchens, replenishing the small plates.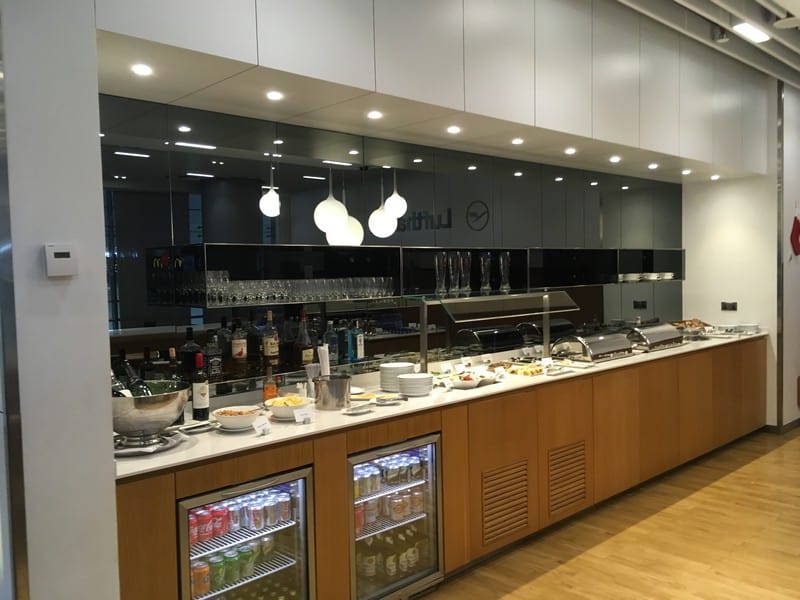 We kept one eye on the Departures board at the reception and when our flight showed up as Boarding, we headed down to the gate. I was explaining to Ange as we went that we could afford to wait a bit longer in the lounge as the timings of loading would be dictated by getting all the Economy passengers on. She smiled and explained that she was keen on checking out the seat.
I grinned as we approached the gate and saw the snaking line of passengers waiting to board. Normally such a sight would fill me with dread for the impending wait, and I knew that's what Ange would be feeling. But the Business class desk was empty and so we barely slowed down and then we were aboard.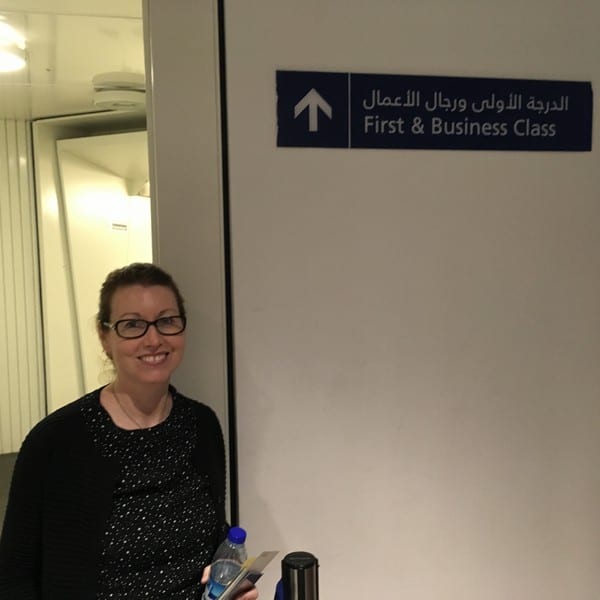 Funnily enough, although the First and Business class passengers have their own airbridge, the Business class seats are split across two sections, one up front and the other after the Premium and Economy class airbridge joins the plane.
We were in the second section and so traipsed through the entire other Business section to get to our seats. It would have been quicker to just have used the Premium/Economy airbridge…
The Seat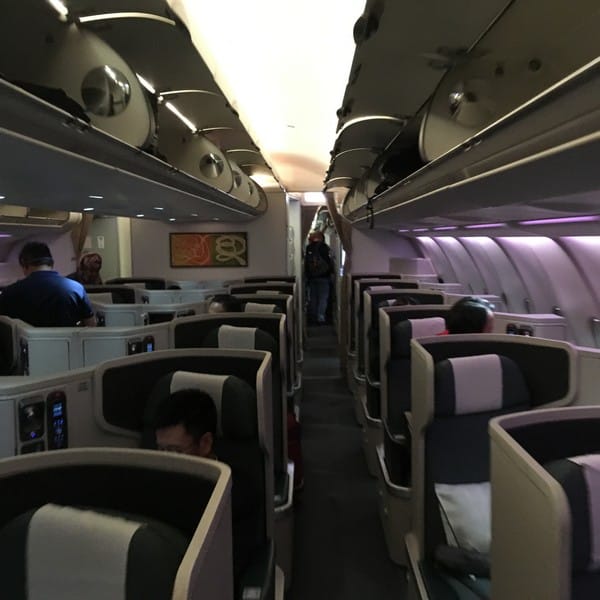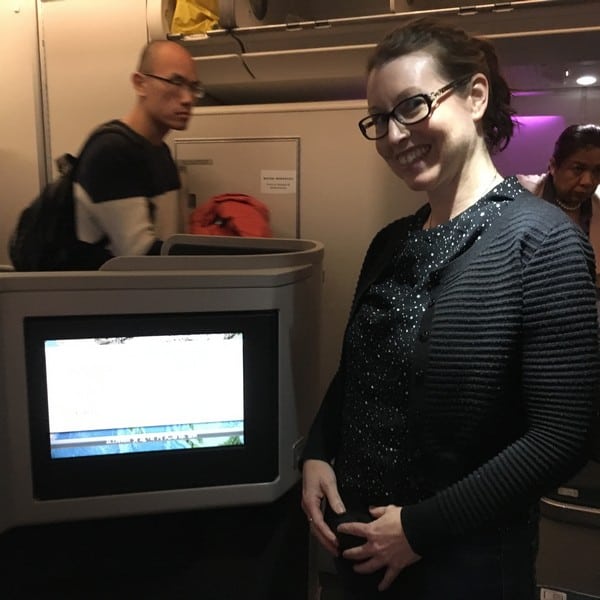 The seat itself is in a herring bone layout which just means that it's sitting at an angle. It's laid out in a 1-2-1 formation and Ange and I were fortunate enough to get adjoining seats, but if you were travelling alone there's plenty of privacy: the seats are angled away from each other.
The Panel
Tucked away is the command centre of the seat, the panel. Here you find a reading light, a phone/remote control which pops out of the panel and is connected by a retractable cord, the seat control, a UK power point and collection of audio and USB ports.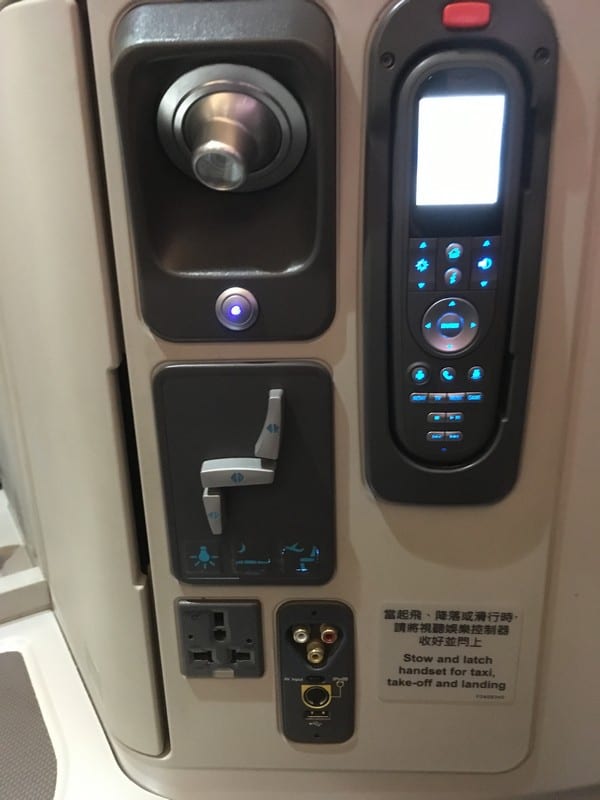 Cleverly tucked away was a little closet with a fancy set of headphones hanging inside. The inside of the door was mirrored so if you wanted to see if you had any spinach stuck in your teeth after dinner you wouldn't have to get up to go to the bathroom.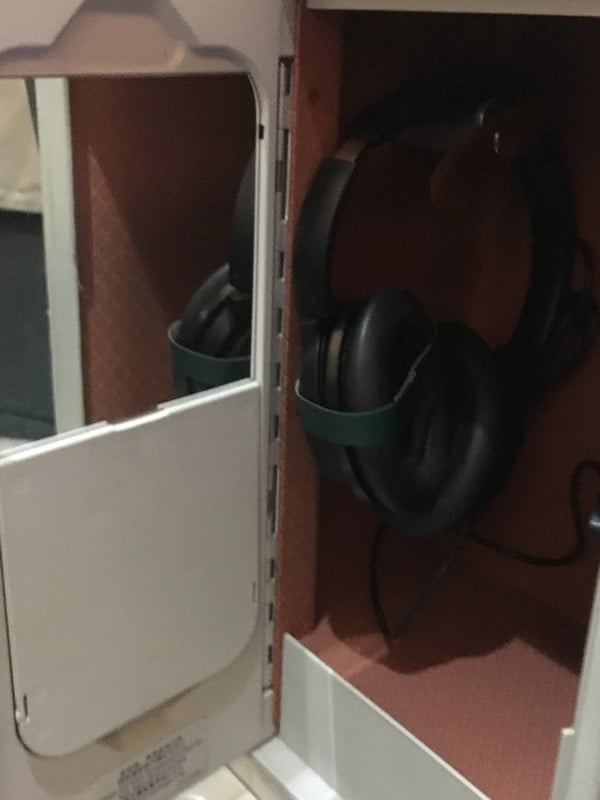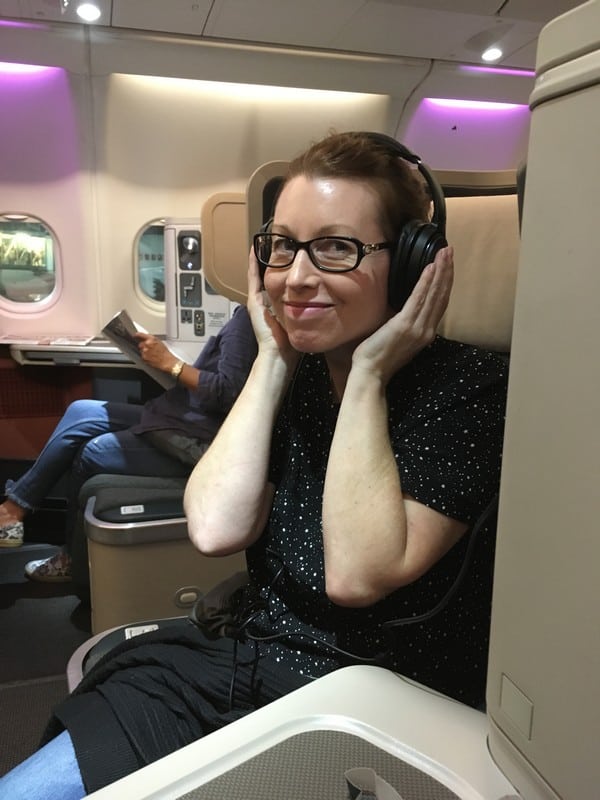 The Amenity Bag
I'd told Ange about the amenity bags that I'd got from Air China and so she was quite looking forward to the goodies and so after an initial inspection of the seat when she couldn't find them she looked at me quizzically and asked if I knew where they were.
I looked around and couldn't find them so said that I didn't know – maybe Cathay didn't do them? Not long after that the customer services rep came through the cabin handing them out and order was restored.

So, what do you get in the amenity bag?
travel socks
eye mask
ear plugs
toothbrush
toothpaste
mouthwash
restoring mist
lip gel
moisturiser
The beauty products, Ange assured me, were a good quality brand (Jurlique) – I wouldn't know…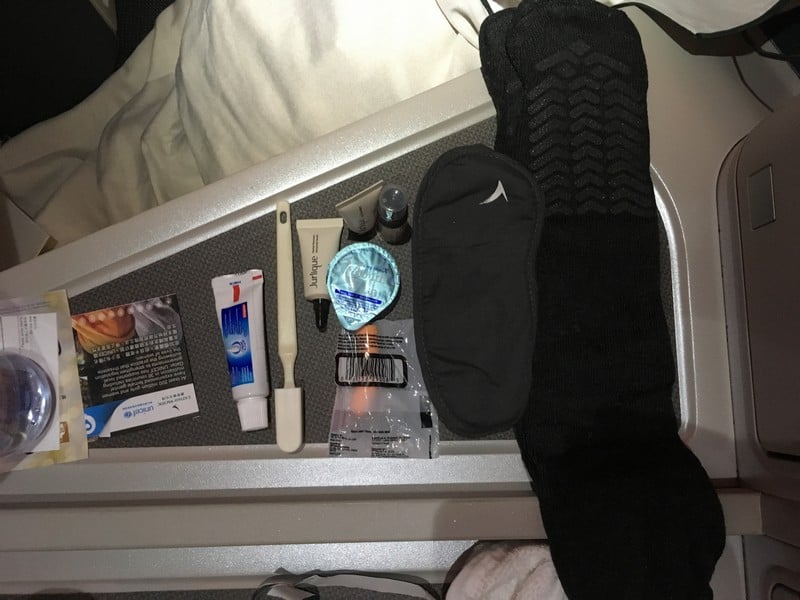 The Food
We eat with our eyes. There are a bunch of scientific studies that indicate that food presented well is reported as tasting better. Further studies show that having food with decent cutlery actually makes the food taste better too. Even bearing those two studies in mind, I still think that the food in Business is better than that in Economy. But I'm open to it being all psychological.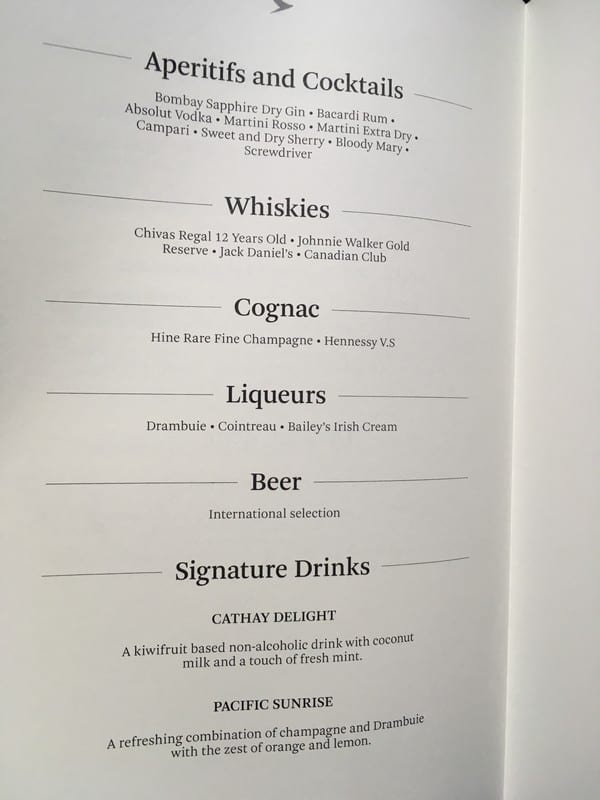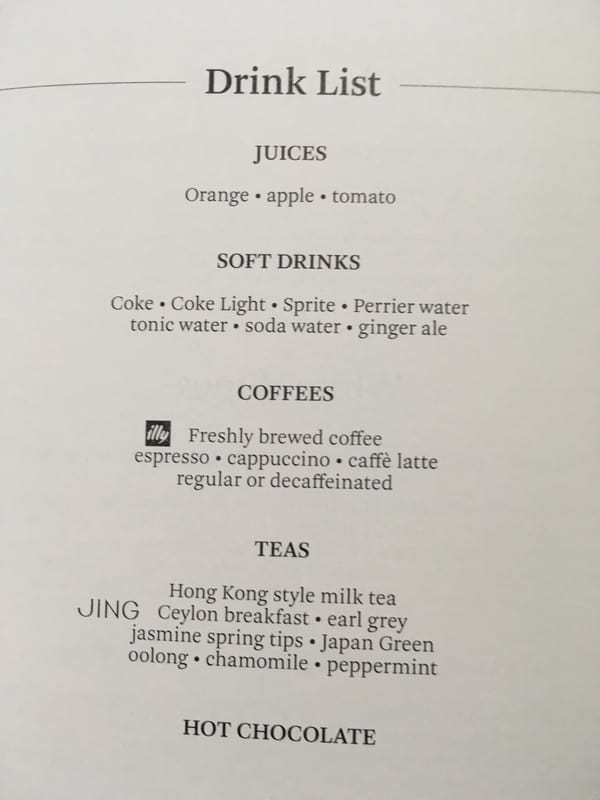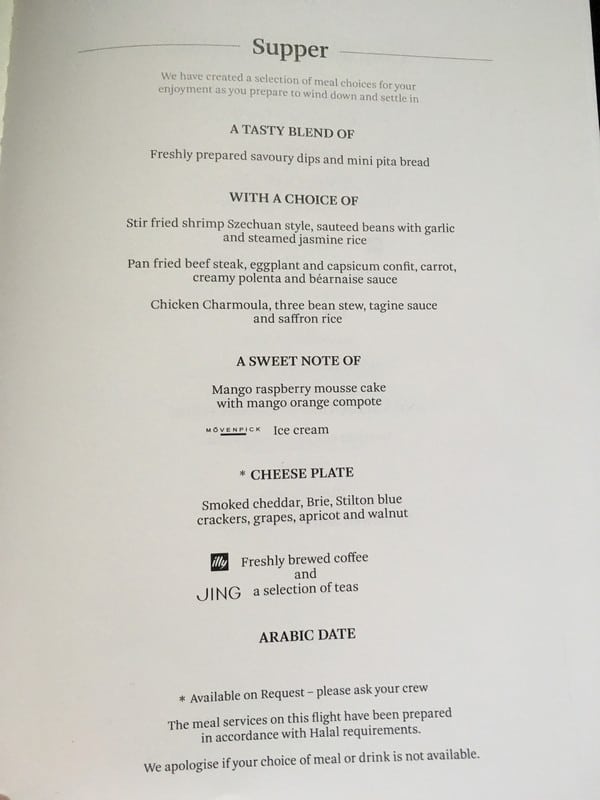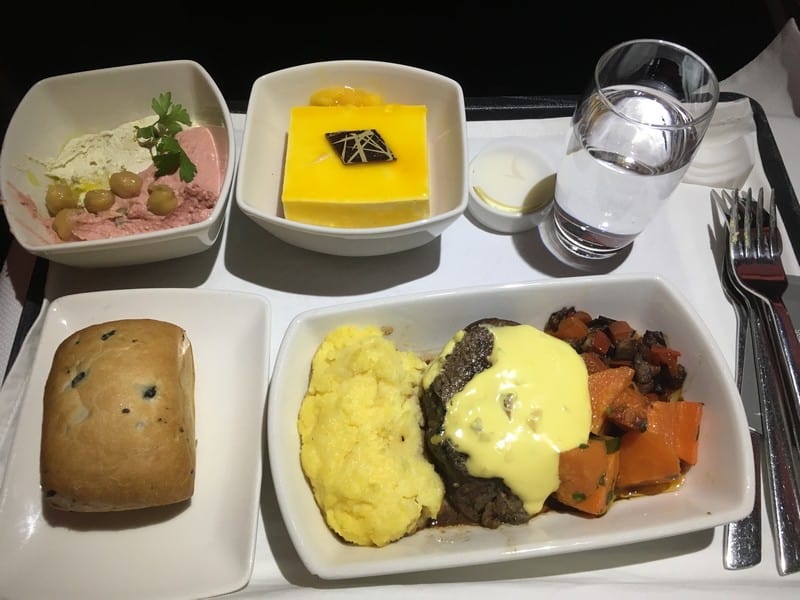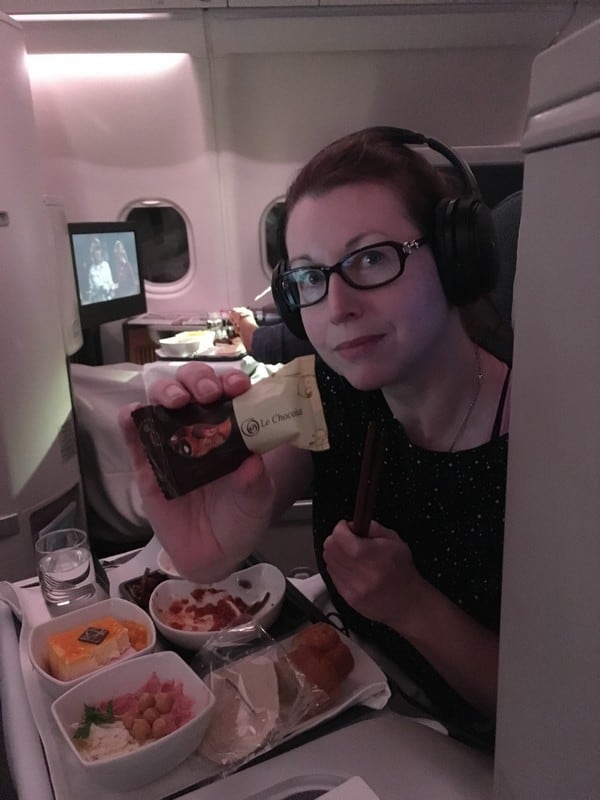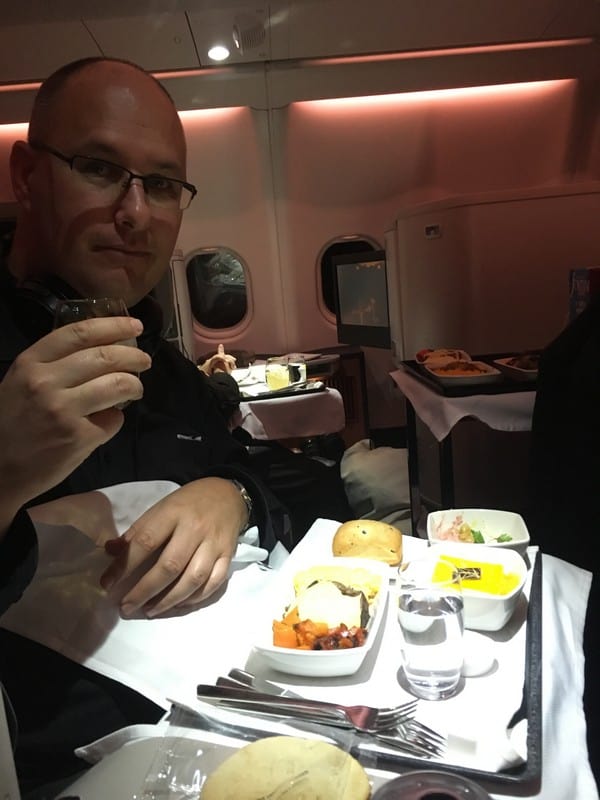 The Bed
The mere fact that you are fully reclined makes sleep possible for me. And that means a lot. The Cathay seat on the A330-300 has a cubby at the end of the bed where tall people put their feet, so that does restrict movement a little when you're fully stretched out.
Apart from that, the seat/mattress is comfortable enough and the duvet is particularly nice. Even with the seatbelt on it is possible to find a couple of comfortable positions.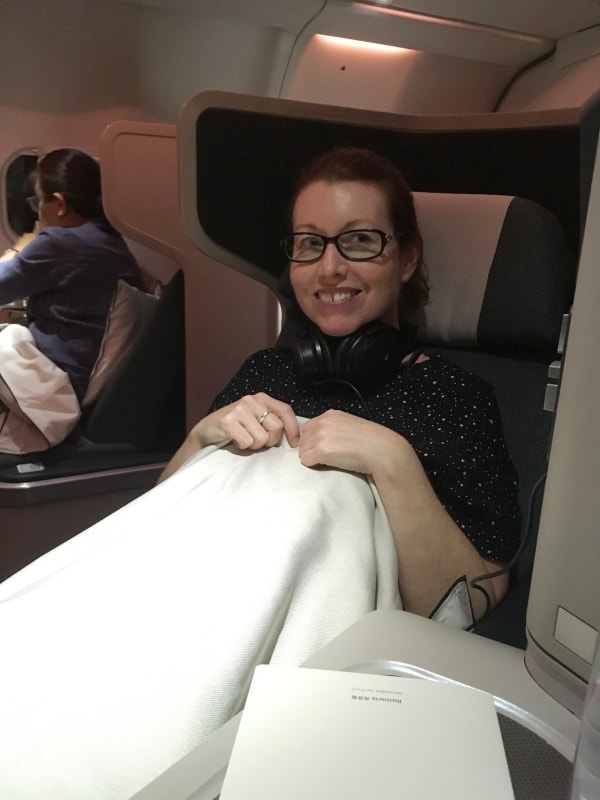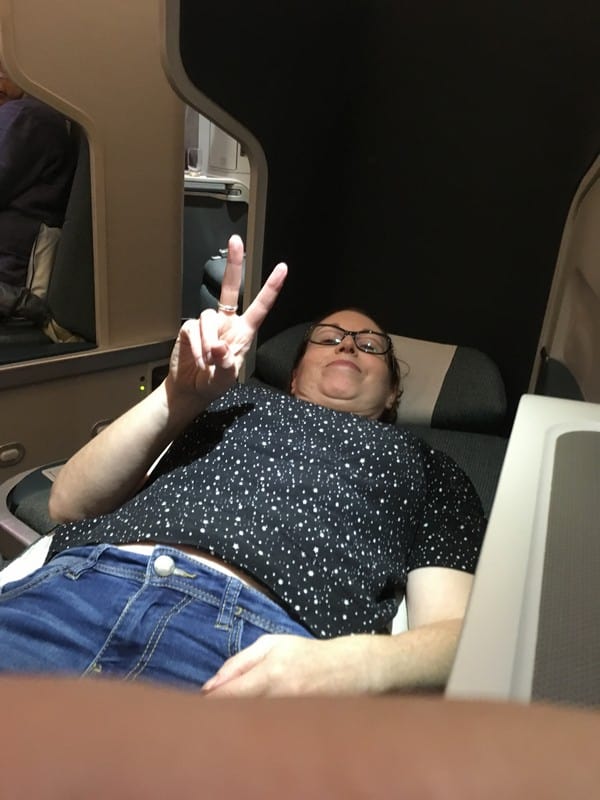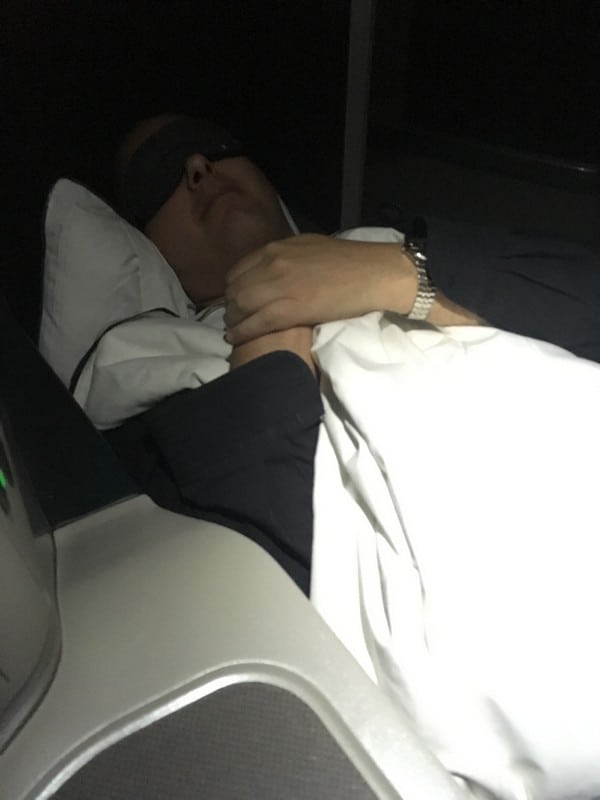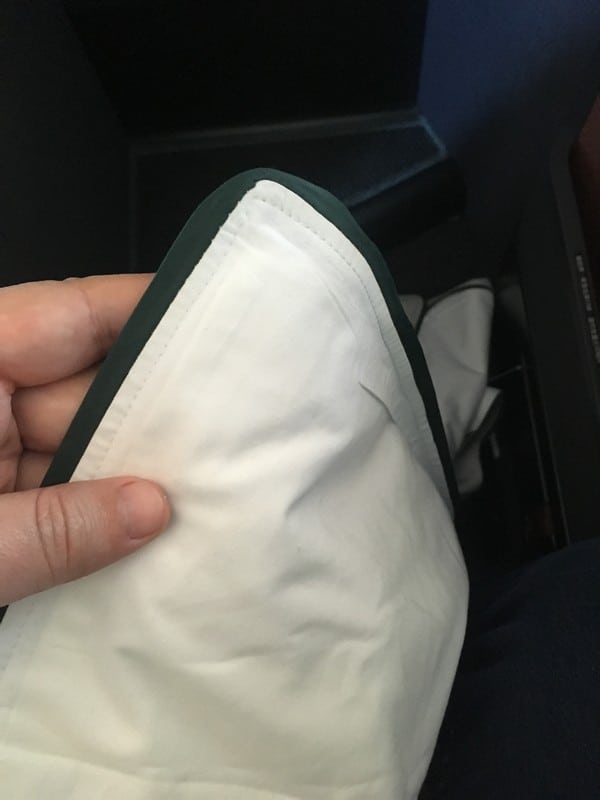 Hong Kong
Still a bit groggy from the flight, we made our way off the flight. Being very near the door for the Economy airbridge we were pretty much first off and headed towards the terminal.
I kept repeating "Transfer Desk, Transfer Desk" to myself so that I wouldn't forget and end up on the streets of Hong Kong, but I needn't have bothered.
A pair of Cathay staff were waiting for us just inside the terminal with a sign with our names on it. We identified us and they walked us to the Transfer Desk but I was a little worried that they had felt the need to ensure that we made it to the Transfer Desk.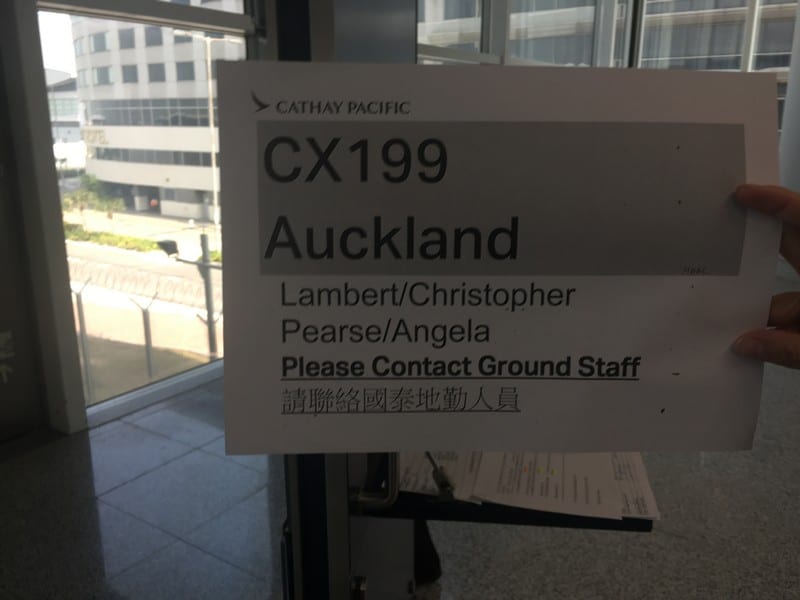 We soon found out why.
"I'm very sorry sir, your flight is full in Business Class and you have been selected for moving to economy class."
Oh wow I thought, this sucks – I guess this is what happened to the other guy in Dubai and why we weren't able to get boarding passes printed.
"We'll give you compensation for swapping you to Economy sir". I look over at Ange – this was supposed to be her Christmas present!
Uh, is it possible to get us in business class on a later flight? I ask. The lady behind the counter looks uncomfortable and says that as it's Christmas time all the other flights to Auckland are full. I'm tempted to say that's fine, we'll wait (expecting them to pick up the tab for a hotel room while we wait) but the fact that it's only a week before Christmas makes me reconsider – getting home together in time for Christmas is slightly more important than travelling business class.
"We of course will offer you compensation" repeats the lady behind the counter, reading out some numbers. I plug them into my foreign exchange converter and it comes to $400. "That's each" she says, beaming. I frown at her – that's a bit of a slap in the face – bumping us down to Economy and then offering a pittance. She seems taken back, as if we should be very happy for the offer, and tells us that the amount they're offering is the difference between the last minute Business Class fares on this leg and the last minute Economy seats.
One of the other staff at the Transfer desk comes over and asks how essential it is that we travel in the same cabin. I look over at Ange and she shakes her head – images of splitting the time in Business Class fleetingly pass through my mind.
What about Premium Economy I ask? Do you have two seats there? A quick look through the computer tells us that there's nothing available there.
The team leader chats with our original staff member and comes over with a piece of paper. This is the amount we're offering you she says and I look down. There are more numbers there than previously mentioned and I plug these into the Foreign Exchange app on our iPhone. My eyes widen. The original lady had put the decimal point in the wrong place.
The amount of Hong Kong Dollars that they are offering in compensation translates to close to NZ$8,000 – close to NZ$2k more than what we'd paid for the complete trip for both of us.
I nod, now understanding their reaction and ask if we can have a minute to discuss the offer.
Our first choice would, of course, be to do the Business Class trip, but if we rolled the dice and gambled on there being a pair of cancellations in Business class between now and Christmas, then we may end up stuck in Hong Kong, especially if there were no available Economy seats!
Better to take the money and run – a totally free Business Class experience from Dubai to Hong Kong might be worth the misery of Economy for 12 hours to Auckland. Maybe. I apologised to Ange and said that I guess it was only half the Christmas present I had promised, but she was good about it.
Begrudgingly we agreed. We were allowed in the Business Class Lounge while we waited, and at the last minute they would see if anyone was a no-show in Business Class. If there were two no-shows in Business, they would give us those seats, but otherwise they would give us envelopes with HK$ in them and two boarding passes for Economy class seats. They'd try to give us exit row seats.
The Wing: Business Class Lounge in Hong Kong
The circumstances tainted the lounge experience at Hong Kong, which was a pity. Cathay has four business class lounges at Hong Kong, and we were directed to The Wing, which was an airy, spacious collection of comfortable couches and work areas. In addition to the standard array of food and beverages that the Lufthansa lounge had offered in Dubai, it also offered a Noodle Bar where chef's would make you your noodles to your liking.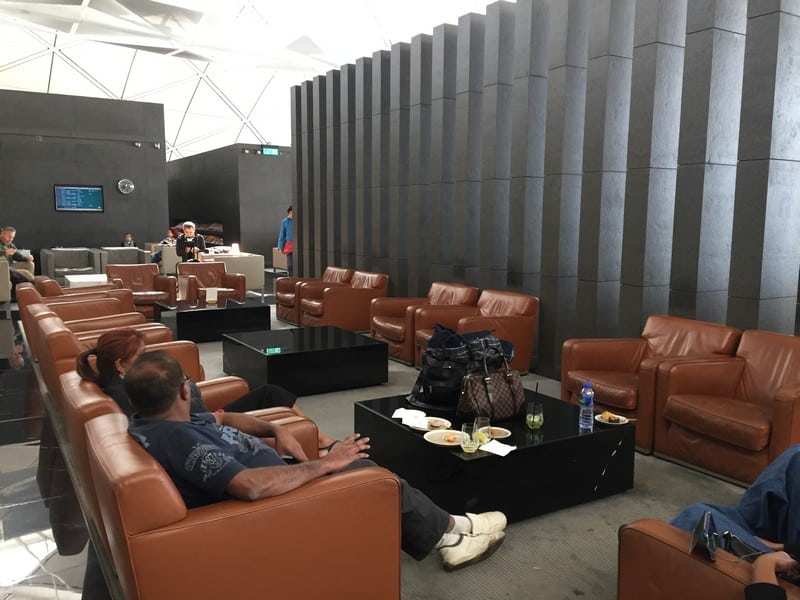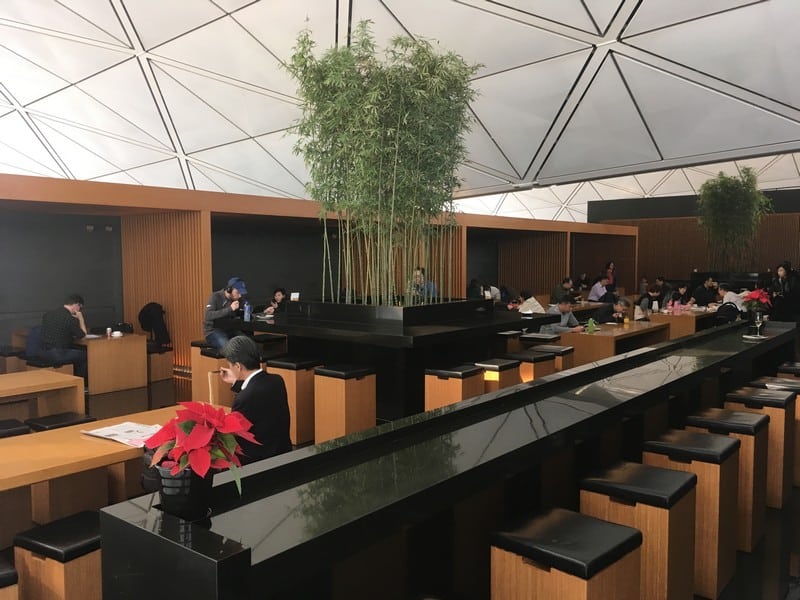 If we'd been heading home in luxury, I would have been nudging Ange and saying annoying things like "this is more like it, aye?", but as it was it felt more funereal. Like we'd won the reverse lottery.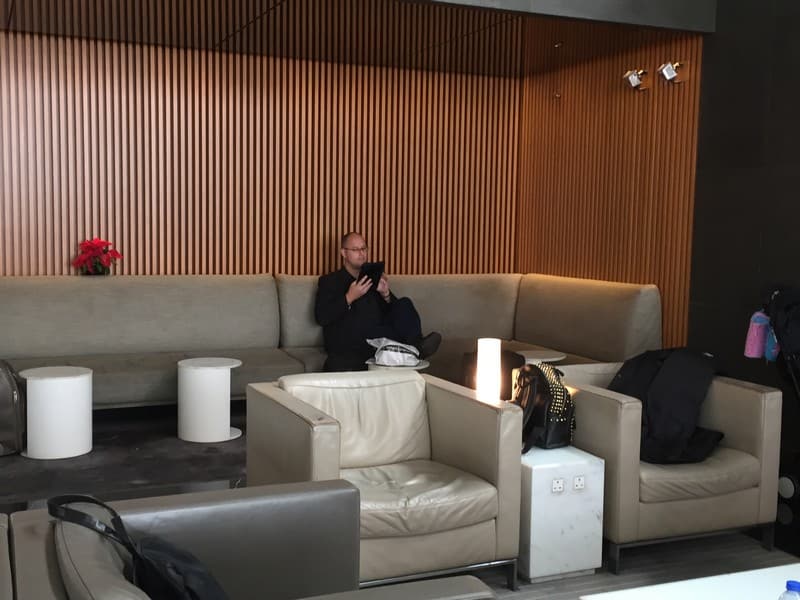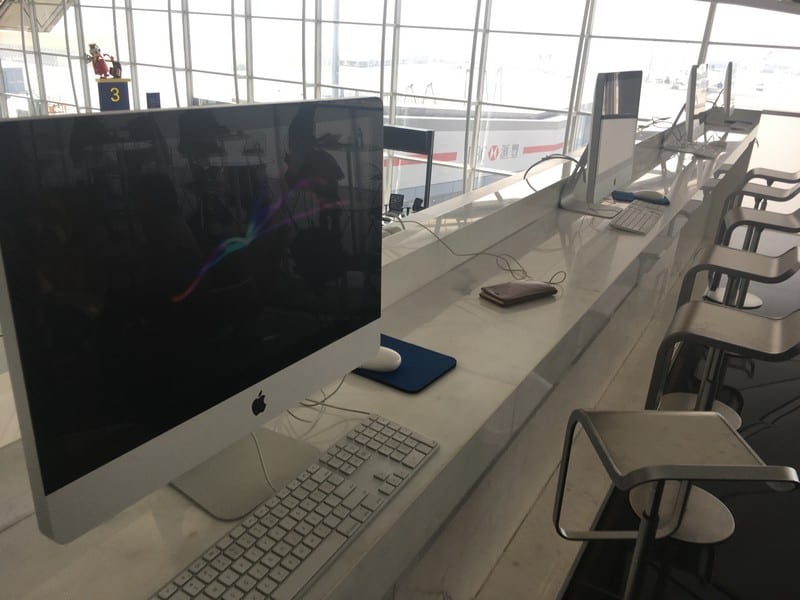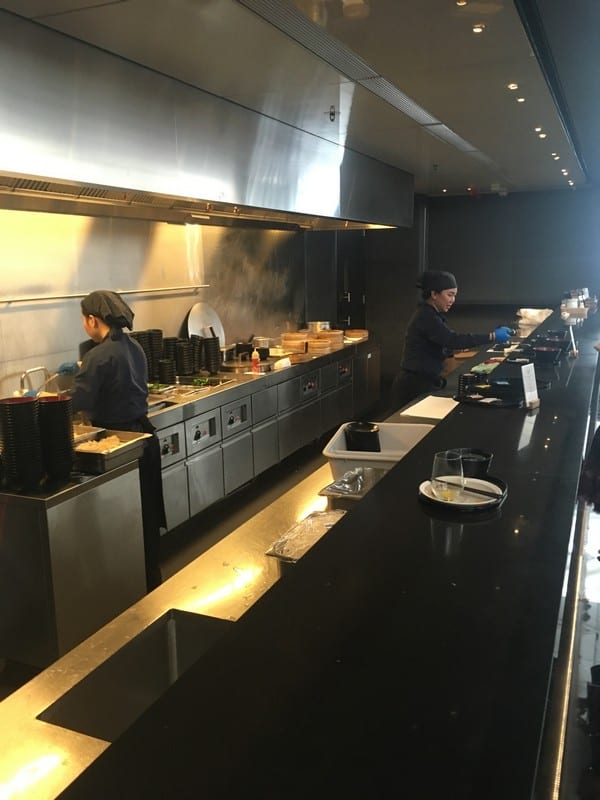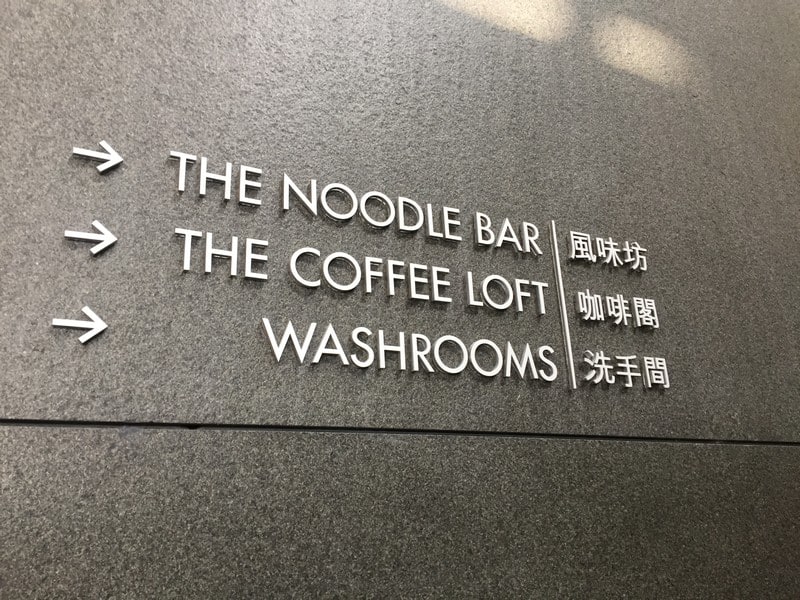 As our flight time approached I started heading up to the counter at reception to enquire what time we should head down to the gate. I kept getting told to come back in twenty minutes. I guess they wanted to ensure they'd had every opportunity for someone to be a no-show and get them off the hook for the compensation payment.
The flight now said "Final Call" and as I headed up to the receptionist she beckoned me over and proceeded to count out the Hong Kong dollars, and to get me to sign a form to show that I had received the cash.
Beep! Beep!
Then we were sent downstairs where a golf cart was waiting to whisk us across the terminal to our gate. I've seen people using the carts before in other airports and always thought they were for those who were too confused to navigate the airport, or too large or old or had mobility issues.
It was a novelty for me to be on one: I loved it and had to take a time lapse of it: apparently they're not allowed to take the carts on the travelators – my argument that it would make the trip quicker didn't sway our driver at all. Maybe next time…
There was only a small line waiting for boarding – most passengers were well and truly aboard by that stage, and while we weren't last on, there were only a few people behind us.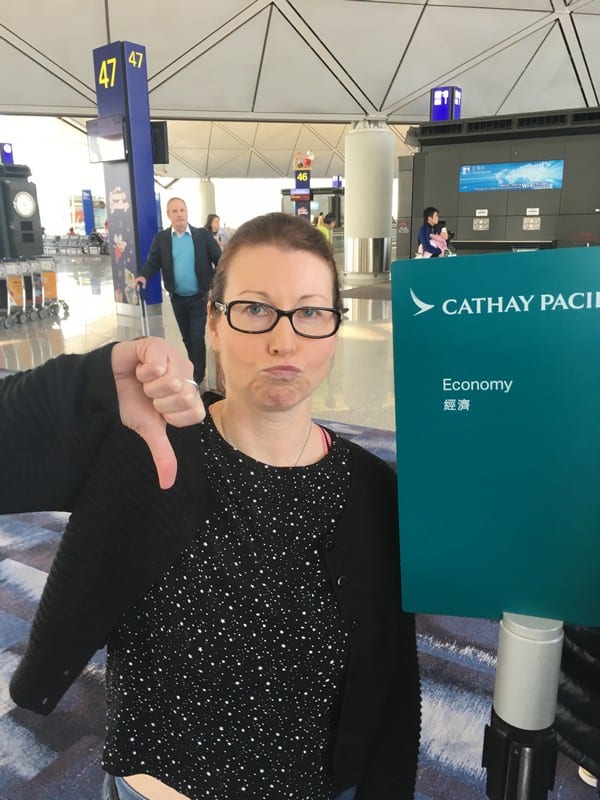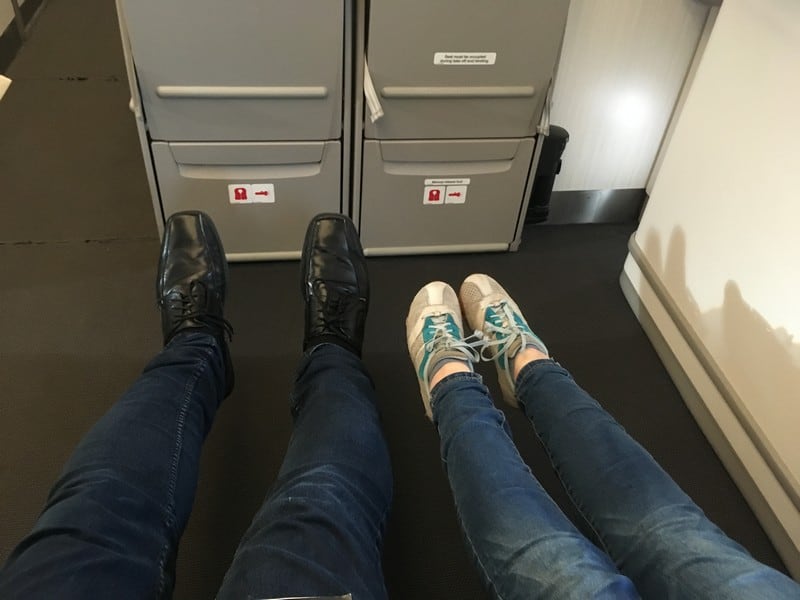 We had managed to get seats by the emergency exit, and on the Airbus A350-900 this means that there was room enough to really stretch out.
It's a double edged sword though, as most people used that area as a waiting spot for the toilets. It also means that instead of an entertainment screen which is on the back of the seat in front of you, it folds away into the arm of the seat, and you can't use it during take off and landing.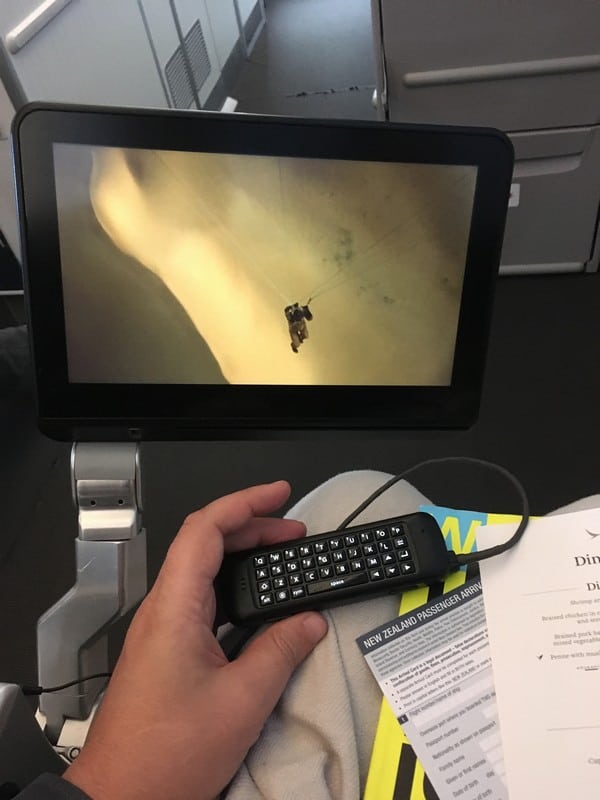 Food
OK, so there was no napkins or tablecloth like we got in Business, and the cutlery was plastic and not metal, and the presentation was in plastic containers, but the food itself was OK. Probably not quite as nice as in Business, but still perfectly edible.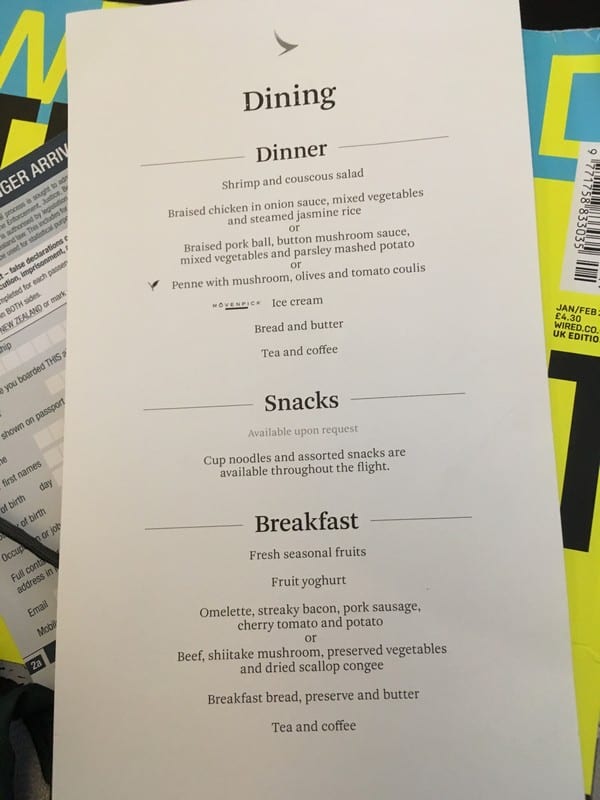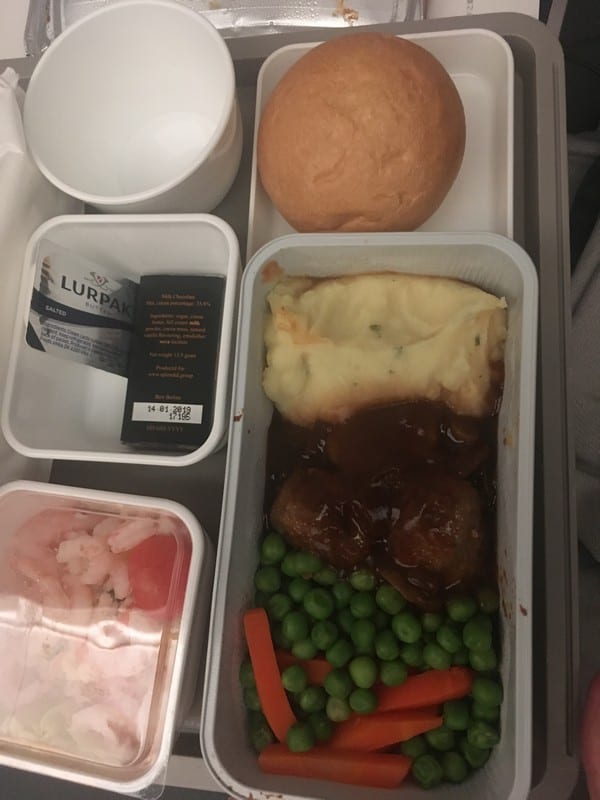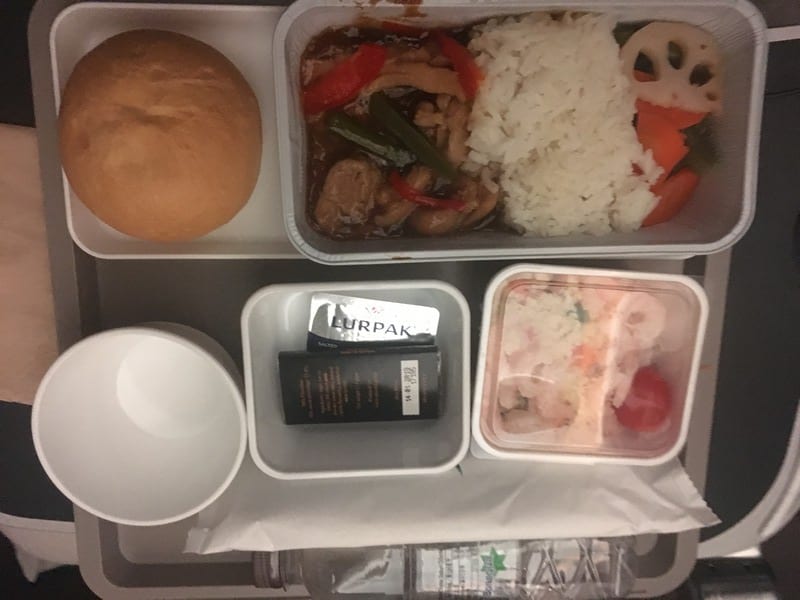 Sleep Would Be Good
After the light meal, they dimmed the cabin lights and people tried to sleep as best they could. Dozing was probably the best I could do – I'm 6'4″ (193cm) and there's usually no neck support on airline seats for me, but I was surprised that Ange wasn't able to do better sleep-wise.
For her it's the noise of the engines and sitting upright. We hadn't gotten a lot of sleep on the first leg from Dubai (maybe because of the excitement of being in Business Class?) and so the next twelve hours were pretty hellish.
We'd gotten maybe two or three hours sleep on the Dubai – Hong Kong leg, spent three and a half hours in Hong Kong at the lounge and that was all after a full day in Dubai, so we were struggling with maybe three hours sleep over a forty hour period. I don't know about Ange but I was pretty ratty towards the end there.
Mercifully, eventually, the cabin lights came back up and thoughts turned to breakfast. I find that sleep deprivation can be countered to a certain extent by maintaining blood-sugar levels, so I figured things would be better after breakfast. I hadn't considered that every man and his dog would now need to use the toilets and decide to congregate right beside us. Sigh!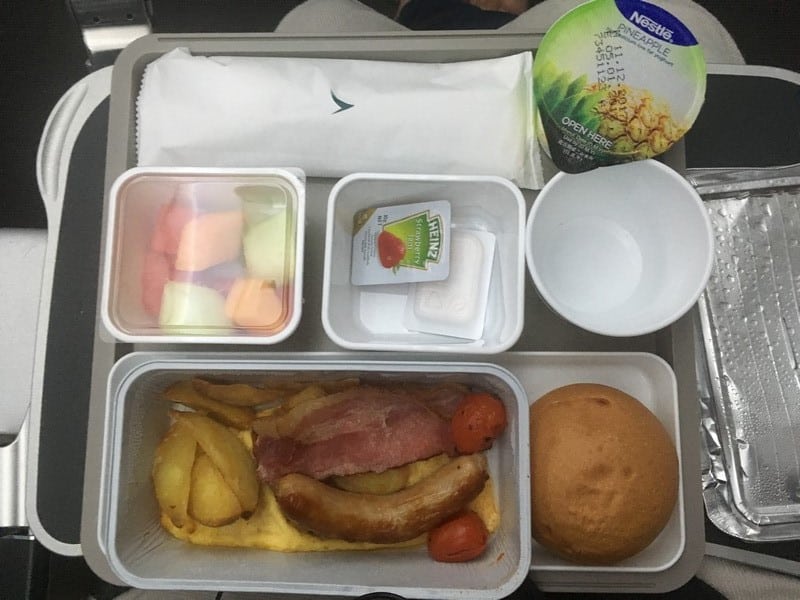 Arrival
Despite having an exit row seat, the emergency exit precluded a view outside, so we didn't get to recognise landmarks as we approached Auckland, but they did have cameras in the body of the plane so that you could follow the progress as we got closer.
The hot breakfast of sausage and omelette made me feel almost human, and I guess the excitement of finally being home also added to the ability to think and operate.
Once we landed and taxied to the terminal, we waited to be allowed to depart. I tried not to think "if we were in Business class, we'd be off by now", and instead concentrated on the fact that the Business class passengers would be waiting for the luggage at the same conveyor belt that we would be soon enough!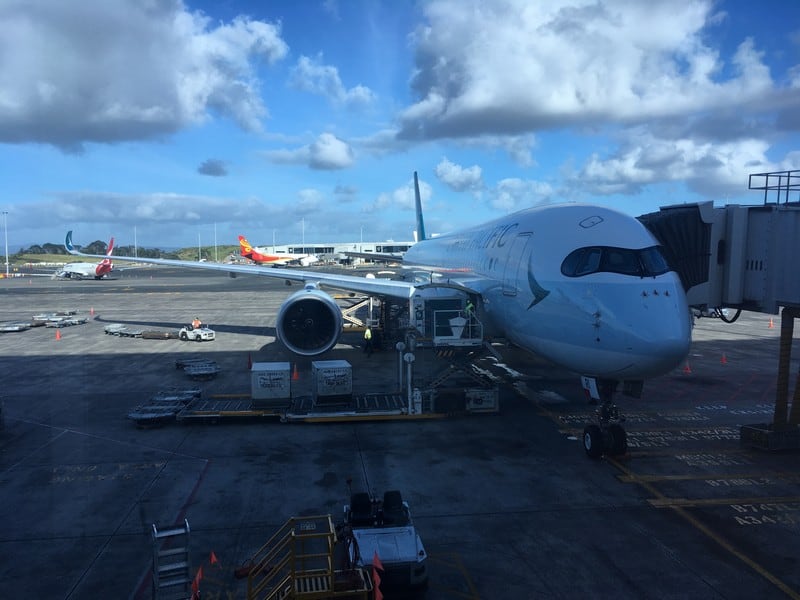 Getting Bumped
So this is the bit where I wax lyrical about how getting bumped from Business class was the best thing that could have happened and it gave me a greater appreciation for when I do travel in premium classes. Bullshit. I wanted to share the experience of travelling Business class with Ange plus get some sleep on the flights and I paid for it, so despite a getting sizeable chunk of cash back, I didn't get what I really wanted.
I checked in with my travel agent to see what the story was. He told me that airlines overbook Business as well as Economy and they get to decide who they bump. It happens: deal with it.
I then did a little research and found some truly alarming stories of different airlines not being quite so generous with their compensation offers – in fact European Union law says that airlines only have to give a compensation amount equal to:
For short-haul flights of less than 1,500km, you will receive 30% of the price of the flight.

For medium-haul flights of 1,500km – 3,500km, or flights within the EU of more than 1,500km, you will receive 50% of the price of the flight.

For long haul flights of more than 3,500km, you will receive 75% of the price of the flight.

It is likely you will only receive a refund for the portion of your journey that was downgraded. For instance, if you booked a return ticket for £1,000, but were only downgraded on the return leg, your reimbursement may be calculated as a percentage of £500.
So, I must admit that after I got over the disappointment of getting downgraded, I think Cathay's compensation policy was possibly the best I could have expected.