The Argent Motor Lodge in Hamilton is located very near the hospital, but more importantly for us its walking distance to Lake Rotoroa – the venue for Balloons over Waikato's Sunday morning event. Given the early start we elected to stay nearby.
The Argent was designed by Sekta and is very modern with a swish dark grey finish. It certainly doesn't look like your typical motel. In fact there's nothing typical about the Argent at all. As soon as we entered the reception area you're greeted with the awards that Argent have won. And there are a lot of them.
Everything from TripAdvisor's Certificates of Excellence, to local council business of the year nominations, they're justifiably proud of their achievements. And when we chatted with the receptionist we could see that a flash building was just the first step in their offering.
We were too early to check in, we were told apologetically, but if we wanted to wait we could read a free newspaper. We asked instead if there were shops nearby and were given the low down of the local area and given a map. You could just tell that the receptionist was sincere with his efforts to help – good customer service being the second step in their offering.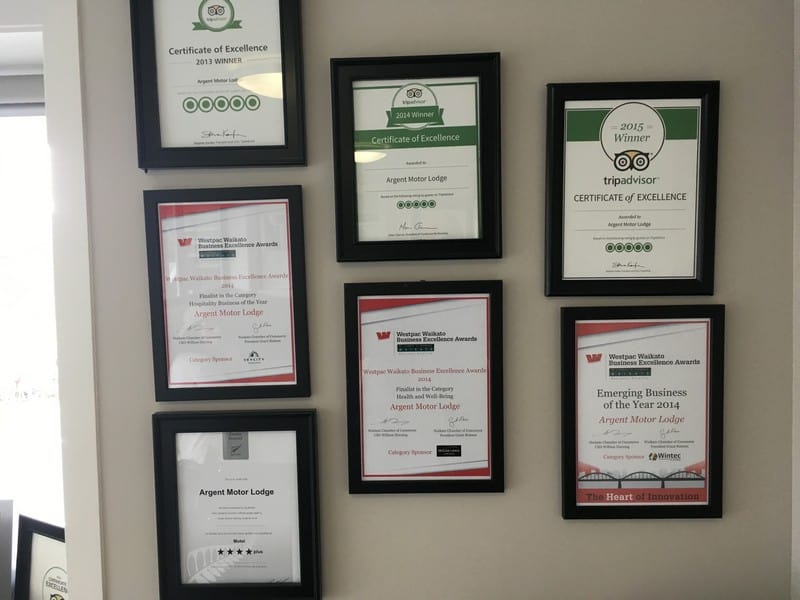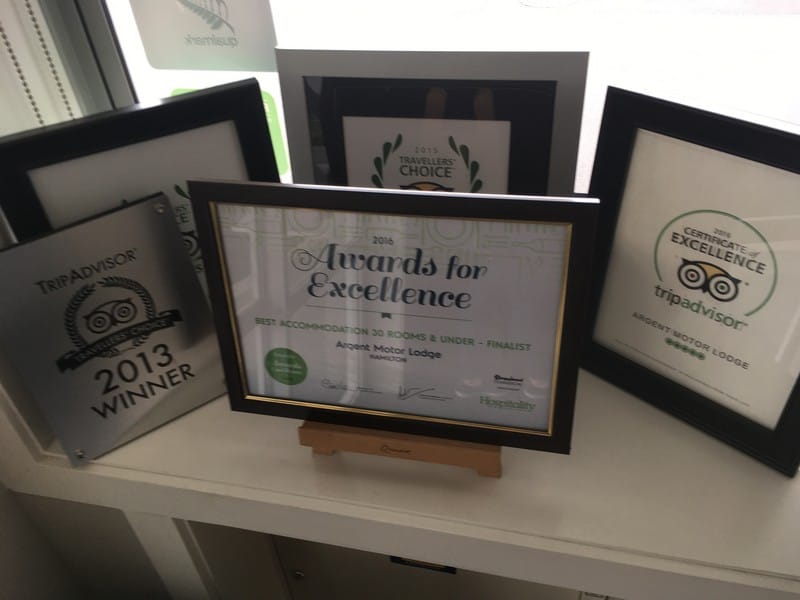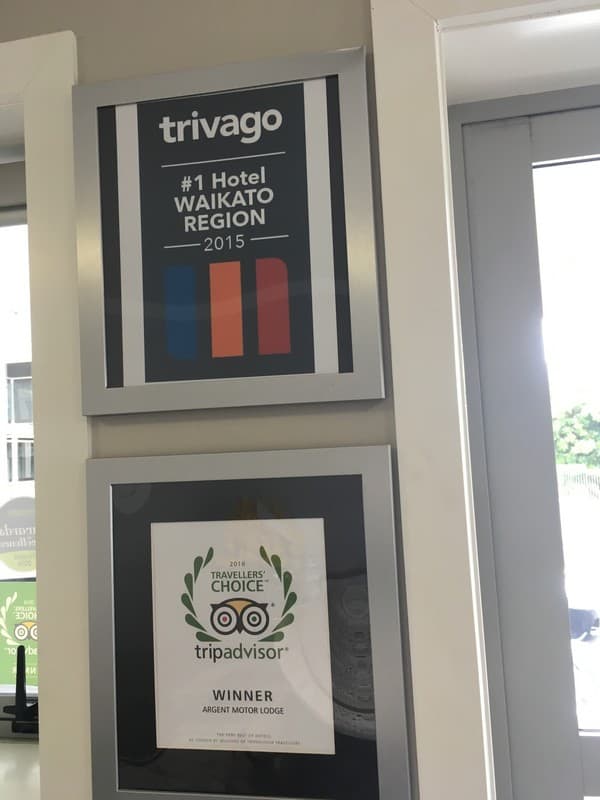 The Room
When we returned, we were shown to our room which was freshly cleaned. Again, not your normal motor lodge/motel: this was more like an apartment.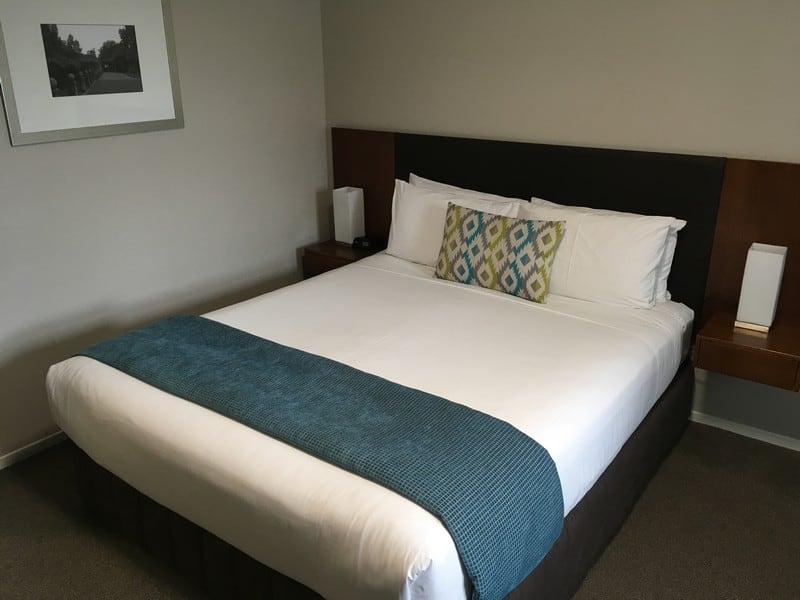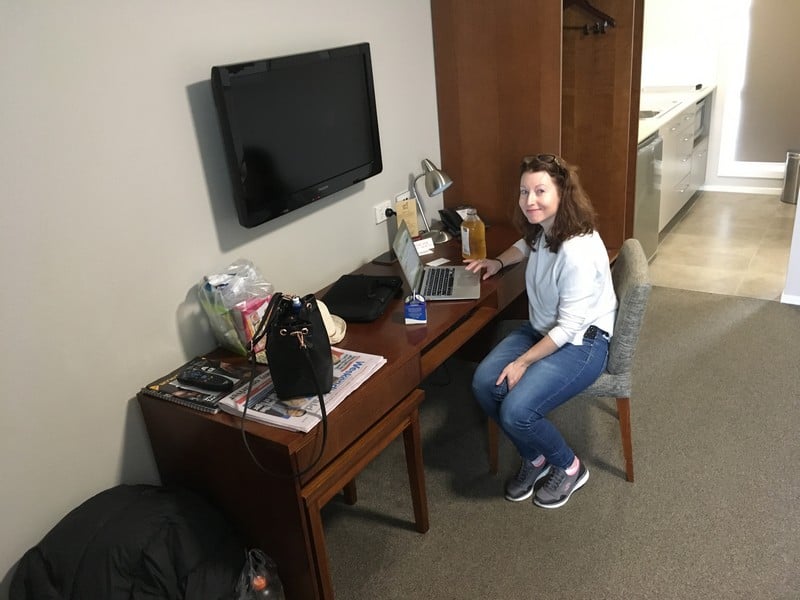 The Kitchenette
I certainly wasn't expecting a fully loaded kitchenette! Along with a couple of ginger biscuits were your normal teas and coffees, but it was nice to know that if you were staying for a while that you could buy your own food and save some money on takeaways.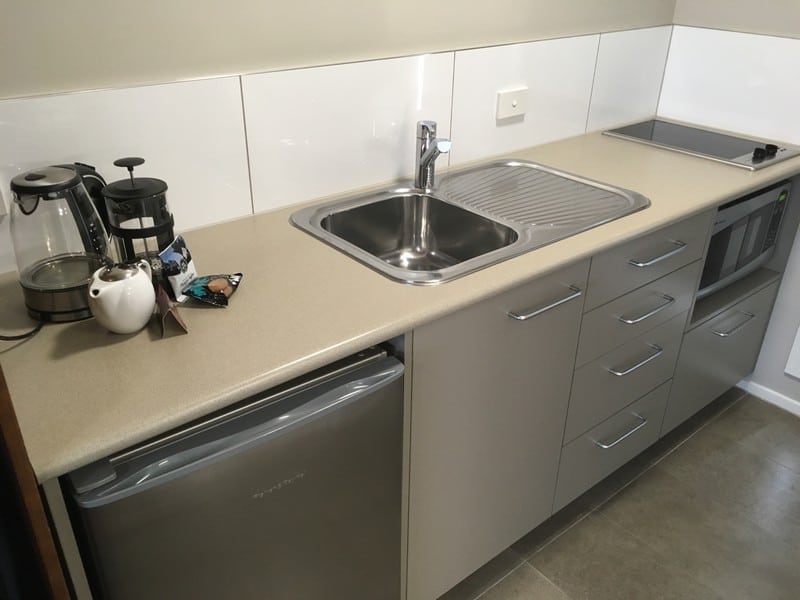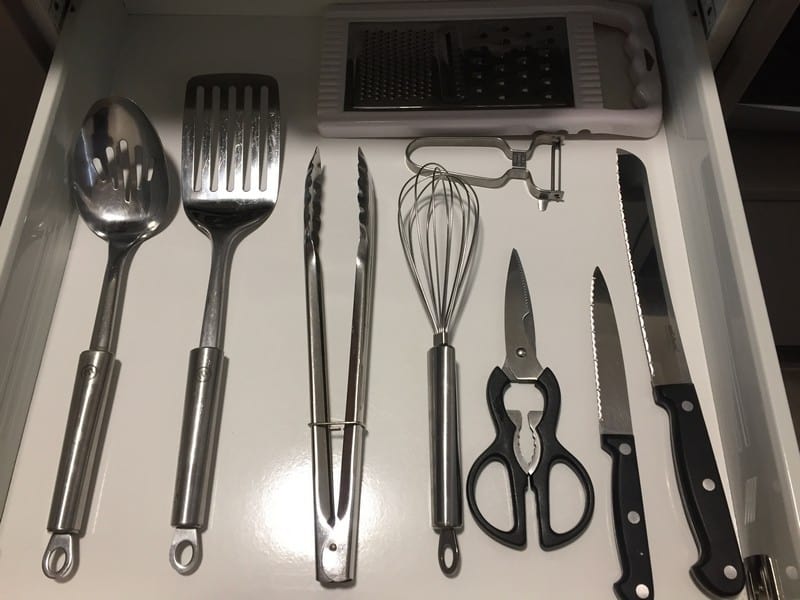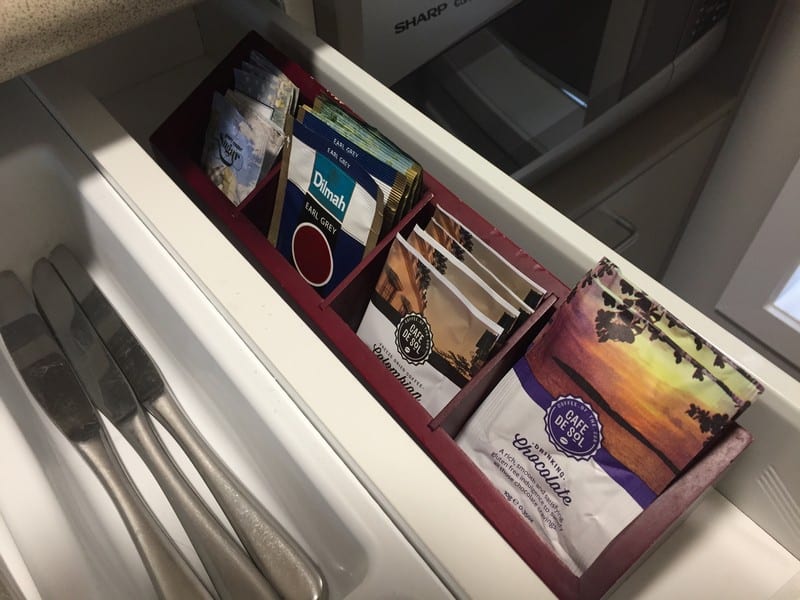 Bathroom
Ange was pleasantly surprised by the makeup remover towel in the bathroom – the first time we'd seen something like that in our travels. The shower had good pressure and was nice and hot, it was also on floor level, which after travelling a bit with my mother I've come to realise is appreciated by people who aren't as mobile as they once were.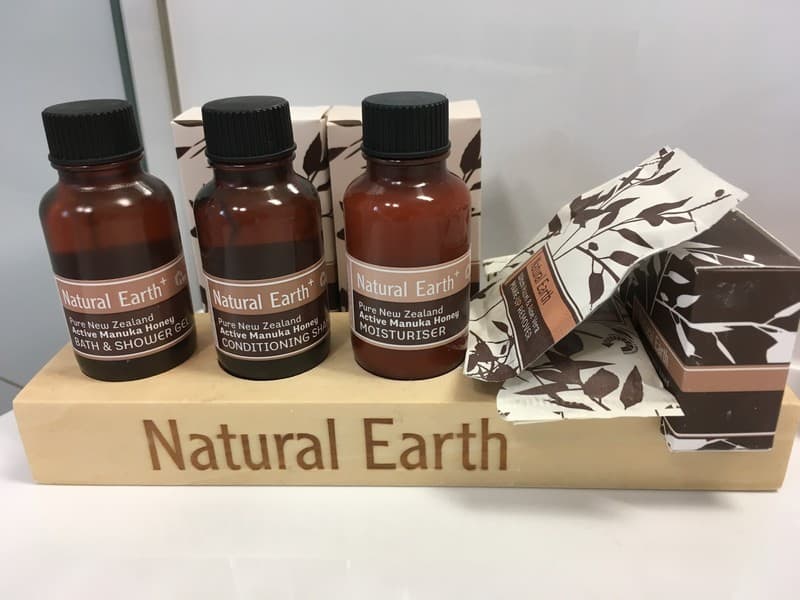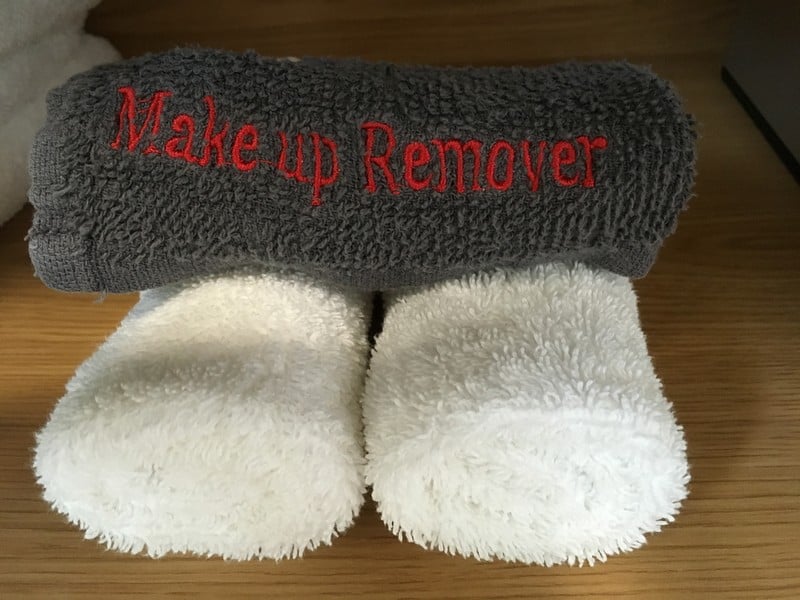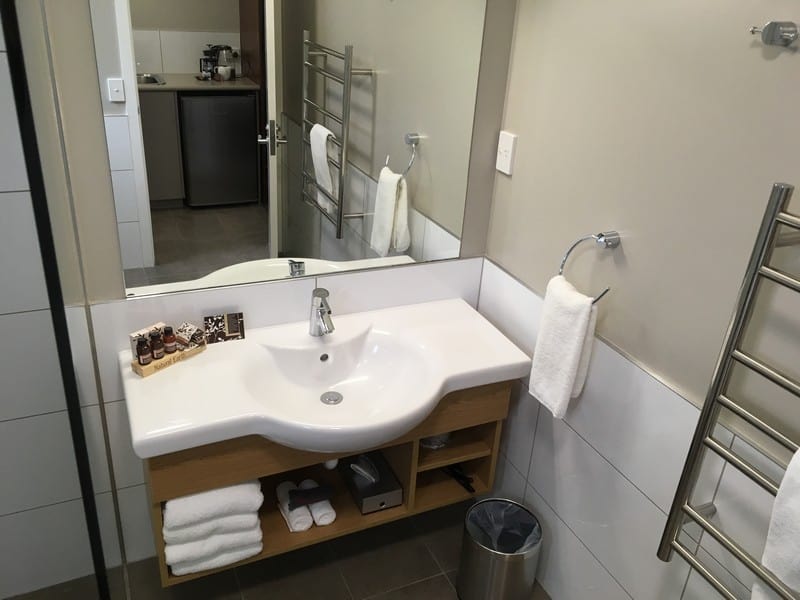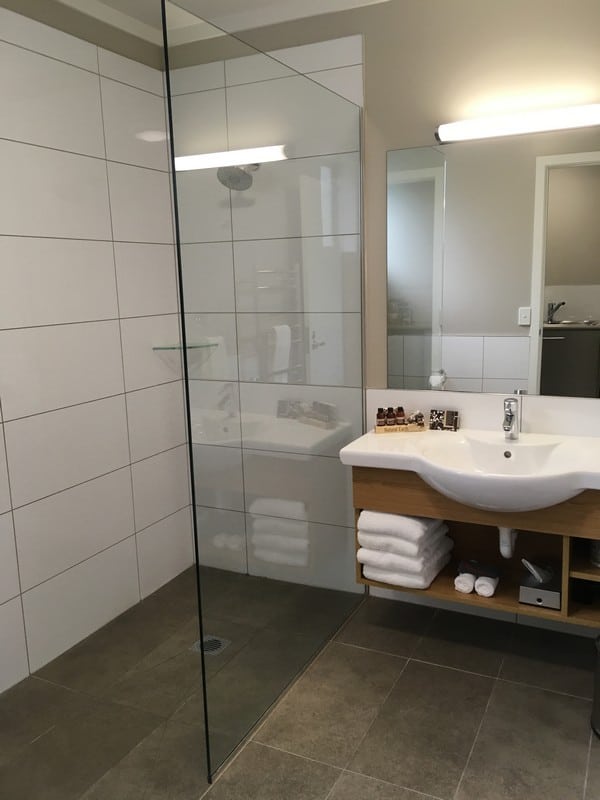 The rain changed our plans a bit – keeping us indoors instead of exploring the city. We ordered a continental breakfast for the next morning, and Graeme Hunt (we found out later he was the owner) popped by to deliver it that afternoon. I hadn't been able to get the Sky TV to work and asked if he could have a look at it. He couldn't get it working either, and mentioned that if one of his more technologically able staff came in during the evening he'd get them to pop by. He certainly tried every trick in the book to get it working – nice to see the boss leading the way in customer service.
We only ordered one continental breakfast for the two of us, figuring that Ange could have the cereal, yoghurt and fruit and I'd have the toast and jam. Graeme put the breakfast into the fridge before leaving, and we hooked up Ange's laptop to the TV for some Netflix.
After a while we started getting peckish and thought about what to have for dinner. The Compendium, a leather bound dossier of information about the hotel included a large number of menus from restaurants that delivered to the Argent. Apparently some of them have an arrangement where they can add the food to your room bill.
We ordered from Scoff, which warned on their menu that the servings were large and they did standard NZ comfort food. And they certainly did. I had the burger and fries (which I probably should have swapped for a side salad) and Ange had the risotto. We also added a pudding each.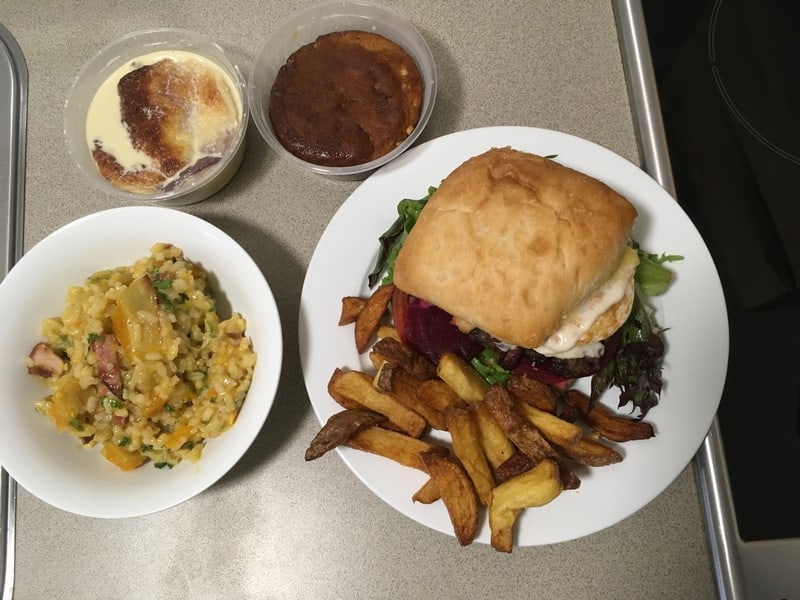 The bed was very soft – perhaps bordering on too soft, but my favourite quirky touch was a pillow menu. We'd seen that in a 5* hotel in Dubai – so wasn't expecting it in a motor lodge in Hamilton!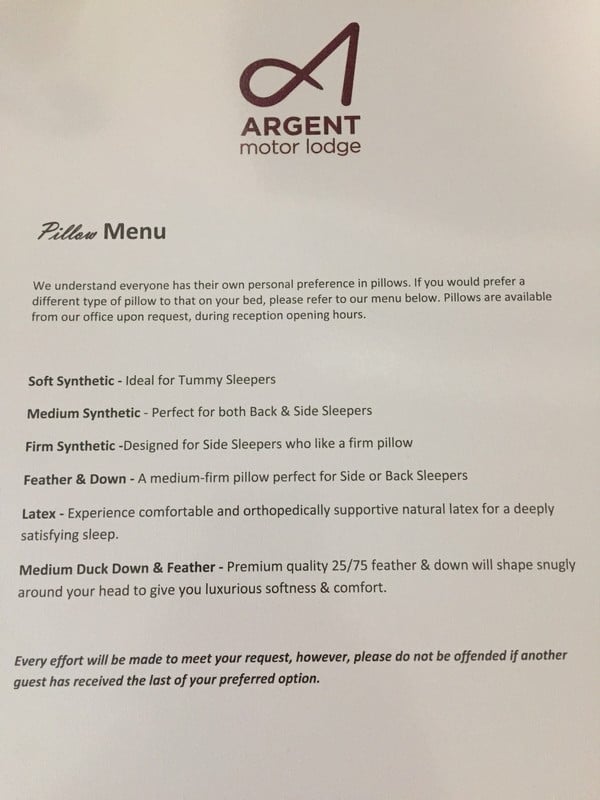 In the morning we came back from Balloons over Waikato and checked out, very pleasantly surprised by the quality and service at Argent.
Would I come back?
It would be very hard to justify a decision not to stay at the Argent if I was in Hamilton again – their awards and trophies are earned through great service and great amenities, and its surprising getting such good service at such a reasonable price point.