Overview
Here at etrip we are always interested in alternatives, because when it comes to travel, we're choosing the experience and cost of one particular destination over all the alternate ways to spend that money and time. So the choice of a different class of travel from economy usually boils down to the decision of whether or not the additional comfort is worth the additional cost.
Long-haul travel is a bitch. It's usually expensive, invariably uncomfortable and most of the time you end up losing at least a day. Throw in the fact that being 6'4″ (193cm) means that I never sleep on long haul flights when I'm in economy. Which results in being a brain-dead zombie for 30 hours and then struggling with jetlag for a week.
So when I head back to New Zealand to visit family over Christmas, I try to go business class with one of the airlines offering a lie flat bed. If you're keen on figuring out whether the seat on a flight is fully flat or at an angle, follow these steps:
Find the flight number and airline that you're thinking of going on (in my case CA856 & CA783, CA784 & CA855)
Plug that information into

www.seatguru.com/findseatmap/findseatmap.php OR
www.seatmaestro.com/

Check out View Map from the results page, and make a note of the aircraft type (CA855 & CA856 are the Airbus A330-200 332, CA783 & CA784 are the Boeing 787-9)
Finally check out the seat description (Both have 30 angle-flat Business class seats: The Airbus A330-200 has 80 inches between them @170°, the B787-9 has 60)
Normally if you're travelling business class, then you get access to a lounge before your flight – unfortunately I haven't been to all the lounges across the world so can't give you pointers on which to choose, but other people have. I particularly like this photo essay which adequately shows the marathon to get to Heathrow Terminal 2's lounges. Just be aware some of the sites may be a little out of date.
Sometimes you don't get a choice – I was only allowed into United's lounge, but couldn't complain and it is important who you fly with: Air China doesn't have lounges of their own so you use the lounges of Air China's Star Alliance partner airlines. Keep an eye out for categoric guides also.
Price
So, you've got a better seat, better food, (sometimes) VIP treatment at security check points – what does all this cost? Like every other ticket, your flight price fluctuates over time. Averages don't matter – I'm only interested in how much my selected tickets will change. You may want to set up an alert on Google Flights, or check out these other tools to monitor your ticket/route prices.

London: United Lounge
Before the flight I'm invited to use the United Club Lounge which is almost empty. I thought I would have the choice of Star Alliance lounges but apparently not. I had read that the Air Canada lounge was the best and so naturally enough I wanted to visit that one. I can't fault the United one though. Ample seating, a huge bar, nice food – what more could you ask for?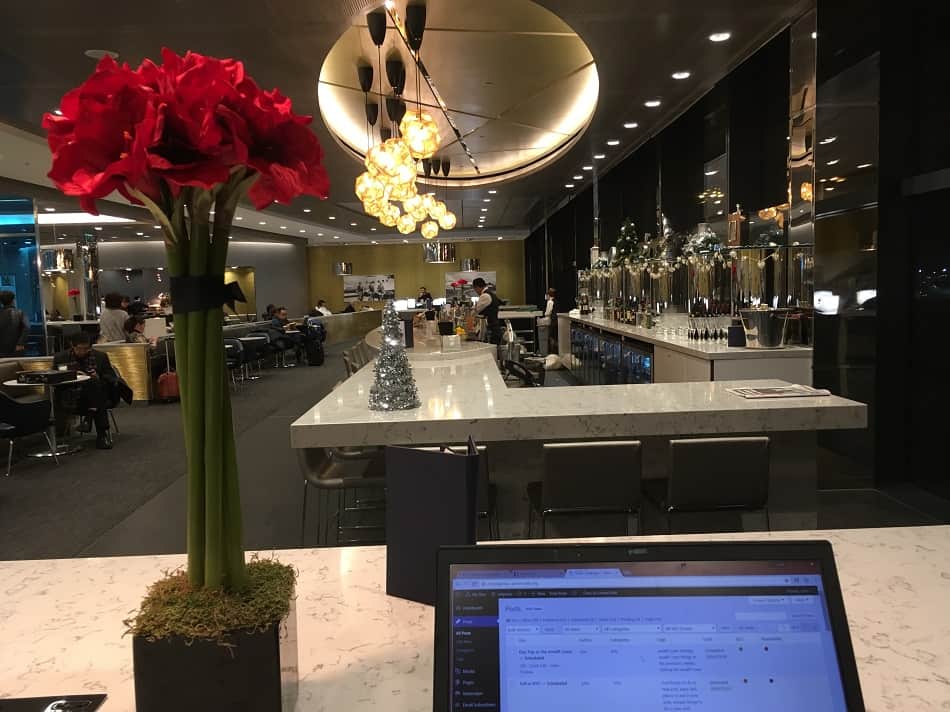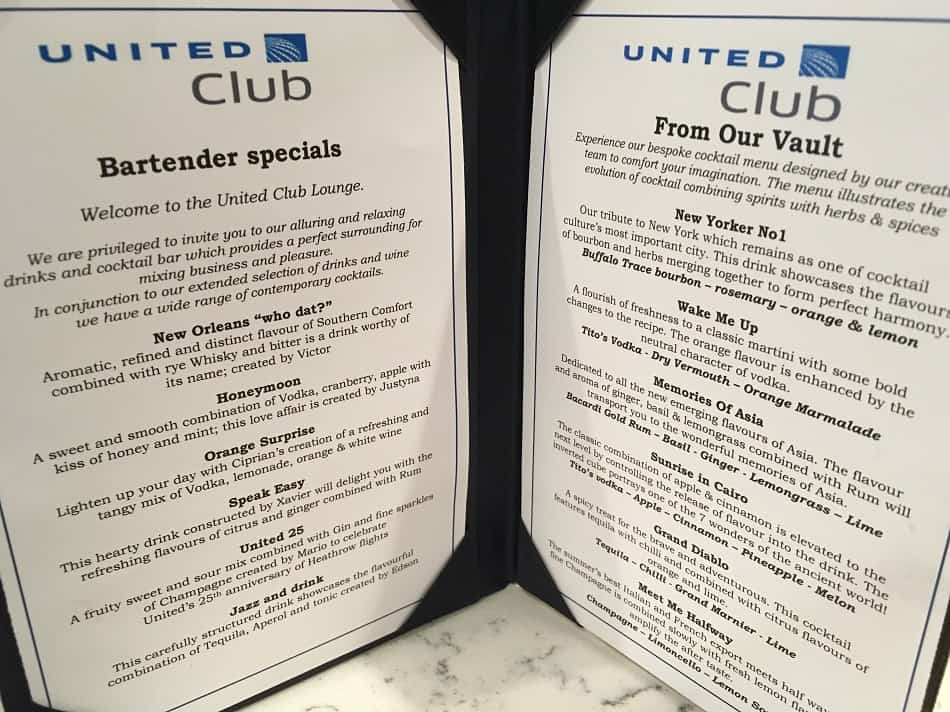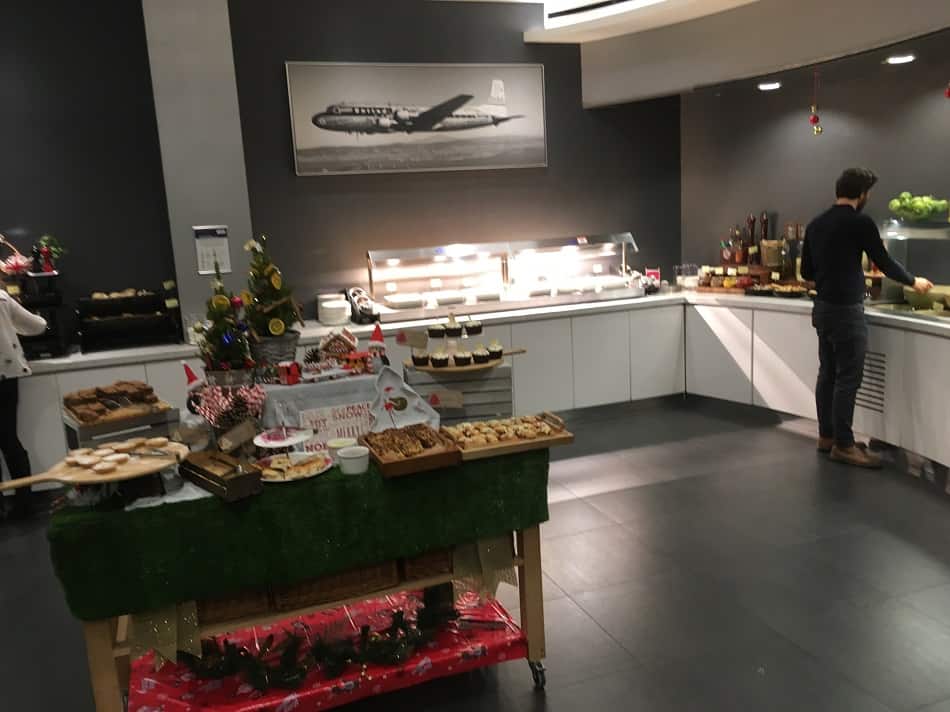 London to Beijing / Beijing to London
Flights CA856 (LHR-PEK) and CA855 (PEK-LHR) are in the Airbus 330-200 with only three rows of 2-2-2 in front of the doors and another two rows beyond the doors. The first leg was about half full, so the staff were very attentive and proactive. The seat folded down to practically flat – none of the precariously perched sleepers here!
Of the two planes I travelled on, this was my favourite – at a 80 inch seat pitch (seat pitch is the distance between your seat and the one in front – for reference budget airlines have 28-30), it feels incredibly roomy, and my legs barely reached the footstool in front of the screen.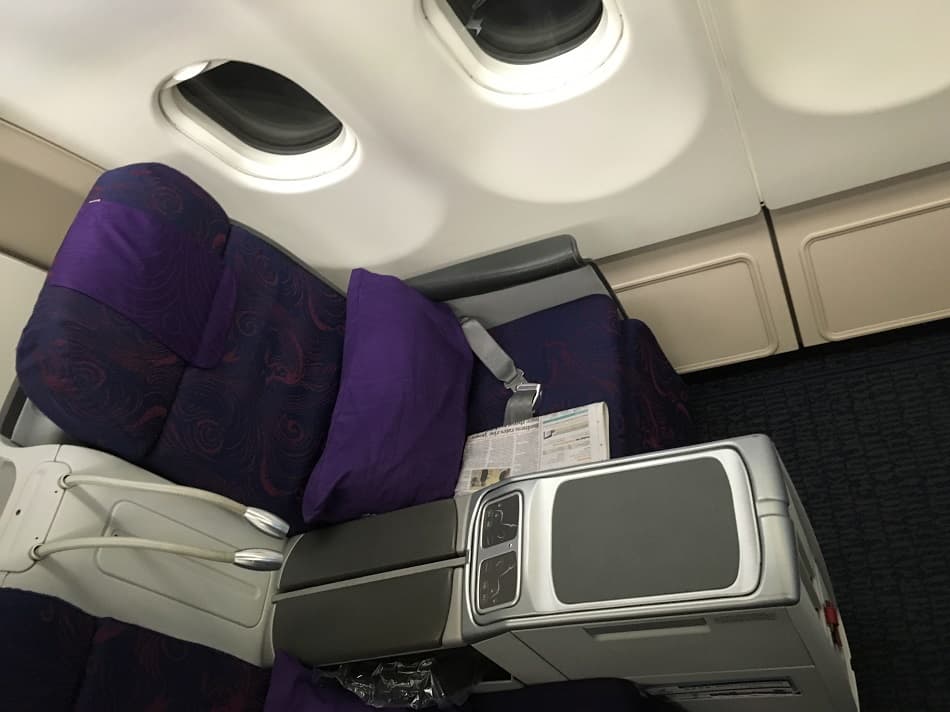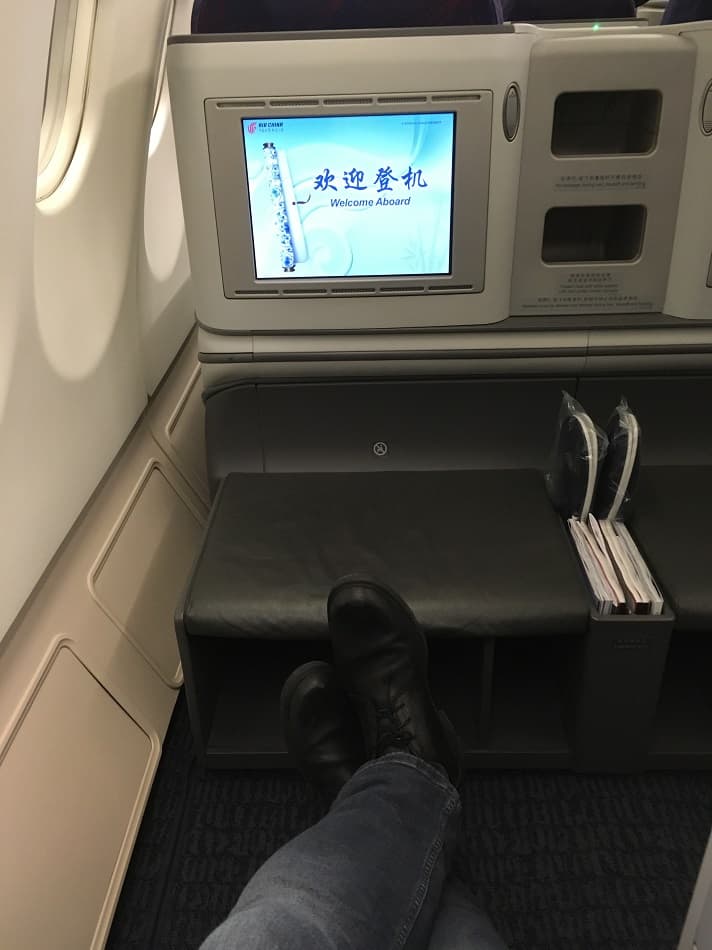 As we approached Beijing I looked out the window and saw the Great Wall of China (the light line on the hill)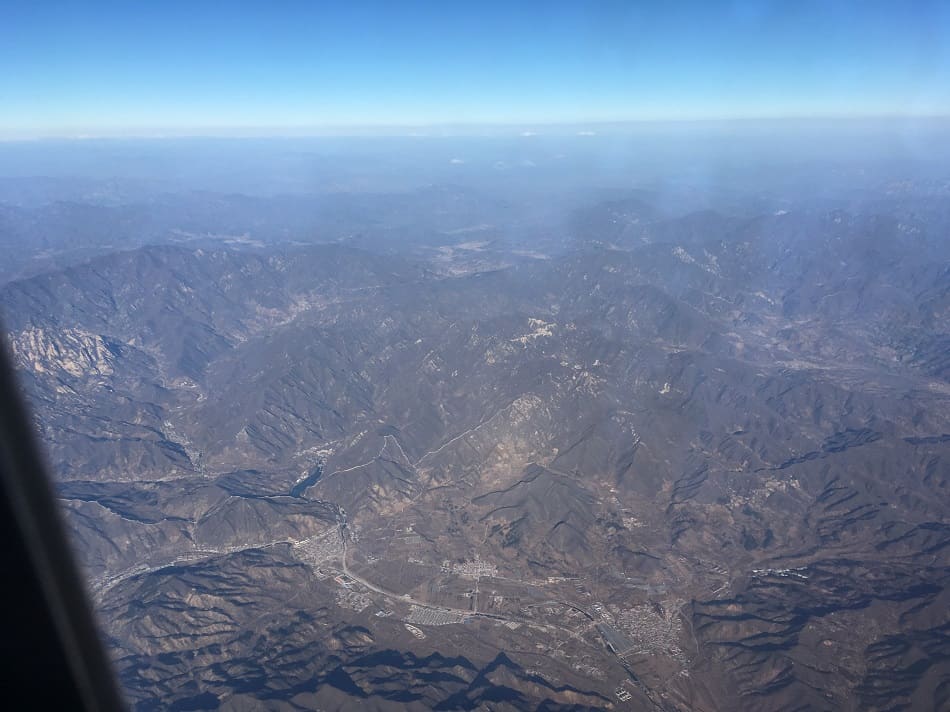 Beijing Lounge
We're let off the plane by sky-bridge and head towards the transit lounge. You go past the temperature checking station and then turn left before you hit the Immigration counters. A brief check of your passport later you head downstairs and meld with the passengers coming through outbound immigration to go through security.
After that you're ejected into the main concourse of the terminal. Perched above Burger King and KFC is the transit lounge which serves a bewildering array of airlines.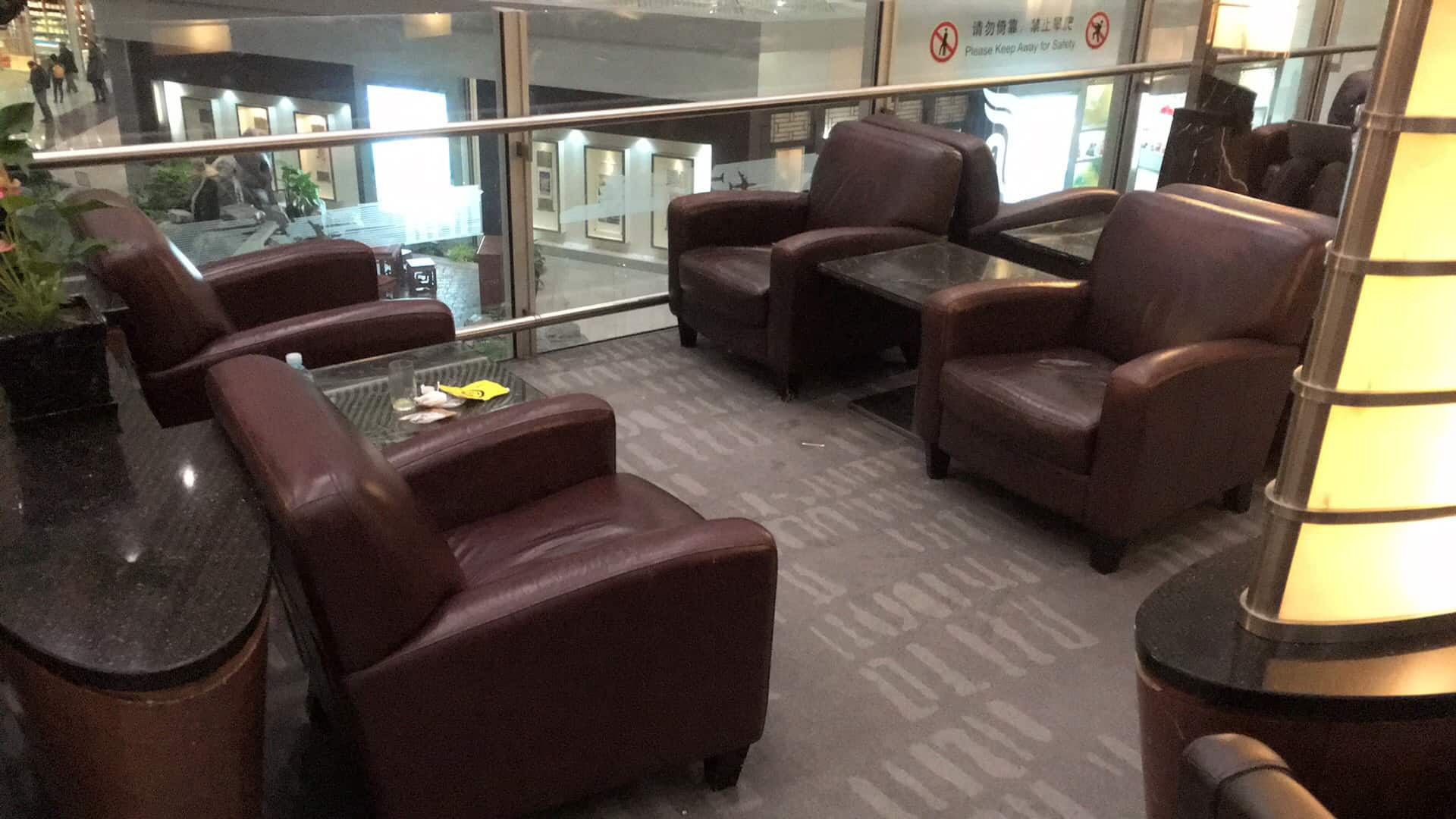 By surrendering your boarding card you can enjoy the sleeping pod – unfortunately they don't have a roof so the light is unrelenting. Better save that eye-mask from the amenities bag! There are only six of these so they are in great demand – get in early! I got one pretty easily between legs one and two, so I assume I'll be able to get one just as easily between legs three and four – not so!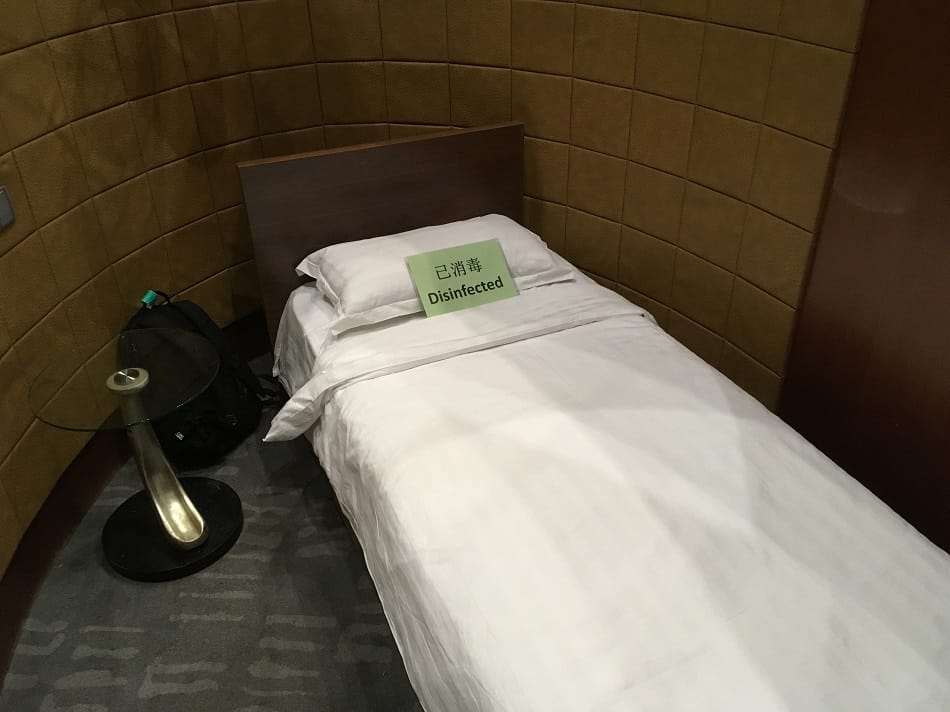 The theatre is a weird set up – no sound on the TV and awesomely comfortable chairs.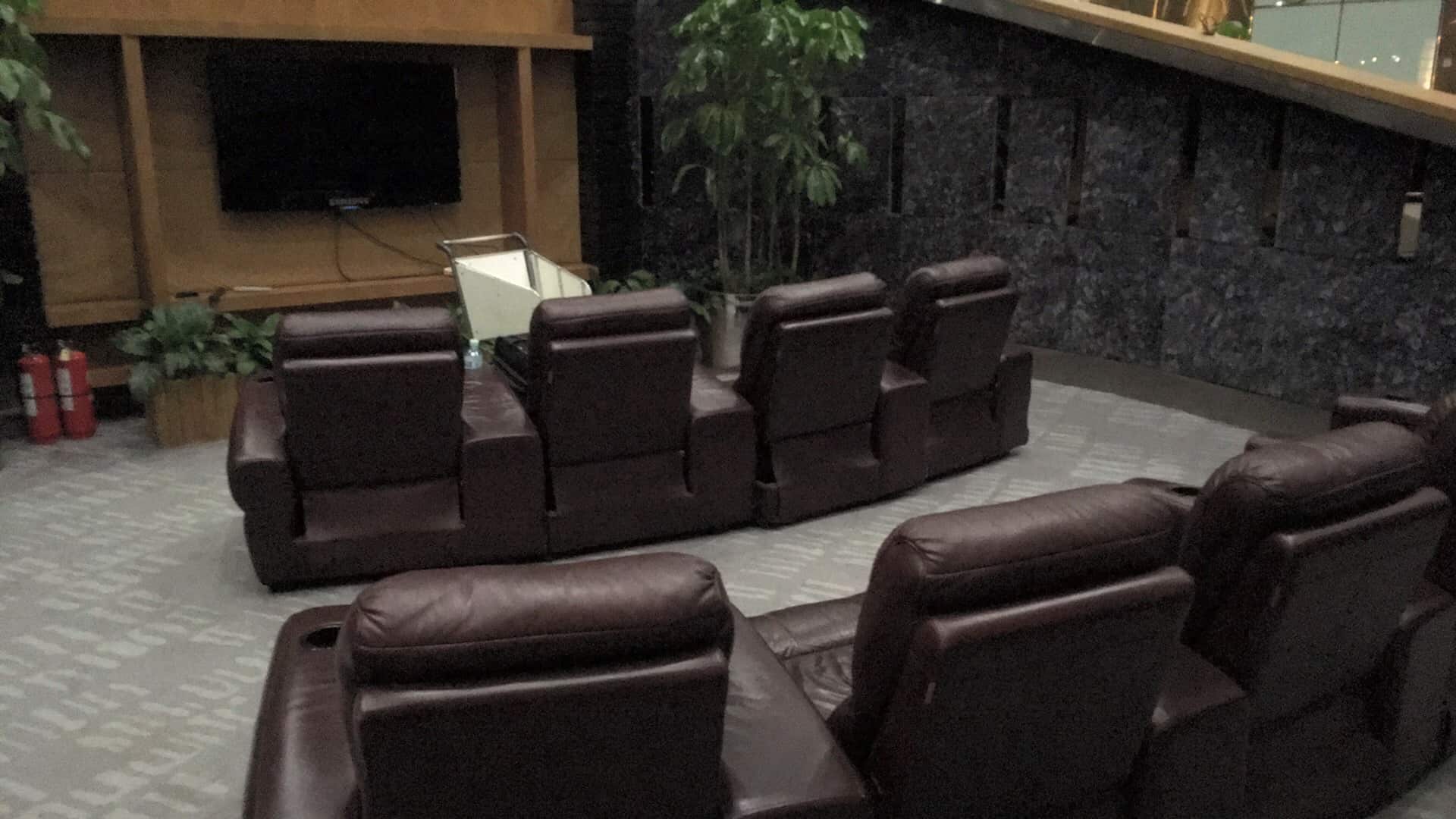 The Business Class passengers get a special bus to take you out to the plane when the flight is not served by a sky-bridge.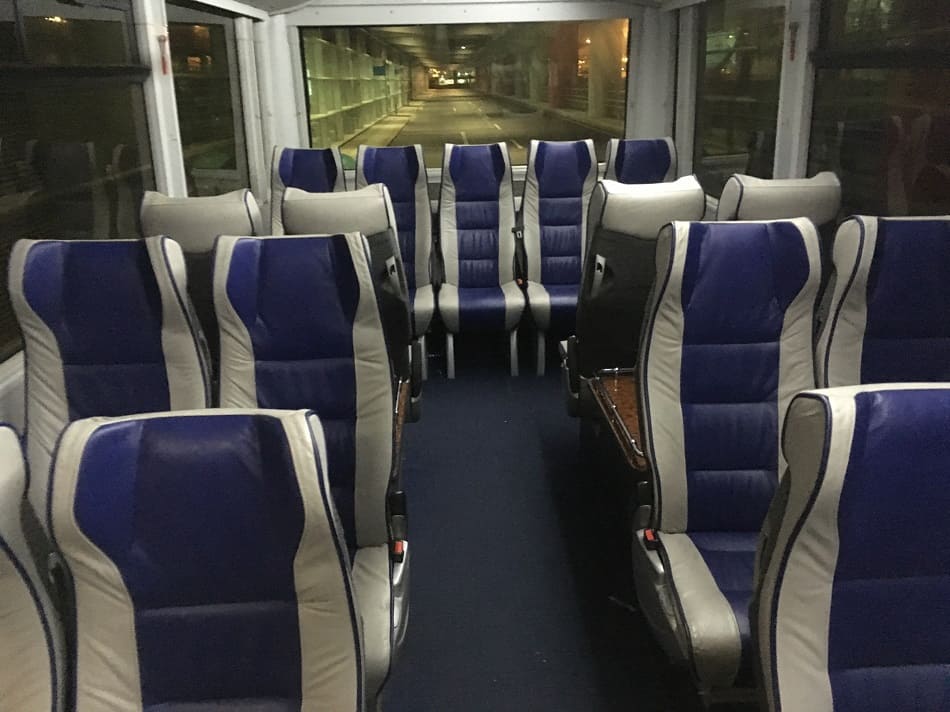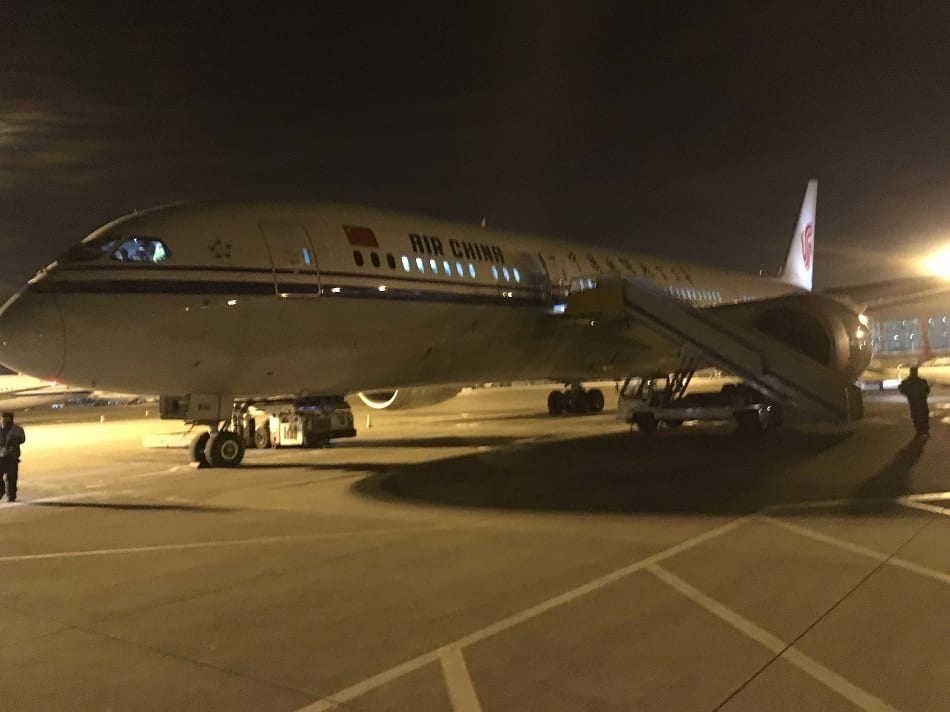 The Food
I must admit I would be happy eating this food every day. I don't know what they ate in Economy, but I'm very happy with what I had. You even get choices at each meal stage. My only regret is not mixing up my choices too much. Amusingly on the Beijing-London leg one of the other business class passengers was eating KFC on the plane!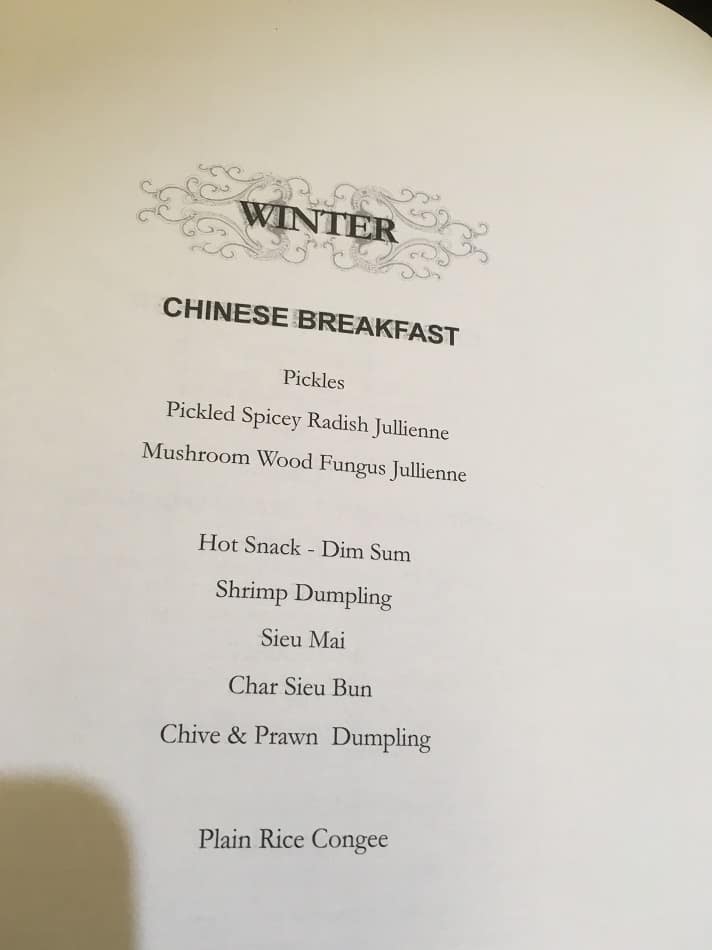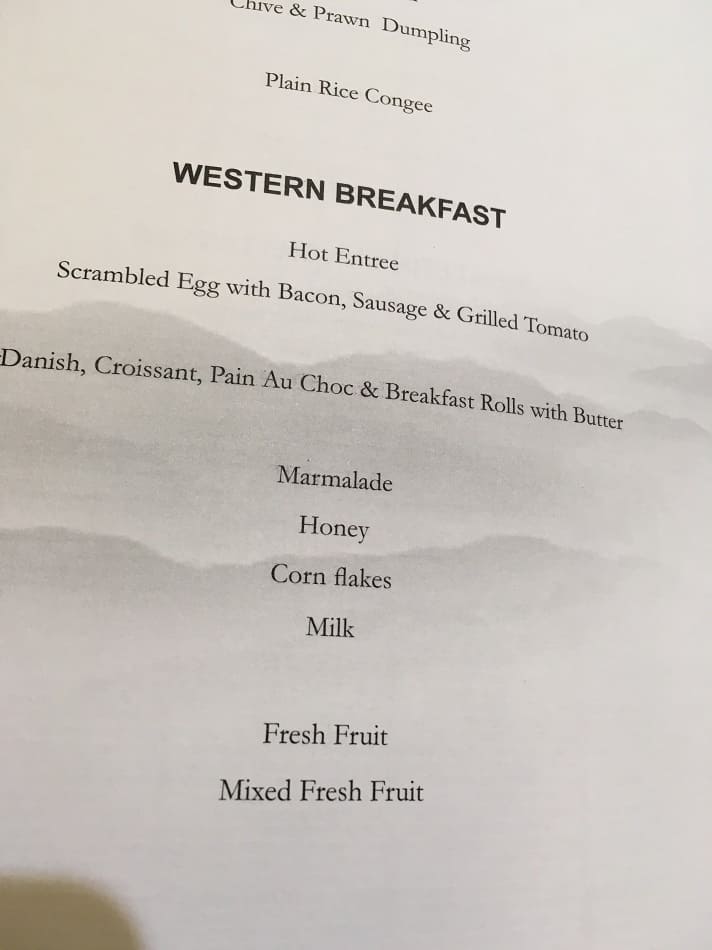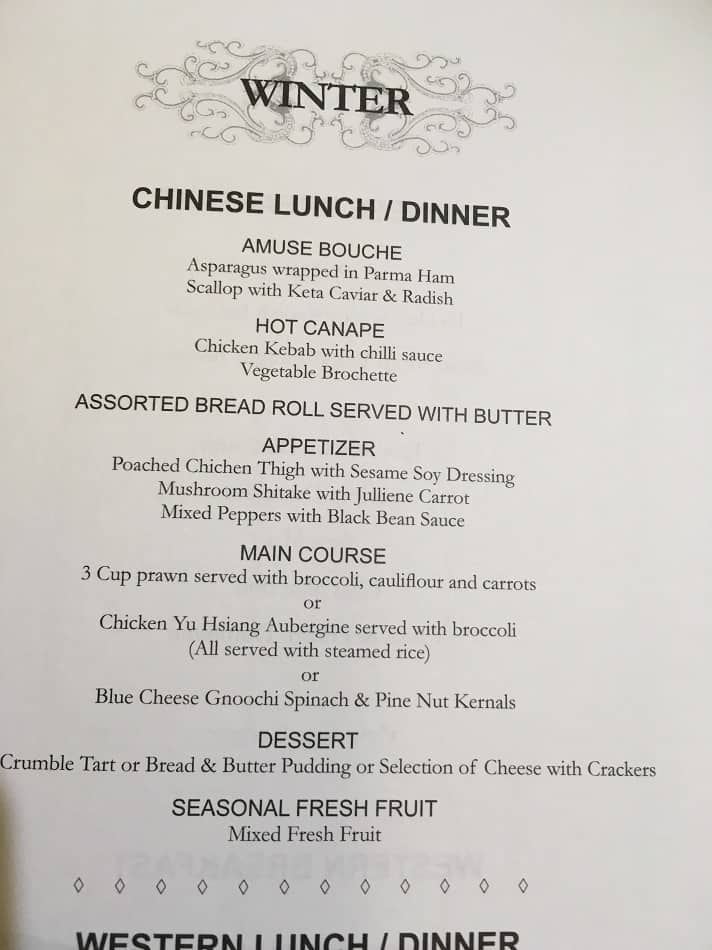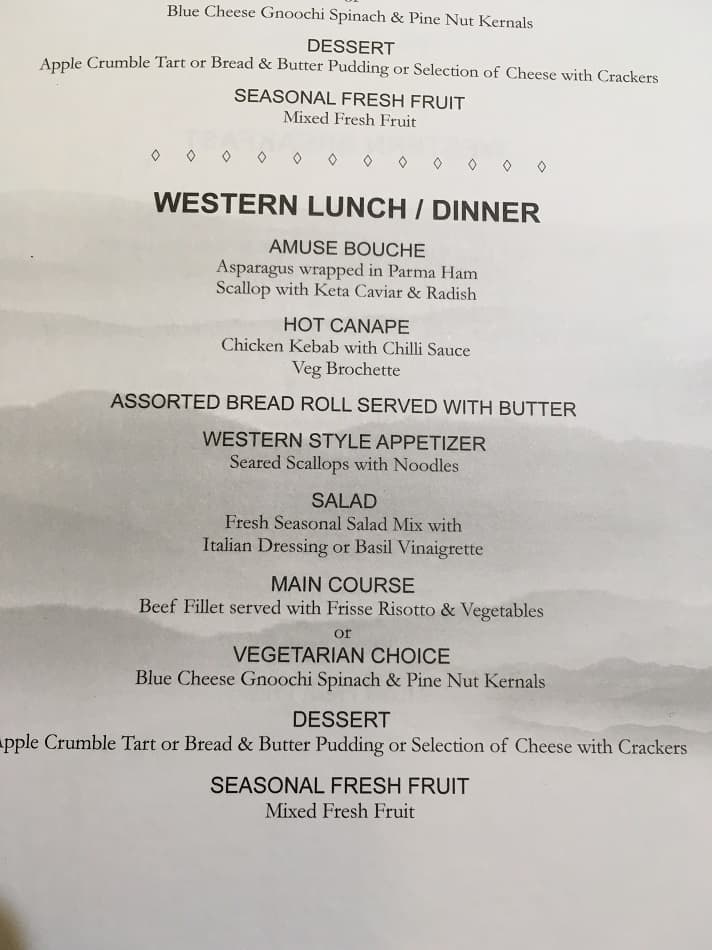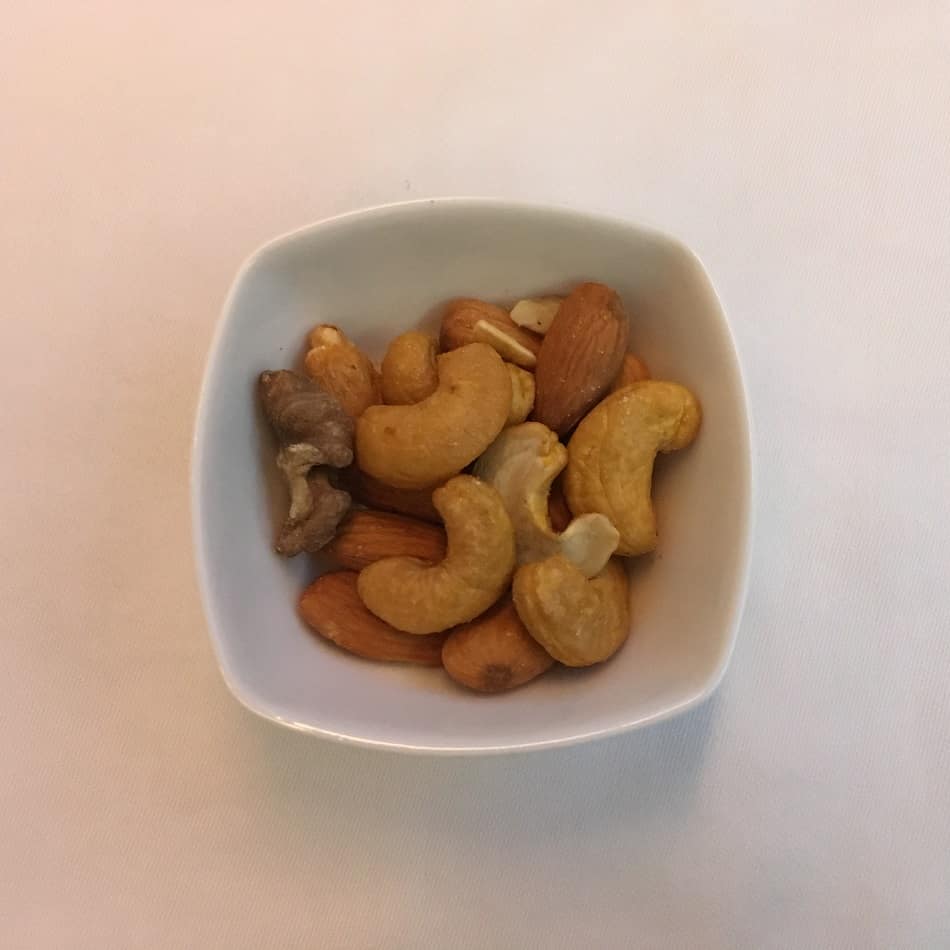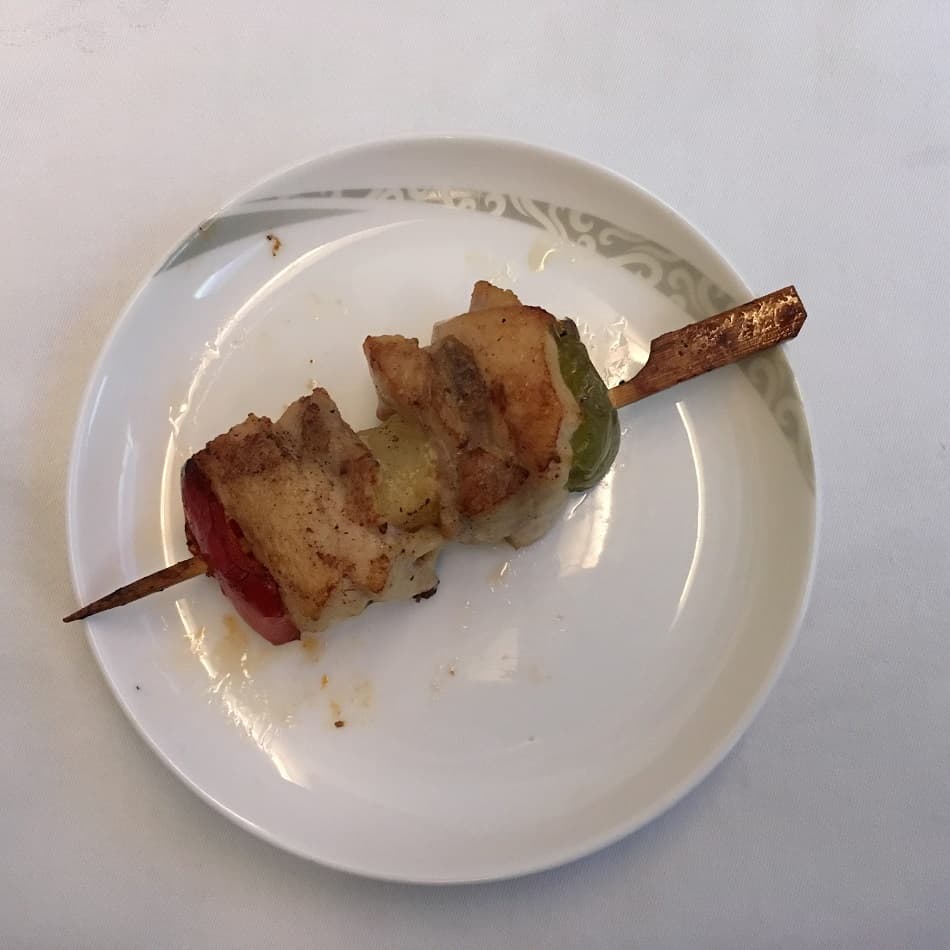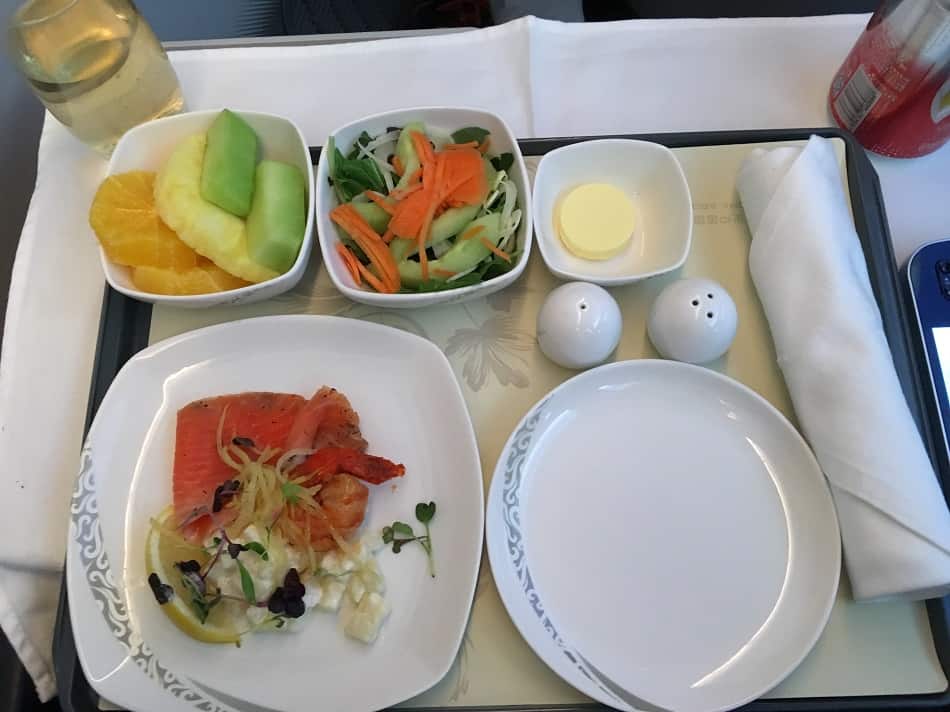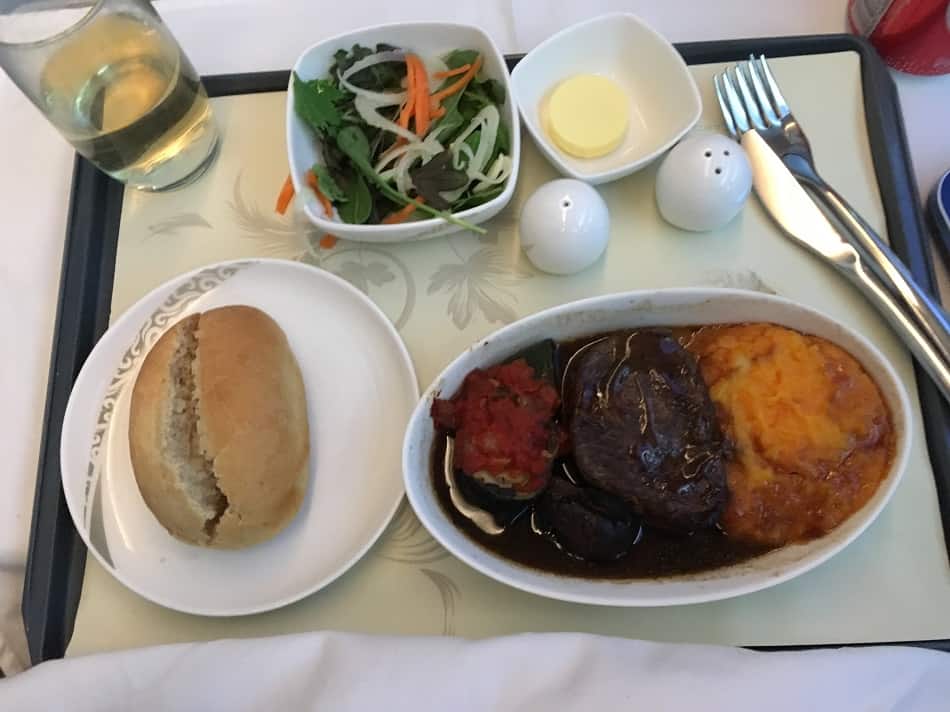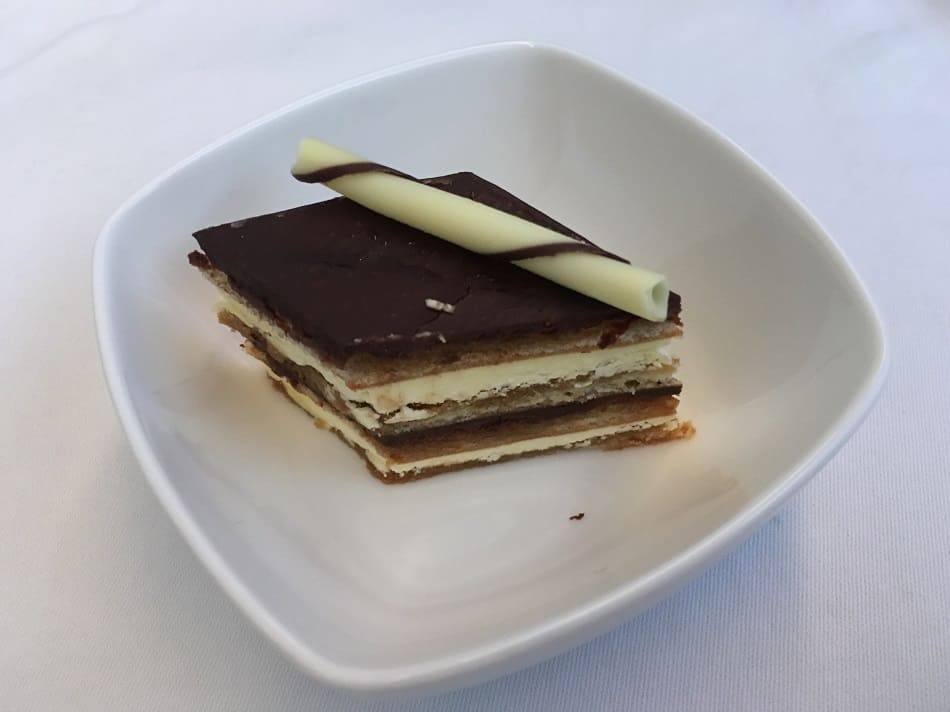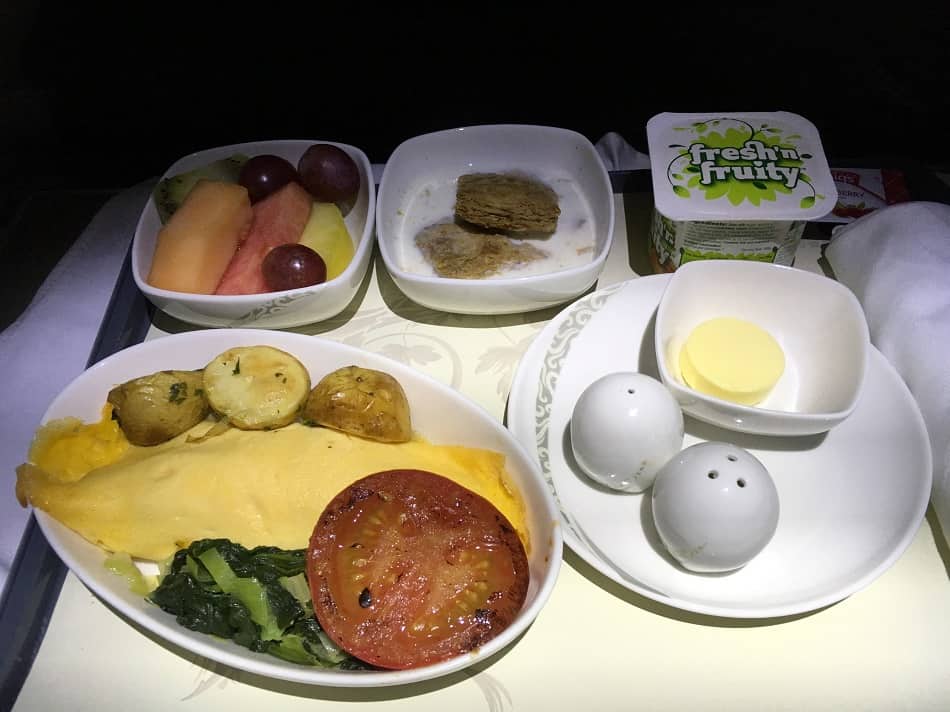 Beijing to Auckland
The second and third legs of the trip CA783 & CA784 were in the Boeing 787-9, which has a larger Business class cabin which holds all five rows of 60 inch pitched seats in the same 2-2-2 formation. To save space further, they're slightly offset from forward facing.
I managed to get some sleep on the Beijing to Auckland leg by sleeping on my side, but on the return leg I couldn't get comfortable – I blame it on attempting to sleep on my back: when my shoulders touched both sides of the bed at the same time I felt claustrophobic. It didn't happen with the Airbus, even though both seats are the same width.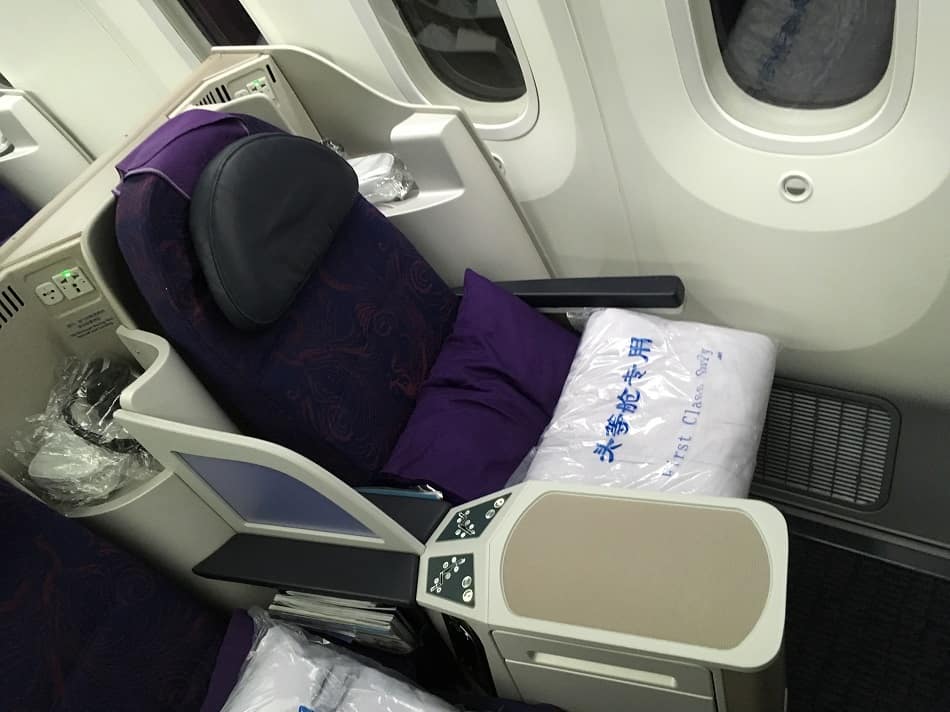 The 787-9 doesnt have shutters for the windows per se, instead it has a gel which can be controlled to allow a certain amount of light in. Here's a video demonstration. The upshot is that it makes for some eerie images: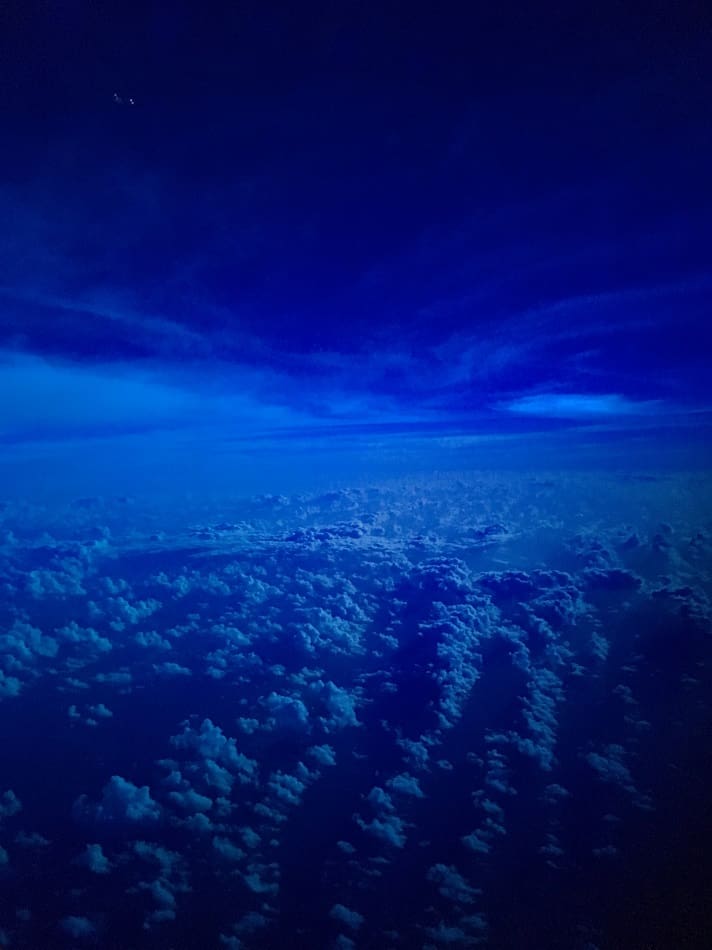 Lounge: Auckland
Seeing as there are only three lounges at Auckland Airport, it makes sense that I'd be directed to use the Air New Zealand lounge. The Emirates & Qantas Lounge services the Oneworld alliance airlines, and there is a pay lounge (Emperor Lounge). Its a good size, and is quite busy but I manage to snaffle one of the swinging chairs in the outdoor section. Nice to get some real fresh air!
Clayton Tremain has a pretty comprehensive review of the lounge.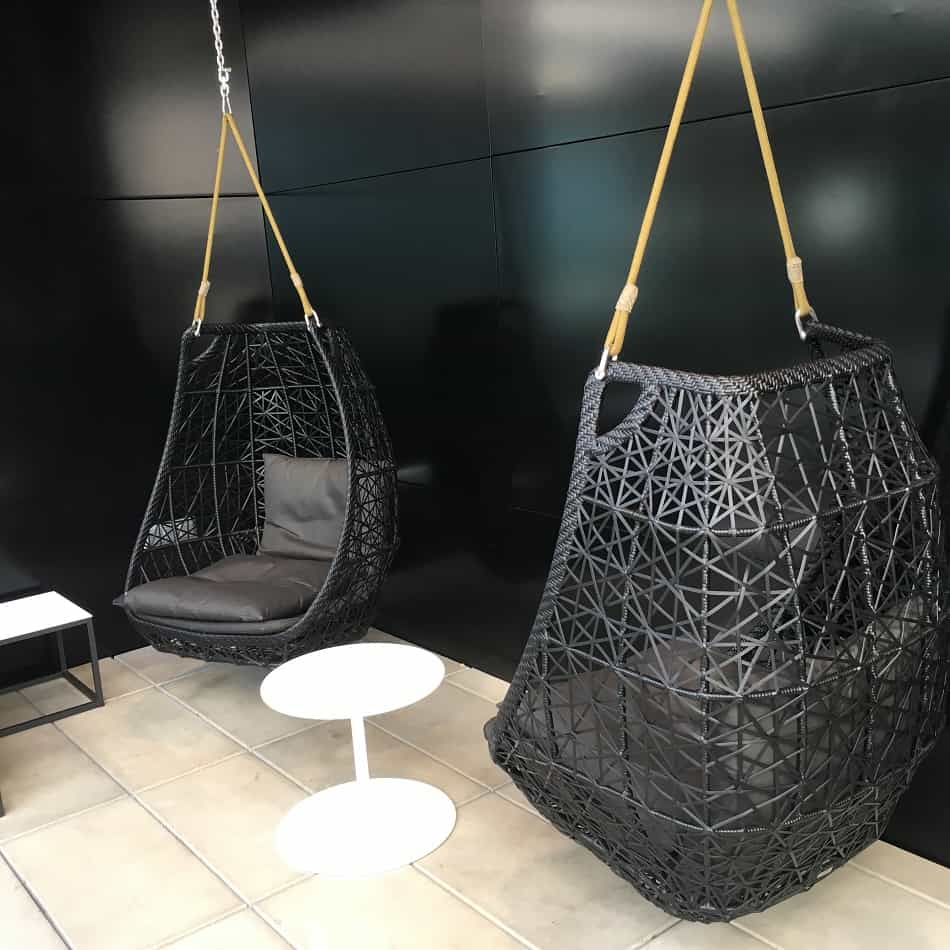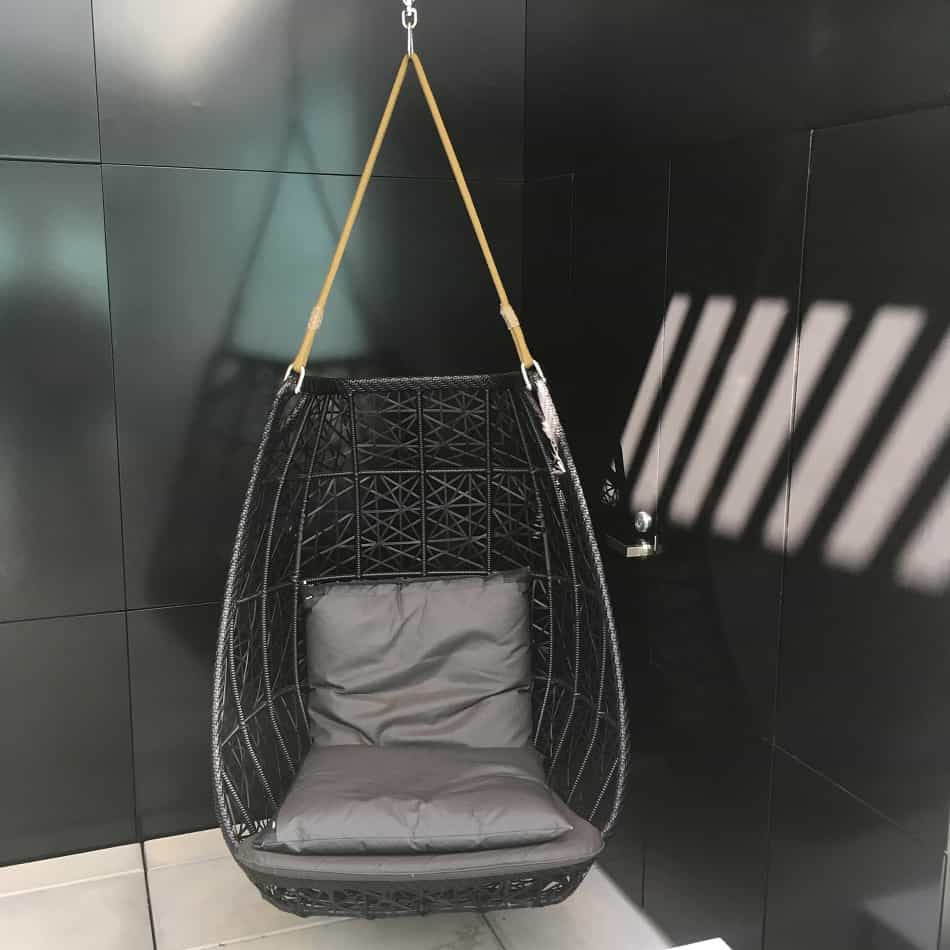 Auckland to Beijing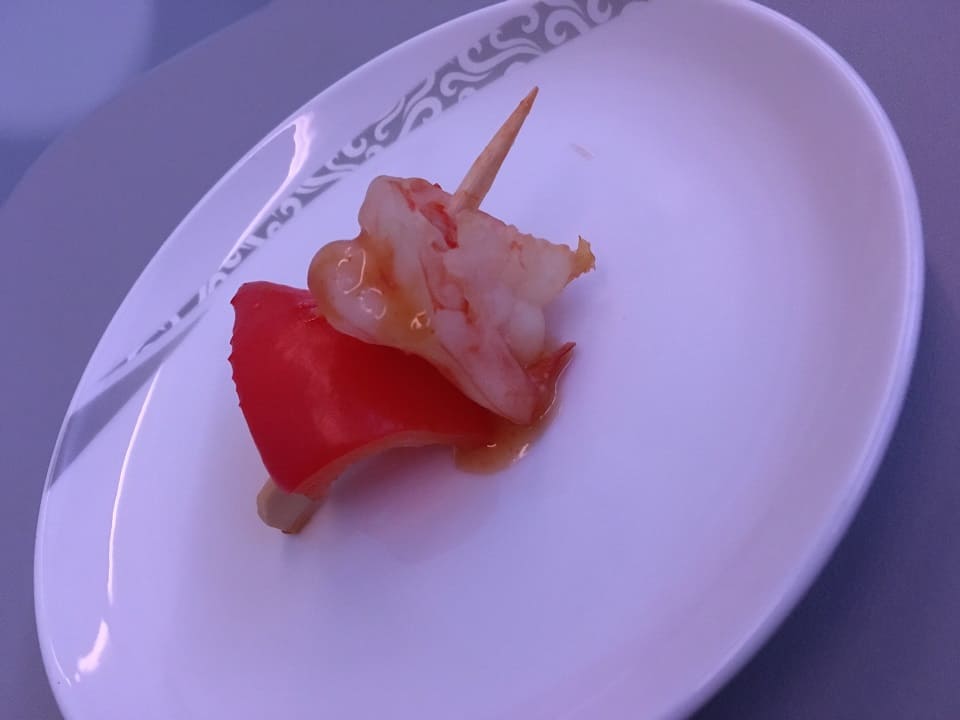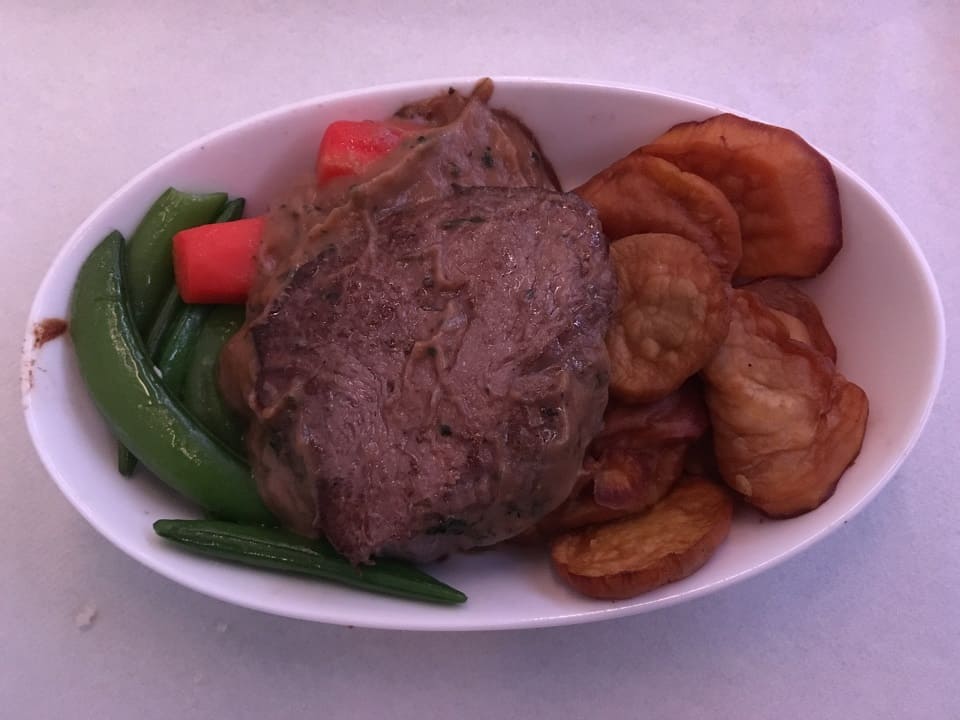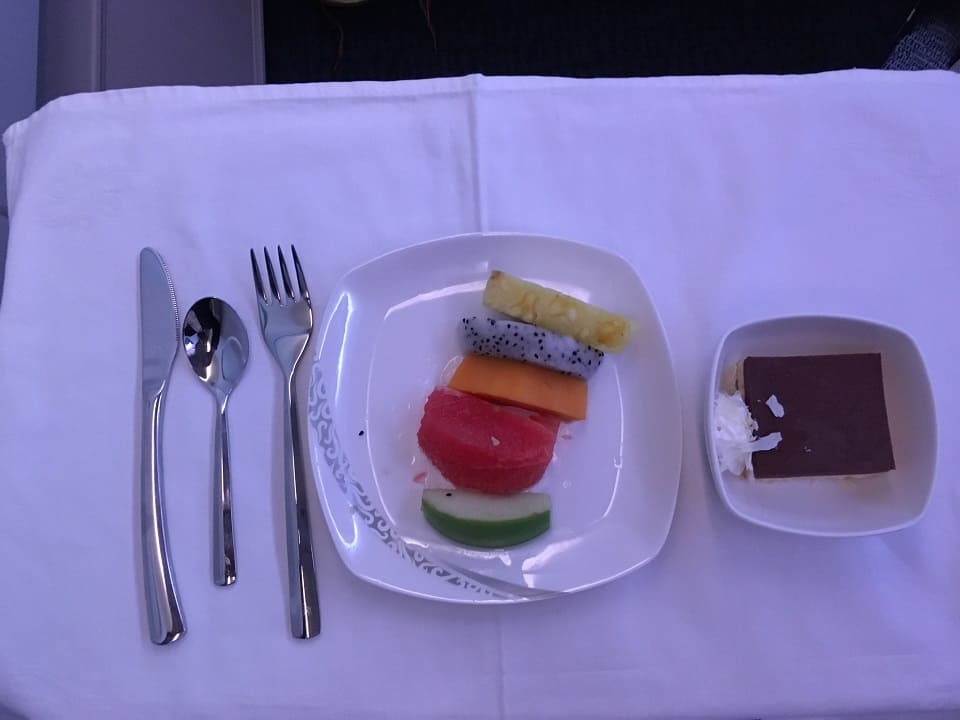 Beijing
Old school sleeping pods…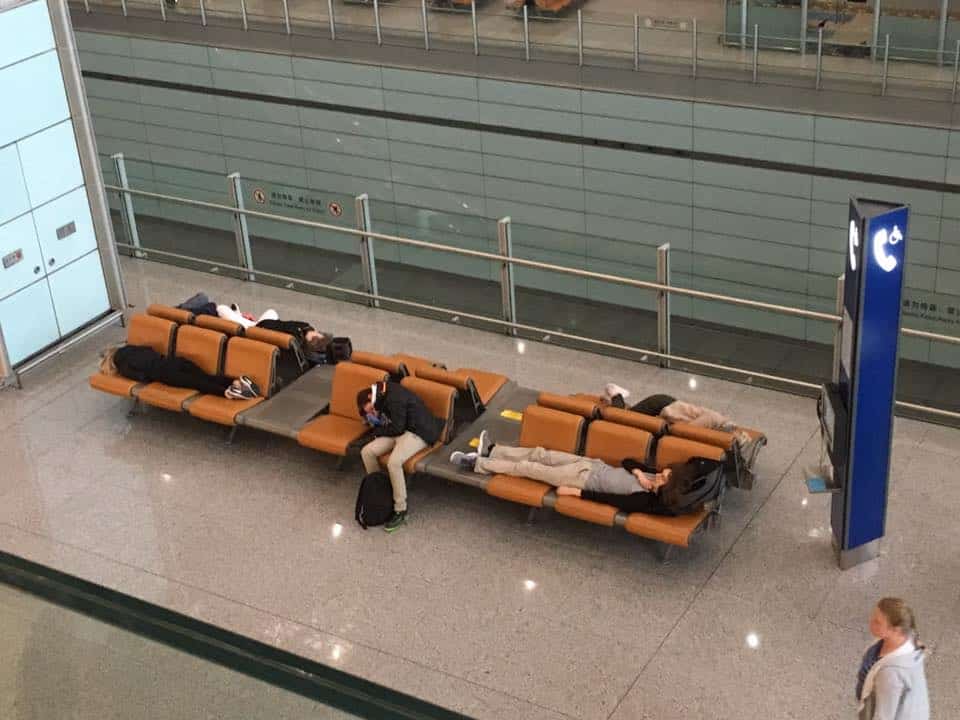 I mentioned the "fog" to my girlfriend over IM – her response? There's a Red "Bad Air" alert – that's actually smog!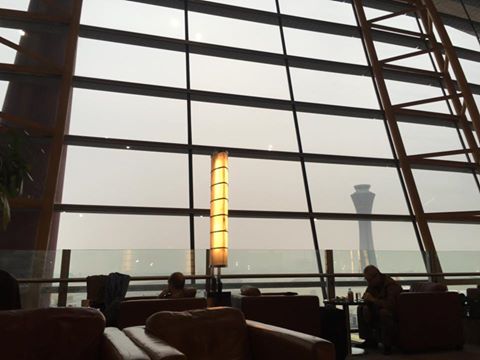 I also read a review of the free bar in the lounge that they didn't have very good brands of spirits. I can't vouch for the actual liquid inside them, but these bottles are definitely name brands….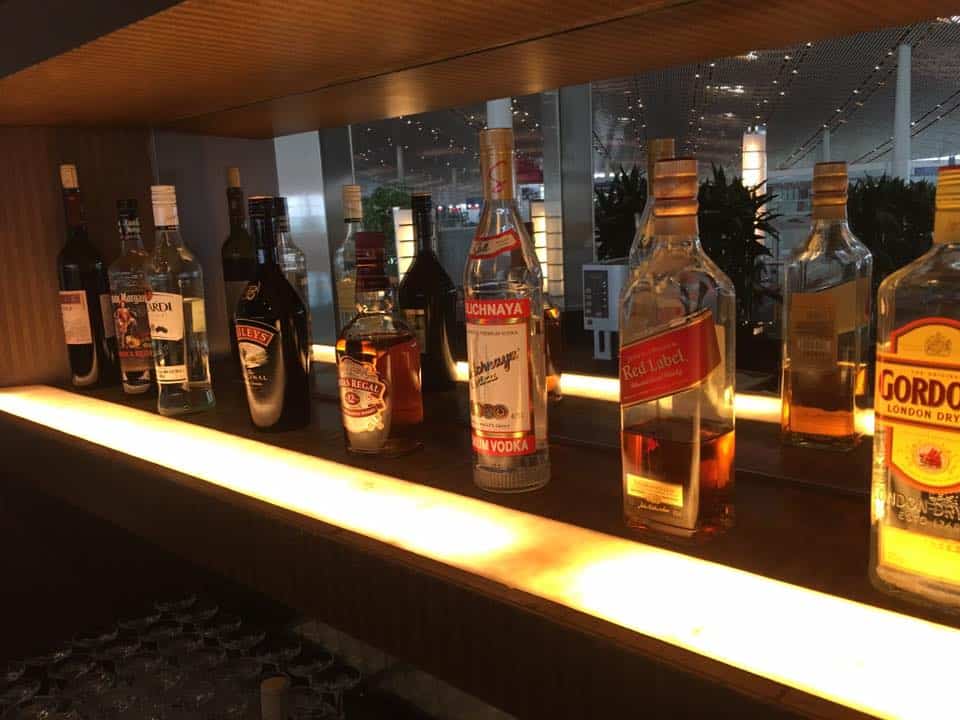 Beijing to London

Summary
So was it worth it? For me, having to be awake for over 30 hours isn't fun. And being cramped up with a 32inch pitch for 12 hours at a time in economy doesn't appeal either. My back and neck end up killing me for weeks afterwards.
It's quite possible to get sleep either sleeping in the airport on seats or in a pay by the hour hotel, so really the question is:
Is the price difference between the economy ticket with cramped seating plus the cost of sleeping in Beijing worth the superior treatment and perks available to Business class customers?
I have seen ticket prices for the routes mentioned above for £2,031 in economy and £6,189 in business class. I wouldn't be willing to pay that sort of money for economy, but if you do some other searches you can come up with closer spreads: £1,230 vs £2,243 for example. If you expand out beyond Air China and don't care about the dates you travel then you can get as low as £600 and £2,300 return. Watch out for the seat pitch and whether its truly a lie flat bed though – all business classes are not equal!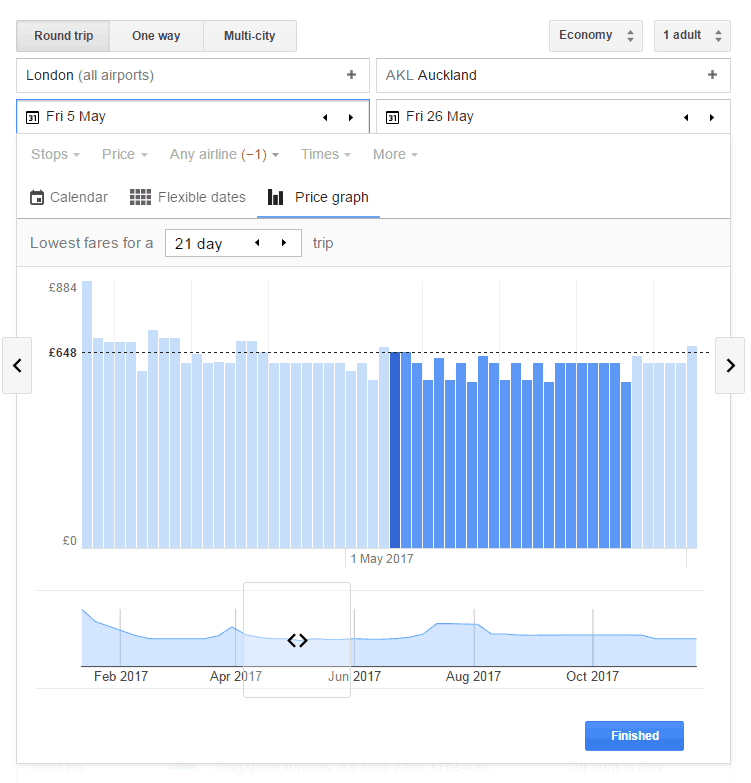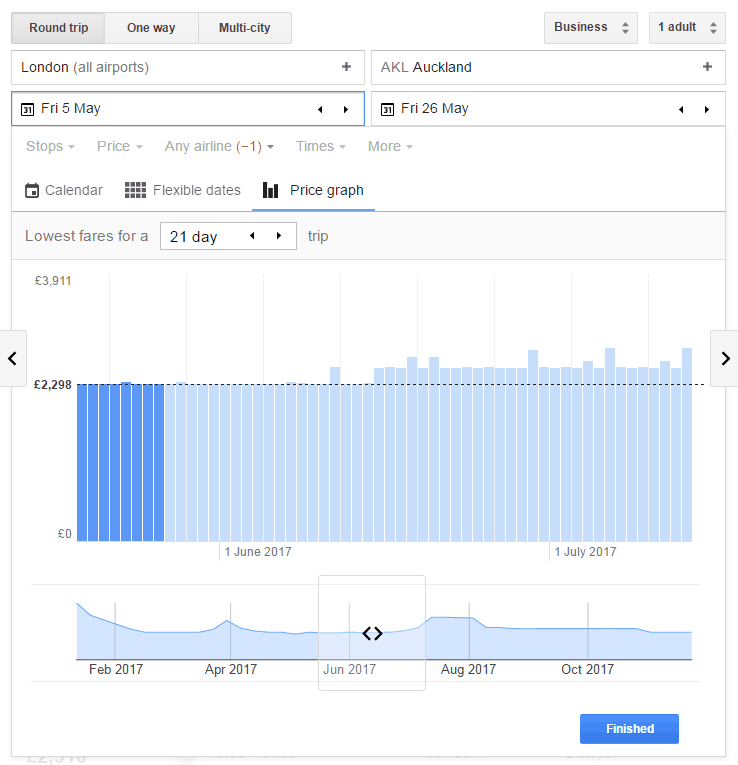 I had found the flights I ended up taking for close to £1,900 but wasn't able to get them (issues with getting leave approved) and ended up paying £2,200 for them.
Basically I'm paying close to £1,000 extra for my neck and back being OK after the travel and for a combined total of about 10 hours sleep in each direction. Plus the unlimited food and drink in the lounges.