Leonardo Royal Hotel Edinburgh Haymarket is a stone's throw away from the Haymarket train station and equidistant from the Edinburgh International Conference Centre making it a perfect place to stay for conferences and seminars.
It's laid out like two lower case L's joined end to end and there's one thing I try to figure out as I trek from one end to the other to get to our room – why make the reception at one end rather than in the middle?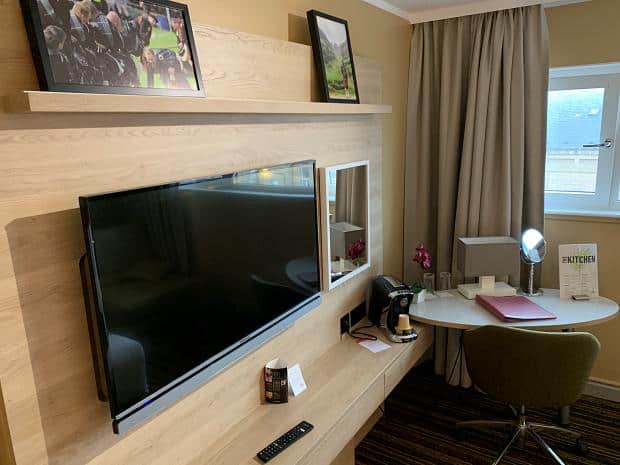 Trek over, we make ourselves comfortable and check out the amenities. They've made good use of the space with the furniture and fittings – the TV is attached to the wall, the coffee maker is a single serve job and the table is tucked into the corner to keep out of your way as you navigate to either side of the bed.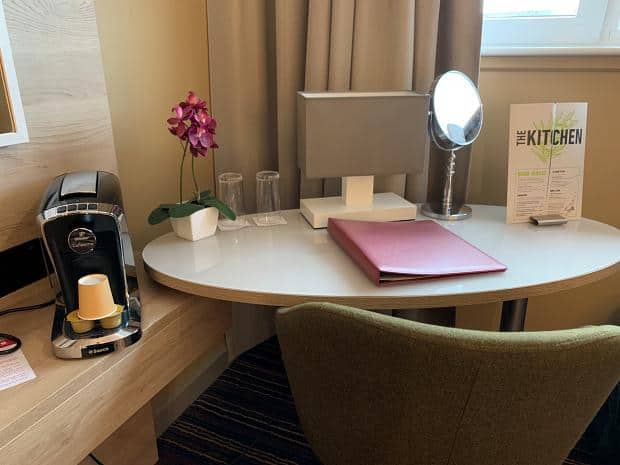 The view out the window is less than inspiring, pointing at the neighbouring block of flats. The wing closer to the reception area currently looks out over a building site and I believe that a shopping centre is going to go in there. Something to look forward to!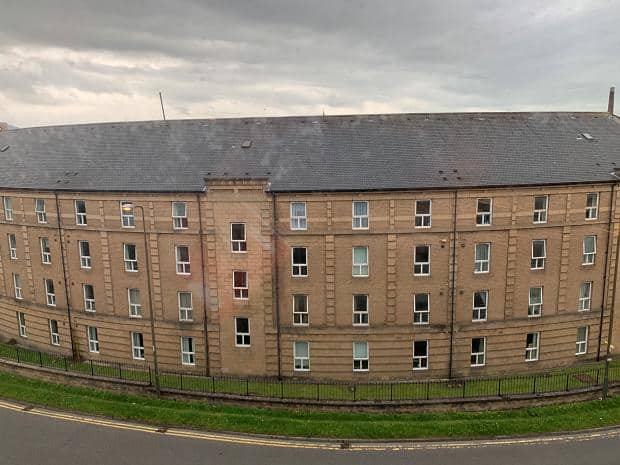 The bed is comfortable enough, two singles pushed together. There is a cool picture of Edinburgh taken from Carlton Hill looking out over the Old Town towards the Castle over the top of the bed which is a nice touch. If you can't see anything good from the windows, they'll put the views on the walls instead!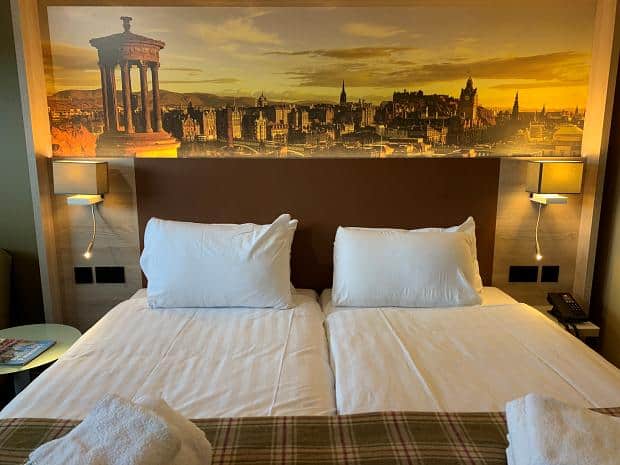 The bathroom is nicely appointed, shower over a full bath and the toiletries are Sea of Spa. The sheep mural makes us Kiwis feel at home.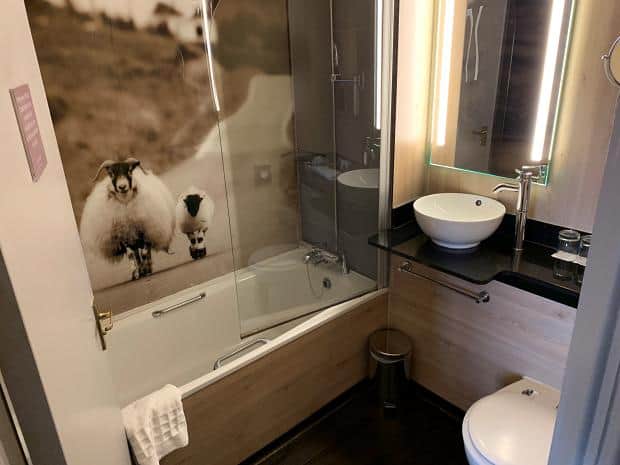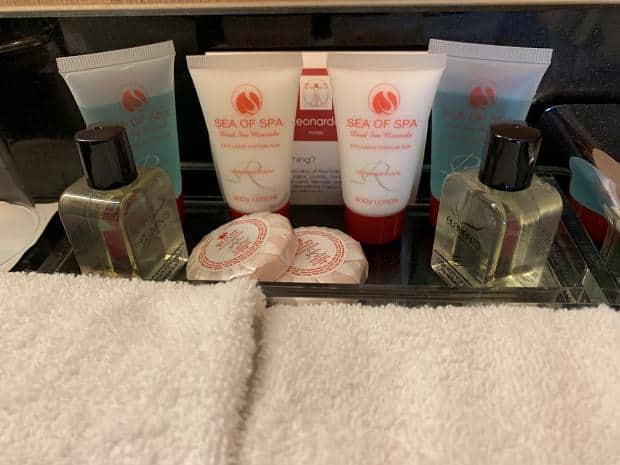 A nice book explains some of the things there are to do in Edinburgh and its surrounds – so good that they obviously have copies of it stolen – there's a warning sticker on the front cover of the guide book not to steal it!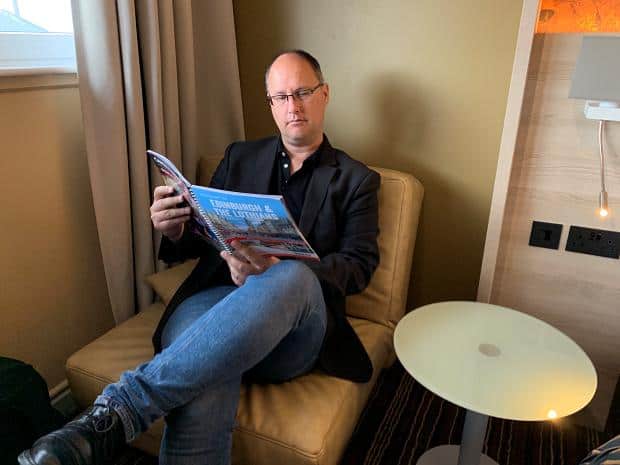 We're peckish so order down to the Kitchen for some room service and are very pleasantly surprised by the serving sizes…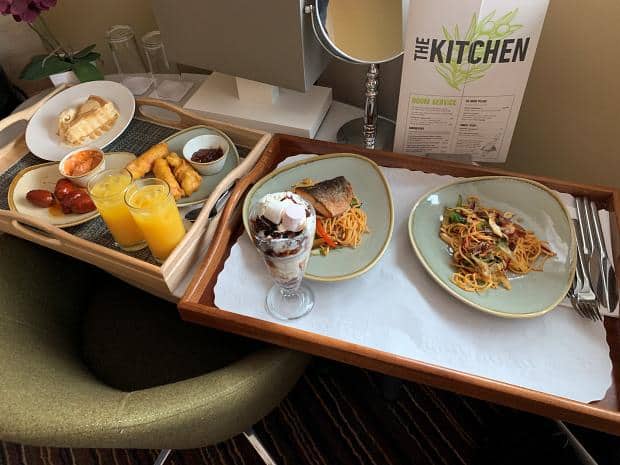 The gap between the North and South wings of the buildings has been used as an art installation with mannequins in various dance poses high above an atrium, looking out onto the street separating the apartment block from the construction site. Something for the workers to look at on their lunchbreak perhaps.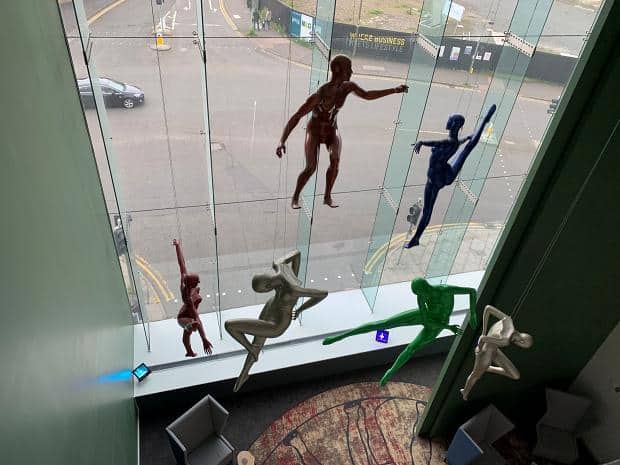 In the morning we partake of the buffet breakfast and I have to stop myself from overdoing it, limiting myself to eggs two ways (scrambled and fried), pig two ways (bacon and sausage) a pair of hashbrowns and some mushrooms, washed down with apple juice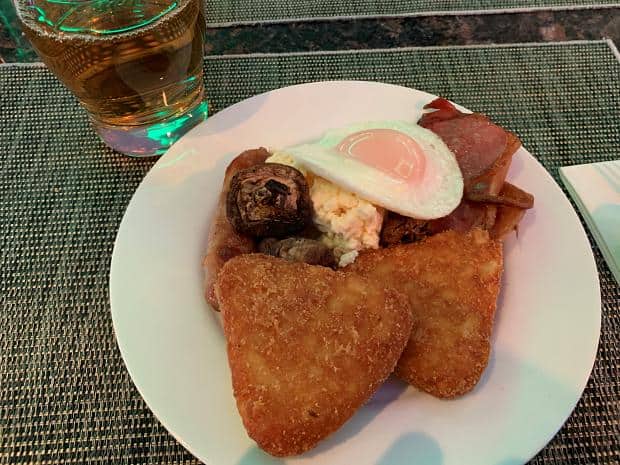 Would I Go Back?
Definitely – especially if proximity to Haymarket was required. The Leonardo is perfectly serviceable with good value for money food offerings.