Arrival
I'm unaware when taxiing to Dream Hostel that I seem to have arrived at an inauspicious moment. But I find out soon enough that I have. The taxi driver tells me that 7 years ago on this day (10th April 2010) the Polish president's plane was (allegedly) shot down by Russians, and there is a 'memorial event' taking place this evening.
Ah that would explain the crowds of people waving Polish flags, and holding signs when I alight and the main street lined with police and metal barriers. Situated on Krakowskie Przedmiescie, Dream Hostel is right in the thick of it. But at 5.30 pm it's still early on in the proceedings.
It's not until after I check-in and go for dinner on a back-street that the full extent of the 'event' is apparent. I actually can't get back to the hostel because there's a police cordon blocking off the entrance. Doh! I attempt to show a couple of police the name of my hostel and point behind their shoulders to indicate I'm staying in there. No go. They're adamant I'm not going through.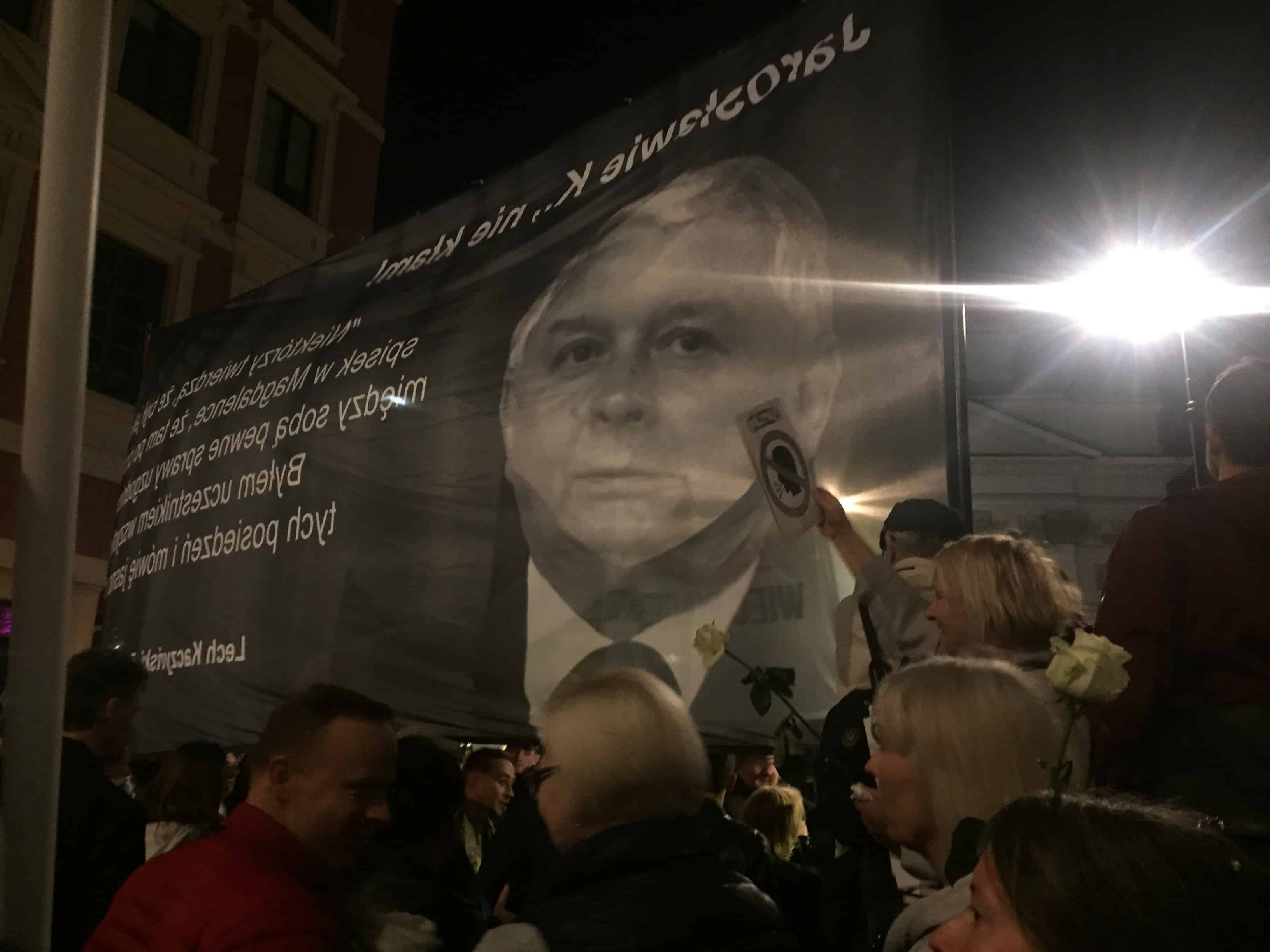 I try the other entrance, it's also police cordoned and is even more crowded with people waving signs and general mayhem. I ask a girl stationed inside a doorway how long it will last "Who knows?!", she says, "They're a bit crazy, it could be an hour or it could be all night, who knows what they'll do".
Great, my first night in Poland and I'm stuck outside on the street unable to even reach my hostel due to no fault of my own. At least I've had dinner. After about 45 minutes of hanging around aimlessly I see a policeman indicate to a couple to go around the back of some buildings and come out behind the cordon. I follow them and end up behind the police cordon and able to finally reach my hostel.
Hostel
Dream Hostels is a chain of six hostels covering three countries – Poland, Ukraine & Slovakia. In the Warsaw one (which got excellent reviews on Booking.com and why I chose it) I'm staying for three nights in a female only dormitory on the first floor. The room has 3 bunks, so 6 beds in total. Each bed is made up with a bottom sheet and has a duvet neatly folded on top and pillow. There is a curtain to pull across and a electric plug socket and a light. We also get a lockable drawer underneath the bed with our own key.
It's the best set up for a dorm room hostel I think I've seen, managing to give you privacy and security as well as socialising if you want it. None of my roommates is particularly talkative though, so I get two out of three things.
The dorm door is activated by a keycard which you can also use on the front door after midnight. I realise however I don't have a towel, and one isn't provided so I need to go and rent one, and also buy breakfast for the next day. (If you buy it the day before its 12 pln instead of 15 pln on the day). I also need to do laundry so spend another 15 pln to do a load.
There are a few extras they make you pay for (plus a deposit for the locker key and the towel) but all in all everything's so cheap the whole deal still ends up being very reasonable.
The room doesn't have an ensuite bathroom but it's situated just outside the room, and as I'm on the first floor I'm also handy to reception (I don't quite make a pest of myself asking a lot of questions but it could get that way….)
Food
I sleep soundly enough and head up to the breakfast room the next morning on the top floor, which is also where there is an adjoining small lounge. The girl has run out of eggs for the big breakfast so I get the light breakfast which is cereal, milk, toast and jam and juice. It's basic but for 12 pln (NZD$4) I can't really complain. The other option is a panini which isn't really appealing for breakfast.
The next morning I try the big breakfast, there are still no eggs but says if I don't mind waiting she'll run out to the shop to get some which is fine with me and worth waiting for when it arrives.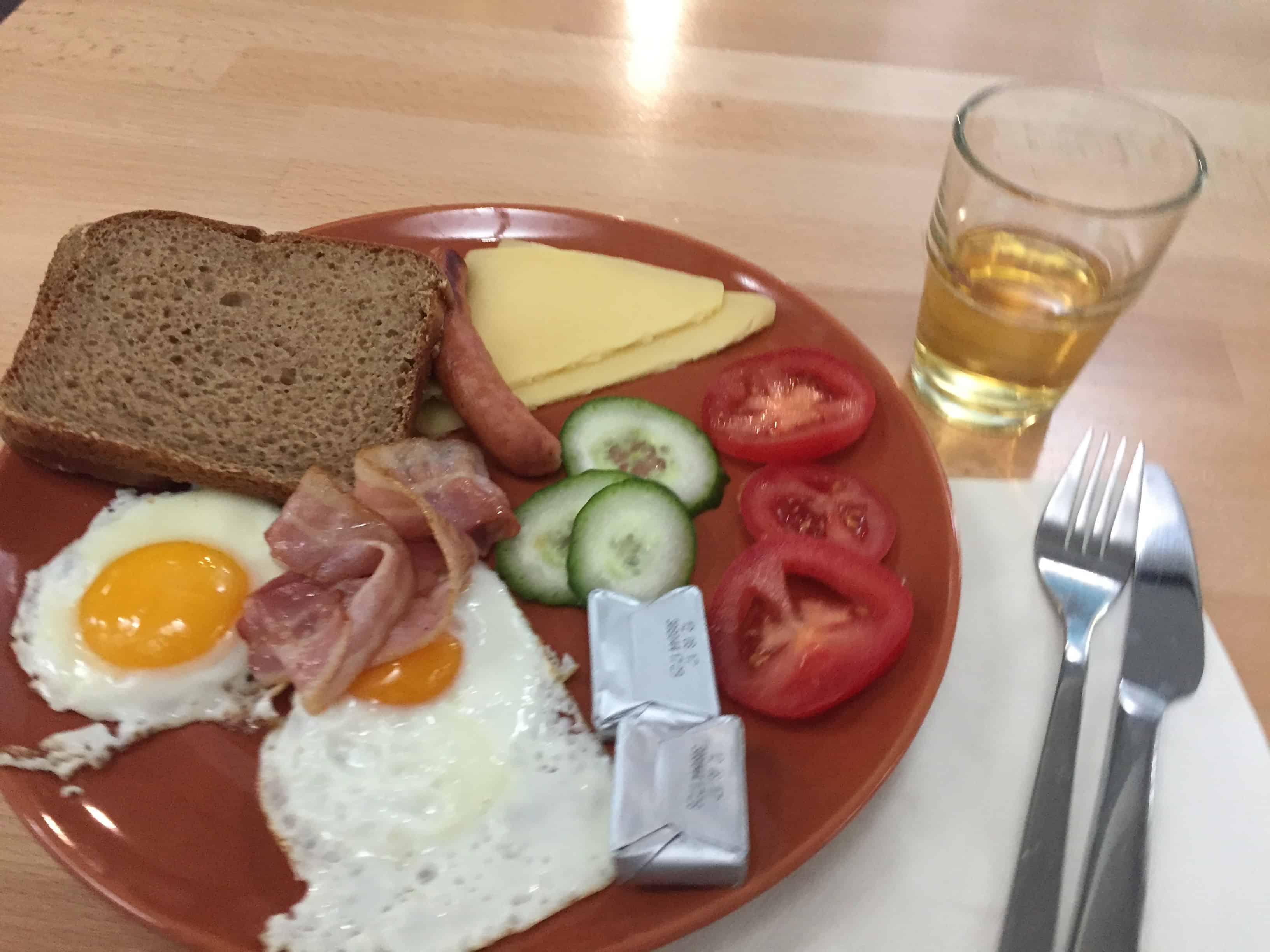 Walking Tours
I've discovered that the hostel has free walking tour pamphlets at reception so I enquire with Chris about which ones he doesn't want to do. I end up doing the Alternative Warsaw one which is kind of random and explores the area of Praga on the other side of the bridge. It's probably one that you should do after you've done the Old Town and Jewish Warsaw but it doesn't really matter. There are six free walking tours and I end up doing four of them, one by myself and three with Chris when we stay at Hotel MDM. The meeting point for most of them is Sigismund's Column, a five minute walk from the hostel.
Restaurants
The hostel is also very handy to a lot of restaurants, a typical Polish restaurant Zapiecek is right next door and serves cuisine such as Pierogi (dumplings), rustic soups and large knuckles of meat. I go there for lunch one day and get 9 pierogi with cabbage and meat. The waitresses are also dressed up in traditional type costumes, though because its so cold most of them are wearing woolly cardigans over the top.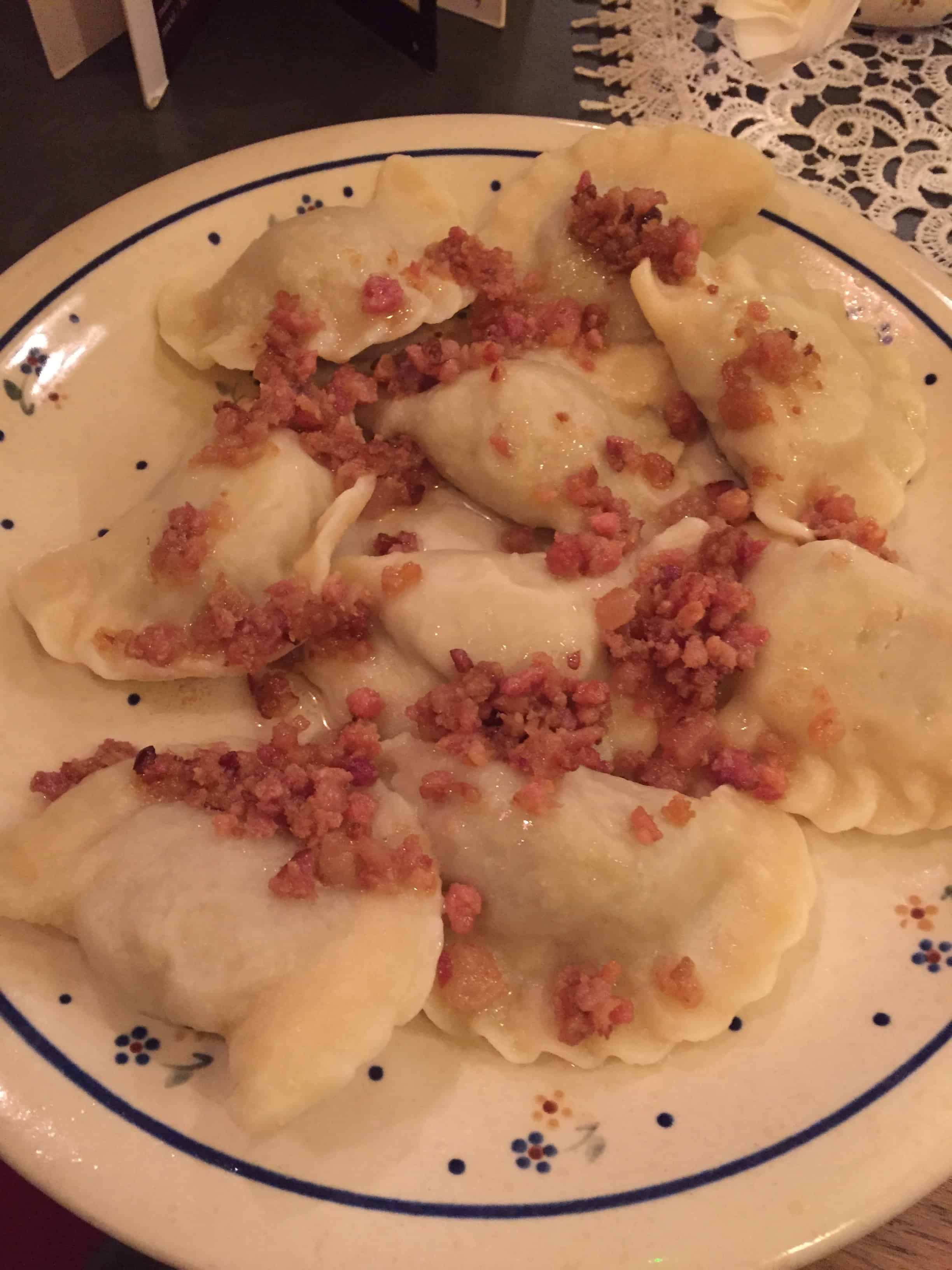 If that doesn't suit then there are plenty of others to choose from, sushi, American pancakes, coffee houses, even an Irish pub!
Pros & Cons
Pros

Design: Modern and cool
Vibe: Youngish but there's no raised eyebrows if you're 35+
Support: Friendly helpful staff, nothing is too much trouble
Location: Well placed for restaurants and walking tours, shopping, cafes and general sightseeing.

Cons

It's a bit of a walk to the nearest metro, but there is a bus stop right outside; buses go to the central station. There's also the Stare Miasto tram stop by the bridge.
Would I Go Back?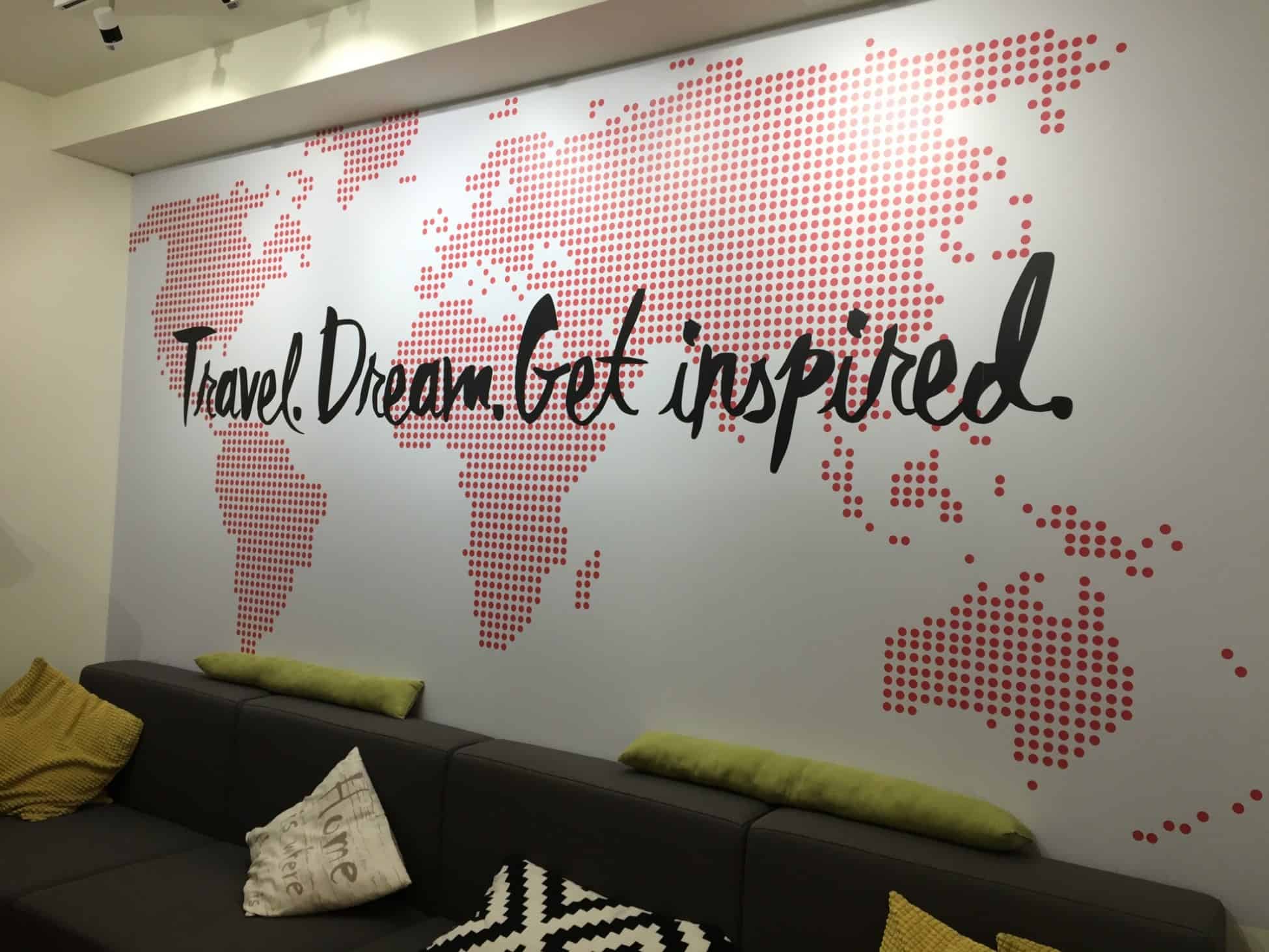 Definitely. I was pretty impressed with the whole Dream Hostel set up, it's really clean with modern facilities and I had a really comfortable stay. Mention must be made of the most helpful receptionist Ola who patiently dealt with my multiple questions, as well as assisting me to book and print a train ticket to Krakow.