We didn't spend nearly enough time at Chateau des Monts, a lovely old chateau five minutes from Bayeux in the heart of Normandy. The approach is up a tree-lined driveway, the branches above forming a canopy which perfectly frames the first views you get of the main building of the chateau.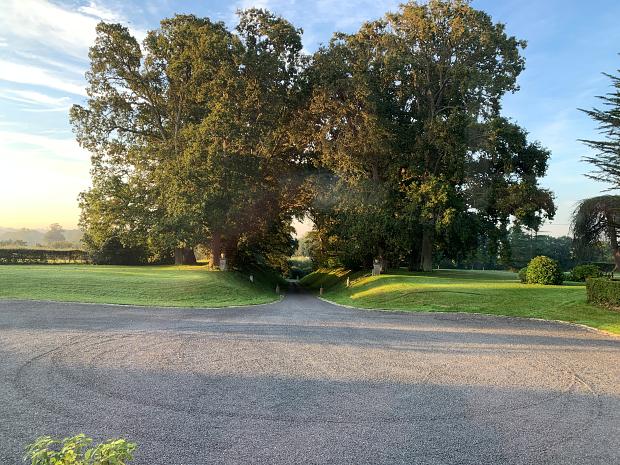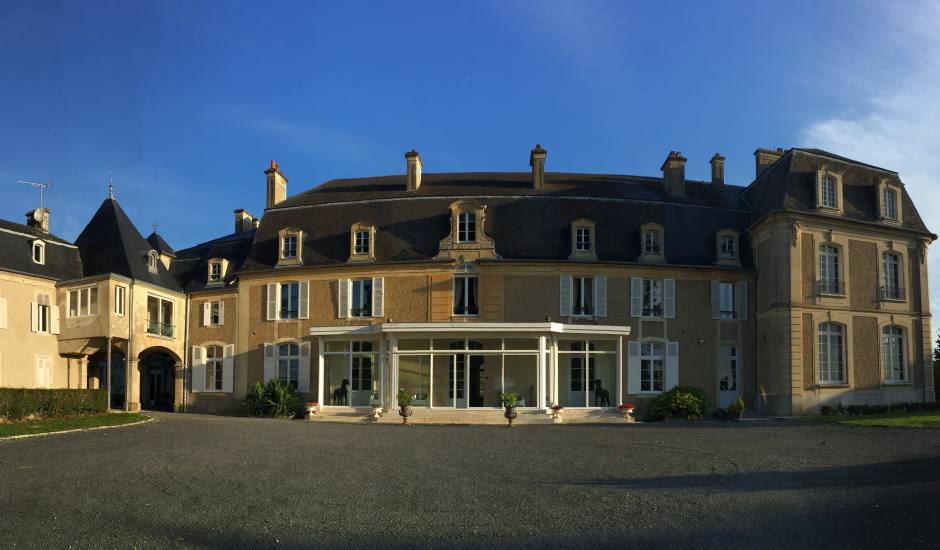 Inside we're taken up two flights of stairs and along a corridor to our room #1 because we are the only guests staying in the place. Online it says that there are five rooms available with room for eighteen guests, but as we ascended the stairs I could see some doors had #9 and #10 on them. So I'm not sure if they only have five at a time or if there is more capacity should they need it. Because the place is huge. It sits on 90 acres of private gardens with a lake and flower gardens and dates back to the 18th Century.
The Room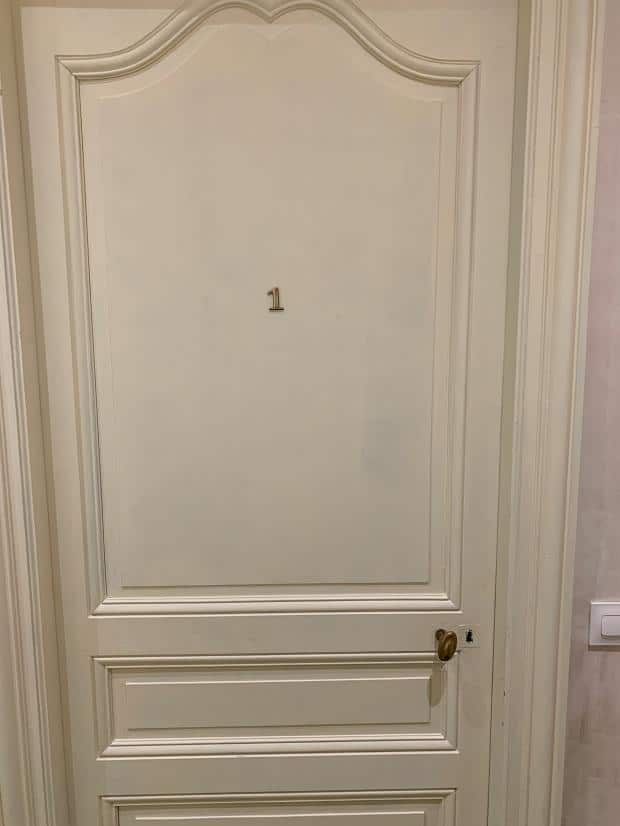 Our room was enormous. Lit by a chandelier and decorated with period pieces, it was an exercise in tasteful restraint.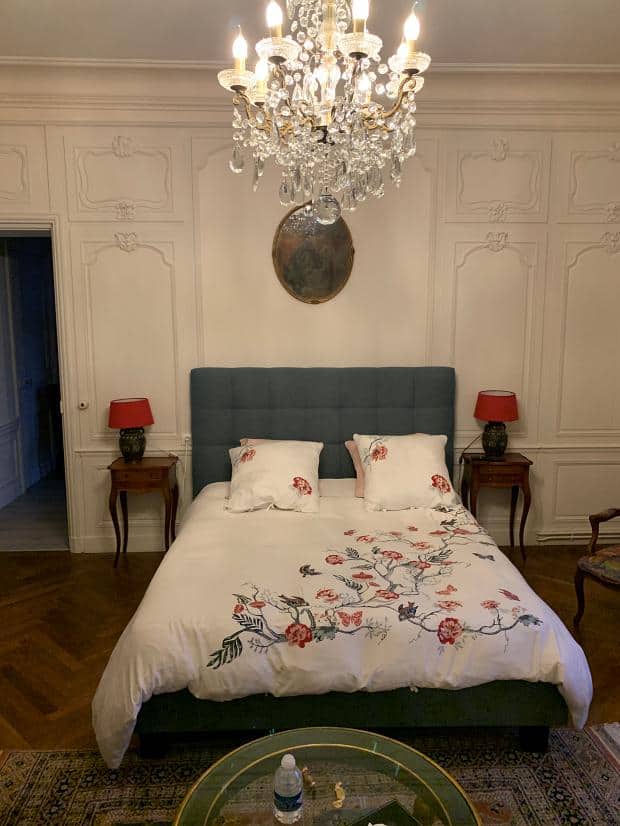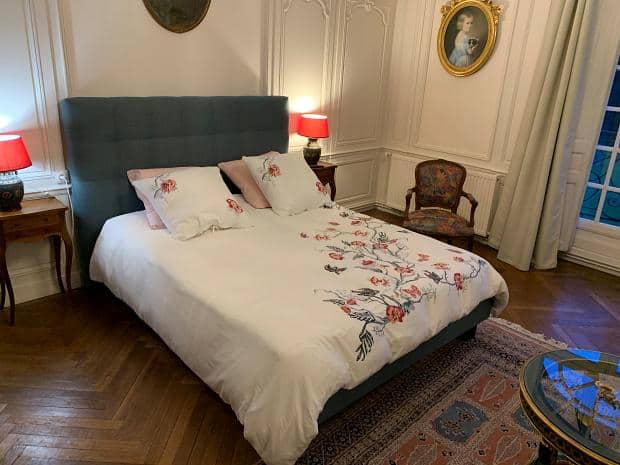 In the bathroom was a super shower that we quite frankly couldn't figure out how to operate. I stood there clicking every button and moving every knob around but it was only when our host explained that the bottom dial was also a lever which needed to be lifted, that we got a steady stream of water coming through the rain forest outlet in the ceiling.
I think you'd really need to stay a little longer just so you could enjoy all the different combinations that the power shower/bath is capable of!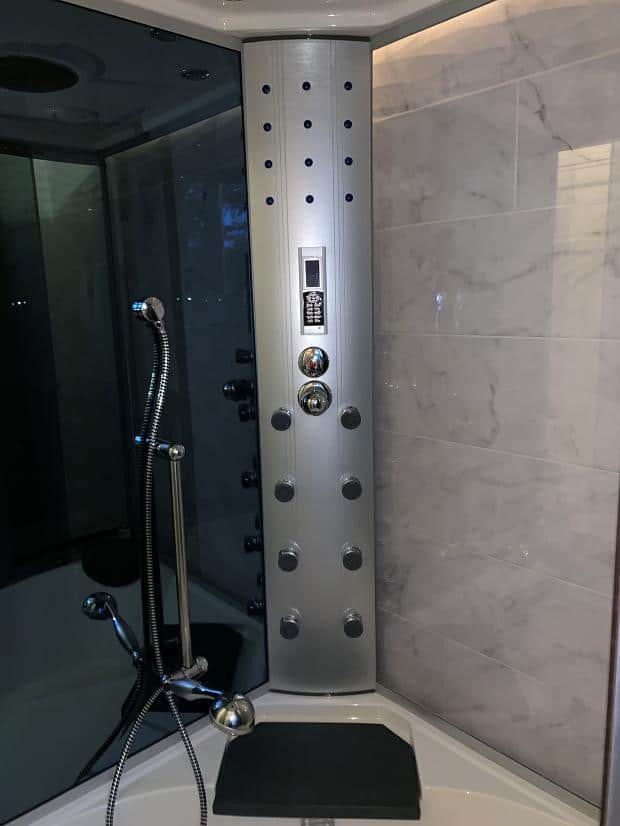 There is so much room in the bathroom – opposite the vanity are three wardrobes – plenty of space to unpack all your luggage!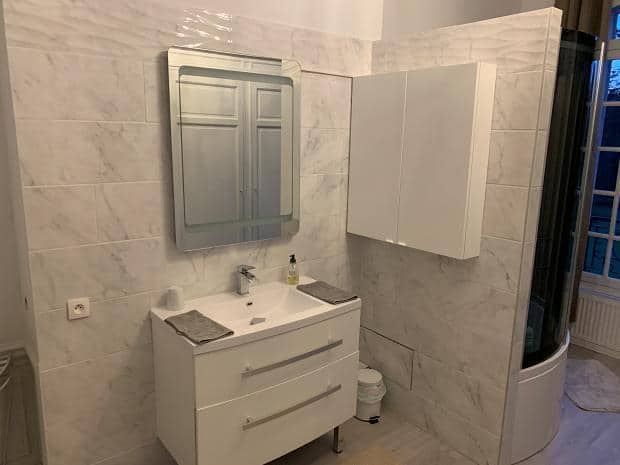 Back in the room we noted the TV tucked in the corner – I don't think many would watch TV when there is so much to do at the chateau, but I also noticed the almost invisible door leading to an adjacent room. Locked and a table in front of it indicating that it was off limits, but also indicating that you could have a large family here and with the interconnecting rooms you could have your space and still be connected.
I called out to Ange: "What is black with blonde hair, exposed breasts and one cloven hoof?"
Ange frowned, and responded "I don't know, what?"
"I don't know either but three of them are holding up our table."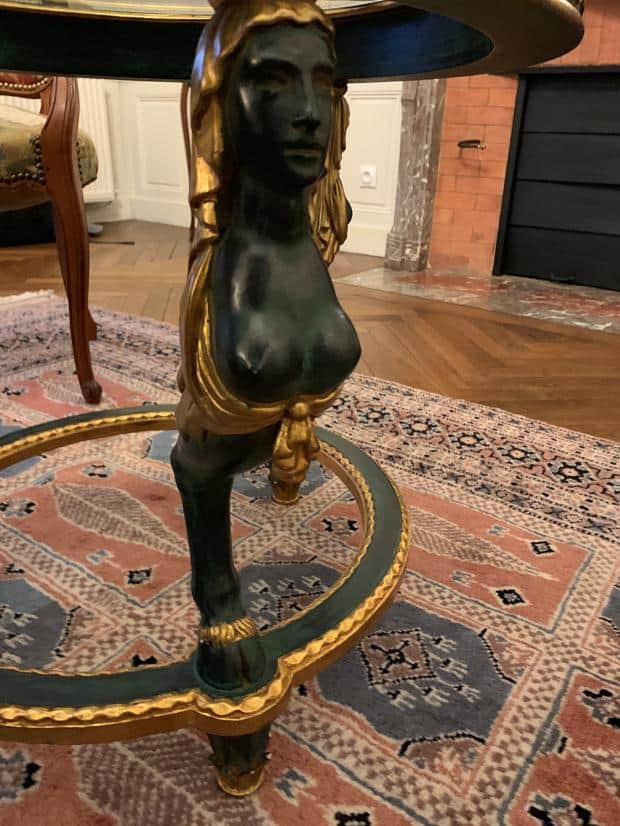 Breakfast
In the morning we headed down for breakfast. Now on our arrival the night before we had a conversation with the host. She didn't speak much English and my French is… limited, shall we say? But despite that, as usual with good humour and all the best intentions we muddled through.
She'd asked us what we wanted for breakfast and I, more as an excercise in showing off my vocabulary, rattled off all the words for breakfast food I could remember.
"Les cereals, pain, baguette, pain du chocolate, croissant, yogurt, cafe, jambon et fromage pour le pain, les fruits, cafe et jus -"
"Quelle saveur de jus? Orange?"
"Oui, jus d'orange."
I trailed off, racking my brain for any other words which were appropriate.
"L'ouef?" she prompted.
"Oui! S'il vous plait"
I realized then that my laundry list of breakfast demands was probably bordering on excessive, but she took it all in good humor, noting that I was a large man and needed to keep the engine running. I also think it helped that no one else was staying so I could get away with demanding enough food for five!
So in the morning when we made our way into the breakfast room we could see that the table was figuratively groaning under the weight of all the food.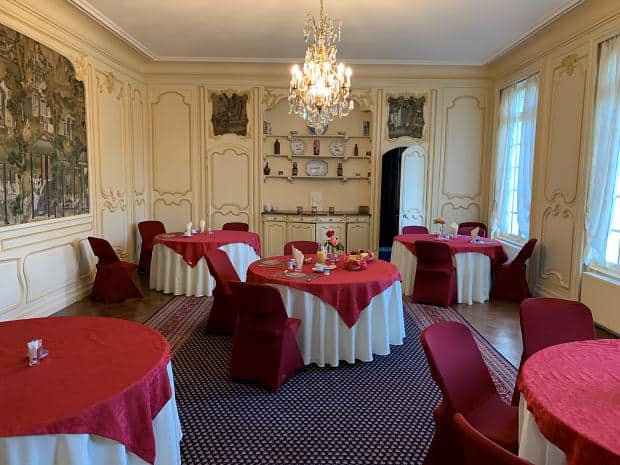 The sideboard had a selection of three cereals, and the panels on each side turned out to be doors into the kitchen beyond.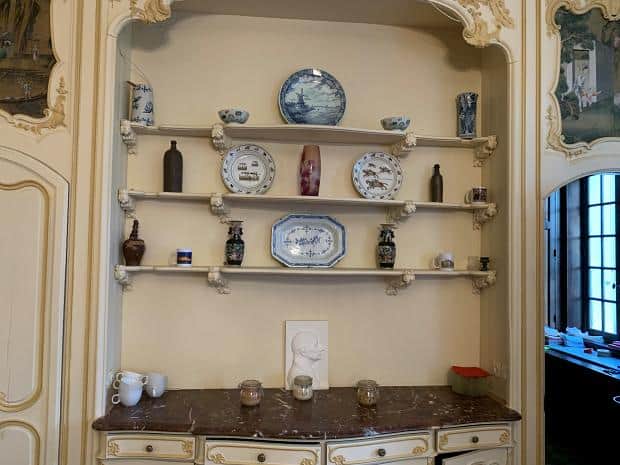 There were even things we hadn't asked for, so I guess my demands….er requests…may have exhausted my French vocabulary but certainly hadn't exhausted our hosts capacity for breakfast.
There was:
Dried prunes, dried apricot, yogurt, apple conserve and strawberry jam, croissant, baguette, les madelines in single serve plastic wraps, bananas, apples, plums, kiwifruit and a peach. Two different cheeses, including Camembert, ham and butter, three cereals (oats, toasted muesli with fruit or chocolate bits). Hot and cold milk for coffee and cereal respectively. And two freshly fried eggs each.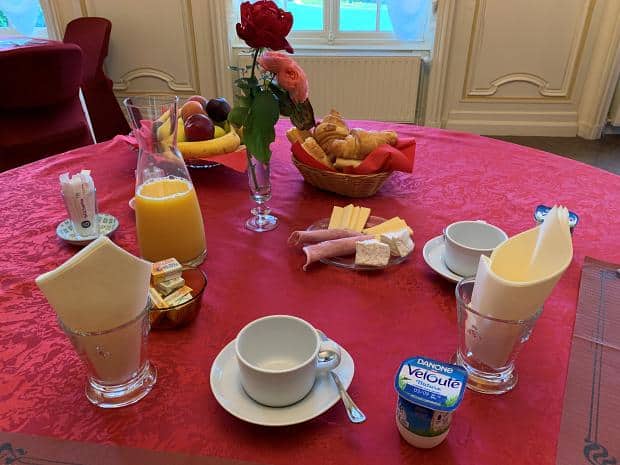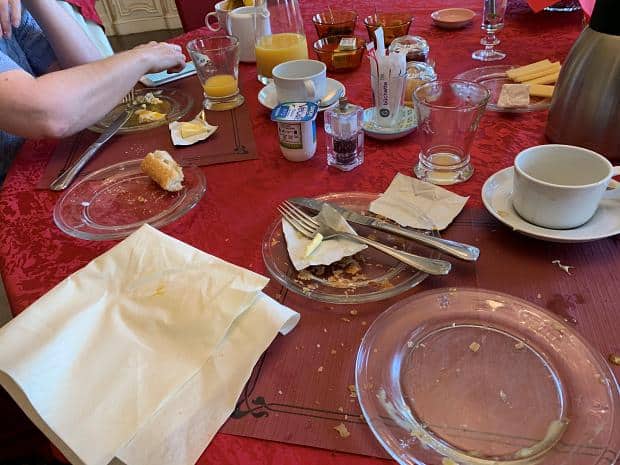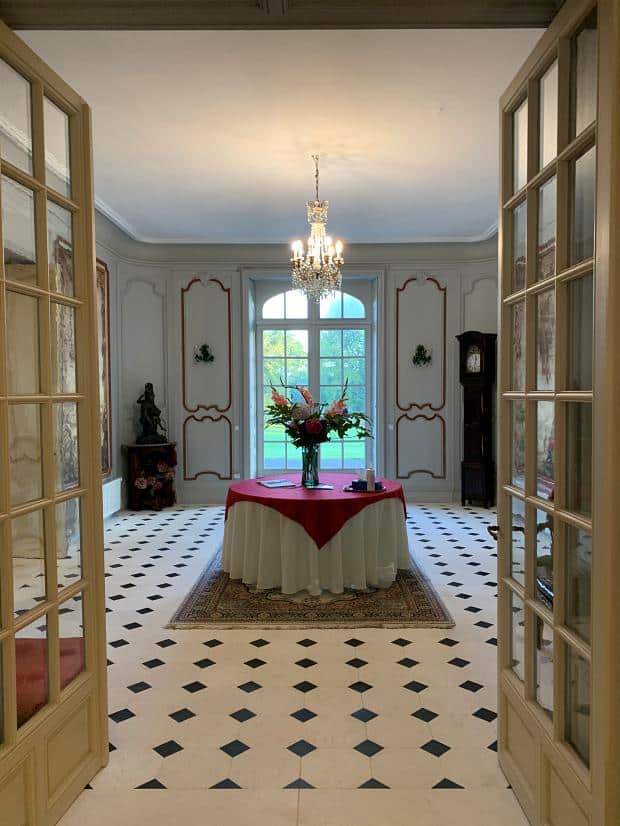 What I loved about the Chateau was that as any large building gets bigger the rooms and their functions get extremely more narrow – if you have enough room for three dressing rooms off a bedroom, for example, you might decide to have one specially for shoes. In this case there was an anteroom before the breakfast room which held a single circular table with a guest book on it, with good wishes and thank you's from other guests.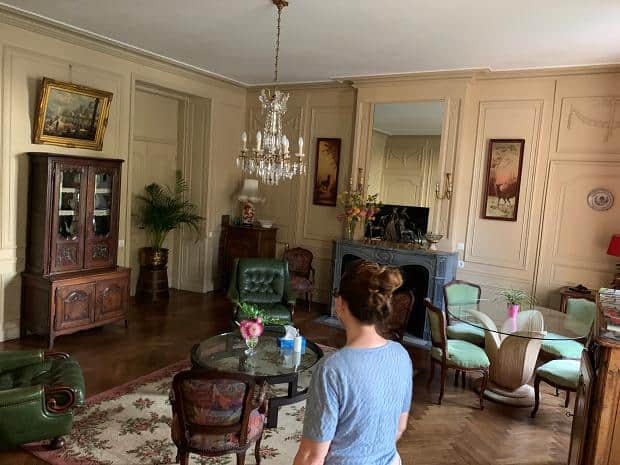 Just off the main staircase was the petite salon complete with coffee and tea making facilities and a leisurely place to sit and relax, and the views are quite spectacular – our morning visage could have been straight out of a painting.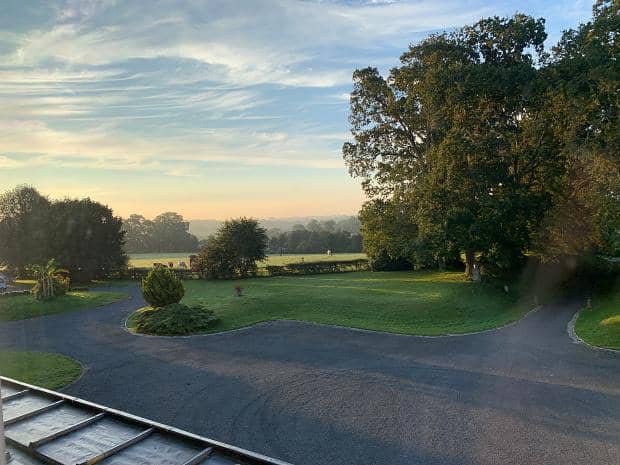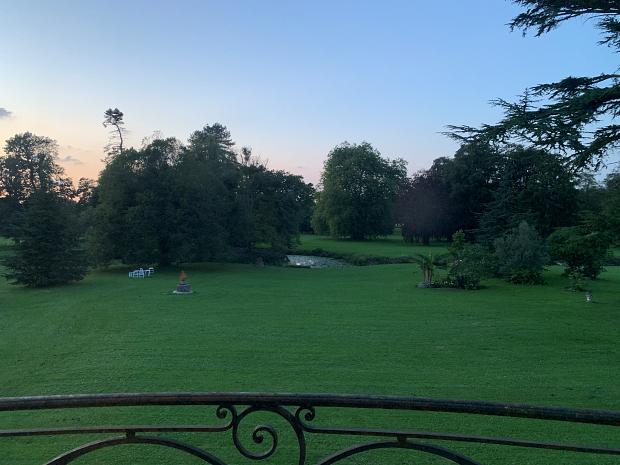 Speaking of paintings, the decor was impeccable with tasteful decorations and artwork adorning the walls.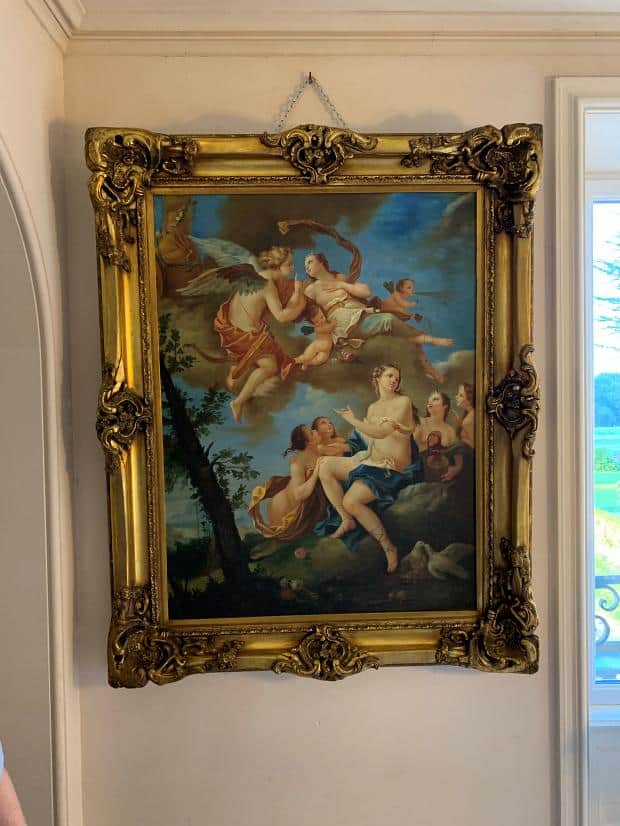 The entrance was actually a conservatory with a pair of large dogs who refused to fetch the ball, regardless of how long I threw it for them. They just stood there staring down the driveway as if watching for someone. Good listeners though…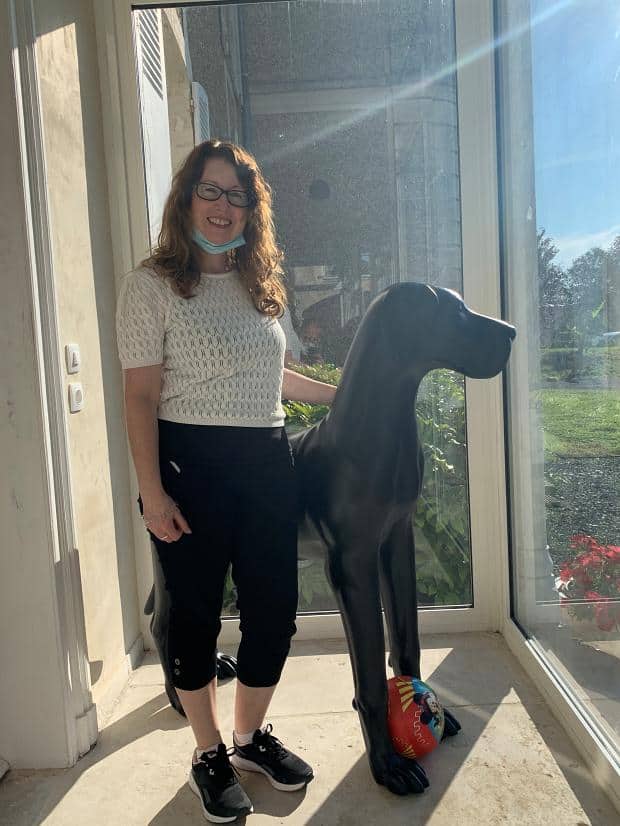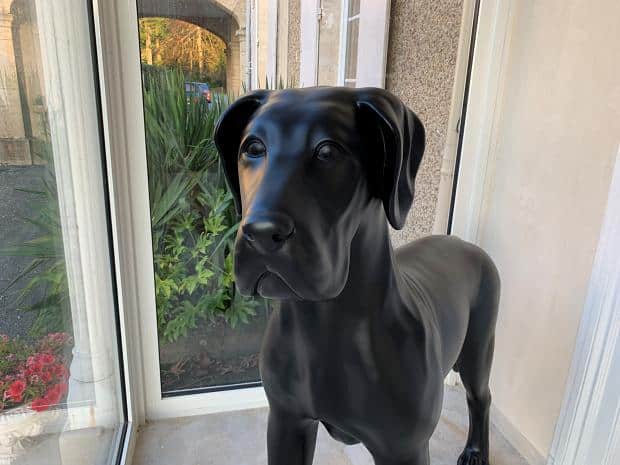 I'd definitely go back, this time for a bit longer. The staff are welcoming and we'd only just begun to scratch the surface in discovering the facilities. A perfect base for exploring the D-Day Beaches, Bayeux and beyond.