Arrival
I arrive at Keleti station in Budapest, get out some Hungarian Forints and head off to the metro. I don't get very far as I'm promptly yelled at by a metro machine because I insert a 10,000 HUF note into its slot to buy one x 350 HUF ticket. Hmmm, perhaps something smaller is needed, or more tickets need to be bought. I wander back to the information counter at the station and buy 10 tickets for 3,000 HUF. No one yells, so I head back to the metro again to access the inner city of the Pest side.
I make another rookie mistake by getting off at Deák Ferenc tér instead of Ferenciek tere and where I'm greeted by a line of ticket inspectors busily checking for interlopers. I show my validated ticket and I'm through, but by that time I've realised I'm at the wrong station and my iPhone chooses that exact moment to run out of battery.
Luckily I've managed to get off at one of the most important tourist stations so there's a Budapest Info Centre, manned by a very bored girl, and an Information Point, manned by a guy who looks slightly like Ben Affleck. From the first I grab a map and, from the second, instructions on what direction to walk to Veres Pálné utca where I've booked two nights in City Rooms.
Eventually I reach the place and am faced with an old, weathered wooden door that's firmly locked and which has a door code with instructions in Hungarian. I figure out I need to push #33 so I do, half a dozen times, and no one answers. Am I doing something wrong? Probably – it seems to be the case so far since I arrived in Hungary.
Then a couple come along and push the same number and enter through the door. I find out they are indeed staying in the same place so I trundle along behind them. We reach a dark spiral staircase and the guy says 'It's on the 3rd floor, I may need to help you', then promptly doesn't at all, leaving me to heft my bag up three floors in the gloom. They do leave the door open for me at the top.
I look around but can't see any receptionist, I'm beginning to think I should've double checked instructions. The guy comes out of his room and I ask him what the story is. He says you have to ring and make an appointment, and that when they arrived at 7.30am they were sent away and told to come back at 2pm. Since it's now 5.30pm I'm guessing I'm somewhat later than check-in hours.
I find a power point, charge my phone, get connected to the free WiFi which is pasted to a noticeboard and send an email to the property. I pretty much immediately get one back saying I should've been there at 2pm and to wait for check-in please. I reply politely asking what time they will come, reply comes back '30 mins'.
When the receptionist arrives I give a cheerful hello but I'm cut short by her "you need to close the door". Then I'm given the third degree "You should've been here at 2pm, we waited 2 hours." I apologise and think "Wow I really did need to check instructions". She then proceeds to check me in but doesn't accept card for the payment. It's 18,300 HUF but I only have 17,000 left after the 3,000 metro ticket purchase.
There's an ATM down the road, she says, so "do it". "Um huh?" Oh, get cash out right? So I leave my luggage and feeling chastened trundle down the road to the ATM. I come back feeling like I should give her a bottle of the free wine for the trouble I've caused. But I'm asked to wait outside as she has 'other guests'. When she's finished with them I'm allowed inside, and the offer of the free wine fades as now I'm feeling a bit like she's just a control freak.
Anyway check-in proceeds and I'm shown the room, given the keycard and instructions for the door and left to it. She seems slightly mollified after I've paid the full amount.
Room
I booked a double room for two nights but there's also larger triple and quadruple rooms. In total there's six rooms in total on the floor. My room is spacious enough with a parquet floor and there's a large single (I wouldn't really call it a double) bed, and a single which I use for my luggage. There's a fridge (which isn't working), a TV, a table and a wardrobe. There's a shared bathroom set up outside in the corridor with 2 separate WCs and two showers, there's also a small kitchenette at the other end of the corridor with a kettle, washing machine and cups and cutlery.
Surrounds
The street Veres Pálné is 5 mins walk from a main thoroughfare which leads to Erzsébet híd (Elisabeth Bridge). The neighbourhood is quite quiet, though you can hear street noise, people talking from down below through the windows and cars etc. In terms of eateries, the local bar/restaurant for the rooms is Grinzingi Borozó on the corner at which I have goulash soup and pancakes on the second night. It's cheapish and the waiters are obliging (if they don't always understand what you're trying to say).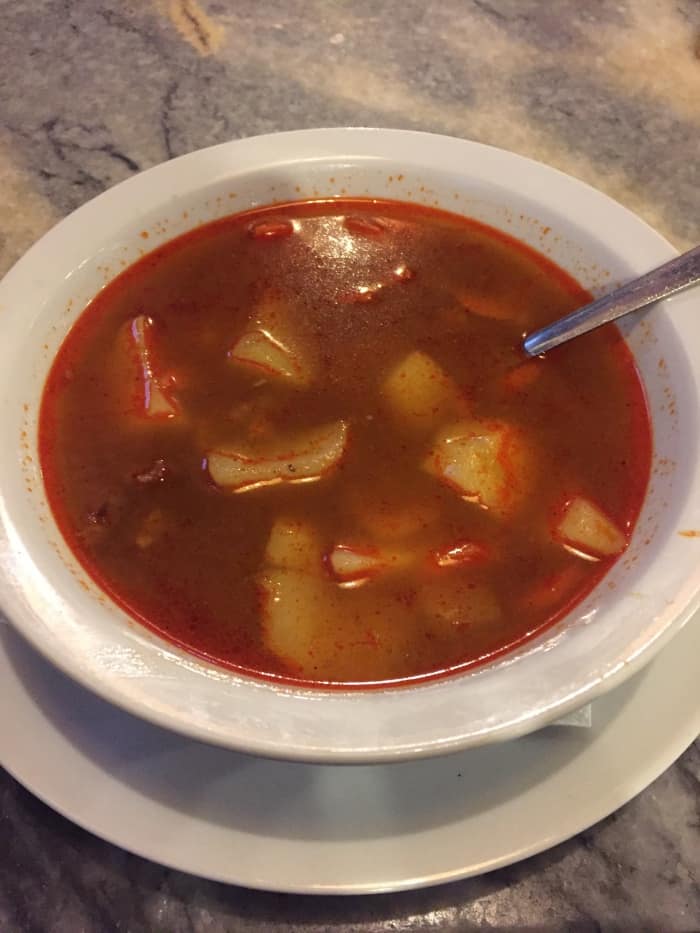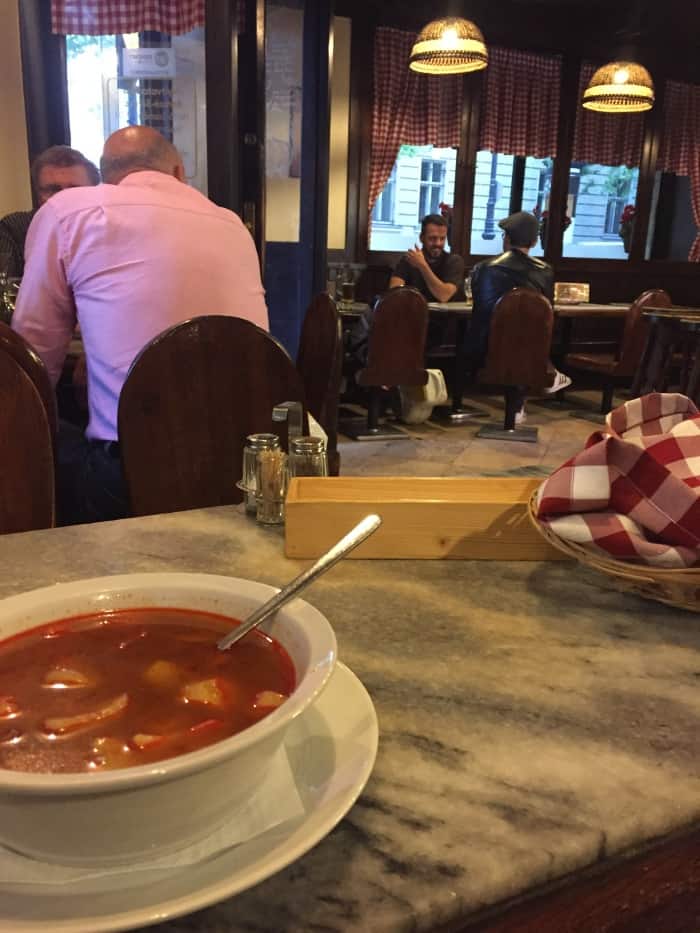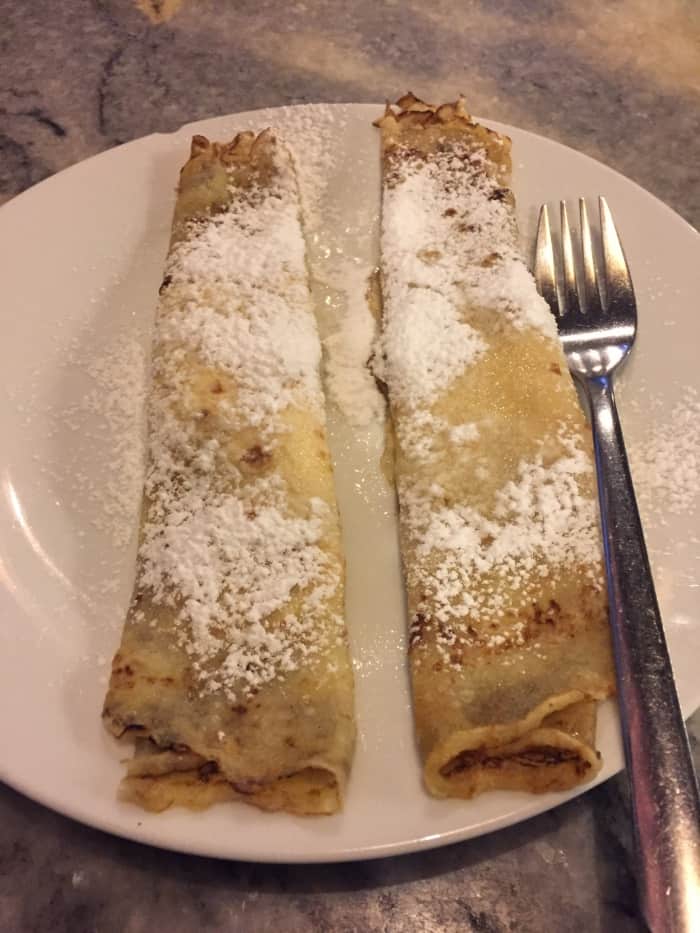 Other stores include a gelato shop, a traditional cafe, a green grocers and a Chinese restaurant / takeaway. I recommend the latter as a last resort, I had the duck with noodles on the first night and it was not the best. There are more places to eat on the main street such as the Pointer Restaurant but it charges more as it's a franchise. Case in point, the goulash soup there cost 1,800 HUF whereas I paid 940 HUF at Grinzingi.
Rudas Baths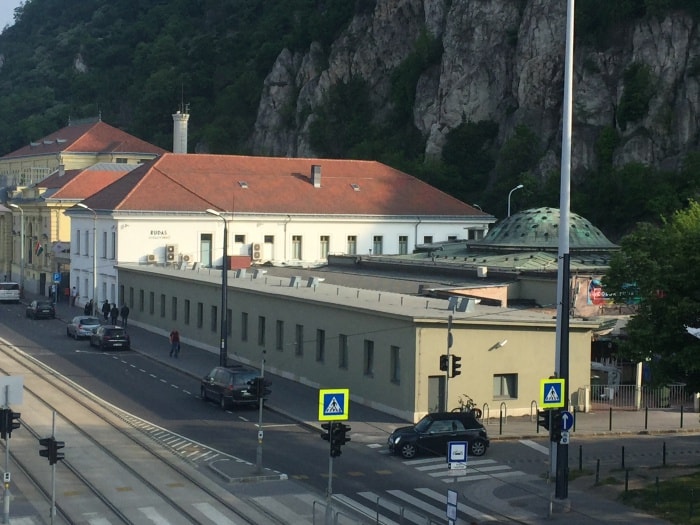 I happened to be in the neighbourhood of the Rudas Baths, which is one of the oldest Turkish baths in Budapest built around 1550, and the day after I arrived (Tuesday) was women's only day for the thermal bath.
This is situated in a room with an octagonal dome which is shot through with coloured squares of glass. So you have the option of the large main pool 36C, or a range of 4 smaller pools round the edge of varying temperatures, 11C, 28C, 30C, 42C. There is also a steam room at 50C and a shower area with a ice bucket shower (where screams emanated periodically when someone was brave enough to pull the lever).
Women's only day was introduced in 2006 where you can bare the flesh safe from the prying eyes of men but you can still don a bathing suit too if you're shy. Mostly Hungarians, Italians and a few Japanese go suitless. It's a case of spot the tourist in the bathing suit.
I was impressed with the secure lockers , you get a wrist band which you hold up to a machine which allocates you a locker number. These are full size wooden changing rooms with a bench and hooks, and you can safely leave your things inside. After changing into your bathing suit (or birthday suit) you hold up the wristband to the box on the outside and it locks securely.
The Rudas Baths also offer a swimming pool and a rooftop jacuzzi with panoramic views but they are on different tickets.
Pros and Cons
Pros

Location is good for the Rudas Baths and Hop On Hop Off Bus
Metro station within 5 mins walk
Very secure key card locked room
Ok standard of cleanliness

Cons

Welcome not good if you arrive outside set hours
Only takes cash
Some of the bathroom wiring looks dodgy
Scary dark staircase with no stairwell lighting
No lift
Would I Go Back?
I actually had another night booked at City Rooms before I was due to fly to Venice but I cancelled it and found something else; Colors Hostel across the street. In general City Rooms was ok and I know I was partly to blame with not reading the fine print properly on booking.com about informing them exactly when I was arriving. But the attitude of the proprietor/receptionist, and the scary staircase, made one stay enough for me.