Arrival
The worst thing about airports which can operate all night (the ones owned by people who can afford to ignore the complaints of the citizens living on the flight path), is that you can arrive on a combination of cheap flights in the middle of the night. Too early to check-in late and too late to check-in early.
A search for hotels by the hour in Dubai had failed to satisfy and so we resorted to paying for two nights at the Le Meridien instead, reluctantly making the decision that airport proximity and the ability to get some sleep straight away would make up for the time paid for but un-utilised.
The Le Meridien, a 5 star Dubai hotel, is perfectly located for this, being over the road from Terminal One and a swift taxi ride (AED37.50, most of that being the airport flagfall of AED25.00) from Terminal Two, where our cheap flight from Istanbul had touched down at the ungodly hour of 3am. Following a relatively painless luggage collection and visa on arrival, we managed to walk into the hotel at 4am.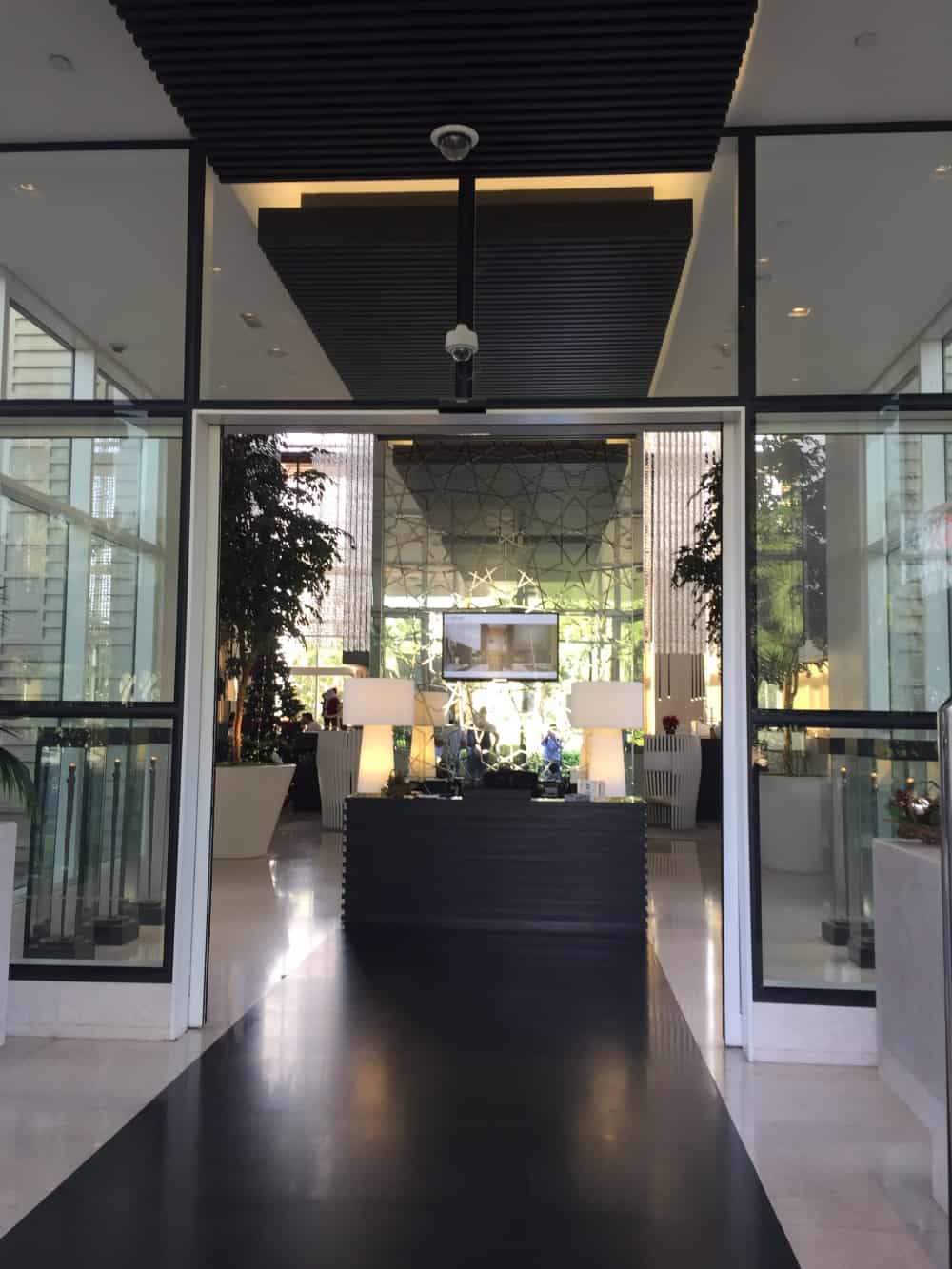 I was surprisingly coherent despite the lack of sleep and we were warmly welcomed by the receptionist. I had emailed ahead to make sure that they didn't give away our room because we were late checking in and been assured that they would make a note of that, so I was confident there'd be somewhere for us weary travellers to lay our heads. Instead we were told that they had upgraded our stay to the Royal Club!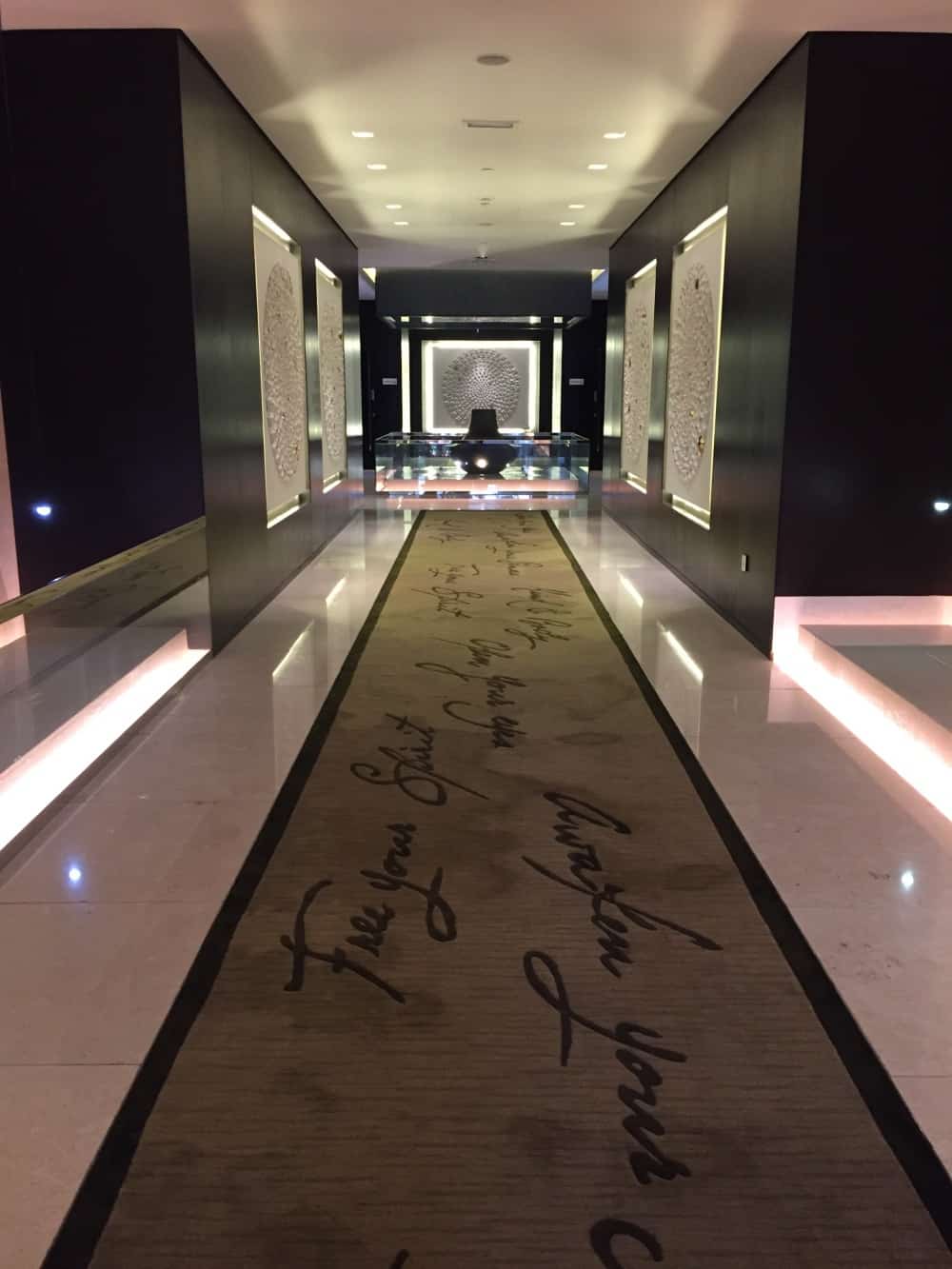 The Royal Club was a separate building adjacent to the main hotel which had been built three years ago. It had its own reception and so we headed through the original building, marvelling at the classic decor while following the very chipper bell boy with our luggage on a trolley. He kept up a running commentary the whole way and let us know how our upgraded room was so much nicer and more expensive than our original one was. I kind of had to take his word at that but resolved to check it out at a later date.
The Room
The room itself, when we finally got there, was very impressive – we were on level eight. It was very large and was decked out in a Royal purple and white decor.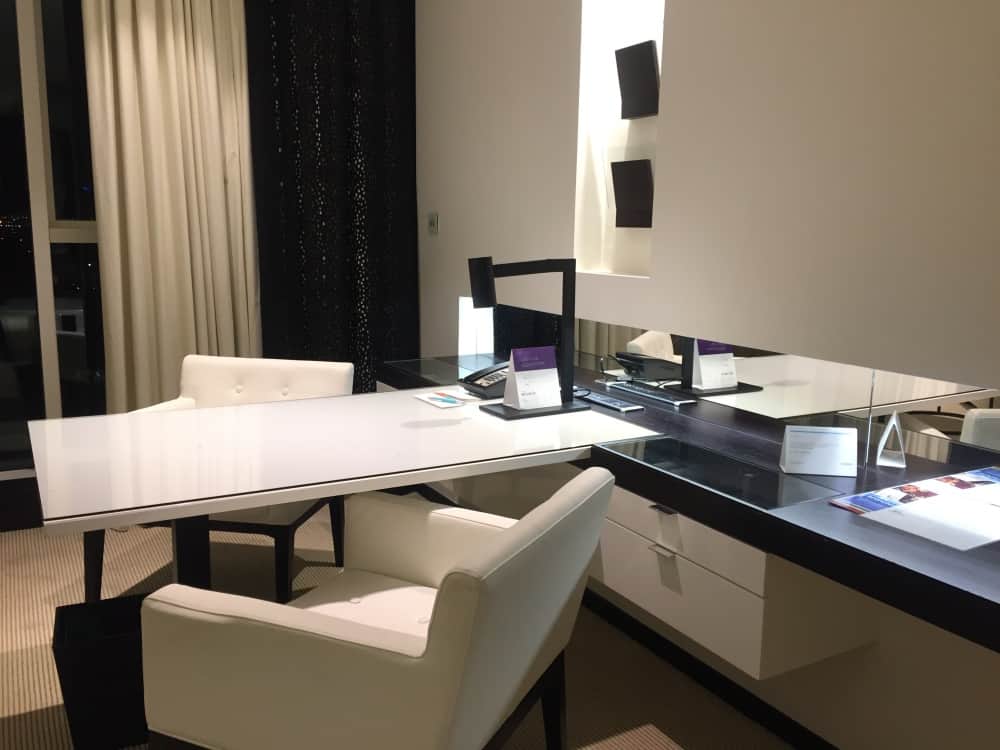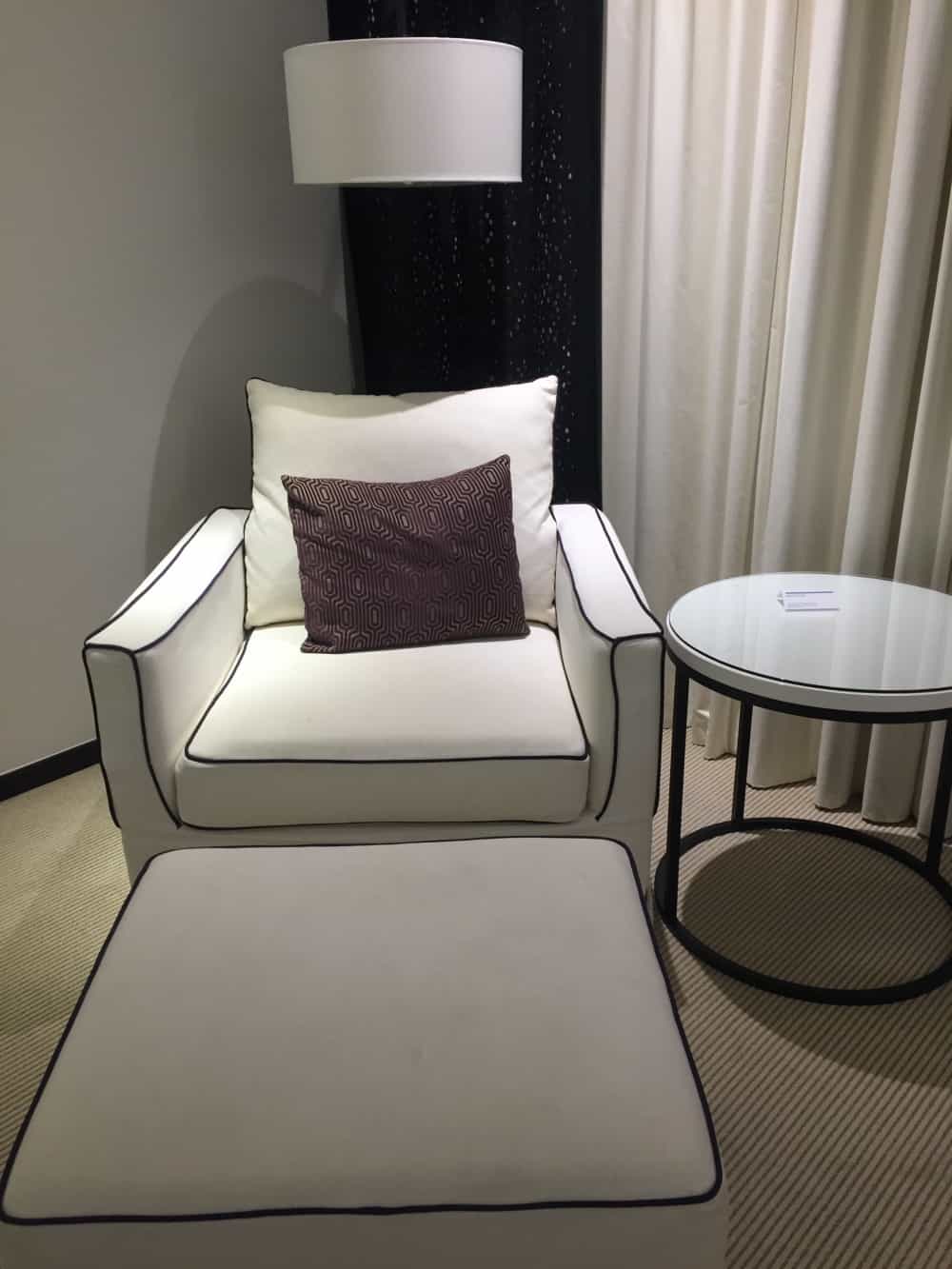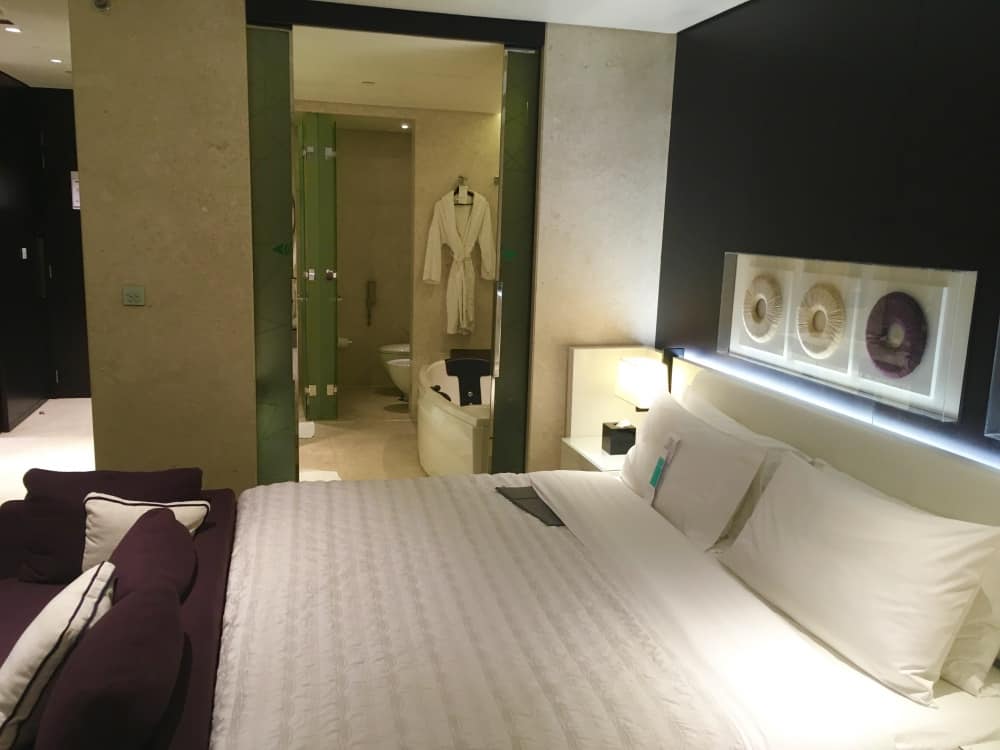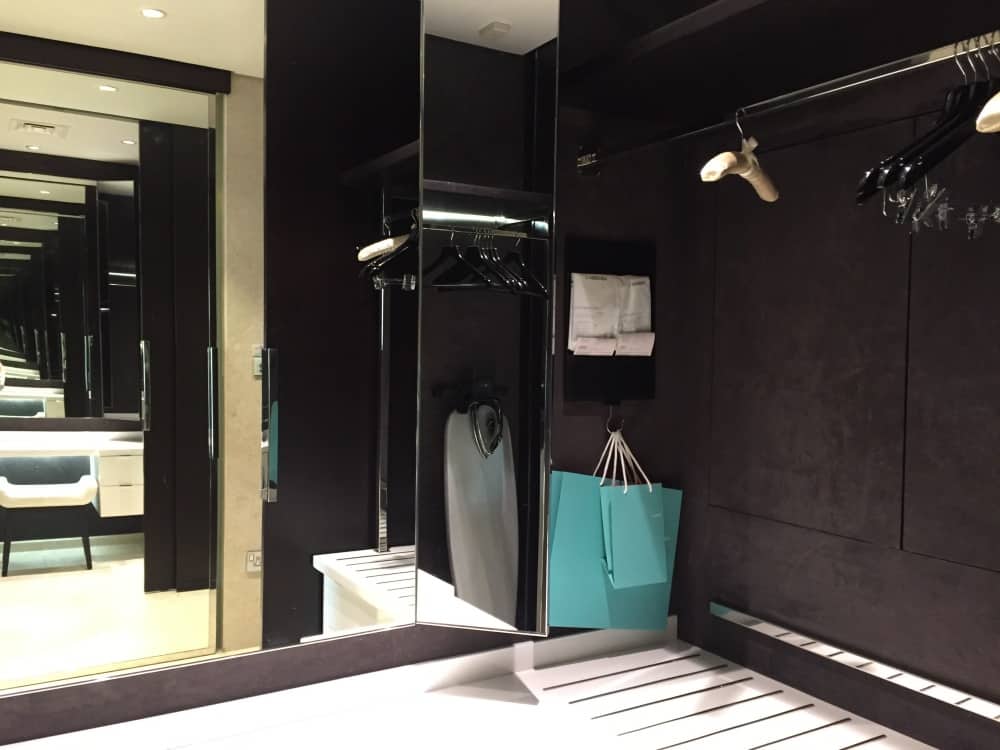 The bed was enormous: a California King apparently, and there was both a jacuzzi bath as well as a power shower which had both a rainforest and hand held nozzle as well as four additional outlets. Decadence!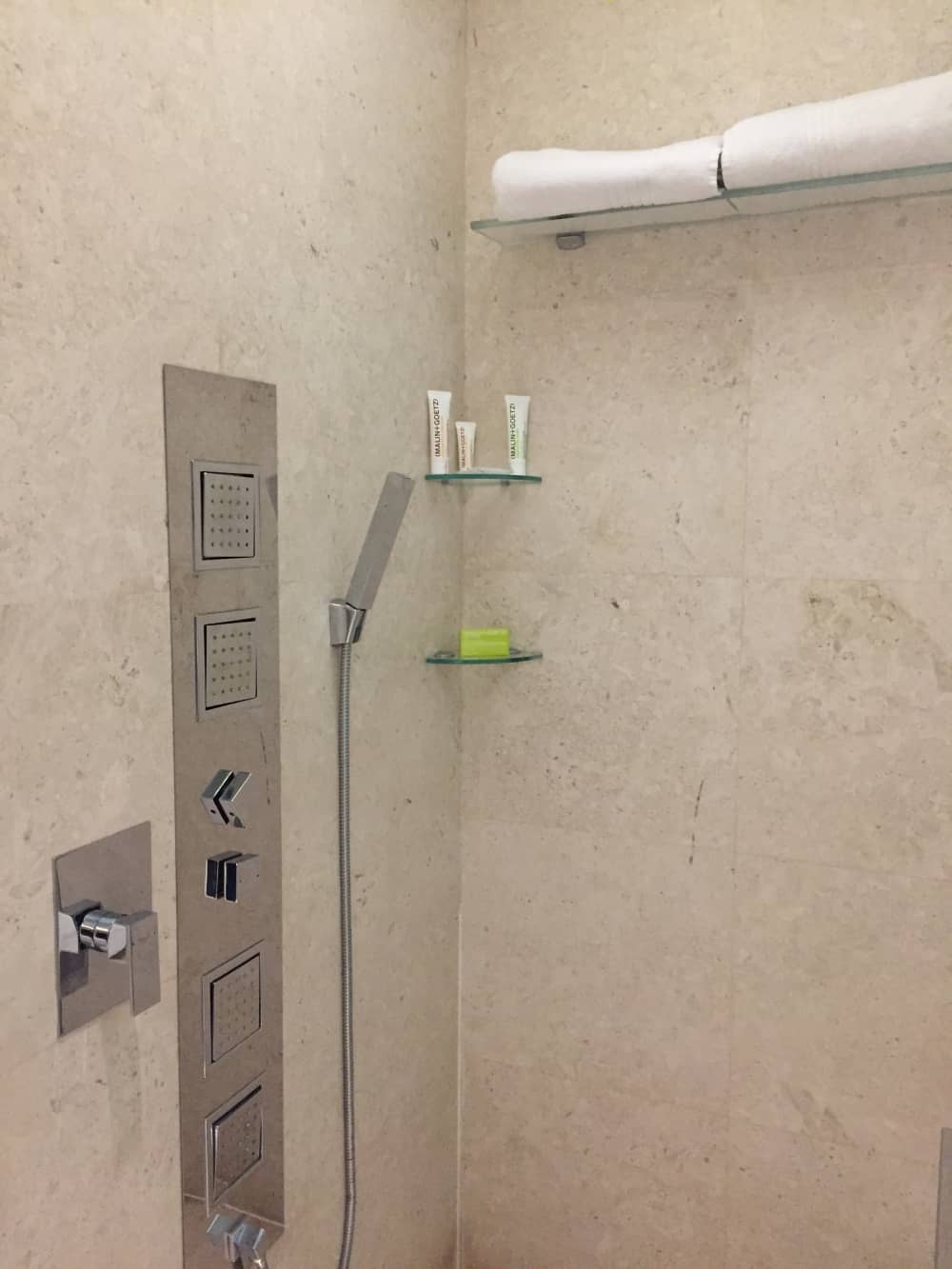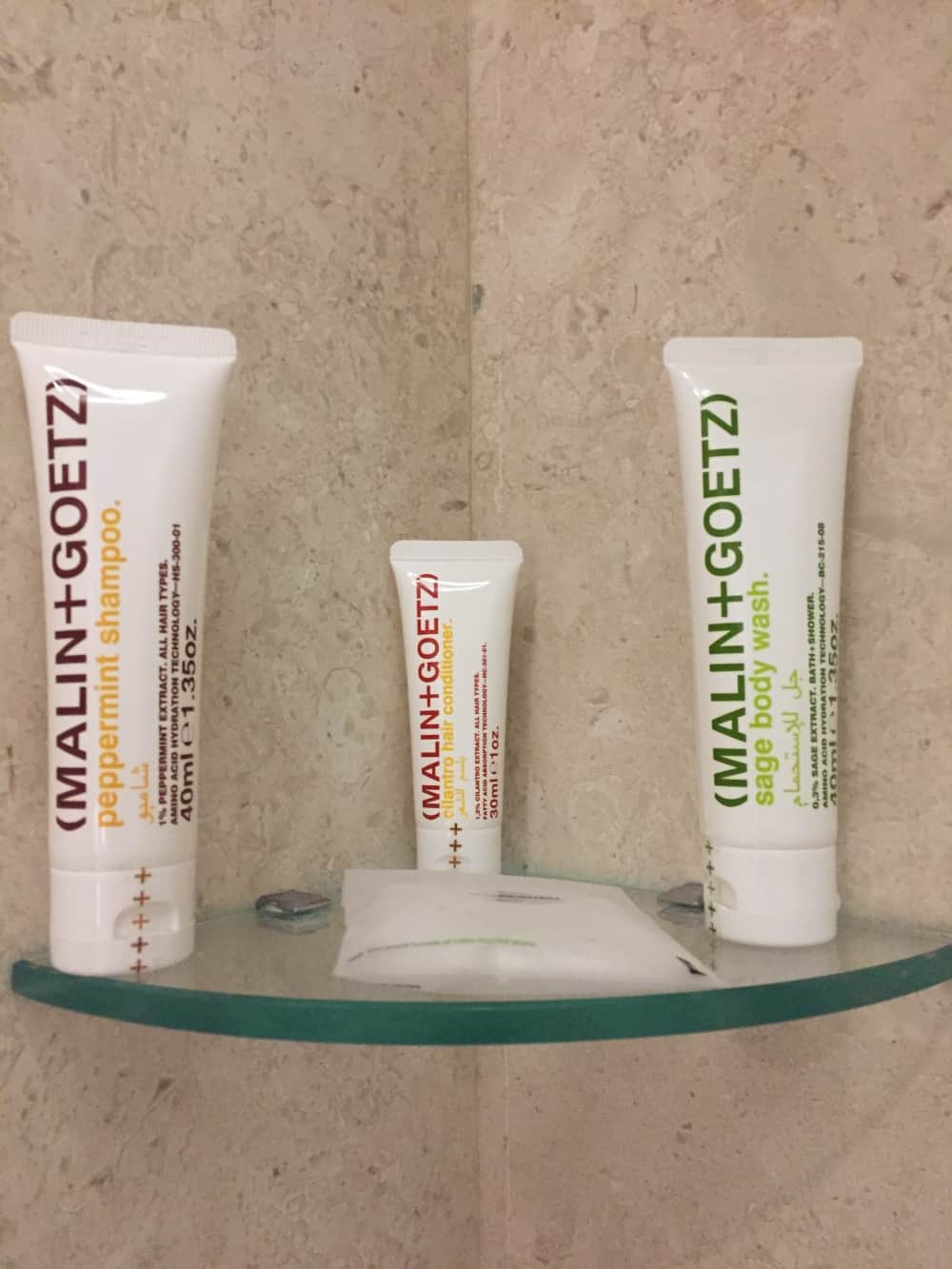 The luggage was stored in the "cove", an alcove/walk in wardrobe with independent lighting. All in all the room was 50 square metres and the bellboy made a point of showing us where all the controls were for the chargers, lights and air con.
I eventually tipped him and sent him on his way and we set to the important decision-making of whether we should order room service or whether we'd be able to sleep on empty stomachs.
Eventually food won and so we ordered scrambled eggs and a fruit platter. I was pleasantly surprised when it came with a free bakers basket (toast and rolls) and a staggering selection of honey, jams and marmalades. Between tired bites we muttered to each other that we could get used to this level of comfort.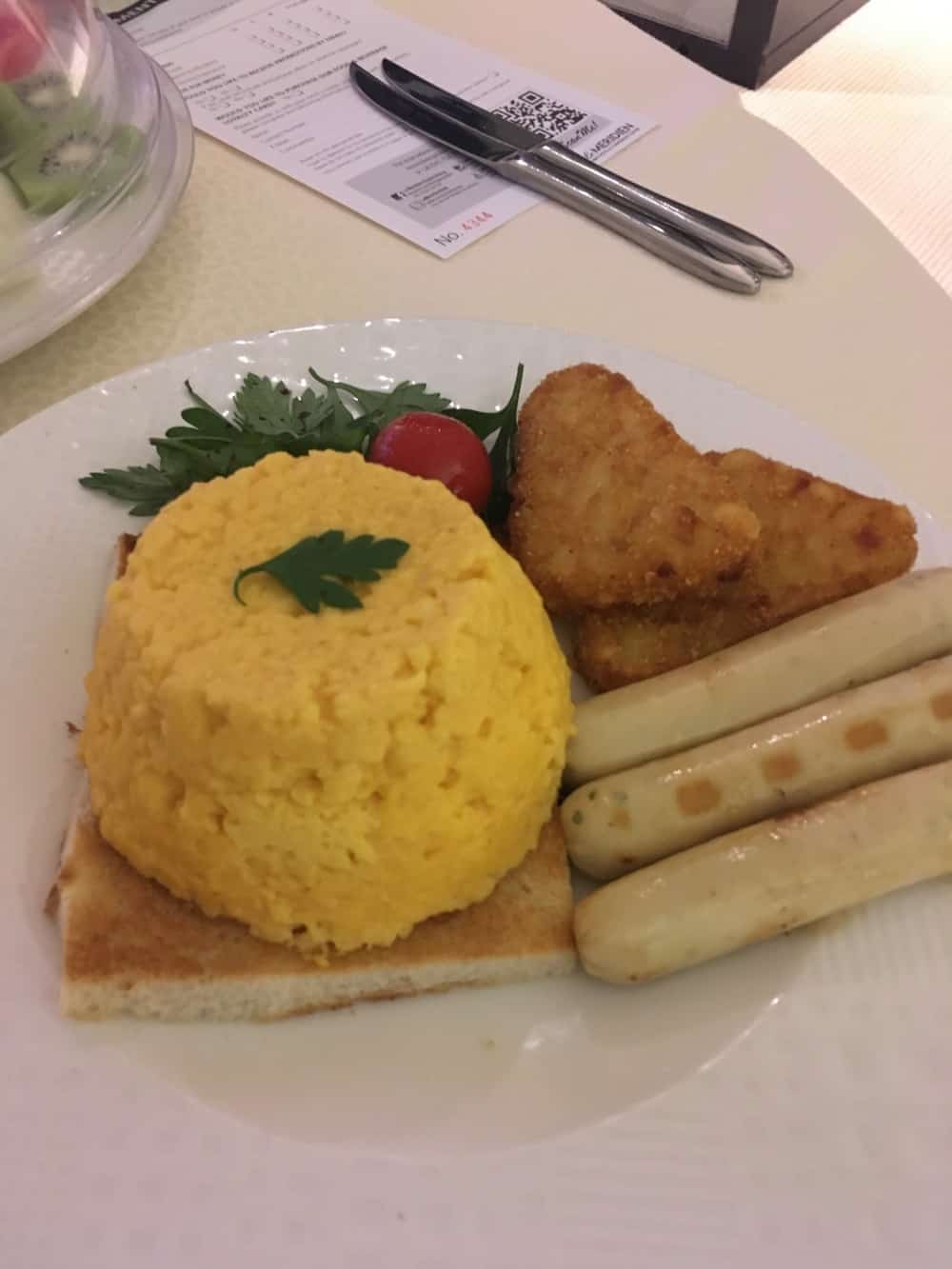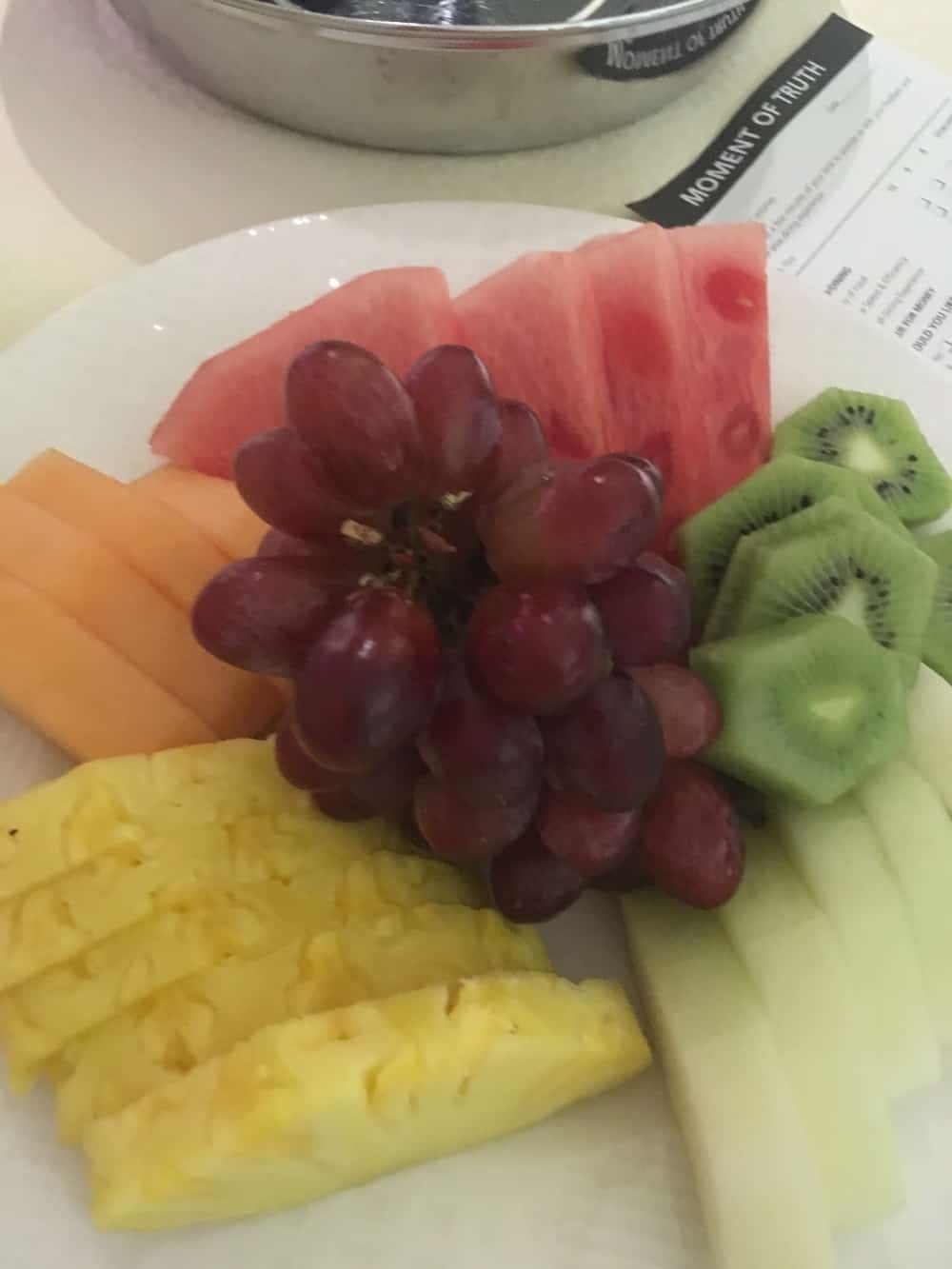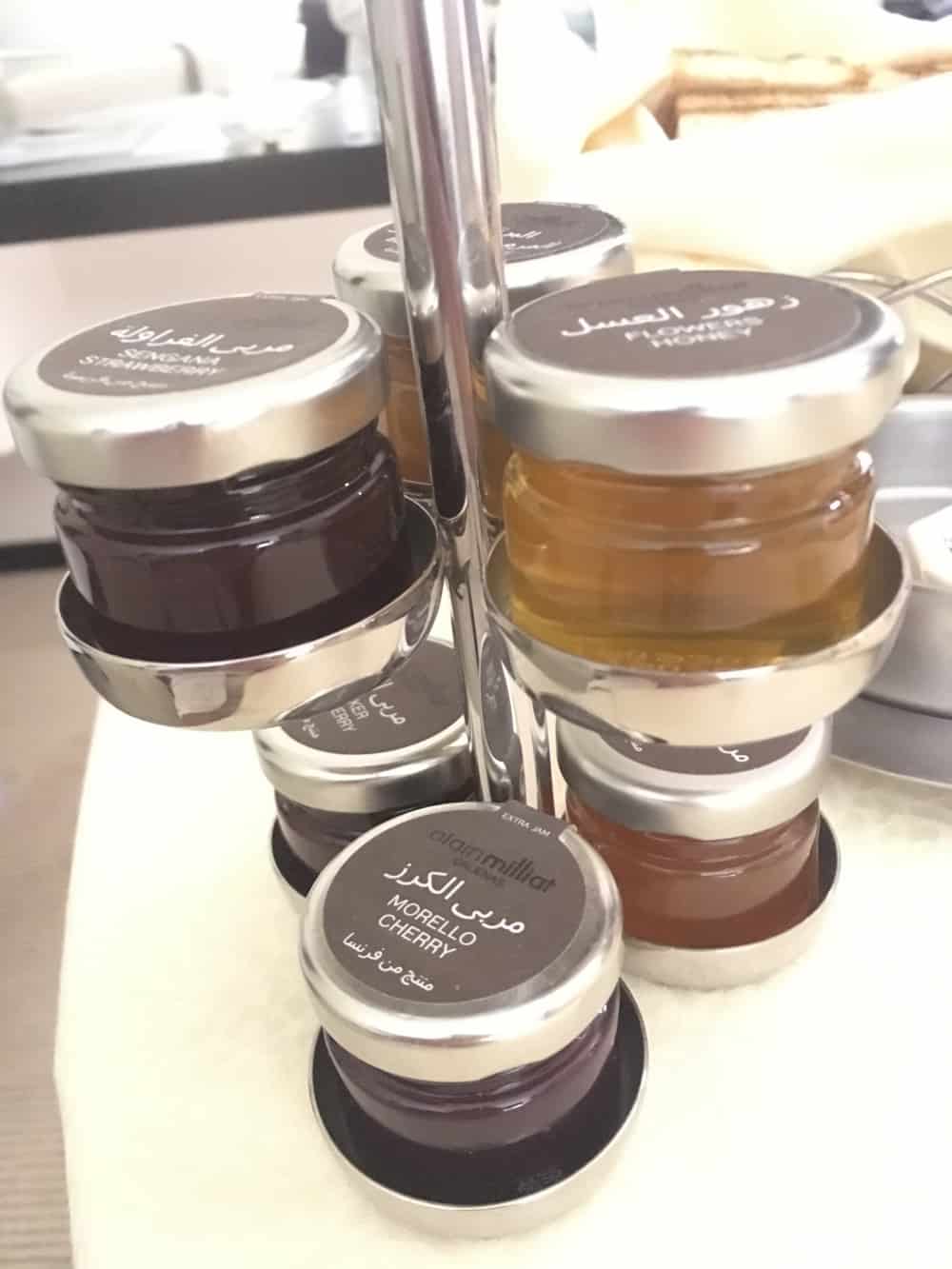 The windows faced north east, halfway between the airport and the city centre, so not much of a view of Dubai proper from here. But we were glad the curtains were thick, allowing the room to achieve some semblance of darkness even though the dawn was not far off. We slumped into bed and got some well deserved zzz's.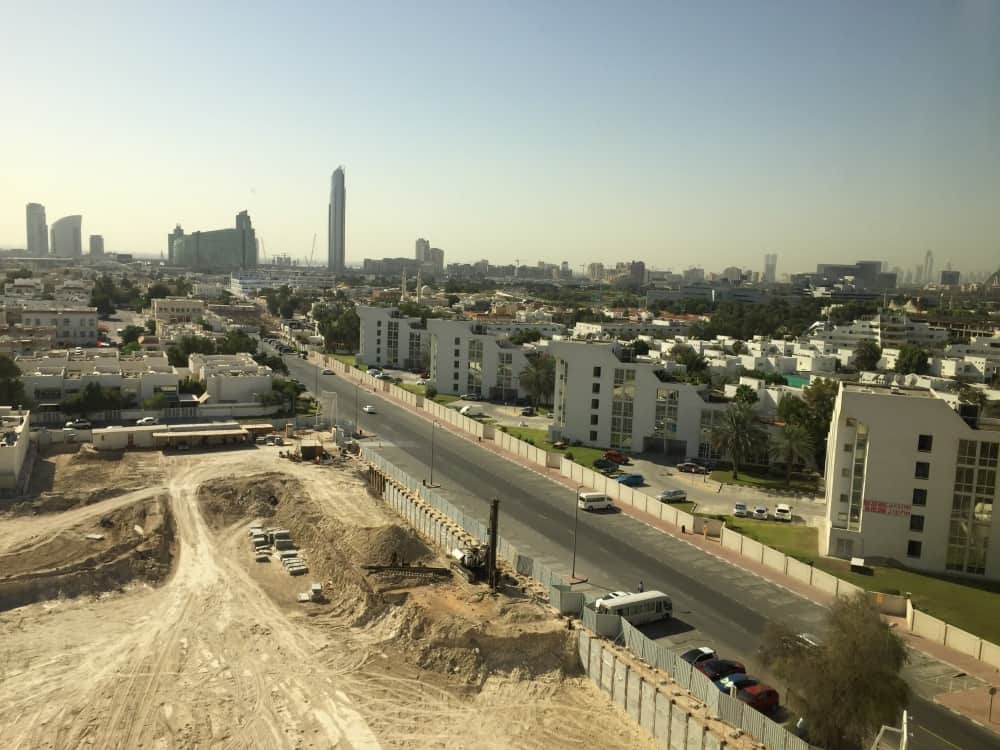 We woke in the early afternoon and tried to stay awake as long as possible, figuring that would be the way to rid ourselves of jet lag. Ange had some work to do so I headed down to the pool on level five and had a look around.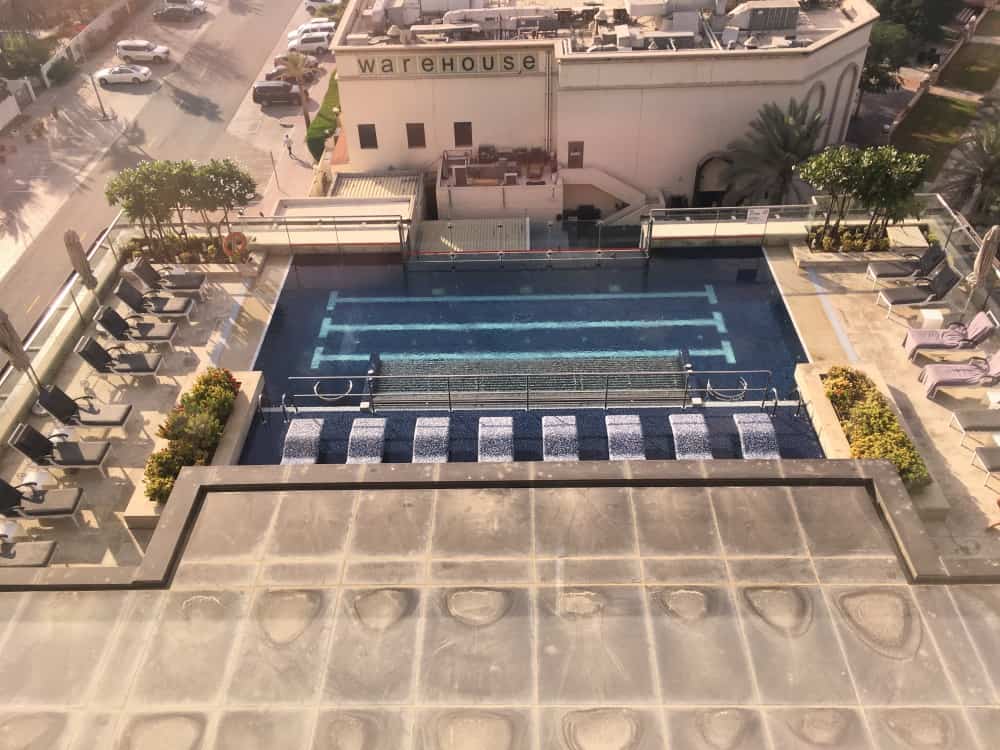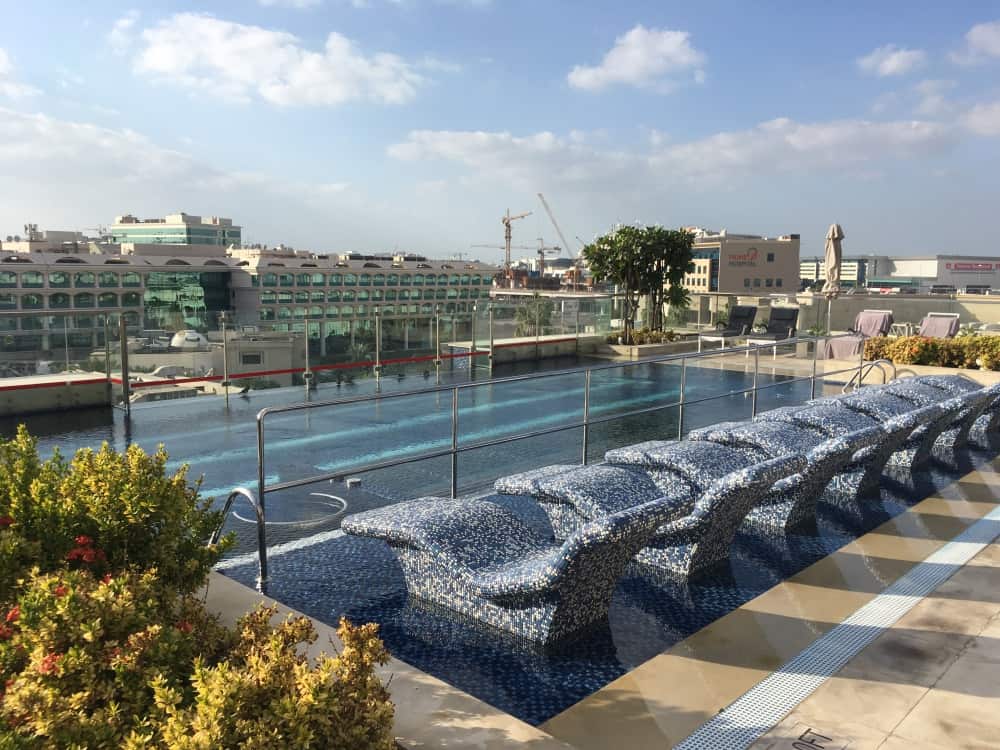 In the distance to the north, a steady stream of jets could be seen taking off, while opposite that you could make out the skyscrapers of Dubai's city centre. There was only one other guest enjoying the pool loungers around the pool and there were two staff members there, a waiter and a lifeguard, both a little superfluous, but determined to ensure that should anyone need food or drink, or rescuing from the pool, that they would be on hand to perform those services.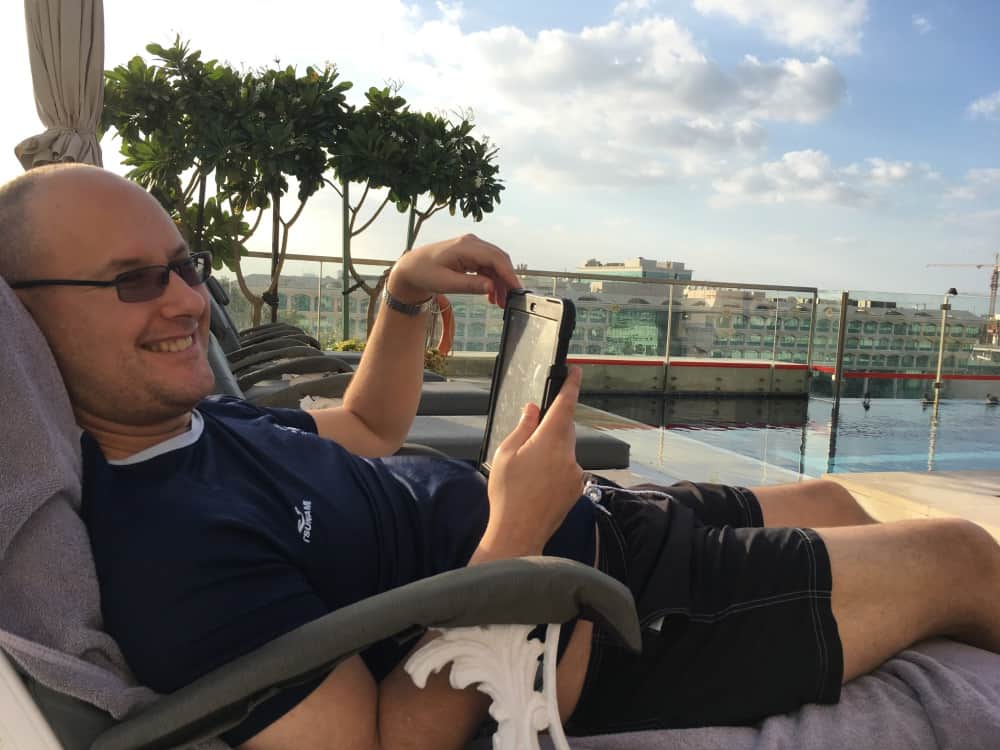 I reported the layout to Ange and she said she'd finish up and head down in half an hour. It wasn't really hot enough to swim and there was a slight breeze but it was perfectly pleasant. After we'd tried to get some sun, we headed back to the room for some more food.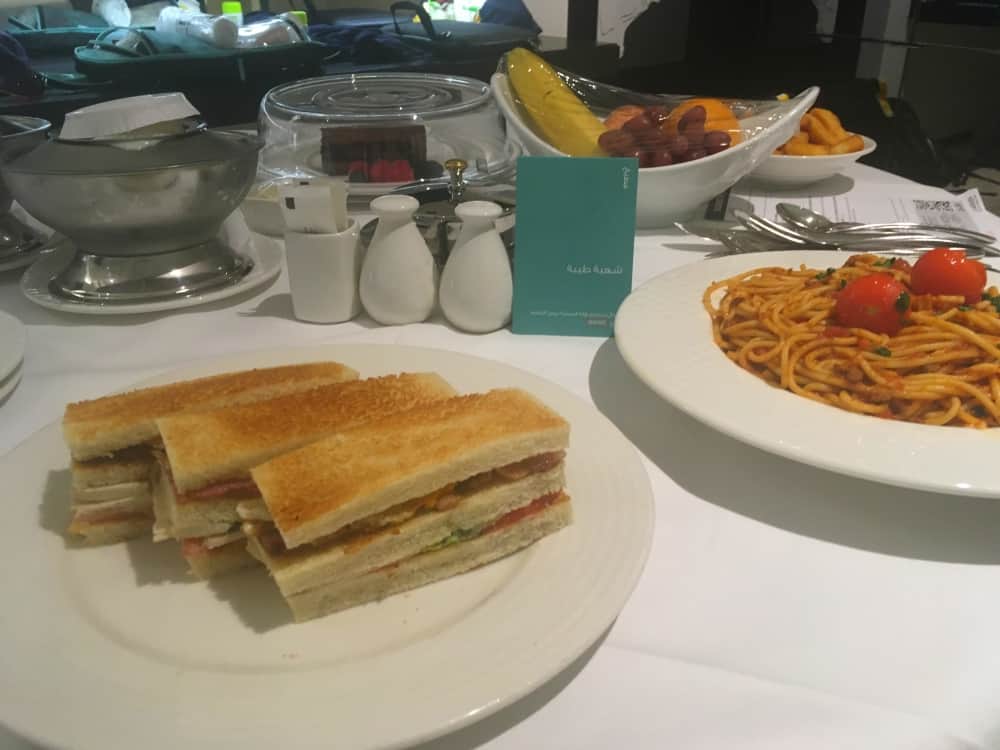 I find it's easier to keep sleep at bay by raising your blood sugar level with food. Totally ruins your waistline though. My club sandwich with fries and Ange's spaghetti bolognese gave us a second wind. Large portions too! The meal came with a complimentary fruit basket which made maintaining blood sugar levels during the evening a bit more of a healthy option.
Ange had suggested that jacuzzis and steam treatments were good for relaxing the body and allowing us to get to sleep despite what our body clocks were telling us, so I elected to try out our jaccuzzi bath.
There was a 40ml tube of sage body wash beside the bath and I called out to Ange to check how much I should put it. Not hearing a response I shrugged and put the whole lot in. It took a while for the tub to fill and when it did there was a small array of bubbles under the tap. Very conservative.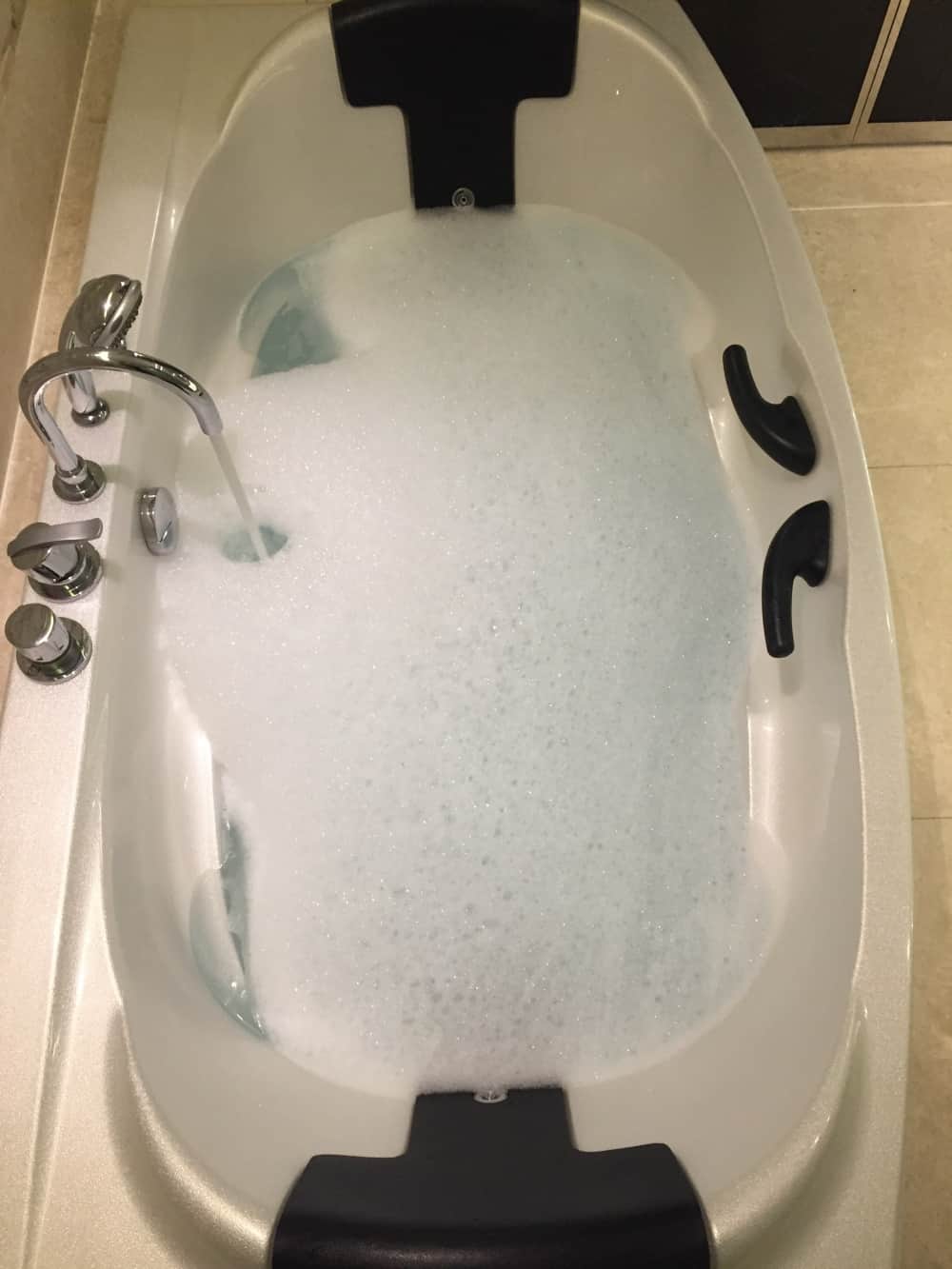 I gingerly sank into the water, enjoying the heat on my tired muscles. Then I reached over and hit the jacuzzi's "on" button. Leaning back, I closed my eyes and let the jets pulse the water up and down my back. Delightful. I heard Ange come into the bathroom and gasp.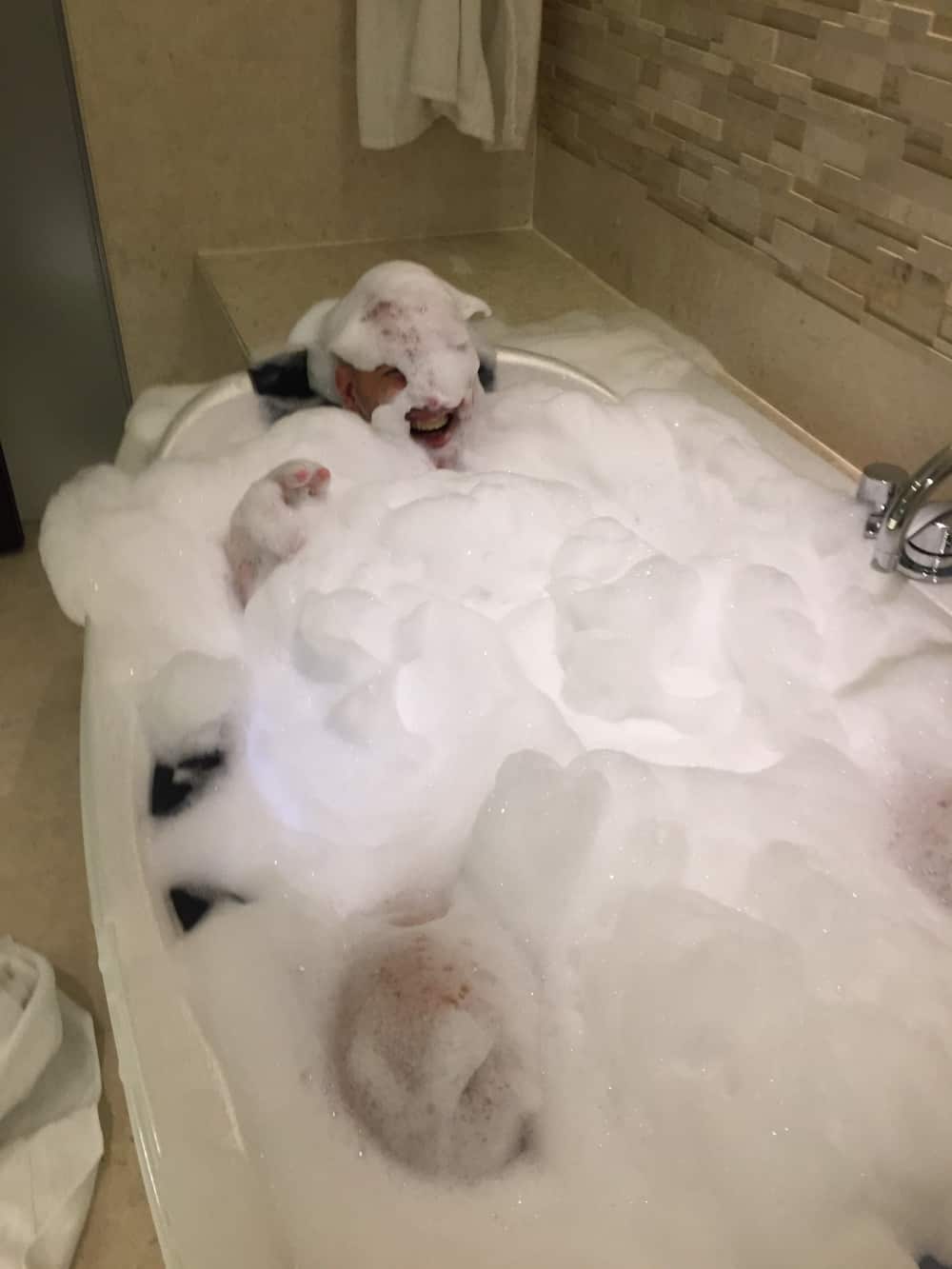 Opening my eyes I saw why. A layer of foam about 10cm (4″) thick of white soapy bubbles frothed on the surface of the water. The agitation of the jacuzzi's jets had worked up the sage body wash into a lather. A short but high spirited foam fight ensued, ending in me being covered entirely with foam. Good times. Good clean fun.
The next day we checked out and took a taxi to our next hotel, body clocks not quite in sync with Dubai, but certainly not staggering around like the undead.
Pros and Cons
Pros

Location: snack bang next to the airport
Room great to hang out in, good size and no need to leave it really if you're recovering from jet lag
Staff friendly and accommodating
Pool and spa facilities.

Cons

Air con was noisy and difficult to control temp, kept flicking to 25C
WiFi ok but not great, on Mac it worked well but on iPhone it was slow to respond.
Would I Go Back?
Absolutely! The hotel is close to the airport, and has everything you might need to help you relax on the way to or from the airport.