Arrival
I arrive in Italy on an EasyJet flight from Budapest to Marco Polo Airport in Venice. Next stop Trieste! I don't know too much about the city except that it's a seaport and off the well beaten tourist path of Venice/Florence/Rome/Naples. I have a completely open mind and am keen to find out more.
The train trip takes around 1.5 hours from Venice-Mestre and passes by uneventfully. I notice the landscape becomes more forested and hilly as we get closer to Trieste and there are glimpses of the ocean and the city which is nestled in a crescent shaped bay.
The approach to the train station is a bit grotty but all train stations in Italy are so I don't worry. From the station, which is a pleasing neo-classical yellow building, Google maps tells me it's a six minute walk to the Nuovo Albergo Centro where I'm staying for two nights.
The streets are set up on a one way system so you only have to look one way when crossing but there are a lot of pedestrian crossings if you don't trust your left/right radar.
I find the hotel entrance without too much trouble and am buzzed in by the receptionist. I take the lift to the first floor to a light and bright reception area and a table set up with teas and donuts in the lobby and a dish of boiled sweets on the reception desk. This place could be dangerous to my already burgeoning waistline!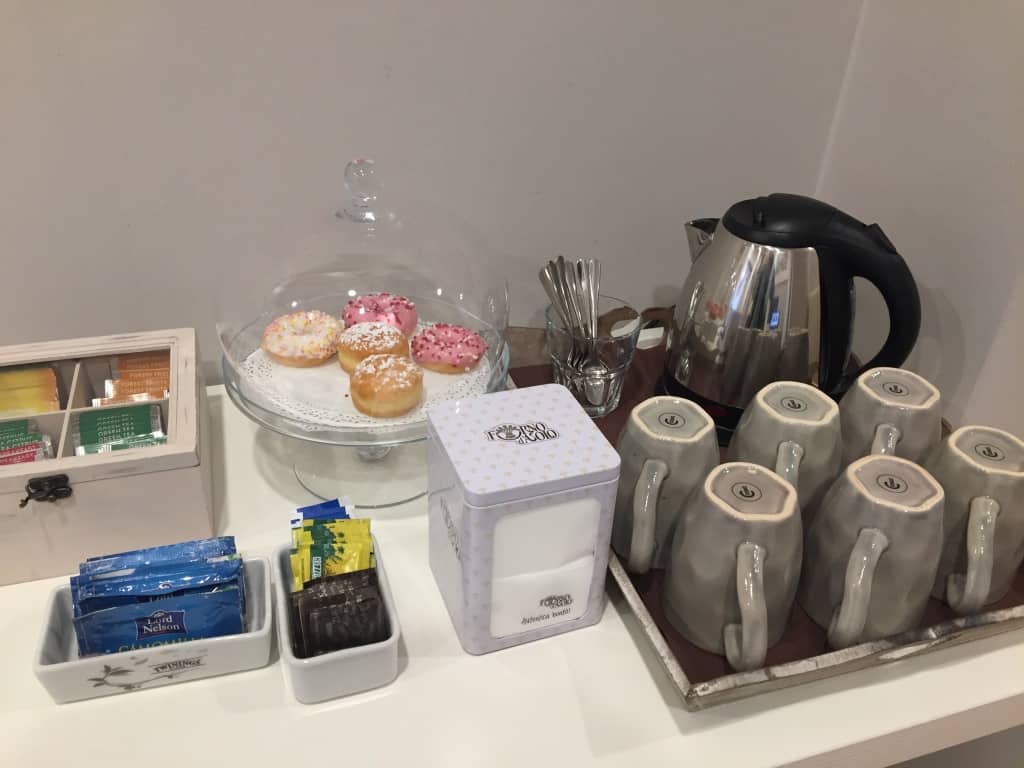 Room
After checking in I head to Room 109 which happens to be right next door to reception. It's a spacious double room with grey walls, green drapes, blonde wood veneer cabinetry, a desk and lots of good lighting – an overhead light, a long accent wall light that's softer and bedside lights. Whoever has designed the room has thought of everything guests need in that department.
The bed looks comfy with 4 big white fluffy pillows and has the tightest tucked in sheets I've seen for a while. The room is personable and modern without being too austere. There's no bathroom in the room but I go for a wander and discover there are two down the corridor with showers (I also spy a snack machine down the hallway) but the room has a sink, with towels and soap anyway, which is always a handy feature.
There is also a concrete balcony and, judging by the room plan, I think I'm in the only room with one. It has street views and it's a little too chilly to linger out there but it would be a nice place to hang out if it was a warm evening.
Breakfast
I sleep like a log and in the morning I have breakfast in the small breakfast room which is set up with a cold buffet spread. There are cereals, yoghurts, meats, cheeses, and a selection of sweet croissants, pastries and cakes, and more donuts. Trying to be healthy I stick to cereal, yoghurt and a wholegrain bread roll with meat and cheese and juice. But the donuts do look really good.
On the second morning breakfast is made more interesting with the smallish room having an influx of men all at once. I count around 12 and me, they don't seem to be all from one group so maybe it's a male convention on in Trieste. The downside of this is they eat all the bread rolls so I have to ask for more but it's not a problem. In fact nothing is too much of a problem for the staff here they're friendly and always saying 'ciao' or 'buon giorno'. They're also not continually knocking on your door for housekeeping which is nice. My door got knocked on once but I was left alone after that.
Facilities
The hotel offers a laundry service which I take advantage of and for €9 you can get a one day wash and dry return. They seem quite worried I want my blacks and whites together in one wash, to the point where the receptionist makes me sign a card to authorise the laundry service to do it. I'm slightly worried how my clothes will turn out but figure if I need a new wardrobe I'm in the right place.
At 5.30 pm that afternoon reception rings to say my washing is back, all neatly packaged and fresh smelling. I could get used to this.
On my final morning the check out is a late one, 12pm, and there are no hassles to stay 'til then, but if you leave late you run the risk of being charged an extra night. Which considering the service and amenities this 2 star hotel offers may not be a bad thing!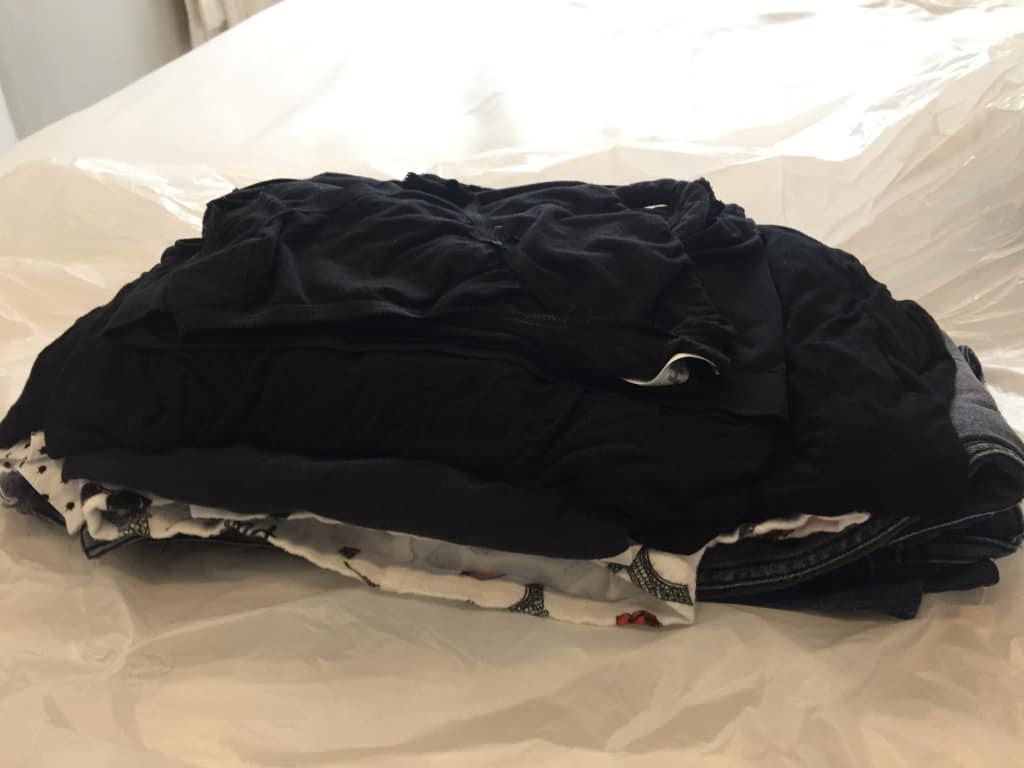 Surrounds
On the first evening I go for a wander and to find something for dinner. From the outset Trieste seems a lively place. I cross the river and see a game of kayak water polo taking place on one side and river side cafes lining the other with people eating and drinking.
After a quick stop at BNP Paribas to grab some cash, I continue onto the centre and oldest part of town which the receptionist kindly has marked on a city map for me.
It's around 6pm so everyone's out and about strolling, eating gelato or having an aperitif. Around Piazza della Borsa the shops look classy and sell items such as, summer fashion wear, specialty food items and homewares like party moulds for cake and chocolate.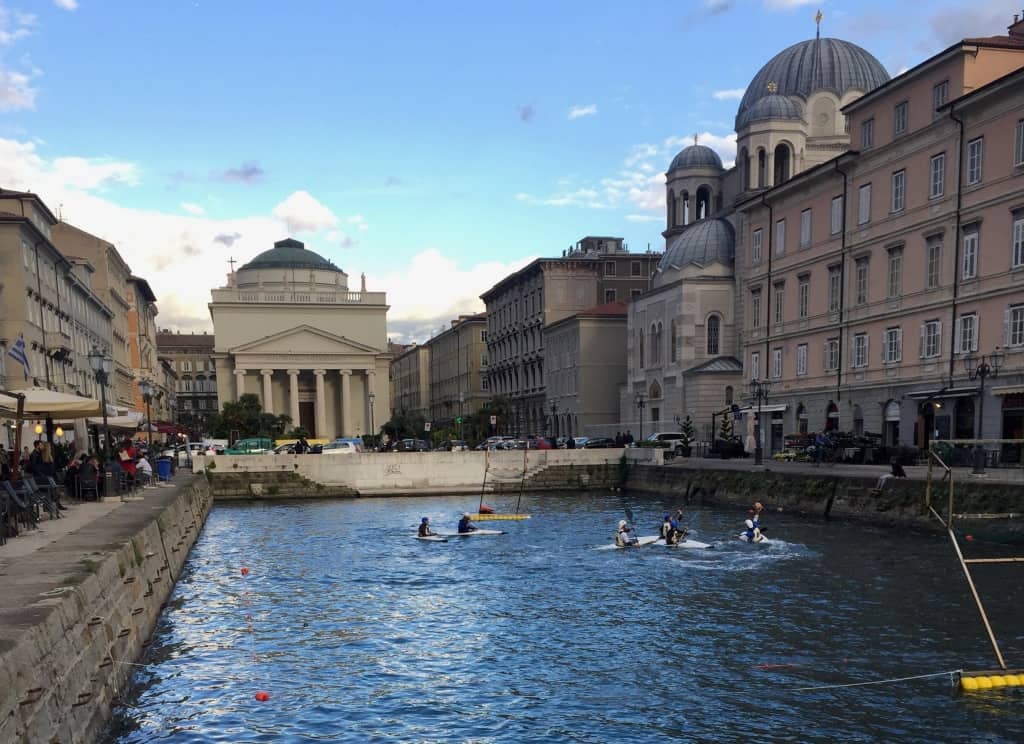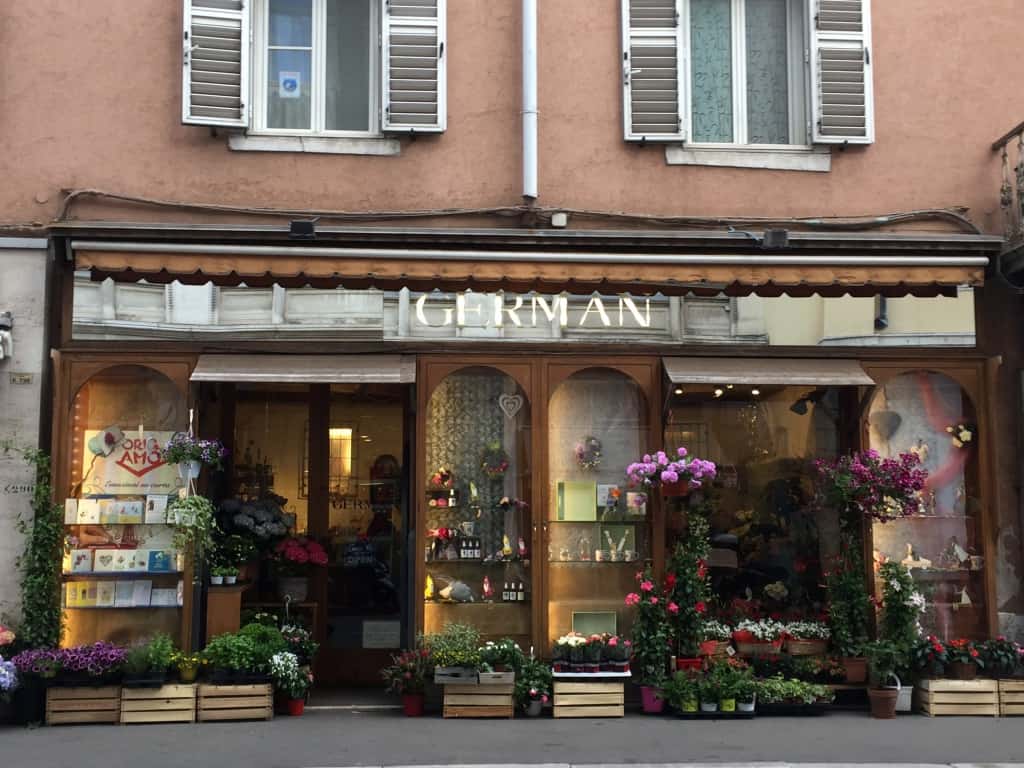 I make it to Piazza Unita d'Italia (expansive and gorgeous) getting snap happy with my iPhone and down to the waterfront which is lined with restaurants with seafood heavy menus. Fish does seem like a good idea here since it's probably freshly caught.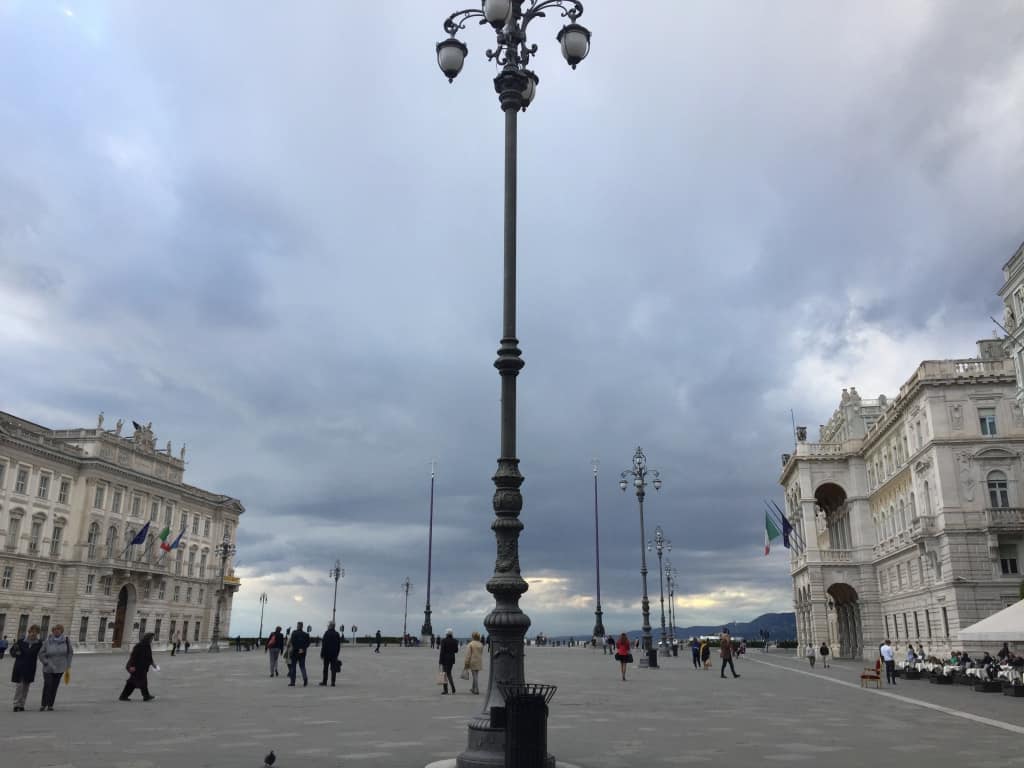 Nothing takes my fancy though so I heard back to Volo, a slow fast food cafe which sells hot sandwiches, salads, fresh fruit juices and smoothies. It's mainly healthy fare but if you want pizza and donuts they have those too. I order the Tirolese and fries and a yoghurt to take away. It's pretty good, with mushrooms, fried mozzarella and prosciutto, though the prosciutto is a matter of tearing off rather than biting into, not that ladylike.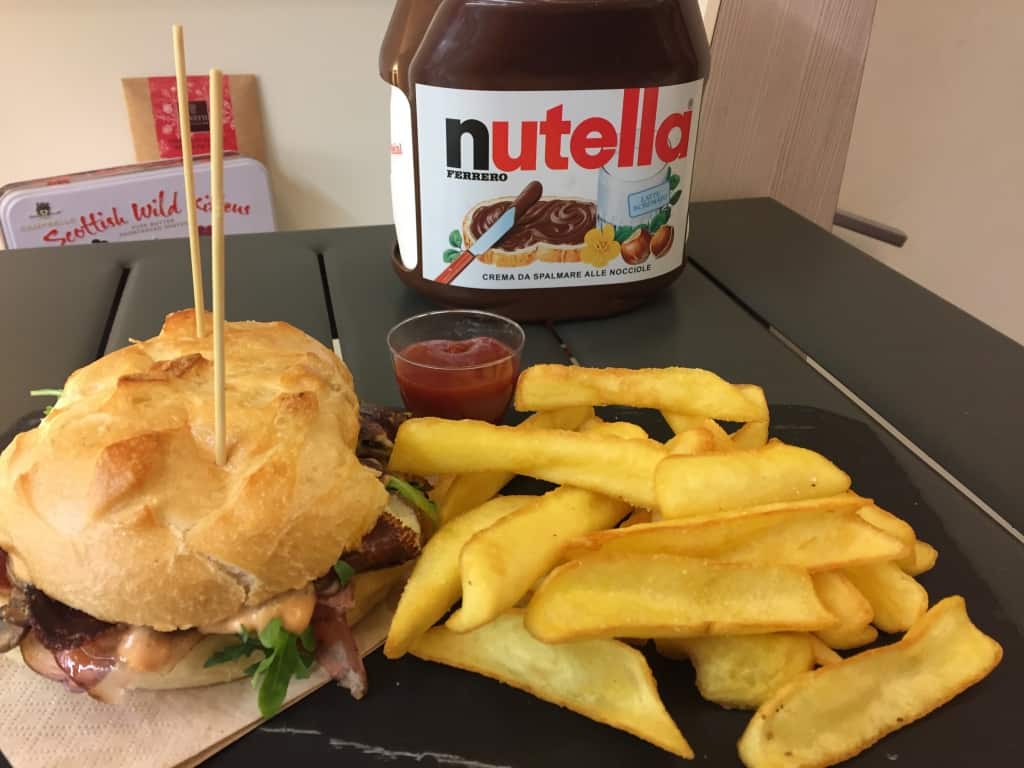 The next day I go for a stroll to find the post office as I want to send some greeting cards to family members. After purchasing the cards I walk past the post office before I realise it's in an ornate looking building on the first floor with sweeping staircases, a glass vaulted ceiling and frescoes on the walls. It's probably the most impressive post office I've been in, and even though there's a ticket/queuing system that takes ages, the gorgeous surrounds make it more bearable and solidify my impressions of Trieste being a bit of a classy place.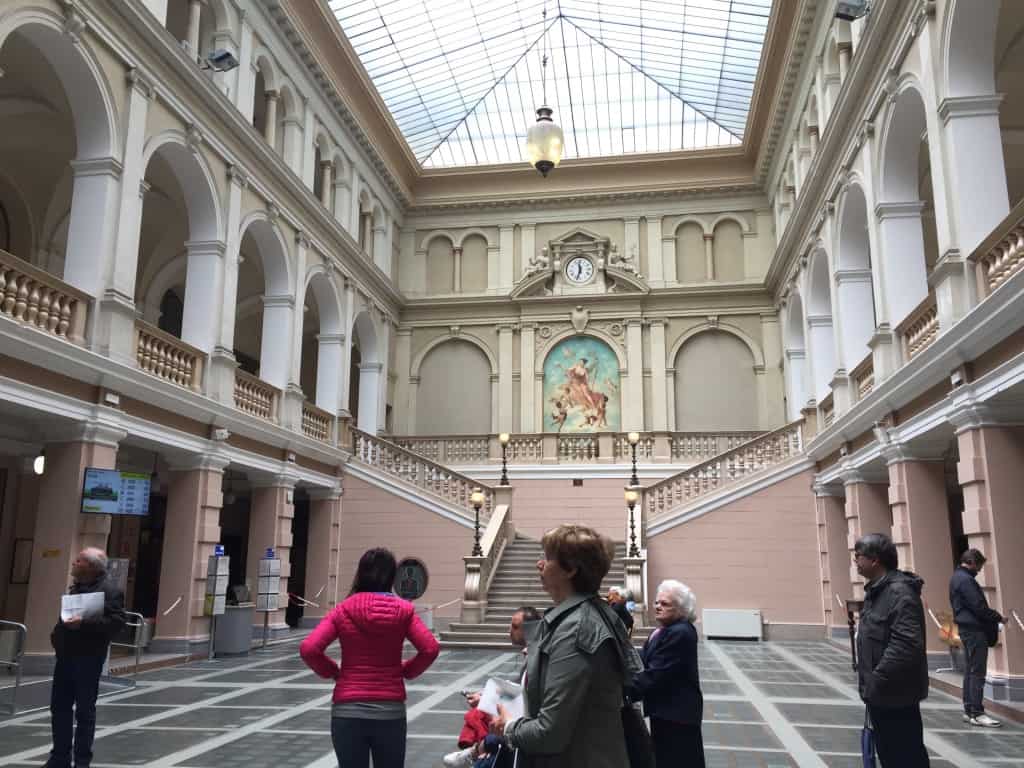 Pros and Cons
Pros

Comfortable, well thought out room
Spacious, modern decor in a character building
Short walk to the historical centre, attractions, restaurants and cafes
Friendly, helpful staff
Free WiFi.

Cons

Slightly thin walls, I could hear reception staff talking next door
The shared bathroom may be a problem for some.
Would I Go Back?
For a two star hotel, the Albergo Nuovo Centro really has it all going on, I wouldn't hesitate to stay here again.
The Albergo Nuovo Centro supported our Summer 2017: UNESCO tour by providing a complimentary stay. All opinions remain our own.