So, you're flying with EasyJet out of Milan's Malpensa Airport. You've got plenty of time and you want to spend some of it in a lounge. But EasyJet flies from Terminal Two, 5km from Terminal One, and, more importantly, Terminal Two has no Airport Lounges! And while there are Lounges in Terminal One, there are no airside transfers between terminals. What do you do?
You're in luck! One of the three pay to enter lounges in Terminal One is landside, allowing you to spend some time in comfort before getting on the free shuttle bus between terminals and waiting in what has been described as the worst airport in Europe. But what is it like?
Finding the Sala Respighi Lounge is relatively easy: it's on the airport maps around the terminal and eventually you run out of terminal and therefore it must be there. And it does have signage – what looks like an elevator door with the logo above it. But no button to open the doors. and no handles. Nothing to indicate how to enter. Strange. I eventually walked close enough for a sensor to detect I was there and the doors slid open like for Agent 86 in Get Smart.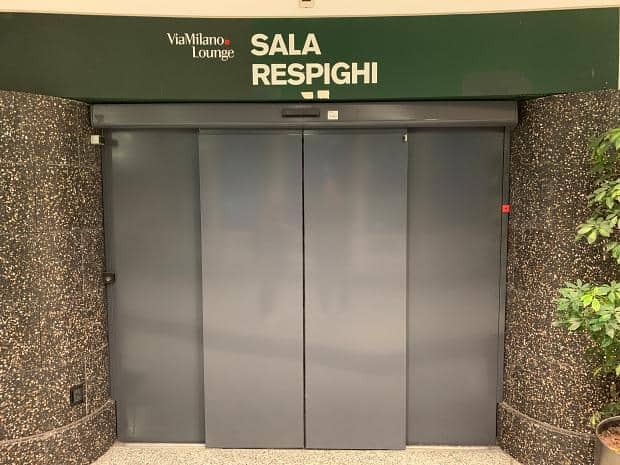 Inside is a single open room with a few armchairs in front of tables. And not much else. A row of check-in desks against the far wall are manned by airport staff who also take care of the entry formalities. A strange set up.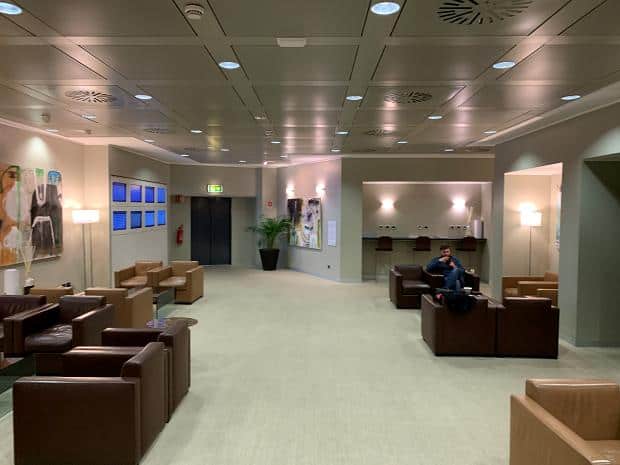 I'm picking that there is no kitchen – hence all the food is the plastic wrapped pastry variety with the exception of the fruit salad, yoghurt and little mini quiches. A wide variety of drinks, both alcoholic and non-alcoholic try to make up for the paucity of food selections.
I make do with freeing a bun from its plastic enclosure, smothering half with a patty of butter before emptying a whole mini-jar of jam on it and smearing a babybel cheese on top.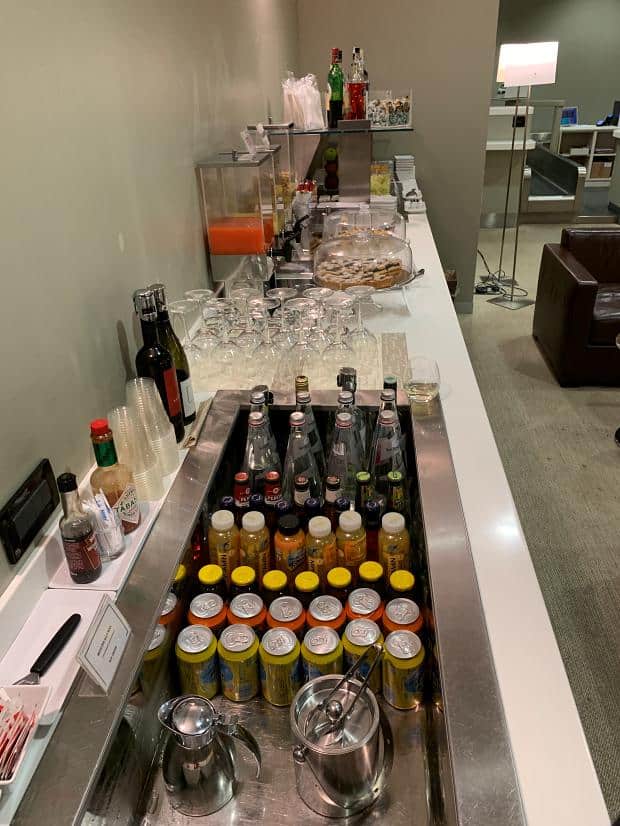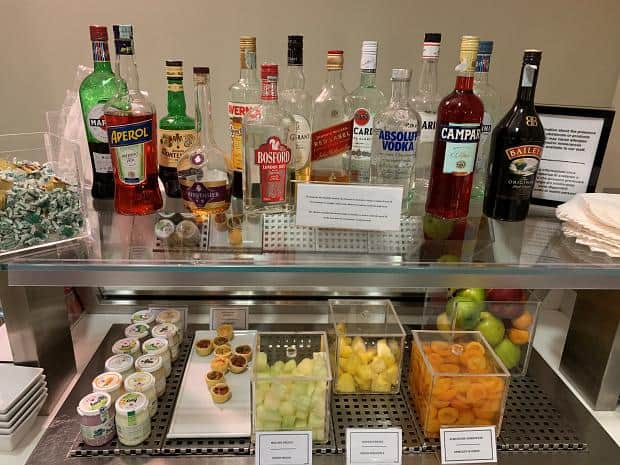 I guess I shouldn't be too hard on Sala Respighi – the toilets (a single cubicle each for men and women) were clean and there was plenty of space, and the bank of screens on the wall displayed both arrivals and departures, but only for Terminal One. More importantly they didn't blink at allowing us in three hours before flight time when apparently their policy is only to allow two hours of lounge time.
Either way we gave ourselves an hour to walk back to the free shuttle bus, make the fifteen minute transfer and navigate the labyrinth that is Terminal Two, before going through Passport Control. It turned out to be more than enough time as the incoming flight was delayed, but even without the extra twenty minutes we had plenty of time.