Qatar Airways business class lounge, Al Mourjan, in Doha's International Airport is the jewel in Qatar Airway's crown – literally their oasis in the dessert for transiting passengers.
I was travelling back to the Northern Hemisphere from New Zealand and had decided to try the QSuites Business class offering from Qatar Airlines, and could either have a zero turn around time in Doha to catch the QSuite equipped flight to London, or could wait 15 hours instead.
I elected to have the long wait and didn't regret it at all.
I arrived after an 18 hour flight from Auckland on a lie flat business class seat and surprised myself that I got zero sleep. Like a zombie I made my way through security and noticed some fellow passengers from my flight heading towards a lift.
Correctly surmising that they were heading to the Qatar Airways business class lounge, I followed at a respectable distance. The reception area was well staffed and I waited maybe two minutes before the gentleman behind the counter greeted me and asked for my onward boarding pass.
Quiet Area cubicles
Upon seeing that my flight left at 3pm (it had just gone midnight), he immediately said that he'd get me a cubicle and got on the phone. I nodded like I knew what he was talking about and made generally encouraging noises "mmm yes cubicle" as he talked to a colleague.
Hanging up, he said that they had none immediately available but that I could sit on a couch until one became available,. I smiled and thanked him, got directions (around the corner, all the way to the end and then on the right) and headed through.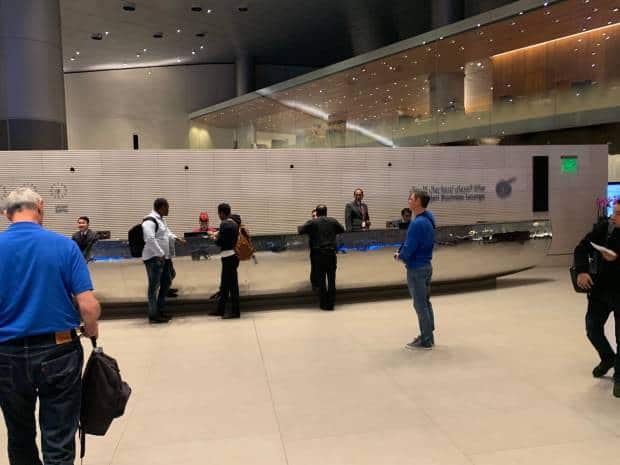 The place was huge. Enormous ceilings because its an airport, multiple areas to sit and a cafe type food place at the end, but nothing called cubicles or signage. I frowned and was starting to head back towards the entrance when I thought I'd just ask someone.
The first person stared incomprehensibly at me as I tried to explain. I'm pretty sure it was their lack of English rather than my zombie slurred speech, because the second person I spoke to pointed me to an easy to miss gap to one side of the sandwich bar.
Past the toilets the corridor bent right and then left and then I was at a counter in a darkened part of the lounge. I explained that the guy at reception had indicated that I should come for a cubicle and the receptionist's eyes lit up with recognition. Ah yes, one room is available now, but I should have a better one ready soon – maybe fifteen minutes he said.
Again I smiled and nodded in fake understanding and then he lead me down a darkened corridor between little open offices and into my very own cubicle.
It was a little room with two chaise lounges facing a TV with departure times on it. Nice, I thought: I should be able to get some sort of sleep on one of these. My new friend bid me sit down and then headed off. I slumped onto one of the chairs and sat staring a the TV. He came back maybe five minutes later and said that the better cubicle had become available and to follow him.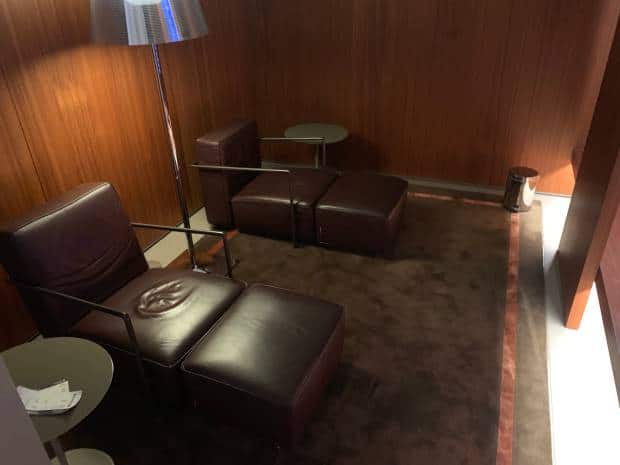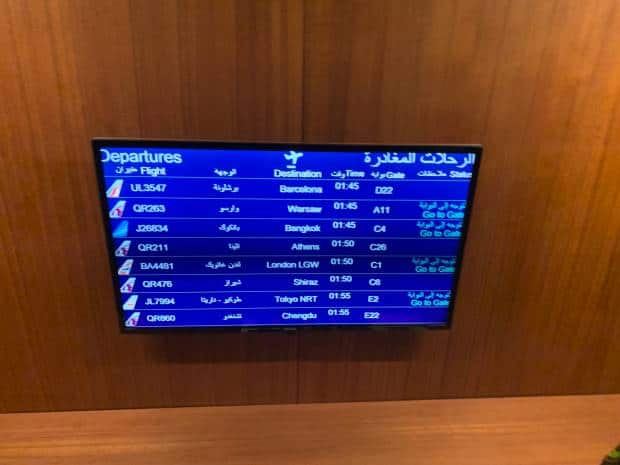 This room had a much larger couch along side a comfortable looking chair with a table beside it. Ooh! I thought – that's definitely going to be easy to get some sleep on! Before leaving, the receptionist asked if I would like a blanket and some water. Yes definitely thank you I said.
A few minutes later he brought me a 1.5l bottle of Evian and a glass of ice, and a little later a blanket in a plastic bag. I grabbed the amenity bag from my flight and dug out he earplugs and eye mask, and settled in to sleep.
A little sign mentioned that no announcements would be made so to make sure you set an alarm. I smiled wryly and thought if I slept for 14 hours something was very wrong, but still made sure to set my alarm, placing the phone on vibrate as well.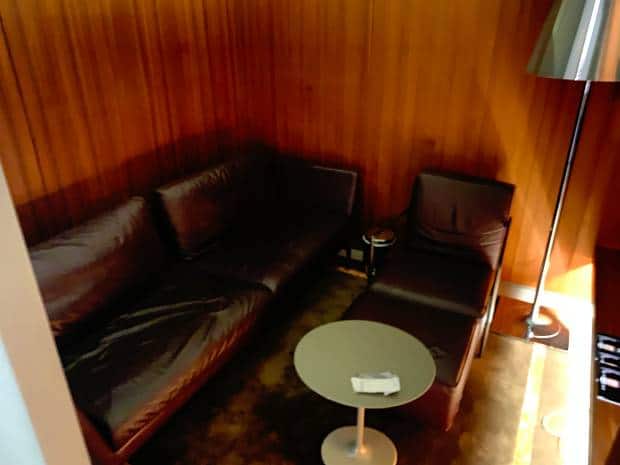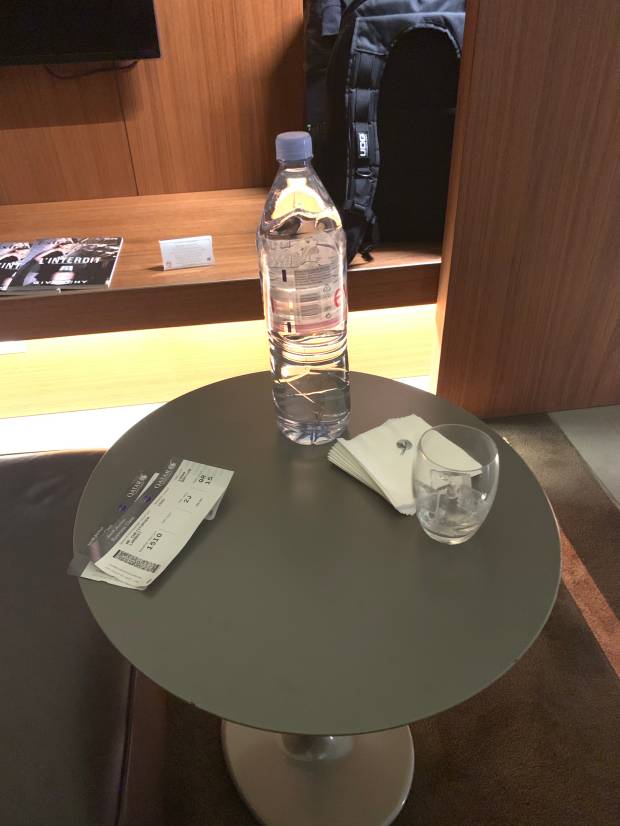 While the darkened area of what I later discovered was called the Quiet Area achieved the desired effect of subdued whispers from most of the visitors there were some guests who couldn't fathom that maybe not everyone wanted to hear their conversations. It was tempting to let them have it, but I knew I was just being cantankerous because of the lack of sleep.
Maybe four or five hours later I woke up from a deeply needed sleep and felt somewhat more human.
Showers
I wandered out to the reception area and asked about the shower situation. Two doors were behind the reception desk and I had noticed them when I had come in. Ah, said the gentleman, there's a twenty minute wait. No problem I said, I'll grab something to eat and come back, and wandered out to the sandwhich bar I had come through on arriving.
Upon my return I was told that there was a shower ready to go and I walked into the shower area. To tell the truth I still dont know how many showers they have back there, but I was lead to one and told that there were towels and soaps and shampoos available. I thanked them and looked around. [edit – I subsequently looked up the evacuation poster and there are 9 showers in the men's section and six in the women's.]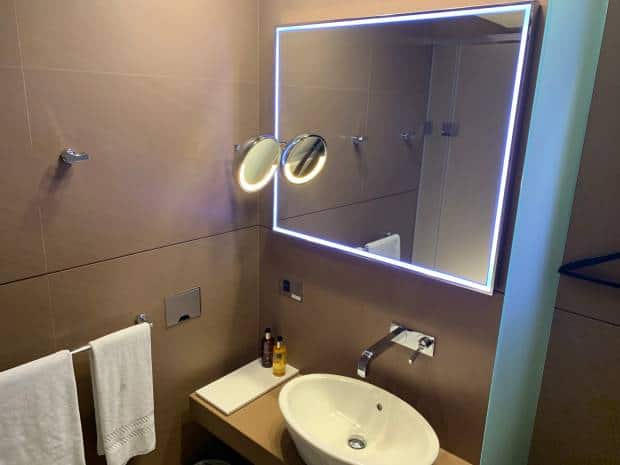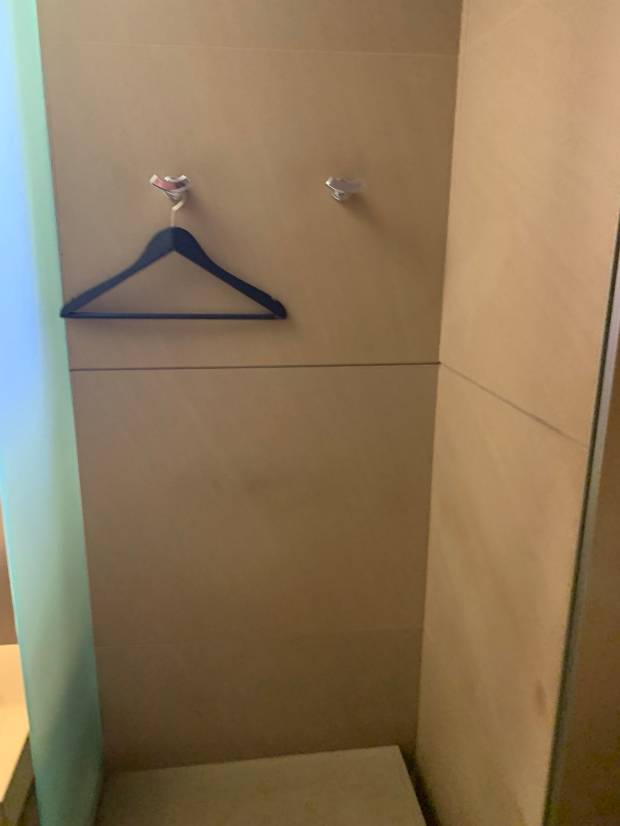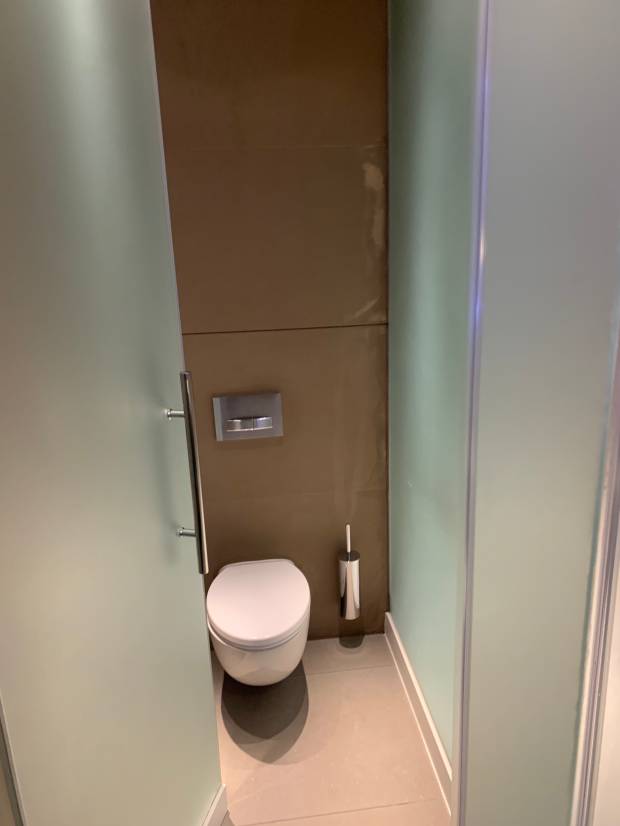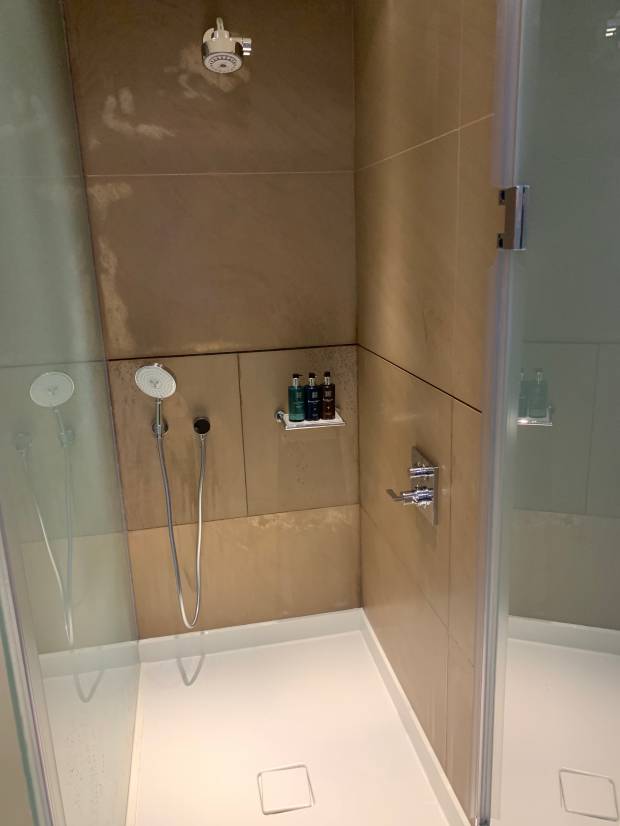 The shower consisted of four pretty much equal areas – a luggage area with hooks for jackets was immediately opposite the toilet, and a well lit mirror and shaving mirror over a sink were just outside the shower, which sported frosted glass and two shower heads.
The water was hot and had good pressure which really helped soak away some of the sore muscles of the trip and sleeping on a couch. The towels were clean and I felt vaguely human after my brief visit. I got dressed and went back out to my cubicle.
I spent a little while back in my cubicle, recharging both my own and my phone's batteries. Occasionally one of the reception staff would pop in (the cubicles did not have doors) and ask to see my boarding pass. I'd ask if they needed the cubicle and was told each time that I was able to have it for as long as I wanted it, so never felt rushed.
A few hours before my flight I decided I should probably see the rest of the Qatar Airways business class lounge and decided to head out for a substantial meal and a nosey.
Exploring the lounge
The place was huge. I've been to a couple of lounges, and they pretty much are one of two sizes. There are the "we don't fly from here so will group together with other airlines and offer a lounge" types like the KLM/Air France lounge in San Francisco. An OK size. Let's liken them to a standard shop in a shopping mall.
Then there are the slightly larger lounges which are the flagship of whichever airline run them – think BA lounges at Heathrow. These would be like a department store in a shopping mall – one of the larger shops there. Al Mourjan was like a whole wing of a shopping mall – an order of magnitude bigger again.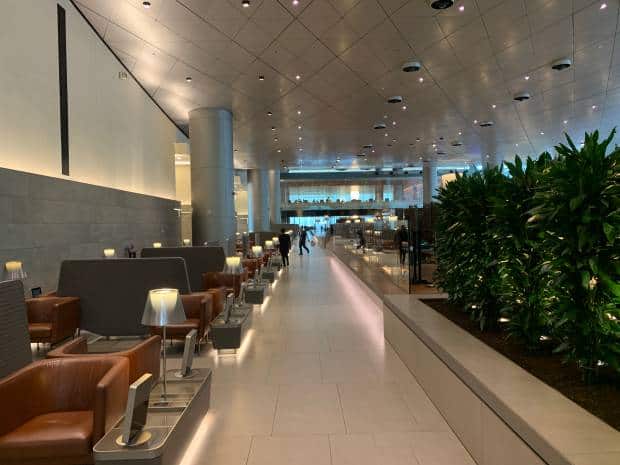 Looking down the length of the lounge was amazing – they'd broken it up with various types of seating areas in part I think to stop people from getting lost!
Starting from the Quiet Area end of the lounge, there was a median strip bordered by greenery with bamboo privacy screens separating sections off. Around the periphery low slung leather seats clumped around tables with what looked like iPads embedded in them. It was all very tastefully done with sections allowing you to select the type of seating you wanted to fit the size of your travelling party.
At the furtherest end form the Quiet Area, just beyond the entrance was a giant pool. I should call it a fountain though because spotted around it were jets just below the surface. Sporadically these would shoot a little jet of water up like an archer fish aiming for a bug and the sound of the water landing back in the pool was soothing. The silver finish of the ceilings reflected the light off the water making a very aesthetically pleasing feature.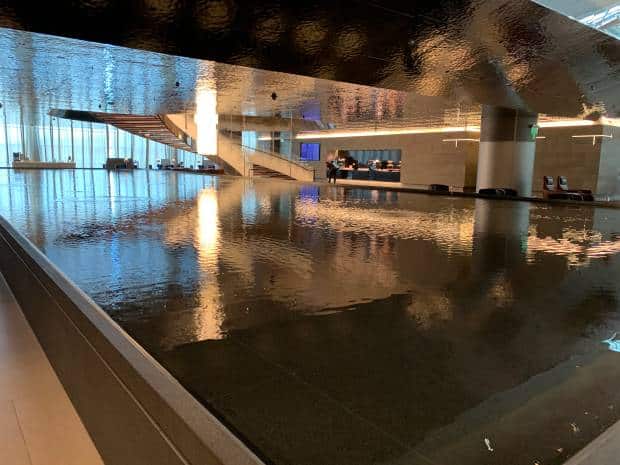 If you were after natural light, then positioned around the periphery between the pool and window were even more seats. I paced the exterior of the lounge, insistent on getting a full understanding of how big this place was.
Around the corner were different coloured chairs, no longer the low slung leather, bow a bright blue fabric chair, again with a tablet embedded in the table beside it.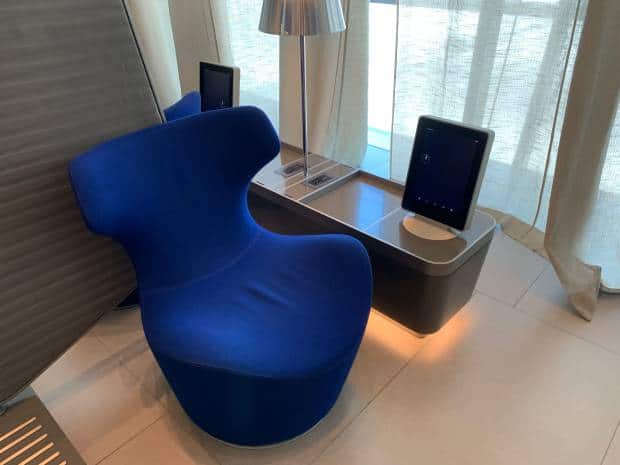 I should have paused to investigate what was on the tablet, but I was hell bent on discovering the layout. The map below gives a bird's eye overview.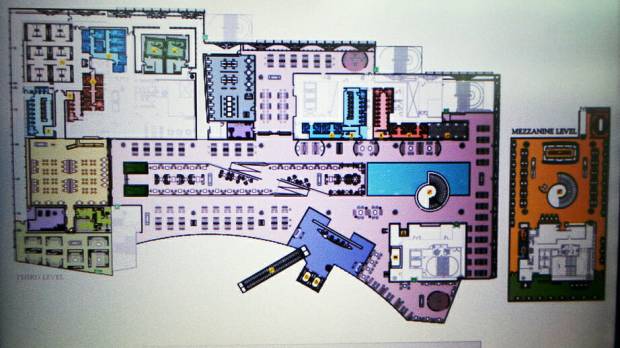 Food and drink
Scattered around the lounge were coffee and drinks stations accompanied with sweets and cookies stacked high, but I was after something a little more substantial so ascended the staircase to what I assumed would have to be where the food was. A chandelier of enormous proportions dangled above the pond int he centre of the curved staircase, illuminating the stairs.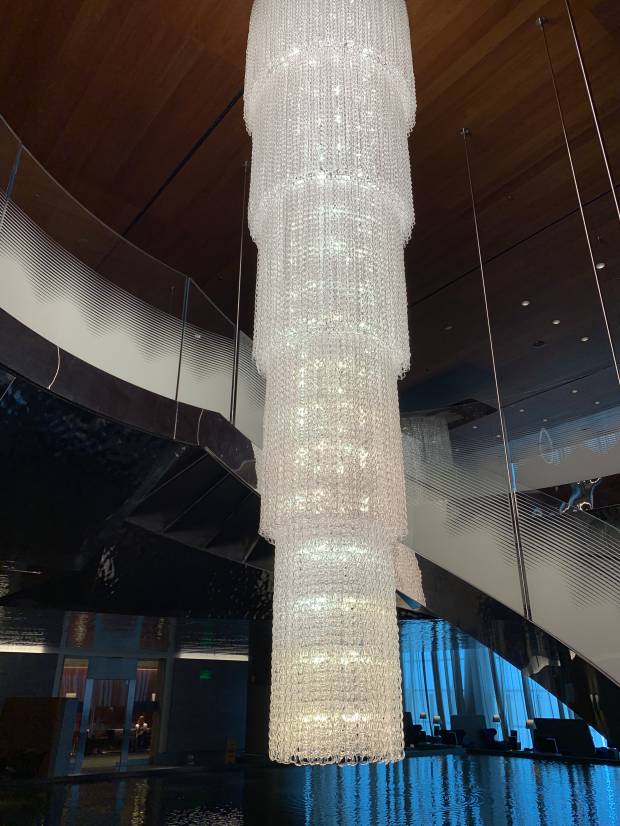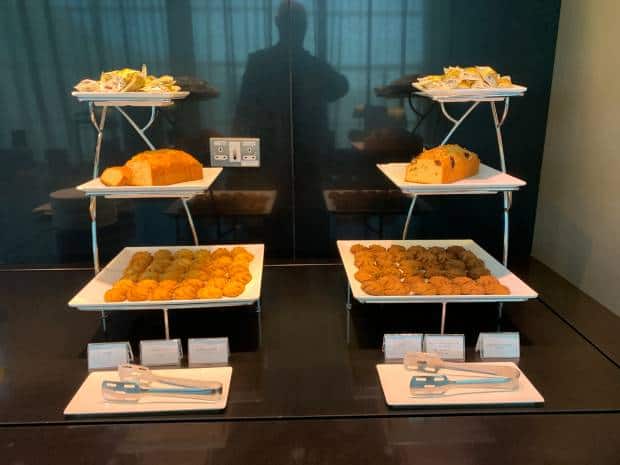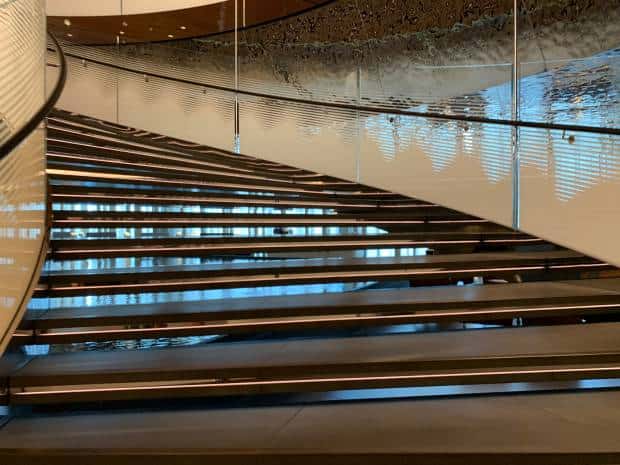 And there it was: A huge buffet restaurant within two tables sporting catering dishes with meat and vegetables, small bowls of salads, plates of breads and a tureen of soup. The offerings leaned towards vegetarian, but so very tasty!
I tried the paneer curry and had to go back because it was so good. There was definitely something there for everyone, and so much of it too. A steady stream of staff kept the dishes full and when I sat down with my plate groaning, one came over and asked what I would like to drink. He later popped by and got me a refill as well.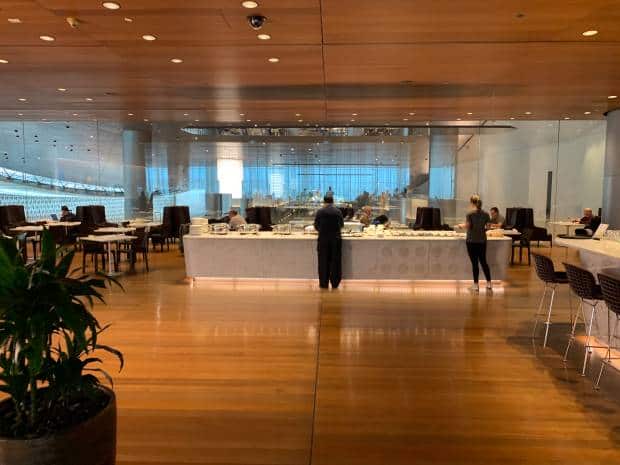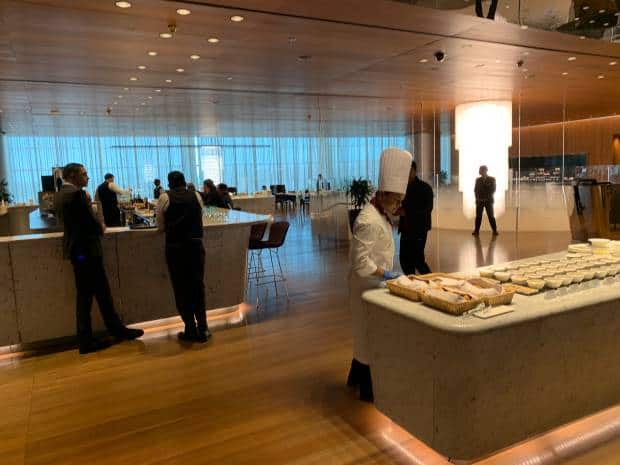 I have something of a sweet tooth and. The delightfully arranged desserts certainly appealed. I was very restrained though, and made sure I didn't have too much.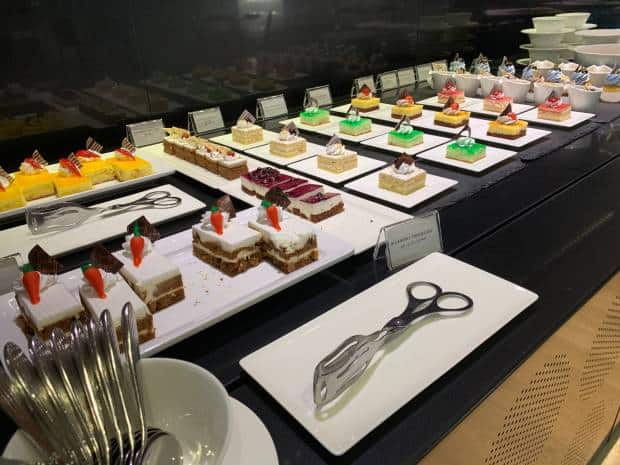 I'd secured a seat by the window and took the chance to take a photo which illustrated the size of the Qatar Airways business class lounge – far in the distance on the right was the Quiet area, but you couldn't even see it, it was so small.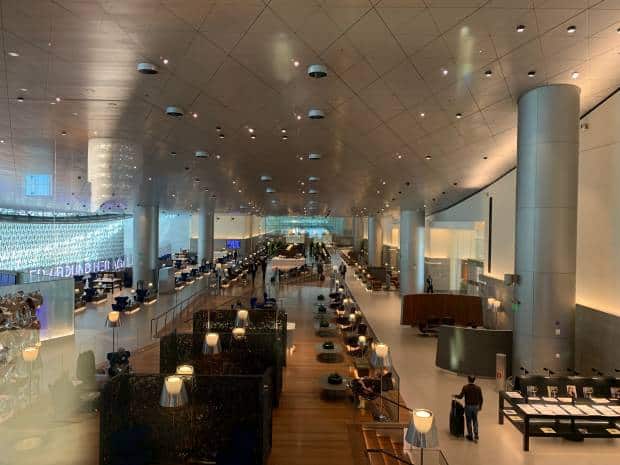 Meal over, I decided on one last circuit to see if I had missed anything and thus discovered some cool rooms I had totally missed!
Games Room
There was a Games Room, consisting of a couple of Play Station controllers, a racing simulator actually built in to the front of a F1 car, and a glass Foozeball table.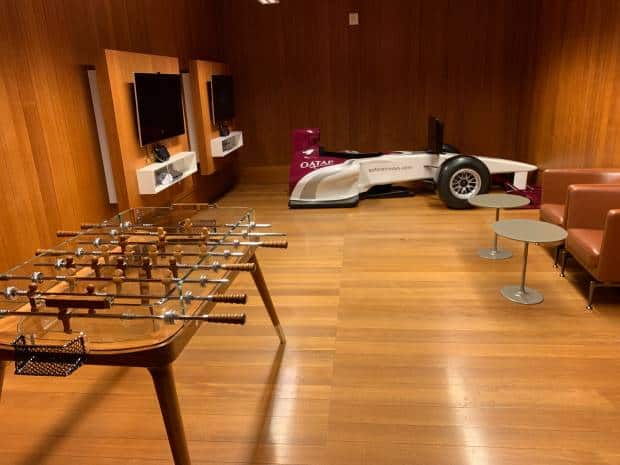 Business Centre
Tucked down an alcove was the Business Centre – a huge room with three lines of desks and built in computers allowing you to catch up on what needed doing.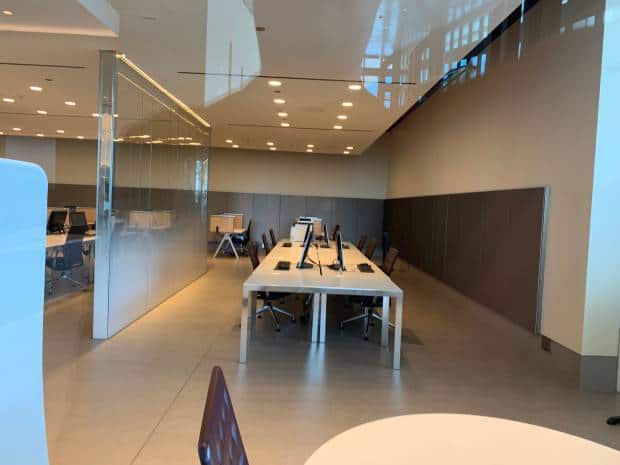 Beyond the Business Centre were more seats, this time reclining ones which, were they not right beside the windows, would have been fantastic for sleeping. I guess if you had eye masks and ear plugs it might work!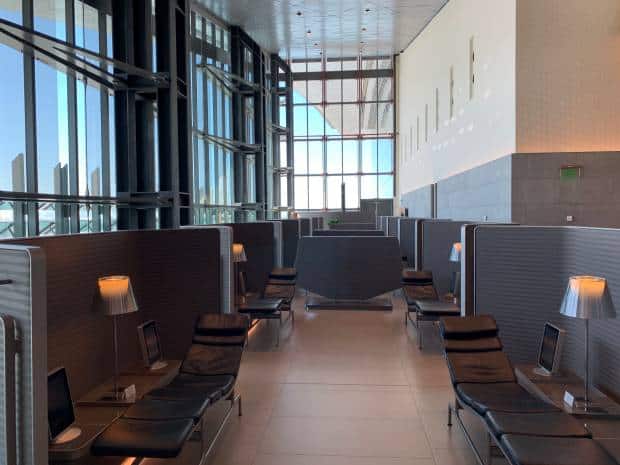 The conclusion
And that was it. Fifteen hours in the Qatar Airways business class lounge Al Mourjan in Doha. I am so glad I was there for so long. Sure, I could have gotten to my destination quicker, but the fact I got some sleep, and a shower, meant that I was able to enjoy my QSuites flight instead of being a sleepless zombie.
The fact that I wasn't rushed to give up my cubicle was fantastic and meant that despite some incredibly loud obnoxious people (clues in the name, people: quiet area), I was very well rested.
What I loved the most though was the guy at reception when I arrived. He immediately saw that I was there for a long time (this was at midnight), that I had just got off a long haul flight (I suspect I was probably not looking my best!) and took it upon himself to arrange a cubicle for me. That was nice.