I checked beforehand that the Jacques Brel Youth Hostel would be still open when my late flight arrived in Brussels. They assured me that though reception would be closed I could check in via the bar which is open to 12.45 am. By the time I'd negotiated the rather massive airport, caught a train to the central station and flagged a taxi it is after midnight.
There's a big locked barred gate outside the hostel and I have to wave my hand through to get someone's attention to let me in. Luckily there are still people hanging out in the courtyard. It looks like a cute place with a small fountain and sided by a three storey building.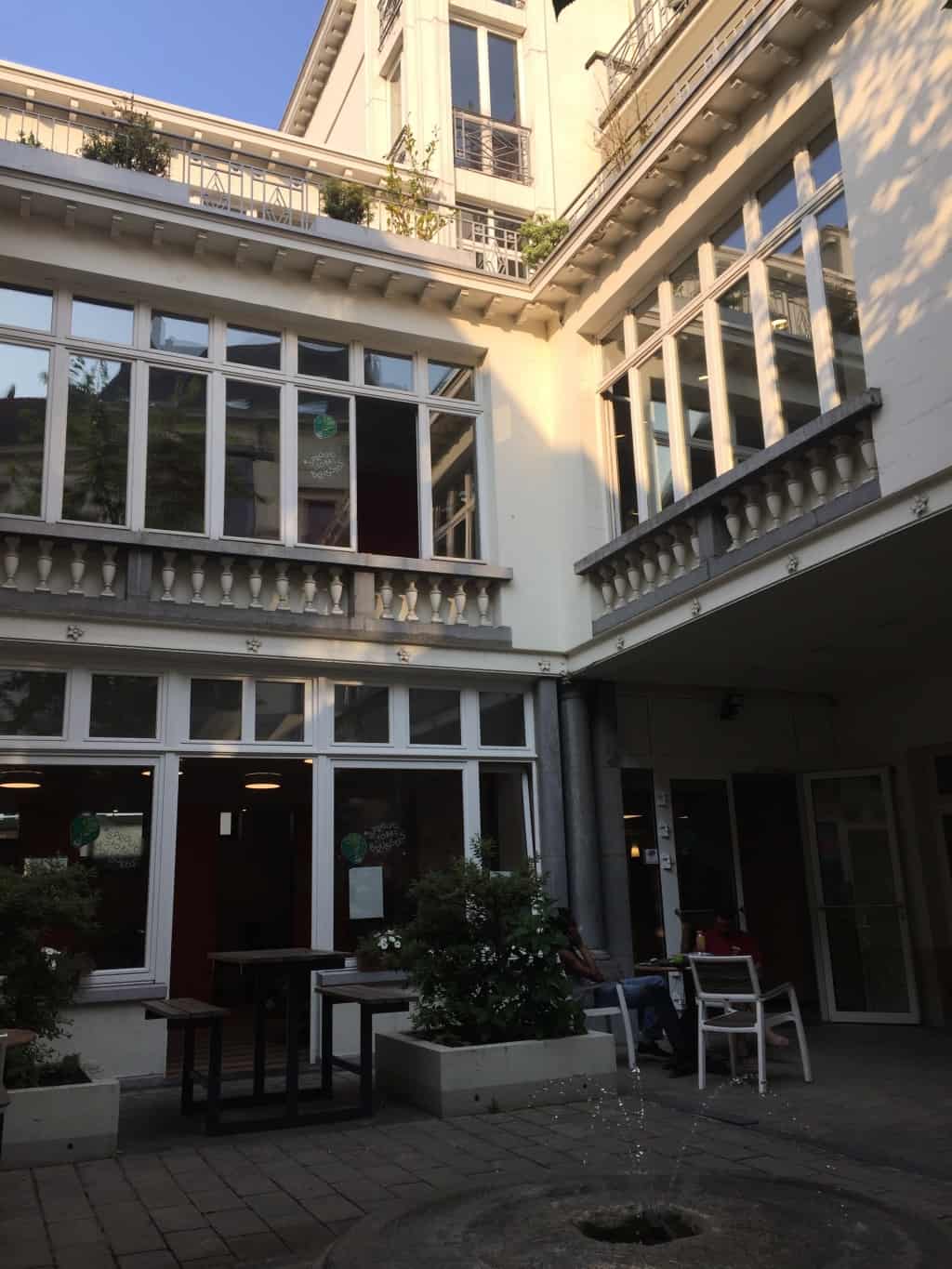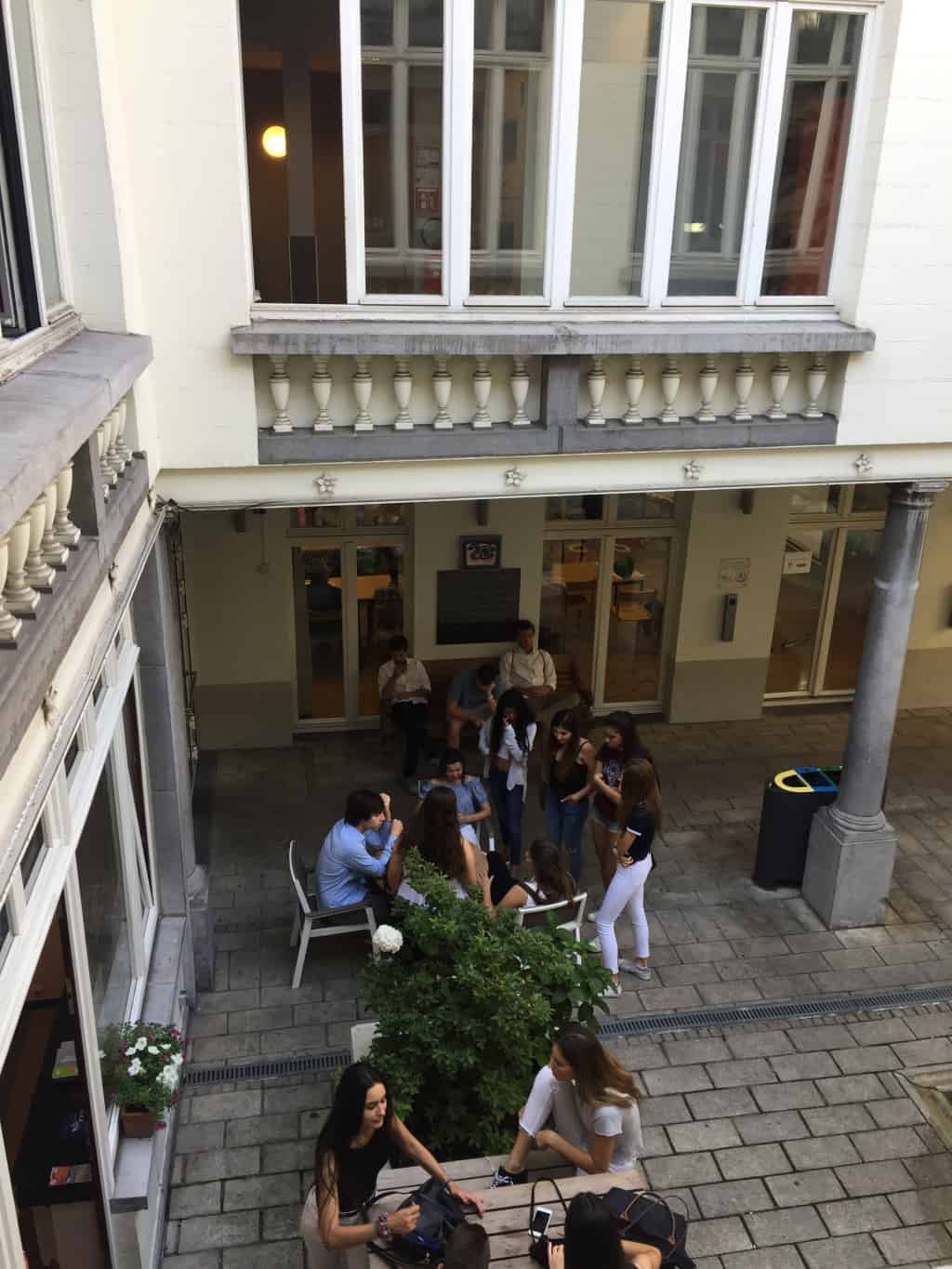 I head to the bar and am checked in by a Spanish guy who seems flustered and I'm sure would rather be shutting up shop. But he gives me two towels for free (usually you have to rent them.) My base for the next three nights is Room 114, a 6 bunk bed female dorm.
Room
The room is on the first floor which is also where the breakfast room is situated (a buffet breakfast is included in the price). On the ground floor is a games room, a bar/restaurant, internet cubicles and a couple of snack/water dispensing machines.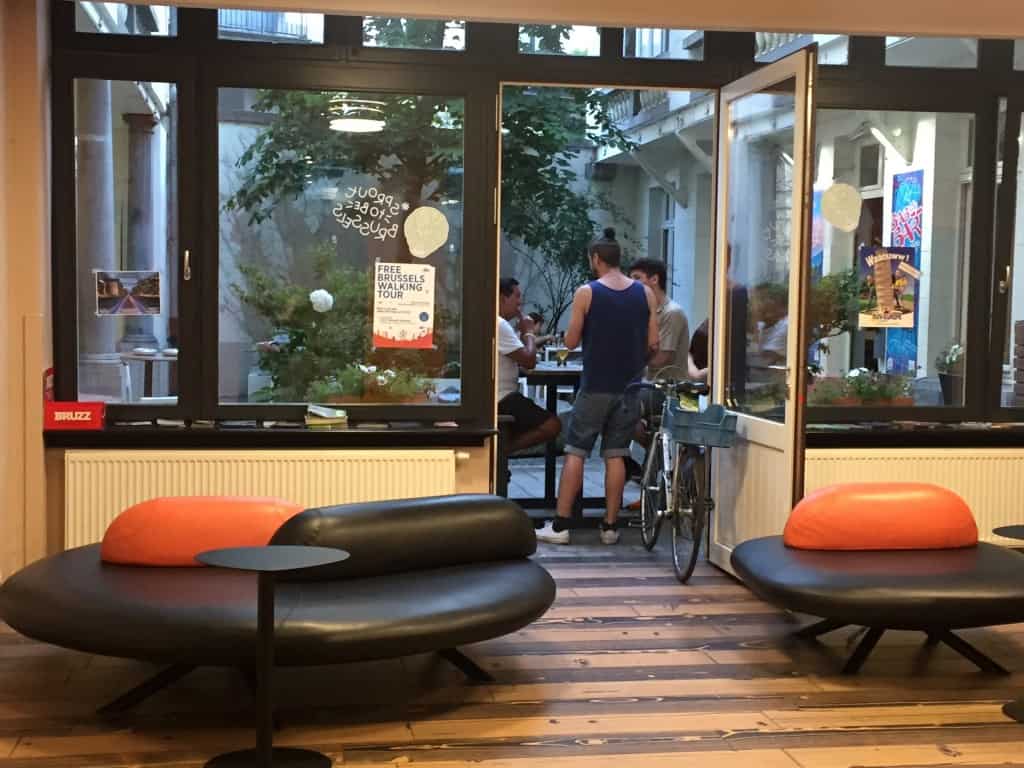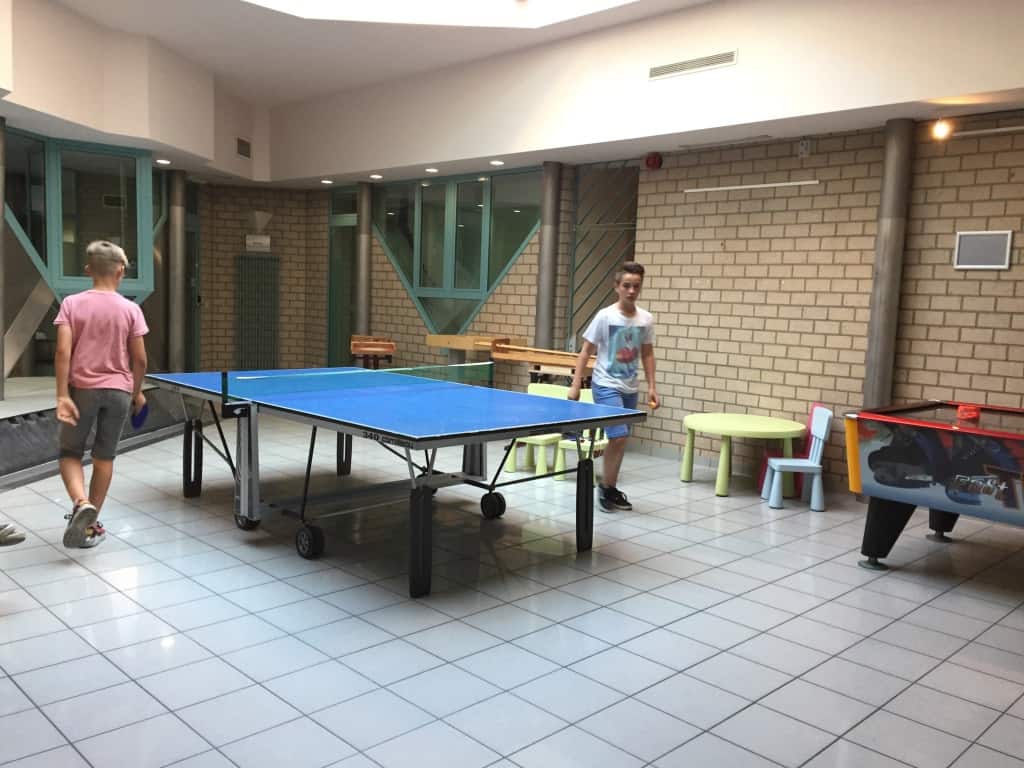 I hate people who check in late then wake everyone up when they come into the room but tonight I'm that person. Everyone else is snoozing until I open the door with my key card and light comes blindingly into the room. I mumble my apologies and find my bed, one of the top bunks which has an array of bedding.
Luckily there's an adjoining room with a shower / toilet so I go in there to wash and sort myself out. Back in the room I spy a series of lockers and cubbyholes so jam my stuff in one as quietly as I can and then attempt to make my bed in the dark. It's times like these I'm glad I'm 5ft 2 and can manoeuvre easily around on top bunks in the dark. I end up wrapping myself in a sheet and actually manage to get some sleep, despite the room being boiling hot and no air con. The windows are open at least which is a blessing.
Breakfast
The next morning I grab breakfast. For a hostel it has a good selection of items: cereals, yoghurt, fruit, jam, meat, cheese, boiled eggs and bread. A machine dispenses coffee, fresh cold water and fruit juice.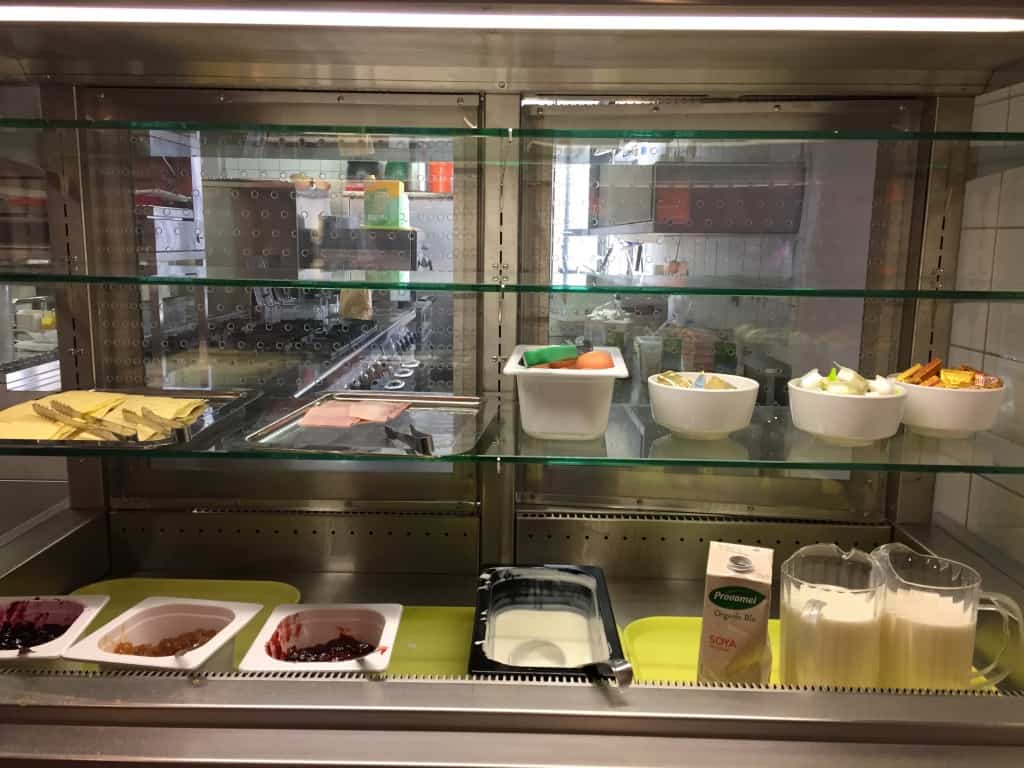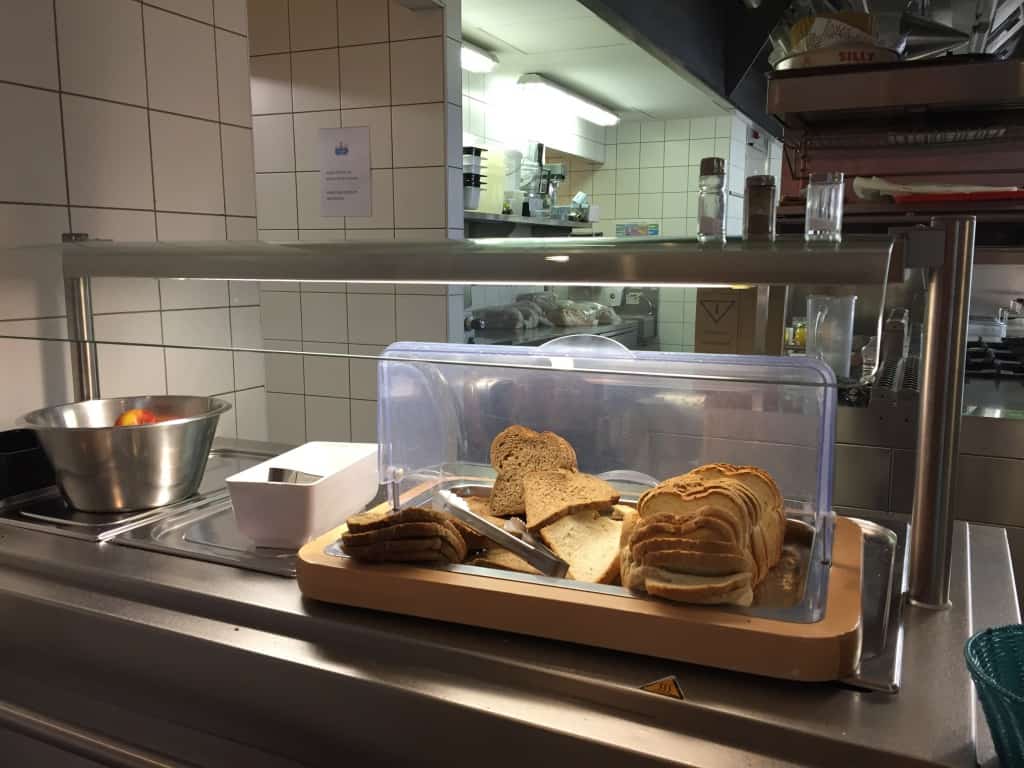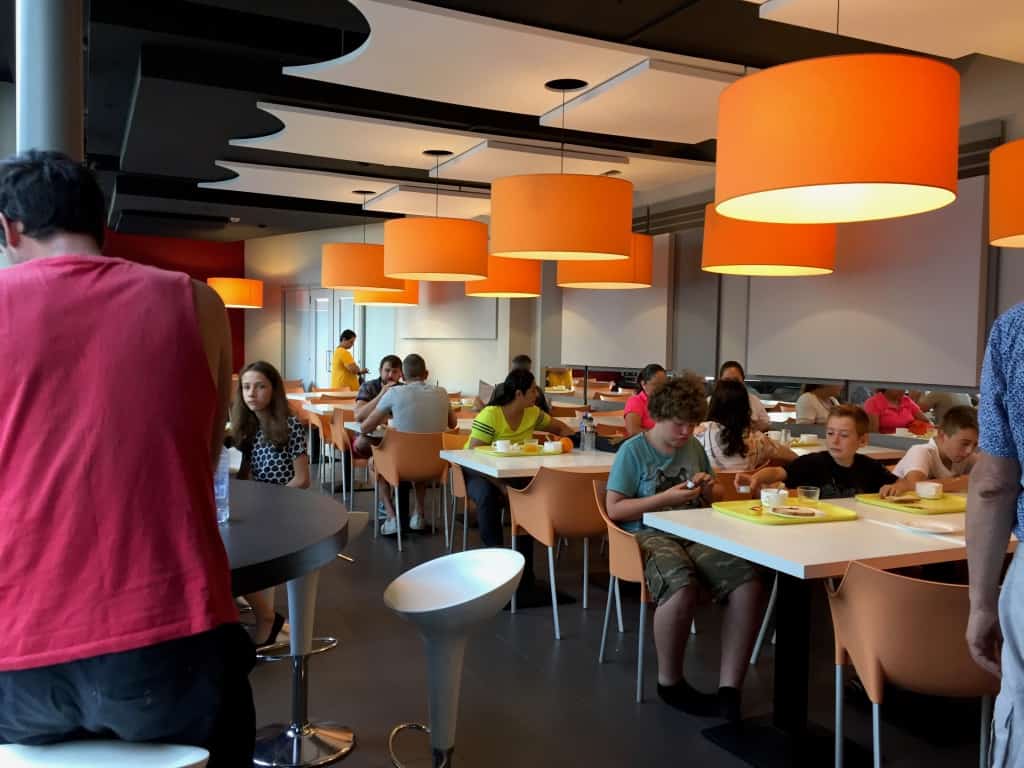 After breakfast I head to the Victor Horta Museum, a UNESCO World Heritage Site, by metro, then tram. The house and workshop of Art Nouveau architect Victor Horta is stunning, and a great example of the flowing, nature inspired 19th century architectural style. It's too bad you're not allowed to take photos but I take a lot of the outside.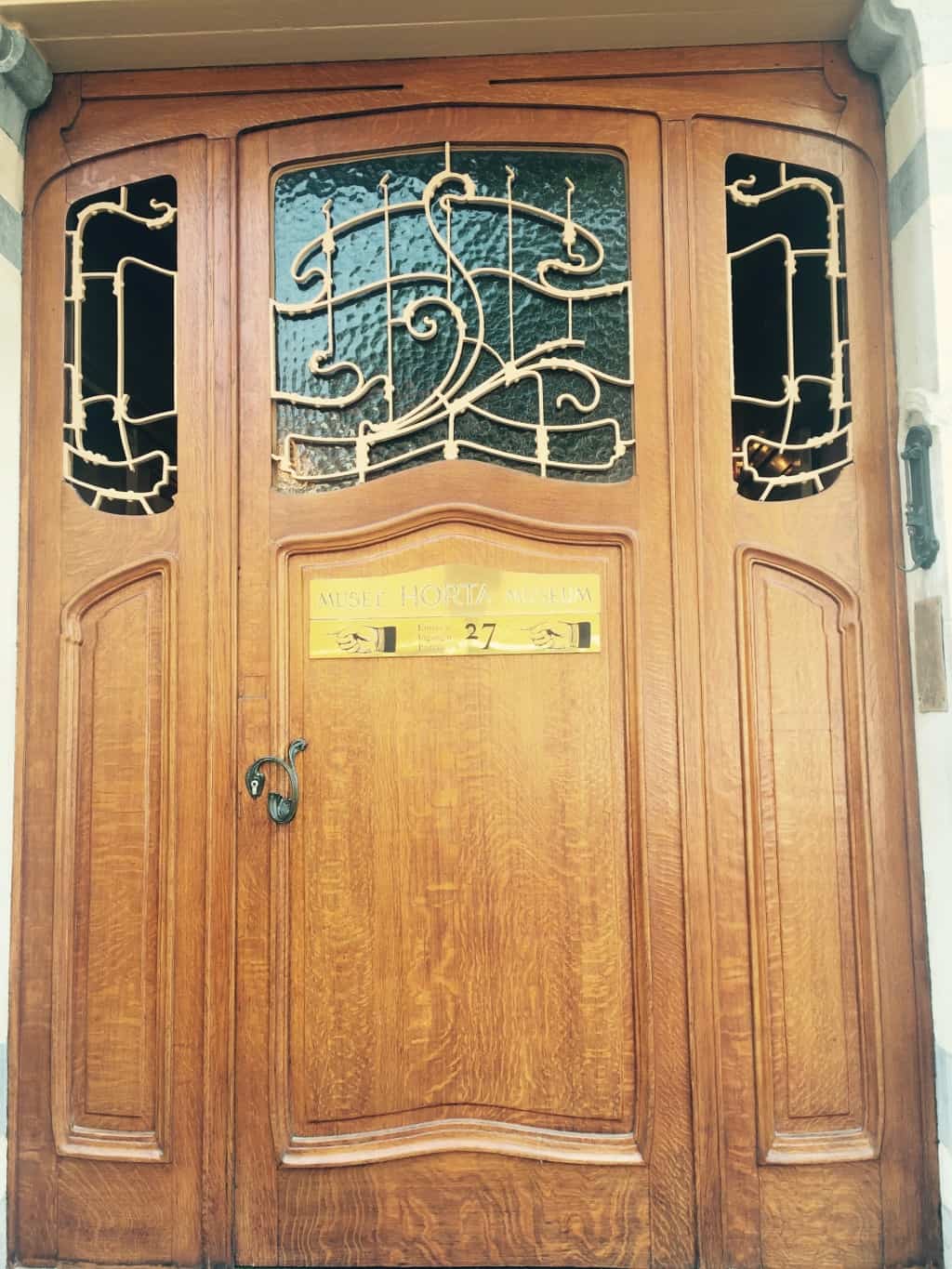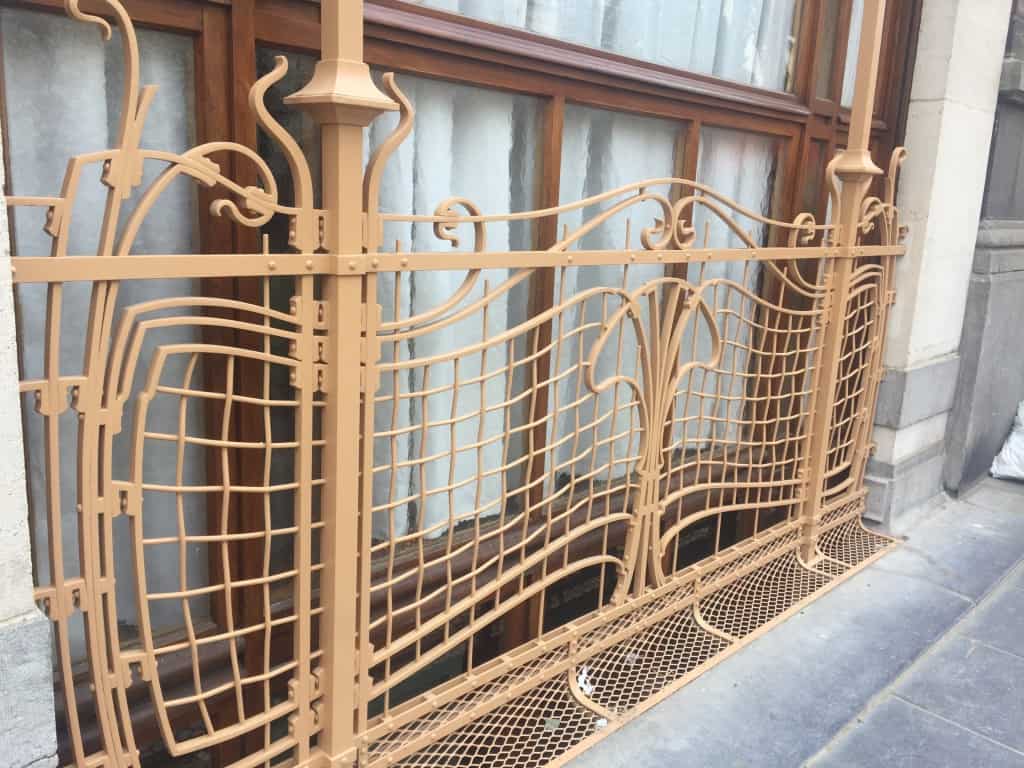 It's a stinking hot day, Brussels is gripped in the midst of a heatwave and the temperature feels like it's up in the late 30s inside the tram. Relieved to be back at the hostel I take my second shower of the day and have a siesta enjoying the flow of fresh air and no one else there.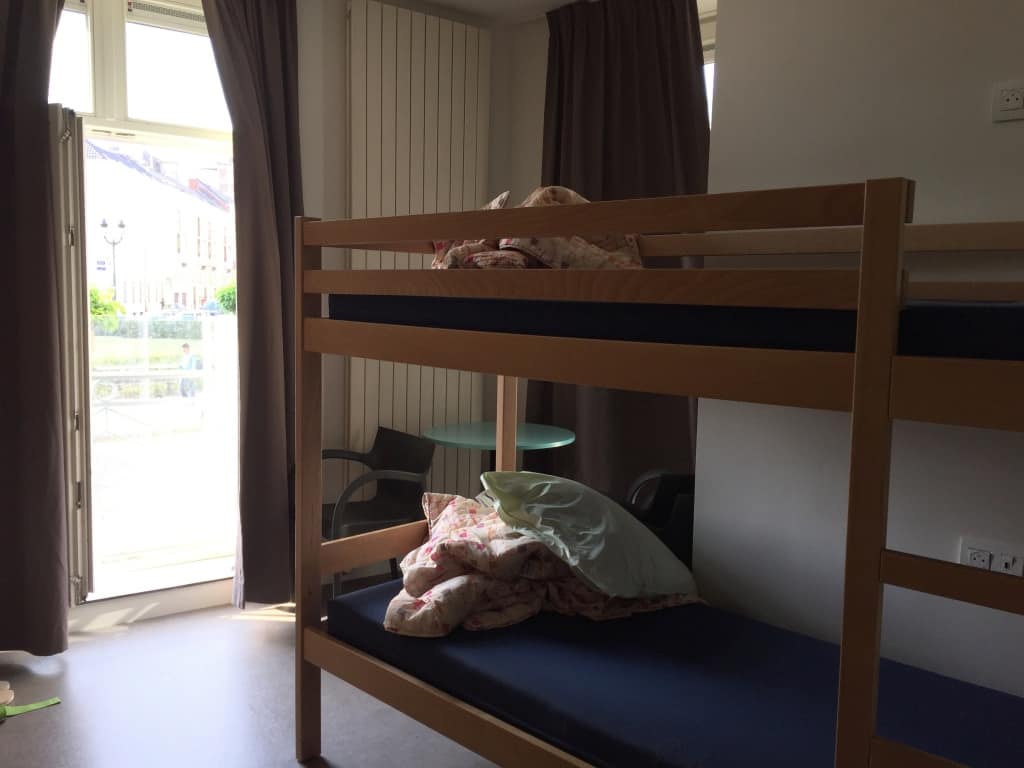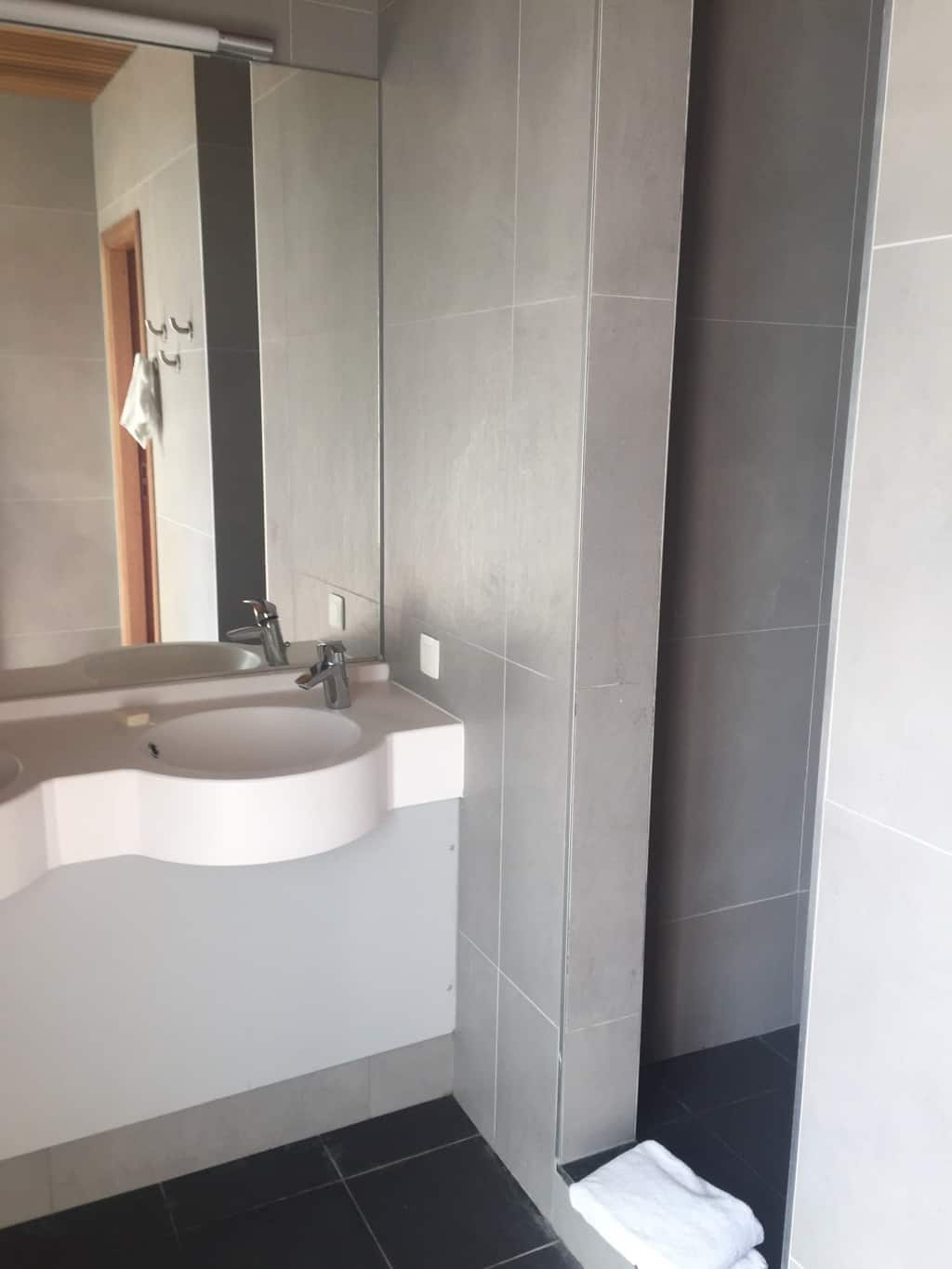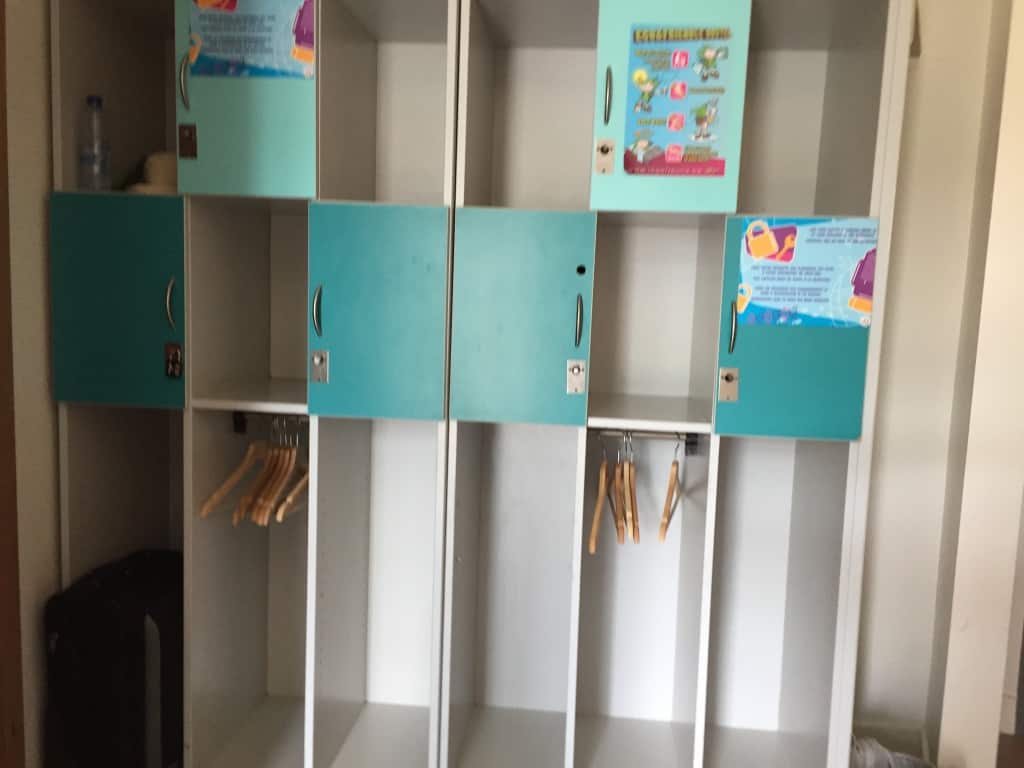 Afterwards I do some work on ground floor which has cubicles set up with computers. The internet works well so there's no issues with surf speed. The clock ticks round to dinner time whilst I'm there so I have dinner at the on-site restaurant. There's a choice of cannelloni or pizza. I choose the cannelloni which is microwaved thoroughly but tastes ok.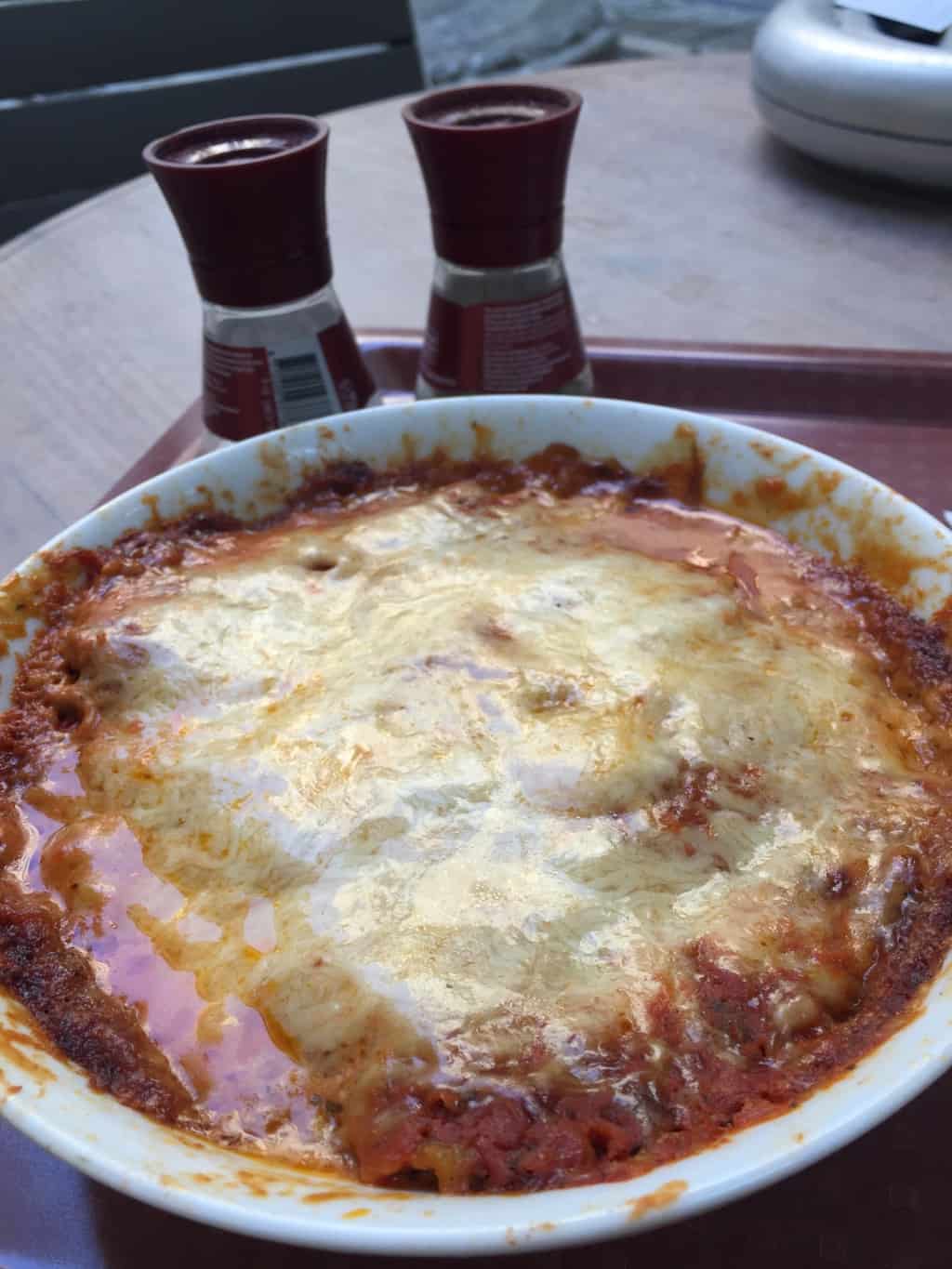 I do a bit more work then get a message from Chris asking if I'm ok. "Yes, why?". Turns out my sister is enquiring as she's What's App'd me and I didn't reply. There's been a bomb threat at the central station. After reassuring everyone that I'm ok, I process the information. The bomber was foiled before anyone was hurt but it's still disconcerting that it happened just up the road. A bit close for comfort. 
I head to bed hearing the sounds of police car sirens and not liking being in a city that has suicide bombers. Sleep is evasive. I try and sort out the curtains but the wind blows them open and the street light outside shining in makes for a strobe-like effect. The next morning I check-out and head towards Botanique metro, a five minute walk from the hostel, to cut across town to my next hotel.
Pros and Cons
Pros

Location – walking distance to the Botanique metro
On-site bar & restaurant
Breakfast was good and plentiful

Can book to go on a free walking tour which takes in the main attractions of Brussels.

Cons

Everything is modern but basic – if you're looking for luxury or extensive facilities this is not the place for you
No air con.
Would I Go Back?
Probably not. There was nothing glaringly wrong with the hostel and the modern conveniences were welcome after the Nice hostel. But because I was in Brussels during a heatwave the lack of air con in the room did make it uncomfortably hot. I didn't really have a great sleep experience here, even after changing to a bottom bunk on the last night.