On a recent trip to Paris I was delighted to learn that there are several quick and easy ways to travel from the City of Lights to a city frozen in a period lit only by candles. Called the "Venice of the North," Bruges Centre is a canalled and cobblestoned village in which the incredible art, music and history of medieval times has been meticulously preserved.
For a renaissance gal like myself this was the perfect excursion. Although my French is okay, it was a nice respite to take in the Flemish culture in a place with so many official languages that speaking only English was no detriment. It was also a trip that was safe for a woman traveling alone or with children.
I consider myself moderately experienced in the travel arena. I've carried a toddler alone through Munich, landed in a small plane on an Alaskan glacier, and hunkered down in very impoverished areas of Haiti. But I still haven't experienced the vast majority of our planet, and I am not a fan of risky terrain or of course, crime. No worries about any of that on a trip to Bruges!
While I took a bus, getting there by car or train is also quite straightforward. One can even take a day trip via Paris tour buses, leaving early in the morning and returning late at night. Journey by any of these modes of transportation takes about two and a half hours, and vehicles park in a designated lot nearby.
Wondering how you'll get around once you've arrived? Well there were no cars in the 1600's and the city won't allow them to ruin the cobblestone now! Even the postman rides a bike. You'll have to tour this quaint haven the medieval way—by canal or your own two feet. Or perhaps by another's four feet. Horse drawn carriages are ubiquitous here. If you've got children in tow they'll squeal with pleasure at helping their equine friends refuel with hand-fed carrots.
I travelled to Bruges in mid-March. The height of Europe's ski season had passed and the greening was just beginning. From an economic vantage point this is a good time because air and hotel fares are not soaring, as they often are at more popular vacation times.
To get the utmost out of Bruges, you will ideally stay a few days. Midweek allows reasonable prices at a very good hotel in the heart of Bruges – the Hotel Martin's Relais. Old world charm abounds here by the canal, but that means that if you have a car you'll have to park it a short walk away.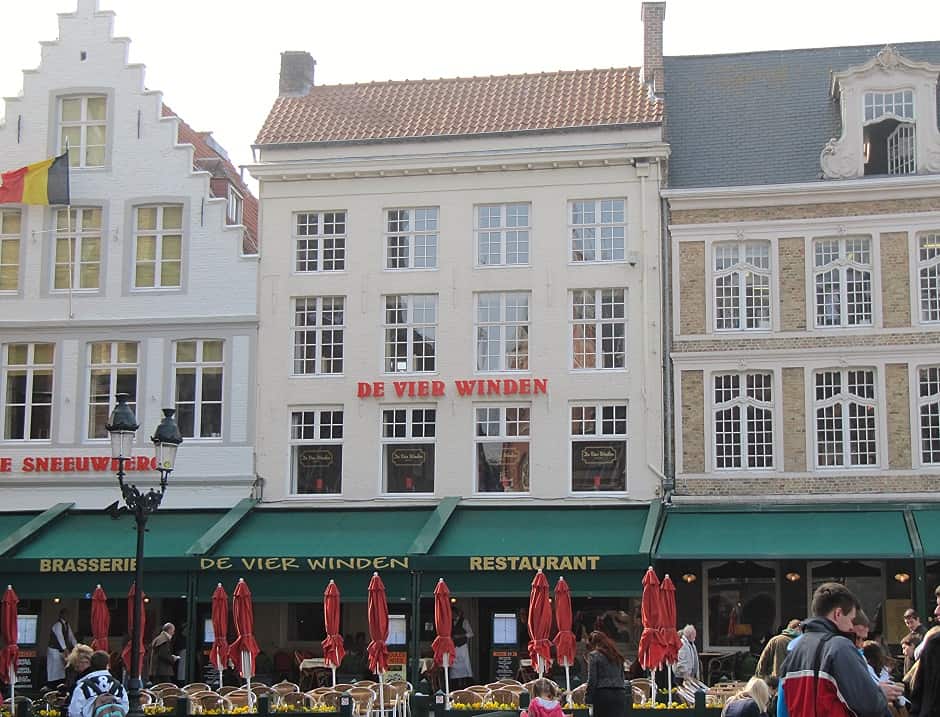 Having addressed the logistics of transportation and lodging you'll be free to immerse yourself in the plethora of art, history, and culture that this destination boasts. To that end, there are certain things you can't miss. If you're a day-tripper, prioritise a canal tour, a toothsome local meal, purchases of chocolate and lace, plus a visit to the Beguinages and at least one church.
That's a lot to pack into a day, but keep in mind, this is a Unesco world heritage site. Two days will allow you to pad your subterranean canal views with elevated ones from a trotting carriage. You can also see wooden purchases whittled right before your eyes, and even sit in on a lace tatting class.
Three-day visitors can tour some historic museums and those with Flemish art, and shouldn't overlook the charming booksellers in and near the Markt. They aren't your run-of-the-mill Barnes & Noble! Where else can you peruse books in Dutch, French, German, and English? As it is, meandering through the medieval towers of Bruges makes one hark back to stories like Rapunzel. But the original wood and marble fireplace in one bookery made me feel like I was actually in the fairy tale I was reading.
Some details about the afore-mentioned activities: The canal tours are about an hour and can be given in English. Remember though, that English might come with a charming but heavy accent. I was nearly decapitated before I realised that our Belgian gondolier had just said we were about to cruise under an exceedingly low bridge. So remember to duck.
The Beguinages are rich in area history and are another must-see. Started as a type of nunnery, they used to house single women. The outside edifices and daffodil grounds are picturesque and the inside features a typically ornate chapel. Flemish paintings and stained glass flank the sides while the altar surrounds feature historically significant black trim and golden statues. You'll see the same colours on the façade of the nearby Basilica of the Holy Blood.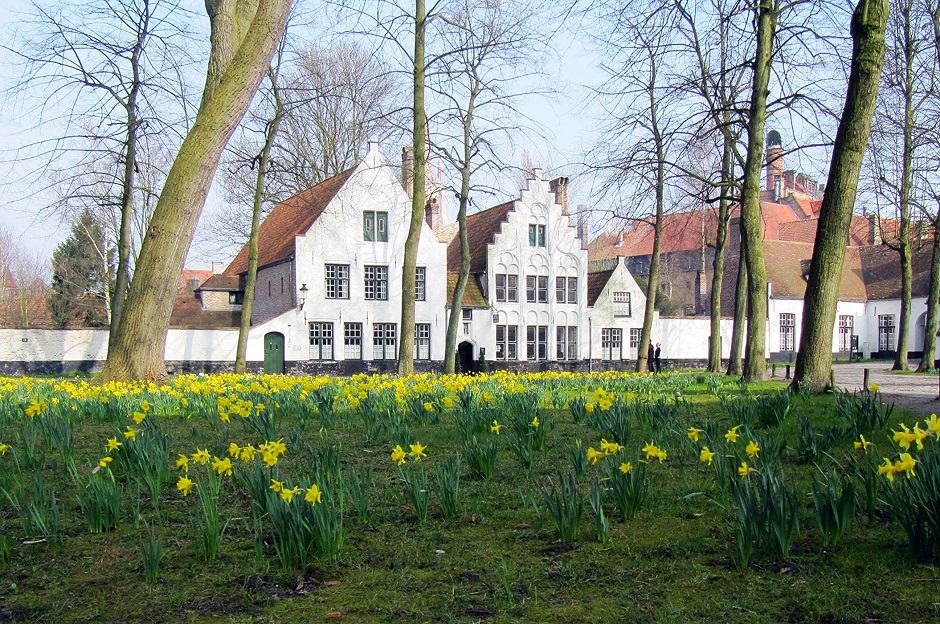 Finally, nothing says Belgium like an underground beer piping system. Marrying the modern with the medieval, Bruges has just that. Perhaps they mimicked the mechanical ingenuity of their German neighbours when they sought to address a problem: five-hundred-year-old cobblestone throughways can't sustain tons of beer-hauling trucks.
To be blunt, the Belgians' insatiable thirst for a good brew was causing traffic problems. What better solution than to pipe their award-winning beer straight from brewery to bar? Try a weissbier from the official brewery of the nation, Hoegaarden. Enjoy it with steamed mussels just fished from the North Sea, which meets the port of Bruges minutes away. And don't forget the pommes frites!