Day Zero
As our trip winds down the flights get shorter and shorter, so before I know it we're coming into land at Brussels airport, and I'm striding purposefully through the station towards the train. ange had recommended a train/tram combination to get to the hotel, but I ended up taking the train to the centre of town and then grabbing a cab from there. There's some confusion on exactly whrere the hotel is but after showing the address on my app and a brief discussion with the other taxi drivers, we're loading the cab up and heading out. Not before I ask how much it will be though. "C'est combien?" is a great phrase.
The cobbles of the older part of town welcome me to the neighbourhood around a large church set in the centre of a roundabout with roads branching off in all directions. The hotel I'm staying at is so non descript that if I wasn't following along with our progress on GoogleMaps, I probably wouldn't have believed the driver when he says "we're here".
Day One
The next day we head out after breakfast and immediately take our bags to the next hotel. We realise that, as usual, it will be too early to actually get into the room, but we like to unburden ourselves of luggage to set ourselves up for a day out sight seeing.
My knowledge of "things to see" in Brussels is pretty much limited to a trio of pissing statues scattered through the city, so we head out to find these. Ange has done a bit of research and found a few other things for us to do afterwards – Atomium and Mini-Europe.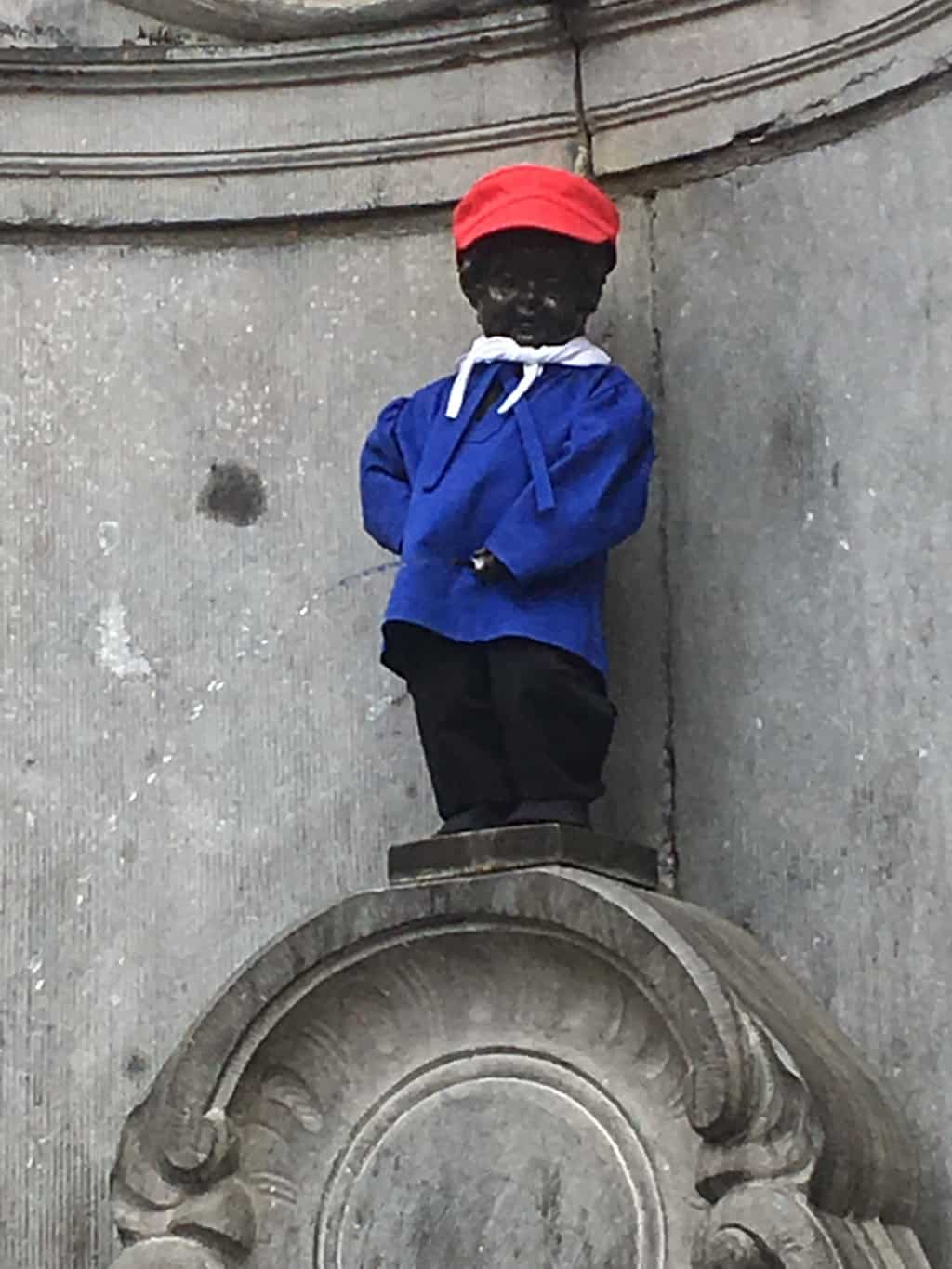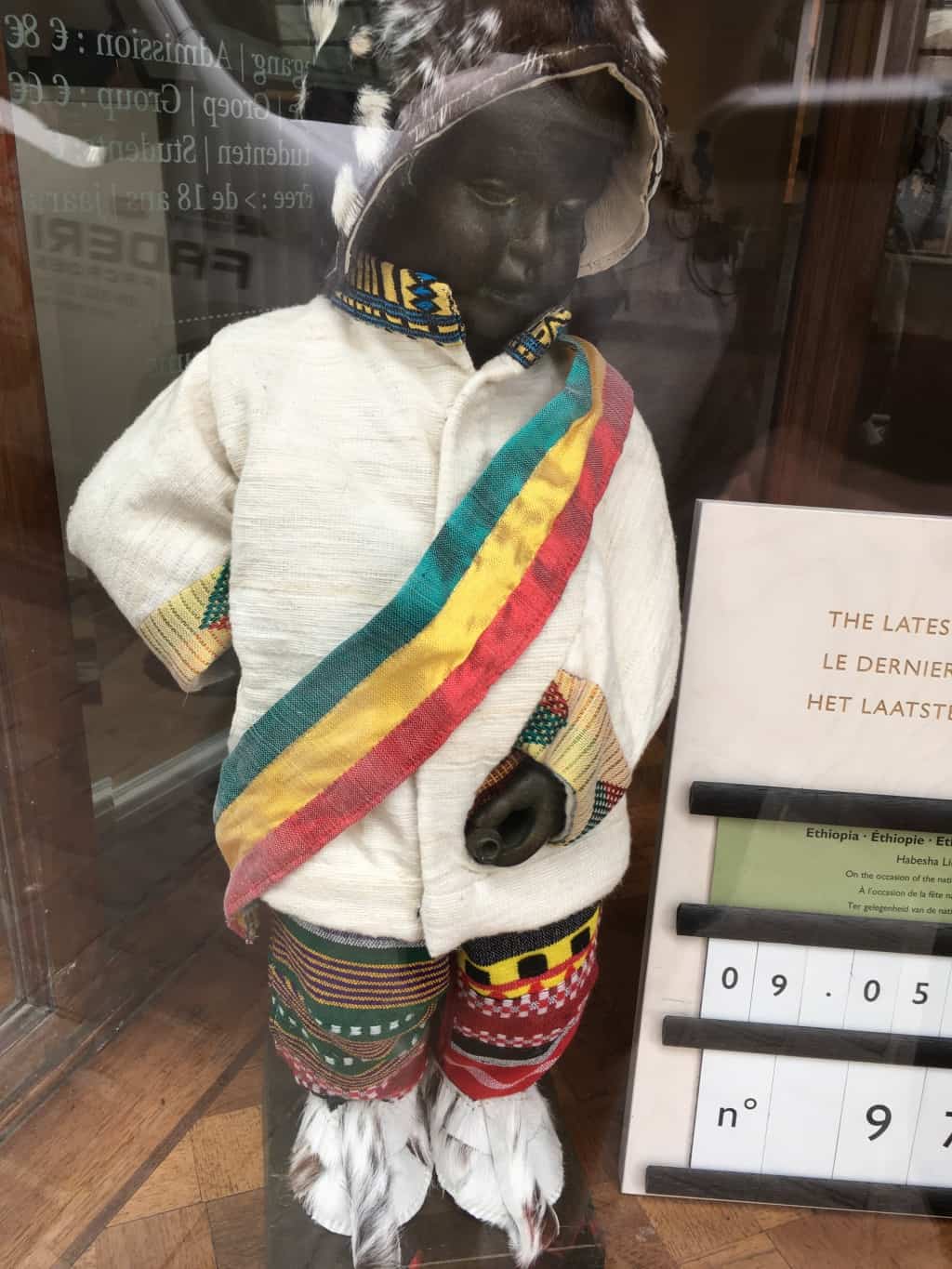 The first pissing statue (Mannekin Pis) is an actual fountain and occasionally pisses beer. A cottage industry has sprung up around him with costumes appearing on him – and you can visit a museum with all the outfits that he has worn. Of course there are souvenir shops all around, but the thing which catches my eye are the waffles.
Signs with €1 waffles appear in shop windows beside waffles heaped with fruit, cream and sauces. Ange lets me know the secret – you ask for that waffle (she says pointing to one that Carmen Miranda could have worn as a hat) and it costs say €5 – which you have to pay because they've already bagged it up. If you want the €1 waffle, all you get is the waffle.
We head further into Brussels and come to the enormous central square, Grand Place. It's surrounded by merchant houses and a great selection of different architectural styles reflecting the fact that, due to Brussels being taken over so fast by Germany in two world wars, it was spared any damage.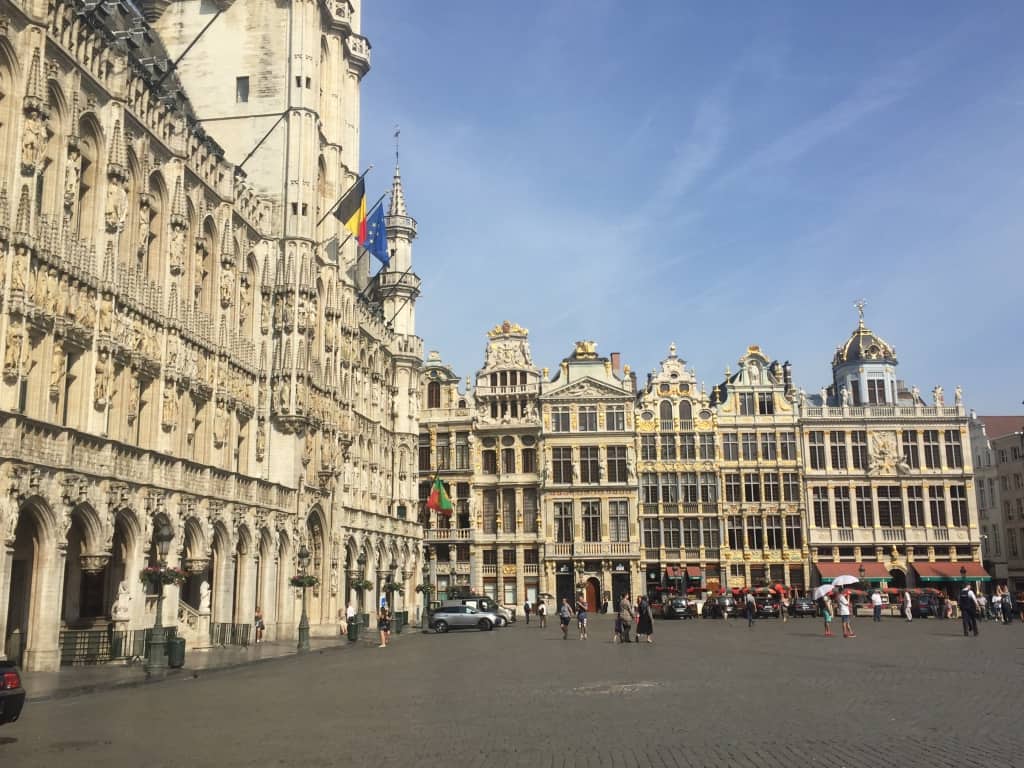 Ange had already done a free walking tour and gotten to know the best parts of town and so takes me into a slightly shabby shopping mall filled with dodgy fabric merchants and costume shops. I look over to her and give her a puzzled look "what are we doing here?"
She smiles enigmatically and leads me further into the depths of the mall until we come to a row of massage chairs. Give them a go, she says. OMG – its a-mazing. They look like an armchair but they have pneumatic cuffs which puff up, locking your legs into place and roller balls which knead and probe into your back, massaging you nicely. after five minutes my coins run out and I thank Ange for leading me there as we leave.
The second pissing statue (Jeanneke Pis) is a rather graphic depiction of a little girl squatting to relieve herself. The pose is quite disturbing and the statue is behind bars so I'm not really all that comfortable and we leave straight after getting as tasteful a photo as we can.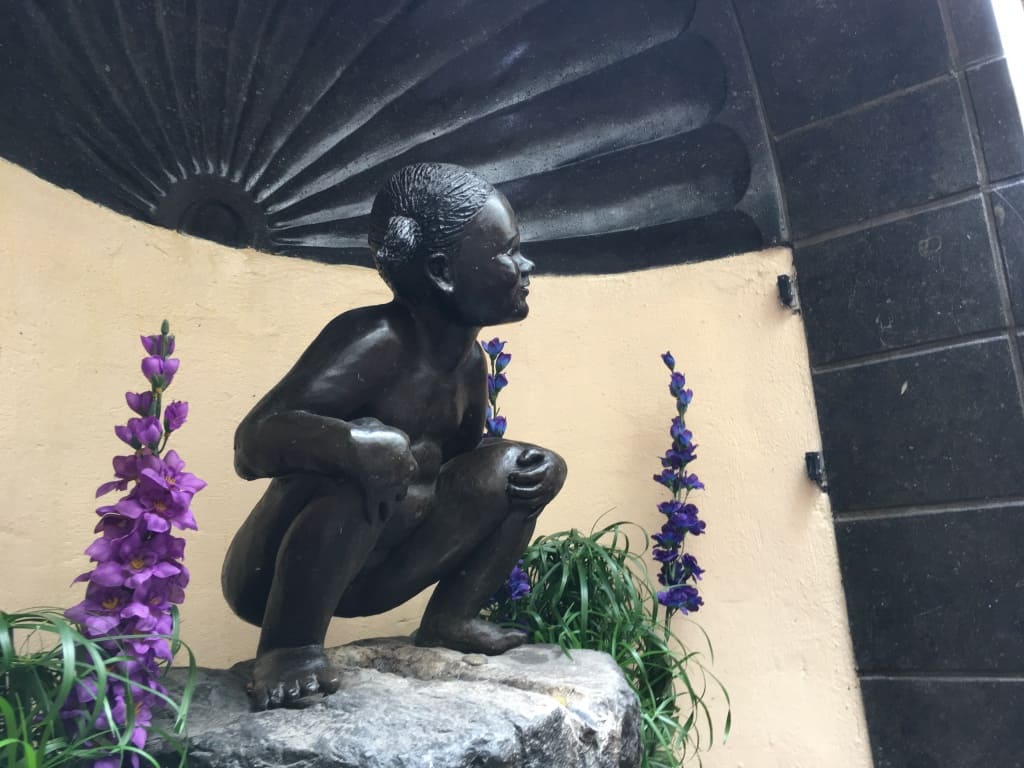 Opposite the statue is a famous pub – the Delirium Pub. They're famous for having 2-3000 beers, and it's amusing reading the reviews. They almost invariably refer to the bad service of the staff, and I can see why. The tourists rock up and ask for some sort of guidance on which of the beers that they should have and the staff don't know or don't care – they just want to serve the punters. Johnny Tourist on the other hand wants their hand held as they thoughtfully peruse the beers and let's face it with that much to choose from you end up blindly pointing and hoping.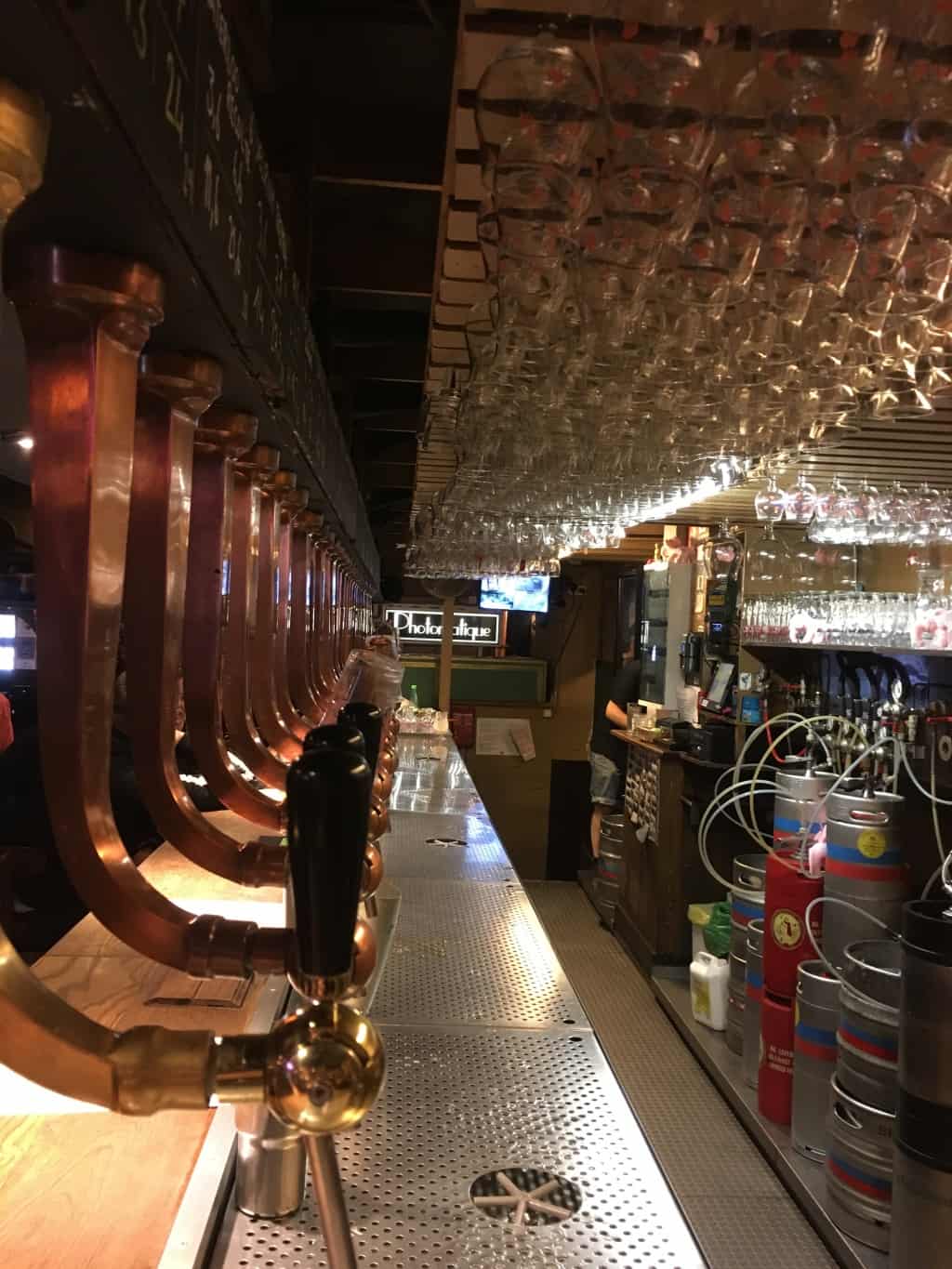 What would be a great addition would be a screen with a touch pad which walked you through what you should order – how hoppy do you like your beer? Ale or lager? Fruity or not? After a computerised decision tree the result would be "You like this beer: click here to order". The other thing about the place is that there's only so much room for so many barrels of beer – they can't all be in stock. So again it's hit and miss whether the result of your hour long perusal of the menu is even available.
The pub itself has grown with the steady stream of tourists coming to take a picture of the pissing statue and now fills the entire city block, and has branched out to include the neighbouring restaurants and an absinthe bar featuring over 400 types of absinthe.
The lucky last of the pissing statues is a pissing dog (zinneke pis) which is found out of the way down a side street. Totally underwhelming.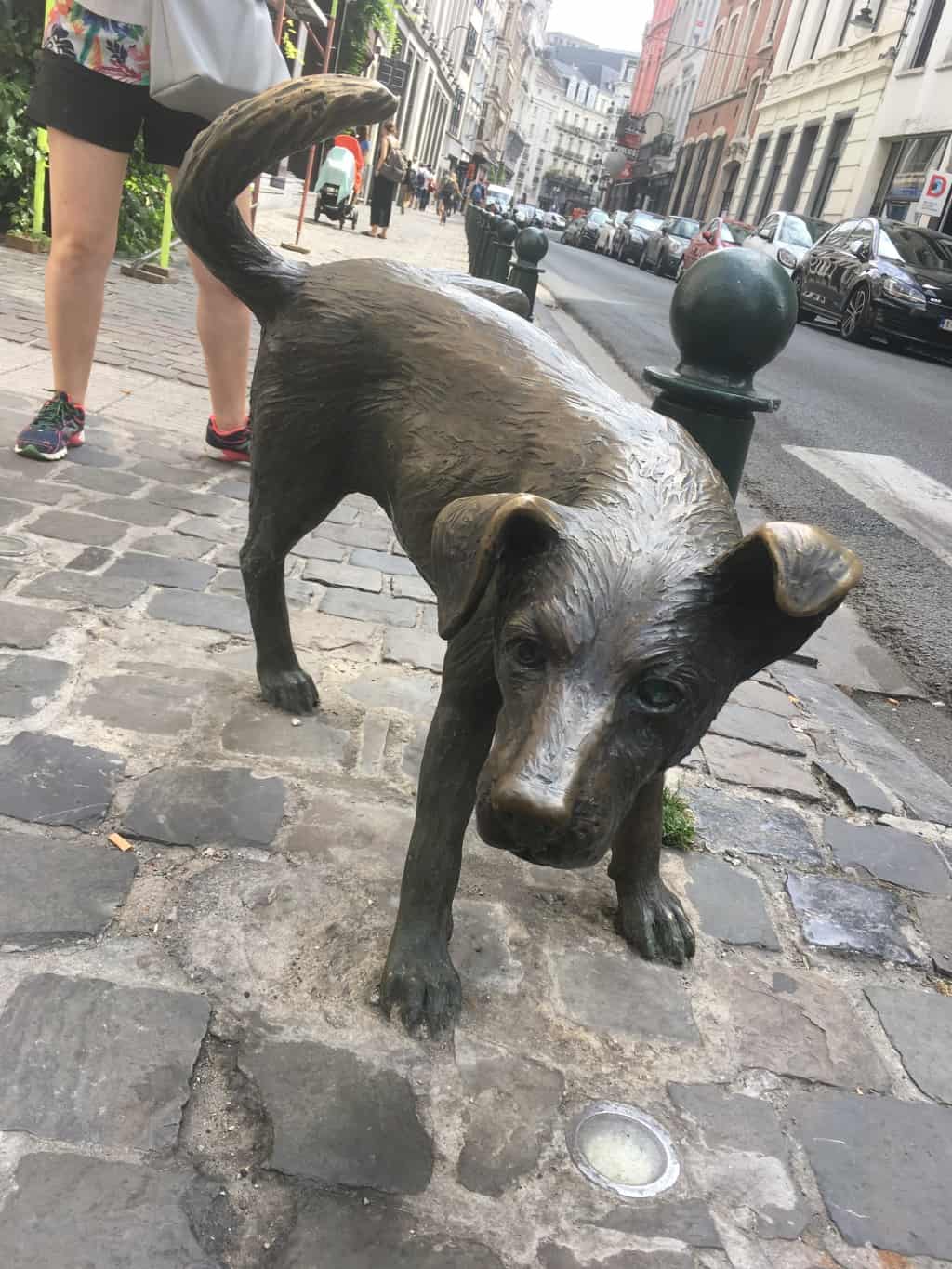 We end up doubling back on ourselves to find a bar on a corner serving food. At least we think it serves food – turns out it's actually a front for a glorious Art Deco restaurant down the road.
Evidenced by watching the waiter bring a polystyrene box containing orders of food from the restaurant, down the street and delivering it sans box to the tables. I get the mussels et frites and Ange gets the mushrooms on toast, and we wash it down with fruity beer. Because it's a tourist menu, the mussels vary greatly in size, with about 10% being of decent size but the rest being pretty rubbish. When will I learn that you get what you pay for and that tourist menus sacrifice too much quality for the price?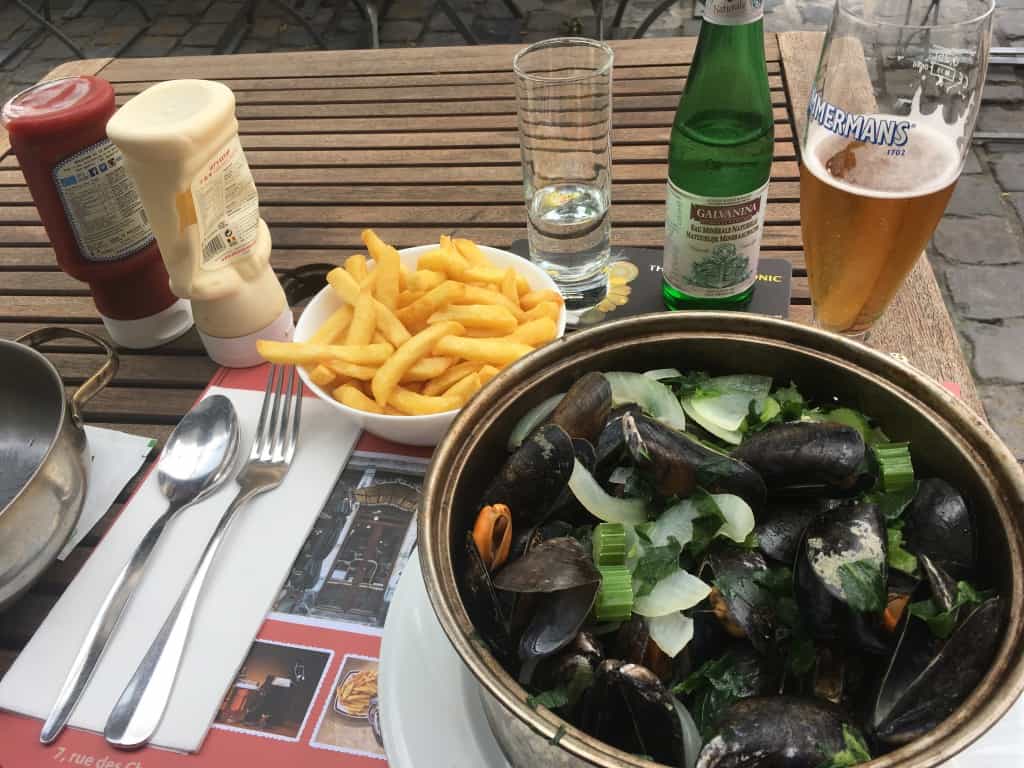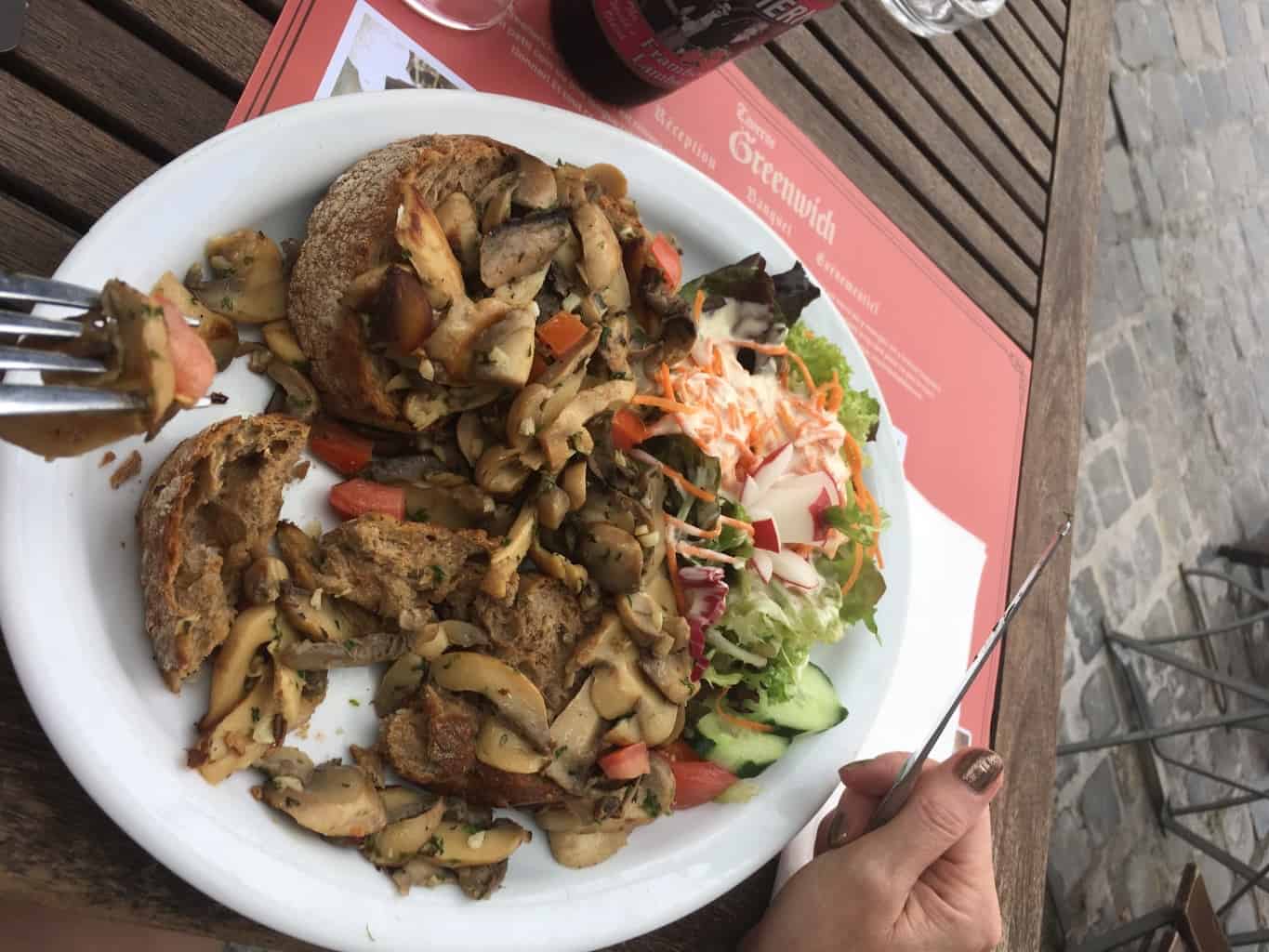 After lunch we head out of the city centre to Atomium and Mini-Europe.
Atomium is a huge structure designed to look like a molecule of interconnected atoms. It's actually a remnant of a World Fair back in the 50s and looks super impressive from the ground level. We get combined tickets for it and Mini Europe after casting a doubtful glance at the sky. There are three parks adjacent to one another – Atomium, Mini-Europe and Océade, a water park.
While it's cloudy and windy now, we're wondering if it will fine up later making a refreshing dip very appealing. After a brief discussion we figure it will stay cloudy and so forego the "all three" ticket option.
After we get our tickets we head to the entrance to the Atomium structure to discover a mob of school children in line ahead of us. We don't particularly want to waste our time queuing, so instead head over to Mini-Europe.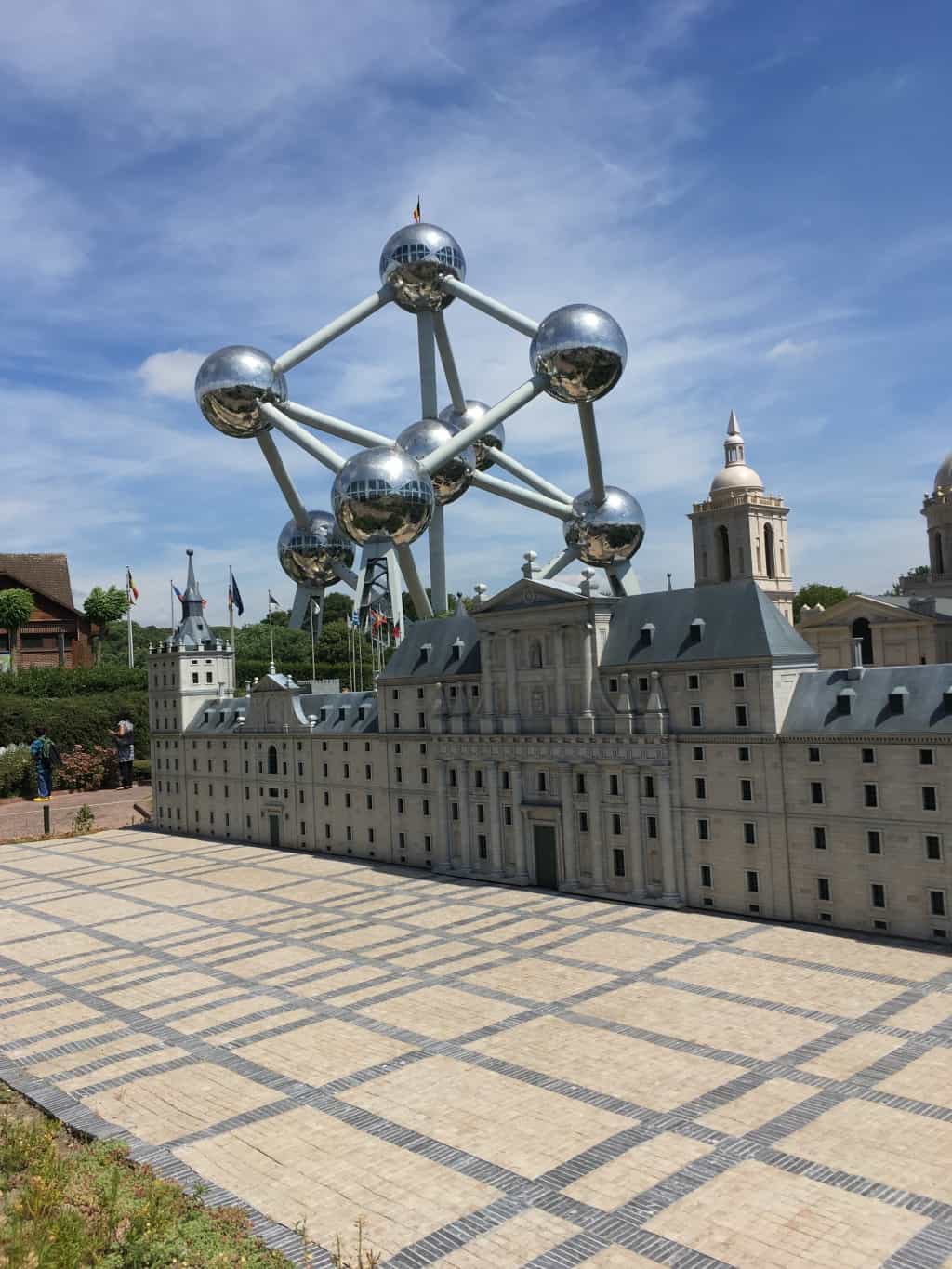 Mini-Europe is a park full of scale replicas of famous buildings from around Europe. I swallow my cynicism and resolve to give it a chance. As we approach we can see into the water park which looks a lot smaller than it did in the maps and posters. We enter the park and ignore the efforts of the mascot and a photographer wanting to engage us in a welcome ceremony, moving purposefully towards the beginning of the path through the park. It turns out this is actually the ending point and so we proceed through the park backwards, occasionally matching the buildings with their entries in the guide book.
There are a lot of buildings there. Some of them I recognise because I've been there, but quite a few look familiar but turn out to be from places I've never been – showing that iconic buildings are just buildings with a purpose that have subsequently been imbued with meaning, and that the functionality and architectural style is frequently shared.
Some of the displays are quite exciting – a fire in a port complete with real flames is my favourite. Some of the moving elements on the displays require user interaction before they operate – saying "ole!" into a stand which triggers the bull fighting display to cheer "ole!" or turning a handle to make a cyclist pedal down the Champs Elysees being two examples.
It's not all naff – it is supposed to show the unity of Europe and somehow it does manage to impress with collecting the cultures of the peoples of Europe through miniature representations of their buildings, but I'm left with a niggling dissatisfaction. I can't quite put my finger on it until we're about to leave: my OCD hates the fact that all the buildings and displays are at different scales.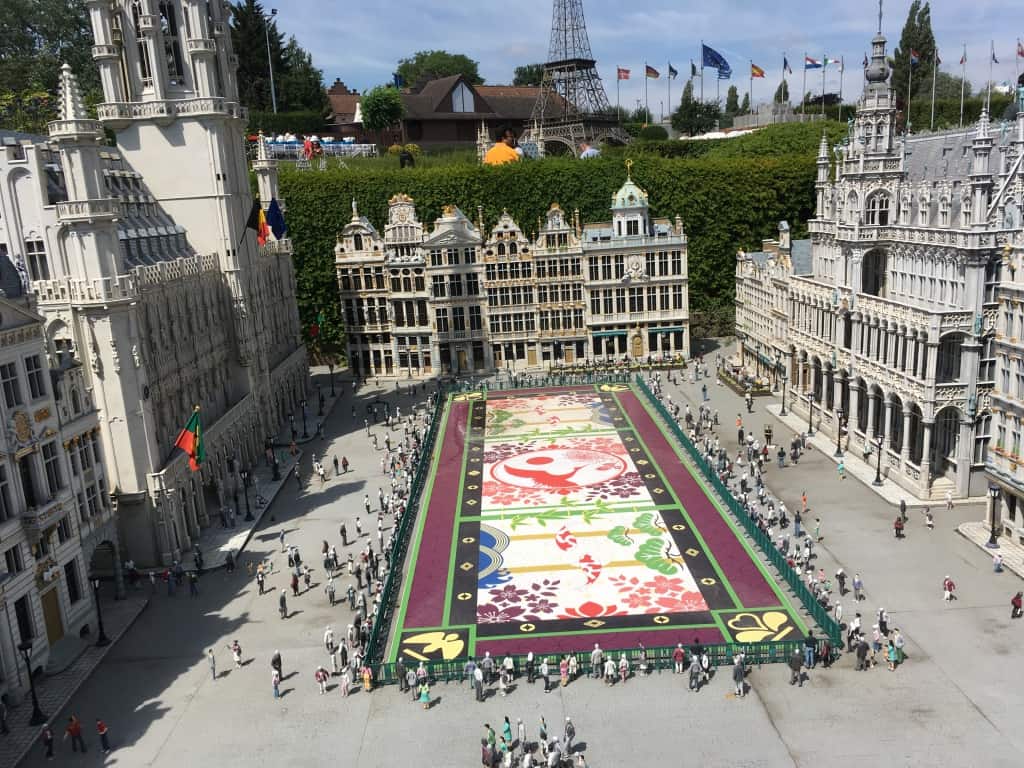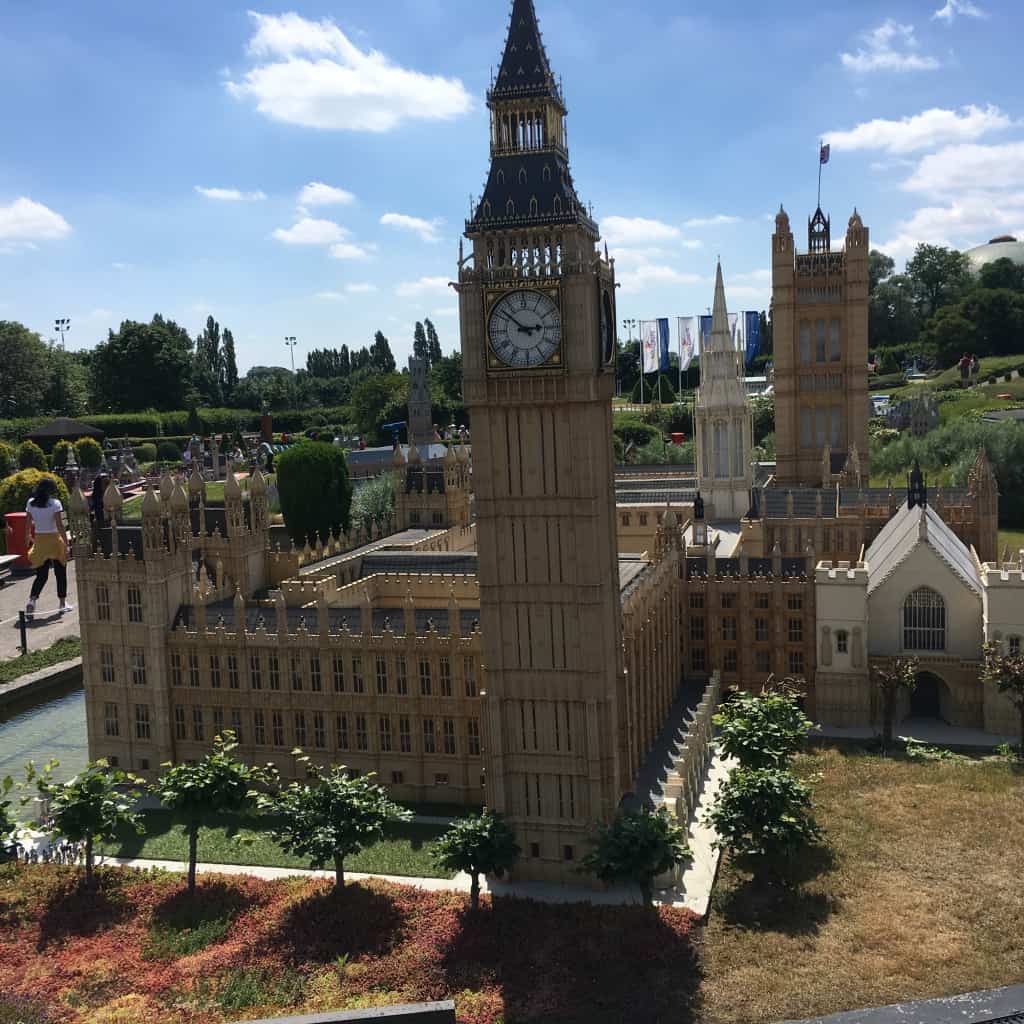 Each building is an accurate reproduction, but when you're looking at them alongside each other, and you've been to both, the scale difference is jarring. An example of this would be a person in the Champs Elysees display would be up to the second floor on the Pompidou Centre.
As we leave we notice there's a kiosk with photos from the entrance – line after line of photos of people with the park mascot, which you can buy, or get made into a key ring or fridge magnet. The guy behind the counter does a quick glance at us and then his eyes dart down the line of photographs, ready to give us the hard sell. He doesn't find our photos though and looks confused as we head past. The welcome ceremony obviously included the photo taking!
Then we head back to Atomium. It really is an impressive sight, these huge silver balls hanging in the sky, connected by struts. The entrance is well and truly less cluttered with youths now and so we breeze through a security check to be confronted with yet another mascot and accompanying photographer. We push past saying "no thank you" and the photographer doesn't like that and calls out at our backs "It's for security!". I don't break stride and let my incredulity show in my voice "Really?" The photographer has the good grace to back down with a meek "No".
The path through the structure is a bit back and forth: first you go up to the top level via lift. Then you come back down the same lift and get off at the ground floor, and go around the corner to take an escalator up to one of the other "atoms". Up some more escalators to another atom, then down a combination of stairs and escalators to the last atom and then back down to the starting point.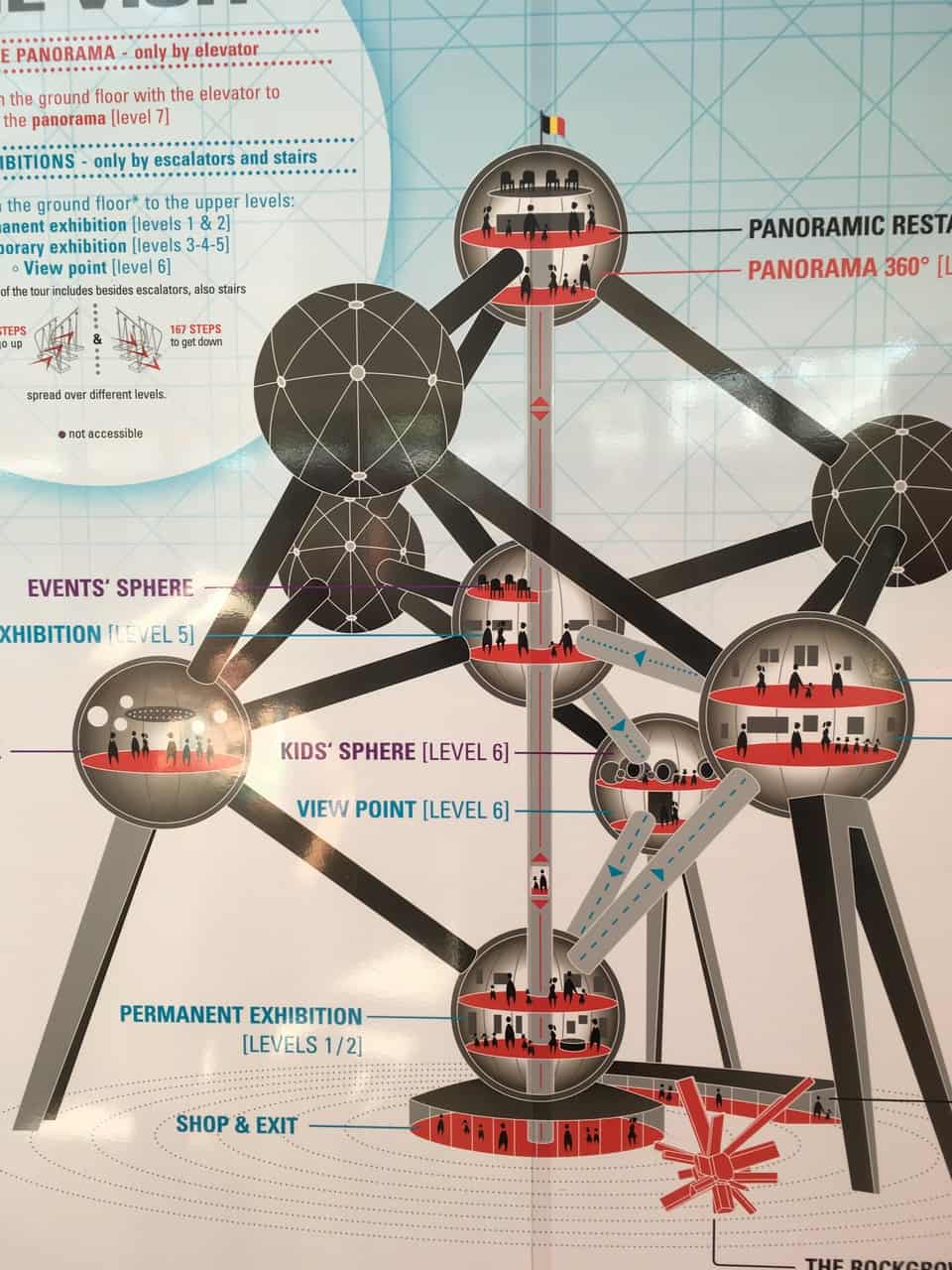 In each atom there are multiple floors and I'm kind of impressed that something so cool was made for a World Fair so long ago. So what's inside the atoms? What are the displays? The same displays that featured in them back when the World Fair was on – it was sponsored by an airline so it's a bunch of displays promoting their flights. The seats. The routes. That sort of thing. Mad Men aside, there only so much appeal to the promotional efforts of 1950's airline advertising, so the star of the installation is definitely the actual structure itself.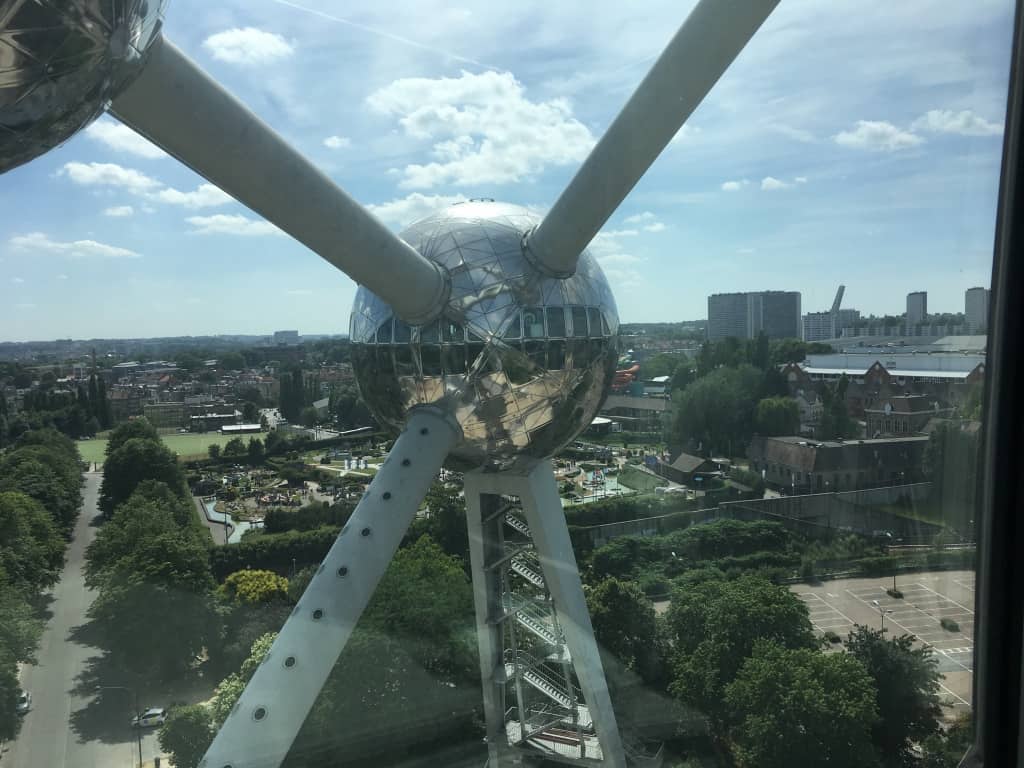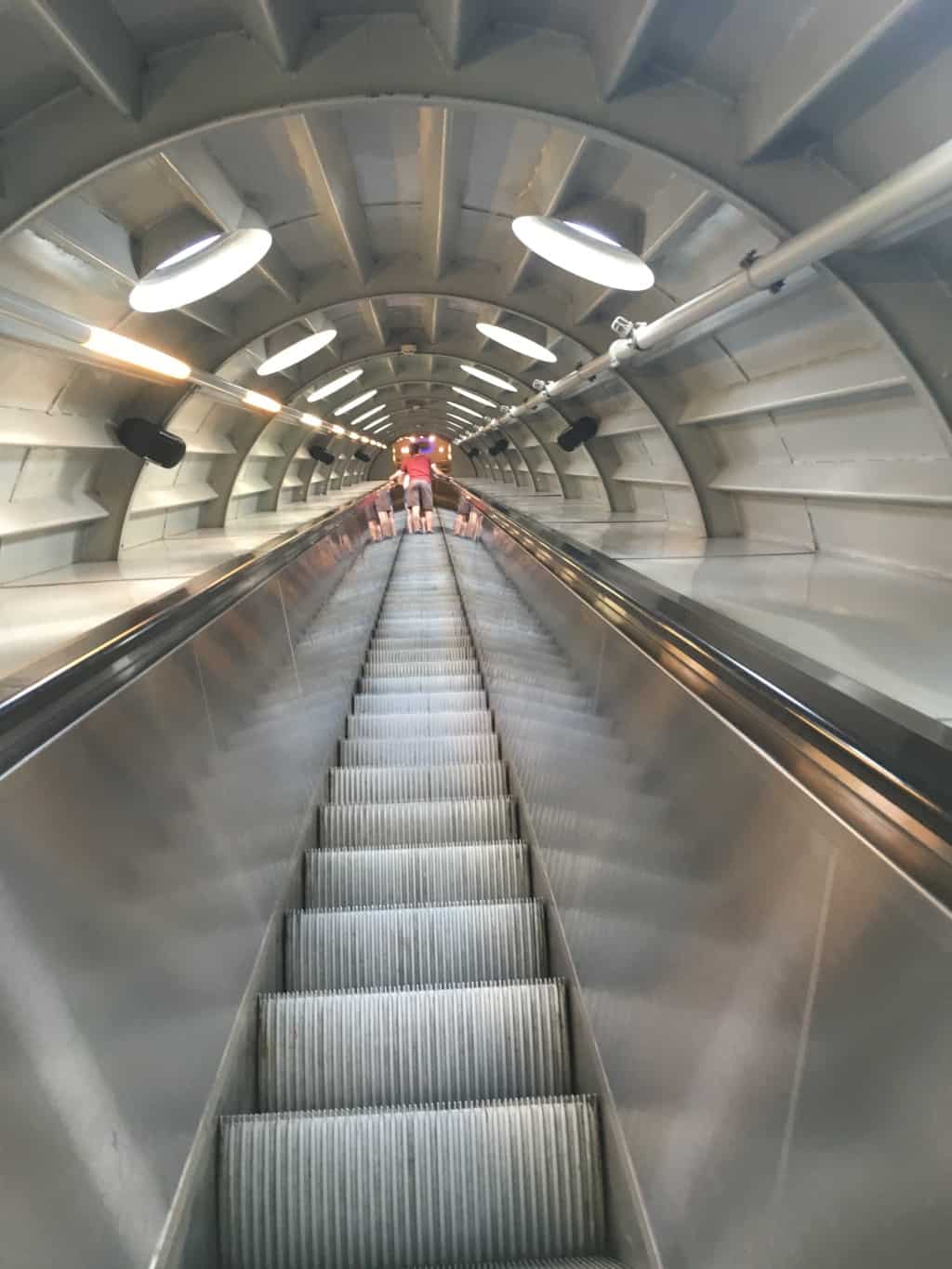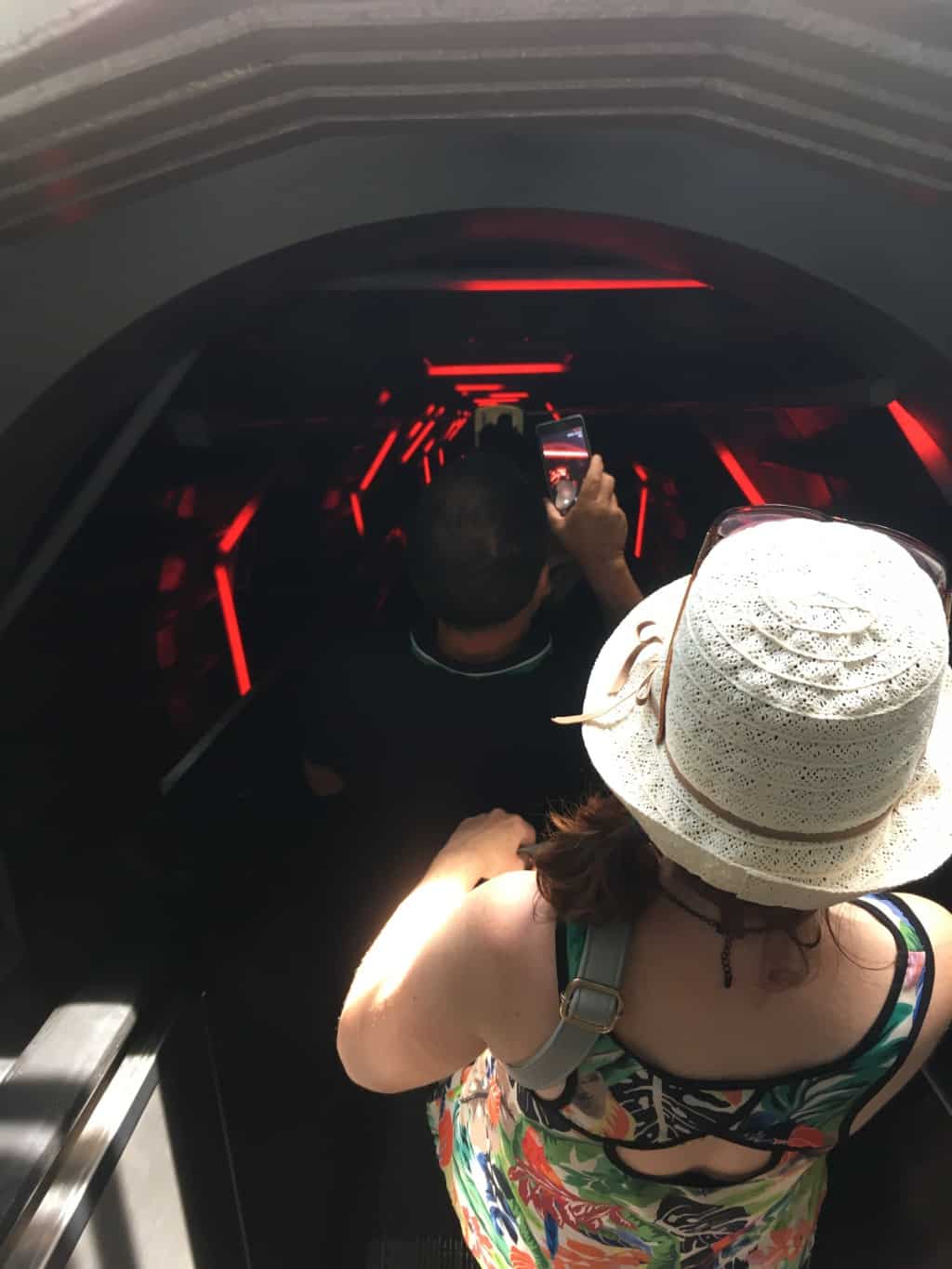 In order to make money, its possible to have overnight stays in the Atomium, and I think they have an educational section that you can't visit unless part of a school group. As we leave I notice the mascot sitting at his post waiting for the next lot of tourists to come through. It's hard to detect emotion without seeing someone's face but his body language certainly seems downbeat.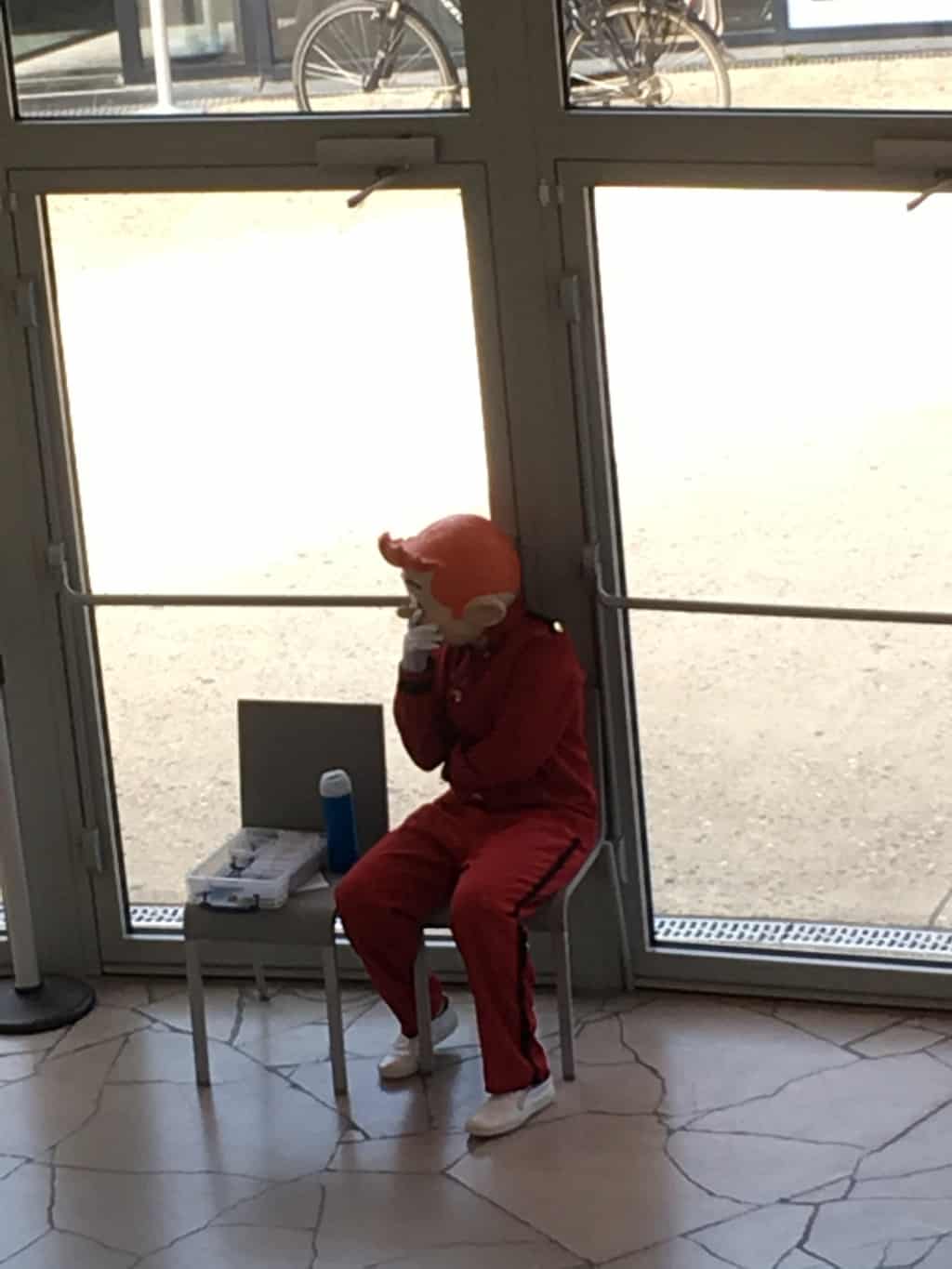 We leave through the gift shop (naturally), and see the rack of photographs waiting for someone to purchase them. Again, you can get them made into a keyring or fridge magnet, but the prices don't match the low value we hold having a constant memory of our trip to Atomium, so we move on. I wonder idly what happens with all the photos afterwards – the Europeans tend to have tougher privacy laws than the UK or US.
We check in at the hotel and then head out to grab something to eat. There was a burger place beside the Metro and so we elect to dine on fast food. I think it might be a obstinate reaction to being so near such an upper class shopping neighbourhood. We sit beside the window and watch a very lively streetscape – my favourite being a couple rollerblading while pushing a pram – very upwardly mobile!
Day Two
The next day we checkout after breakfast and again stash our luggage before walking up the road to the Magritte museum. Magritte was a surrealist painter best known for his "Man with Bowler hat and green apple instead of a face" though he called it "Son of Man".
I loved it – the audioguide actually added to the experience and there was lots to get through. A brilliant choice.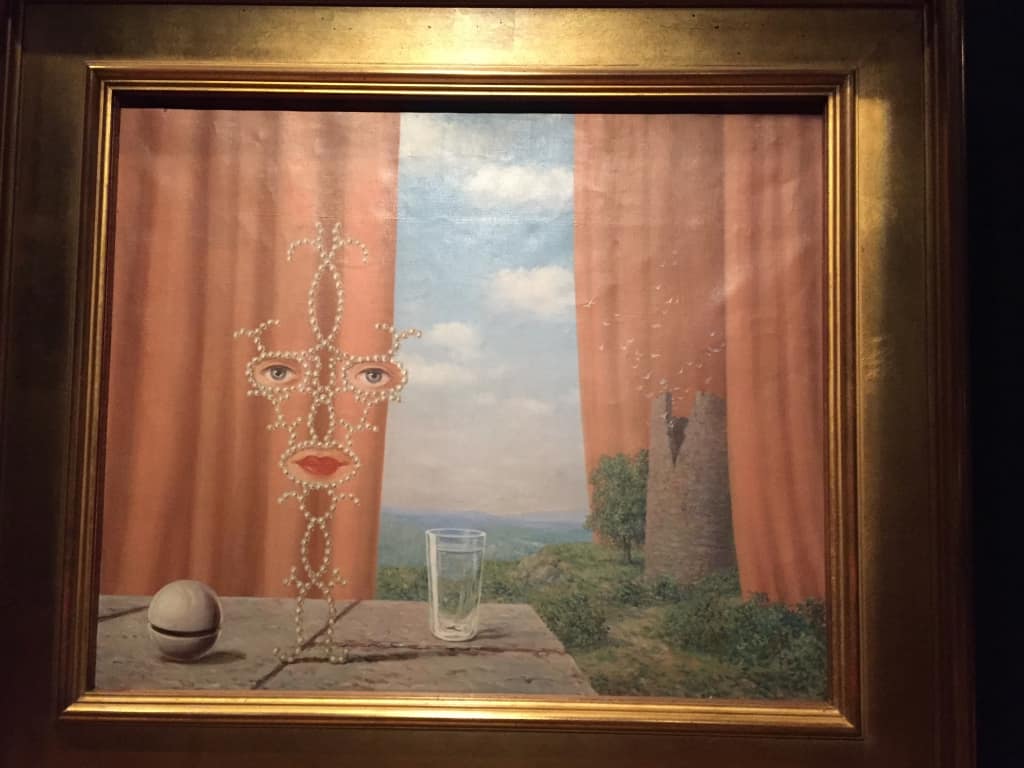 When we were done, we headed back to the hotel to collect our luggage and then double back on ourselves to head to the train station. The threat of rain was starting to convert into actual rain and the sparse drops of rain certainly felt like they were just the scouts for an upcoming full on assault. I found it difficult to find Ghent on the destination stations in the ticket machine until Ange suggested that they may drop the 'h'.
Upon arriving in Ghent (or Gent), we stored our luggage at the station and then headed out to the bus and tram stops to find our way into the central part of town. We'd just figured out where our tram was leaving from when we saw a tram pulling in. Quick! I bellowed, heading off in that direction. I heard a gasp and turned back to see Ange had tripped on a broken paving slab and had turned her ankle. Are you alright? I asked. Give me a minute, she said. After a while we made our way over to the tram stop and got on. It was packed and not a fun trip to the centre of town.
When we got there Ange suggested we find someplace for lunch, though I suspected it was just an opportunity to sit down and get the weight off her ankle. We found a likely looking restaurant called Passion and I got the waterzooi which turned out to be a broth with chicken pieces in it and Ange got the potato soup and bread. I was delighted when they brought over an additional small crock pot with an additional chicken leg!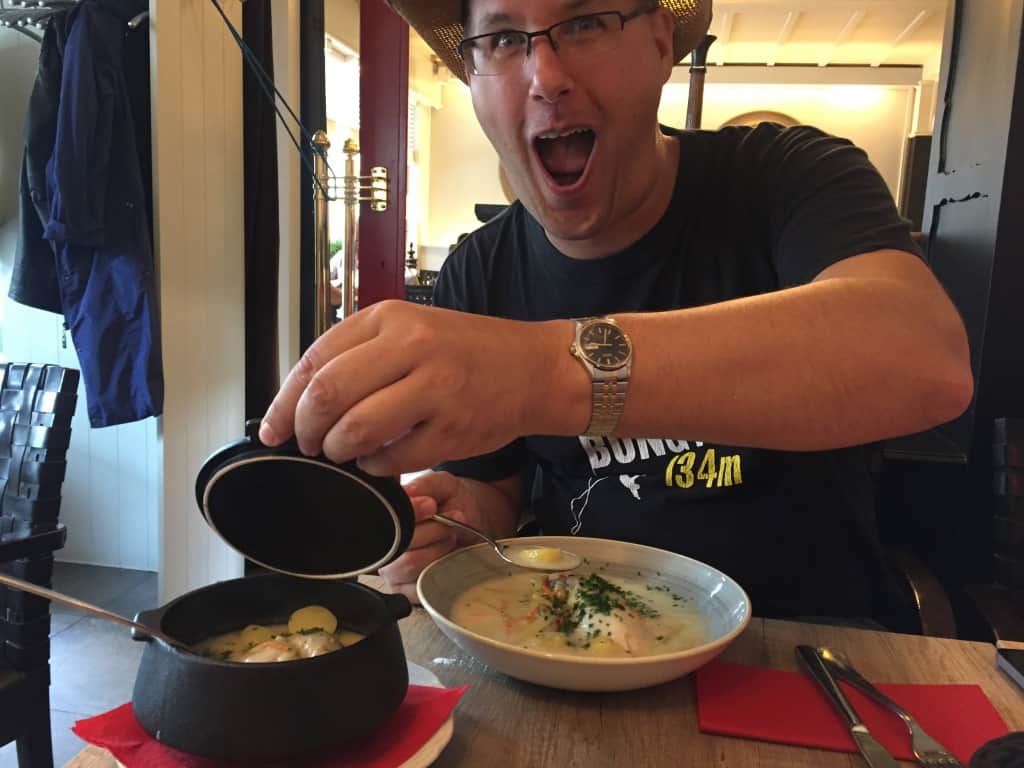 We walked around a bit more taking photos (my favourite being a poster for a comedy show consisting of a man yelling at a flower) but Ange didn't seem to be moving very freely, so when she didn't seem too keen on going into see the castle, I suggest we head back instead. We took the tram back to the station and managed to time our arrival five minutes before the next train to Brugge came through. With a bit of urgency, we were able to collect our luggage and get aboard in time and enjoyed the short trip onto Brugge.
On arriving in Brugge we found the right bus and headed into the centre of town. The driver made a a point of saying that because of restrictions they would only be able to take us to the edge of town. More worried about Ange's foot than anything else I told him as close as you can go. Which didn't seem that far at all! And the prices seemed to have gone up since all the research I had done had been published. Turns out they were having a triathalon, so there were diversions and traffic restrictions.
We were lucky that the rain had gone through Brugge already and so while it was a little chilly and windy, it was at least dry. We made our way slowly through the cobbled streets until we got to the hotel. After checking in we didn't want to go too far and so found a restaurant nearby which overlooked a square (not the main square). In front of it was a waffle caravan and we weighed up having one there and then, but elected to wait until after dinner. Possibly a mistake as he'd driven off by the time we'd finished our main.
Tompouce was a lovely spot overlooking the square and we sat under the awning out side. We elected to get the sharing degustation of stews, featuring five matching pots of mussels, rabbit, veal, lamb and beef along with the ubiquitous frites.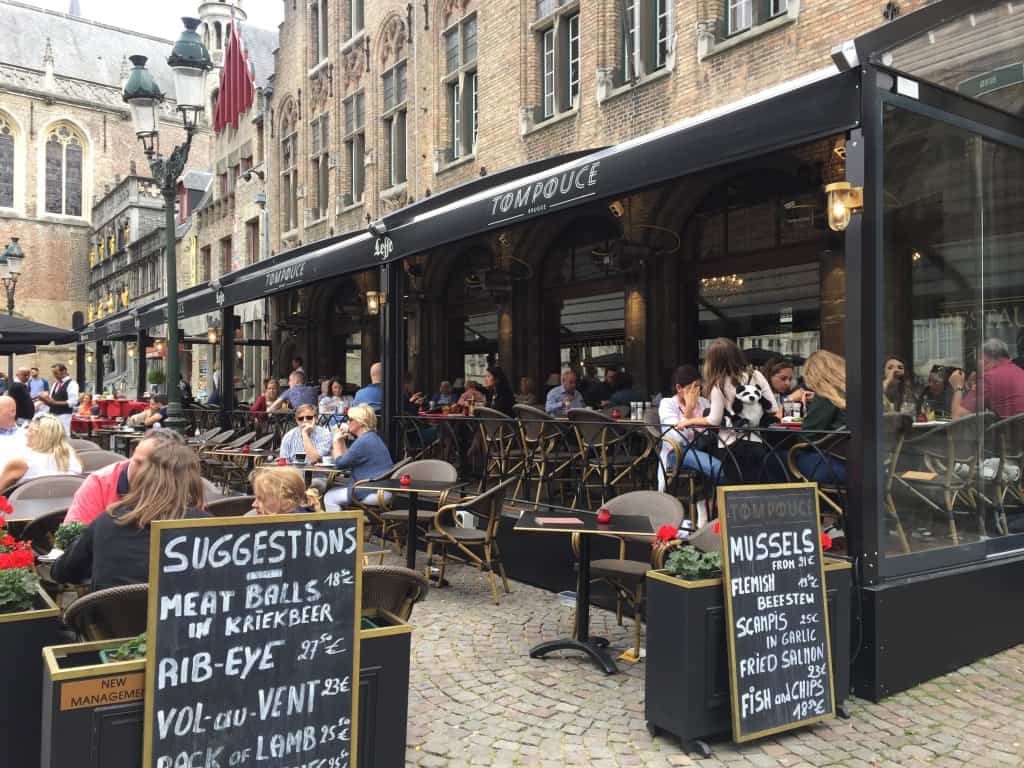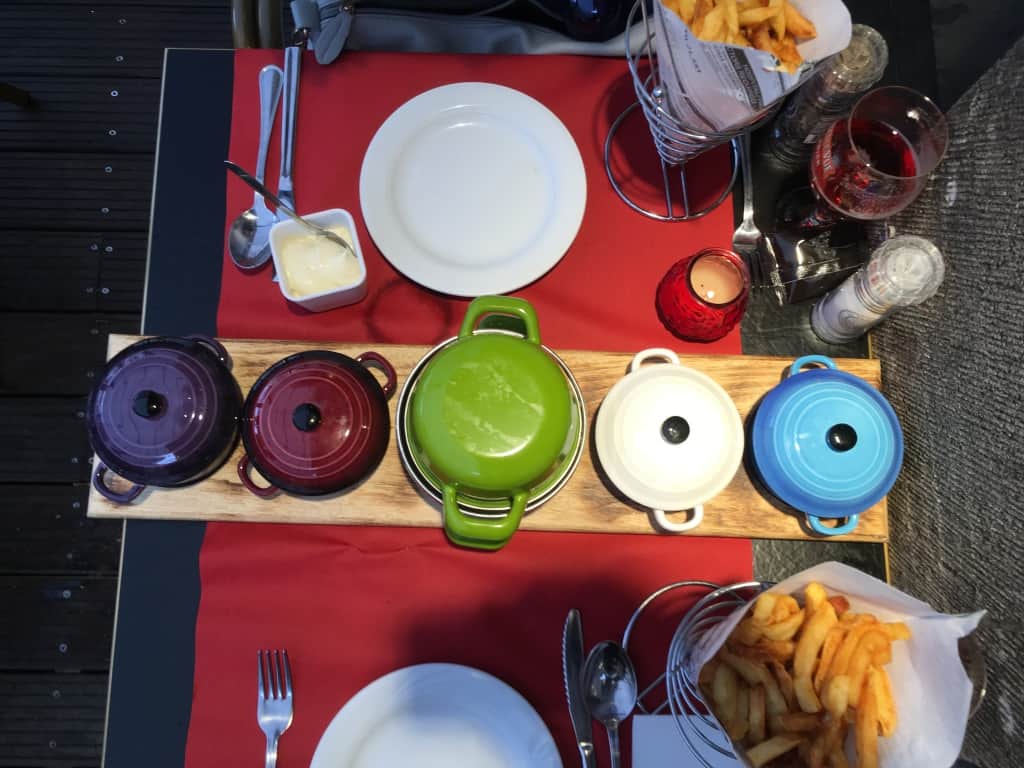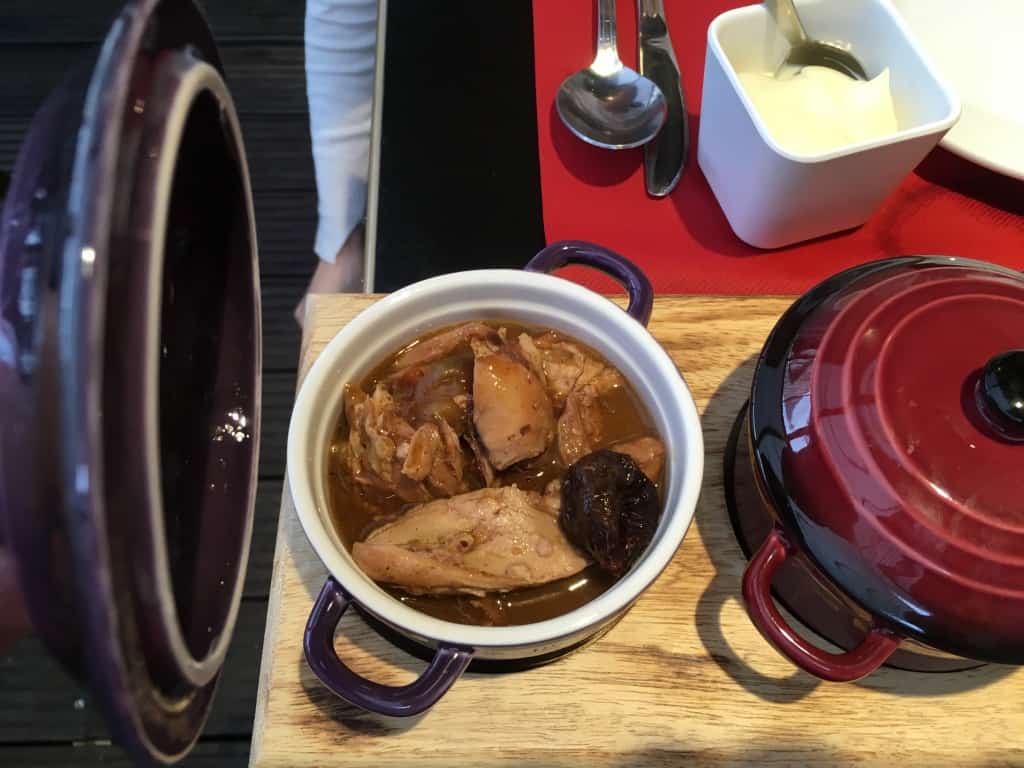 But we couldn't help but overhear a conversation going on between two fellow diners behind us.
A rather large body builder was out with a someone on what appeared to be a first date, such was the awkwardness. Apparently they were both in town for a wedding and we speculated whether they both knew different members of the ceremony. Ange had the better vantage point than I and kept me informed of the body language and goings on. The amusing part was that he was Australian and loud so were treated with his attempts to find out what Bouillabaisse was – which consisted of him repeating the word about fifty million times!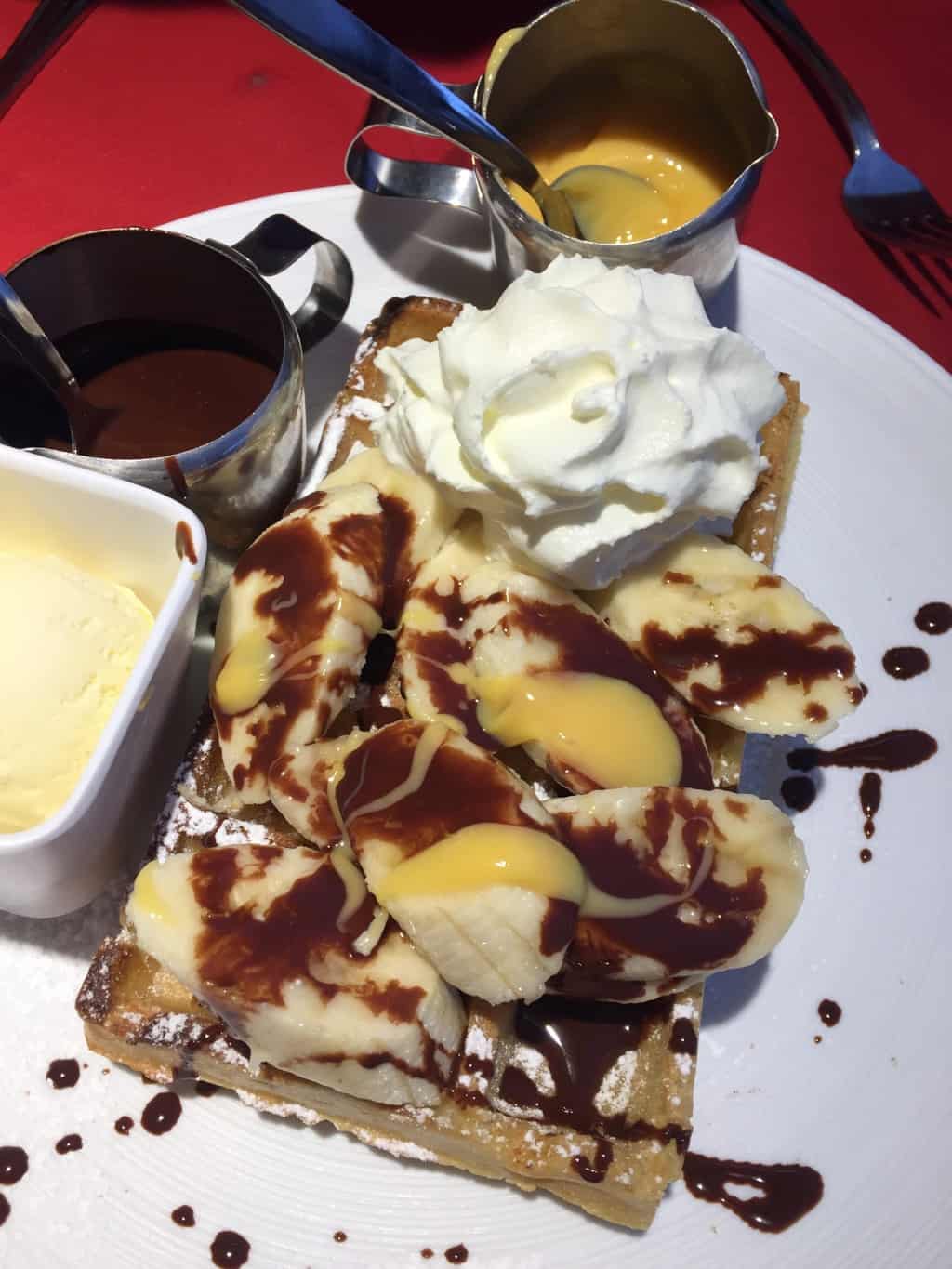 Seeing as the waffle man had moved on, we decided we would share a waffle at Tompuce instead. It was a pretty impressive effort, with cream and two sauces in little pots: one a bog standard chocolate sauce, and the other a custardy creation which had brandy added. A high bar for all other waffles to be measured against…
Day Three
Ange woke up with her ankle very bruised and swollen, so I headed out to look for a chemist. I went to the first one that Google Maps said was closest but it was closed (Sunday!) and there was a poster in Dutch on the door. Ignoring the sign, I went to the second closest one according to Google. Again, closed, again with the same sign. I looked a bit closer and the sign had three entries, one for this Sunday and then two more for the next two Sundays, each with a single chemist and its address listed beside the date.
I figured that they only had one chemist each Sunday open and took it in turns for which one it was. Across Brugge I went, heading for the one I knew would be open.
And lo, it was open. I explained what had happened and asked for one of those sports socks, but the lady behind the counter said that was probably a bad idea because Ange would have to try it on to make sure it fitted. Instead I got a pressure bandage and the lady made sure I knew how to put it on before I paid and bounded out of the shop, because what we'd assumed would take 10 minutes had by now taken close to half an hour. Which turned into 40 minutes by the time I got back.
While it was still sore even after I showed off my ankle bandaging ability, Ange deemed it sufficiently supported to get to the next hotel and then to go on the free walking tour afterwards. Trooper!
We had some time between checking in and the tour so found a cafe that was open and sat down. Eventually the barman came over to see what we wanted, and after I tried to order some food said, "We don't start serving food until 12". I frowned slightly and asked if they opened at 11, what they did from 11am to noon to which he responded testily that they just did tea and coffee until 12.
We took our hunger and our business to one of the restaurants on the main square and paid touristy prices for a croque monsieur for me and an omelette for Ange.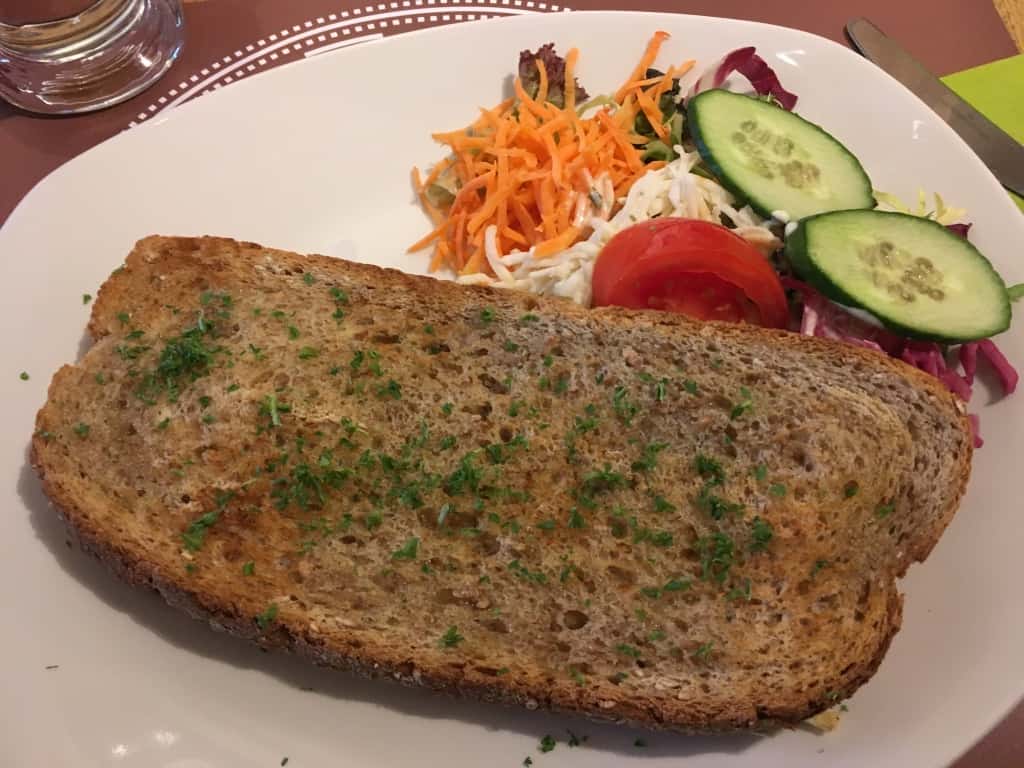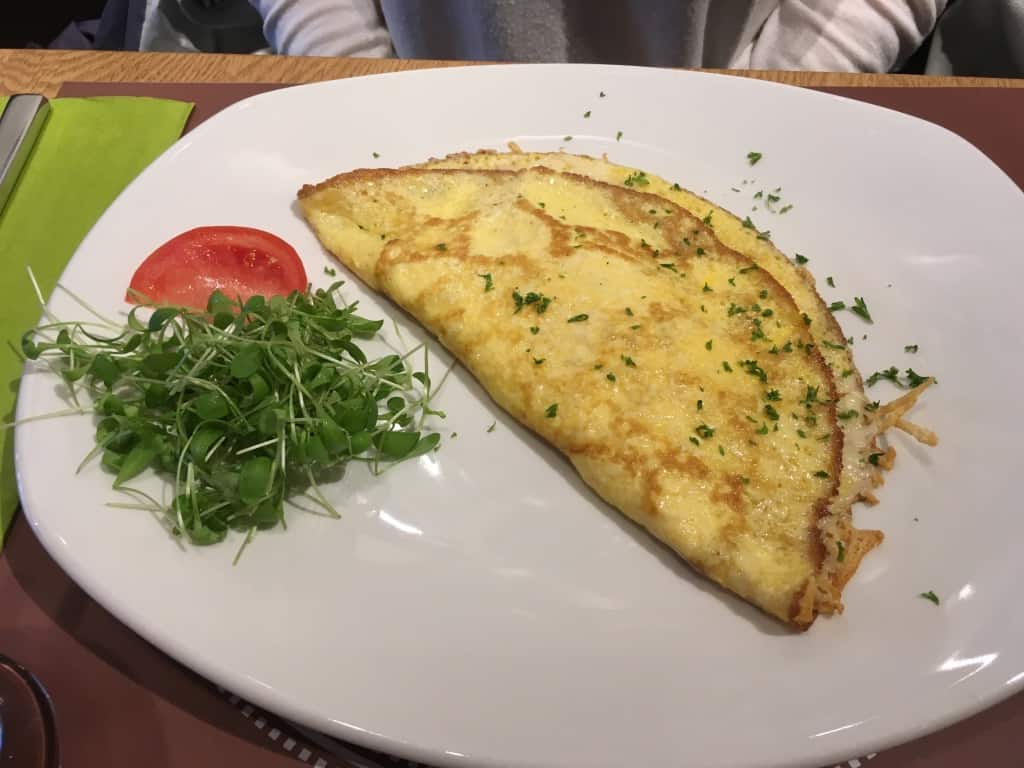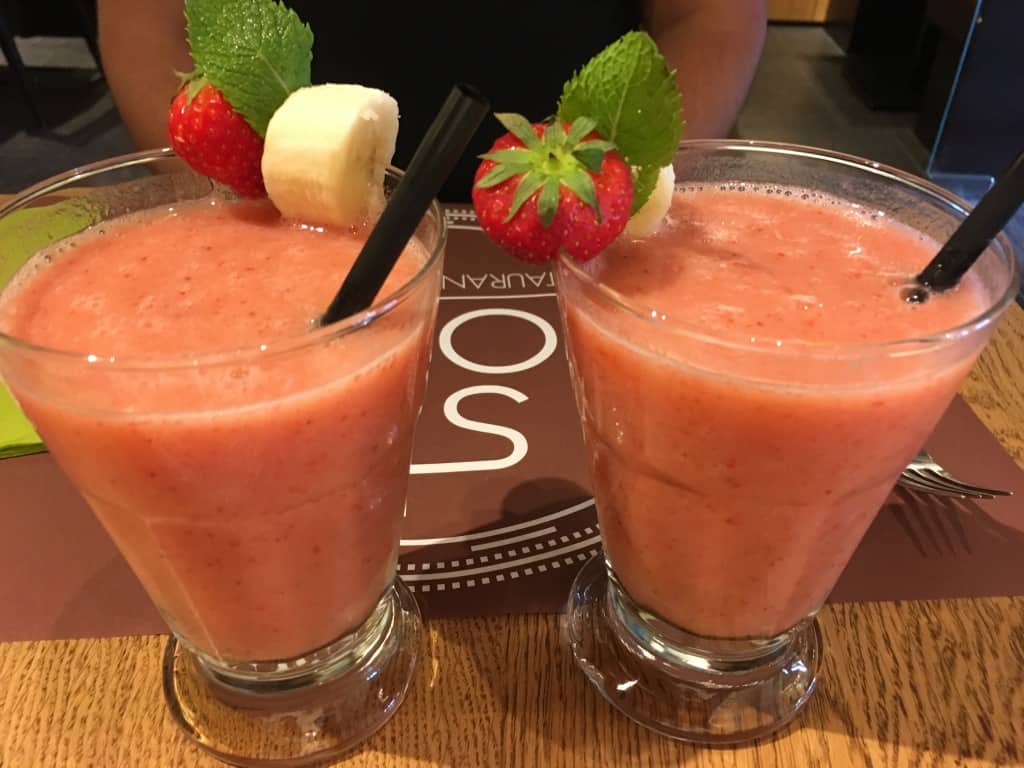 Ange wasn't impressed, figuring it should have come with some toast or something as well. We went back to the hotel and the room was ready so we headed up to check in but not before asking if we could get some ice for Ange's ankle.
They fetched some from the kitchen and when we got to the room we iced it down – something we probably should have done from the get go. Her foot was a kaleidoscope of reds and blues but she was adamant that it looked worse than it was…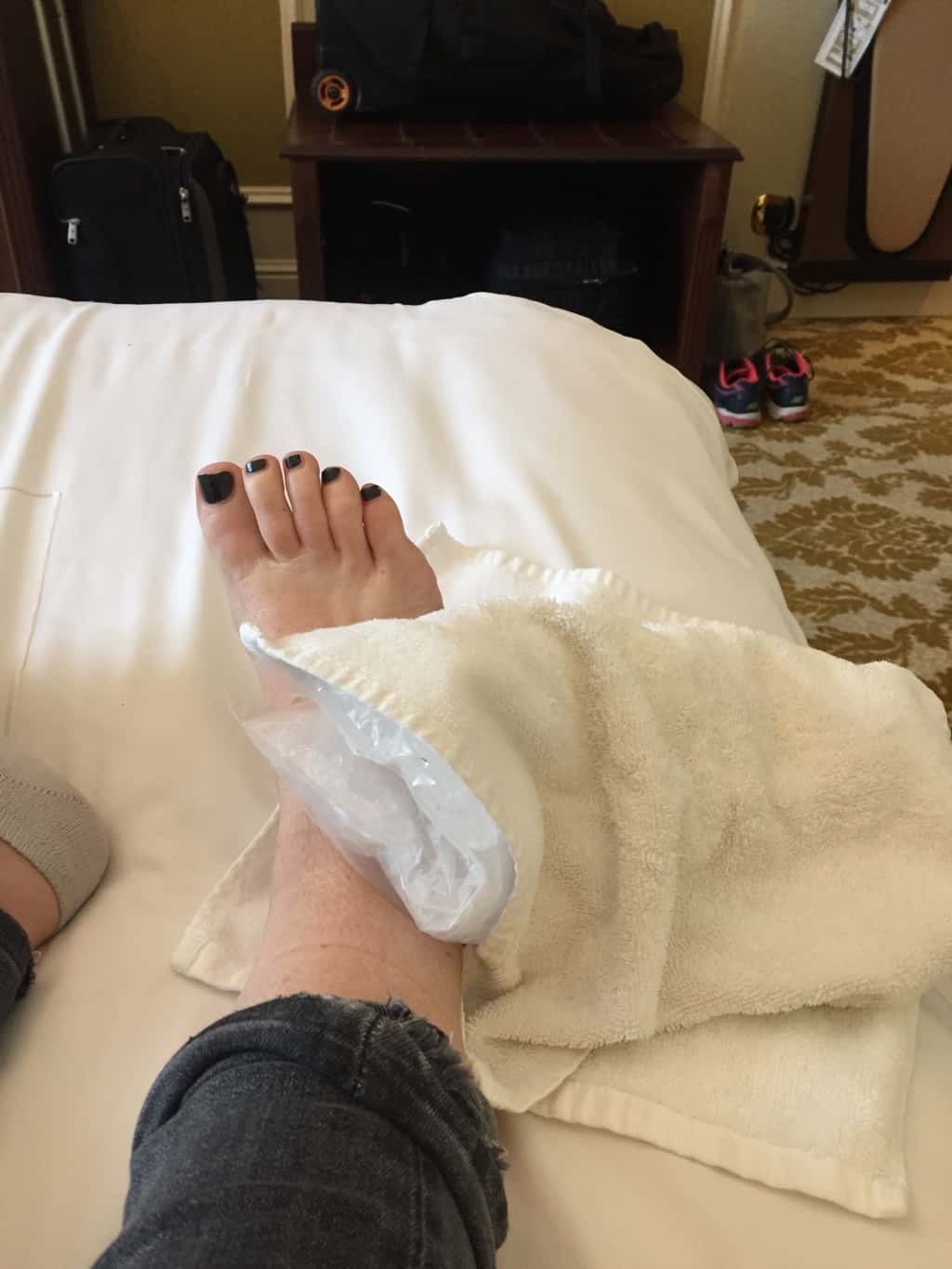 We then headed back to the main square for the free walking tour in the centre of town. The first thing we learned was that the locals pronounced the name of the town as "bru-ha". There were a lot of people on the tour, but the guide managed to make himself heard well enough. We didn't move from the central square for some time, listening to the well worn patter of the guide. The tour itself was ok – we did cover a lot of ground and most of what he had to say was entertaining enough. The beguinage was interesting – basically secular convents for single ladies – these actually form a UNESCO World Heritage Site distributed across the 20-off sites across Belgium and France.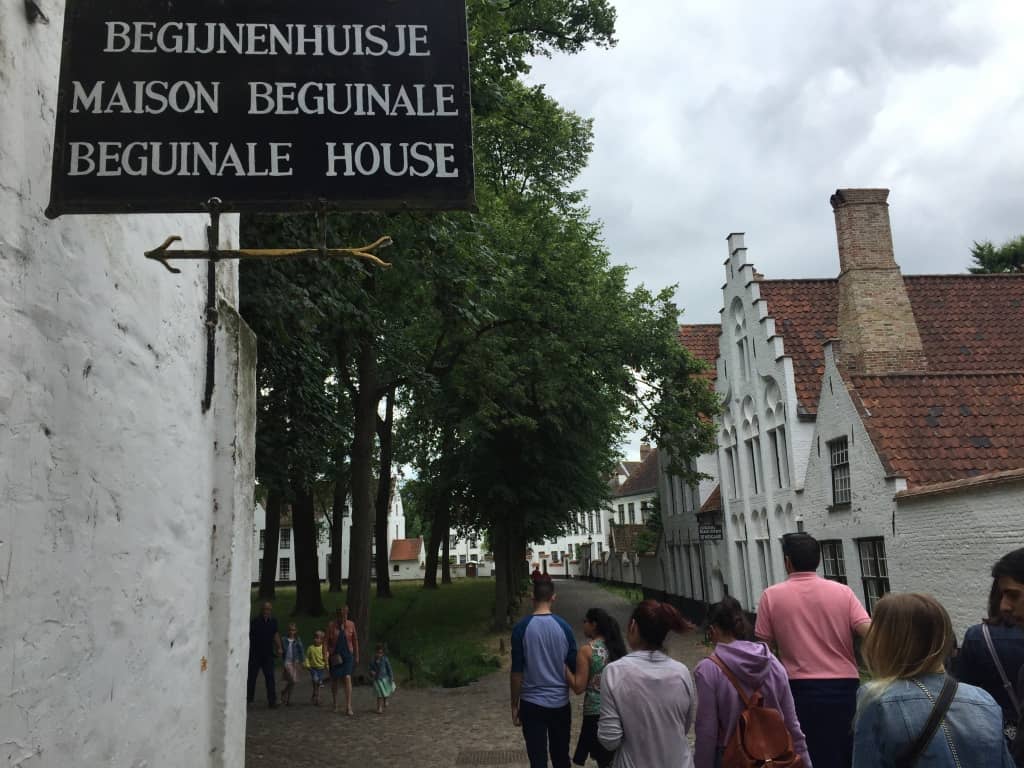 Finally the tour finished, in the square where we had dinner the night before, and right in front of the waffle caravan. The tour included a discount voucher for waffles, so I wasted no time getting in line before the rush, getting me and Ange a chocolate sauce covered waffle each. Unfortunately I was a gentleman and gave her the first one he handed me which happened to be a burnt one – I offered to take it back but Ange struggled through it. Mine on the other hand was fresh off the pan and delicious. I tried not to show how much I was enjoying it.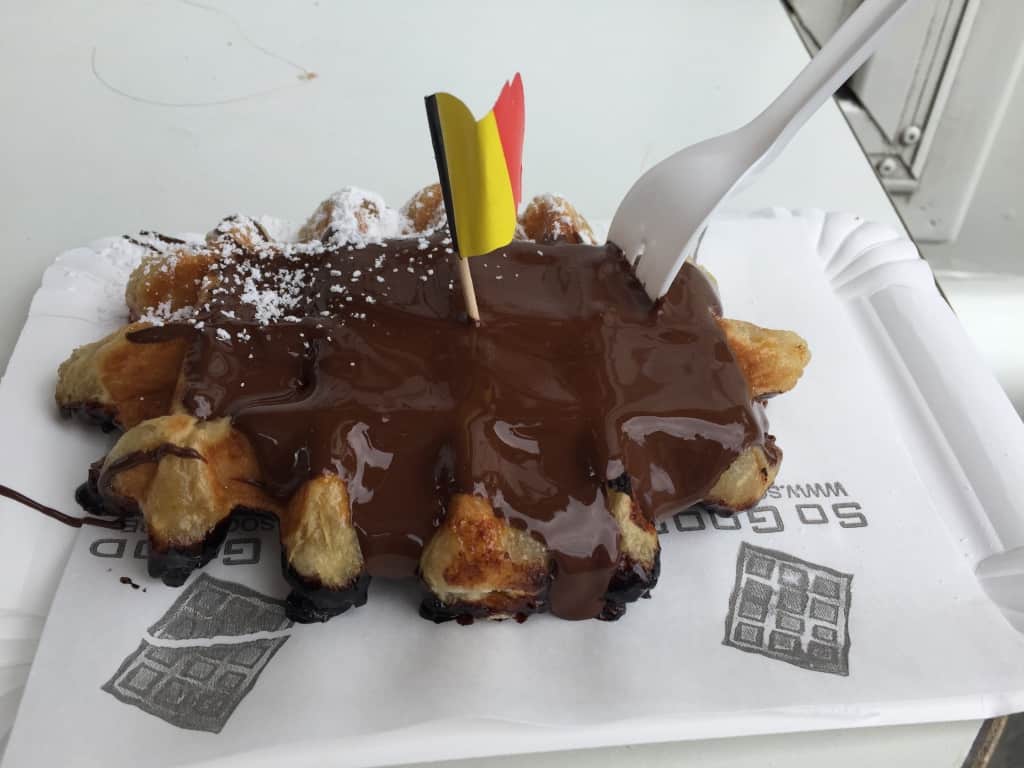 We went back to the hotel for a while before heading back out in search of dinner. I had noticed a reastaurant with a funny name – Moule Poule (Mussels Chicken) but when we head over to have a look, theres nothing that appeals on the menu, so we keep looking. We're spoiled for choice as Moules Poule is right on a square filled with restaurants. Nearby is one of the side streets that we came in on, and Ange remembers a restaurant that had caught her eye on the way in. We go back and it does appeal, so we head inside.
We got seated by a lovely older lady, imagine a grandmother as cast in every movie. There are one other couple in the whole place and we're right beside them. The lady of the couple leans over and excitedly tells us that we're in for a treat – this was the third night that they'd been in Brugge and all three nights they'd eaten here. It's the best! I tried to restrain myself from asking how they could know it's the best if that's all they've had, and settle down to examine the menu.
I end up starting with the deep fried courgette and feta while Ange had the shrimps wrapped in salmon. The nicely painted plates that were sitting on the table when we had arrived are removed, obviously there for decoration, not to be eaten off.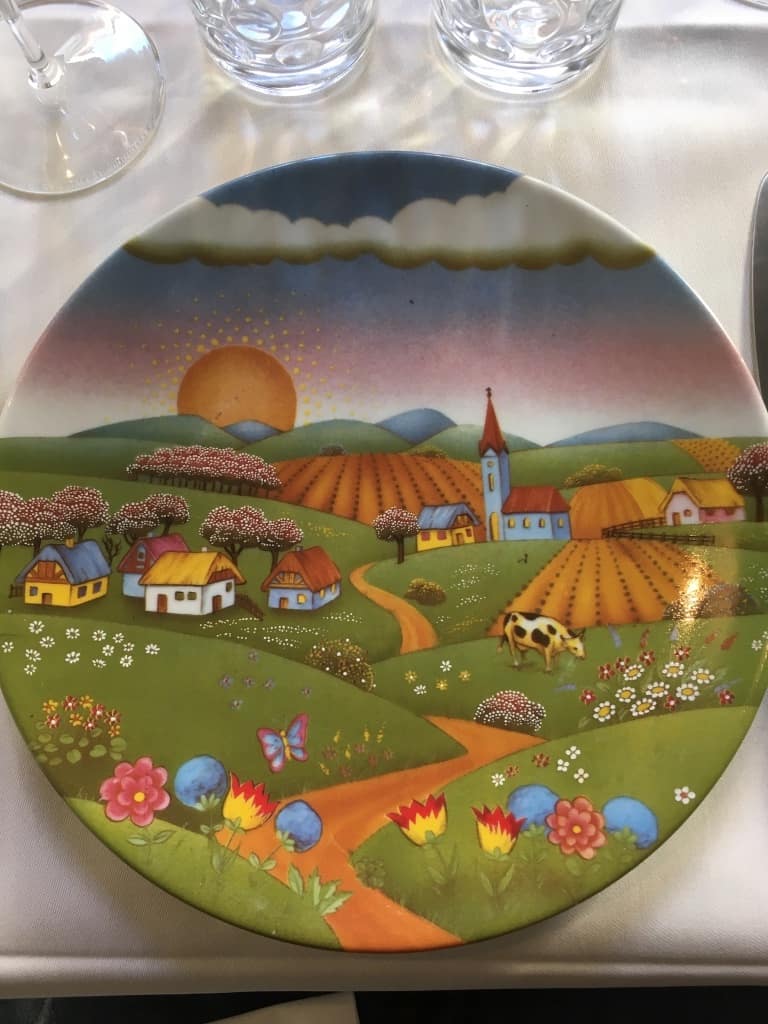 The service was on the relaxed side, so if you were interested in a quick bite, this is not the place to come. I've subsequently seen reviews where the detractors (there apparently are one or two) have mentioned that the proprietor turns away guests if she doesn't think that she can serve them all. It would be galling if the restaurant was empty and you were turned away, ignorant that there might be a group of six coming a bit later.
The starters are a delight – the batter is very light on mine and Ange raved about the textures and balanced tastes of her asparagus soup.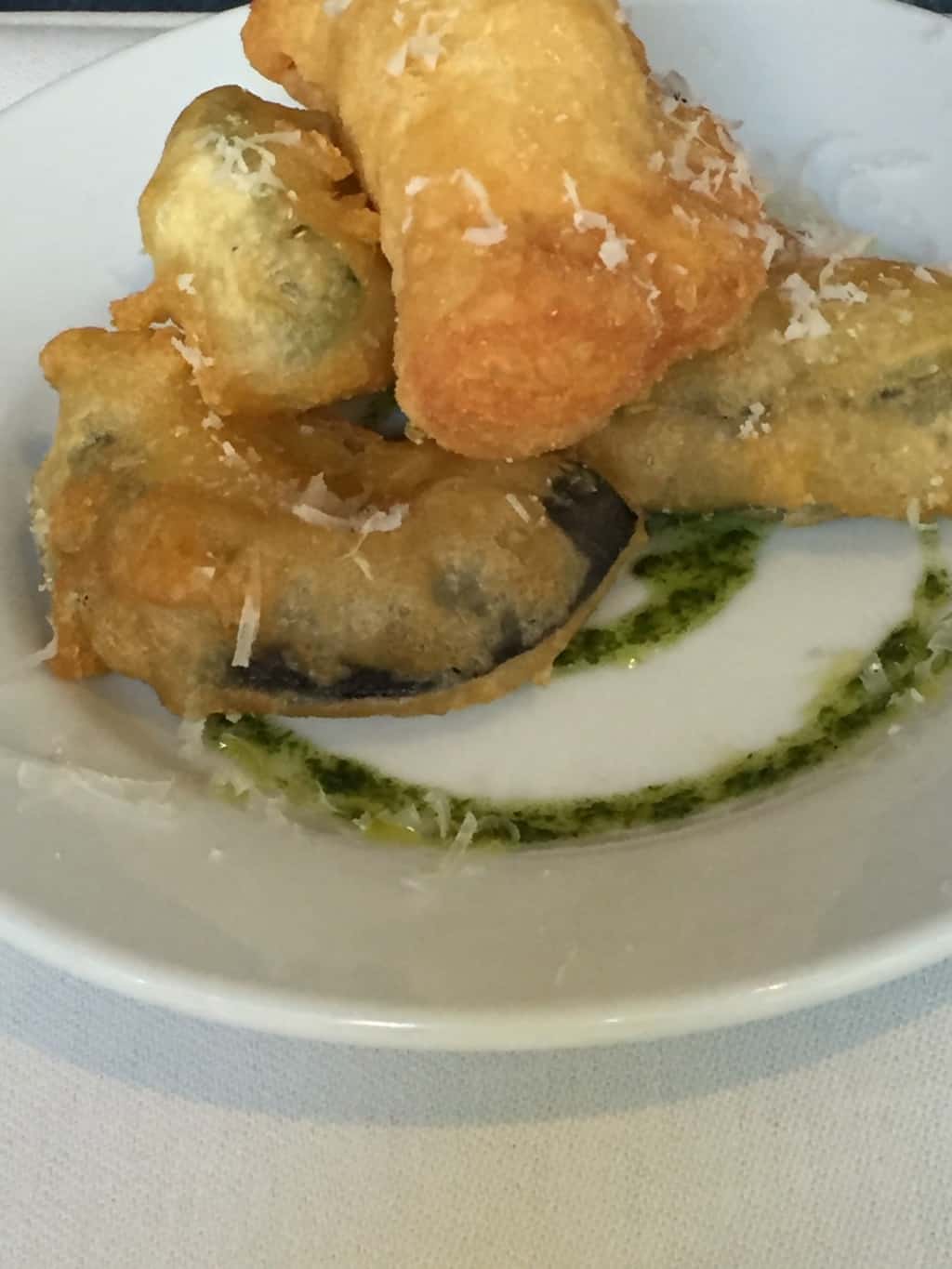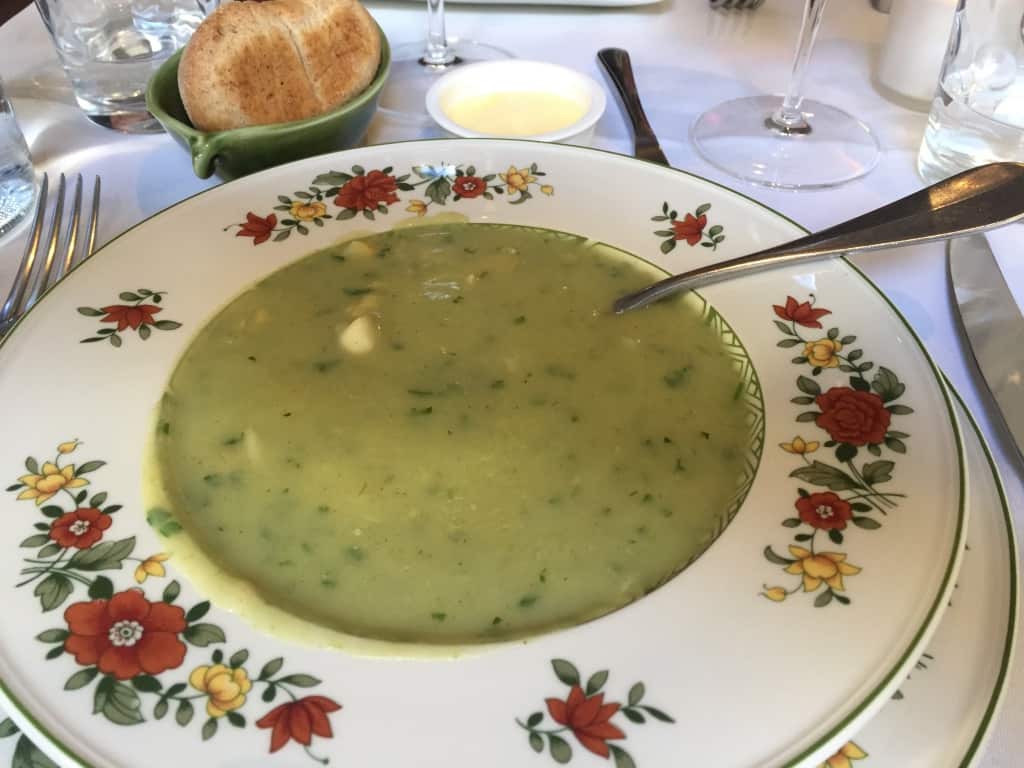 The mains arrived a little later – I got the guinea fowl and Ange got the vegetarian plate. She counted the different types of vegetable and easily made it into double figures.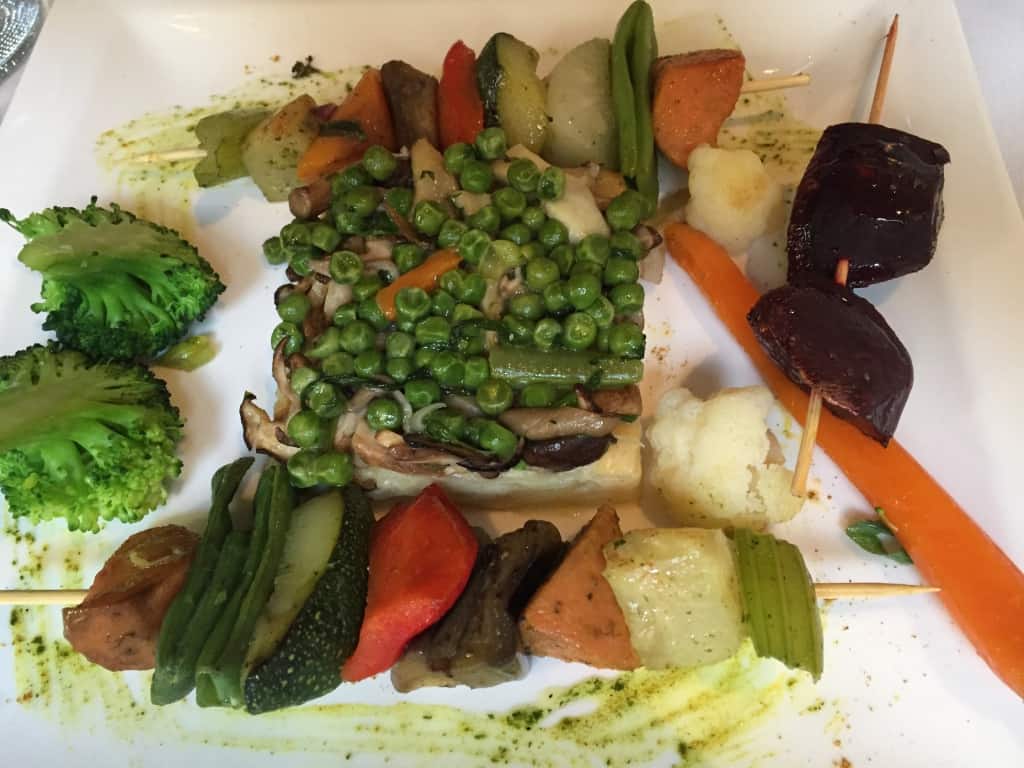 I love the fowl – perfectly cooked and accompanied with roast veggies. And to finish we had a peach tart.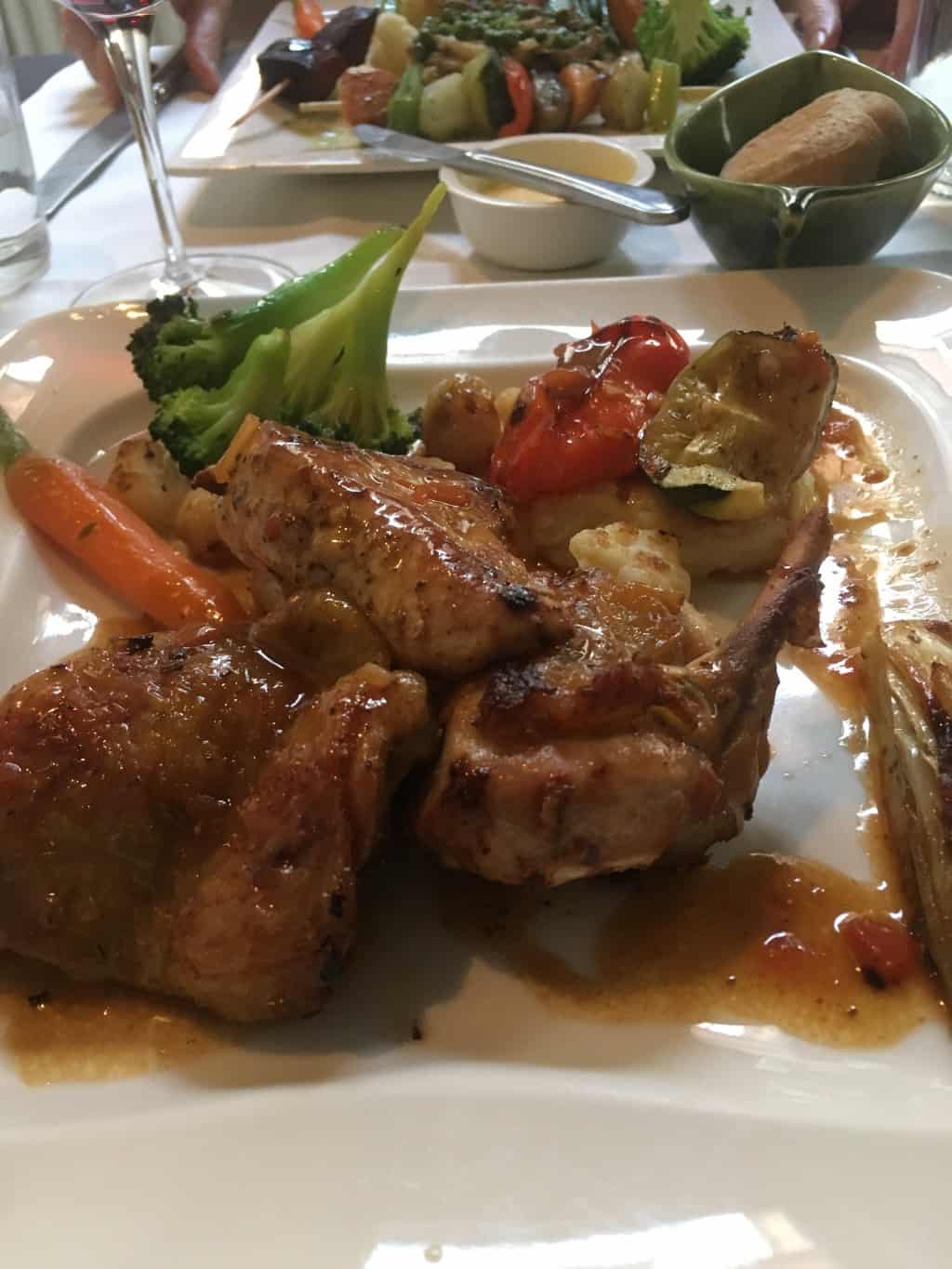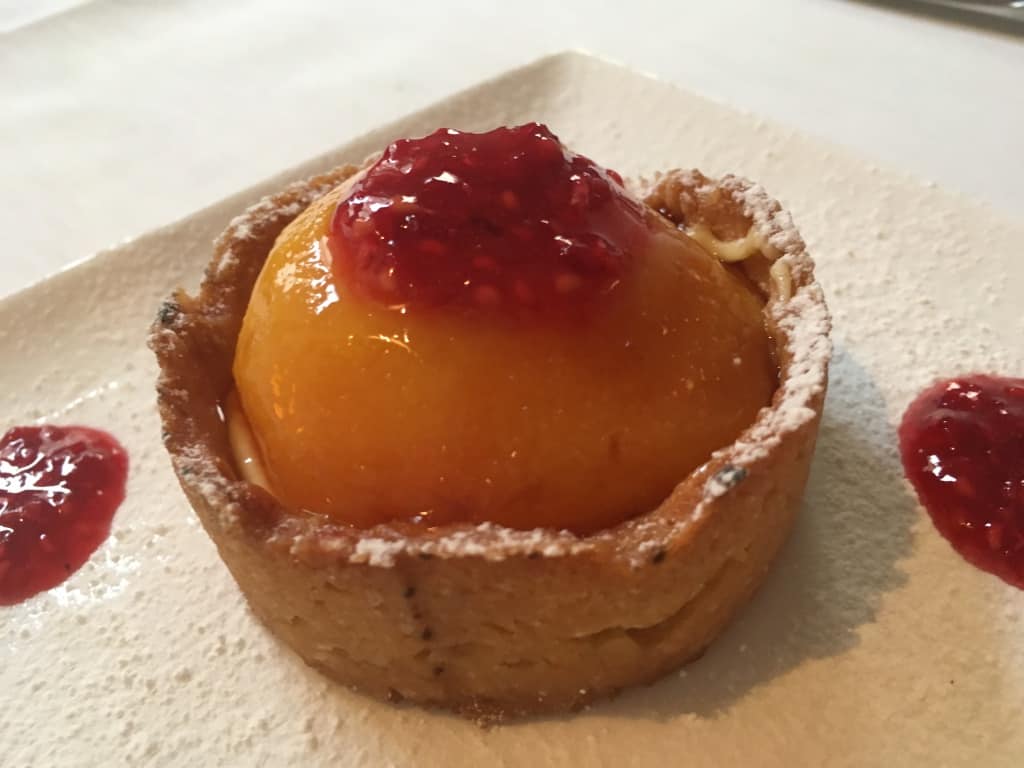 Well fed and satisfied, we headed back to the hotel.
Day Four
We got up early the next morning to get breakfast and check-out. We caught a bus to the train station from the nearby bus stop. It was a relief when it came because we didn't know for sure whether things were back to normal after the triathalon.
Ypres is not on the main train routes, involving a transfer at Kortrijk. We manage to find the connection without any issue, and find ourelves in Ypres, putting our luggage in storage at the station. After we do that we sit down briefly to discuss the plan for the day ahead and then in walk about 30 little preschool kids, all buddied up and holding hands, and all wearing yellow fluro vests and matching hats. Totally adorable. As they walk in they all stare at us like we're two headed freaks.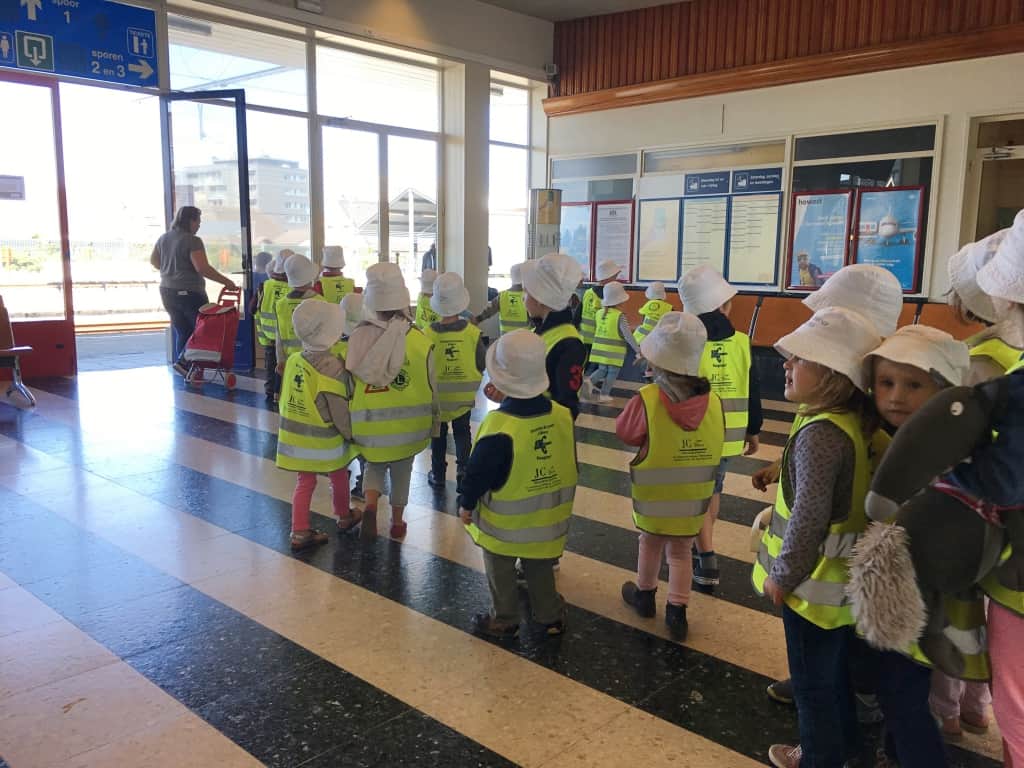 We walk through town to the Flanders Field Museum, located in the old church. Well, I think it's an old church until we find out the whole town was razed in World War I, so its a faithful reconstruction. The whole town in fact was reconstructed. The museum itself is a thought provoking look at the First World War and its impact on the local area.
It's high tech with a wristband which you can load with experiences at certain stations around the museum. They use technology well – and although the museum is not very large its impact is significant.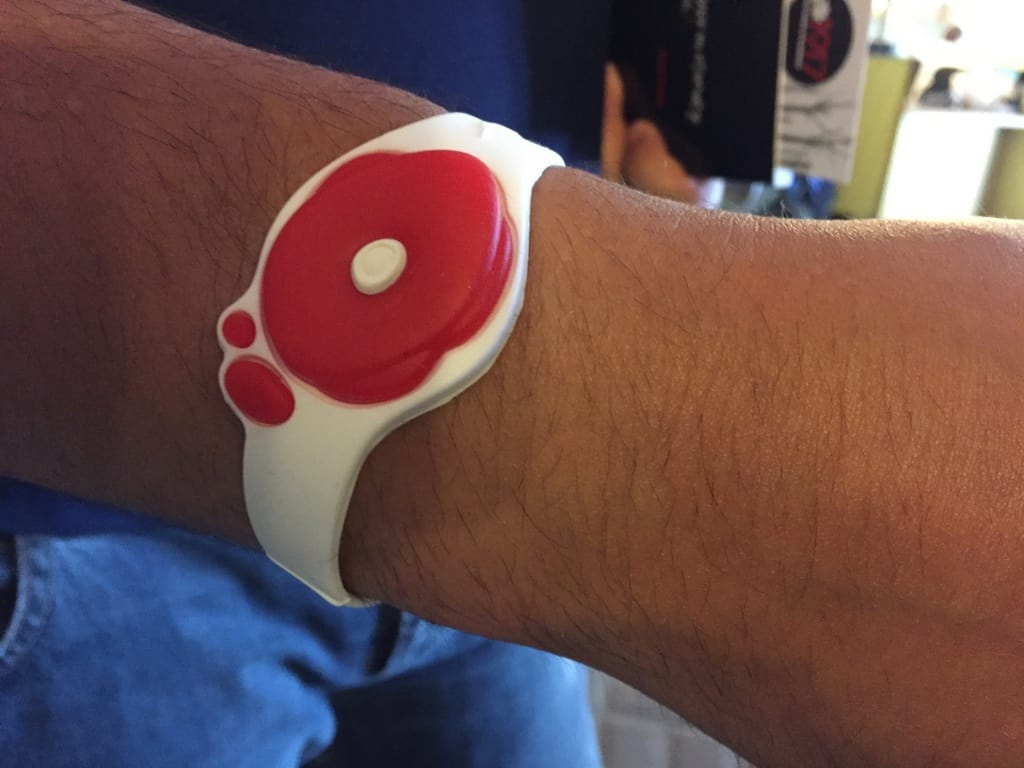 For an extra €2 you can climb the towers to the roof, providing a great view out across the surrounding areas. The safety rail feels a little like a bolt on afterthought, so it doesn't feel too safe. I look at my watch and realise that the bells would start ringing shortly so we make our way down before we get deafened!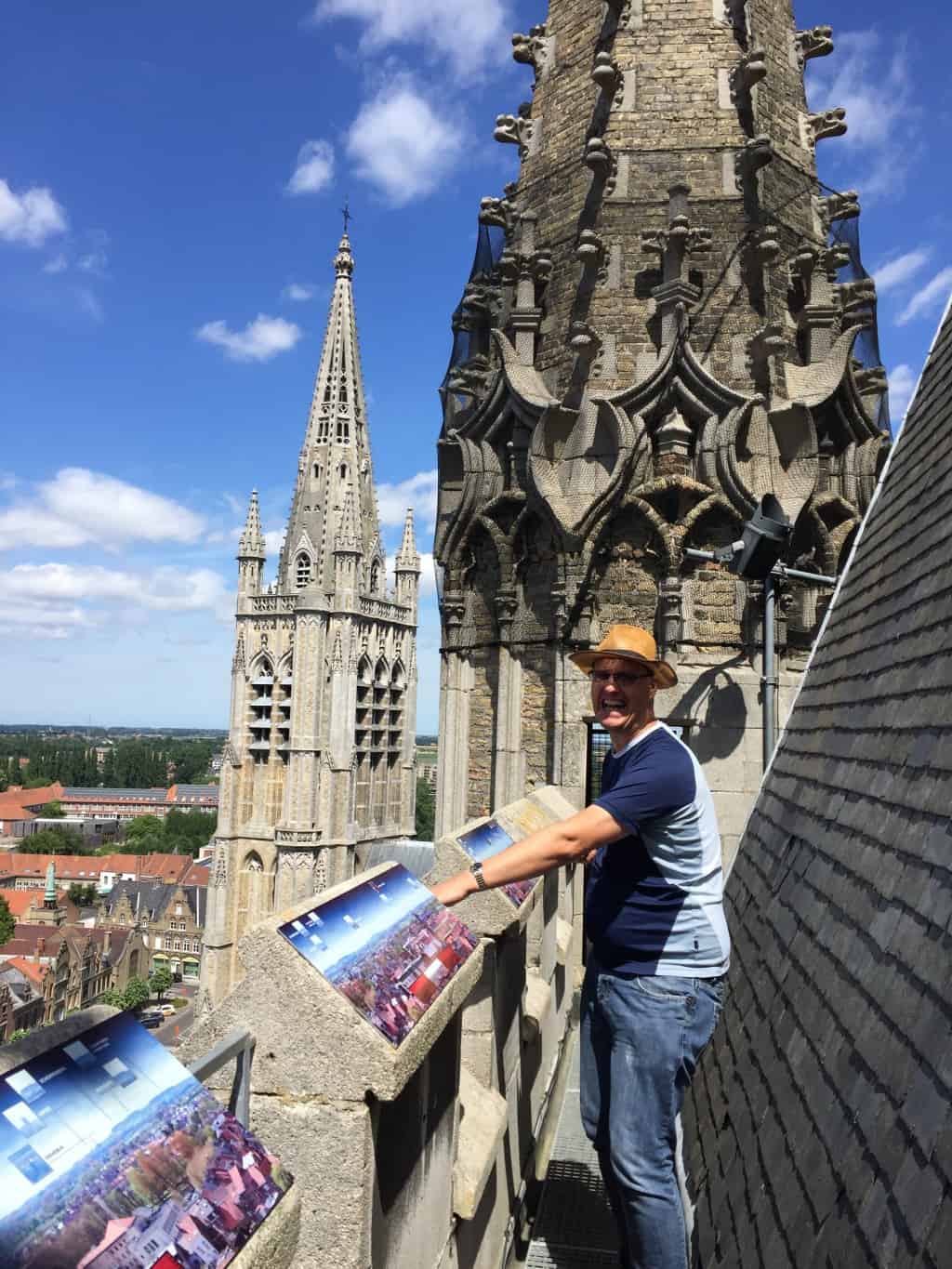 The most moving part of the museum for me was the bit near thee exit gate which itemised the wars that have been fought since the "War to End all Wars" and their respective death tolls.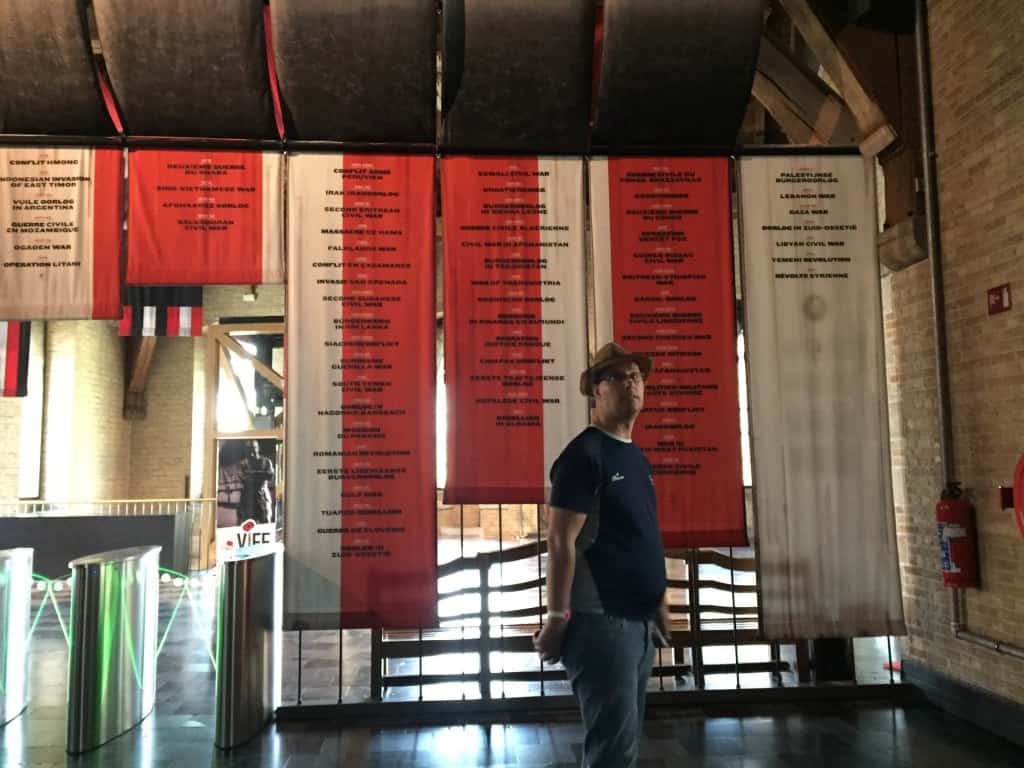 Afterwards we look for somewhere to eat – there are a bunch of restaurants along the square, but the prices seem a bit touristy. We do see a reasonably priced burger place called YpresBurger, but it's full of kids so we head towards Menin Gate instead and hope that the crowds will have died down when we return.
Menin Gate is interesting because an organisation has arranged for the Last Post to always be played every night at 8pm. Unfortunately we have to leave before the ceremony, so instead we climb the stairs to the top of the wall and look at the memorial.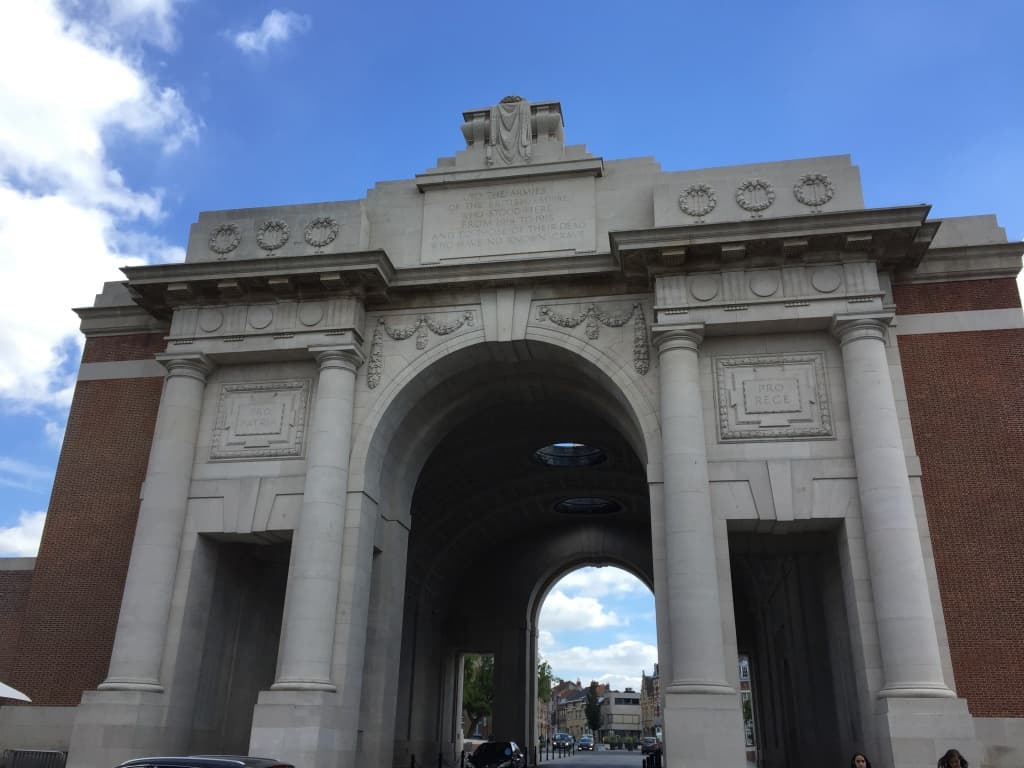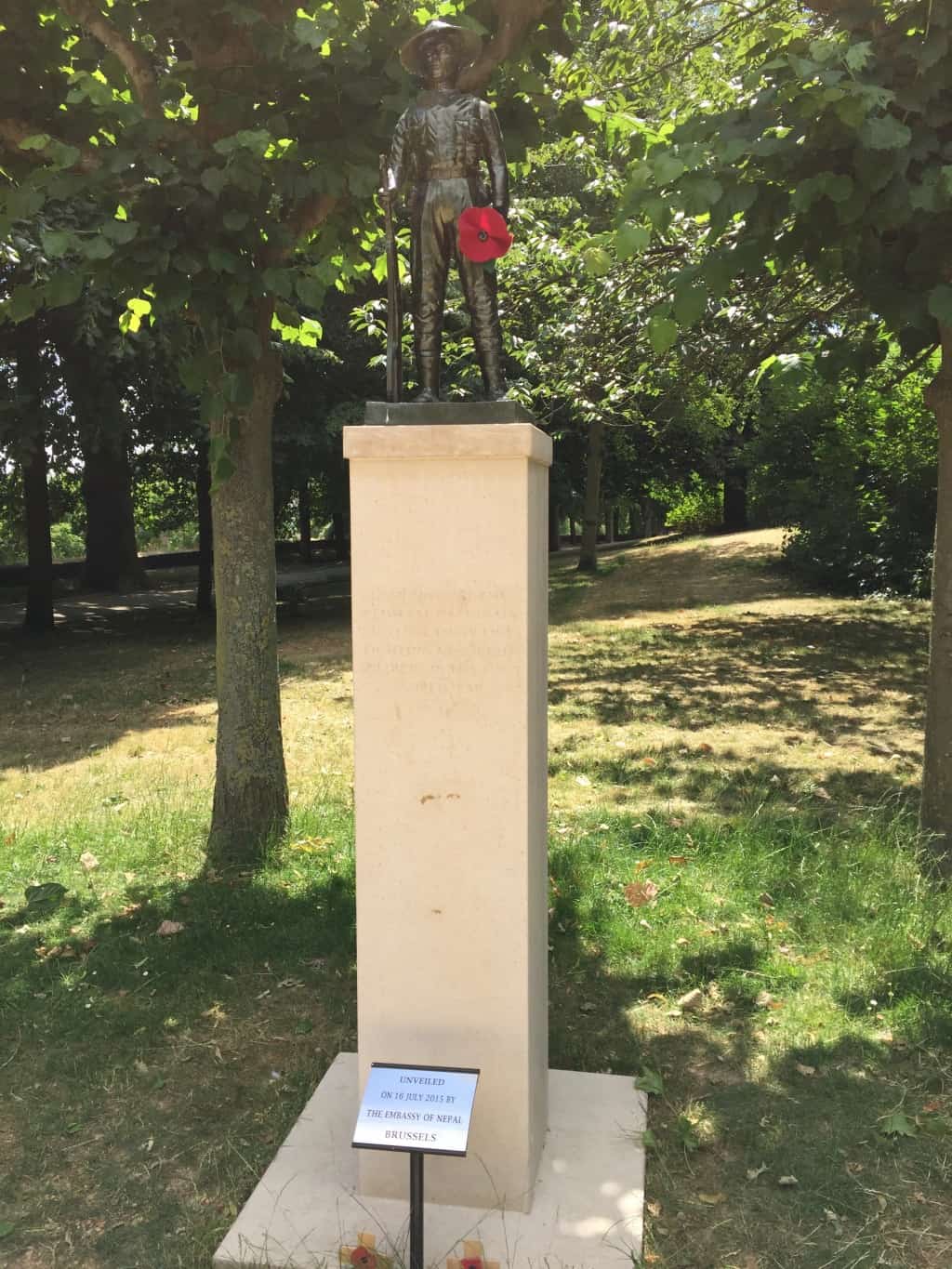 Then we walk along the top of the wall, looking alternately over the river which forms a moat on the outside of the town, and across the roofs of the houses within the walls.
After a while we decide to head back and try the burger place. It's worth the wait: the burgers are fresh, tasty and cheap. After we've eaten we head back to the train station and collect our baggage. There's a momentary panic when the door to the station building (including our luggage!) is locked. I find an alternate entrance and we retrieve our luggage and wait on the platform for the train.
We headed to the platform at Kortrijk to make the connection to the train to Lille, and there was a roll of text under the list of stations that are served by the train. I eventually decipher it – it seems that theres some sort of rail replacement bus and so the train will only got a place called Mousecron. We confirm the details with the conductor and then find a seat. As we settle in, another passenger come sup and asks the same question. Exasperated the conductor starts his explanation with "I've just told these people…" before regurgitating the same information.
If I was argumentative I may have told him that the fact that everyone is asking the same questions is a symptom of your failure to communicate the important information before they get on board the train, but I'm not argumentative so I keep my mouth shut.
We got off in the blazing sunny day in Mousecron and headed towards the bus stop adjacent to the train station. We found some shade and wait….and wait.
The conductor had told us that the bus would take about 45 minutes but that there would be the first of the restarted trains coming in an hour and the train would take 30 minutes, so basically if the bus didn't arrive in 30 minutes it would be better just to wait for the new train. There's no sign of the bus for twenty minutes so we bite the bullet and go inside to the cafe in the station and have a juice while we wait some more.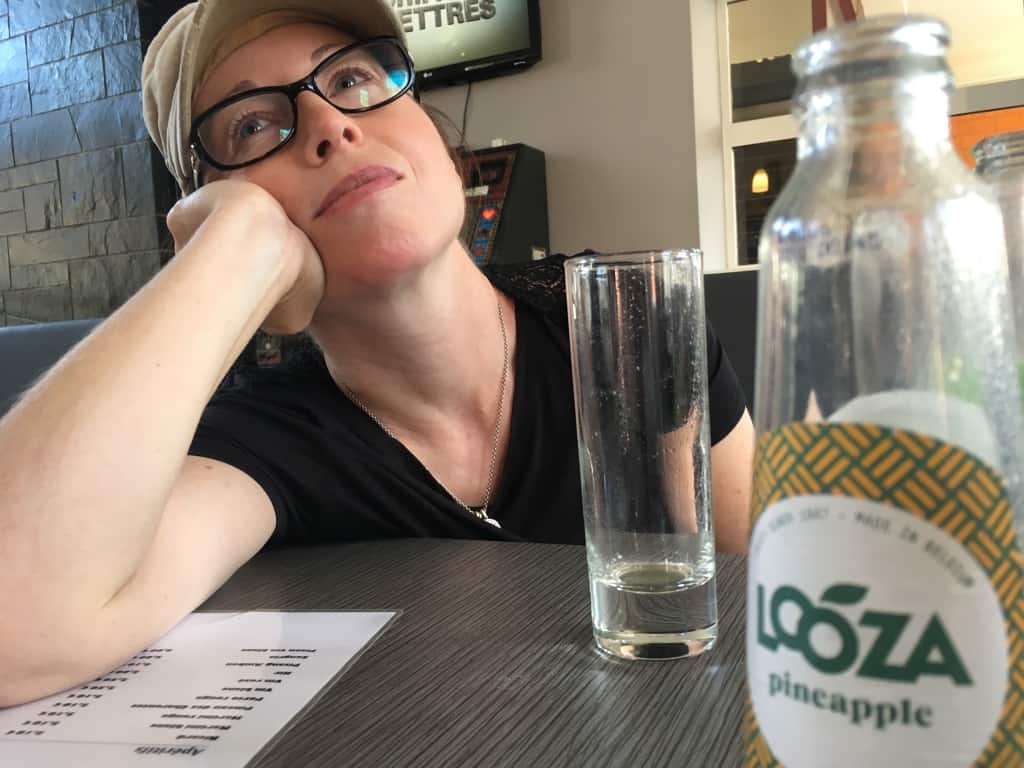 What can I tell you about Moucecron? Hmmm… pretty much nothing – SNCF ballsed up the rail replacement bus worse than a UK company could, so I'm in no mood to give the town the benefit of the doubt, and we don't really have enough time to have a look around. We get onto the train when it pulls up, muttering darkly about the time we've lost to the interruption.
My mood is not improved when we get into Lille and my phone decides that it doesnt want to connect to any of the available networks and then when it does it doesnt want to allow internet. Kind of relying on that to get us to the hotel! Luckily I remembered vaguely which direction it was in, so we head in that direction and lo, we eventually get connection and yes, navigate the last few hundred metres to the hotel. Check in goes smoothly and we get ourselves settled.
It's Monday night and apparently that means only a few places will be open, so we ask for recommendations from the front of house staff. The nearest place that will be open is a Thai place a few hundred metres away, so we head that way because we are starving. It's packed, filled with locals and we're lucky that there are two tables left.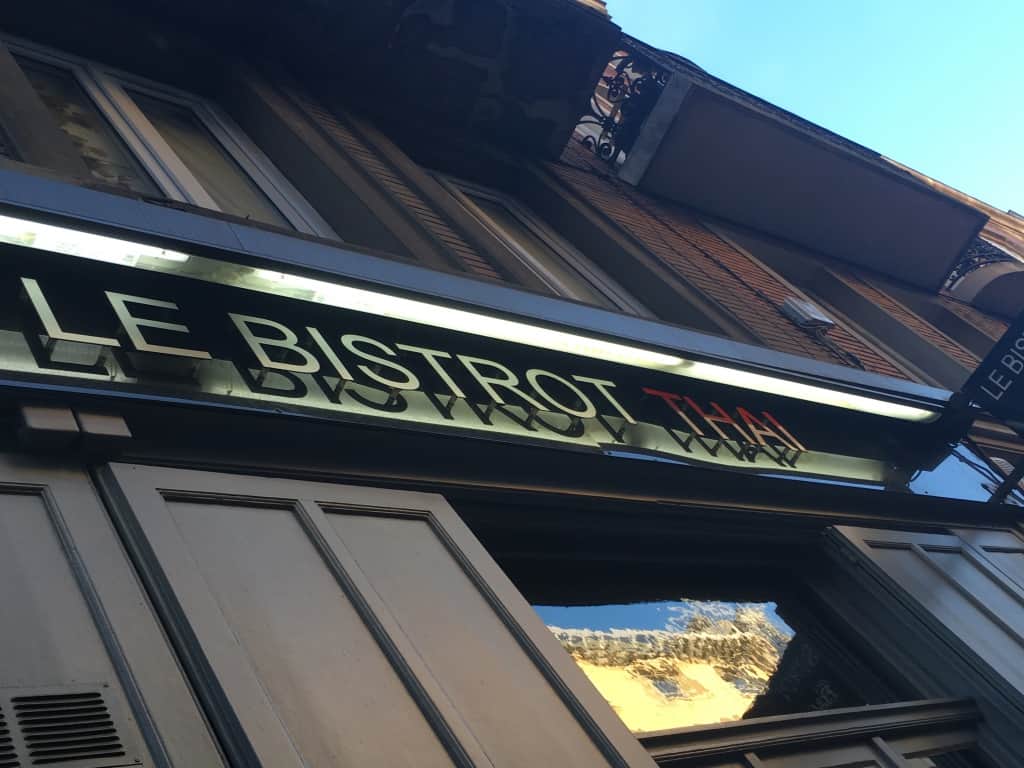 Ange smiles at the people sitting beside us, close enough to rub elbows and the lady diner gets the implication and welcomes us. It is almost like we're dining with them. I am hungrier than I thought, and conversation drops as I attack the food as soon as it arrives. At the risk of being boring, I found that you really cant go wrong with a good pad Thai. I throw caution to the wind and get mine with shrimps. I think Ange got the chicken pad Thai.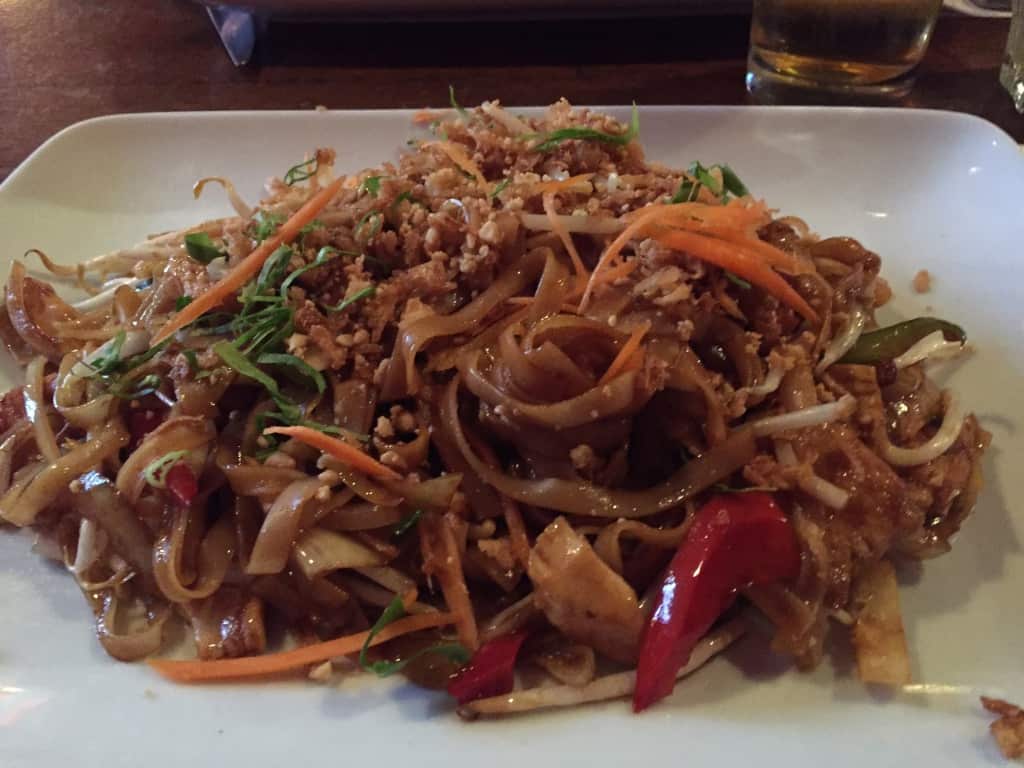 After dinner the sun is still around, so we go for a walk. I try to navigate a route for us to end up at the citadel, and that involves us walking along the quay. The glorious evening has brought the locals out in force and there's a lively scenes overlooking the water, with people bringing their own beers and pizzas to dine alfresco.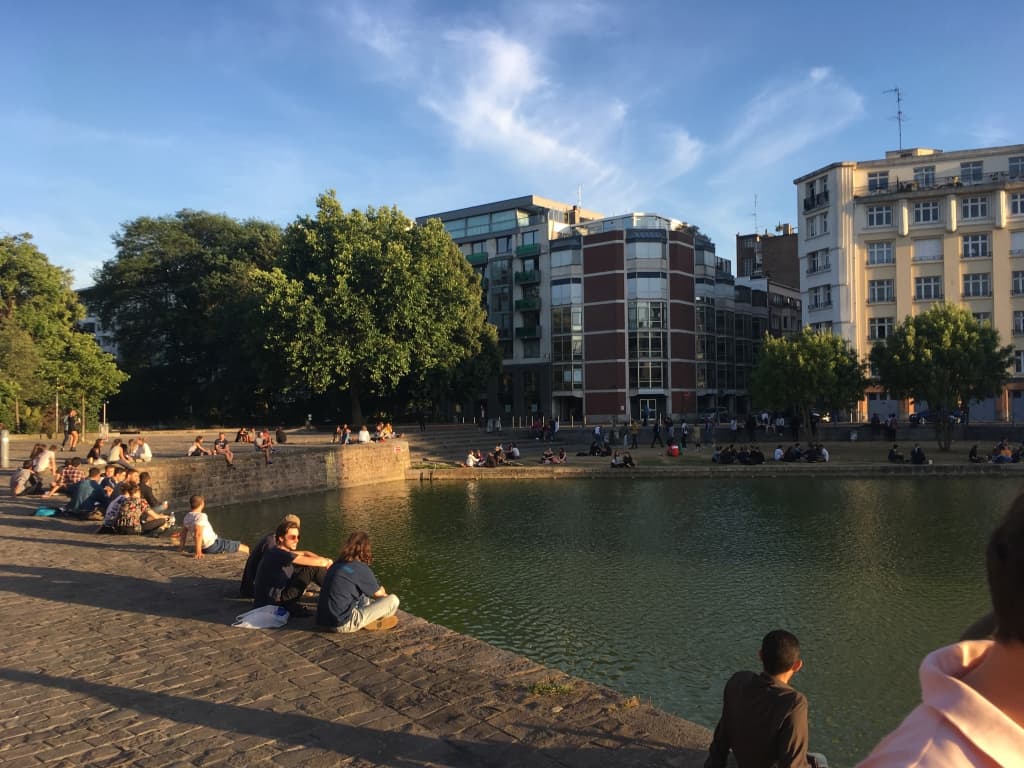 We get to the edge of the Citadel park but the cumulative effects of walking all day have had an impact on Ange's ankle, so we head back. I'm feeling tired too, so don't put up too much of an argument!
Day Five
We're up early for breakfast – Ange in sympathy for me, and me to catch the Eurostar back to London to go to work. It's funny to farewell Belgium from France but it's been an interesting trip and the next weekend will be the last.