My final accommodation for Budapest is a one night stay in Colors Hostel. I had previously booked this to be at City Rooms but I didn't feel like going back there. Ironically it happens to be directly across the road. I figure it's an interesting exercise to compare the two budget accommodation experiences.
On booking at the hostel I received an email with clear instructions on what to do, what money they needed to pay and deposit etc. Much clearer than City Rooms. It also has a lift and stairwell lighting which was appreciated.
We arrive too early for check in and leave my baggage on a shelf around the corner of the lounge where various people are hanging out. I decide to take my backpack with me but Chris trusts the clientele and leaves his there.
We head to Gellert Baths for a few hours #Gellert id=Gellert Baths to fill in time and have a relaxing soak. It's been a full on week for me in Budapest so it's nice to chill out at the end.
We arrive back at 2.50pm and a lively Hungarian girl with an American twang checks me in. It's a hostel but they also have double rooms and at €20 per night it's a steal. They also take a €10 deposit for the keys which you get back on check out. Chris also takes the opportunity to get her to order him a taxi to the airport, it will cost 7.000 HUF which he says is reasonable.
Room
We head over to an adjoining building and up another lift to the 3rd floor. There's a bit of a unwieldy key system with a tag to buzz in the main door, a key to the apartment main door, a deadbolt key and a key to the room itself which also opens the bathroom.
The main living area is sparsely furnished but spacious and there's a kitchen (no washing machine though, apparently the booking.com photos need to be updated). My room (no.1) is also sparse but adequately furnished but seems clean. It overlooks a neighbouring apt building with a view that leaves something to be desired but I have Venetian blinds to block it out.
The bathroom is for my own use and there only seems to be one other room (no.2) which also has its own bathroom. There are signs saying to keep all doors locked even if you're there so when Chris leaves I go out to take a ride on tram no.2 which goes along the waterfront to visit the Shoes on the Danube memorial.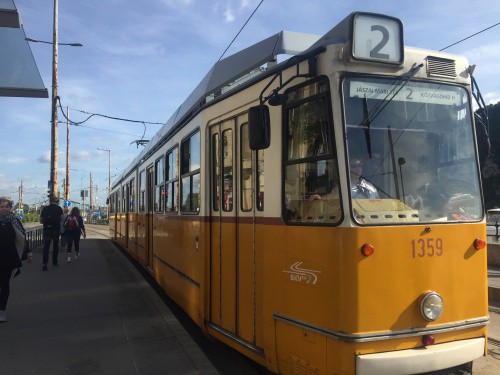 I take care to lock my room, the apartment front door and deadbolt it too. But I can't remember which way is to open and which way is to lock so spend some time going left and right with both keys before I get the right combination.
Afterwards I go for dinner at Grinzings just across the way which I went to last Monday night when I was at City Rooms and which serves Hungarian food. I order the Hensoup (chicken noodle soup) and the stuffed cabbage and enjoy both. Though there is an extra charge of 190 HUF on the bill which I ponder over briefly but figure it must be for service.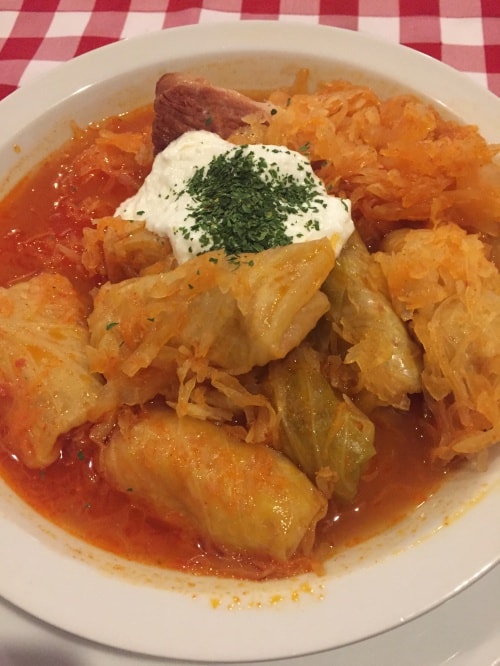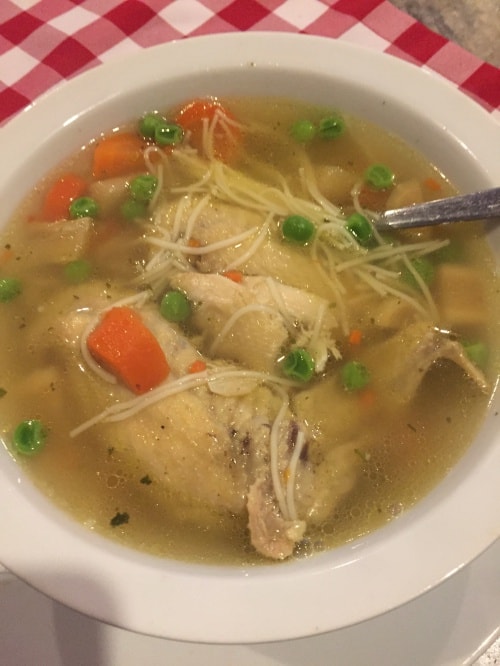 Back at the apartment the other occupants arrive back and there's momentary clatter of keys, footsteps and more keys as they lock everything up as required. The bed is reasonably comfortable though the pillow feels like it's been filled with foam chips but it's not enough to hinder my sleep.
Breakfast
After getting up and showering the next morning I head over to the main lounge for the complimentary breakfast going through the whole unlocking and locking business again. The receptionist the day before mentioned apologetically that it wasn't much and she was right. A few plastic tubs of cereal, milk and bread (that you can toast) butter and two different types of jam, and coffee for those who drink it. The tables are set up with the bread, butter and jams and commandeered with two guys on each so I grab a bowl of cereal and perch on the couch. Then grab a piece of bread from the table and toast it and spread with a blackcurrant jam the consistency of marmite but which my nose tells me is fruit.
Guests are asked to wash their own dishes which I do but no one dries them with the tea towel as it's a grubby affair that looks like it's been used to clean a chimney. I do as others do and use the drying rack instead, hopefully preventing some infectious disease. I head back over to the apartment (unlocking/locking) to pack and then back to main area (unlocking/locking) to check out and grab my deposit before catching metro to the airport.
Pros and Cons
Pros

Lift and a stairwell light

Apartment room spacious and clean

Kitchen and own bathroom

Free breakfast, not much but fills the gap

Clear instructions before check in

Easy to find and access

Very secure

Free WiFi

Cons

Breakfast area not that clean

Hostel side not well set up, no proper hostel lounge, if you stay in a dorm you have to walk through the kitchen in night clothes to reach showers, not great if filled with guys sitting there.

Key system necessary but a bit of a pain to keep unlocking/locking things.
Would I Go Back?
As with all budget end accommodation in Budapest the hostel is cheap but a little rough around the edges. So it's fine for one night but if I was staying for longer I'd pay a little more for something a bit nicer.