The first thing you notice on entering the room at the North Sydney Harbourview is the view. We're lucky enough to have a view back across the harbour to the CBD and the Harbour Bride and it really is picture postcard perfect. In the foreground is Luna Park and at night the lights of the theme park provides additional illumination for the Harbour Bridge.
Across the harbour we can see Pier 8 where we'd had breakfast the day before and the Hotel Palisades sitting on Millers Point.
The Room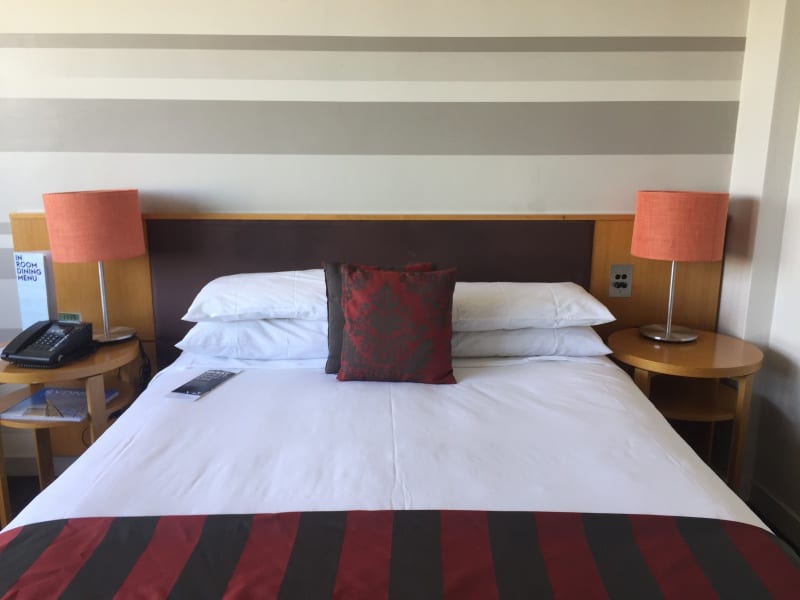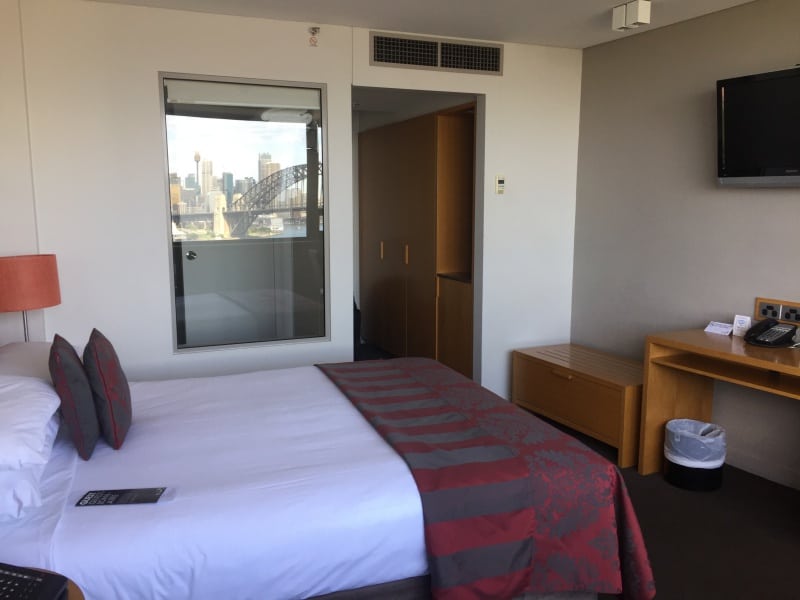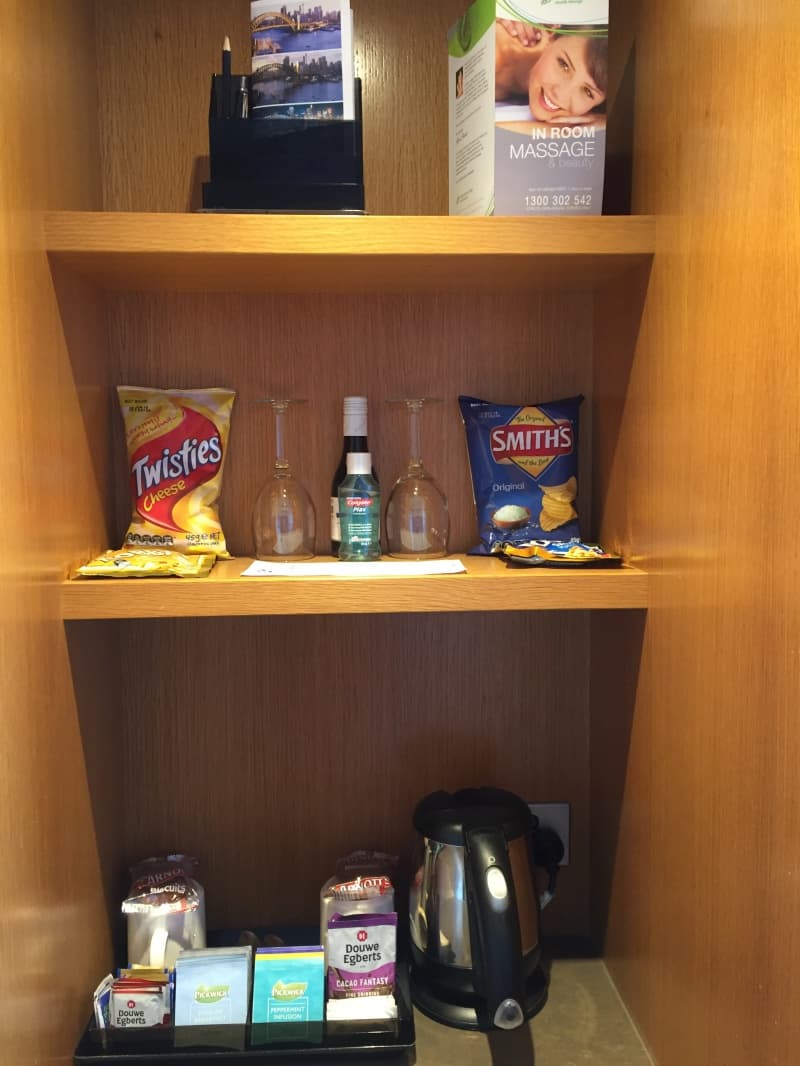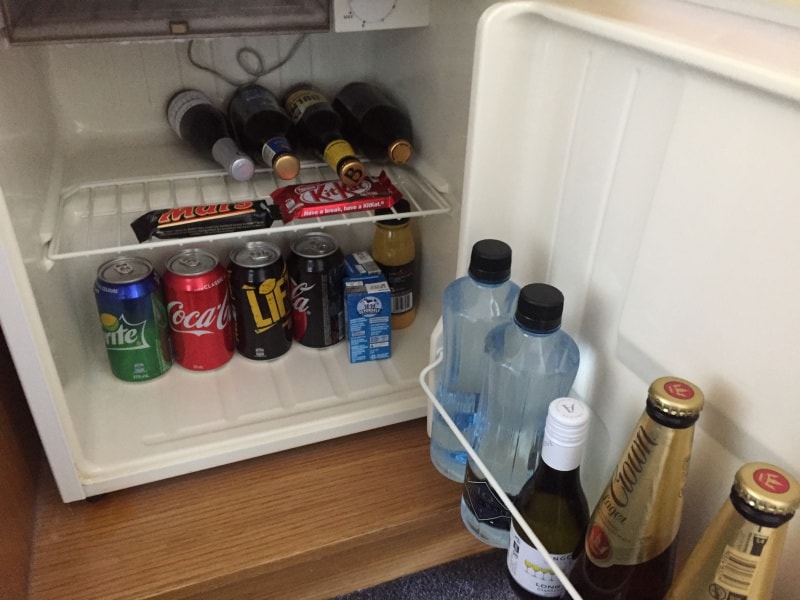 Despite being a chain hotel, the Harbourview manages to have a quirk or two. A large window between the bedroom and bathroom allows you to see whats going on no matter which room you are in. A modesty curtain allows you to decide whether or not you really want to see it all. The rainforest head in the shower gives an impressive shower.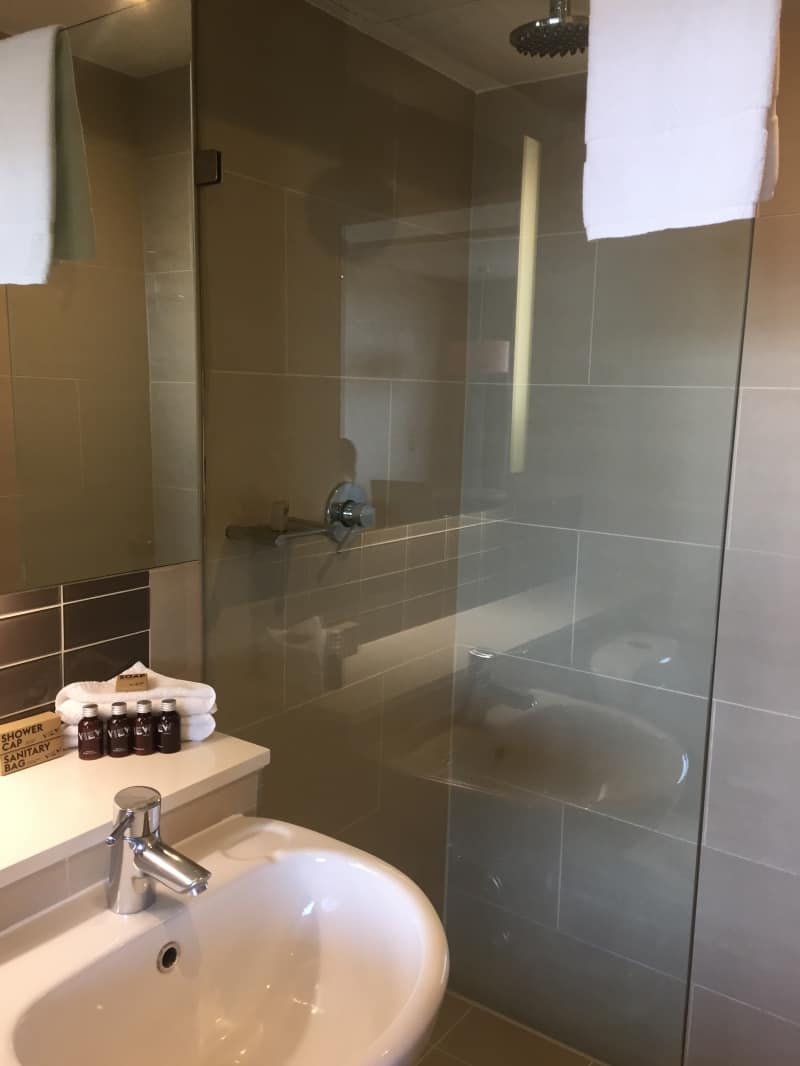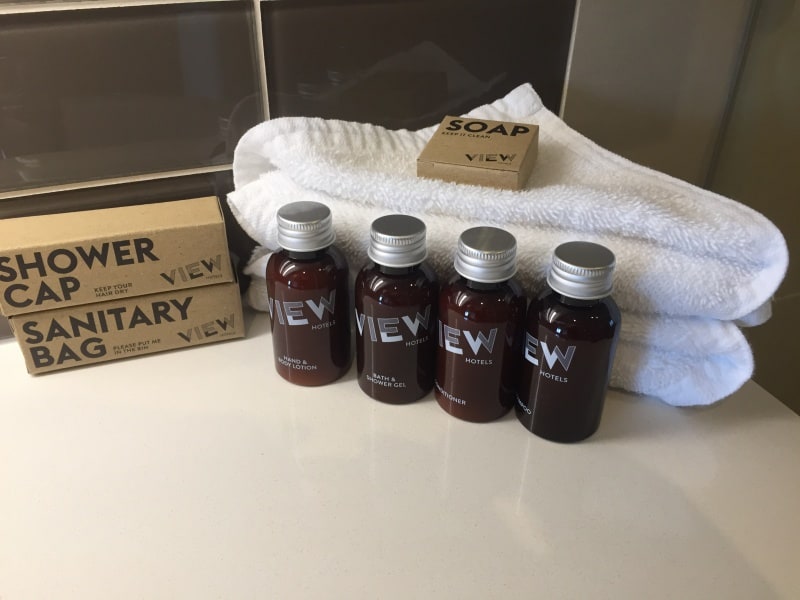 But when I think about the Harbourview, it's not the shower or the view that I remember the most, it's the noise. The building is built beside the rail line. Actually its built on top of the railway line – seriously, when you leave the station on the train you can look back and see the building sitting on top. But it hasn't been given sufficient sound proofing. What that means is that between 5:00 am and 11:45 pm you are constantly reminded of this as the trains make their way to and from the city. We were on the 6th floor of 14 and it dictated when we could sleep.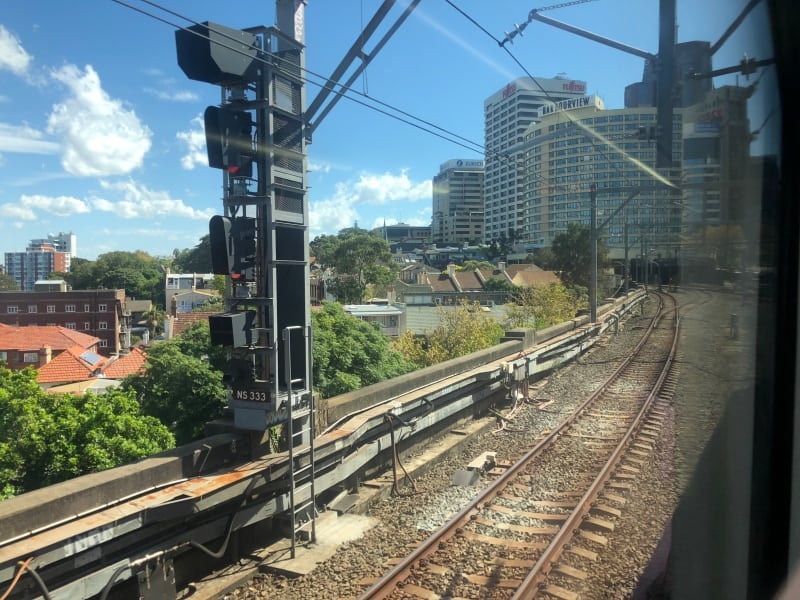 I couldn't believe that the noise was so bad and so I went online to see what other people had said. One guest said that they were on level 1 and that the whole room shook when the train went by. Others on level 2 were accused of being light sleepers by management when they complained. The online reviews which mentioned the noise had a standard response from management:
"You should have asked for a room on a higher floor".
As if it was the guests fault! Amazing! I can't remember which hotel it was now, but I'd stayed somewhere where they'd had some construction being performed nearby. Instead of just accepting that there would be an influx of complaints, the management of that hotel had left a little note in every room saying that they were sorry about the noise and included some earplugs.
Anyway, I thought I had to at least try to get a room for the second night of our stay on a higher floor, so walked up to the reception area after breakfast and asked Scott whether there was any chance. He looked doubtful and checked his computer.
"I'm afraid all the rooms on our upper levels are all booked out. We charge an extra $15 per night for those ones, but they're all taken I'm afraid."
Nice: I can see why. Call that a $15 being able to sleep surcharge I thought to myself as we walked away.
The bed was also on the soft side – too soft, so it didn't give much back support.
Dinner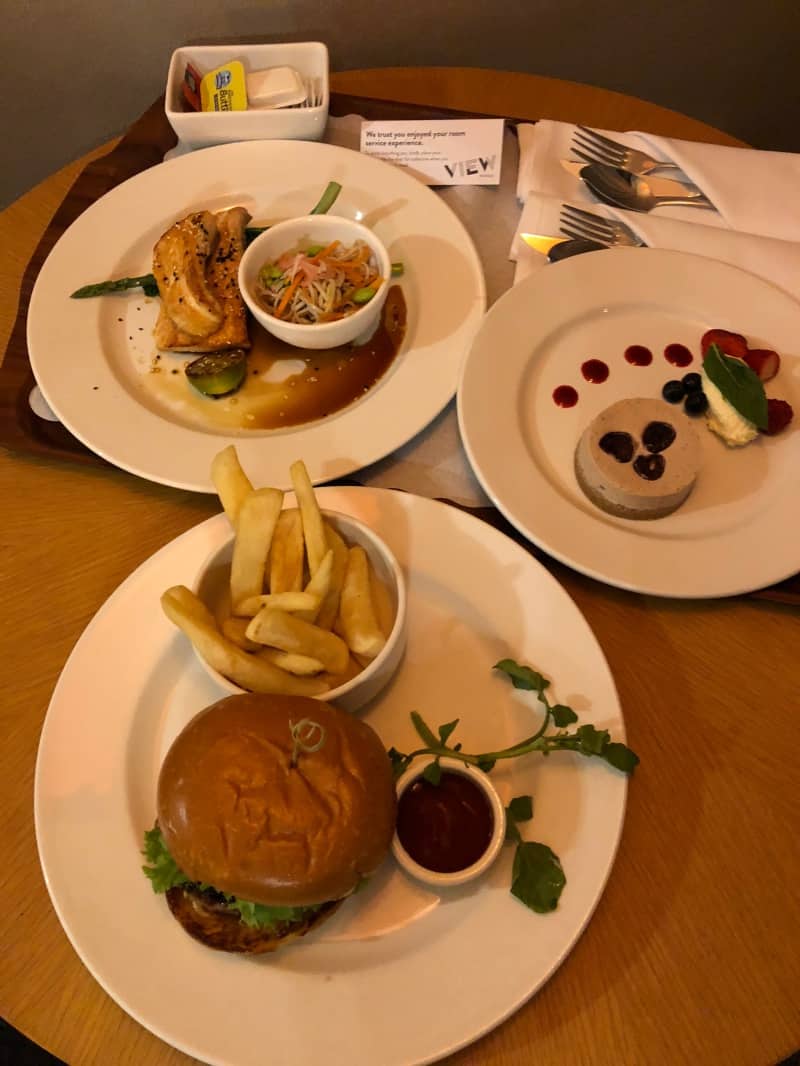 On the first night we just wanted to blob in front of the TV and watch our program (currently watching Silicon Valley), so we ordered room service. While the prices were a little on the steep side, the burger I got was a decent effort and Ange's salmon looked good. She wouldn't let me try any which was a good sign! We did have a few problem with the internet but in the hotel's defense, it's hard to know whether that was because of them or whether their ISP detected us watching Silicon Valley and were throttling the traffic.
Breakfast
We weren't keen on paying 5 star prices for breakfast so tried our luck across the road at the mall at a cafe called Blue 36. OMG I'm glad we did. First of all I had the orange, lychee and mint juice and it was delicious – the lychee and mint added subtle nuance to the flavour. Scrummy.
Then my breakfast plate came out. And that was just a great combination of all your favourite cooked breakfast foods: bacon, a poached egg, mushrooms, hashbrown, chorizo sausage, even some spinach leaves! And the most important part was that it didn't cost an arm and a leg!
Pros and Cons
Pros

Decent sized room
Good food
Close to the train station

Cons

THE NOISE!
Internet was patchy
Bed was too soft
Would I Go Back?
No, I don't think I would. Look, I'm all for building close to a railway station, but one of the things people are paying for when they stay in a hotel is a decent night sleep. A bed which doesn't give much support and lack of sound proofing just doesn't cut it. And suggesting it's a guest's fault for being a light sleeper or demanding extra for higher floors is just insulting.