The Adina Apartment Hotel on Anzac Square is a complex of serviced apartments right in the centre of Brisbane – opposite the Central Train station. We're a little early to check in so head down the hill to a mall's food court to grab some lunch. On our return check-in goes smoothly and we head up to our room.
The Room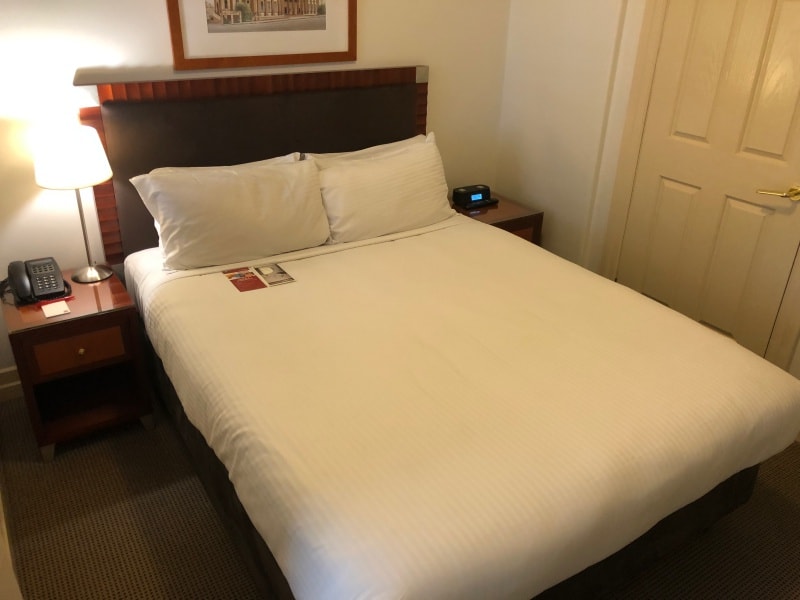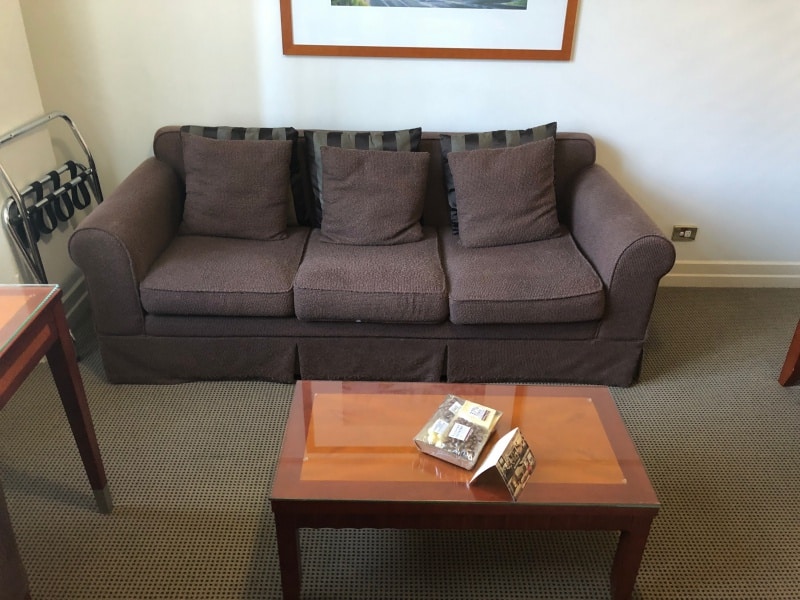 Our room has a separate lounge area, a bedroom and a large bathroom. It's impressive what they can fit into the space: in the lounge is also the kitchenette, a small table with two chairs for dining.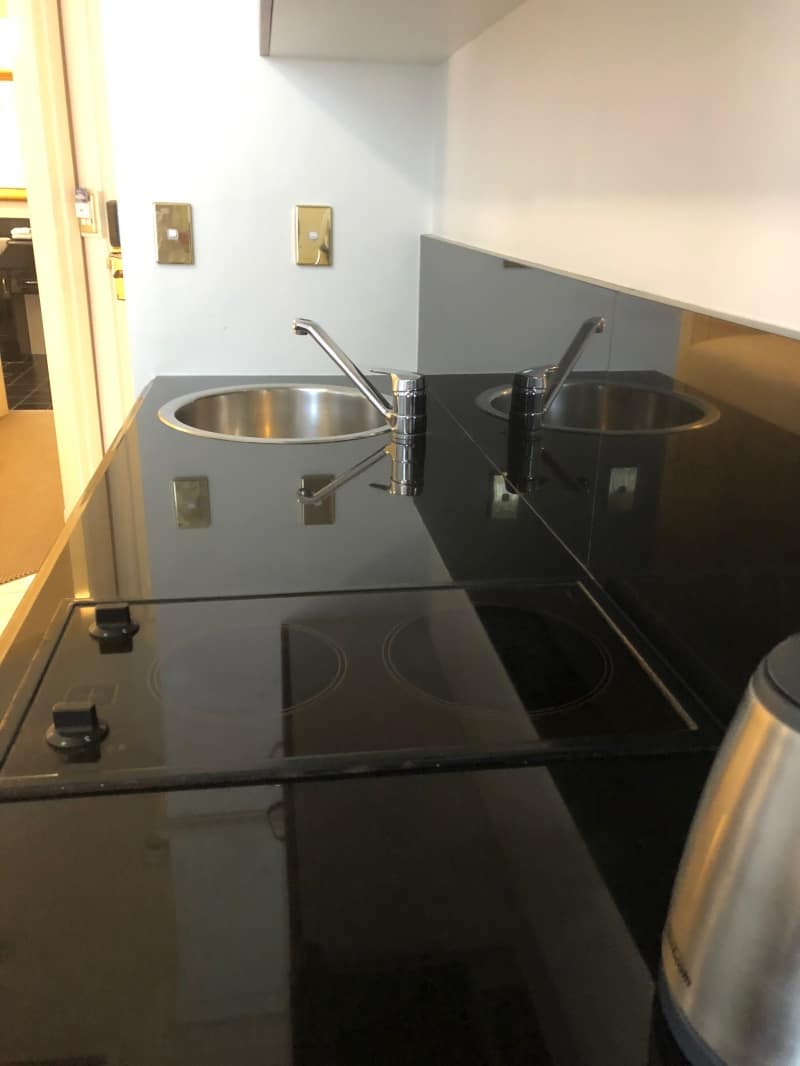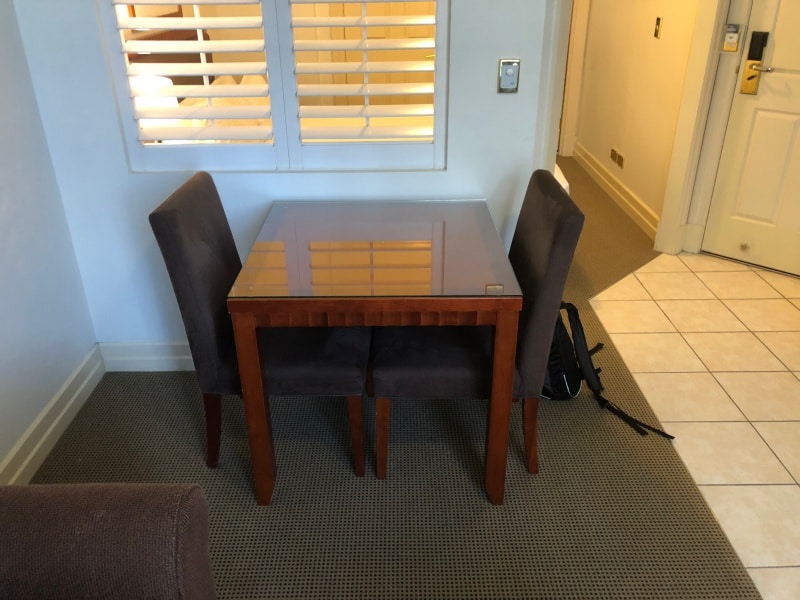 The kitchenette has a hob and a fridge along with coffee making facilities.
A large table at the window overlooks Anzac Square with its tomb of the unknown soldier, and a big screen TV and couch are separated by a coffee table. It's certainly comfortable in size and with enough amenities to allow a self contained stay over a long term.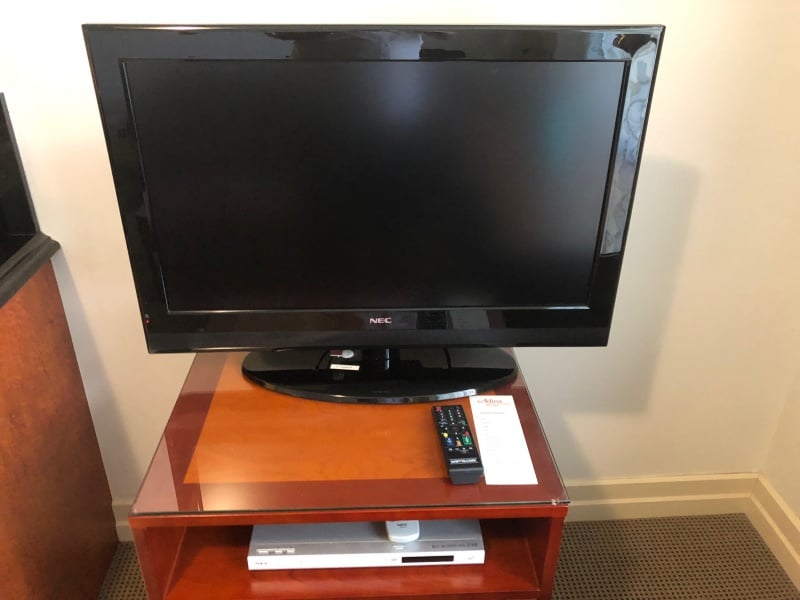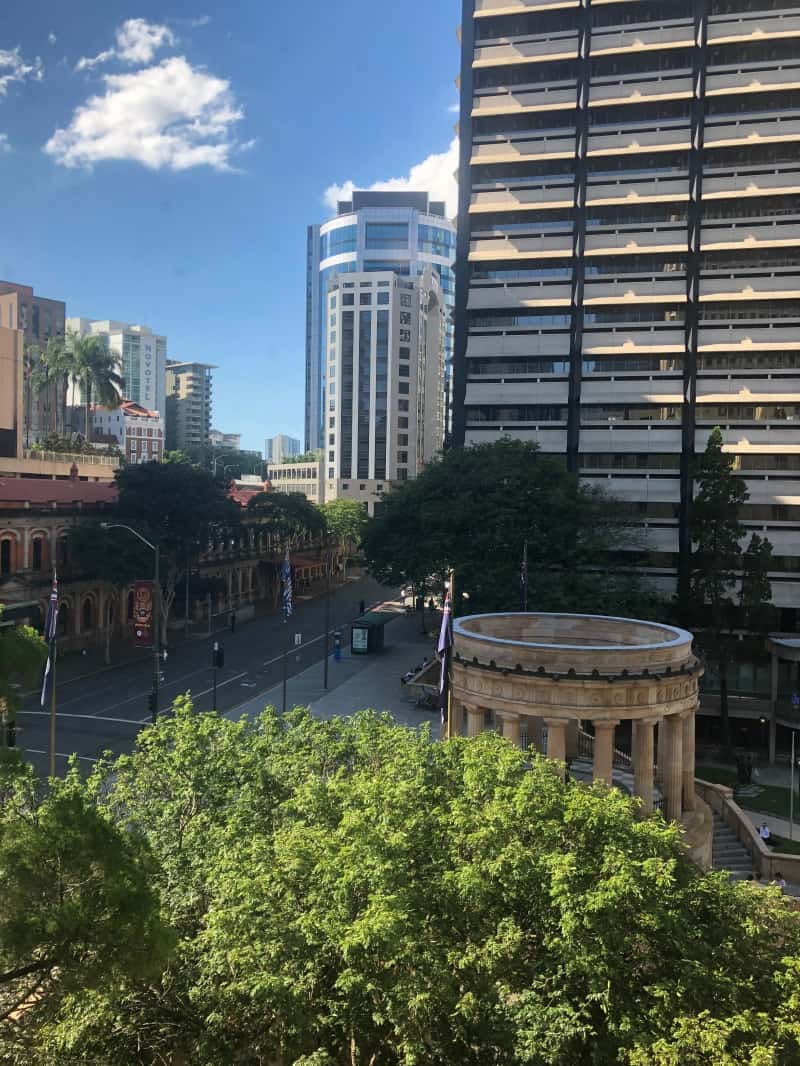 The bed is a great size and the wall between the bedroom and lounge makes the space feel more private. The only problem is the gaps around the front door are a little large and let the light from the hallway stream into the room. Strategically placing the unneeded pillows blocks out the rays of light though!
The bathroom is perfect for the long term traveller: it's got a washer/dryer along with some laundry powder. Perfect for the weary traveller on their last pair of clean underwear! The shower is above a full-sized bath tub and the toiletries are Antipodean Body Care.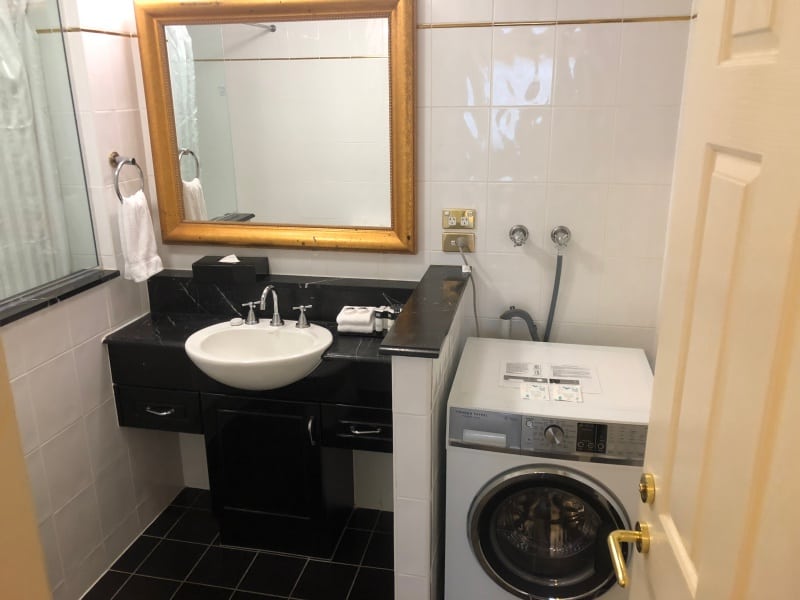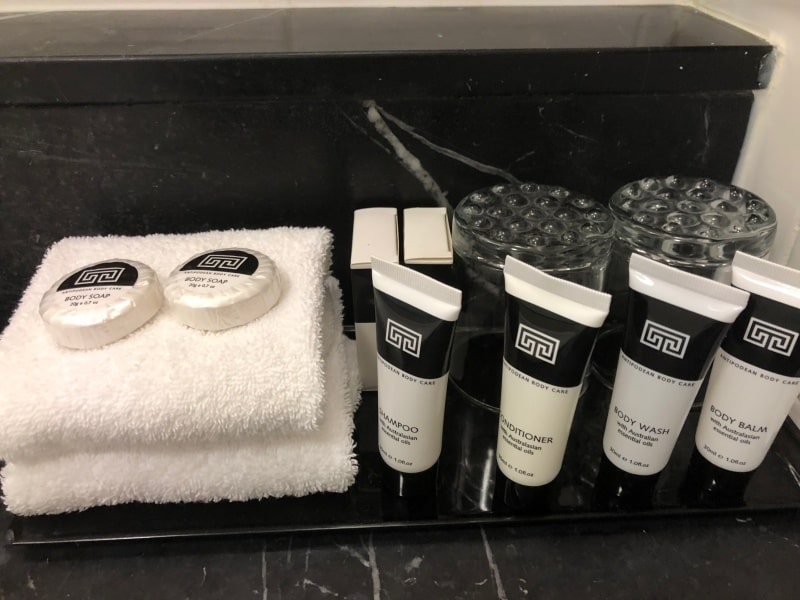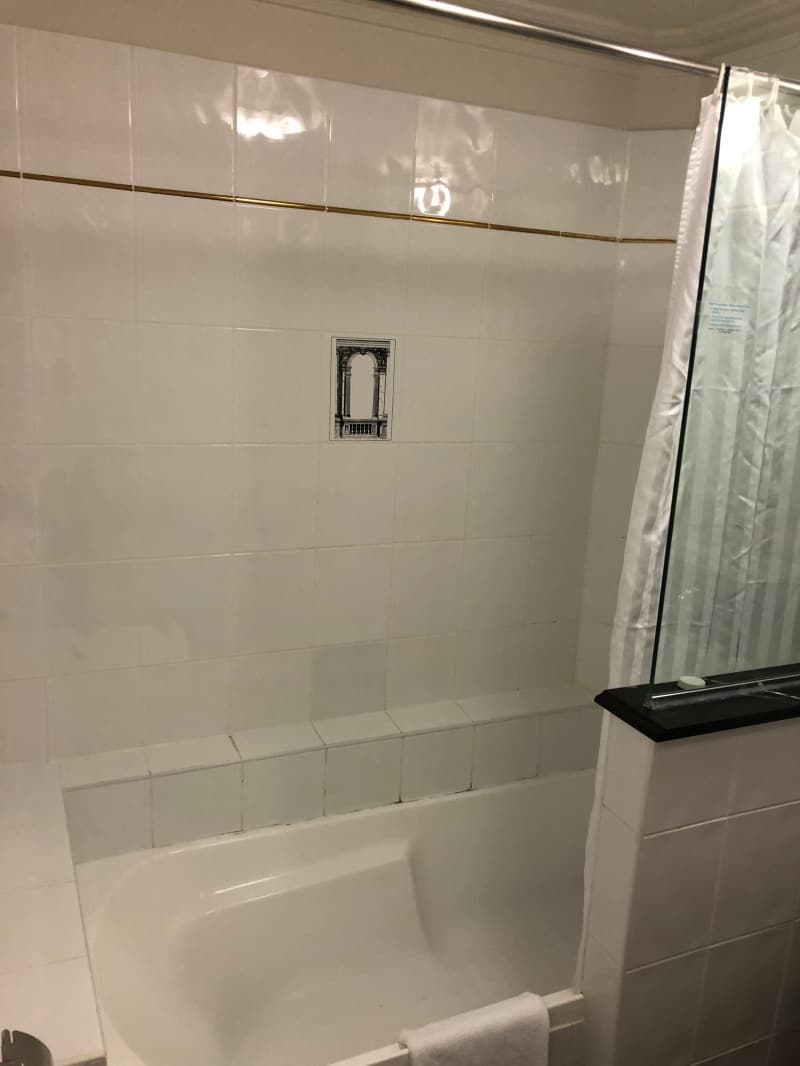 The decor of the building is in keeping with its history. It is now a heritage listed building and was built between 1931 to 1959. The Art Deco influences in the lobby are also illustrated in the hallways and lounge areas.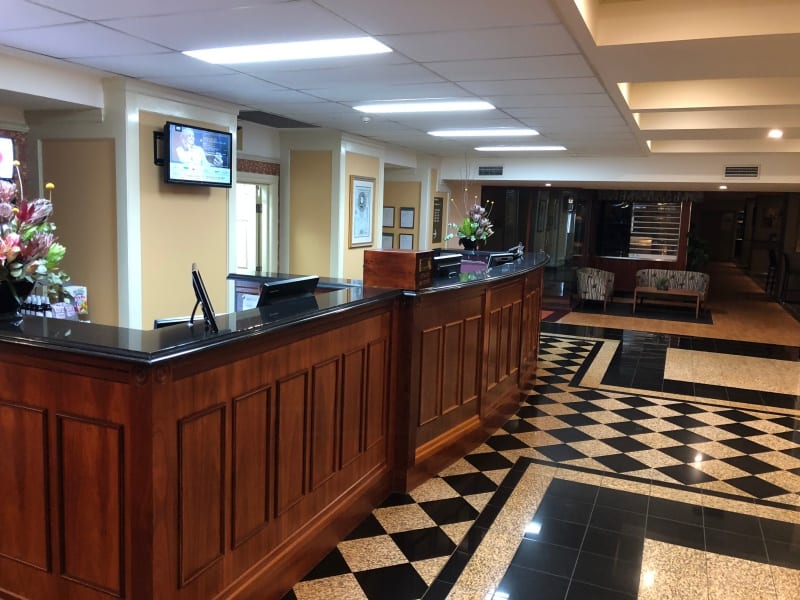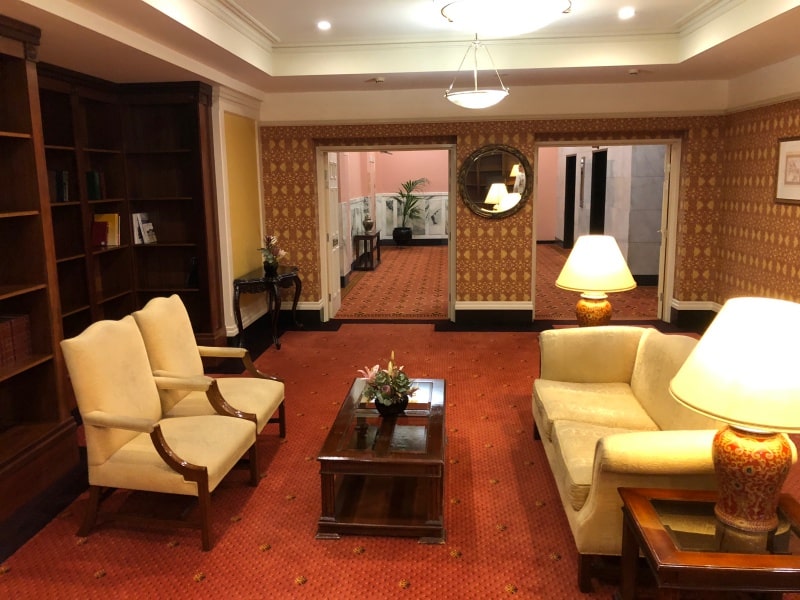 We didn't have breakfast at the hotel, but managed to snap a few shots of the breakfast room as they were clearing everything away. It looked like there were some warmer trays fro keeping cooked food hot and ample space for coffee and juice so I think we may have missed something special!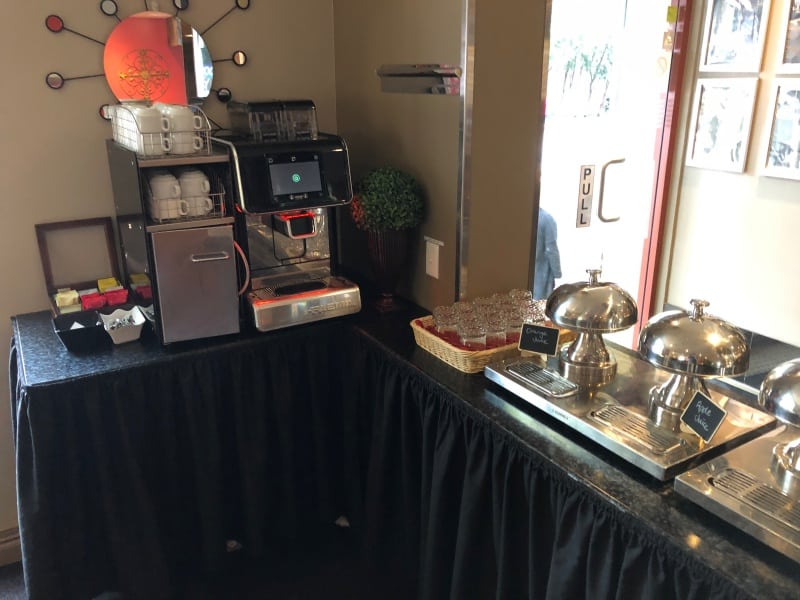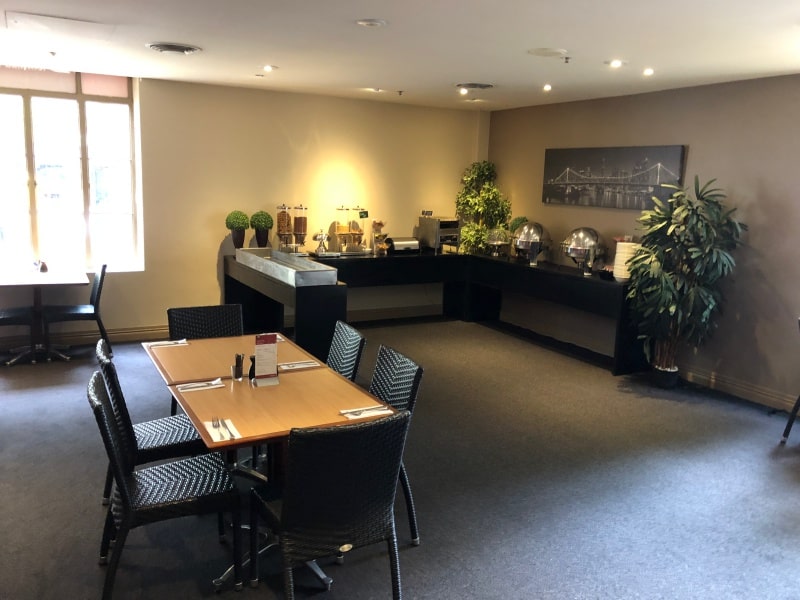 In terms of amenities, there's no gym or pool, but the greatest attractions of the Adina are twofold: the central location and the self-contained living afforded by a fully contained apartment.
Duce & Co. Cafe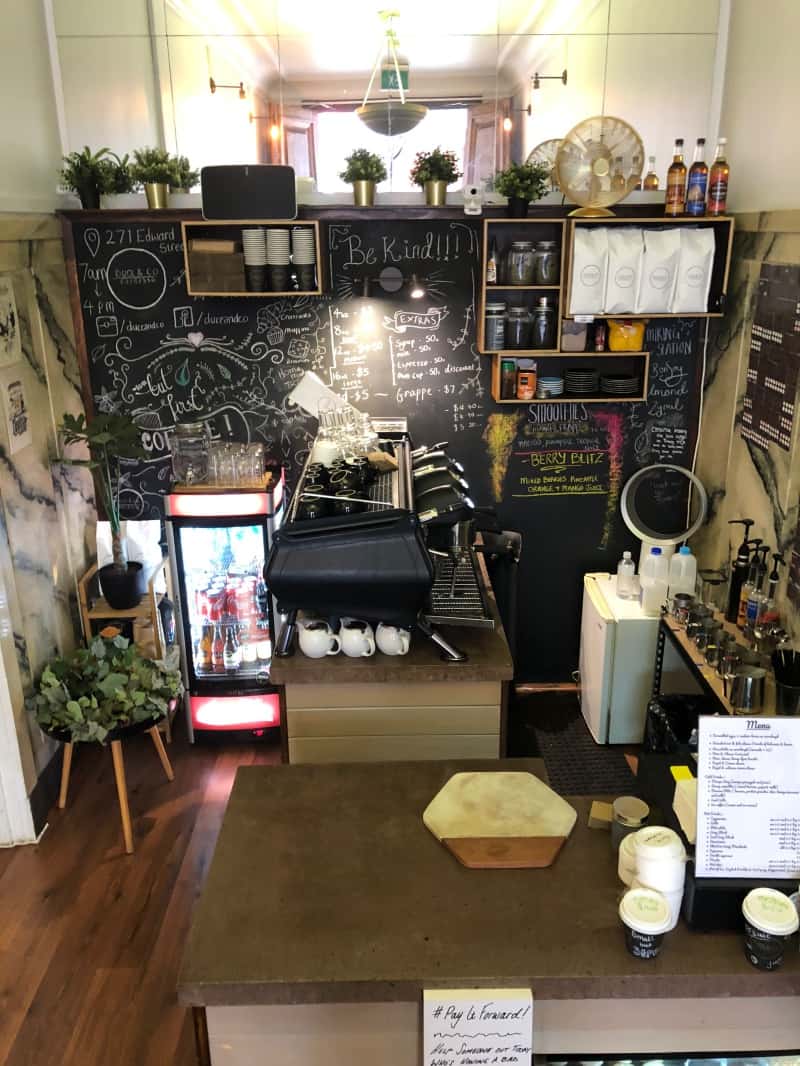 Instead of paying for breakfast, we elected to nip out and go to the first coffee place nearby for a bite to eat. This ended up being a little bit of a farce. First of all Duce & Co. is tucked away down a flight of stairs. Quaint. Rustic. There are a strip of coffee cup lids with joyous messages on them beneath a sign saying to "Pay it Forward" – a really nice system where you can pay for someone else's coffee if you're feeling generous and a way to get caffeinated if it's the day before payday.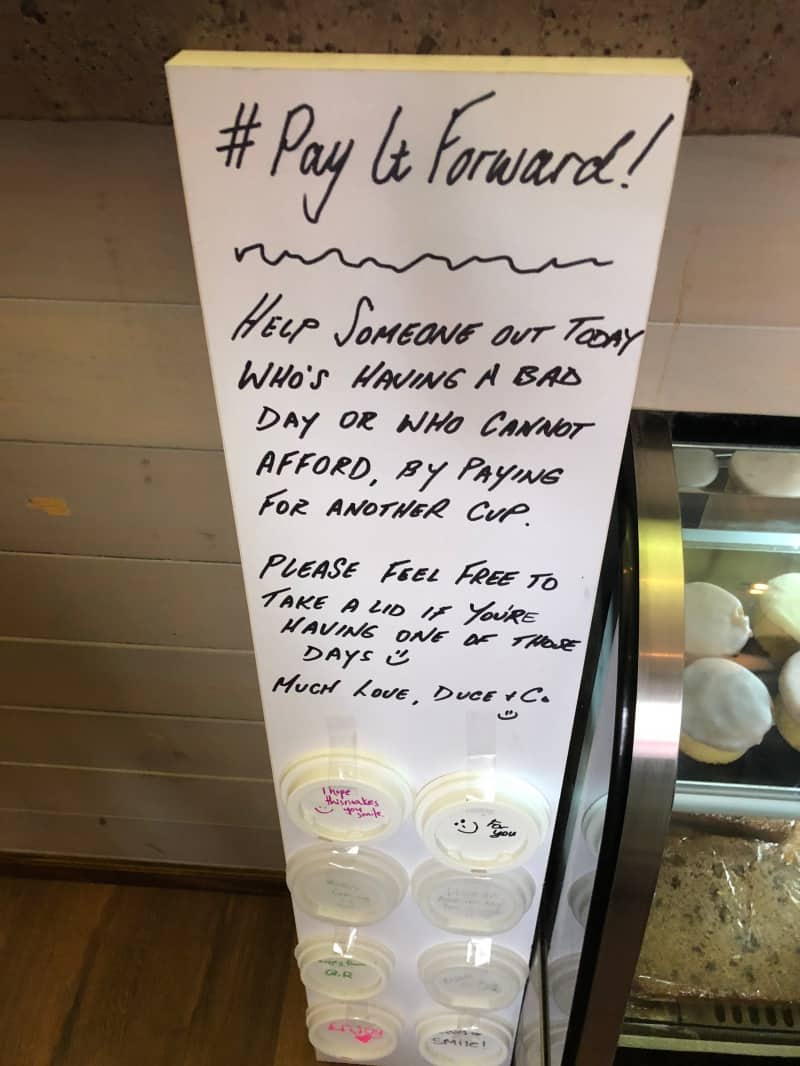 It takes a few minutes for the owner to finish serving the other customers and then it's our turn to order. Our initial attempts to order from the menu are rebuffed by a vaguely apologetic explanation that they've only just reopened and haven't managed to get to the store yet. We shift tack and suggest he tell us what he does have and we'll select from that.
He starts going through the menu and mentions that he has bagels. Ooh, I'll take a salmon bagel I offer. He looks uncomfortable and says "well, I could sell you that, but I'd rather not". I look incredulous and he elaborates that it would be safer if I chose something else.
I end up getting the banana bread and Ange gets a spinach and feta muffin from the cabinet. We both choose the banana smoothie, and he heads tot he kitchen. A few minutes he heads back and apologetically explains that he doesn't have any bananas for the smoothie, and would we like the berry smoothie instead. We take the road of least resistance and agree.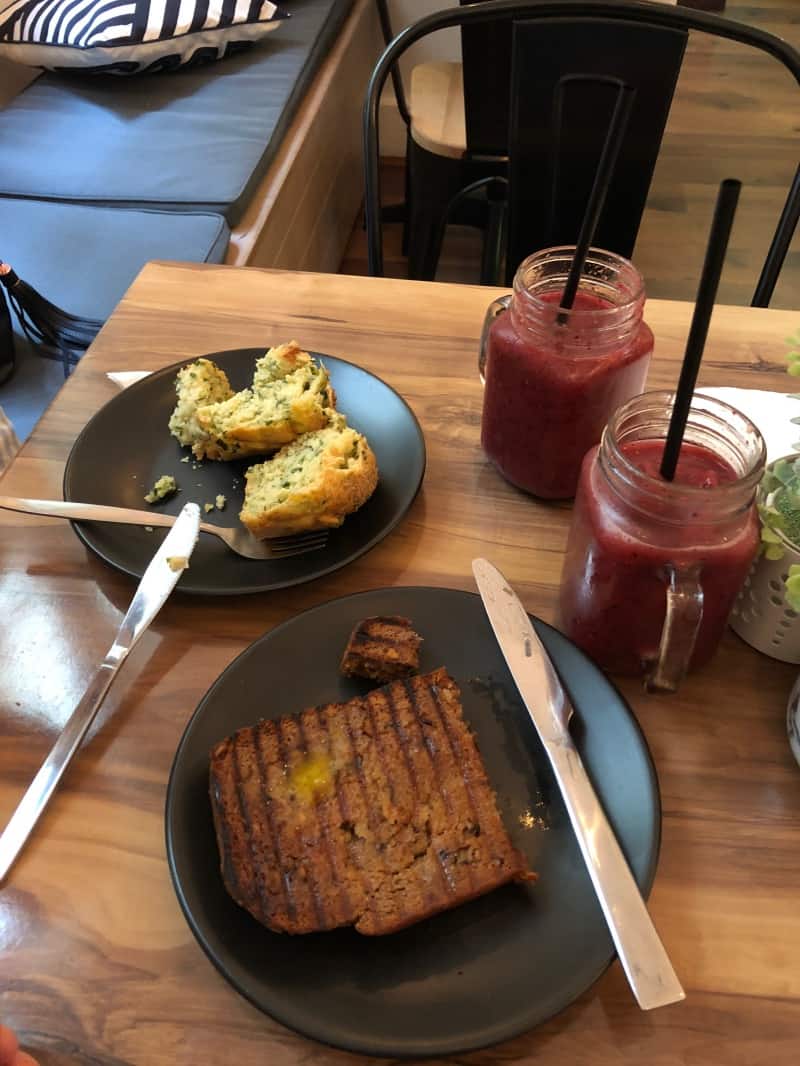 When we get the food it's very good – I'm a great fan of my banana bread – but Ange finds the berry smoothie a little too thick for her straw and says she'll try drinking straight from the glass mug. She keeps an eye on the ice in the glass but it still all comes out in a rush leaving her with an amusing handlebar moustache of spilt berry smoothie and a skittering of ice on the table.
Pros and Cons
Pros

Central location!
Right opposite Central Station
Good sound proofing
Kitchen and laundry facilities in room
Plenty of room to work or relax.

Cons

The door allows a little too much light into the bedroom.
Would I Go Back?
Oh yes! The Adina gives you a base to explore the centre of Brisbane and with enough of the comforts of home to allow you to stay long term. I wouldn't hesitate!
The Adina Apartment Hotel on Anzac Square supported our Brisbane trip by providing a complimentary stay. All opinions remain our own.