Should I Go?
Cornwall has something for everyone, whether it's the raucous party towns for stag and hen dos, or the beaches for the families on their summer holidays, all the way to the retirees who enjoy pottering through gardens. It's supposed to have a micro-climate with temperatures a few degrees warmer than the rest of the UK. When we went (October) it blew a gale. Not the end of the world for what we had planned (the surf school runs all year with winter wetsuits, hoods and gloves), but certainly autumnal!
How Long Should I Go?
That depends entirely on what you want to do there. If the weather is good and you're at the beach, a week should be suitable.
Angela is big on gardens and nature, so we arranged to visit The Eden Project and the Lost Garden of Heligan and use St Austell as a base. We also looked at heading to Newquay for a surf lesson and Padstow to visit a Rick Stein restaurant as a day trip, but realised that the restaurant had a fish and chip shop in Newquay so decided to kill two birds with one stone – all up we'd be there for three whole days, four nights.
In terms of what we missed, the attractions are distributed pretty evenly across the county, as evidenced by the standard online travel guides: Skyscanner, Virtual Tourist and TripAdvisor.
How Do I Get There?
St Austell is a little off the beaten track – 4 hours from London by train or a domestic hour long flight connecting to two busses taking 2 1/2 hours. Rome2Rio has the costs as low as £55 for the flight combo but we'd left it too late so had to take the train. We managed to get the train tickets for £60 return so the only real difference was the longer duration. Not a problem if you like rail travel.
What Shall I See?
While St Austell itself is a small and quiet town, there's not really much to see. But a mile away is Charlestown, a Georgian harbour so untouched its used as a film location for period dramas. It's good for maybe an hour wandering around the harbour and grabbing a Cornish tea (tea + scone + jam + clotted cream). Very windy when we went, but in the summer I bet it looks spectacular. You can grab a bus if you don't feel too energetic.
The real reasons we came though, were the gardens: The Lost Gardens Of Heligan and The Eden Project.
The Eden Project is a bio-dome and education centre teaching about bio-diversity, sustainable land management and your standard hippy fare. It's well done though, and the temperate and rainforest biomes are impressive. Tickets can be discounted by proof of environmentally friendly transport (keep that bus ticket!) or by advance purchase.
The bus stop and car parks are a bit of a hike from the actual entrance (that's just a warning rather than a complaint btw) and there is a truly bizarre automaton show in the main ticket area/gift shop. If you're feeling adventurous there's a bunch of adrenaline rides over the park run by a separate firm for £10-£20 a pop. I'd recommend going early to avoid the crowds and budget about 3 hours.
The Lost Gardens of Heligan are a tribute to the Edwardian gardeners who worked on the Heligan Estate and then went off to fight in World War I. It's a sobering reminder of the decimation of that generation – of the twelve gardeners who worked there before the war, only two came back. I won't spoil any of the surprises there, but it's a nice look into how gardening used to be done.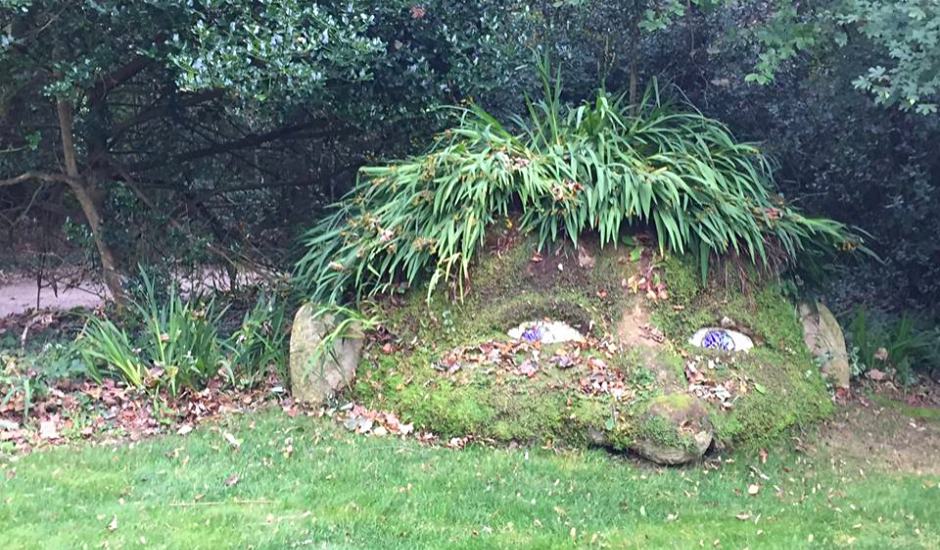 The bus will drop you off at the top of the hill which is a mile away from the gardens themselves, and there is a pathway that is hard to find which keeps you off the narrow country lanes and away from traffic. But a recent look on Google Maps shows that there is some serious road works going on there so I'm guessing my guidance would be redundant. There's a tour of the garden which I recommend – especially if you have any sort of interest in gardening.
After the gardens, we decided to catch the bus back to St Austell from Mevagissey, which despite having been there, still sounds bizarre whenever I try to say it correctly. There's a lovely pedestrian track from the gardens to the township which keeps you off the main roads.
Mevagissey is a tiny but cute harbour with narrow cobbled streets barely wide enough for cars. If you brave the harbour walls you can visit a free museum in a three-story building where you can learn about the floods that made the place look like a mini-Venice and the other notable events that have happened there. There's not a hell of a lot to do there to be fair…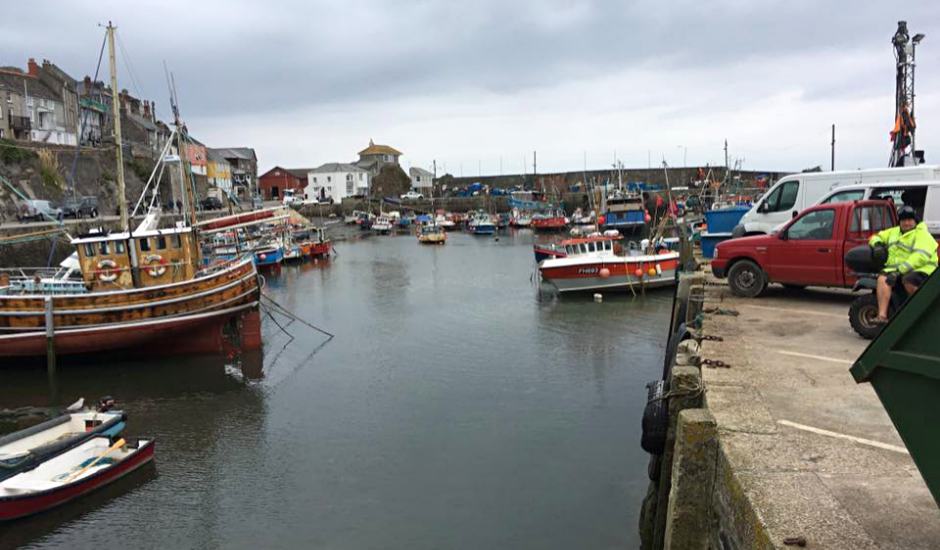 The weirdest thing we saw was when we were walking to Charlestown from St Austell. On the horizon was a pyramid – large enough for it to be noteworthy and yet we hadn't heard anything about the Ancient Egyptians making it quite this far north. Turns out that these are the remains of digging out the clay for making china that this area was famous for – in fact Charlestown was built specifically for loading the clay onto ships. Once we found that out we saw many more of the pyramids, some of them over grown with grass, some still fresh.
Surfing at Newquay
Ah, Newquay: Cornwall's Las Vegas. We're there in the off season, but it has all the garish loud brazen shops as you'd find in any tourist trap. Gambling, amusement arcades and pubs rub shoulders with a hundred Cornish pastie shops, each trying to outdo each other with bulk discounts. We're there for the surf and Rick Stein food. Because of a quirk with the tides, we end up with some time to wander around.
We decide to stop in to the tourist centre to find out if there's anything else we should visit while we're there and to get out of the wind. The tourist centre is quite the experience. We're perhaps the only ones there apart from the two ladies at desks along the back wall in a large room. Not once did they look up, make eye contact or in any way communicate with us, instead proceeding to chat between themselves. There are a lot of pamphlets and booklets on things to do in and around Newquay, but none make us regret our decisions with the time we have.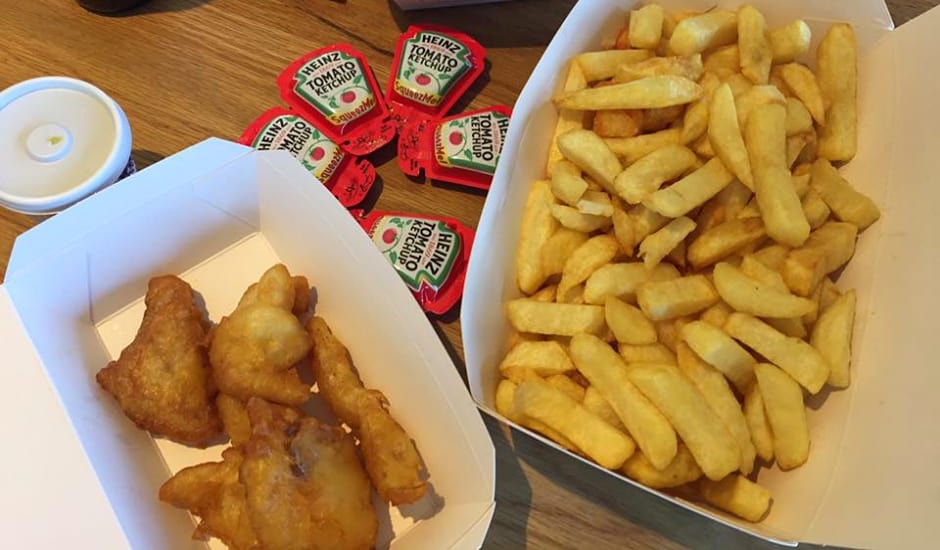 Fistral is the Atlantic facing beach a short walk from Newquay. It's well served with amenities including a Rick Stein restaurant. Who's Rick Stein? I'd heard the name with regards to cooking and travel, but hadn't actually seen anything he'd done or read any of his books. Apparently, he's a famous chef and when you're in Cornwall, one of things to do is to eat at one of his restaurants.
The food itself is alright – nothing spectacular though the serving size for the chips is impressive. No way we could finish all those. After lunch we go for a walk to the headlands which enjoy a great view back over the beaches of Newquay.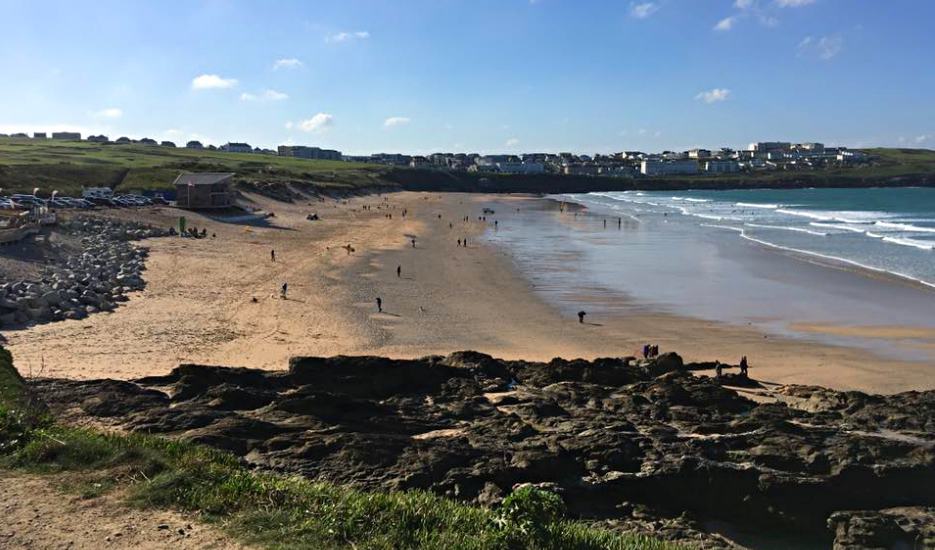 We're doing our surf lesson at the Escape Surf School. Ange is a bit concerned with wave height as she is a bit shorter than I am, but swallows her doubts and launches herself into the lesson. She does better than me, which I put down to a lower centre of gravity and generally being more athletic.
I thought I would do better because I used to go boogie boarding in NZ but being able to pick a wave is not the advantage I thought it would be. I do manage to stand up a few times, but I'm thinking it will take another two or three goes before I'm consistently staying upright. Ange loves it though!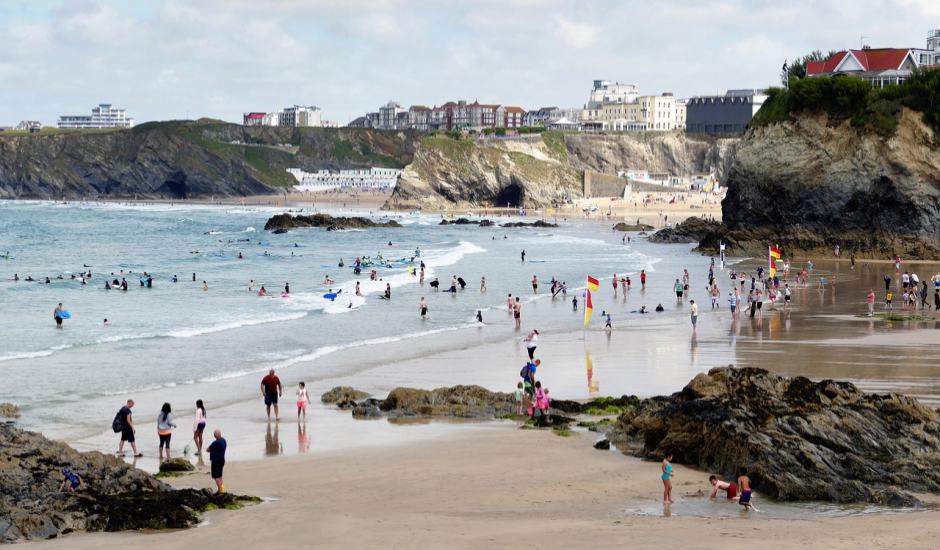 Maria is good value – very patient and makes sure she gives individual attention evenly across the group. While it is cold, the winter wetsuits do their job well and apparently they surf throughout the year. My only quibble is with the showers – there's only one just outside the women's changing rooms, meaning it's a bracing saunter back to the men's changing room clad only in a towel afterwards.
Another thing to consider is the tides: your choice of lesson time will be restricted by the tide (you can't surf at high tide because there are no waves!) and the booking website can't reflect the timing of the tide, so be flexible with the other things you want to do during the day.
The school is attached to a pub and backpackers so you could stay cheaply and get all the training you needed plus meals all in one spot. I consider briefly making that a winter pursuit: Using Flybe, fly direct from Gatwick to Newquay for £90 return and Newquay is served by other airports too.
The pub next door to the school does a Winter Weekend Surf & Stay for £70: you get two lessons, accommodation and breakfast for two nights. Whack on transfers to/from the airport (taxi: £16 each way because the bus stops running at 6pm), the cost of meals and you have a surf weekend for less than £250.
How Do I Get Around?
St Austell has adequate* transport: the bus stop is up at the train station so there's just one hub and there are quite a few bus lines serving the local area.
Single fares are between £2-5 and returns £3-7.50. Day passes are £12
*adequate – there may be only one route between A and B but at least there's enough trips per day so that you can get where you want to go arriving at the time you want to.
How Much Is It To Stay?
We ended up staying at a BnB in town – I've just looked online for comparative purposes for AirBnBs in and around the town and have found two within walking distance of the train station – £60 & £80, while hotels tend to be £100-120 per night, so not cheap. Fewer choices means higher prices. We ended up staying at a B&B called Tregarth House.
How Much Did It Cost?
| | | |
| --- | --- | --- |
| Return rail from London to St Austell | £60 | £120 |
| Accommodation | 4 nights | £328 |
| Bus to/from Eden Project | £3 | £6 |
| Tickets: Eden Project | £21 | £42 |
| Train to Newquay | £5 | £10 |
| Surf lesson | £35 | £70 |
| Bus to/from Heligan's Gardens | £3 | £6 |
| Tickets: Heligan's Gardens | £13.50 | £27 |
| Total | | £609 |
*Prices are per person except accommodation. All travel ex-London prices current at 30/11/16
Would I Go Back?
I don't think I would go back to the Eden Project or the Lost Gardens – for me they were one and done. Newquay I would return to, maybe for a concentrated surf lesson period or to discover it at its most raucous in the high season.