When the chance came to fly business class in QSuites from Auckland to Doha I hesitated before agreeing to the booking. I knew the 17.5 hour leg from Auckland to Doha was going to be a killer. I get impatient on long haul flights with the usual 12 + stopover + 12 hour leg, how on earth was I going to cope with being cooped up in a tin can for nearly 18 hours?
I decided to give it a go. How bad could it be? And business class would ease the pain, or so I figured.
Check-in at Auckland Airport
Keen to make use of the free business class lounge at Auckland Airport I arrived in good time to check-in. The business class check-in had a rug on the floor which I thought was quite funny.
The check-in staff seemed flustered, so much so that after checking me in the woman totally forgot to give me my passport and boarding cards until I reminded her. No harm done, off to the lounge.
Qantas Lounge
Chris had written a review of the Qantas Lounge when he flew with Qatar back in March 2019. He made sure he was hungry enough so as to appreciate all the food offerings. I'd just had lunch with his mum so all I felt like was an orange juice. I did make use of the business centre though until it was time to go the gate.
QSuites – Auckland to Doha
I'd hardly sat down at the gate when it was time for business class passengers to board. Time to mentally prepare for 18 hours of hell! Turns out hell was quite comfortable with a lie-flat seat, finger touch digital controls, a soft blankey and free toiletries.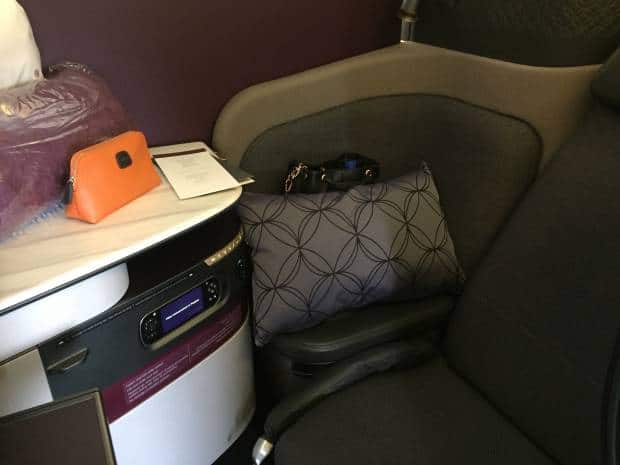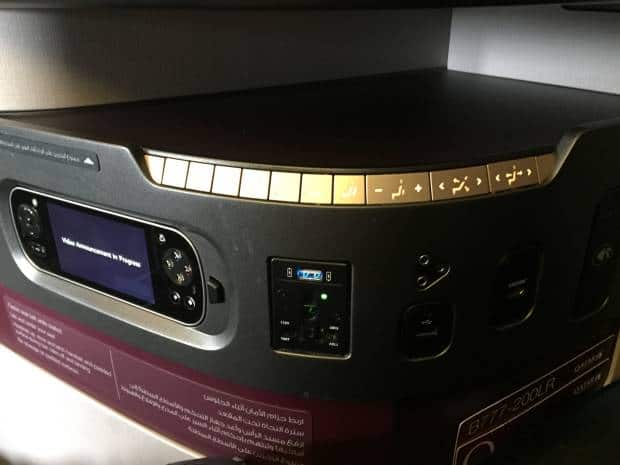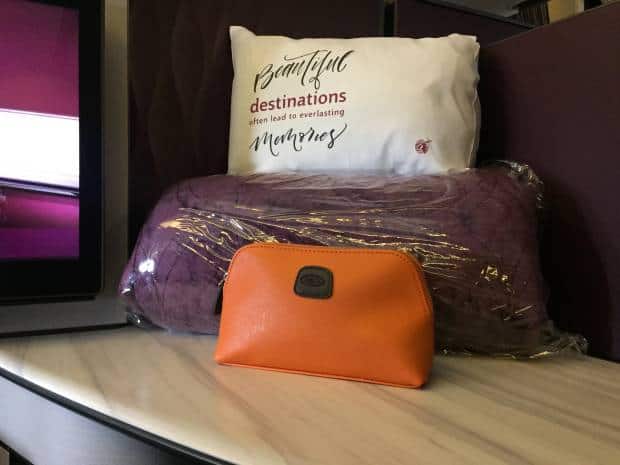 I had fun trying out all the different seat settings before we took off. The seat was enclosed in its own private cubicle which had a sliding door you could shut at any time, except during takeoff and landing.
I had my own personal steward, who kept dropping by to make sure I knew how everything worked and to give me a hot towel and orange juice.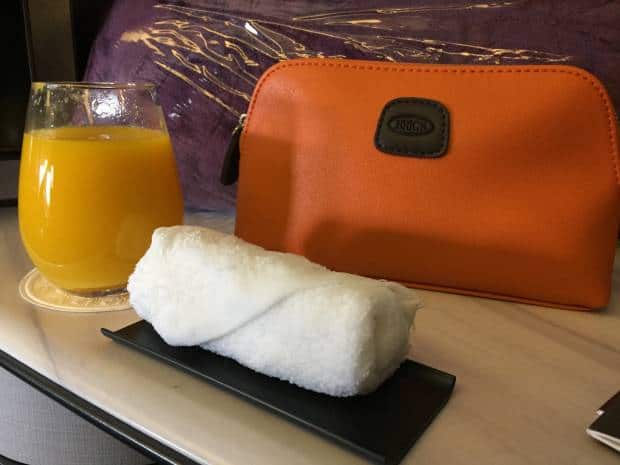 I also got to choose what I wanted to eat throughout the flight. There was no set time for dinner which my economy class brain struggled with. "Just call me when you want to order," he said. "But what if I don't order, will you still give me dinner?". He looked bemused. "Just call, it's easy". I shut up and tried to go with the flow.
I figured I'd mentally break up the 17.5 hour leg into three 5 hour blocks, with two or so hours for breakfast, ablutions and landing at the end. That turned out to work quite well.
The first 5 hours I did some work and ordered dinner, which took around 20 minutes to arrive. To be honest it was a little underwhelming, though there was a lot of it. The soup and strawberry tarts were great but the meat salad was extremely chewy and the fish wasn't the best.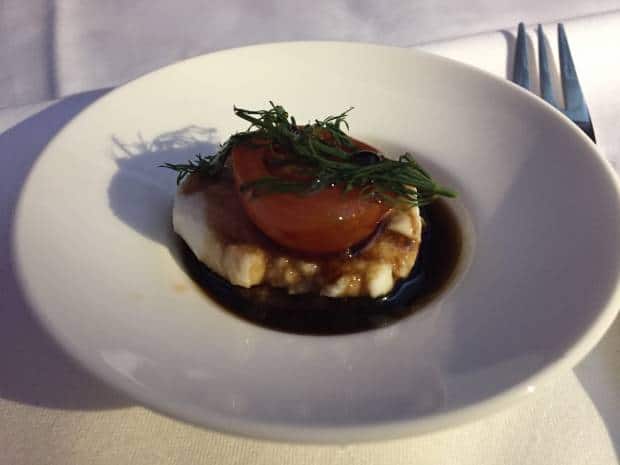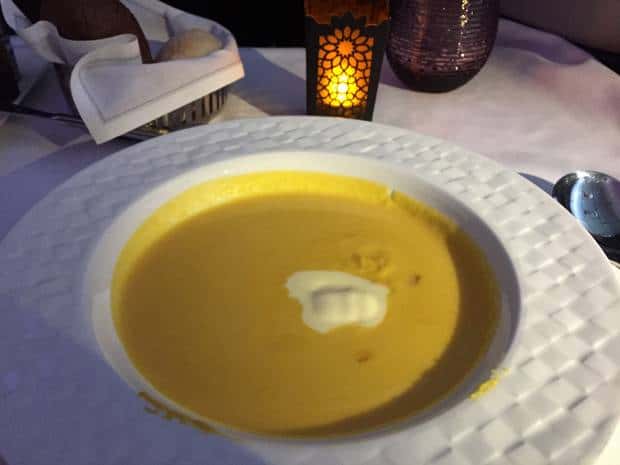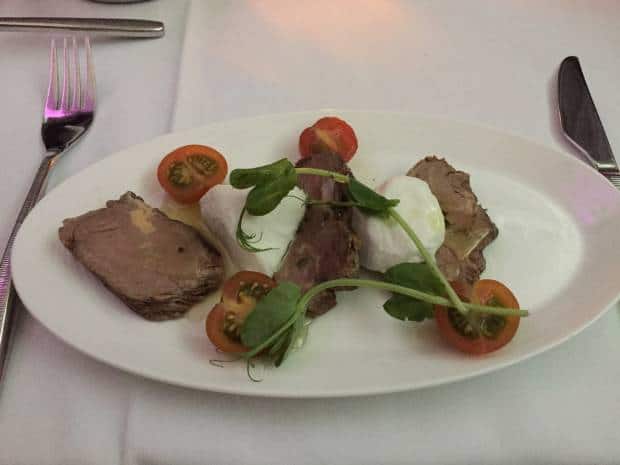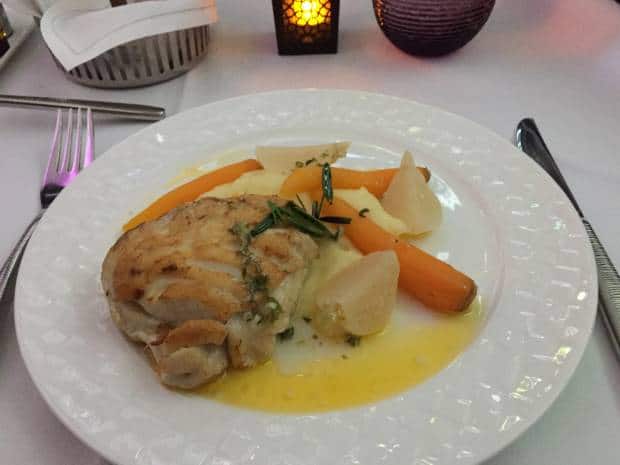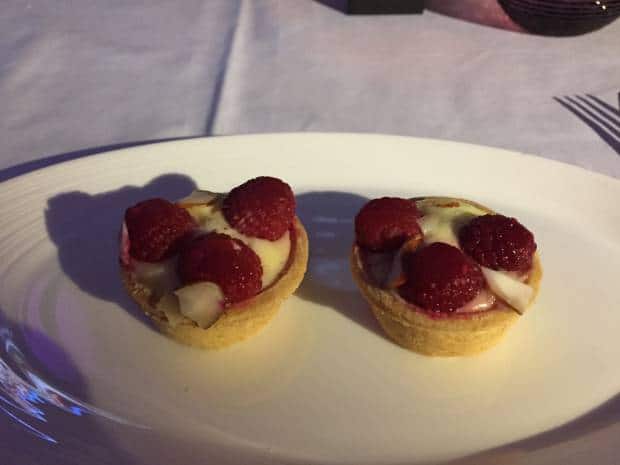 Dinner over, I watched a movie, changed into the complimentary pajamas and attempted to get some sleep.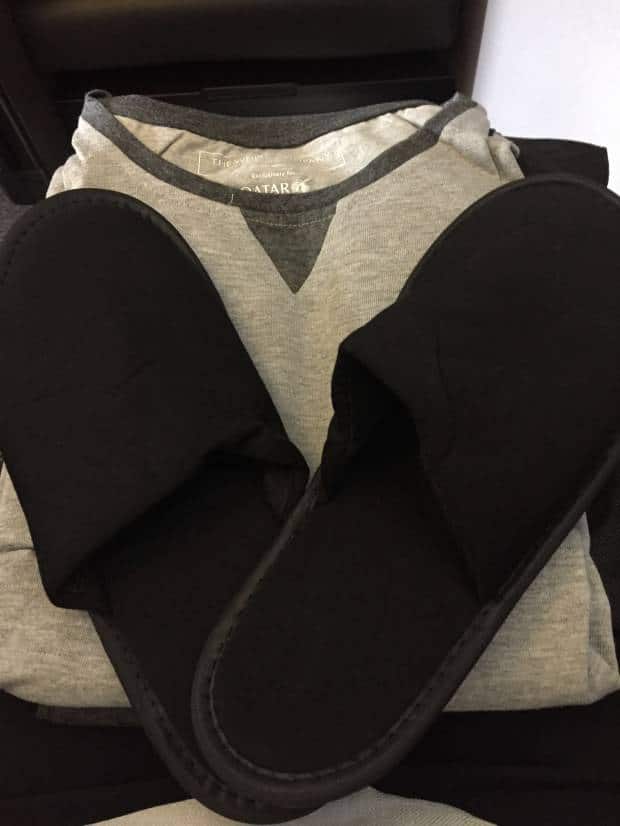 I'd mentioned to the steward when he was making up my bed that I couldn't sleep on planes and he'd looked horrified, "But you must sleep, it's a 17.5 hour flight! You will have very bad jet lag". Point taken. I will try.
I think I managed 2 hours of very broken sleep which is a record for me. But I'd discovered another perk of business class, an hour's free WiFi, so I'd managed to connect with Chris in Edinburgh for a quick chat.
Moving on from sleeping, I checked out the business class toilets and nabbed a free toothbrush and toothpaste.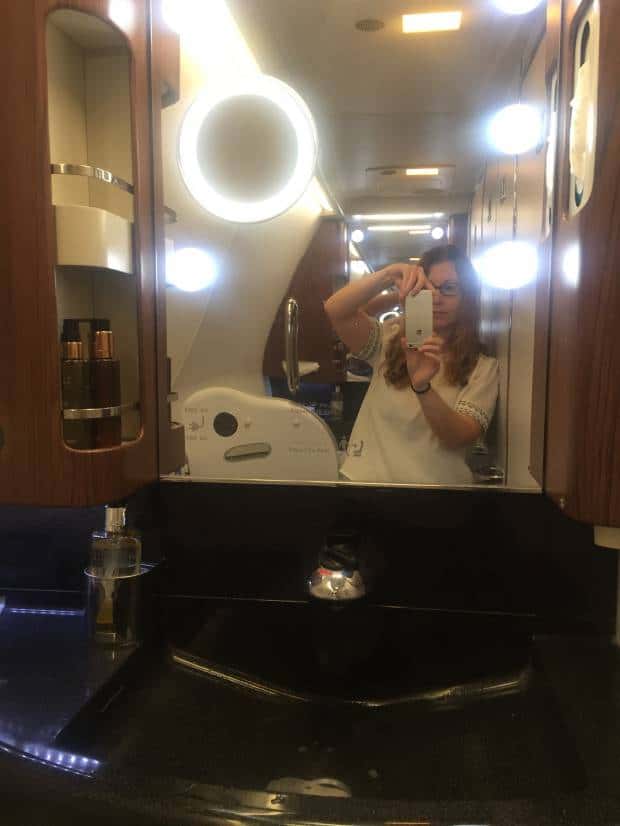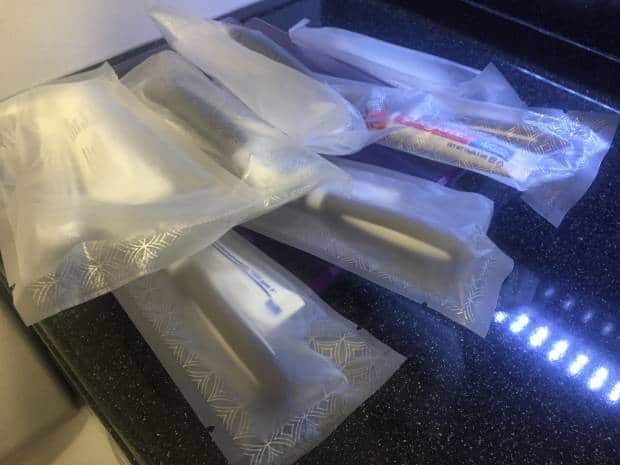 By this time I was into my second block of 5 hours so I watched a few movies. Qatar had a great selection of new releases and the screen was operable either by touch or remote, I loved the noise cancelling headphones.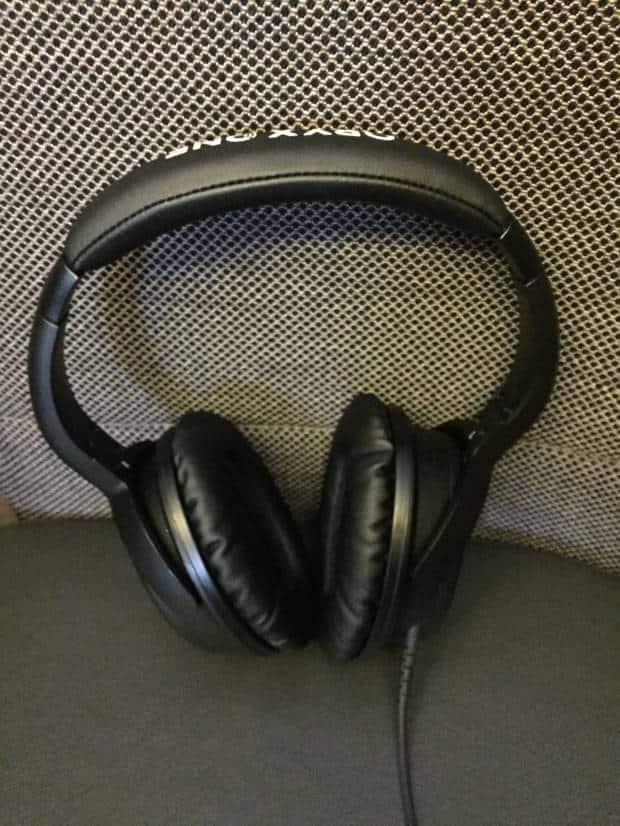 I started getting hungry again a few hours before landing and ordered breakfast – a fruit platter, pastries and weetbix – made all the more posh by being served on a linen tablecloth with a candle.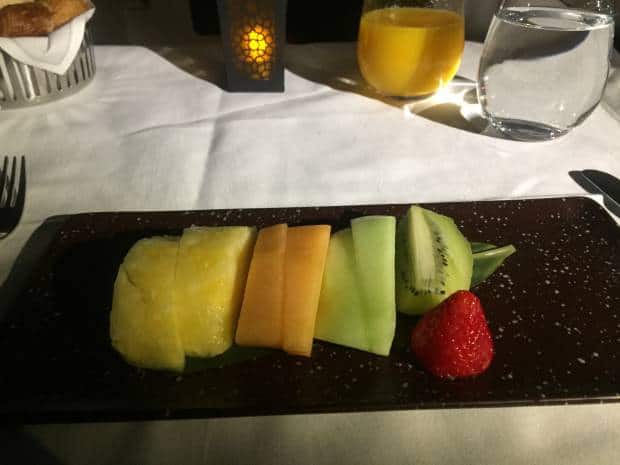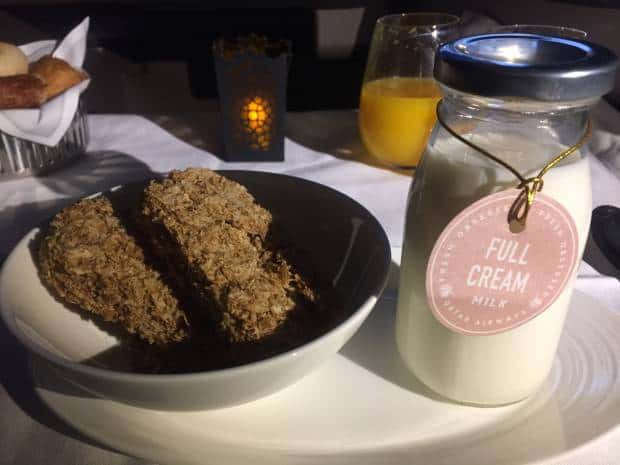 All in all the 17.5 hour flight went reasonably quickly, which is no doubt thanks to being in QSuites. I had space to chill out, watch movies, order food, sleep and do work. It was a little like being stuck at home and you can't get outside because the weather's bad.
I also got used to ordering food when I was hungry rather than being forced to eat when I wasn't. To that end, I didn't feel stuffed when I got off the plane.
Would I fly with Qatar again?
Qatar's service is pretty hard to beat. They treat you like royalty from start to finish, and nothing is too much trouble. There's a lot to love about having your own private room in the sky. Now that I've done it I wouldn't hesitate to fly QSuites again if I ever got the chance.