Tucked away in a backstreet, the nondescript and somewhat scruffy shop front belied the fact that this store was in fact something special.
For a century, Paris Hatters had supplied Stetsons and other cowboy hats to the folk of San Antonio and beyond. Stock was piled high, spilling over onto narrow gaps left for its customers to squeeze through. My travelling companion wanted a hat, but his request was a little unusual.
Blind from birth, Smithie needed trustworthy help picking out a hat that suited him. Nothing was too much trouble for the assistant that served us. Trying a few on for size, Smithie ran his hand across the flat brim of a fine looking cowboy hat in fawn coloured felt, a smile playing at the corners of his mouth. It fitted a treat, but it wasn't quite right. The assistant knew what was wrong.
Fetching a similar hat, but this time in black, she declared it a purchase. With me in agreement, Smithie parted with a small bundle of dollar bills and stepped out into the street wearing his smart new headgear.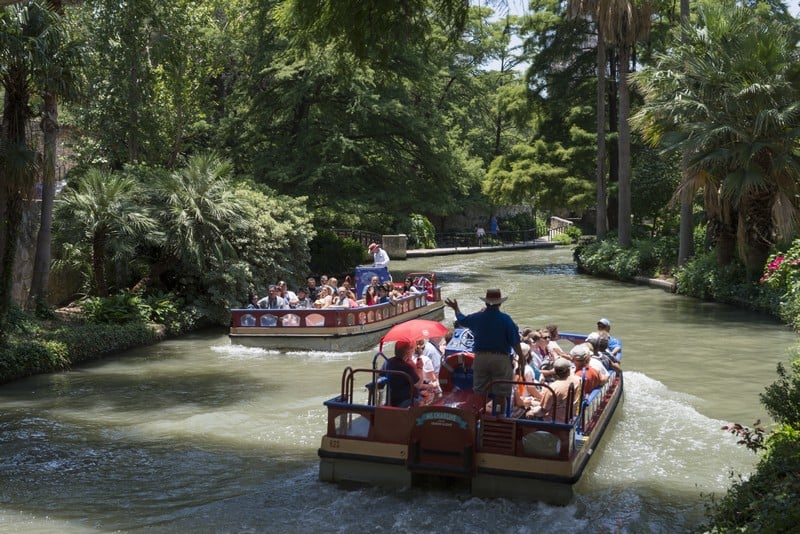 San Antonio was proving to be the runaway favourite of the places we had visited on a tour of Texas. That might have been due to the fact much of our time seemed to centre on Riverwalk. Years ago, the river that ran through San Antonio had been diverted and managed in order to reduce the risk of flooding. Riverwalk was the result, several miles of pedestrian paths lining the waterway, packed full to bursting with cafes and restaurants.
We'd got lucky the first night with our choice of Mexican restaurant and especially a server named Richard who understood Smithie's needs. "Here you go, man," he'd say, laying a hand gently on top to guide his, "your cutlery is to the right of your plate, right here, and your beer is at two o'clock."
The only tricky part of the evening came when we had to navigate the narrow footpath after copious amounts of alcohol, neither of us as steady on our feet as when we arrived.
The Alamo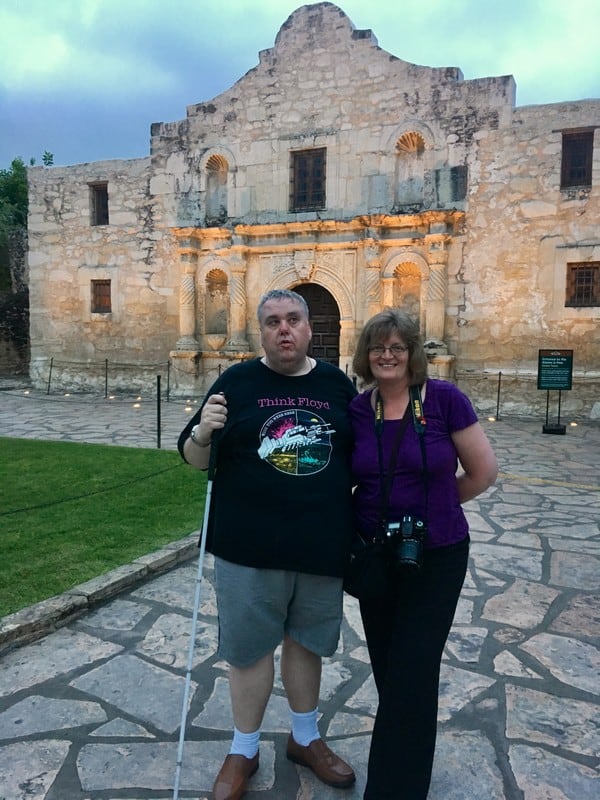 Our group rose early the following morning to visit San Antonio's most famous attraction: the Alamo. Our hotel, the Hotel Indigo, occupied a beautifully restored historic building directly across the street. The guide filled us in on a little of the history.
Back then, Texas had belonged to Mexico. A bunch of soldiers from Texas and beyond, including Davy Crockett – he of the wild frontier – put up a brave fight during the war for independence. In December 1835, heavily outnumbered, they would be crushed by the Mexican army as they tried in vain to defend the Alamo.
Their bravery and sacrifice inspired Texas to keep fighting and it secured its independence from General Santa Anna's forces the following year. For many Americans, the Alamo has come to represent the spirit and ethos of the USA, for it would not be many years before the newly independent nation chose statehood instead, throwing its lot in with the others in 1845.
For us, though, it was a chance to recreate times past and have a little fun. We handled muskets, learned a little about the rudimentary medicine of the time and went through the contents of a soldier's rations, toothbrush and all. Smithie learnt by touch; I filled in the gaps with woefully inadequate audio descriptions. History buff I am not.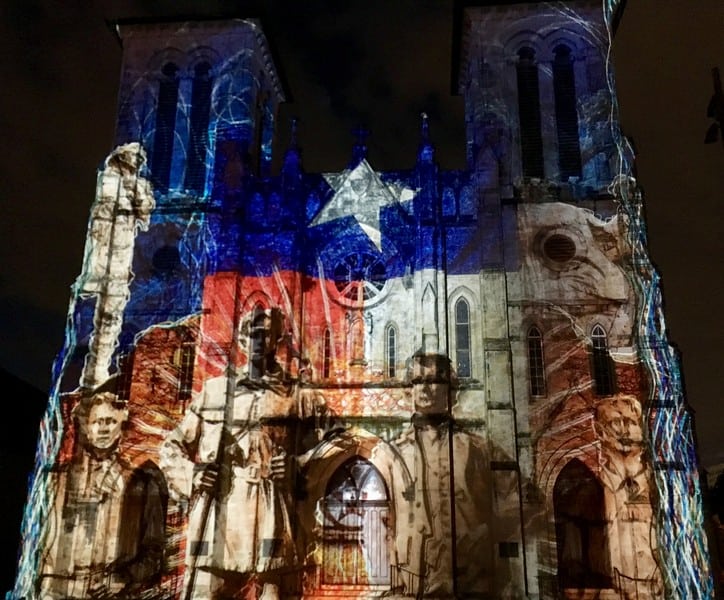 San Antonio's historic attractions don't begin and end with the Alamo, although one of the best required sight. Leaving Smithie and the rest of the tour group, I spent my scheduled night off in front of the city's cathedral.
The colourful projections of the nightly sound and light show made a spectacular sight as they whizzed through San Antonio's fascinating and sometimes turbulent past. But my delight was tinged with poignancy, as I couldn't help thinking about those who would never see it.
The facts
I visited Texas on a group tour organised by Traveleyes, a company that specialises in arranging holidays for the visually impaired. Sighted travellers act as companions and guides; for this they are offered a substantial discount off the tour price. My 10 day trip cost £1499 and in addition to San Antonio, it visited Houston, Austin and a dude ranch near Banderas.