In a country blighted by cookie cutter cities, each the same as the last, New Orleans offered a refreshing change. The Big Easy promised to do things differently, drawing on its French Creole heritage to create a city that had attitude, energy and charisma in spades.
The first time I visited, the city was still coming to terms with the devastation that had been wrought by Hurricane Katrina. Seven years after the widespread flooding that had torn apart communities and riled the heart of the city. Those that had remained to nurse New Orleans through the trauma and into recovery were still licking their wounds.
I took a tour with one of the survivors and my eyes welled up, mirroring hers, as she recounted the events which still affected her so deeply. The encounter added a poignancy to that visit and there was an emotional connection despite our lack of shared history.
It was inevitable, then, that I would go back. I returned a few summers later. My train that had dawdled under blue skies pretty much all the way from Chicago pulled into New Orleans station right as the clouds burst. Rain poured down creating waterfalls from the canopies and huge puddles that filled the platform.
French Quarter
Fortunately, the downpour was short lived and the pavements steamed as I caught the tram that would take me to my downtown hotel. I'd had to search hard for a budget hotel in the French Quarter, but I'd found one in the Hotel Villa Convento, just a few blocks from the market.
It had wrought iron balconies and exposed brickwork. It also had a lift that clanked alarmingly whenever it moved, had carpet on every surface including the walls and smelt like an old people's care home after a few accidents. I didn't care. My room was super and the staff were as helpful as could be.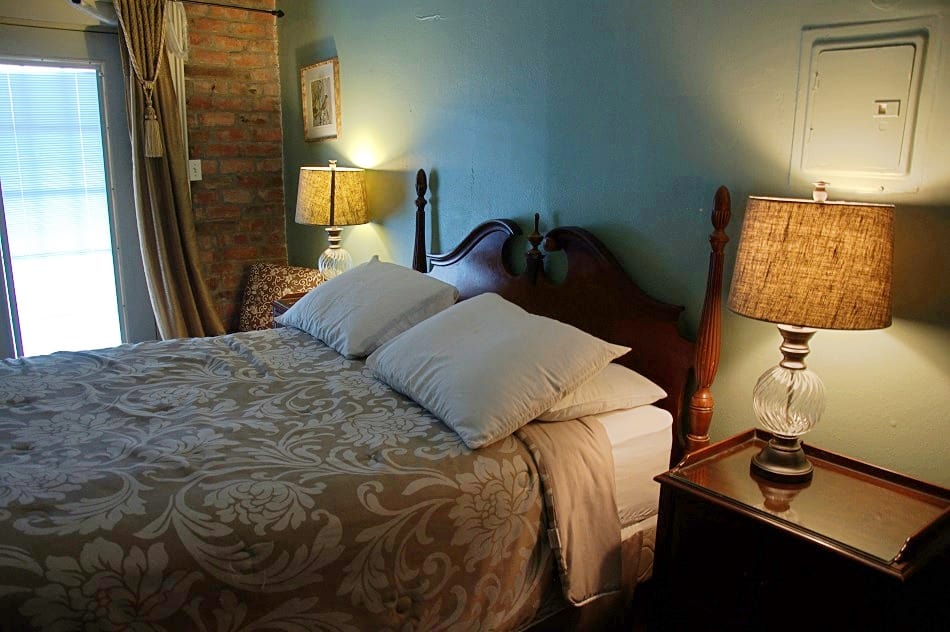 The sun was out by the time I stepped out onto the street again. It was mid-morning, hot and sultry. Down at the market, people were already enjoying a drink. Unlike many US cities, New Orleans permits drinking on the street, so I ordered an ice cream cocktail to go.
The French Quarter, known locally as Vieux Carré, forms a crescent in the inside of a meander of America's great Mississippi River. It's the city's oldest neighbourhood, proudly presenting street after street of balconied mansions perched on the raised ground that protected them from Katrina's wrath.
Some had walled courtyards, a throwback to the time the Spanish had influence here. Others weren't as grand, though they were equally compelling. Away from Bourbon Street's tat shops, it was rich in atmosphere and totally addictive.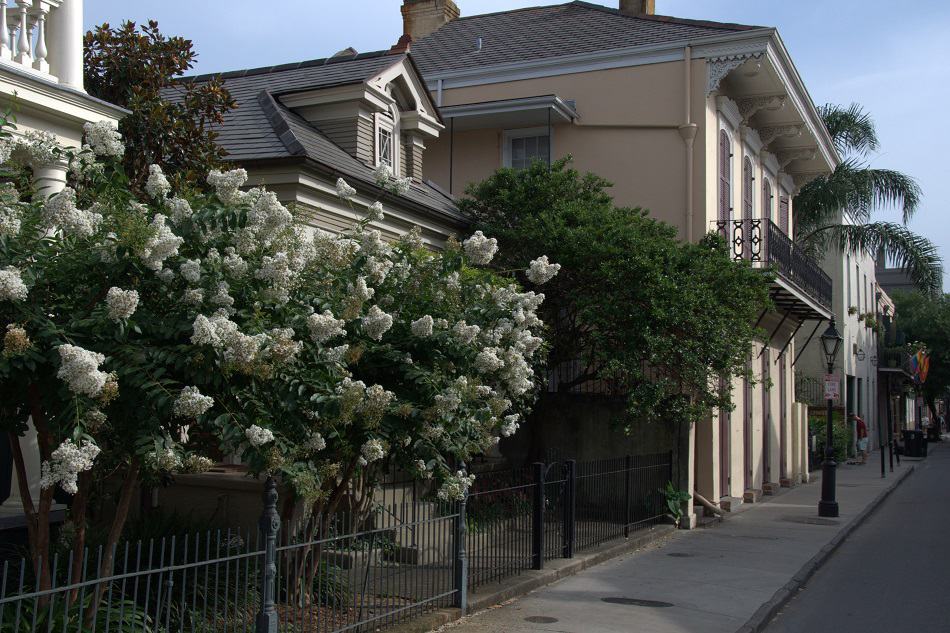 Eventually I emerged at the waterfront, pausing only to fill up on chicory coffee and beignets, the deep fried pastry soft and sweet. My hands still sticky from the icing sugar, I joined a tour group that would join me in visiting the city's oldest cemetery, St Louis Cemetery No. 1.
Tour of St Louis Cemetery No. 1
Following acts of vandalism, the cemetery is now only accessible with a registered guide. That's not without its controversy, as registered tour companies are charged a significant fee for the privilege of conducting their business here, a decision that's priced independents out of the market and paved the way for the big guns.
Fortunately, I knew that Gray Line had a secret weapon in Sandy Smith, the guide that showed me Katrina's impact and she was on duty that day. To coin an American phrase, I lucked out. Sandy showed us round in between muttered grumbles about the weather.
"Who takes a tour in New Orleans at 1pm in June? What are you, crazy?" she asked, with humour in her tone. "Mind you, I guess you're not as crazy as my next group. They're making me walk outside. I'm just back from Maine and you know what, I wish I was still there." She rolled her eyes as we laughed, taking her complaints as they were intended.
Softly spoken, Sandy had a rapt audience as she explained how the cemetery worked and a little of its history. The dead are buried here in tombs, she showed us, the ground often too wet to bury bodies without risk of accidental disinterment. Many of New Orleans gentry are buried here.
Alongside them is Voodoo priestess Marie Laveau. She's said to haunt the cemetery, cursing those who disrespect her. At her tomb, we saw offerings: candles, flowers, Voodoo dolls and more, imploring her to honour them with a blessing. Believers make a wish in front of her tomb, returning to bestow three kisses if their wishes are granted.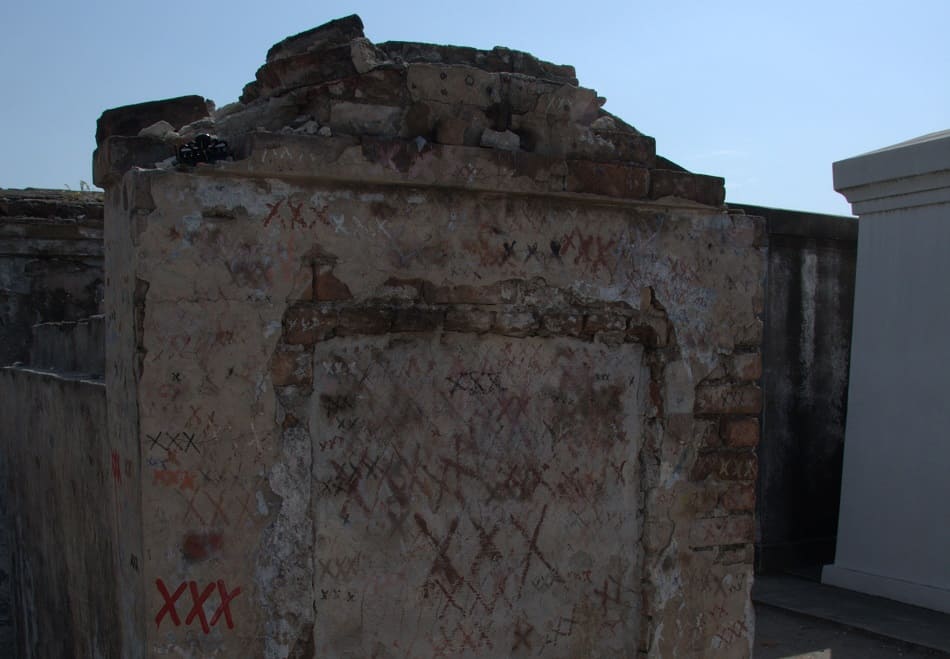 She wasn't the only famous name to have left their mark. Actor Nick Cage has prepared for his death with the purchase of a plot here and the construction of a pyramid-shaped monstrosity that has angered some local residents who believe he disturbed existing tombs in the process.
The humidity had been creeping up all day and by mid-afternoon was starting to become uncomfortable. Several glasses of frozen lemonade later, I felt refreshed enough to board the tram which would take me to the Garden District.
Garden District
Broad avenues lined with huge mansions contrasted with the more modest scale of the French Quarter. I'd downloaded a self-guided walking tour to provide some background to the neighbourhood's homes, though some that hadn't made the cut were just as impressive. The district had its own cemetery, Lafayette No. 1.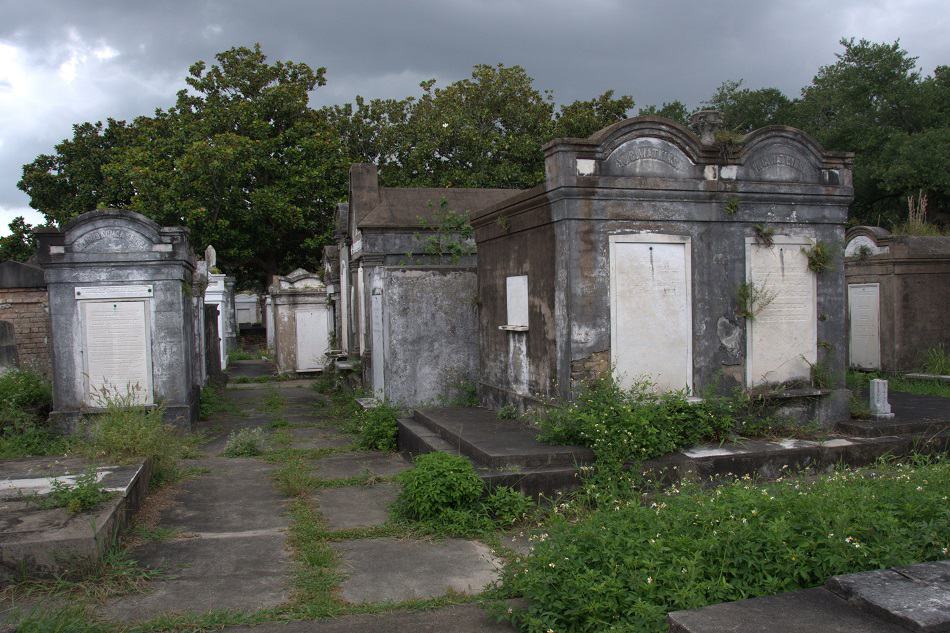 The skies had darkened to a charcoal grey and looking around, I could see I was the only visitor mad enough to risk the weather. Sure enough, the rain started again, fat intrusive drops at first, becoming more persistent. Soon the paths of the cemetery were awash. Bolt after bolt of lightning illuminated the sky and surrounded by mature trees and towering stone tombs, I felt vulnerable.
If ever there was a sign that I should be in one of New Orleans' legendary bars, this was it. I scurried out of the gates and into the damp sanctuary of a passing bus before fate had other ideas.