I'm not a fan of organised tours. I love travelling solo and it's rare to find a good value holiday. There's something irritating about being penalised for choosing to travel alone and then be charged a supplement. It's even worse when you arrive at the hotel to find that as a reward for paying the most, you somehow qualify for the pokiest room, sometimes little more than a broom cupboard tucked away in the attic.
But that's not all: often there'll be a stop or two that really doesn't interest me. Why should I waste my holiday, I figure, paying to visit somewhere I have no desire to see?
Third, organised tours are expensive. Even without the whole single supplement issue, you're effectively paying someone else to do the legwork for you, making the bookings and organising a programme that works logistically.
And finally, I'm a control freak. I don't like being told where to go or what to do, and certainly not while I'm on vacation. Be grateful; I'd be a nightmare to have on your tour bus.
It's not that I haven't tried organised tours. A few years ago I won a ten day coach trip to America's Deep South. Not unexpectedly, I locked horns with the tour guide on Day 2.
On arrival in New Orleans, I let her know that I was off to explore the aftermath of Hurricane Katrina and she spat the proverbial dummy. She argued that New Orleans was one of the most dangerous places in the US. I countered that my last trip had been to San Pedro Sula, the Honduran city that often gains the epithet "notorious" shortly followed by "murder capital of the world". She conceded, but still looked relieved when I joined the group for dinner.
So independent travel is my modus operandi and with that come the processes involved with creating a trip to a budget. Last summer, I decided to visit Extremadura, a little-visited region in central Spain.
Here's how I worked out a trip plan and a budget.
How to get there
The Extremadura region has no international airport, so catching a flight from the UK was going to involve going to either Sevilla, to the south, or Madrid, to the north east. I decided I wanted to cover a lot of ground, so plumped for an open jaw option, flying into one airport, travelling overland and then flying out of another.
Both British Airways and their codeshare partner Iberia offer a good range of departures from London Heathrow and Gatwick. However, budget airlines work best for me in terms of geography; my nearest airport is Ryanair's hub Stansted. Luckily, Ryanair operates flights from both Sevilla and Madrid to Stansted.
When to go
Trip planning in our household involves juggling business trips to ensure someone is home for the dogs. I ended up with a window of opportunity that spanned the first two weeks of July.
An Extremaduran native colleague of mine was horrified, exclaiming that her home region was so hot in the summer months that I'd melt. She wasn't entirely wrong. However, travelling in July had two advantages: it was outside the school holidays and no sane person would consider heading into what's often called the frying pan of Spain during the height of summer so flights would most likely be cheap.
Booking flights
The Ryanair website makes it simple to search for flights a week at a time, so I had a look to see how prices compared. It didn't matter whether I began in Madrid or Sevilla. In the event, flying out to Sevilla and back from Madrid worked out about £10 cheaper for the dates I'd chosen. In the end, I paid £40.79 for the outbound leg and €32.63 for the return.
In total, that worked out at under £70 in total. As a bonus, my husband said the flight times were "sociable for a change" so he'd drop me off and pick me up, saving me the cost of airport parking.
As is my habit, I only take carry-on; it saves money and also there's no wasting precious holiday time at the baggage carousel. Choosing a small backpack meant I would be able to sightsee on the move without being forced to find a safe place to store luggage.
Sevilla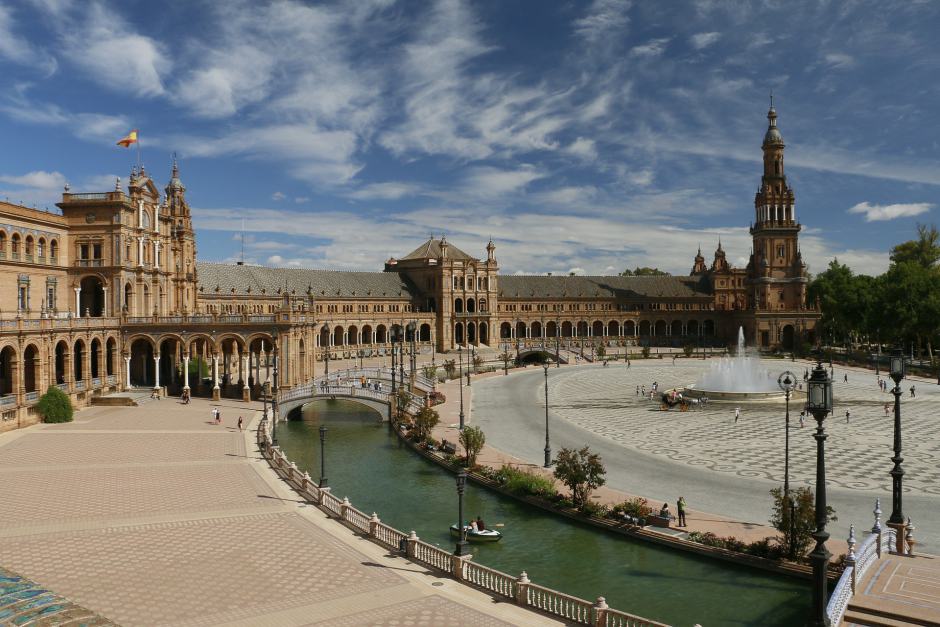 I've been to Sevilla several times before, so I knew that on this occasion I would only stay one night. I planned to take the airport bus into the city, which was a factor in where I chose to stay, to avoid having to carry my bag in the heat of the afternoon.
I also wanted somewhere near to good bars and restaurants, which meant the Santa Cruz neighbourhood was a good fit. I'd stayed there previously on a very tight budget, spending just £18 on a basic room with a shared bathroom; this time I decided to up the budget a little.
There are lots of excellent websites out there offering accommodation, but my go-to site is www.booking.com which has always proved reliable and accurate. What I found was a gem: a suite so spacious I could pirouette across its hardwood floors without stubbing my toes, for the amazingly cheap price of just €57.
Situated in the annex of Hostal Plaza Santa Cruz in a delightful historic townhouse, it was just a stone's throw from my favourite jamon ibérico joint. Around the corner I watched flamenco in Casa de la Guitarra, a venue so intimate I watched beads of sweat fall to the floor of the stage alongside loosened hairpins.
Mérida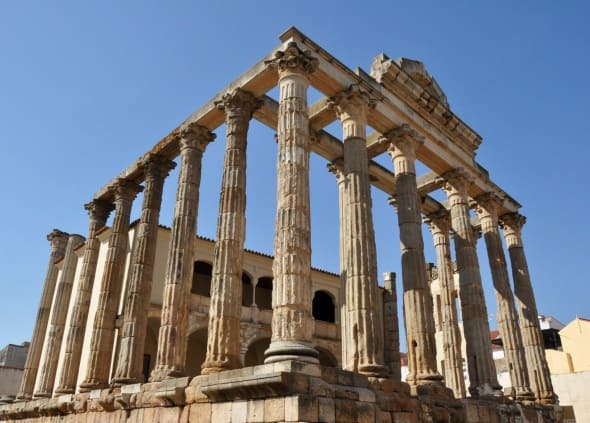 I'd decided to aim for the ancient Roman settlement of Mérida the next day. It was easiest to go by bus; the most convenient departure, given that I knew I'd be up late in Sevilla, was the 9.45am bus. On a whim, I decided to break my journey for lunch in Zafra, Extremaduran but with the appearance of one of Andalusia's famous pueblos blancos.
It cost me a few extra euros but the ticket hadn't cost much anyway. I picked a restaurant that seemed to contain half of Zafra's elderly male population which meant the food was as cheap as it was tasty. In Mérida, though the bus station was a few kilometres out of town, my hotel was not.
A single in the very modern Hostal Emeritae cost €36, leaving me a little spare cash to fund a taxi to and from the bus station, a bonus in the heat. I spent a fruitful afternoon exploring the many Roman ruins scattered about the place, purchasing a combo ticket at the first to get a discount on admission.
Cáceres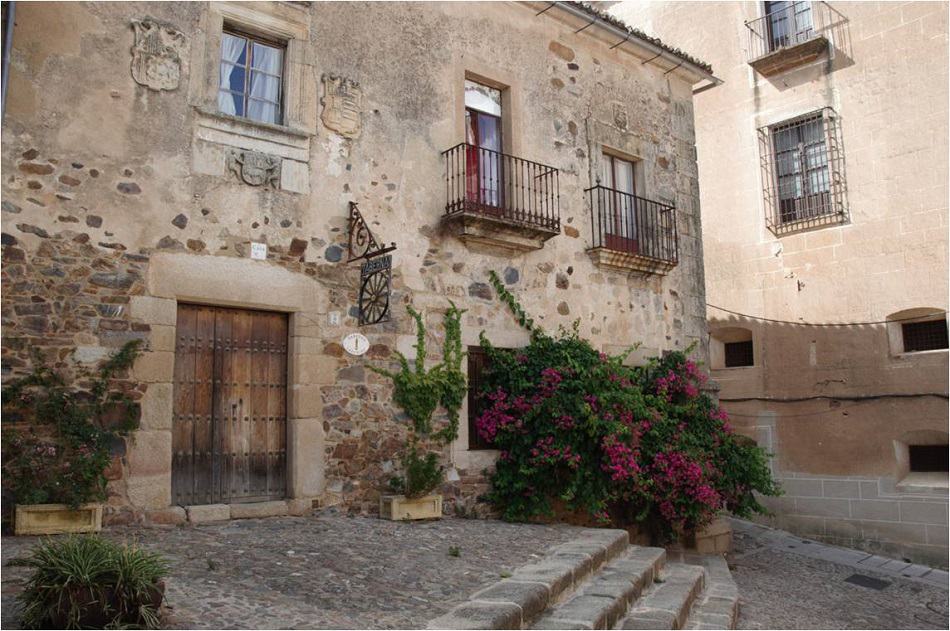 On the move again my next stop was just an hour away but in fact, I changed buses, leaving my bag in a left luggage locker and hopping on another bus for the short journey to Trujillo.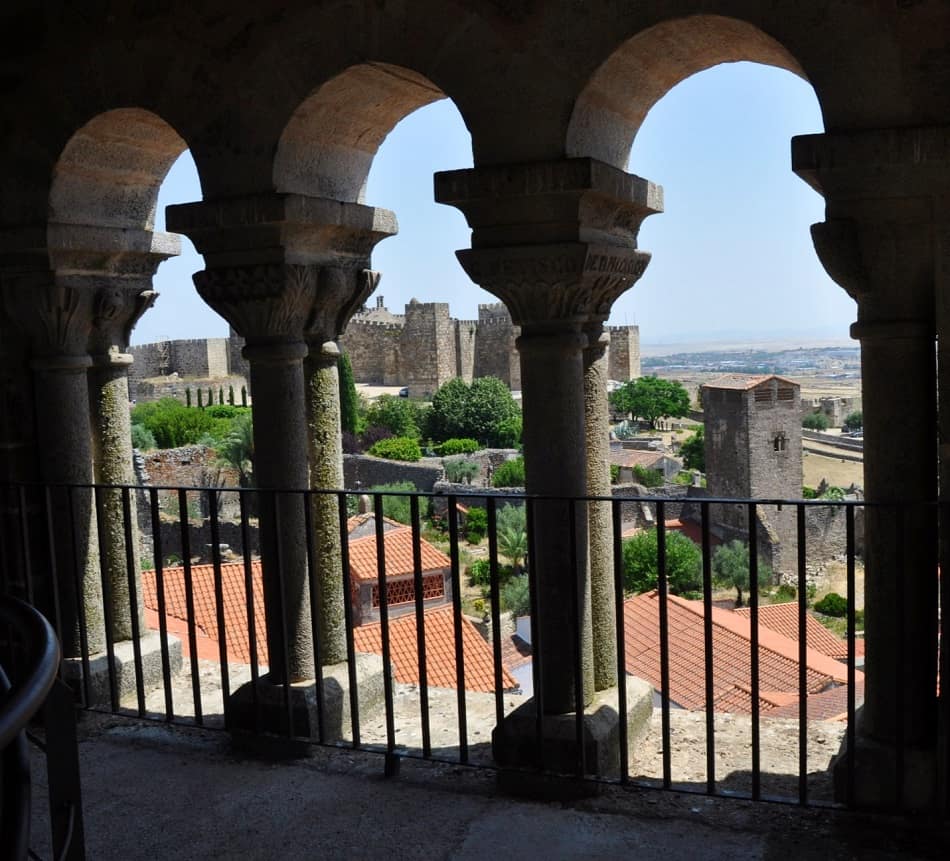 I'd double checked the LEDA bus company's website before setting off so I knew which departures connected the best and arrived back in Cáceres by late afternoon. I'd chosen another central hotel, this time the Hostal Alameda Plaza Mayor; not the warmest of welcomes from the surly receptionist but good value at €40. I'd read on an online forum that though the restaurants on the main Plaza Mayor were good, the prices were higher than elsewhere; a ten minute walk got me a huge plate of suckling pig for a much more reasonable price.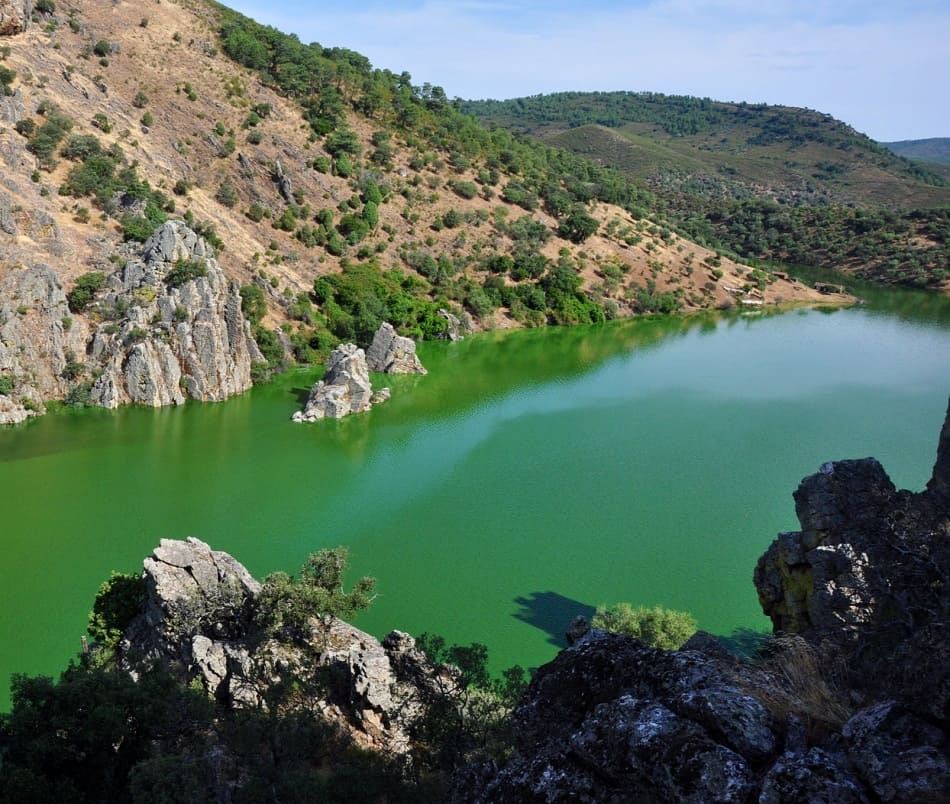 The next day, I wanted to see some of the surrounding countryside, so I'd hired a car. Keen to be able to manoeuvre in the tightest of village alleys, I'd opted for a tiny Smart car. It wasn't cheap at about £60 for the day but it was the only way to visit stunning Monfragüe National Park and the charming villages of the Vera valley. Feasting on creamy local cheese and crusty bread with not a tourist in sight, I was pleased I'd splurged on a car, despite the cost.
Home via Madrid
Given the choice, I always choose train over bus (more legroom and less chance of being travel sick) and finally the schedules worked in my favour for the final leg towards the Spanish capital. The three and a half hour ride across the starkly beautiful central plains cost me €32.95.
I could have saved about 10 euros by taking the bus but the extra money was worth it not to sit in traffic all the way into Madrid. There was plenty of time for lunch and a stroll through Retiro Park before catching the metro to the airport. Even with the airport supplement that was less than €5.
Total budget
In total, including food, petrol, transfers and everything detailed above including the flamenco show, I spent somewhere in the region of £550 for my five-day visit. The hotels I chose were all what you describe as mid-range and all en-suite; hostal in Spanish means "hotel" not "hostel". A similar tour if bought as a package is likely to set you back somewhere in the region of £1100 to £1200. It pays to be independent!
Expense
€
£ equiv
Flight to Seville
40.79
40.79
Flight from Madrid
32.63
28.39
Parking
o
0
Seville Hotel
57
49.59
Thermal baths
34
29.58
Casa de la Guitarra
17
14.79
Airport bus
4
3.48
Bus to Merida
10.44
9.09
Extra ticket Zafra-Merida
5.3
4.61
Merida Hotel
36
31.32
Taxi to/from Bus
14
12.18
Roman Ruins
15
13.05
Bus to Caceres
6.71
5.84
Bus to Trujillo (return)
7.32
6.37
Left Luggage Locker
4
3.48
Caceres Hotel 2nts
80
69.60
Hire car
60
60
Monfragüe National Park
0
0
Petrol
24.57
21.38
Entrance to monastery
7
6.09
Taxi to train station
8
6.96
Train to Madrid
32.95
28.67
Train to airport
4.5
3.92
TOTAL
449.16
Plus food approx £20 per day for five days
And if you wanted to categorise the spend
Transport
£162.48
30%
Accommodation
£150.51
27%
Food
£100
18%
Flight
£69.18
13%
Attractions
£63.51
12%
Other
£3.48
1%
Total
£549.16
100%