Barcelona was always somewhere I had on my half-life bucket list. For some reason it was a city that always had huge appeal for me.
So, I decided to tick Barcelona off my life in June this year. My holiday was action packed, and certainly bustling, as this is one city where there is always something going on. The trip was such a success I decided to return for this coming New Year!
We know that Barcelona is the capital of Spain's Catalonia region, and it sits on the Mediterranean coastline, lending itself to wonderfully warm weather throughout the year.
My travel logistics
I visited for a long weekend in June, on a low-cost flight from Manchester (UK) to Barcelona's rather interestingly named El Prat International Airport. The flight was a little over two hours and was smooth enough.
When you arrive, the best advice is to look at your options on how to get to the city itself. I took the Aerobus, which is a shuttle into the city centre, and despite the driver quoting me a half an hour drive, it did take somewhere around the hour mark, thanks to my rather ill-timed flight landing in the middle of rush hour. The ticket only cost 2 euros, so no major complaints, and I was told that a taxi would have been considerably more, and I would have been sat in the same traffic.
As you wonder around this huge city, you have a few options. I'll mention that you should try to see as much as you can on foot, as meandering around the busy city will allow you to capture the essence and charm of Barcelona.
If you do want to save your feet however, you could go down the tourist route and use the hop on hop off Barcelona Bus Turistic. Granted, it is quite touristy, however it serves a major purpose because out of the three routes, you will get to see everything without fuss. I didn't use the bus, but it's not something I would shy away from. One word of advice however: I wouldn't recommend hiring a car – the drivers are slightly crazy!
Of course, you could go native and just use the Metro. I did this a couple of times and it wasn't at all scary! Zone 1 covers most of the city's major tourist attractions, and a ten-ride ticket only costs just under 10 euros, so you're getting great value for money.
Where to lay your head
I went down the usual Booking.com route when finding my accommodation, and my first impression was that it was expensive. Barcelona hotels are quite pricey, however there are many hostel options which offer value for money and comfort. I decided to go for a hotel however, not for any particular reason, I simply wanted privacy during my stay. For that reason I chose the SM Hotel Sant Antoni, which was only a stone's throw from the famous Sagrada Familia.
My hotel was a three star. It was comfortable enough, right in the heart of where I wanted to be and it gave me a continental breakfast to start my day. The hotel was stylish and modern, and cost just under €300 euros for three nights. There are cheaper options, so next time I would perhaps go with those, because I didn't spend that much time in the hotel, other than showering and sleeping.
Too much to see, too little time!
The best advice I could give for your visit to Barcelona is to plan it out, because I didn't do that, and I feel like I missed out on a lot.
I stuck to the main tourist areas, because I wanted to see the Ciutat Vella, which is the Old City. Of course, this part of the city is home to the famous Las Rambla, with its street performers, pavement café vibe, and palm trees. Beware of pickpockets in this part of the city; thankfully I wasn't a victim of this, but a lady in my hotel was, so be warned.
The old gothic architecture in the Old City really should be appreciated, so take your time when wandering around this rather busy district. Sagrada Familia is somewhere you have to visit, even if you don't go anywhere else. This is what Barcelona is famous for in many ways, Gaudi's unfinished, UNESCO listed, cathedral which is so jaw-droppingly beautiful, you won't believe your eyes.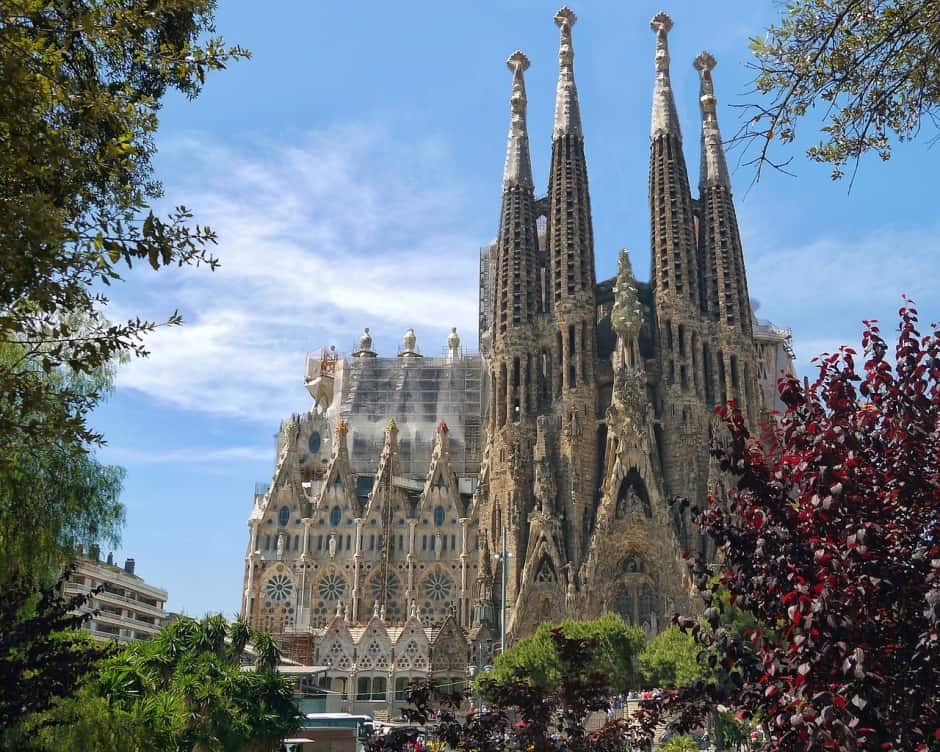 The musical fountains at Placa d'Espanya are a must visit, and they run in the main summer season from 9pm at night. This is a half an hour show, free of charge (always a bonus), and is a great place to sit and relax. If you want further views, head to the Harbour Cable Car and enjoy the ride; one piece of advice here however, I queued for one hour to even get in a cable car, so go as early as possible – don't make my mistake and rock up at 11am!
I was told to go to Montserrat, which is around 90 minutes away; if I can recommend one other place aside from Sagrada Familia, it's this. The natural mountain surroundings are perfect for clearing your head, and the hiking opportunities are some of the best around. Of course, you could cut down on travel time and instead head to the beach – there are many to choose from but I went to Barceloneta, enjoying the long pedestrianised boardwalk, and warm waters of the Mediterranean.
I have to go back, simply because I didn't see many of the places I really wanted to, and that's on my list for next time. If you've always wanted to go to Barcelona, my advice is to simply book a cheap flight and go – you won't be disappointed.