I'm too old for foam parties. And even if I wasn't, I'm too Virgo to enjoy getting my clothes smothered or soap in my eyes. So could I enjoy a trip to Ibiza if I didn't go near a nightclub? I decided to go for a day trip instead.
One of the advantages of living near Stansted airport is that it is Ryanair's main UK base and there's often a deal to be had. In this instance, it was a return flight for under £40, less than the price of a train ticket to London. I'd promised a friend to product trial a Sunwise kaftan so really I should have just holed up in a trendy beach club for the day. Instead, I couldn't resist hiring a car for the day.
Though it was cheap, I decided to take out additional insurance on the car in case of a scrape. That's the Virgo again – we're not gamblers. And how fortunate that was.
Within an hour of exiting the airport car park, I left the car parked in a large space outside a church in the tiny village of Sant Carles de Peralta. Half an hour later I returned from having a coffee in Bar Anita to find a large scratch across the front wing and no note to say who was responsible.
Onwards and northwards, the hire car wound its way around the back lanes following the Cala de Sant Vicenç coast road for a few kilometres before ducking inland across the Serra de la Mala Costa. Turning north at Sant Joan de Labritja, I wriggled across the island on a tiny lane which led to the island's rugged north coast.
The agricultural landscape was a world away from the Ibiza stereotype of package tourism resorts and clubs, and the view from Portinatx was splendid (see featured photo).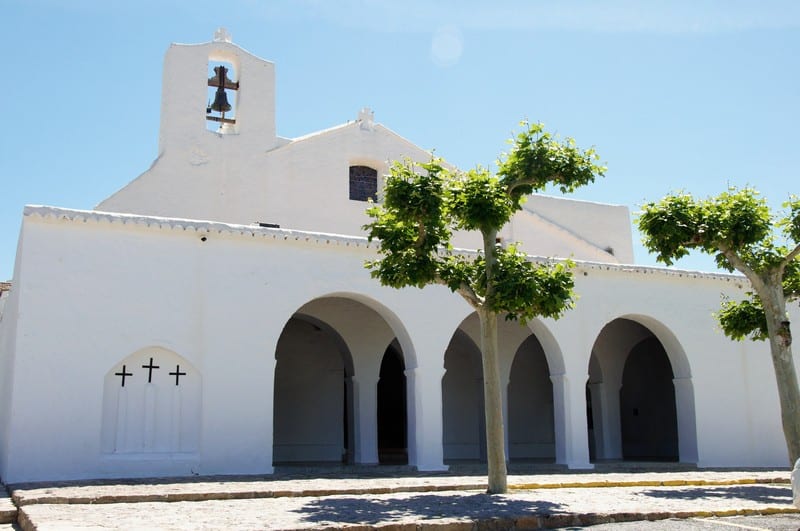 Back in the car, I drove to Sant Miquel de Balansat. Sited on top of the hill, its whitewashed church is impossible to miss, the second oldest on the island, after the cathedral. I noticed that it had three crosses on the front wall. Asking around, I soon learned it was the symbol of Golgotha and that it featured on all Ibiza's churches.
By now, I was hungry and in Santa Gertrudis de Fruitera I ordered a huge plate of jamon serrano and queso manchego.
The village was characterful yet popular with day trippers and the cafe's location, on the main plaza opposite the church, was ideal for people-watching. Moving on, I set off in the direction of Santa Agnès de Corona, passing olive groves, almond trees and orange trees laden with fruit. The odd ruined windmill popped up from time to time, a reminder that farming is never an easy occupation.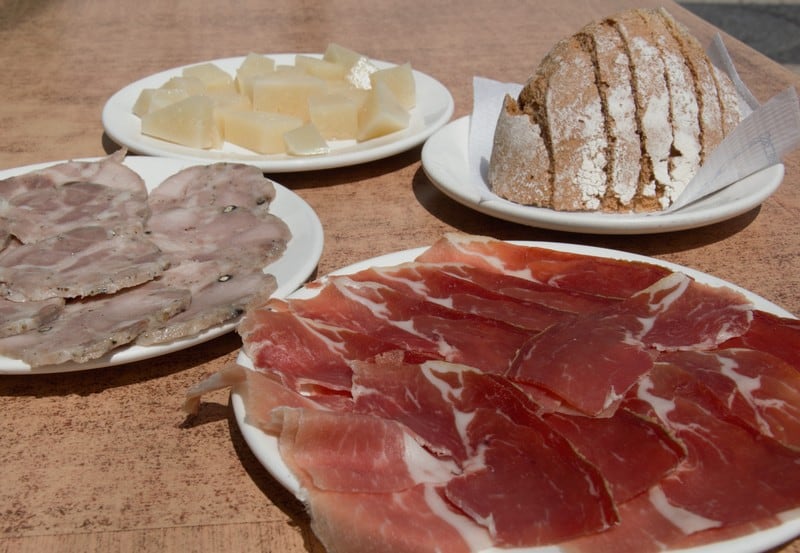 It was still only mid-afternoon and a late return flight meant I had time to explore Eivissa's old town for a while (Eivissa means Ibiza in Catalan).
I arrived just after 4pm, serendipitous as it turned out – yellow parking spaces reserved for workers are free for anyone who finds them empty from that hour on. Dalt Vila, the old town, is the very antithesis of Ibiza's media image: elegant, ancient and impressive.
The heavy fortifications that once protected Eivissa from marauding pirates now offer a vantage point from which you can admire the Mediterranean and watch the fishing boats bring their catch in, trailing clouds of seagulls in their wake.
This part of Eivissa is surprisingly old – dating from before the 7th century BC – and its walls are even more ancient.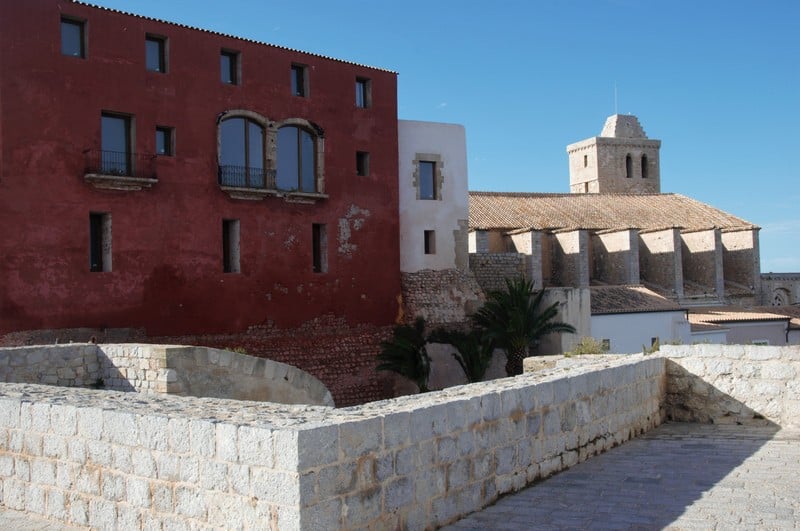 Today, Dalt Vila is threaded with alleyways and tunnels which, unsigned, are something of a lucky dip.
Stepping through a doorway, I had no idea where I'd emerge and fortuitously popped up in the Plaça d'Espanya. One of the tunnels here was a Civil War refuge; Ibiza was Republican for a time before Franco occupied the island and forced the Republicans to flee.
I wandered the streets of the old town in the early evening sunshine before ducking randomly into another tunnel. Emerging some considerable way below the higher ground of the old town, I took it as a sign for my lazy self to head back to the airport.
The details
My Ryanair flight cost £19.99 each way.
Car hire with Alamo purchased through the Ryanair website was a £31 for the day.