Petra is a UNESCO World Heritage site and is one of the New 7 Wonders of the World. It's an iconic site made famous by Indiana Jones and the Last Crusade.
I arrive at The Mövenpick Petra after a rather unfortunate border crossing at about 3pm, and check in. There is just enough time to drop my bag off before heading off to see the sights – Petra closes at 5pm so I want to see as much as I can before then.
I head across the road to the entrance to the park. A quite new building surrounded by touristy stalls, but not many tourists and the stalls manned by half interested locals indicate that there aren't many visitors here. I rock up to the ticket booth and get a three day ticket for JOD60 as I'll be there three days. There are one day (JOD50) and two day (JOD55) options available also.
I purposefully stride down towards the ticket checking booth where a couple of soldiers lazily watch me put my ticket through the machine and head off down the hill.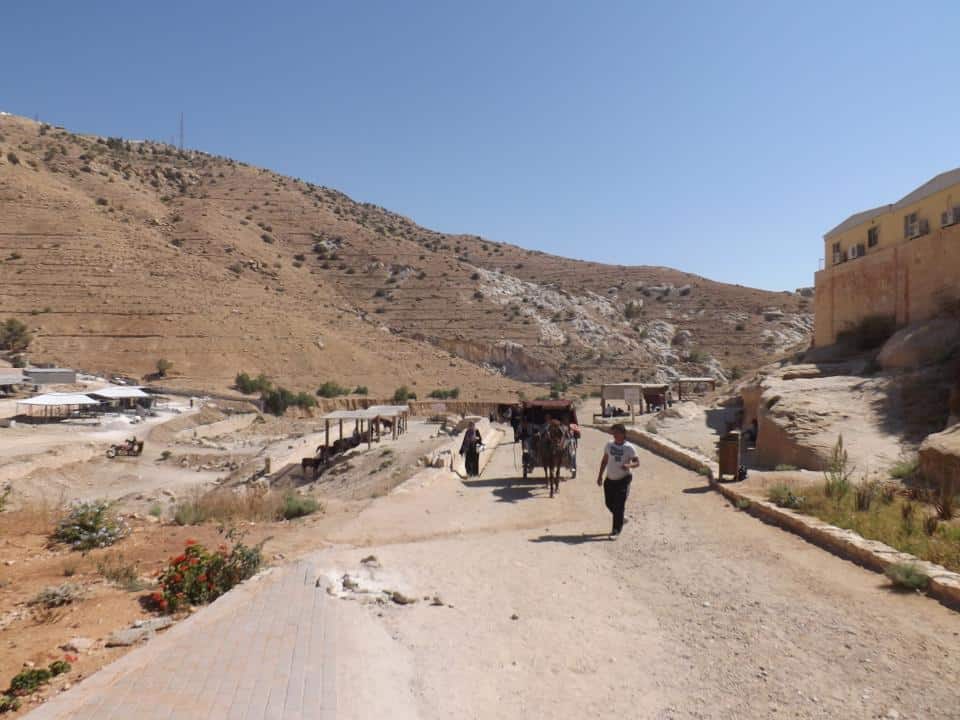 There is a stable not far from the entrance and the associative smells waft over me indicating that some manner of horse drawn convenience is on offer. Sure enough a mangy horse drawing a cart clatters up to me and the driver inquires if I would like a ride. I turn him down with a brisk "No thank you" and keep going down the paved section of the path.
It should be noted that I am dressed as only a tourist would: shorts, t-shirt, sun hat and sandals, with a big camera hanging from my neck. I've put plasters on my feet because my sandals are new and my feet are soft, so there's already rubbing taking place.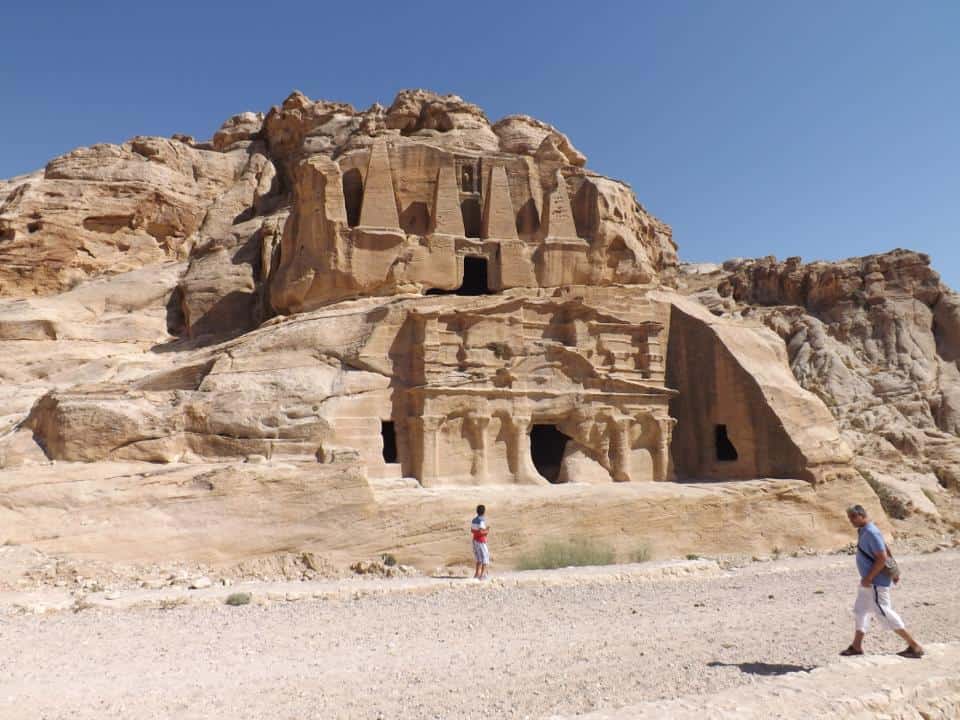 There's a steady stream of tombs and other interesting caves beside the path – all described on story boards. The road is no longer paved and is rocky, forcing what tourist traffic there is to pick their path carefully. The road is very wide though: enough for two cars to pass each other.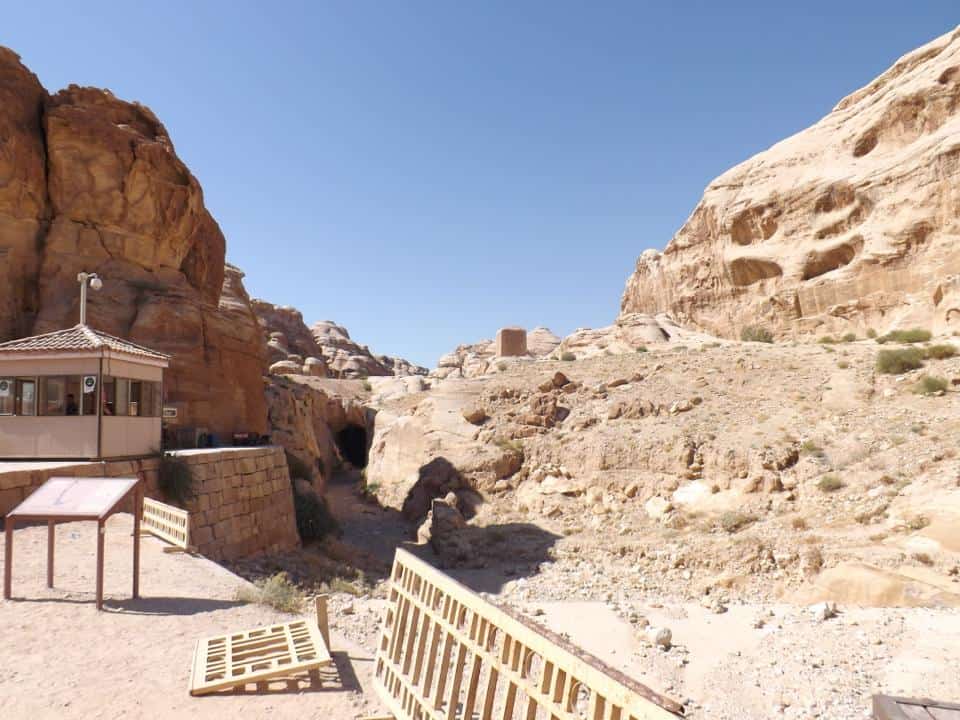 Soon enough there's a choice to be made: I can follow the main road, or investigate a path to the right which heads towards an interesting tunnel. I later learn where the detour goes and read that I did the right thing – don't take the detour until after you have seen the Treasury in all its glory. The route back from the detour doesn't reveal the Treasury in the same way.
There's a good write up with pictures and safety notices if you're interested. While you're at it, I've enjoyed this description of Petra as well. I particularly like the collection of photos of Petra from the 19th Century.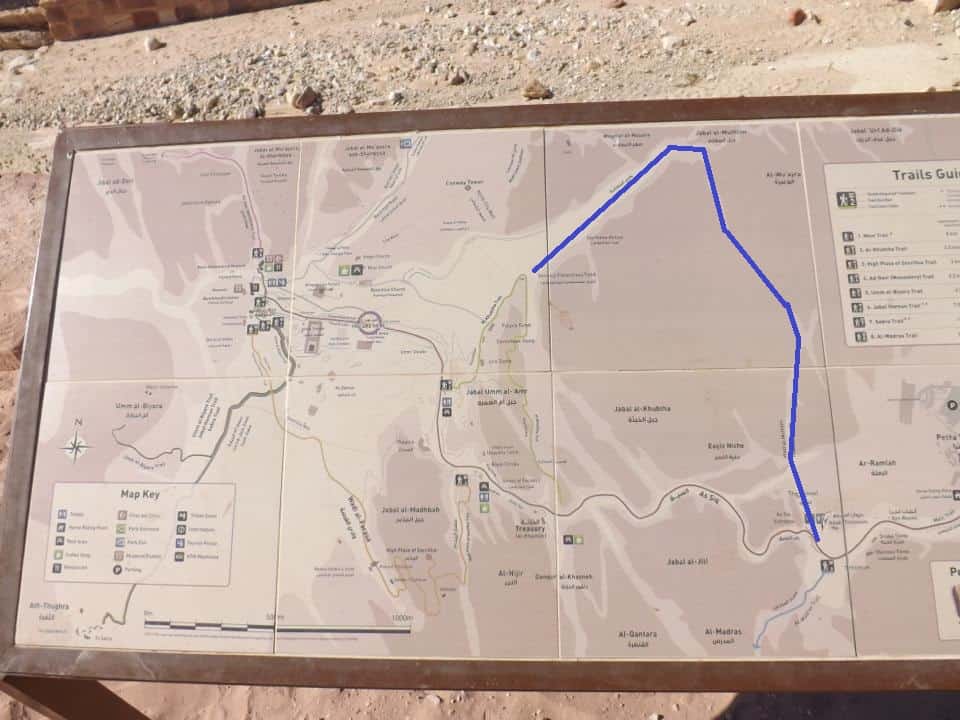 The picture above shows the route should you take the tunnel detour.
Eventually though, the path loses its stones and becomes surrounded by the chasms which make this place famous. The floor is concrete and so it's much easier to walk – I make good time and I know from my research that the Treasury is near by.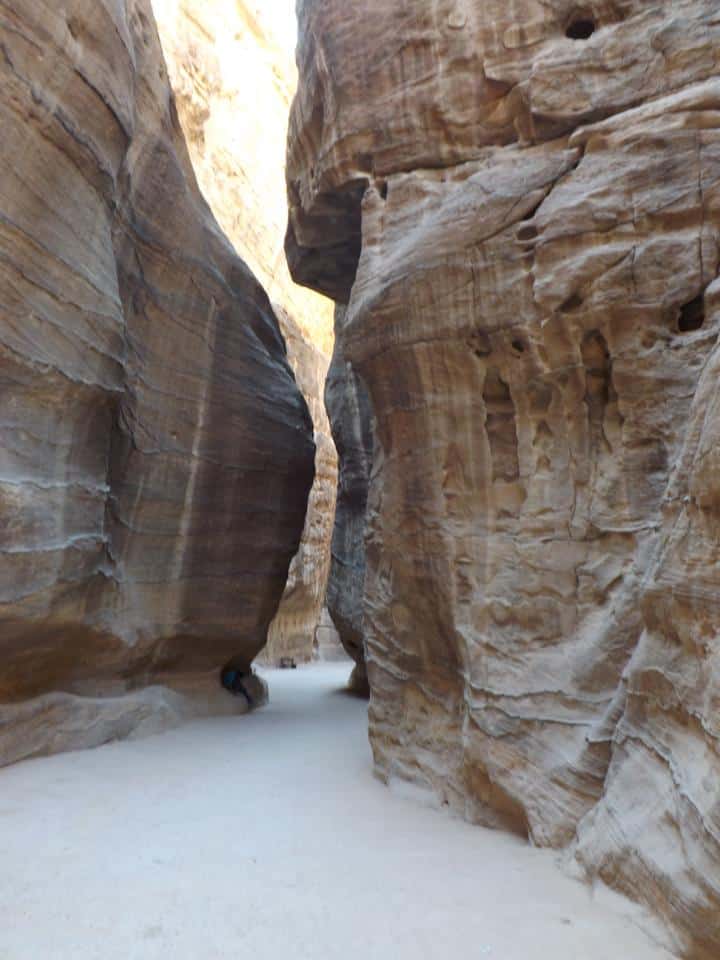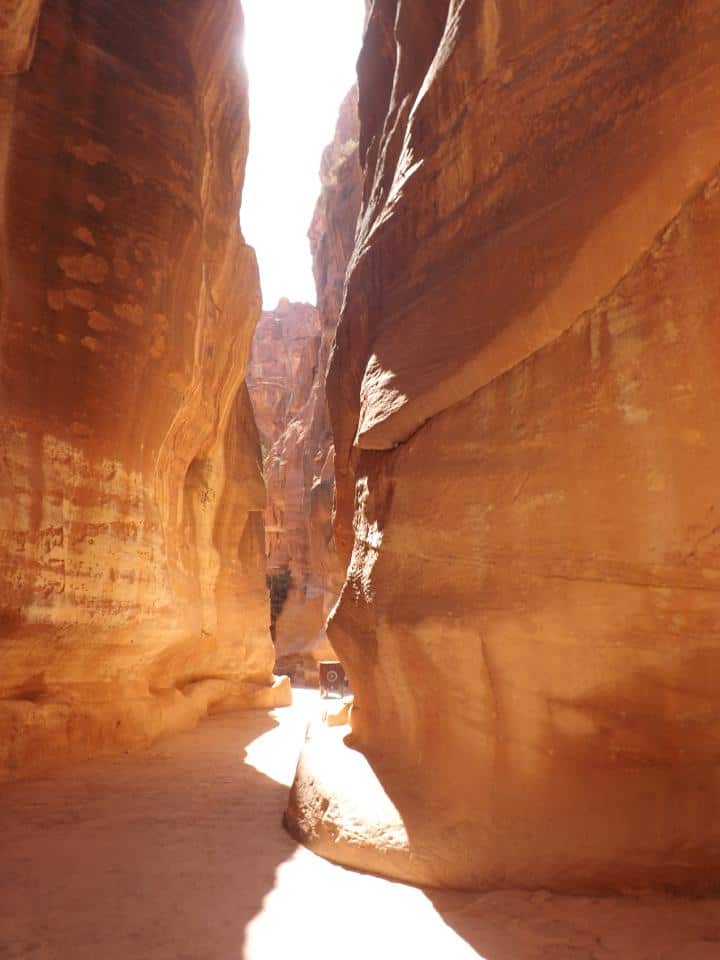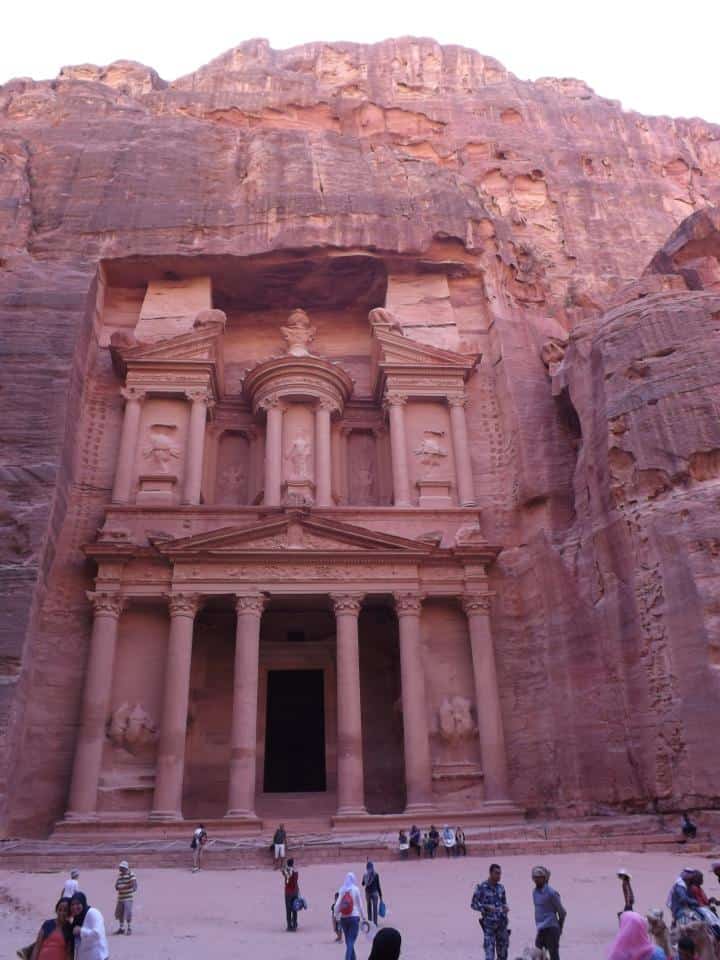 Boom! The grand reveal of the Treasury. Such a famous iconic building. The clearing in front of it is relatively crowded with tourists getting on or off donkeys or camels, soldiers ensuring nobody tries to chip off a piece to take back home and fewer locals than I would have thought trying to sell something.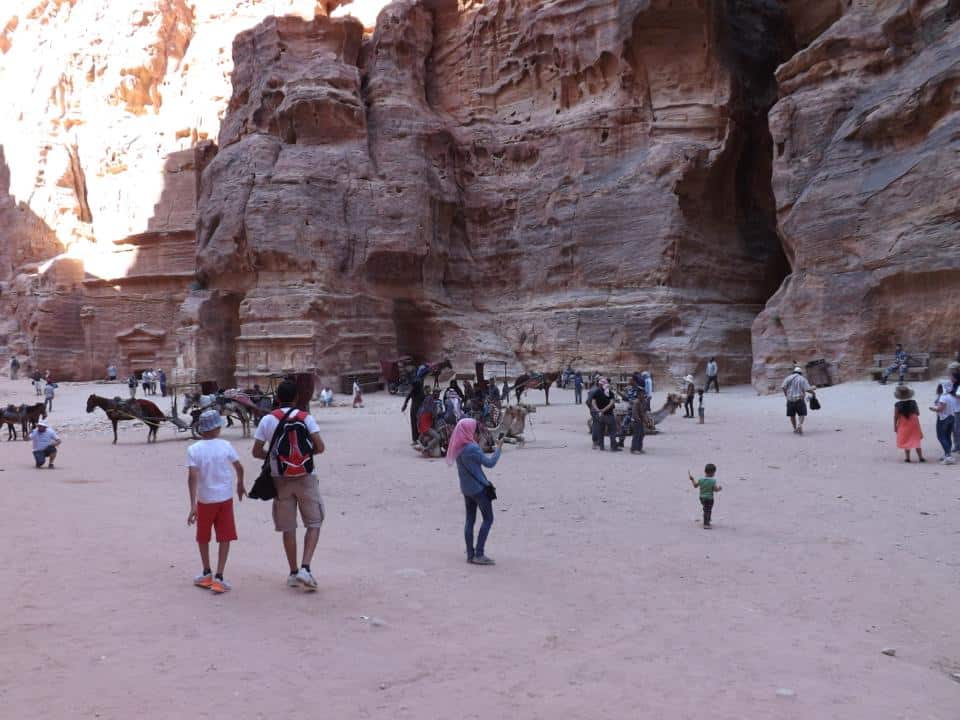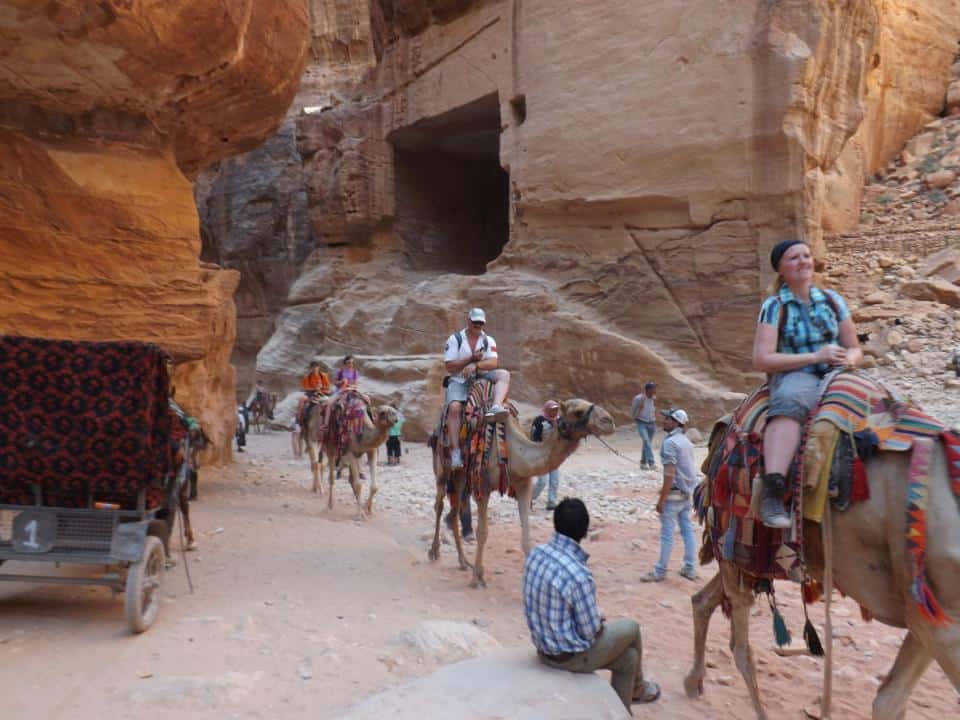 I'm tempted by the thought of a ride on a camel, but stubbornly carry on. The sand from the road has managed to infiltrate my sandals making each step uncomfortable. The shade is welcome near the Treasury, but as soon as I go past it, there's an exposed valley and the sun is relentless. I keep going past various ruins of temples and churches and then reach the Museum and decide to turn around.
I stop off briefly at the only restaurant where I am alone and get a can of something to drink and use the bathroom. It is glorious to be out of the sun and in the shade if only briefly, and my feet are starting to get quite sore. I look at my watch and decide that it's time to be heading back.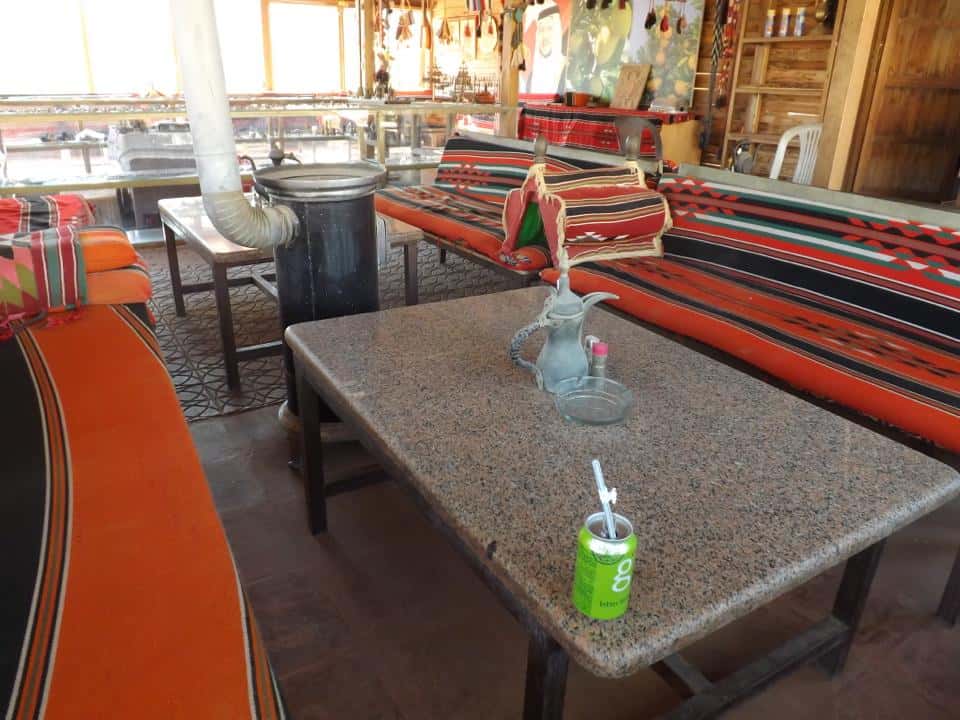 On the way back I notice an influx of new people arriving which doesn't make sense as it's starting to get close to closing time. I realise there must be an evening event – I remember seeing pictures of the Treasury by candle light and wonder if that's the sort of thing that will happen.
I would have been tempted to try and stay on to see what transpires, but the pain from my feet drives me to return to the hotel. It turns out that it is related to the candlelight experience – and apparently it's not a good idea to make that your first view of the Treasury.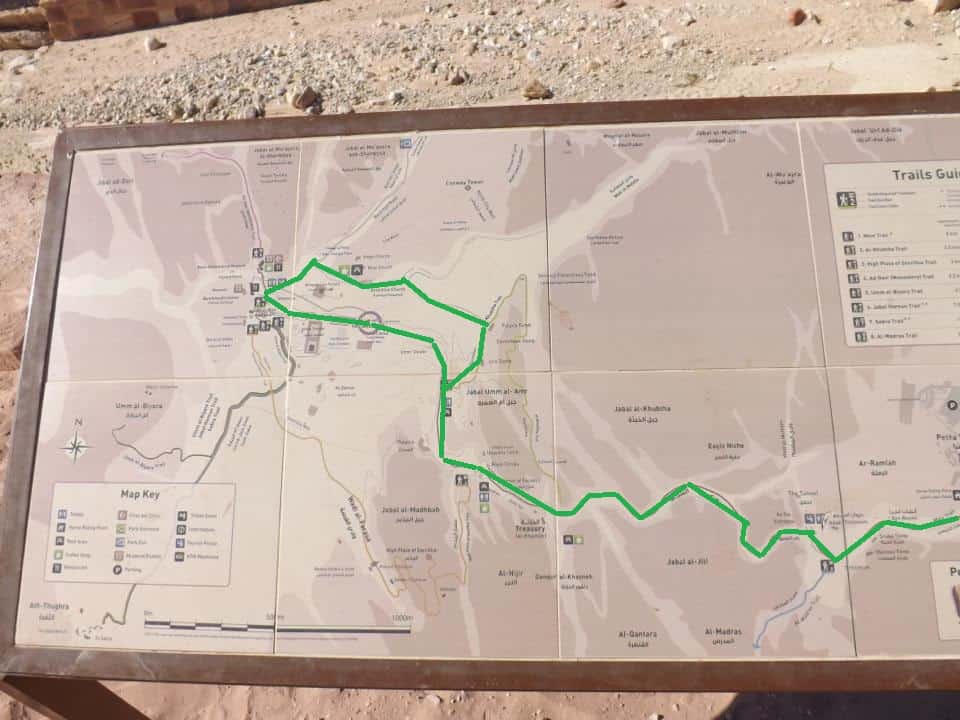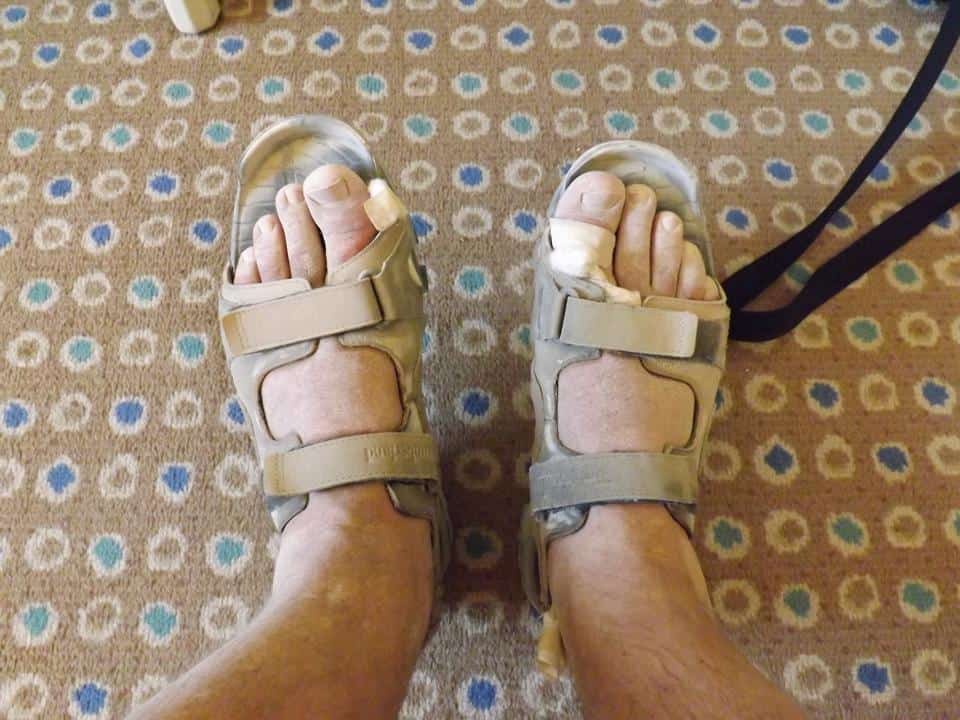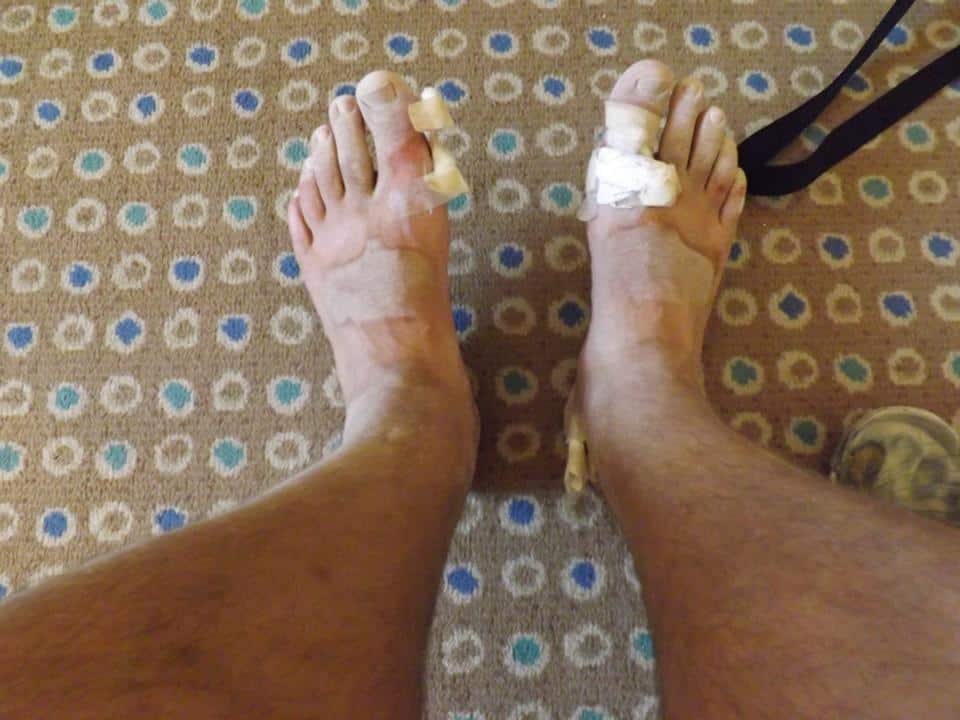 My soft soft skin is rubbed raw by the sand and sandals leaving me wounded. I can't walk freely the next day, so resolve to rest and recuperate instead. I'm annoyed that I won't be able to explore Petra as well as I would have liked, but decide I'll get up the next day no matter what and make it to the other iconic building of Petra – the Monastery.
I have a 10:00am pickup, so figure if I'm the first one through the doors at 6:30am I can make it to the Monastery and back in time to shower, pack and check out before my driver gets there. Fortunately there are worse places to be stuck for a day than a five star resort to rest up!
The next day I still can't walk very well, so resort to drastic measures – I grab one of the hand towels and rip it up for bandages to cushion my sandals (sorry Mövenpick!).
This, plus additional plasters, make walking less painful, but I look like a bit of a knob.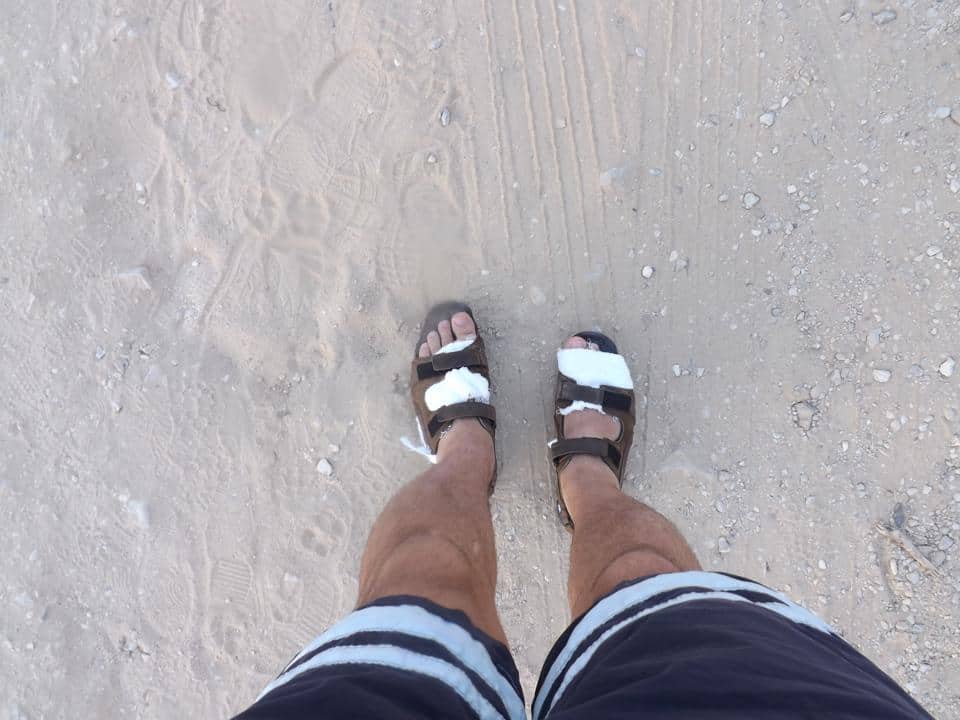 So when a local, surprised that there is a tourist at Petra so early in the morning asks if I would like a ride, I very quickly take him up on the offer. He takes me to the Museum and agrees to wait until I return to take me back to the entrance.
As a general rule I like to spend my energy actually at places, rather than travelling to them, so getting the horse and cart makes sense. I really don't like the way the driver treats the animal though – and hate the thought that my money reinforces his behaviour. If it wasn't for my feet there is no way I'd succumb to taking the cart…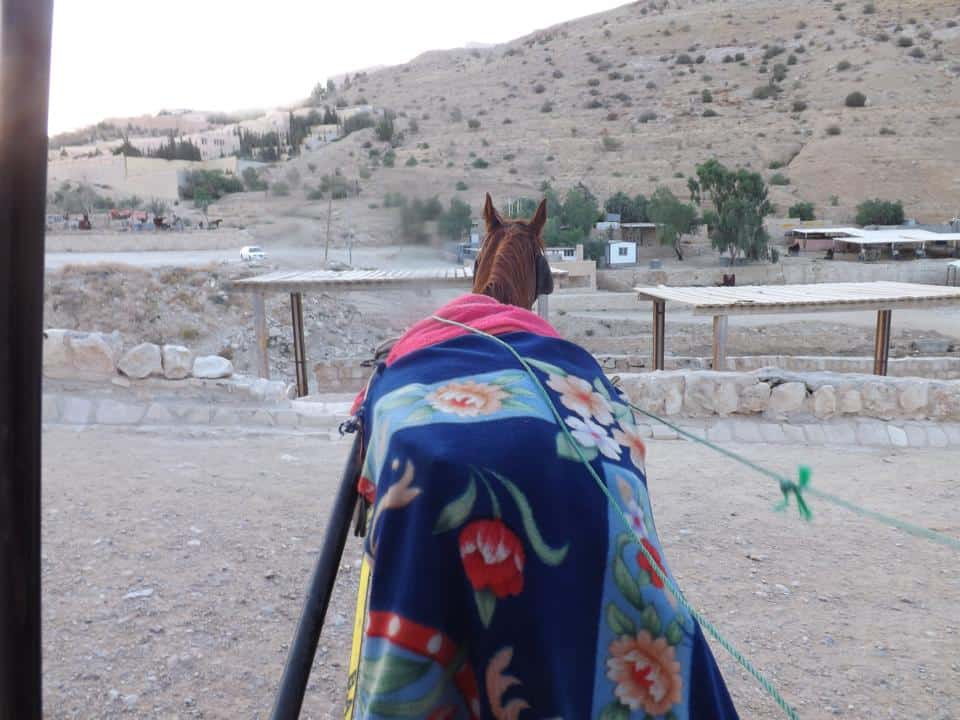 I stride off purposefully along a dry riverbed and get fifteen minutes down the path before a bemused local asks me where I'm headed and points me back to the Museum clearing. I notice the same holes cut into the cliff walls as in the main section of Petra, but these with tell-tale signs of people living in them – it looks like I've stumbled into where the locals live.
After getting back to the Museum clearing, I find the beginning of the stairs to the Monastery.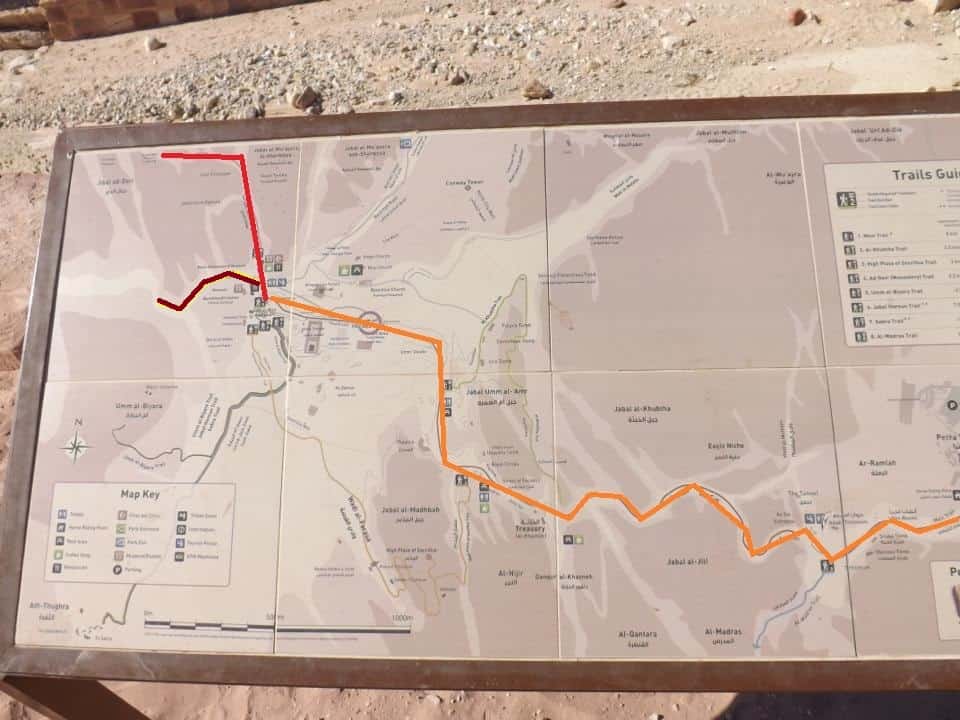 The path up the hill is silent – no tourists, no locals, no nothing. Eventually at one point a dog, hidden in a closed up stall, starts barking. It shuts up before I am out of earshot but it's an eerie reminder that other beings exist.
The trip up isn't too much of stretch fitness-wise. There are a lot of stairs, but they tend to be stable and slipping on stones relatively uncommon. Even with my sore feet I make good time.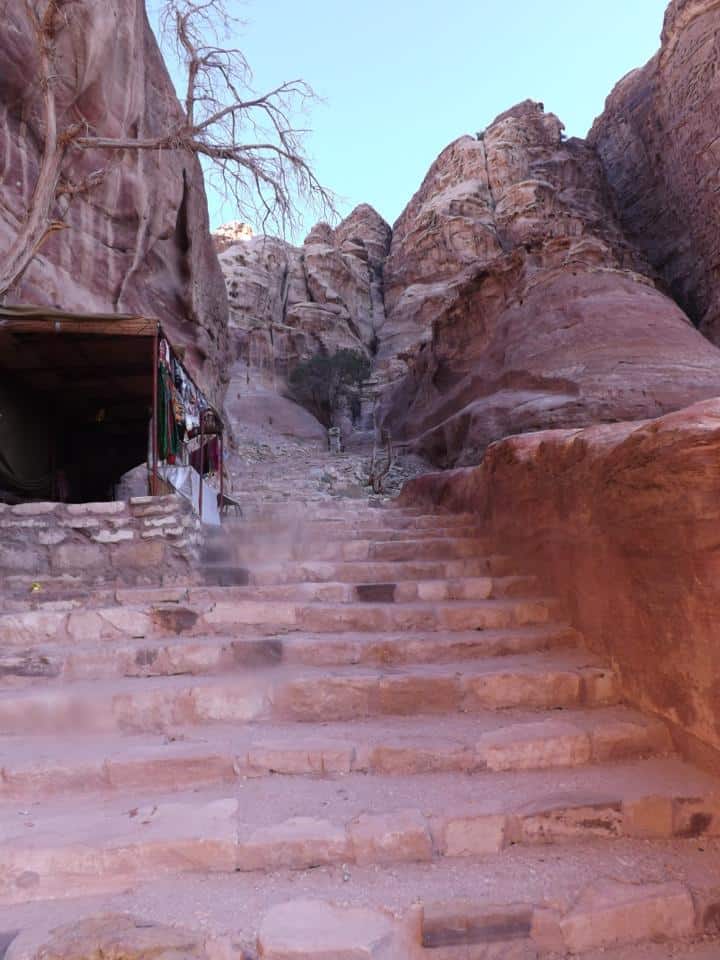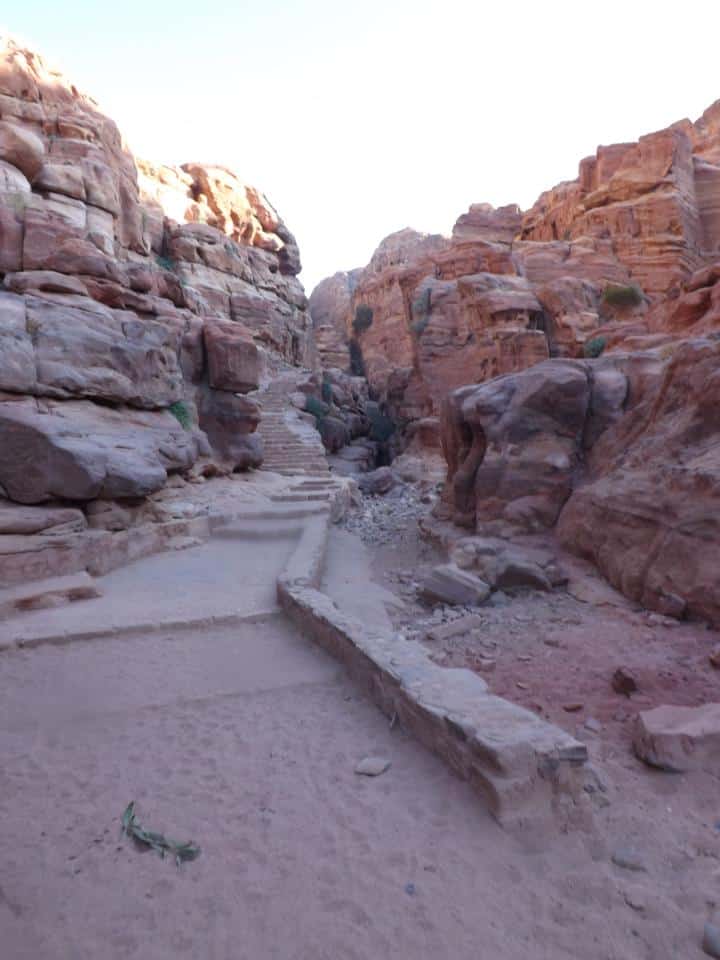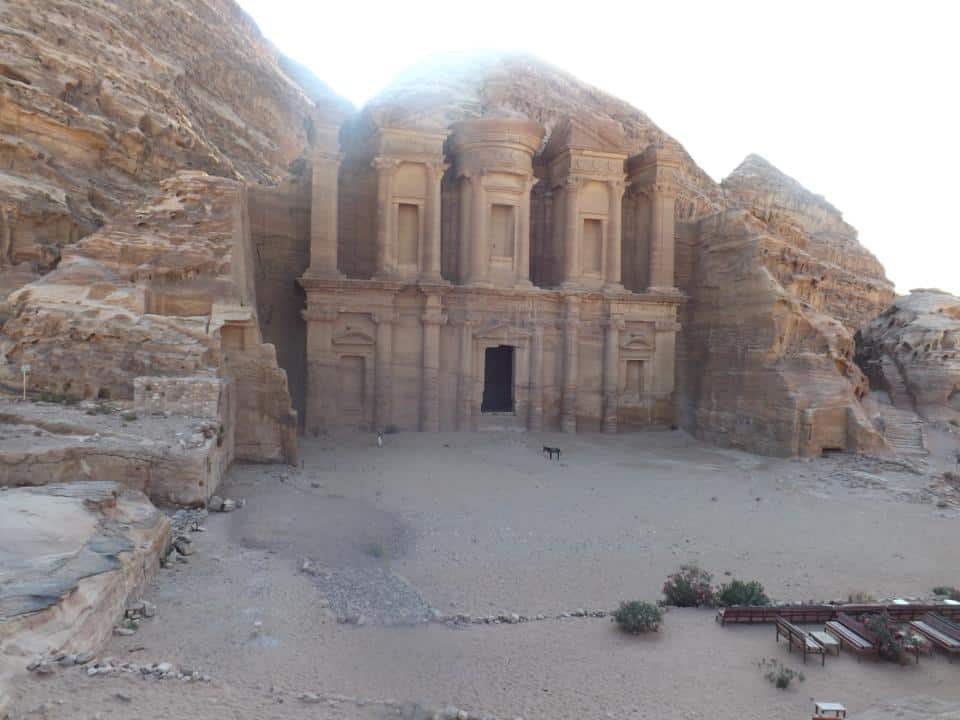 And so I reach the Monastery (donkey for scale). There's a cafe type set up, but nobody is there this early. Apparently it's possible to climb the rock to the left of the clearing and get behind the central pillar, which would make for a good photo.
But a) I'm not good with heights, b) I have bad feet and sandals probably aren't the best for climbing and c) there's waaay too much chance of breaking something.
So I content myself with looking around the site and then heading up to the heights above the Treasury where you get views across the valley. In the distance I spot a temple – a fleck of white against the relentless stone. I later find out that the mountain is Jabal Harun and the temple the tomb of Aaron, Moses' brother. 

I look around and drink in the sights and try to feel some sort of significance or achievement. It's a nice view and all, but I feel…I don't know – flat?
I take a few more photos and start the trek down the way I came. Apart from donkeys and the barking dog, there's not much wildlife on the way down, though I do pass a local coming up the hill. I smile a hello as I stop and let them past.
I make it back to the Museum clearing where my horse and cart are waiting for me, and we head back to the hotel. I pay the driver his JOD20 fee and shake my head at his request for a tip. I'm not able to change the way they treat their animals, but I'm certainly not going to reward them. I feel guilty about taking the cart, blistered feet or no.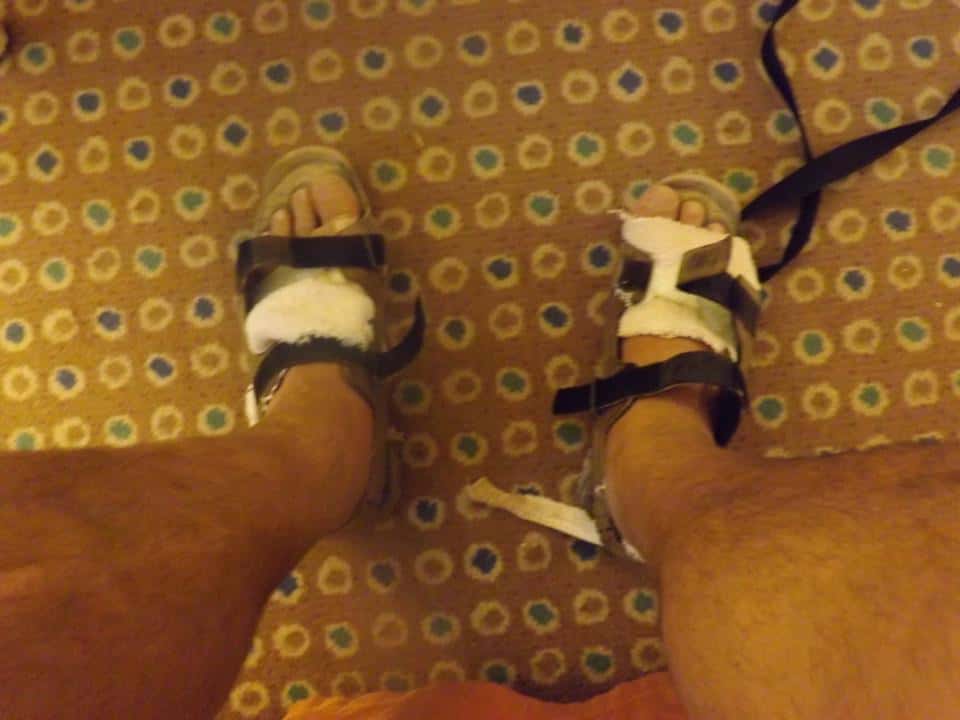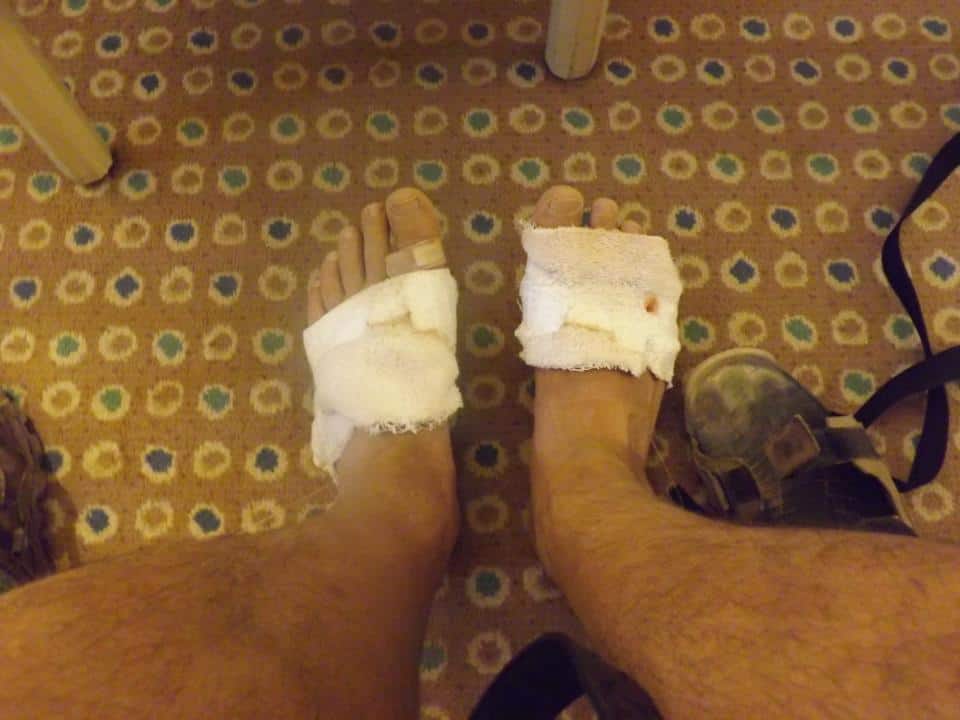 I just have time to grab a quick shower, get dressed and throw my clothes into a suitcase before it's time to check out and meet my driver to Amman.
Previous: Crossing the Border | Part of Trip: The Holy Land | Next: Amman