The next leg of my trip is to head from Petra up to Amman for a day trip to Jerash – the Pompeii of the Levant.
I had weighed up the different modes of travel, and decided that there were a few things I wanted to see or do on the way – namely:
a dip in the Dead Sea from the Jordanian side
Shobak Castle

Kerak Castle

the mosaics in Madaba
I decided therefore to get a car and driver.
Jordania Aventura Drivers
seemed to have a
good reputation
 so I sent them an email of my requirements and we agreed a price (USD$175) [price agreed June 2015].
They wanted 50% or 100% upfront to secure the booking, so with some trepidation I sent half the cash via PayPal. I had done a search for "Jordania Aventura rip off or scam" and not found anything so I was hoping that there would be a driver waiting for me at the appointed time!
Lo and behold, when I checked out of the Mövenpick Petra there in the lobby waiting for me was a Russian special forces soldier. No – he wasn't wearing fatigues and a blue beret, he was wearing a white short-sleeved button up shirt and olive trousers, but he was Caucasian, thick set with a buzz cut.
He moved well for a big man and I thought I saw a tattoo peaking out from under his sleeve. I established that he was there to pick me up and not someone else, and that he knew the destination address in Amman. His English was good. He didn't offer to help me with my luggage, which I chose to interpret that he thought I could handle it and we headed out to the car. I made sure that he knew we were going to Kerak and Shobak on the way which he seemed to surprise him.
As we drove to Shobak he explained why – they weren't very good castles he said. I exhibited surprise – thinking to myself that surely the collective wisdom of the internet could not have possibly been wrong!
He suggested that we go to the first one and if, after I'd seen it, I still wanted to head to the next one, then fine.
Shobak (Montreal) Castle
The road to the castle was a little hairy in places, and in fact went down to one lane up a blind corner at one stage but we managed to get to the castle in one piece. He parked up and I said I'd meet him back at the car in…what? an hour? forty five minutes? He grimaced as he thought and said twenty minutes at most. OK, I said as I headed off. Ten minutes later I was back. He smirked at me and asked how it was.
"A little small" I agreed as we headed back to the highway.
So what was it like?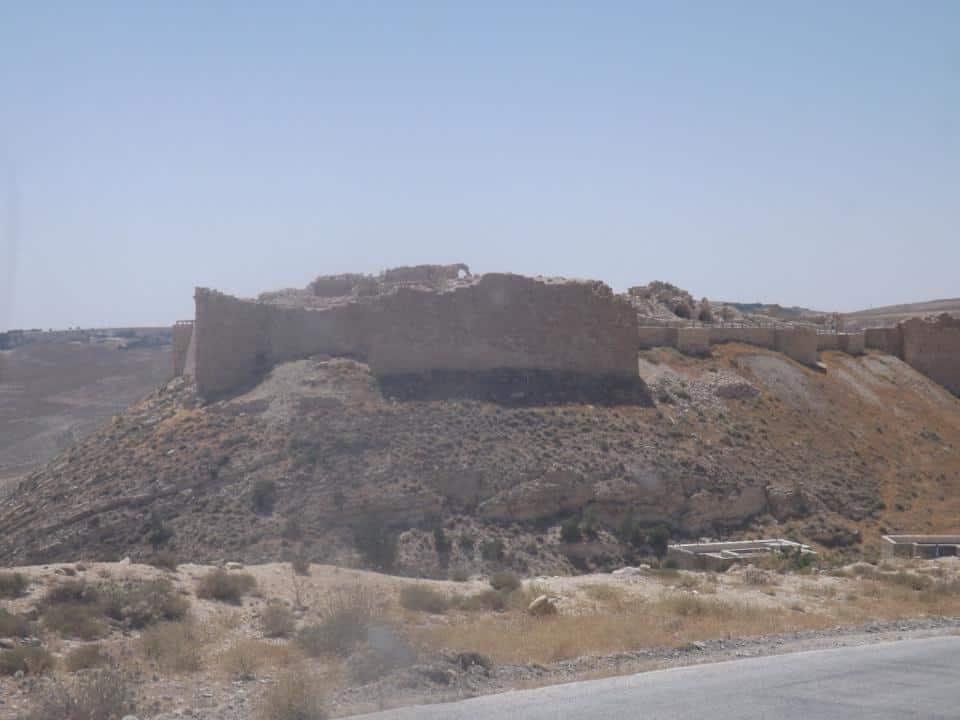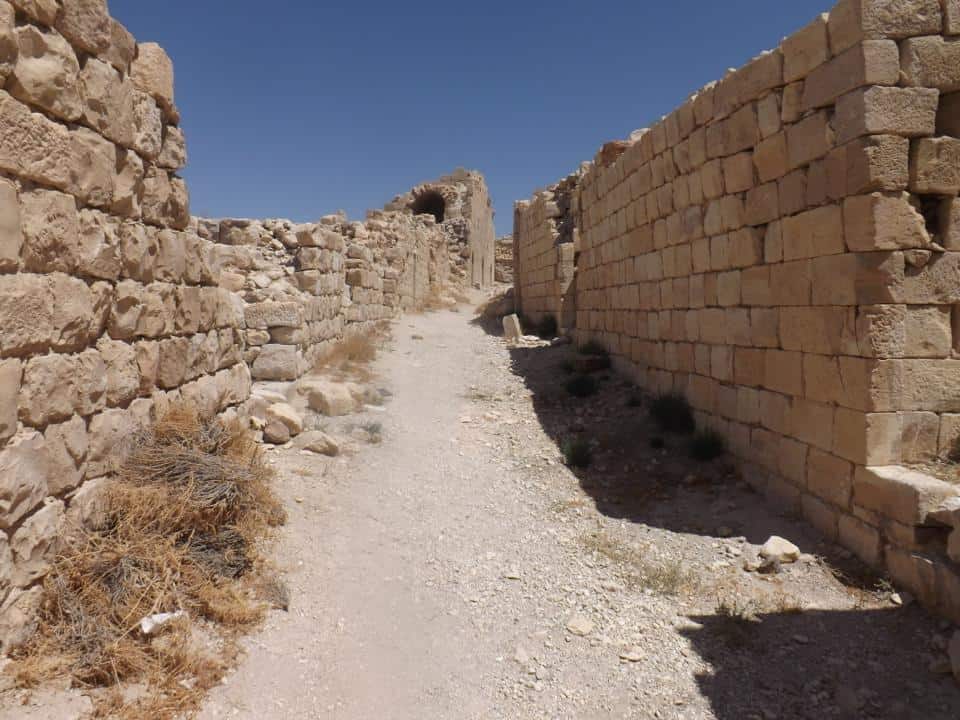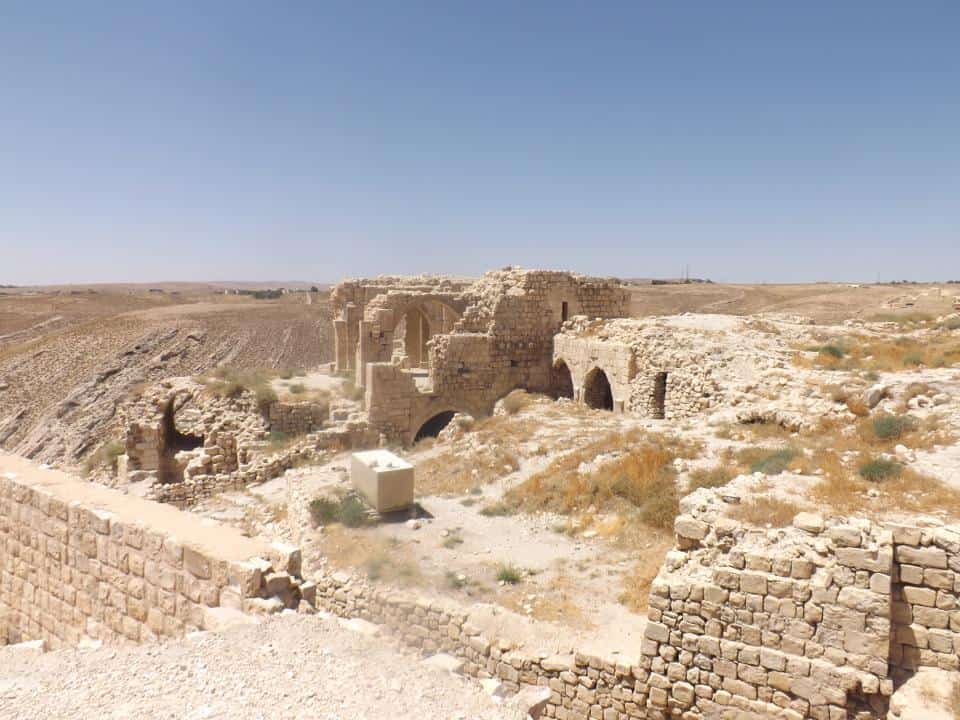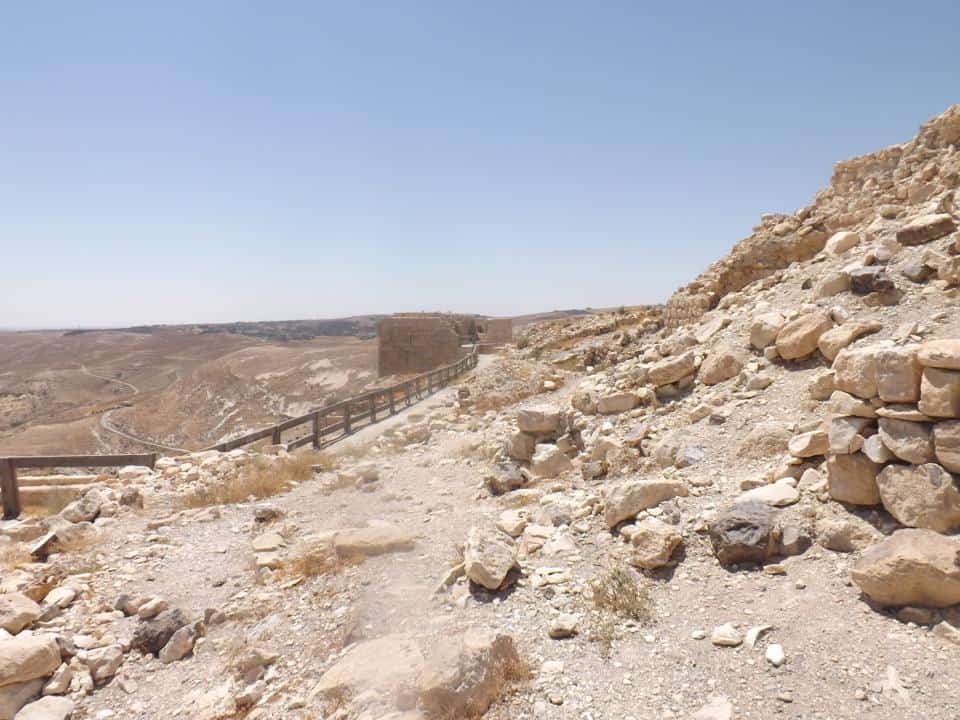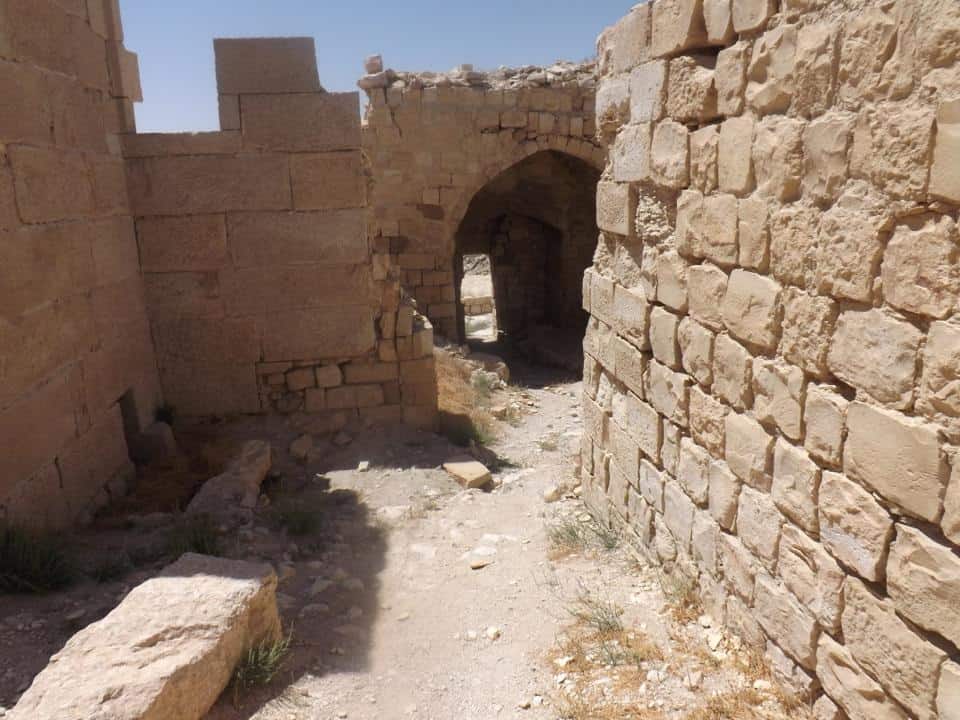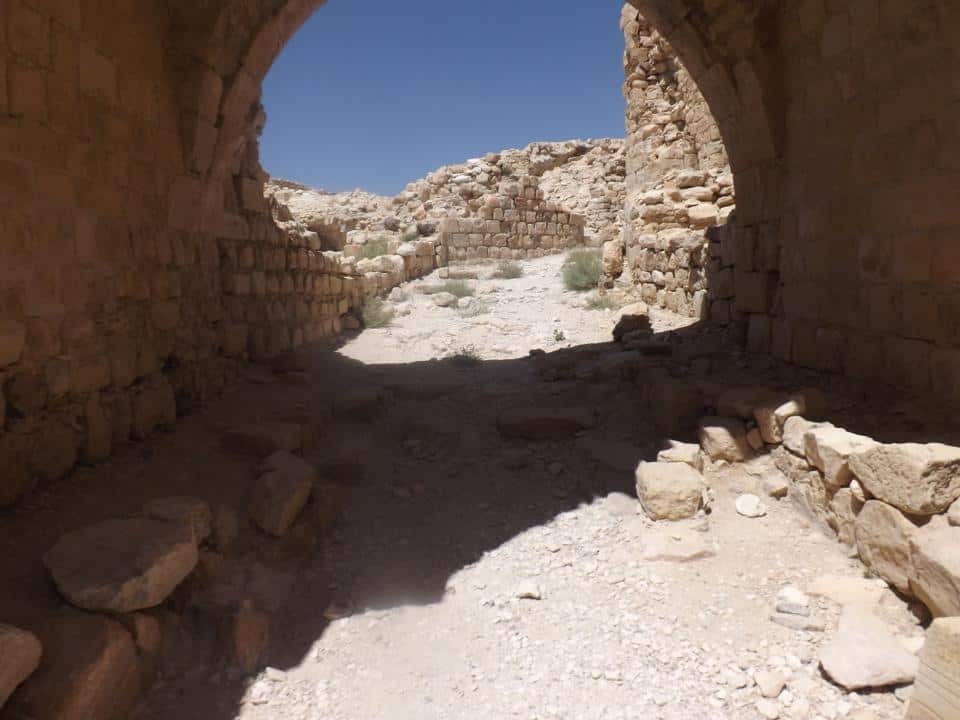 There's not a lot there really. It felt how I hear Los Angeles described: there's no there there.
So as we left we outlined how the rest of the trip to Amman would go. We discussed Kerak, and I agreed if it was anything like Shobak, then perhaps it wasn't a good idea to go there. Right, said my driver – next stop: the Dead Sea.
Whoa, whoa, says I. Slight change of plan. I filled him in on my previous visit to the Dead Sea and then let him know about my recent adventures and their toll on my feet. "There's no way in hell I am going to go into the Dead Sea with my feet all rubbed raw from Petra," I said. Nodding sagely, my driver considered the wisdom of my position. "Yes, that is a good idea", he said. "Then we can slightly alter the route to Madaba he said, and include some other stops".
I readily agreed, thinking that we'd calibrated our standards of attraction so anything we stopped at would be better than the castles, but not necessarily as good as the mosaics at Madaba. And so off we went.
Driving
So what do you do on a road trip? You talk.
I start with the obvious, commenting that he doesn't look like the other Jordanians I have met. He gives me a look and then decides that what I say is true. He states that he was born in Jordan but when the Russian Empire started to encroach upon their lands at the end of the 19th Century, his great great grand parents moved to Jordan.
Ah, I say, proved right that he is Russian, so you are Russian? He glances sidelong at me and says "No, I am Cherkess". I look at him and frown slightly. I've heard of Chechnya, but thought that people from there are called Chechnyans, or maybe Chechens. I make sure I'm pronouncing Cherkess correctly and resolve to look it up when I get to the hotel in Amman.
It doesn't take much probing to get him talking, and it seems that the diaspora after the Russians won the various wars in the Caucuses sent a million south into Turkey, and hundreds of thousands more deep into the Ottoman Empire.
It turns out that Jordan opened their arms to the Cherkess and they were somehow so important to the Royal family that they were guaranteed a certain number of seats in their parliament. With quite some pride, my driver relates that even though they have small numbers, they are still well represented in the parliament, and always have a minister in the Cabinet.
I later find out that this is all true, that the Cherkess are Circassians and that they and the Chechens have 3 seats in parliament and a long history of being the personal bodyguard of the Jordanian Royal Family.
Madaba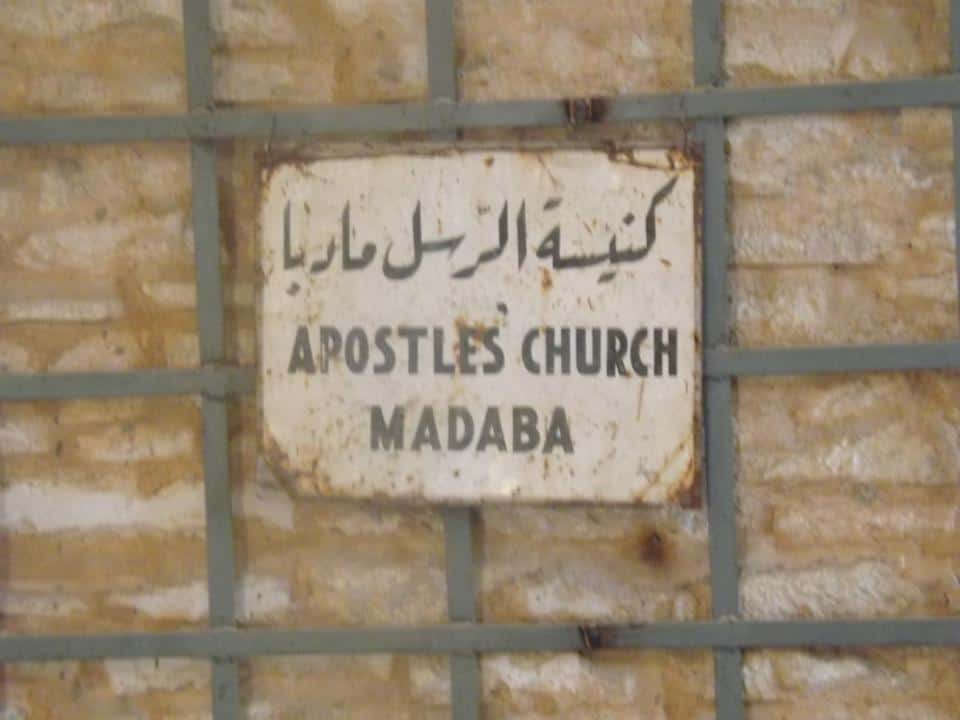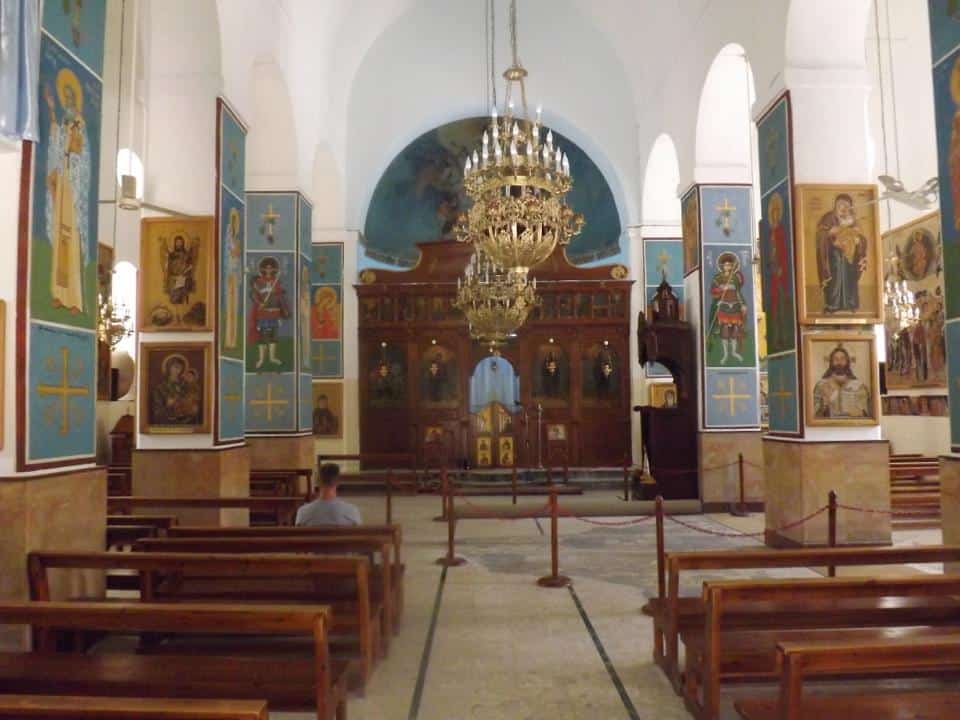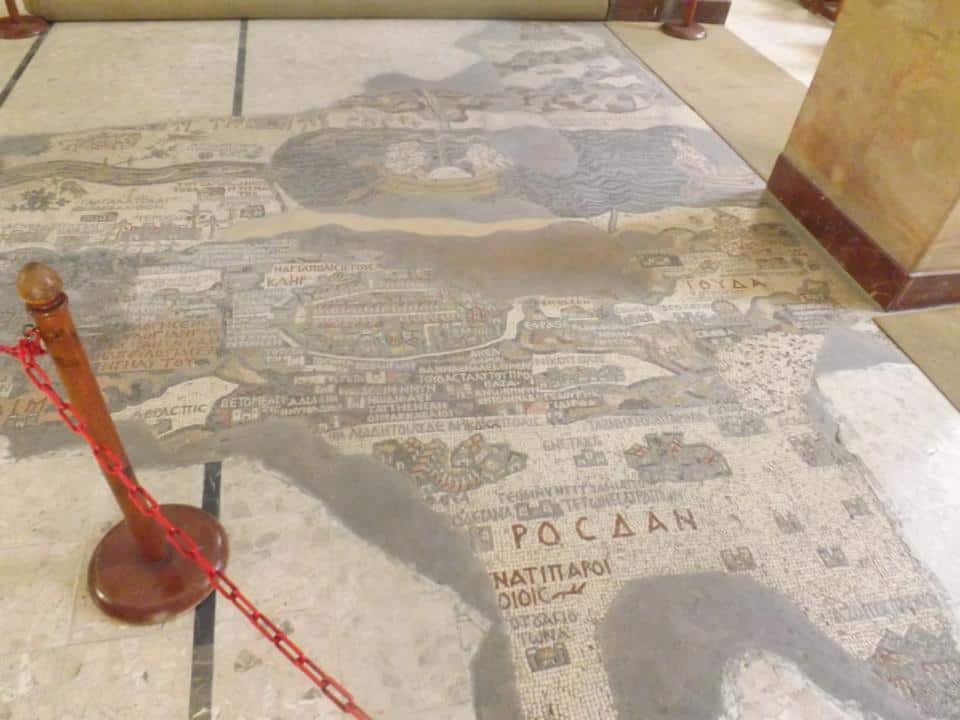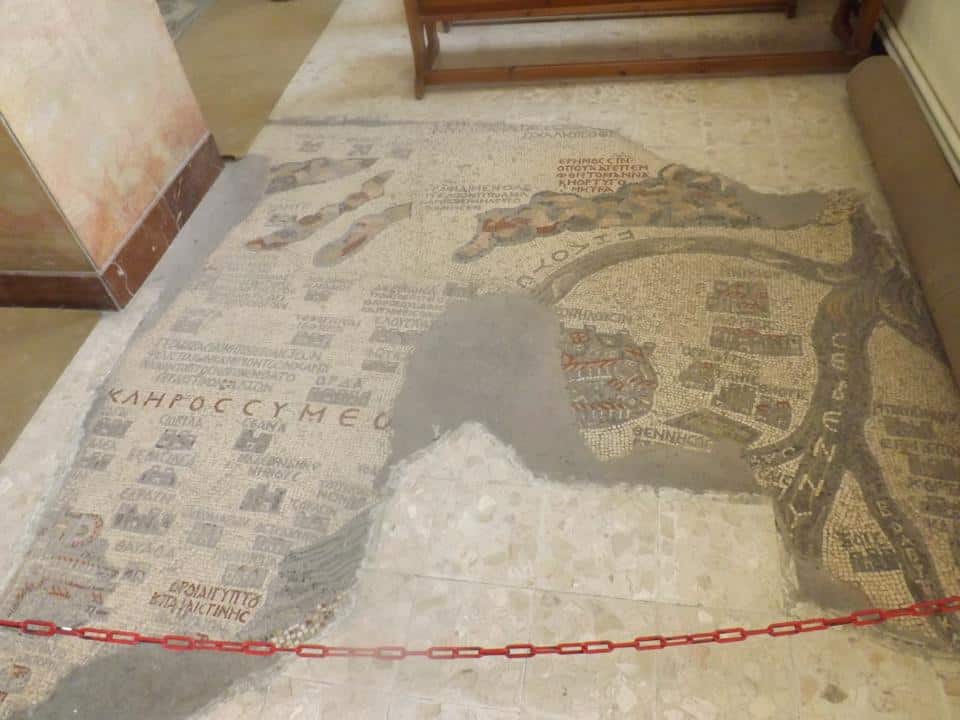 If you asked me what ancient folk knew about their world I would have imagined that the common person would not know much about the position of countries or the shape of the coast line.
Apparently that's not quite true, as evidenced by a very old church with a mosaic map of the known world. Madaba's Apostle's Church houses the mosaic and apparently it can get very busy with queues to the door.
There's not a lot more to it than that though, so once you've marvelled at the intricate stone work, given some thought to how the church was both the last bastion of learning and biggest barrier to science and, therefore, the perfect place to store and disseminate geographical knowledge, there's not much more to do. In fifteen minutes I'm out the door and my driver is in padding mode.
Hippolytus Hall in the Archaeological Park of Madaba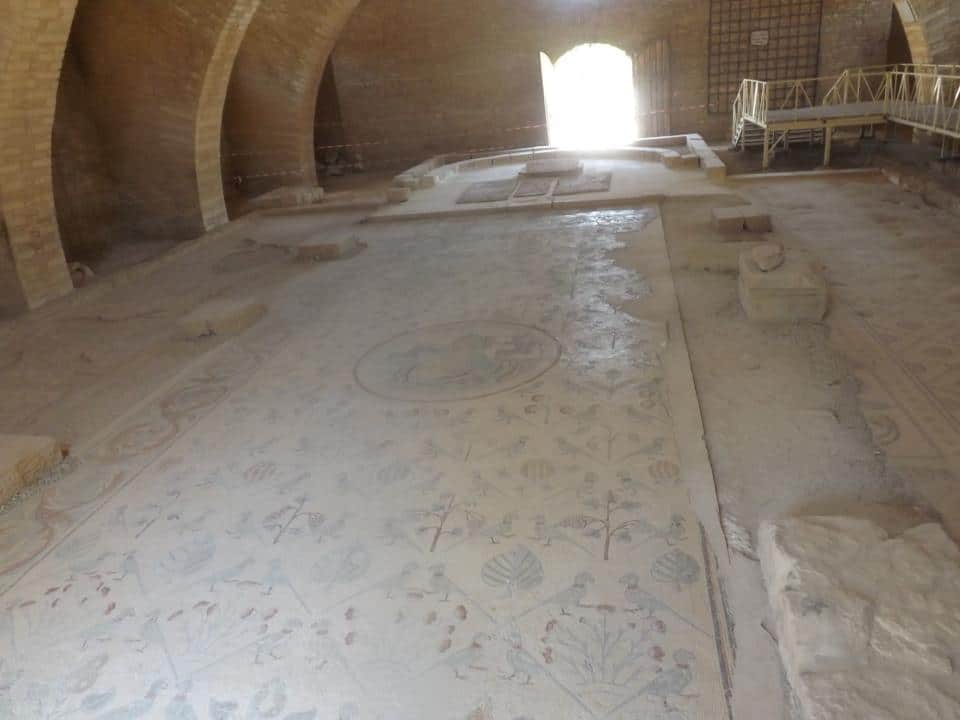 Apparently mosaics were the thing to make in Madaba. This is not far from the Apostle's Church (map: Madaba Mosaic School) and entrance was very cheap (JOD2). I think if you really liked mosaics you would appreciate this park, but for me it was a bit ho hum. Which pretty much summed up Madaba for me.
When I reflect on whether it's worth visiting, I have to say – no. There is no way that what I saw was worthy of it being a destination, but it was OK as a momentary stop on the way to Amman. Maybe I missed some gem – TripAdvisor certainly doesn't have anything additional which appeals. And as long as you see the attractions as being as valuable as the opportunity to stretch your legs you won't expect too much…
Shop
No driver worth his or her salt would pass up an opportunity to bring potential customers to their friend's shop. Sometimes this is a purely financial consideration, other times it's a family or friend obligation.
My driver insisted that we go to a mosaic shop where they also sold rugs, statues etc etc. I left him having tea with his friends and a chat and wandered respectfully around. I was the only one in the place which was a huge warehouse sized affair.
I kept clear of the inventory once I saw the price tags. Lurid (presumably hand-knotted) wall coverings of tigers and nature scenes competed with antiquity-style statues for the most over priced tat in the place. Although, what do I know? The statues may have been plundered antiquities and worth the price tag – the rugs may have been hand knotted with tiger fur.
All I know is that I gave 15 minutes so that if there was a financial incentive my guy qualified for it, and then made eye contact with him and raised my eyebrows, indicating "time's up". I never buy knick-knacks – my family is so big that to buy something for one and not the rest would make for a bothersome Christmas. And having moved so many times in my life the last thing I need is a bunch of stuff that needs shipping from one place to the next. I prefer taking photos – much lighter
Mt Nebo
The last stop on the way to Amman was Mt. Nebo – the place where Moses was shown the promised land, which he wasn't allowed to enter (man, biblical folk had it rough!). The place is well laid-out with an extensive bus parking area and I make arrangements to meet my driver at a certain part – take your time he says, pulling a hat down over his eyes and reclining his chair for a nap. I assume from this that there might be slightly more to see here than in Madaba.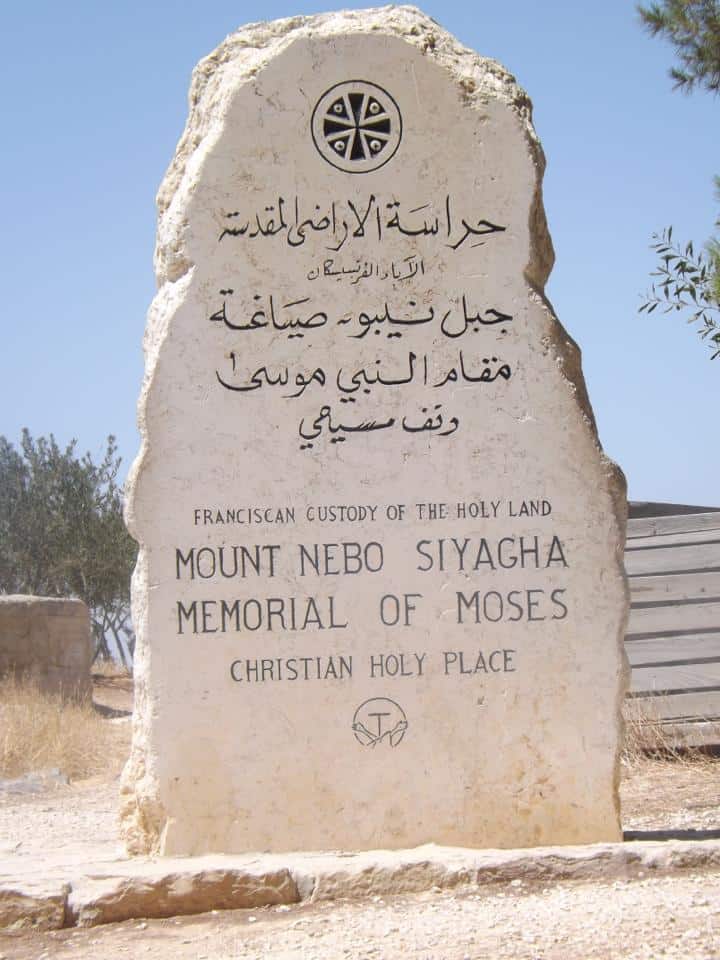 The panoramic views are simply spectacular and apparently on a clear day you can see both Jericho and Jerusalem on the far side of the valley. Further to the south the valley includes the Dead Sea, and looking at the sign you realise that if it wasn't for the sun that you could walk to Jerusalem in a day (a very long and tiring day, but still).
A local guy is chatting with tourists as I rock up and suggests that he take a photo while I wear his hat. I pause, letting my suspicion show on my face. He lets me know that there's no monetary exchange expected and I figure that there are easier marks that he would have ripped off if he was that way inclined, so succumb to the temptation.
He then insists that I take a photo of him wearing my hat, which for some reason he finds hilarious. I have no idea why! It's cheap to get in (1JOD) and air conditioned inside, but there's not really a hell of a lot to see – the exhibit on how they made the place was more substantial than anything else!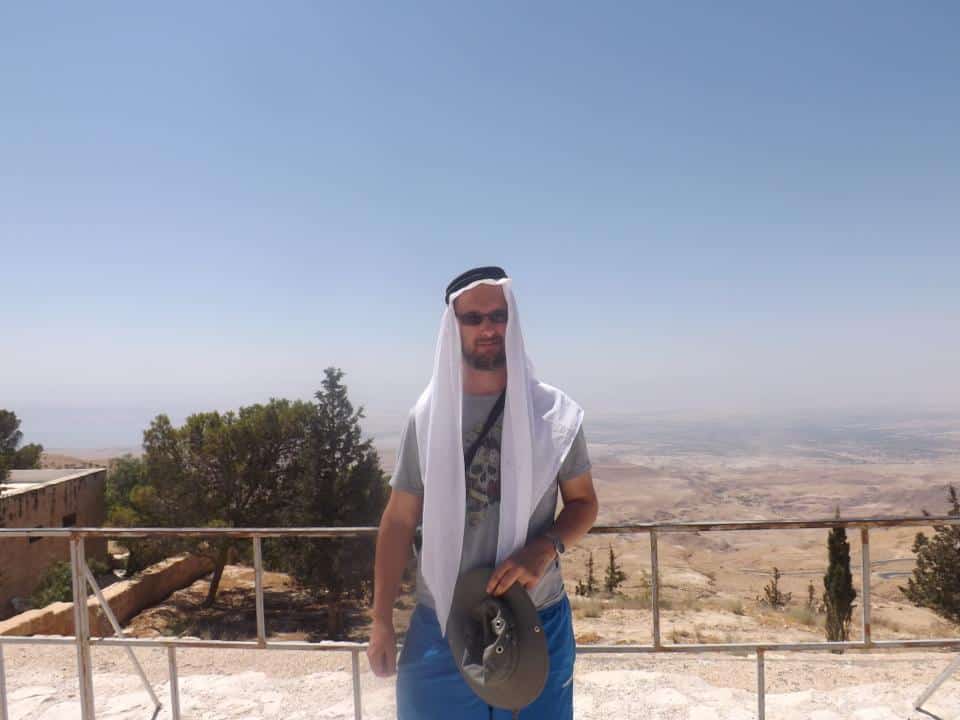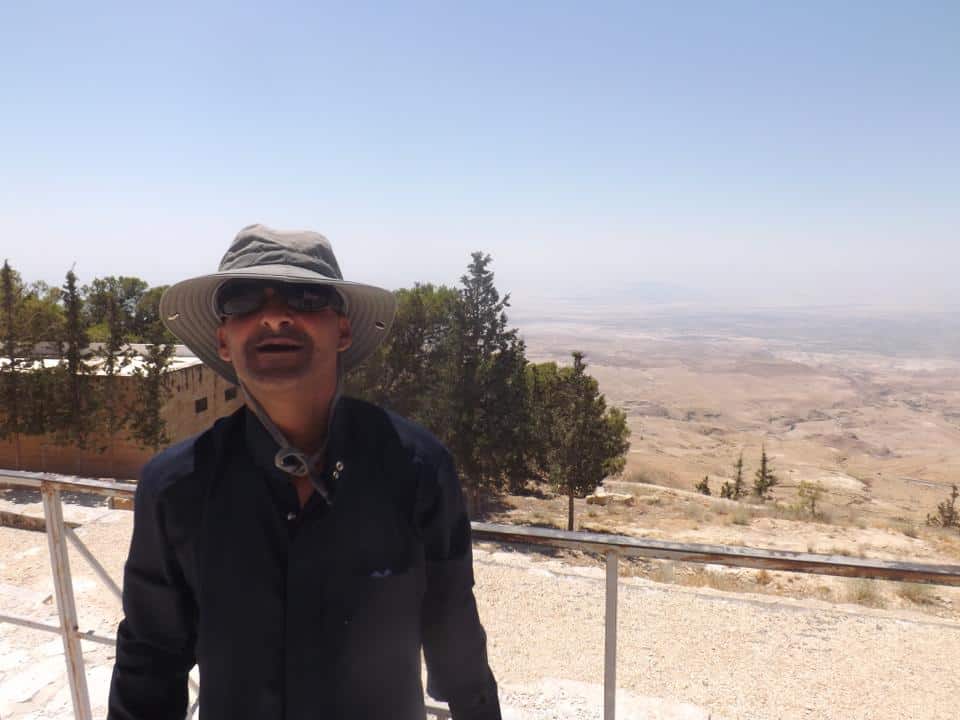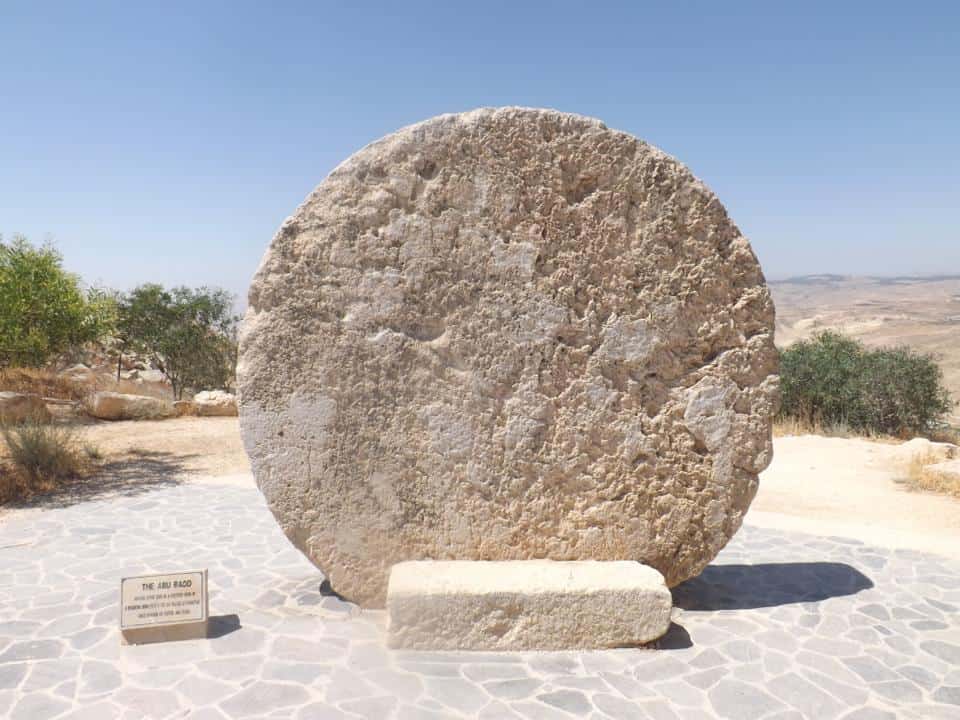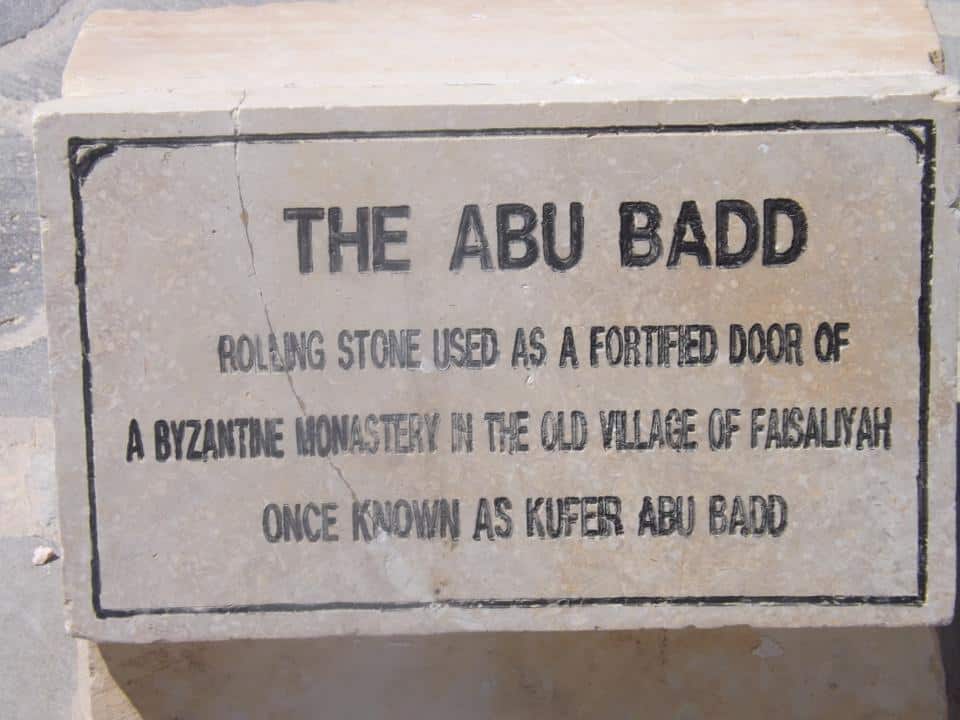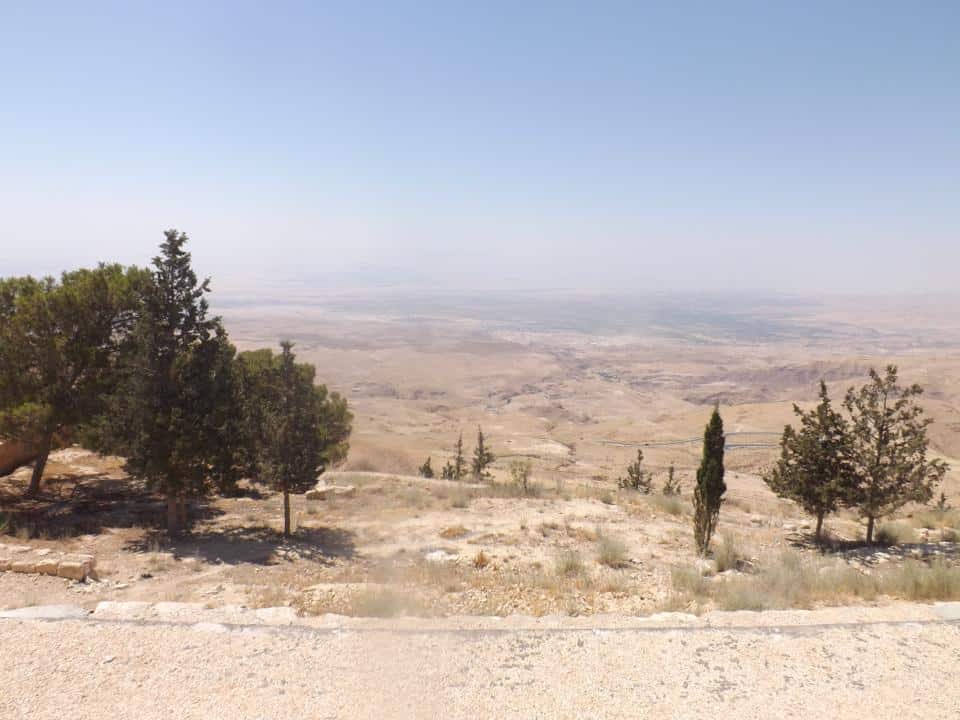 Next Stop: Amman
So then it was time for the hour long last leg to Amman. Amman's a big city (Jordan's capital: 1 million people) and we naturally enough hit a traffic jam coming into town. Looking around I was astonished to see license plates from the United Arab Emirates and Oman.
When quizzed about it, my driver thought about it before responding. Air travel is not for everyone, he said at last. Petrol is cheap. The road is long but the roads are good. We drive to visit family, for pilgrimages, for holiday. It might take two, maybe three days, but, you pull over, you sleep in the car. It can be done.
Ha! I say, my country is so small you can drive half way along it in 8 hours, take a ferry and then complete the job in another 12 hours. He frowns at me trying to work out whether I'm insulting his country. I look at a map later and the furthermost edges of Jordan are 7 hours apart by car. He tries to imagine getting to New Zealand – how long to get to your home? 30 hours, I say – from London. His eyes widen. That's a long time in a plane, he says. I agree and point out his broad shoulders and my height. Not comfortable at all I say.
We slowly manoeuvre through the traffic and the noise and pull up to the Le Meridien. I shake his hand after I pay him the balance of the money for the trip and wish him well. He barely grunts and heads back into the traffic as I greet the armed guards and prepare to go through more x-ray machines.
Previous: Petra! | Part of Trip: The Holy Land | Next: Jerash