It's apt that Iceland's low-cost airline is called Wow, as that's the one word that's guaranteed to escape your lips at regular intervals during a trip there. It's the hottest destination in Europe right now in terms of everything but the weather – but so long as you pack appropriately, that doesn't have to be a problem.
Alfred Wainwright is famously quoted as saying: "There's no such thing as bad weather, only inappropriate clothing."
Never has there been somewhere that's fitted the old adage more perfectly than Iceland.
Which is why, when I found myself in front of Seljalandsfoss in the thinnest of satin wedding gowns as an early April shower threatened, I muttered a silent prayer of thanks for the thick thermal leggings I'd chosen as bridal undergarments.
I suspected my new husband wasn't going to be as impressed when we returned to our hotel, but right at that moment, I didn't care. In any case, I had other things to contend with, such as a persistent wind hell bent on lifting my skirt and spoiling the magic of our wedding photos. I drew the line at trashing the dress, though this would have been the perfect place to do so.
In a land full of dramatic waterfalls, Seljalandsfoss holds the distinction of being the only one which you can walk behind, but you first have to run through its powerful curtain of water. The light was fading and it was time to head back to thaw out. The waterfall would still be there tomorrow.
Hotel Ranga
Our base, as we were pushing the boat out, was the delightful Hotel Ranga. Located beside the river whose name it shared, its simple wood-clad design belied the attention to detail that made this a luxury choice. The stuffed polar bear in the lobby was a quirky touch – and made for some particularly unusual photos for the wedding album – and the food was sensational.
Outside, in one of several hot tubs, we gazed at the Northern Lights as they made a spectacularly well-timed appearance, and had a taste of the nation's characteristic friendliness when another guest hopped in beside us for company. It's not everyone that can say they spent a good proportion of their wedding night with a total stranger.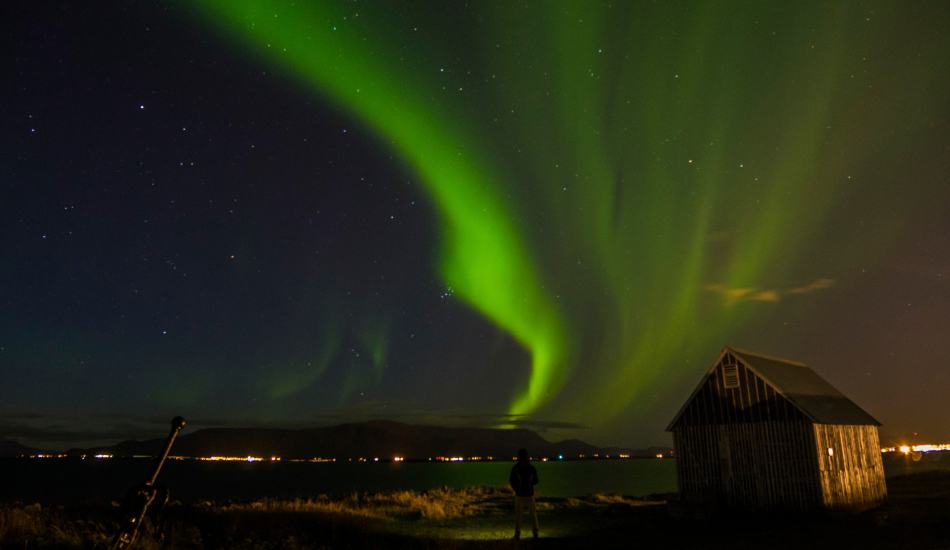 The following morning, spotting patches of blue in between extensive cloud, we decided to get an earlier start than is customary on a honeymoon. Icelanders were very proud of their "four seasons in one day" weather, so we weren't going to waste summer on a lie in.
Seljalandsfoss, Skógafoss & Sólheimasandur
The south coast of Iceland promised many natural wonders; first on the list was Seljalandsfoss, where, more suitably attired than before, we ducked behind the waterfall to experience the view through its cascade. Next stop was Skógafoss, where water had eroded the sea cliffs so far that they were no longer part of the coastal scenery.
But we had more miles to cover, and on we pressed, in search of "a hole where a gate should be", the intriguingly cryptic directions I'd been given to help us find our next pitstop.
The gap led to a gravel track that wasn't really a track and predictably we ended up a little lost. My husband, more than used to my pitiful attempts at navigation, was pragmatic and surprisingly patient. Before long, an internet search had thrown up GPS co-ordinates and we were back on track.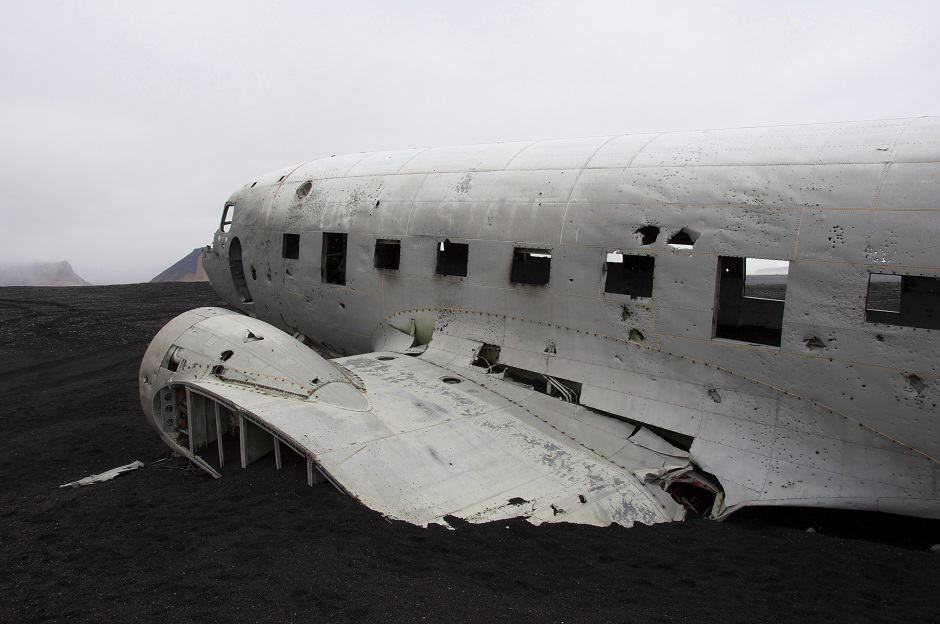 Skirting a ravine, we drove slowly across a plain of black sand until our target came into view: a crashed DC-3. Once the property of the US Navy, it had crashed in bad weather in 1973. Sliding to a halt on its belly, the soft sand cushioned the crew from disaster and all that remains today is a stripped out wreck.
Wires trail like the entrails of a slain beast and windblown sand collects in dimly lit corners. Clambering around inside as if starring in a science fiction movie, my poor sense of direction was forgotten, just as flaws should be if a marriage is to be a success.
Fjaðrárgljúfur canyon
Back on the Ring Road, Iceland's main highway, we passed few cars on our way beyond Vik to the fairytale Fjaðrárgljúfur canyon. Its sheer cliffs were topped with a thickening crop of moss and grass which spilt over the edge like the icing on a cake. Later in the season, the scene would be more verdant and the water might be warm enough to wade in. But on that day, the sun had popped off for a lunch break and a chill had settled on the air. We ate our picnic in the car.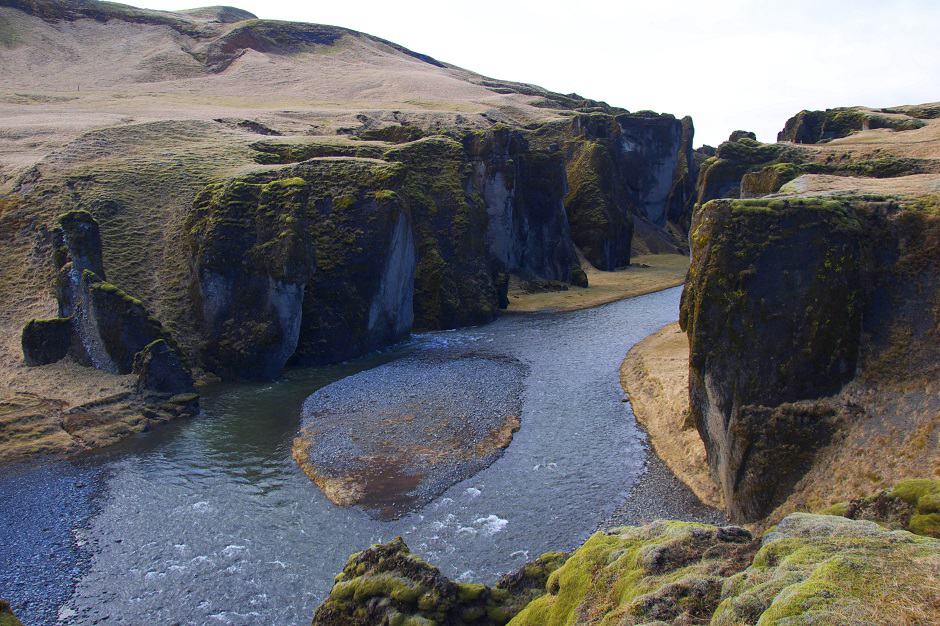 Jökulsárlón
Our final destination that day was much anticipated and somewhere we'd visited before: Jökulsárlón. This glacial lagoon is perhaps my favourite place in the whole world. Last time, we'd flown up from Reykjavik, snowmobiled on the Vatnajökull glacier before driving into the lagoon on-board an amphibious vehicle.
Now, we were back for a second helping, though it was still too early in the season for the boats to be out on the water, confining us to its shores. Ice calved from Breiðamerkurjökull, an outlet of Vatnajökull, into the warmer salt water of the ocean. It was still cold, you understand, but these things are relative. The icebergs floated like glistening boats that have broken free of their moorings, ending up as playthings for the Atlantic breakers.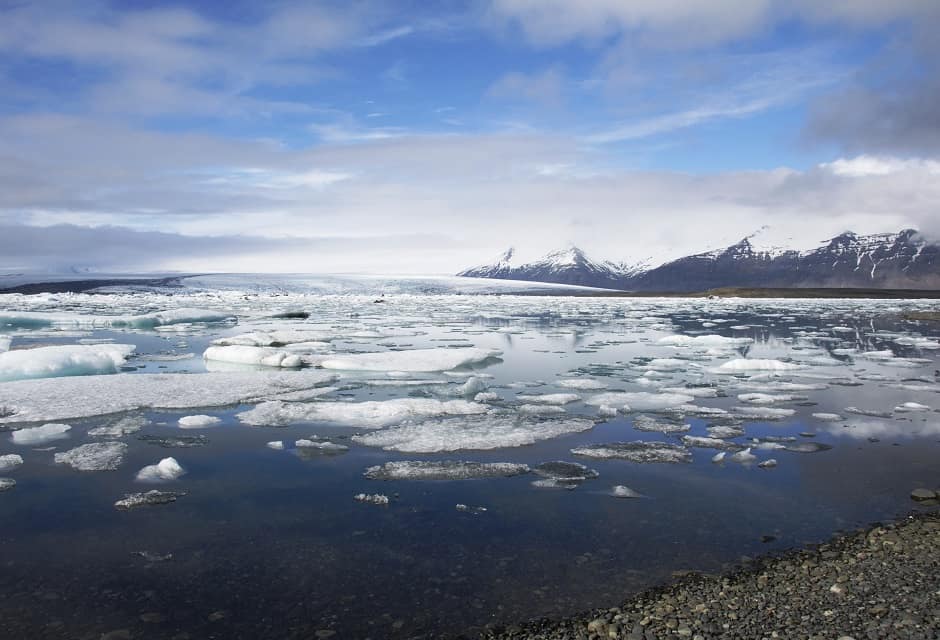 We drew a heart in the black volcanic sand and sat hand in hand watching lumps of ice sink into the beach. Marriage, I decided, suited us and I'm sure my husband would agree.