Should I Go?
Iceland shares the magic of New Zealand but is closer to Europe and North America. Cheap trans-Atlantic flights with attractive stop-overs make Iceland a convenient exposure to alien natural beauty.
A third of a million people live on an island about 40% the size of the UK (the size of the state of Kentucky) giving it a population density of 3 people per km². Being just south of the Arctic circle, the climate is chilly, but does mean you can see the Aurora Borealis (Northern Lights).

How Long Should I Go?
The consensus amongst the travel guides on Skyscanner, Expedia and TripAdvisor boil down to:
Hot springs
Golden Circle
Nightlife
Beer
Whale watching
Northern Lights
While Nightlife and Beer can be done in the city, all the others require some travel which reduces the number of things you can do per day. In addition to that, my travel companion is a huge climbing aficionado, and ice climbing on a glacier is another activity which will take some time to get to.
If you're interested in ticking off the consensus things to do, you might be able to cram them all into a very hectic three day trip, but a week would be better.
The local currency is the ISK (Icelandic Kroner) and the exchange rate in November 2014 was 193.220494 and it's now 139.968203 (ISK per GBP).
How Do I Get There?
You are spoilt for choice – EasyJet, IcelandAir and WOW all fly London to Reykjavik's (the capital – pronunciation) Keflavik airport, I've seen flights as low as £125 return from London.
The national carrier, IcelandAir also has a deal where for £679 you can go London to New York return with a three night stay in Reykjavik (Iceland stopover only available on the outbound leg, but you do get to choose from three hotel choices).
Being an island nation in the Arctic Ocean means that other options are a little lacking – though there is a once a week ferry from Denmark.
How Do I Get Around?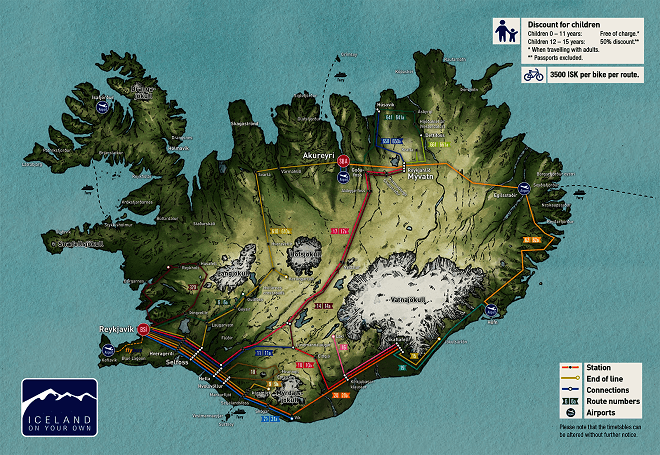 There are no trains on Iceland, but there are buses. Most of the tours I investigated featured a hotel pickup from Reykjavik hotels. If you're going to rent a car on the island, pay attention to the weather and get snow tyres!
How Much Is It To Stay?
Skyscanner has most hotels in the £120-180 price range, and AirBnB has most between £80 and £190, making Reykjavik quite an expensive place to stay (similar to other Scandinavian cities).
We stayed at the Radisson Blu Saga, which is a little way from the centre of town. We booked on GetaRoom.com and it cost USD395.28 (£253 at the time – now closer to £317) .
What Shall I See?
Day Zero
The plan was to take a half day of leave from work, fly over on the Friday night (arriving late), and have a full three days of Iceland and then head back on Tuesday morning – unfortunately leaving very early in the morning. We tried to maximise the time we had actually doing activities by booking tours with hotel pickups so there was minimal stress and fuss in getting around.
*Sigh*
So we'd found a really good deal: a bus transfer to/from the airport, travel to/from the Blue Lagoon plus a Grand Circle tour for two, all for ISK 22,400 (£115) with Bustravel Iceland. The deal has since gone up a bit since then (ISK 33,000) and the Pound has dropped in value, making it a bit more expensive in today's money (£170). But still we thought, convenient!
We arrived at 10.50pm on a bitterly windy evening. If Iceland's geothermal activity ever dries up they can solve their energy needs with a couple of wind farms! We look around the arrivals hall and find two bus companies, but neither have Bustravel Iceland signs. I head outside in the cold to see if I can find a likely looking bus. There are some buses there, but again, nothing Bustravel Iceland related. I venture a little further and pretty soon exhaust the possibilities – no more buses. I go back inside and relay this to my travelling companion.
Hmm… this doesn't feel right: maybe they outsource the bus trips to someone else? I walk up to the counter of one of the bus companies in the arrivals hall. Excuse me, do you handle the Bustravel Iceland buses? She smiles and takes my printed paper from me. Ah! she says, eyes recognising the logo – these people don't come up to the terminal, they will be waiting in the carpark. My face says it all. WTF?
Yes, she reassures me – go out the doors and walk along the path to the carpark. There will be a covered area – that's where the bus will be waiting. OK, she seems sure, so I collect luggage and travelling companion and head out the doors. We pass most of the other passengers from our flight getting onto the their buses, the buses closest to the doors of the warm and calm arrivals hall and head out into the cold wind.
It's not too far from the terminal, but late at night and exposed as it is we make it to the middle of the car park and lo, there is a covered section of the path – if memory serves it's got a carpark pay machine in it and we look around. Nothing. A few lights at the end of poles try desperately to counter the darkness, but that's it. "Waiting my ass," I mutter as we head back towards the terminal. Maybe we should wait here if this is where they'll come, says my companion (who had found and booked the deal) hopefully. Tell you what, I respond, let's stick together – if we can't get answers we'll grab a cab.
The other buses have gone and the lady that had pointed me in the direction is starting to close up her counter. I frown slightly at her and let her know that there was no bus out there. She looks puzzled and repeats her directions – out the door turn left, middle of the carpark, covered stand. I nod and say, yes that where we went. Realisation dawns on her and she asks how far away the covered bit was and I say I don't know – ten minutes walk something like that.
Yes, she says, you want the covered bit of the next carpark. I thank her very much for her help and we head out to the cold and wind again. As we head back out my travel companion says conversationally "I hope they're there". I agree distractedly, wondering what she's getting at. "Because I don't see any taxis," she continues. I look around and she's right.
So we head past the first carpark and to the second and there in the shadow of the covered stand is a van. I walk up and, a little brusquely, it must be said, inquire as to whether they are Bustravel Iceland. We are assured that they are indeed and we pile in out of the cold and wind and sit with another couple in the back.
After about five minutes of not moving, I ask the obvious question – are we waiting for anybody else? Apparently there is another couple out there booked for the transfer who haven't managed to figure out where the pickup point is. Yeah, I say (maybe a little archly), we had to ask someone in the end.
Eventually the darkness coalesces into a pair of shadowy figures who make a beeline for the van. All present and accounted for, we finally hit the road.
Radisson Blu Saga is away from the centre of town on top of a slight hill. It's getting close to 1am by the time we get to the check in counter and I plaster my polite smile and enquire as to whether we can check in please. Ah yes Mr Lambert, I'm afraid we've given your room to someone else but we've got you a better room in our sister hotel in town.
My smile becomes a mask as my brain disengages and starts a little chant. All I want to do is go to sleep. Sleep! Sleep! Sleep! I realise that I have been staring at the receptionist without hearing what's she's been saying. Uh… how are we going to get there? I finally manage. Ah, we will call you a taxi. She says. And in the morning? We have a hotel pickup for our tour, I tell her, at this hotel.
Oh, just ask their front desk to arrange a taxi back here in the morning and that will be fine, she says. I can't think of anything now except sleep. Right! Where is this taxi I ask – the only thing I think of is that this extra taxi time now and in the morning are both coming straight out of my sleep time.
So we take the five minute taxi trip to the Reykjavik 1919 Hotel and check in there. We're right in the middle of town and the room is lovely but all I can care about is sleep. It takes a little while to figure out how to kill all the lights in the room, but eventually I manage to drift off.
Day One
All to soon we're up and grabbing a taxi back to the original hotel. They graciously agree to allow us to store our luggage with them and we settle into the lobby to await our pickup for a day on the glacier doing some ice climbing.
They say on their website that you should be ready at 8:30 and that it may take them 30 minutes to get to your hotel. It took every ounce of cajoling my companion to be ready on time – despite being the climber and being her idea, she was surprisingly reluctant to be on time. So it was with some great pride that I got us both in the lobby, ready to go at 8:30. And we waited. And waited.
A large enough group of fellow tourists also waited, and every few minutes a bus would pull up, the driver or guide would come into the lobby and call out the name of the company and tour and then leave with a few people in tow. 9:00 came around and the waiting tourists were fewer and fewer. I started to get a little concerned at ten past and went to the receptionist and asked if she could call the tour company for us.
She was happy to do so and politely spoke in English so that we could hear what she was saying. So we were just as astonished as her when we found out that the bus had come to the hotel. But that nobody had come into the hotel – instead they had waited a few minutes and then driven off.
The receptionist also found this hard to understand and switched to Icelandic to continue the conversation. She kept her voice level but I could tell she explaining how this was perhaps not the most helpful approach to take! She said that they were full the next day but if we could make Monday then they could fit us in on that tour.
I smiled through gritted teeth and thanked her but said that we had a Golden Circle tour booked for that day. She asked who that tour was with and after I told her she said that she could get us on their afternoon Golden Circle Tour today instead. I frowned and asked what time that would get back, as we had a Northern Lights tour booked for this evening.
That won't be a problem she said – the Golden Circles gets back before 8pm and the Northern Lights tour doesn't leave until 9pm. OK let's do that then I said, so she made both sets of arrangements. I made sure to thank her afterwards and turned to my companion and asked what we should do now – we had more than two hours to kill. Oh, the receptionist said – you should check out the city – it's not far and you'll make it back in plenty of time.
So we headed into town. There's something to be said for wandering around a city centre at 9:30 on a Saturday morning – Reykjavik has a reputation as a party town, so it's no surprise than the streets are deserted, and the Arctic circle morning light is very weak so it feels much earlier.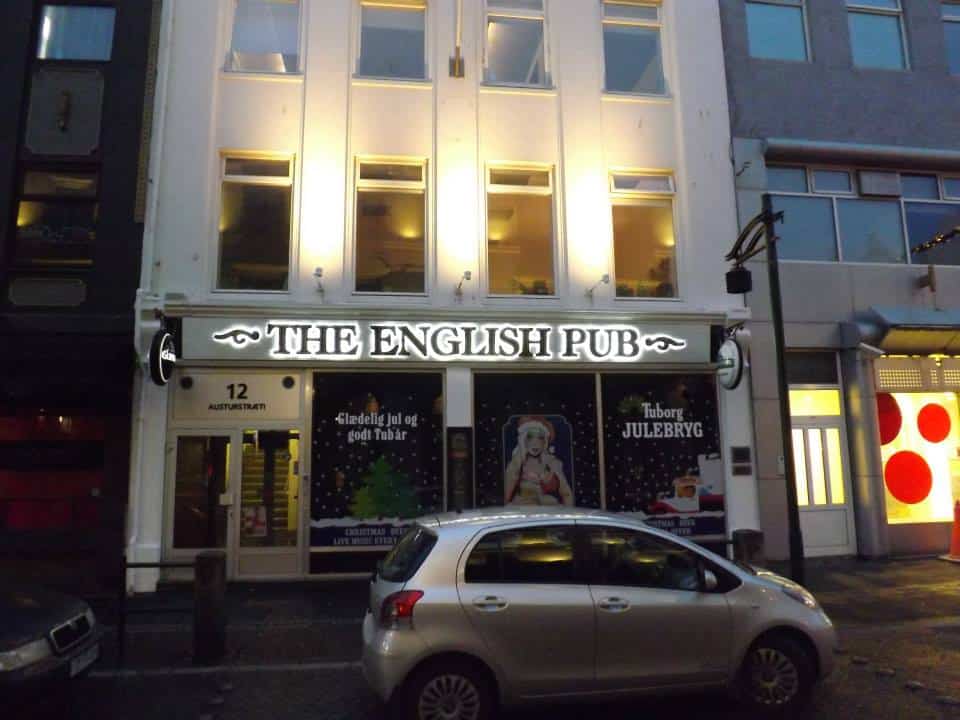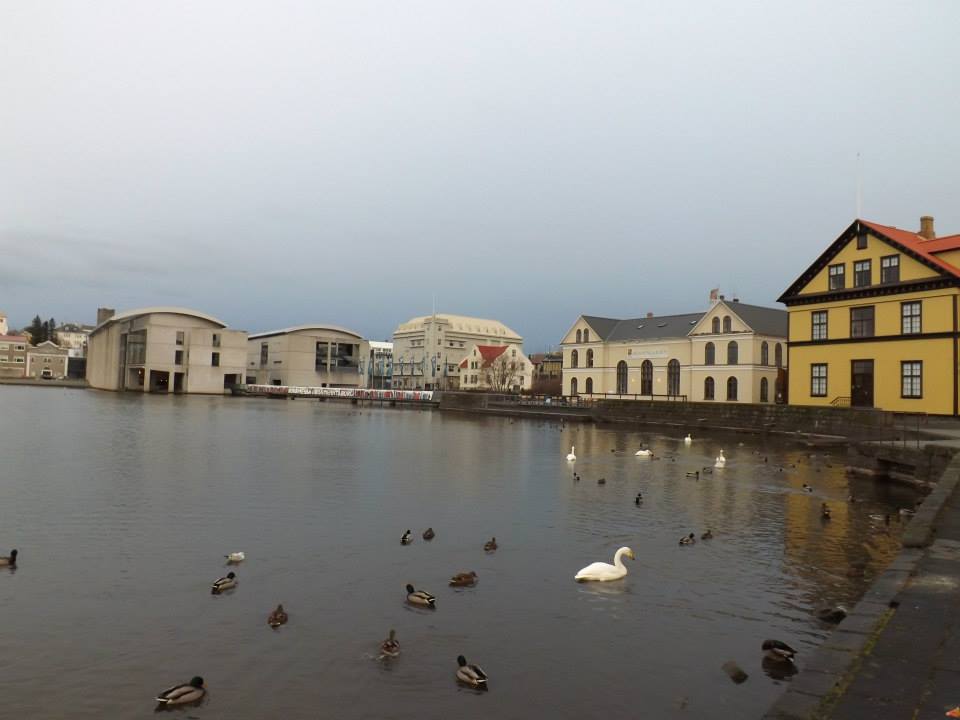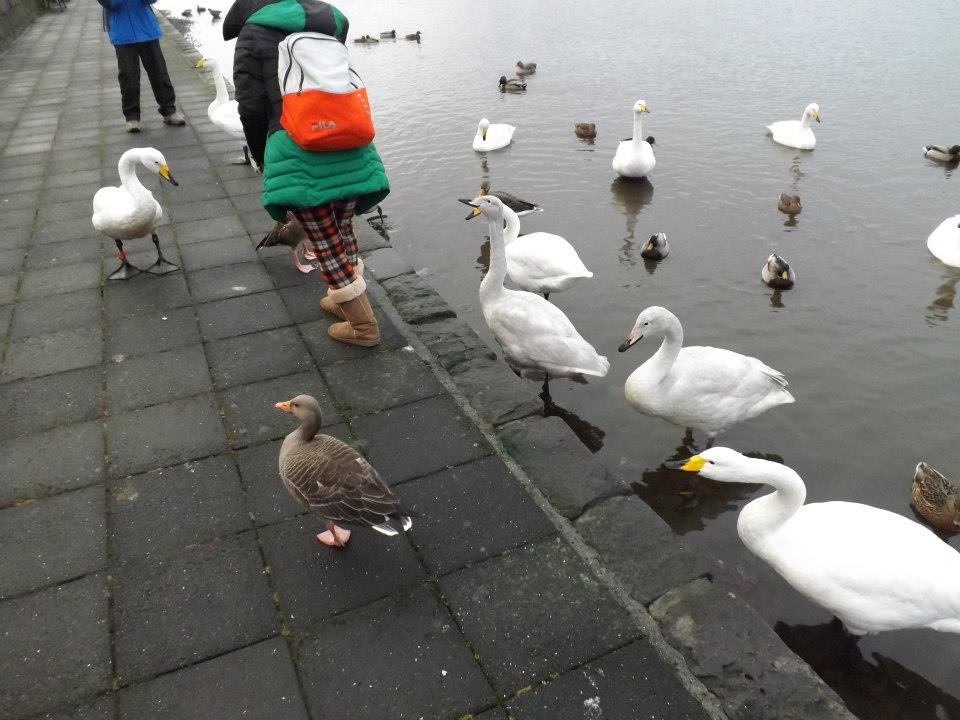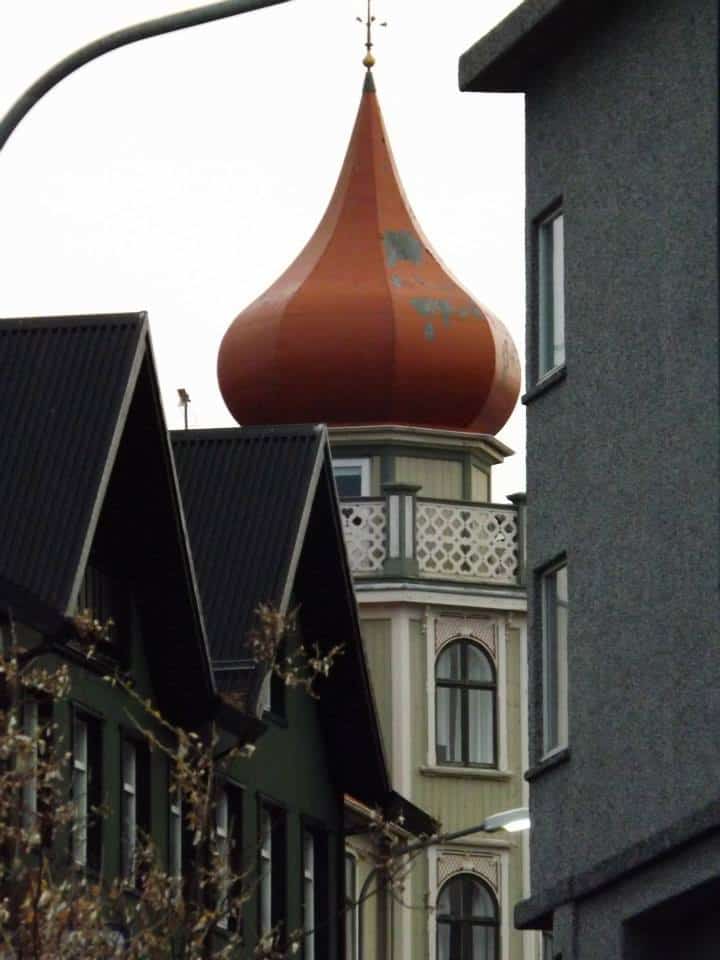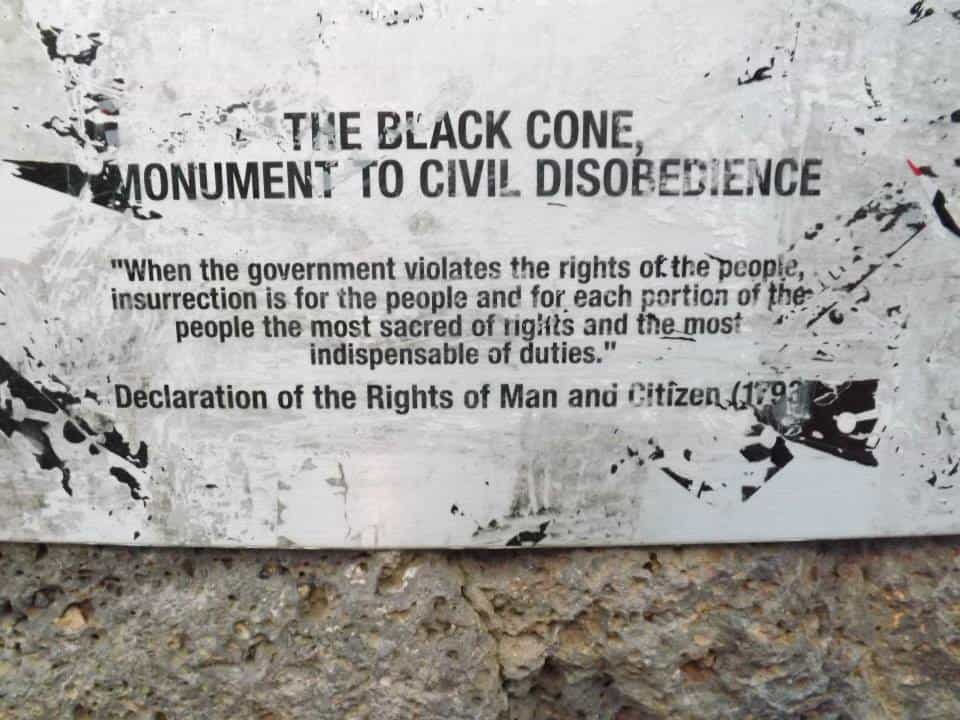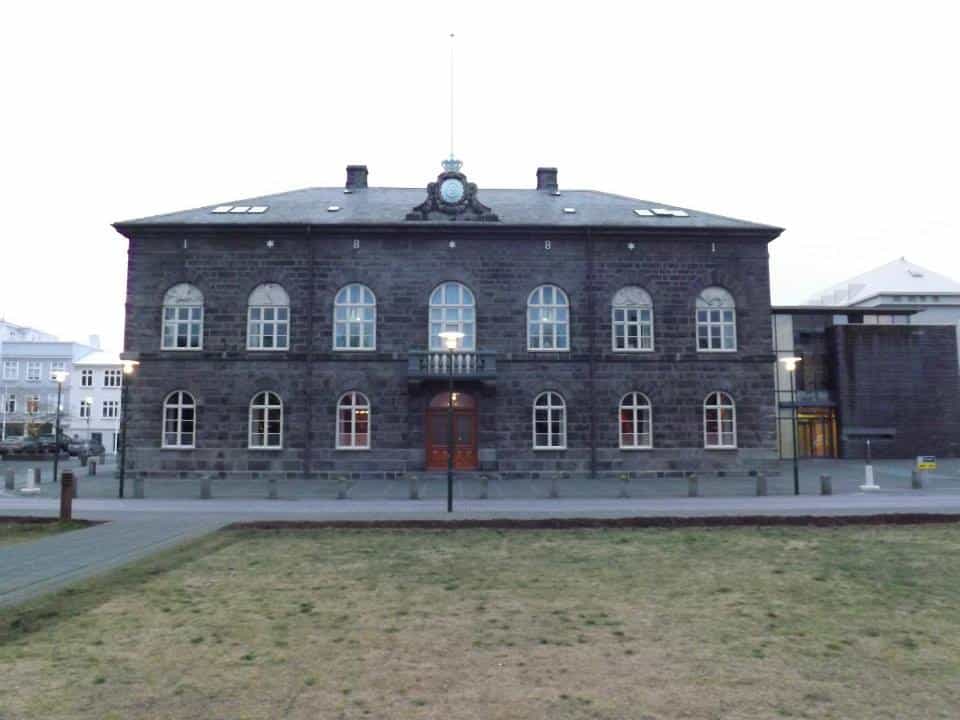 We arrived back at the hotel in plenty of time and waited in the lobby – this time keeping a paranoid eye on the drive in front of the hotel. This time our driver came into the lobby and collected us and we went left for our Golden Circle Tour.
We were back with maybe half an hour to spare before being collected by a van which took us to the central bus station.
Exhausted, we finally made it back to the hotel and put ourselves to sleep.
Day Two
We had a more leisurely day planned for Sunday – a stroll through the city followed by a visit to the Blue Lagoon and then dinner at Lava the restaurant on site at the Blue Lagoon. We started off at the Museum.
Various posed mannequins illustrate historic events and amusingly the people on the committee were used as the models for the mannequins. It's a nice touch.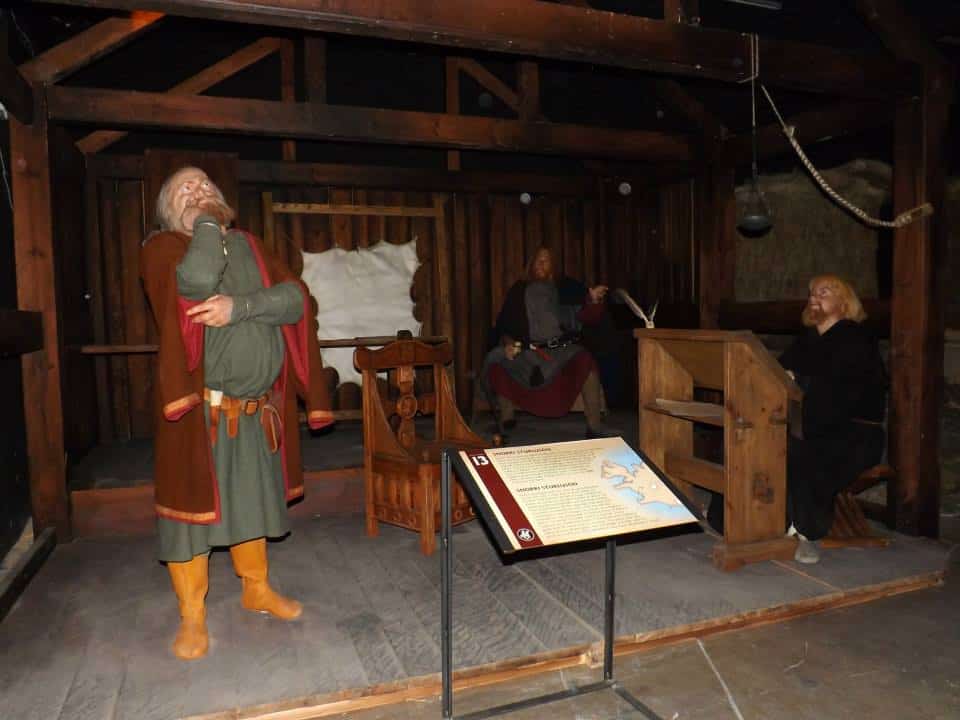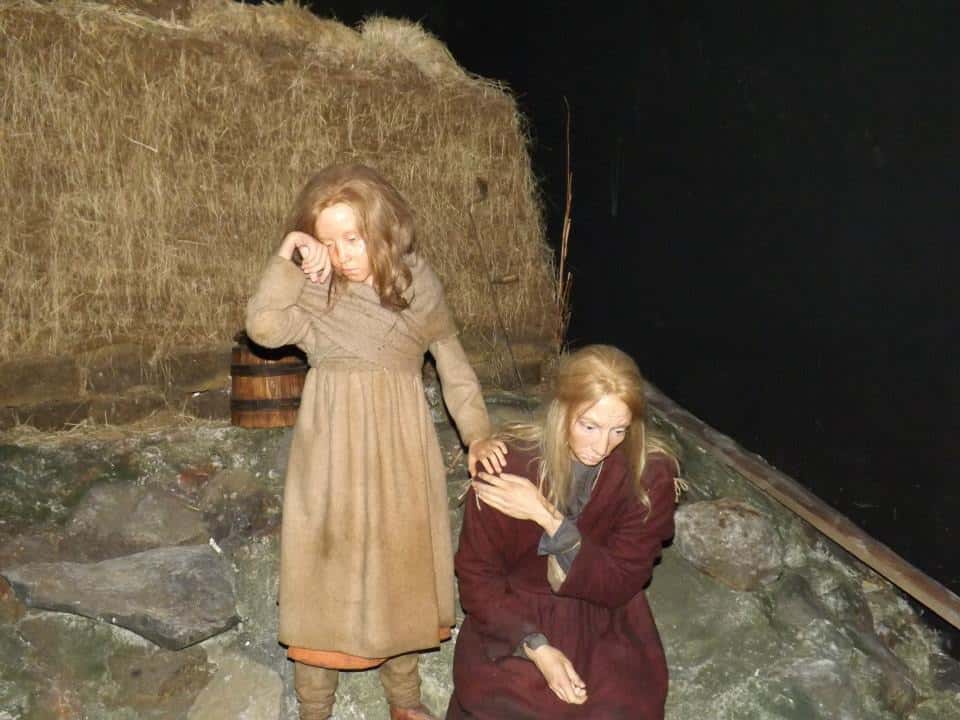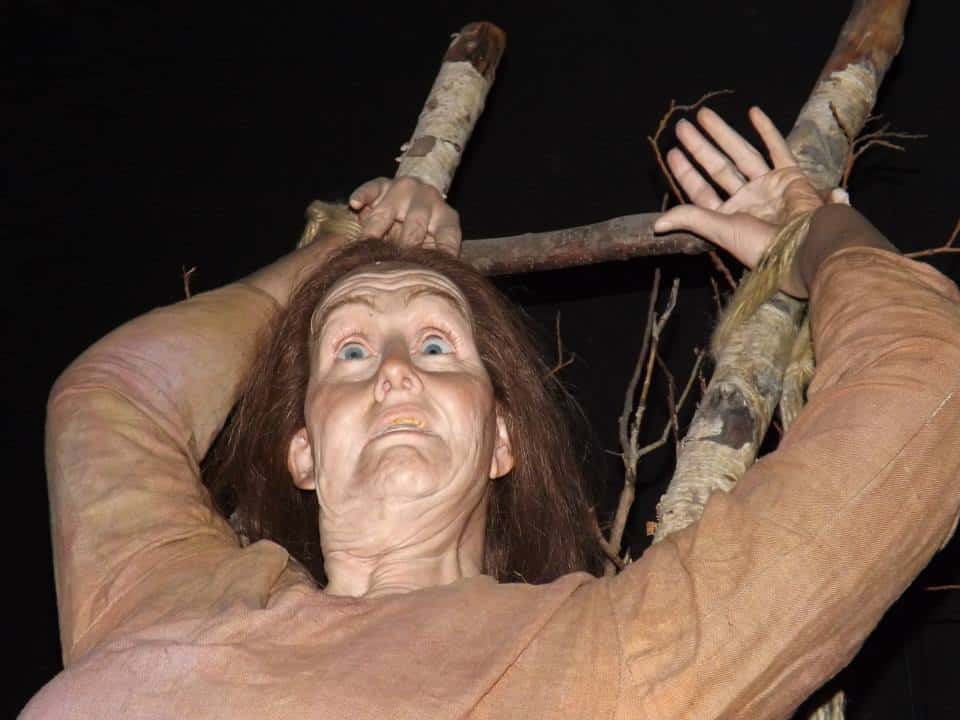 Suitably educated, we head through the city towards the highest point around – the church. On the way we cross a big park with an imposing warrior statue. Something catches my eye so I come closer and zoom in on the statue. Some cheeky bugger has climbed up and given the warrior a pair of glasses and put lipstick on him. Heh.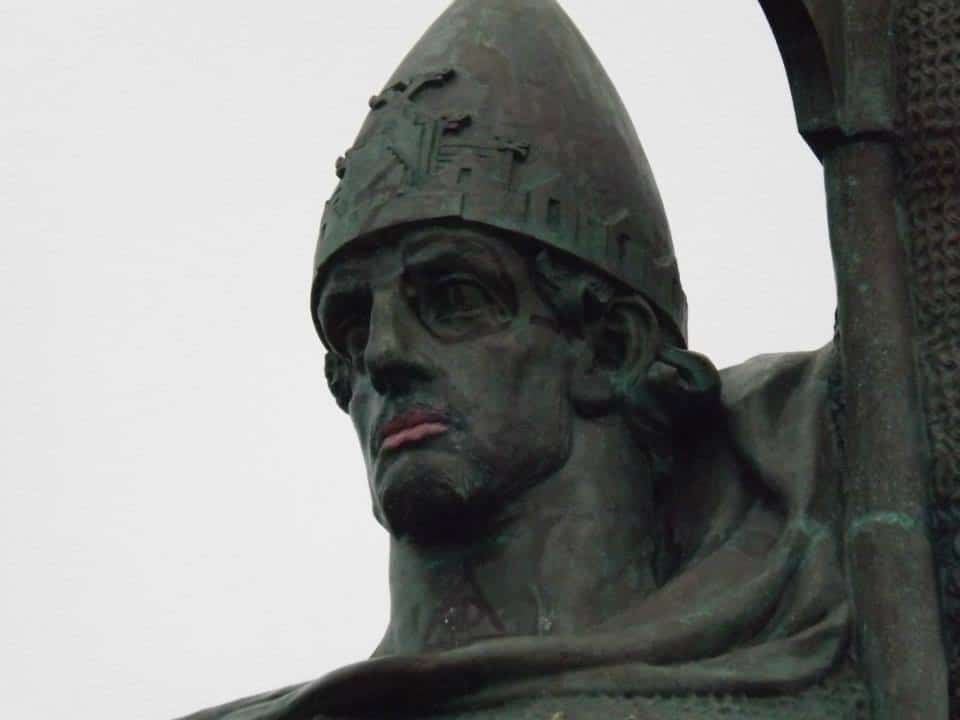 Being a Sunday morning, there aren't too many people out and about – a few tourists and the odd local going about their business, and the businesses look to be 90% focussed around tourism and partying.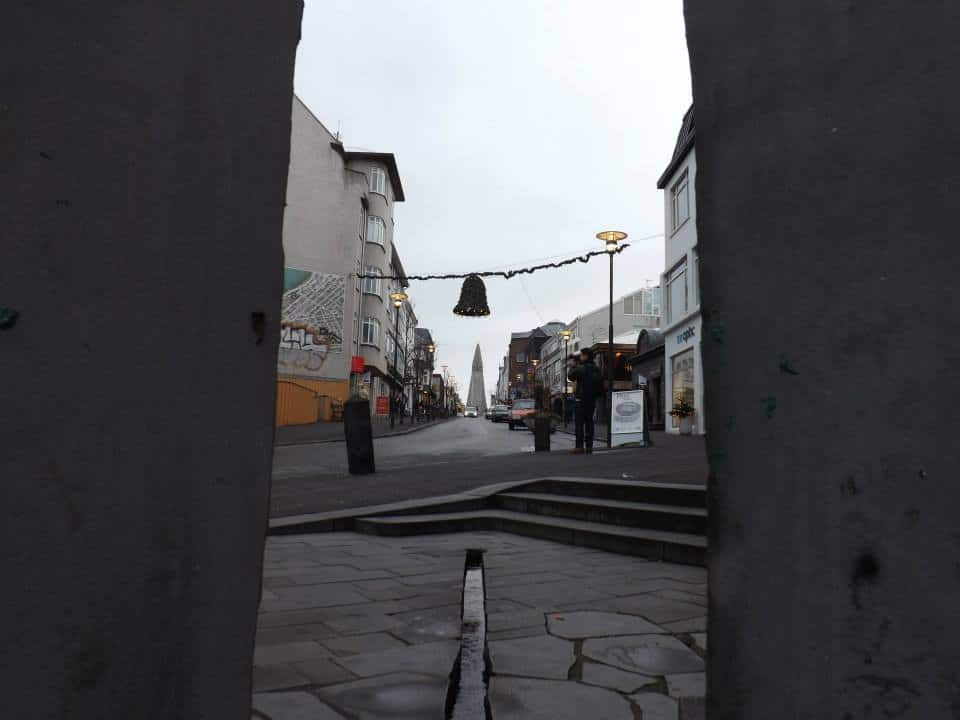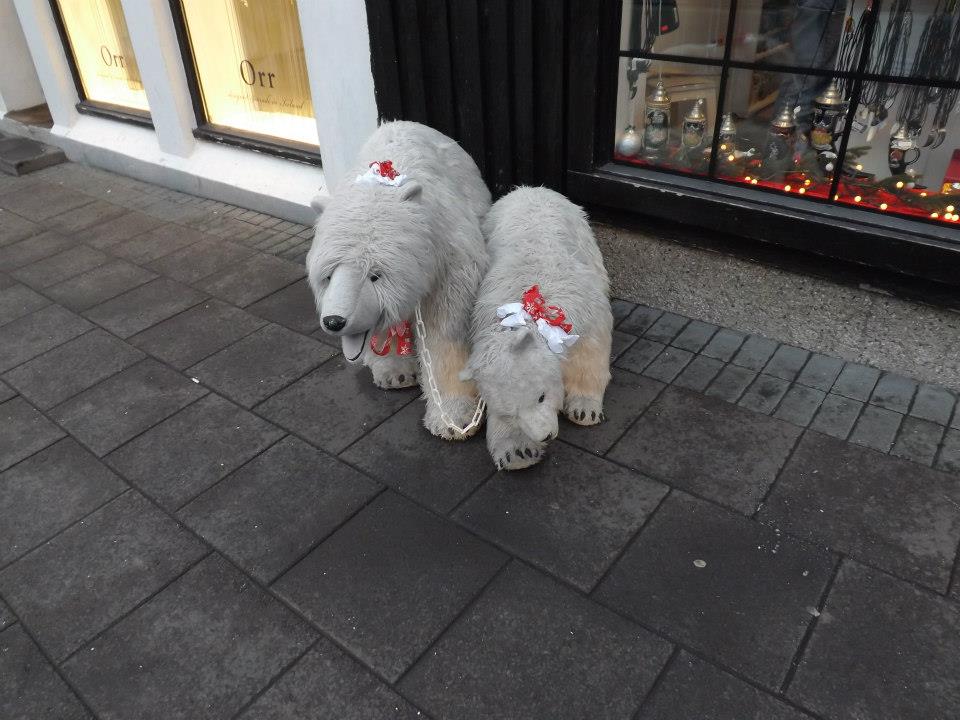 A local pub has an inclusive statement on the door: If you are racist, sexist, homophobic or an asshole, don't come in.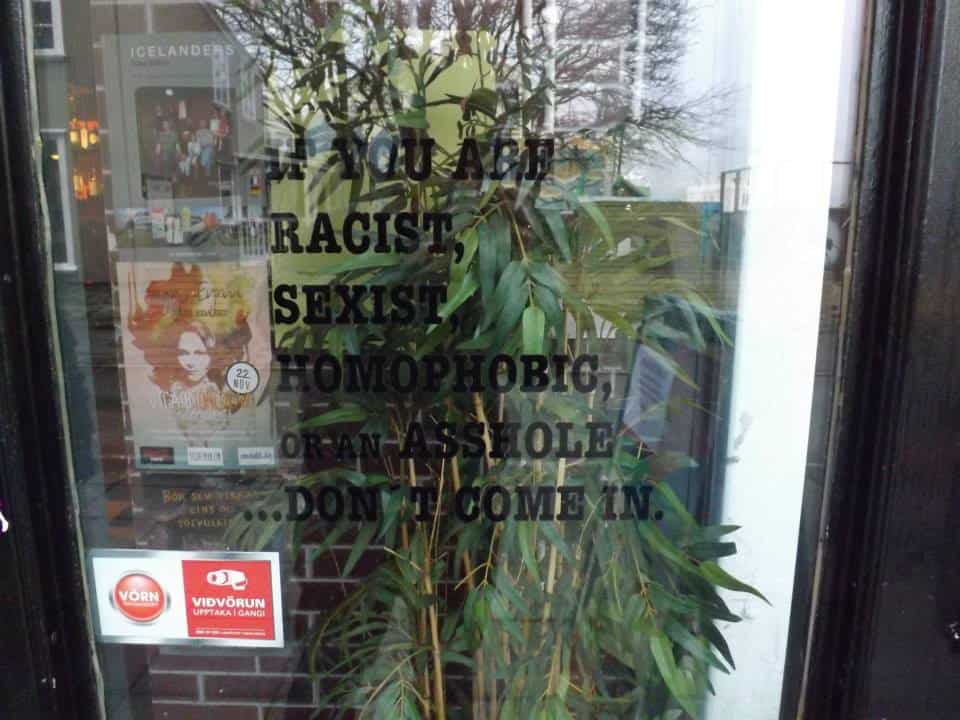 Then we come to the church. It truly does dominate the city and the views are quite spectacular.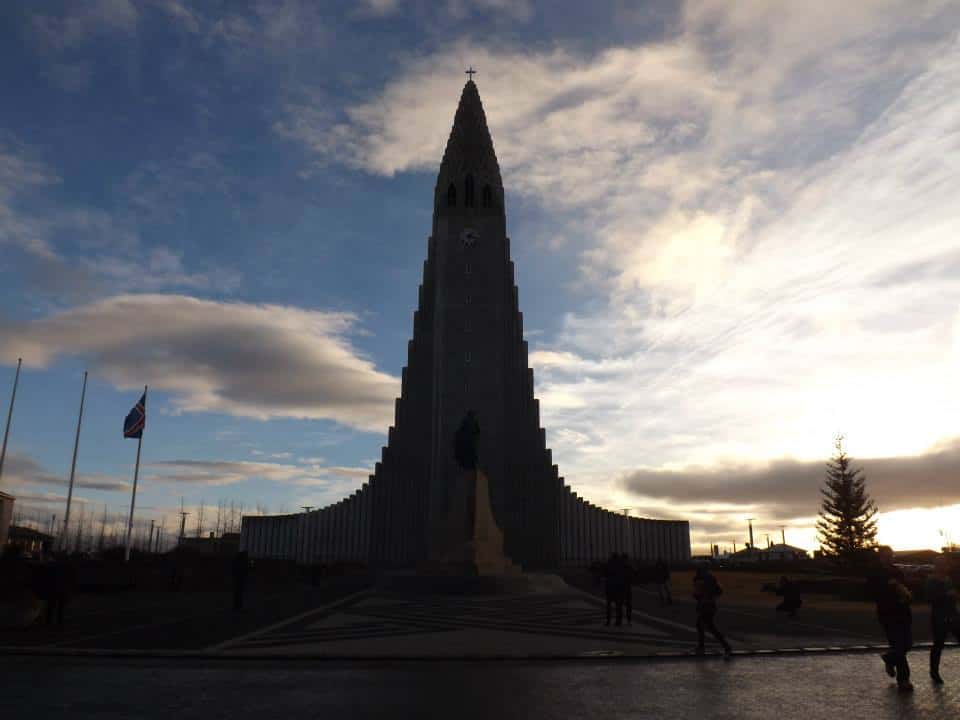 The bit which looks like an airport on the right hand side of the next photo is in fact an airport. I would imagine there would be complaints about the noise if all the commercial flights started to land there, but dang it would make the transfers easy!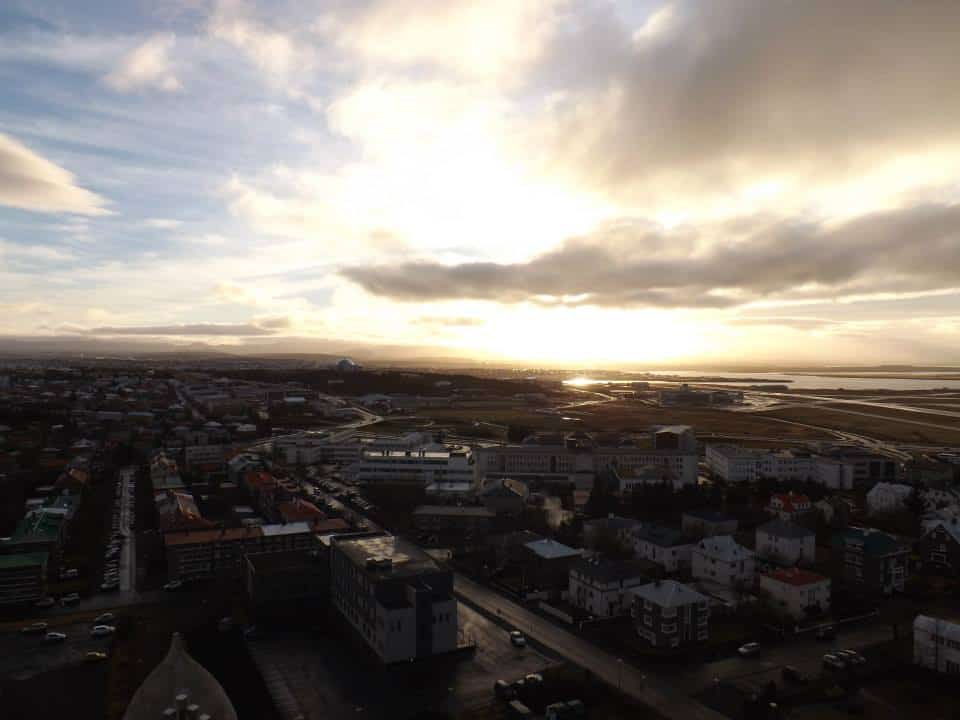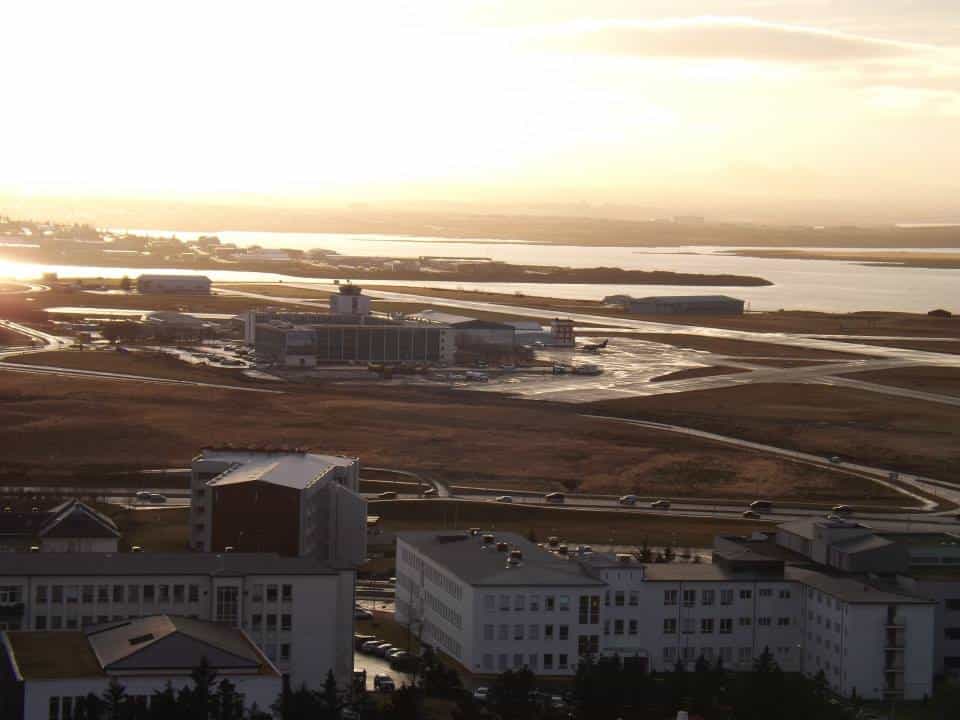 With my cool zoom on my camera I'm able to capture the Radisson Blu where we stayed most nights.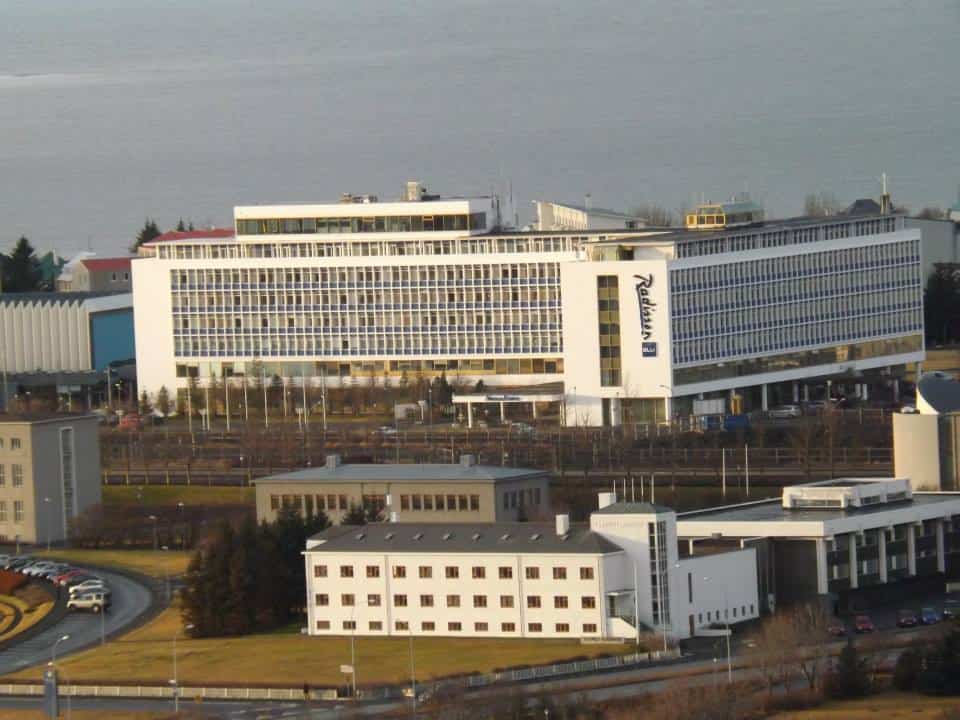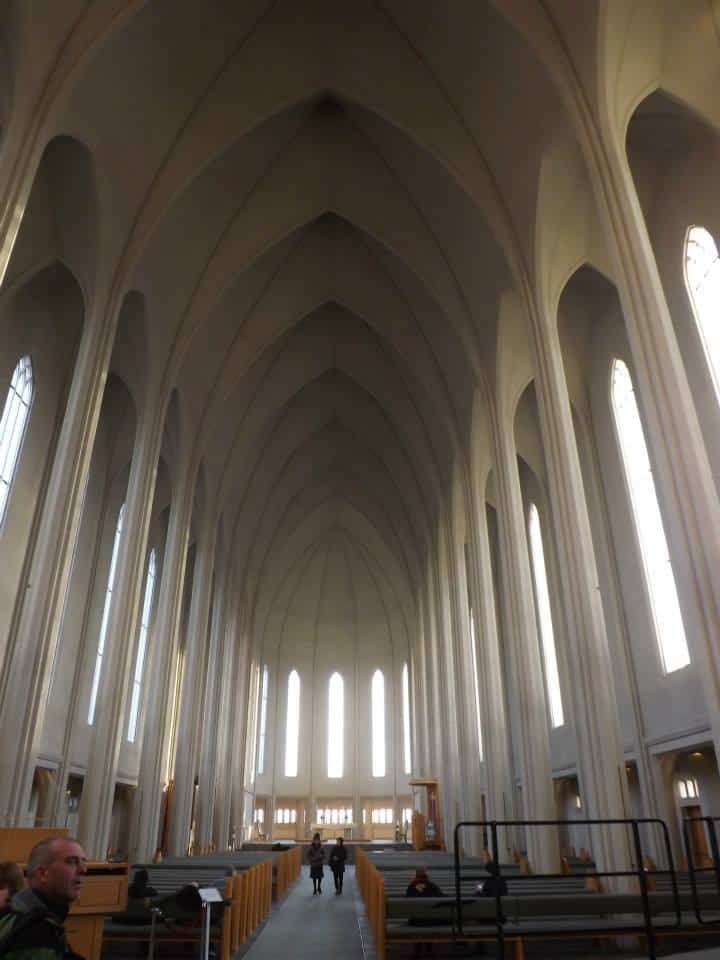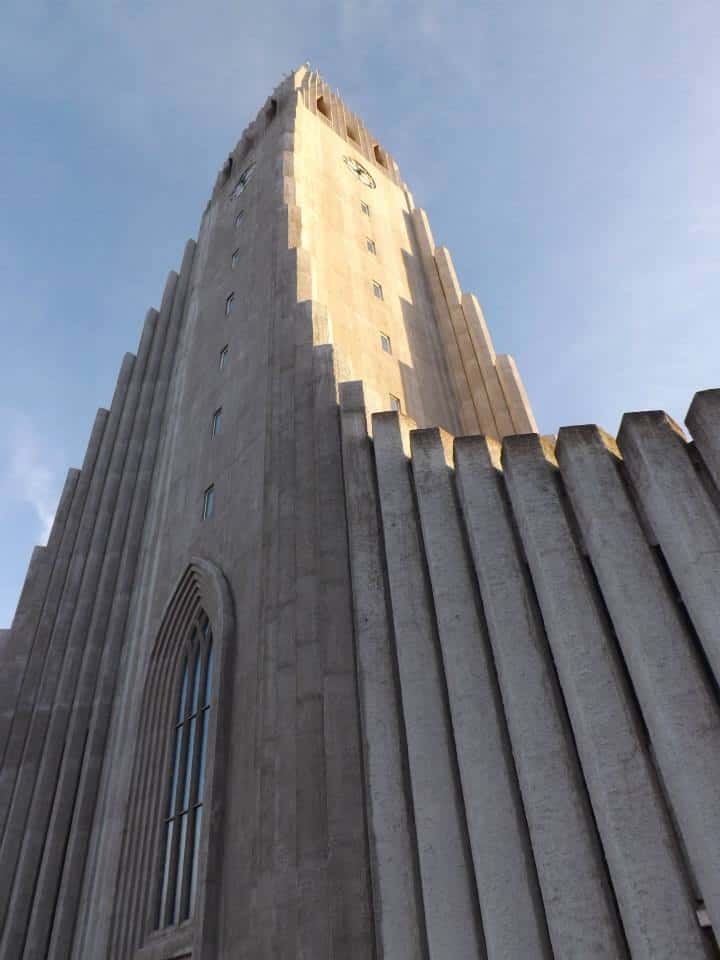 And so after wandering around the church we stopped off at a nearby ice cream shop. The girl behind the counter seemed friendly enough so we asked her about living in Reykjavik and what she wanted out of life. Pleasant enough way of spending the afternoon – and then it was time to head back to the hotel in time for the pickup to the Blue Lagoon.
Blue Lagoon and Lava Restaurant
Day Three
Day Four
Finally after some late nights and early starts it was time to head to the airport and head back home.
How Much Did It Cost?
Let's assume you wanted to do the same trip as we did (4 nights for two, flying from London)
Would I Go Back?
I'm really glad I went, but in terms of Destination travel, I don't think I will go back to Iceland. I hear really great stories of people who have spent a lot longer on Iceland than I was able to and after watching The Secret Life of Walter Mitty I can see why some people think Iceland was the real star of the movie.
Here's the thing though: with cheap UK to US flights, it doesn't take much to get a taste of Iceland en route to the USA – a few three day stopovers would allow you to add to your knowledge of Iceland incrementally!