Walking down cobblestoned streets, passing through iron wrought gates before entering a cathedral under dome shaped archways; you forget that you don't live in the 1600s. The city of Prague seems to be a page ripped out of George R.R. Martin's Game of Thrones. If you close your eyes, you can hear the bubbling of a nearby fountain, the flutter of birds' wings and the clang of church bells ringing in the distance. This is truly the feel of Prague, a city that retains its history and heritage amidst an ever-changing world.
I went to Prague in the summer of 2015, as part of a European backpacking trip with one other friend of mine. I spent a collective of 5 days and 4 nights there, sleeping in a cosy two bedroom Airbnb. It was just a couple steps away from the nearest subway stop and a 15-minute walk to Prague Castle. This Airbnb, owned by a guy named Tatsushi, also included breakfast every morning. Although it was the same meal every day, it saved us lots of time and money in the morning.
Since our backpacking trip spanned the length of a month, we were very budget conscious. Although there were usually fees for entrances to cathedrals, there were always ways around this. Most of the attractions we visited were either free or relatively inexpensive, leaving money to spend on food and drink.
Prague should be experienced on foot, but to get to some of the further destinations, the subway system is convenient and inexpensive. If you planning on staying for a few days, the 3-day pass costs only $16 CAD. The ticketing system in Prague allows you to buy a short-term ticket or a long-term ticket. If you are planning on taking a quick trip, the short-term ticket allows you to have unlimited travel for 30 mins.
If you're planning on transferring more, or travelling for a longer period, you can get the long-term, 90-minute ticket. Tickets are $1.25 and $1.70 respectively. Prague relies on an honour system, as you must validate your ticket before entering the train by punching it at a box. There are enforcement officers that will give out fines if they find that you are not paying for your ride.
1 Day in Prague
If you only have one day here, I would recommend going to a lot of the most popular tourist spots, Charles Bridge, the Astronomical Clock and Prague Castle. Prague Castle, or Pražský hrad, is a lovely castle with one of the most important churches located at the top. Normally, St. Vitus Cathedral has an admission cost, but if you happen to be there on a Sunday, you can enter the church for free while attending the service.
Astronomical Clock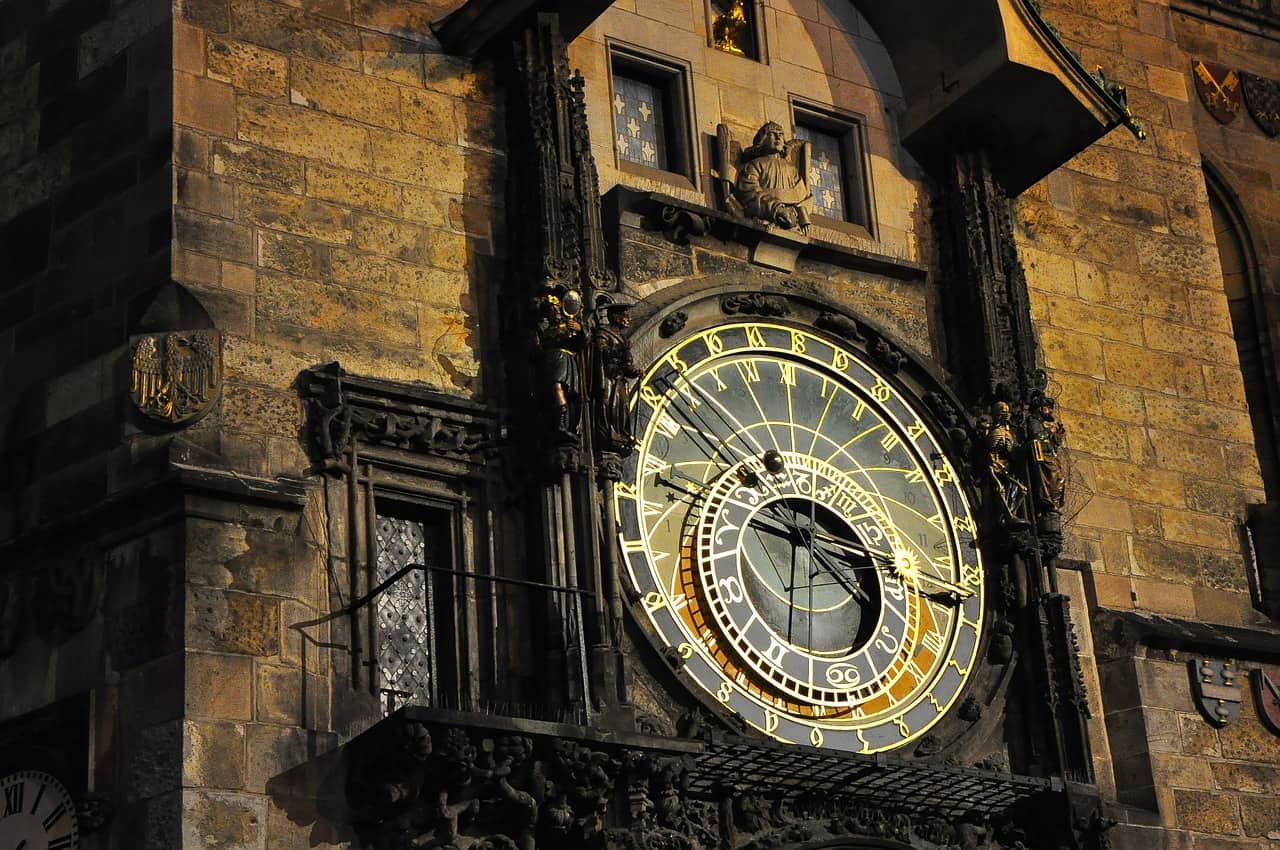 The astronomical clock can be found in the Old Town Square. There will be many people who don't believe this, but the clock has actual magical properties. The trick is this; you must stare intently at the clock before the chime of every hour. You, along with a group of other tourists will wait expectantly, with cameras pointed upwards and eyes watching through a lens. When the clock sings its hourly tune, a procession of Apostles will appear through windowed slots above the clock.
It is here where the greatest trick of all is played because; once the show is over, you will reach down to feel…that your wallet is gone. Magic. The astronomical clock is notorious for pickpockets taking advantage of distracted tourists. That being said, the astronomical clock is still an engineering marvel; just make sure your belongings are secure before you start marvelling.
2 Days in Prague
If you're here for 2 days, I would suggest going on a walking tour. The company that we went with was called New Europe Tours and were 'free.' This tour will only ask for a tip at the end of the experience, and you can determine the price by the quality of the experience you had. I would recommend between starting from $10-20 a person. These tours offer a historical look at the city, as well as little known tips about the city. There's no booking needed, just arrive at the Old Town Square at the designated times on their website, and look for the red umbrella. It's a great chance to meet new people and learn about the city. After the tour, you can return to the places that you've enjoyed the most and spend the rest of the day there. There are also additional paid tours with this company that you can go to if you enjoy this free one.
3 Days in Prague
If you're here for 3 days, hiking up the Petřín will offer a beautiful view of the city, especially if you pay to go up the lookout tower. If you don't plan to walk up the Petřín, you can take the funicular railway, which has stations at the bottom, middle and top of the hill. Also, be sure to experience the city in the evening as well. When the lights are all on, it's a sight to see. Prague also has many festivals in the summer. Sometimes there are concerts and shows right on the Vltava River, which is by the Charles Bridge, where they set up floating stages and perform.
View from Petřín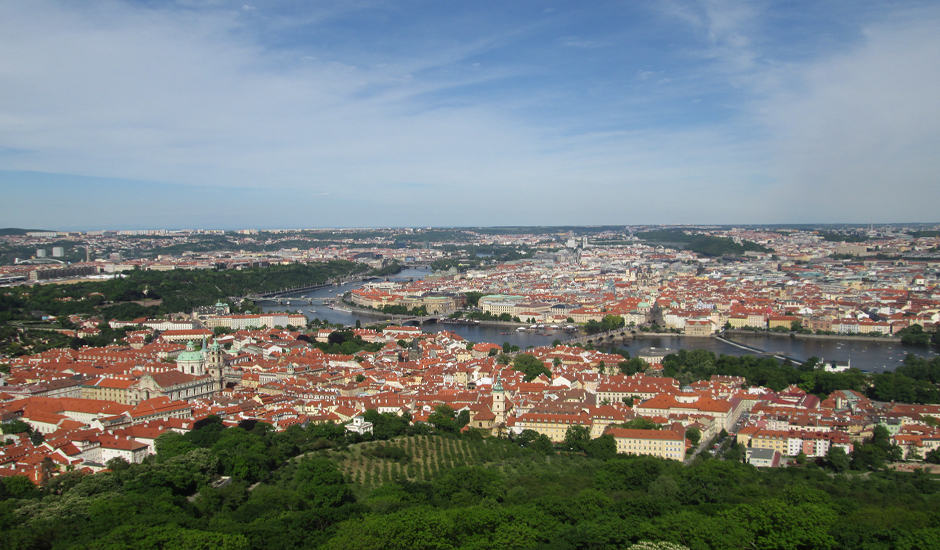 Prague Food
In term of food, there are two things you must try that are Prague staples. Firstly, there are Czech dumplings, or houskový knedlík. These dumplings aren't what you would imagine; they are more like pieces of bread, but are served with gravy or goulash. It's an inexpensive dish, in the 10s-20s, but unique to the Czech Republic and delicious. The other thing to try would be roasted pork knuckle. It is a huge chunk of meat and fat roasted and served on a rotating stick. One pork knuckle can feed 3-4 people. The restaurant we went to, to try these things was called Kulaťák. The other thing Prague is known for is its beer, cheaper than water. Beer in a restaurant can cost $1.75 to $2.
When you go to Prague, you should make a list of the things you want to see, but remember to be flexible with your schedule. There are many things to experience just by walking down the streets of Prague. As long as you have two legs, the city has much to show you.